Is Irony the Word?
It's like there's an invader in our home.
At least, that's what the dogs think.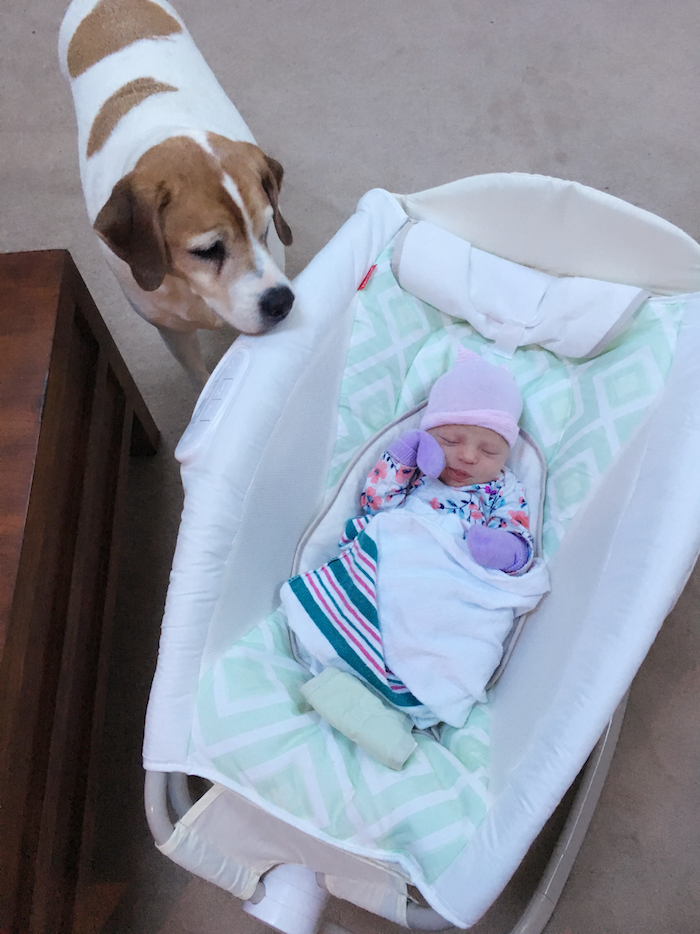 The good news is she's relatively quiet (so far) and doesn't take up much space (so far). The bad news is that our expenditures on absorption pads for urine and fecal matter have officially cut into my wine budget and, for the first two weeks, the very task of keeping her alive made my nipples feel like I'd been spending several hours a day buffing them with a sanding wheel.
Before you have a baby, no one tells you these things.
For those who missed the Facebook announcement, Makenna Quinn arrived around 6:30 a.m. on July 27th — just 30 semi-excruciating hours after initially making her intentions known. I'll save most of the details for my tell-all memoir, but I will say that what at first appeared would be a quick-ish labor turned into a sweaty, vomity shitshow wrought with complications that nearly resulted in a c-section. The highlight I'd say was when, after 29.5 hours, I was just about ready to give my very first push with the next contraction, when with a dramatic flair that would've made Shonda Rhimes smile down from her golden screenwriting goddess throne, a nurse burst into the delivery room and shouted the only phrase for which What to Expect When You're Expecting hadn't prepared me:
"Wait! Don't push! The hospital is about to do a generator test."
I briskly wiped the sweat from my brow, tried to straighten my hair, and waited for Ashton Kutcher and his camera crew to burst in with showers of confetti and a t-shirt gun announcing his revival of Punk'd. When that didn't happen, I reserved my emotional breakdown for a few moments later when the power came back on fully in every delivery room but my own. I could deal with the lack of air-conditioning and broken epidural pump, but the loud alarm it was emitting completely messed with my chi. When they finally managed to get the anesthesiologist to turn it off, my contractions were few and far between.
But — spoiler alert — we got her done. I went ahead and pushed anyway, and the slippery bundle covered in slimy bodily fluids was resting on my chest less than fifteen minutes later.
I mean, the kid had spent longer than a trip around the sun with her head jammed the wrong way between my pelvic bones. The least I could do was get her out of there when the time came lickety-split.
Justin teared up when he first saw our daughter and the doctor worked on ridding my body of the placenta and other superfluous goop while I, distracted, held our baby tight to my skin and repeatedly requested to see her face.
Eventually an exasperated nurse said, "Well, move her," and that's when it occurred to me that she was my kid to do with what I pleased — be that rotating her tiny body so I could finally see what all the fuss was about, or loudly launching into the beginning of what would eventually morph into years of vocally criticizing her appearance and decisions so that by the time she's supposed to be a functioning adult she'll instead be a bundle of angsty insecurity.
Consciously, deliberately, I chose the former.
She assessed me quietly with her squinty, steel-gray eyes while I examined her to see whom she most resembled. Turns out she's a pretty impressive amalgamation of both Justin's and my physical features. I'd like to think I received her stamp of approval in return because she rarely complains and so far seems genuinely content to fart and stretch and satiate her thirst with generous portions of the "house white."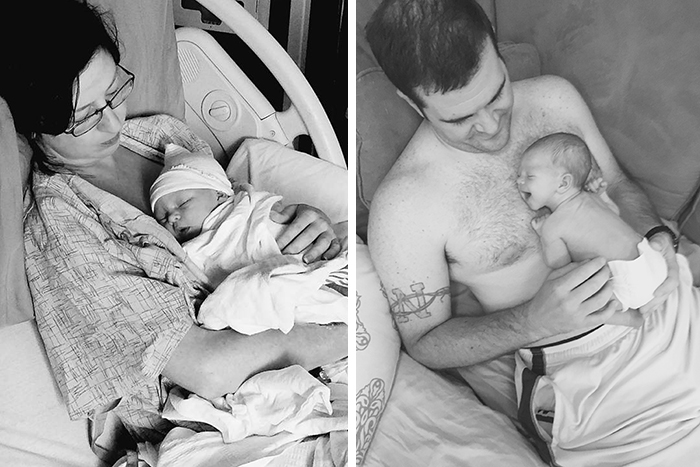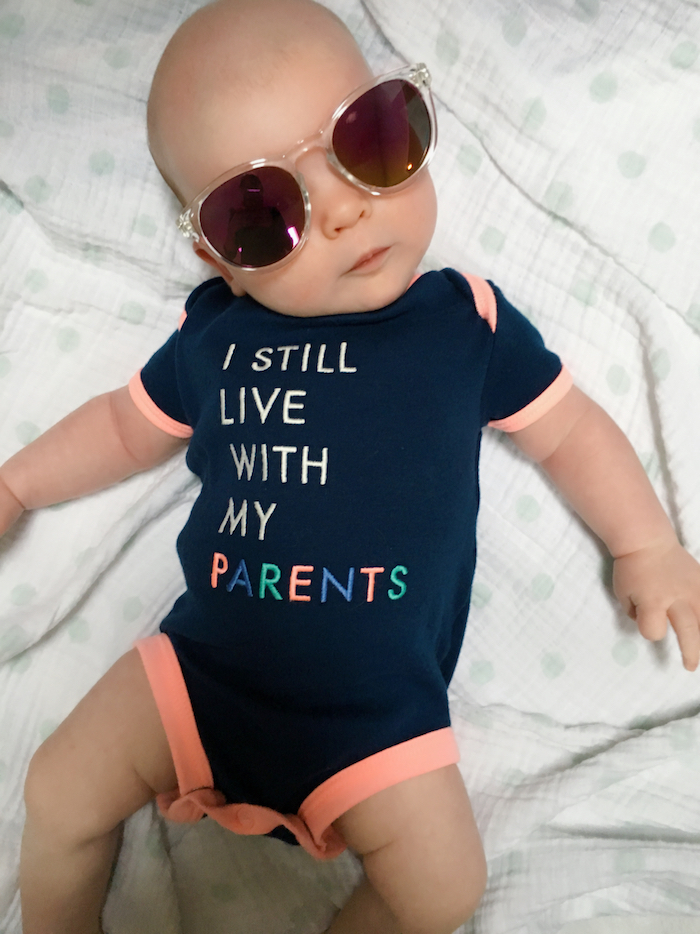 We named her Makenna Quinn. I call her "Mack."
Another thing they don't tell you before you have a baby is how surprised you are when the hospital lets you take it home. We bundled her up and put her in her car seat with little fanfare. It was raining outside, and no one lifted a head as we trudged down the hallway with Mack and our bags and half the enthusiasm of a convicted murderer walking towards his execution. Why was no one stopping us? Don't they know we don't know what we're doing? When we stepped out of the doors I was sure that some kind of alarm would go off — that they'd realize their mistake. But the only sound on the quiet Air Force base that stormy weekend was the pattering of the rain as it hit the overhang above our car.
It was official — this kid was ours.
The last professional photos we had taken were at our wedding back in 2006, so when my best friend Alaina offered to leave her 3 kids with her husband for the weekend to drive up to capture her newborn pictures two weeks later, we could hardly decline. So now I'm one of those women who wraps her kid in muslin (as one does on an average Tuesday) and stares lovingly down at her while she lies atop my expensive linen bedding.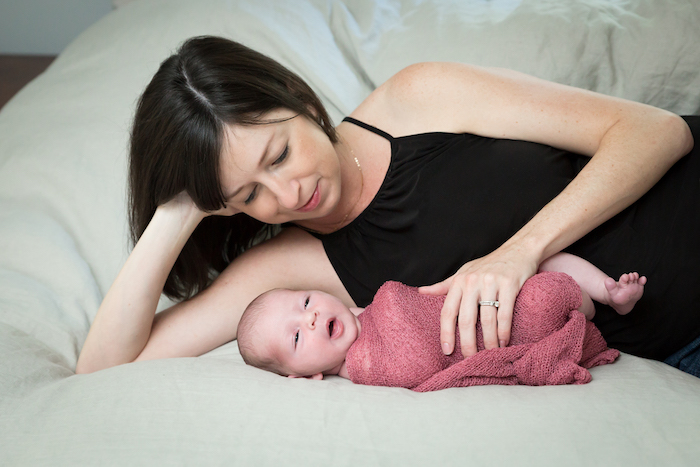 Photo shoots with infants are like a game of Roulette — my downcast eyes hide my true terror.
It's also totally normal for Justin to don his uniform while holding our naked daughter.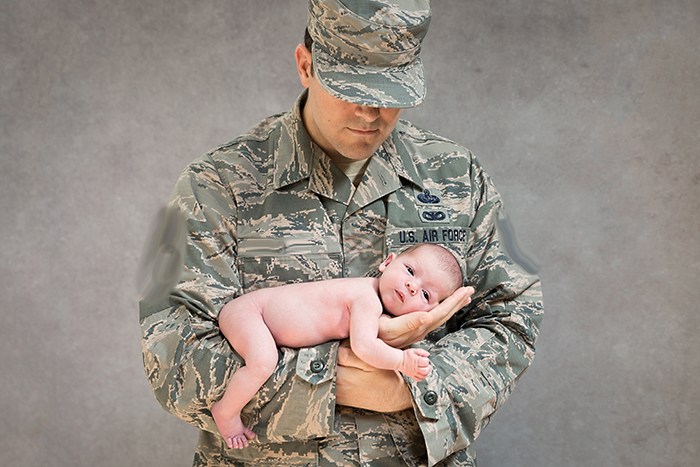 She peed on the floor after this, but I think the result was worth it.
And I'm pretty sure that's what parenting is all about — weighing every decision on cute factor vs. potential mess.
And the truth is, while this parenting thing is certainly as exhausting and frustrating and life-changing as everyone says it is, it's also not so bad. I mean, we lucked out by getting a pretty chill kid (*knockonwood*), so it's only natural that life would see fit to throw another challenge our way.
Yep — there's one more wrench getting thrown into our routine.
And it's kind of a big one.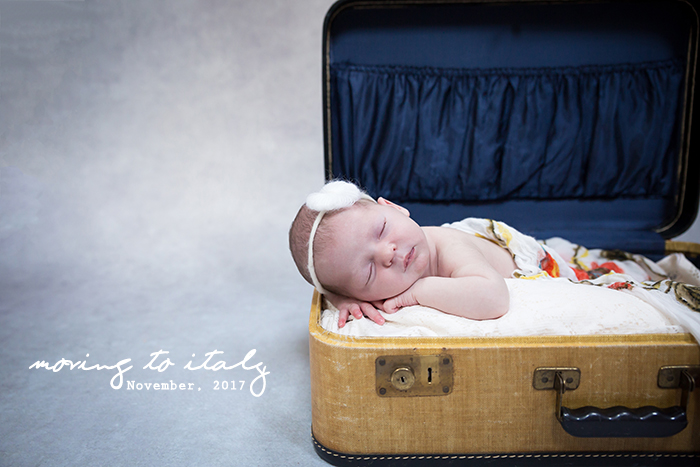 Because, you know, a newborn isn't adjustment enough.