The Biggest Rock I Ever Bought
(*Stay tuned for pictures from Saturday's demo party at my friend Alaina's house and a fun weekend project the hubs and I did in the back yard!)
I'm sorry if I got anyone excited about seeing some bling.  This post is definitely not about jewelry. (Although I did work in a jewelry store long, long ago.  It was just one of many jobs I held throughout college.  So if you ever want to know about the 4 C's, just let me know.)
Rather than talk about diamonds, which are basically just your average pencil lead heated and compressed at extremely high temperature and pressure, I'm going to tell you about granite to continue our way through the description of our kitchen remodel.
Granite is just your basic, igneous rock primarily made up of the minerals quartz and feldspar (wow, I'm really putting my geology minor to use today).  It's your pretty average Joe of a rock, yet for some reason, it's all the hype right now in kitchen decor.
Maybe it's because it comes in a variety of colors and qualities, is extremely hard, resistant to heat, and can be stunningly beautiful.
But that's just a guess.
The hubs and I ended up choosing granite for our kitchen remodel over the plethora of other counter top choices – against my better judgment, believe it or not.  I will probably detail out those other options at some point, but for now, let's just go over the granite-purchasing process.
Granite is typically chosen for its unique aesthetic value.  Let's face it… nothing man-made will have the unique "movement" of a natural stone.  (At least not currently.)
When you search to find a granite fabricator (aka. the person/company who will cut and install your granite counters), ask to speak with references or see examples of their work.  These are the "artists" who should ensure they're using the best parts of the granite slab(s) you purchase and minimizing the number of seams in your kitchen.
However, it's common for these fabricators to actually purchase their slabs from separate distributors (much like flooring salesmen often hire outside laborers to perform the installations, like I described here).
Once we found a fabricator we liked, we decided we didn't like the limited selection of granite slabs he had on his property.  We knew we still wanted to work with him, so I simply asked him if we could take a look at his distributor(s) to see if we could find anything we liked.  Now, many fabricators might not be cool enough to oblige since the distributors might provide fabricating services themselves and "steal" the customers, but our fabricator was pretty sure he was safe since the distributors were over an hour away from our home.
We were lucky enough to visit 3 warehouses within the same square block, chalk full of granite slabs.  I wish I had gotten better/more pictures, but here's a sampling of some of the slabs (IN OUR PRICE RANGE):
So here's the deal.  The hubs and I both completely fell in love with the coast green.  I mean, this picture doesn't even do it justice.  Unfortunately, we were already locked in to the cabinet color and floor choice.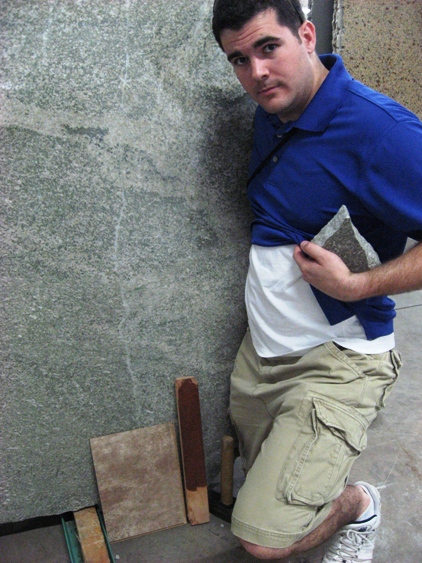 *BIGGEST TIP EVER:  Pick all of your materials/colors at the same time so you know all of your elements will work together!  That way you hopefully won't end up in this situation.
In retrospect, I think the Millennium Cream would have been the best choice, but we let pure physical attraction take hold and ordered the coast green.
Just look at that movement!
How could we not want it??
I think it ended up looking beautiful with the cabinets…
But I'm still not sure I love it with the floors.
Hopefully it's nothing a little accessorizing (umm… anyone good at that?) won't be able to fix.
Does anyone else find this coordination thing as difficult as me?  Do you think we made a mistake with our choice?  (No need to be cruel, but I can take a little constructive criticism.  Be warned, however, that I might ask for your help with accessorizing once I reveal the kitchen in its entirety!)
If you want to read more about granite, check out this post to see the whole buying process, and this post to see why I regret choosing granite for our counters.