A Domestiphobe's Tips for Throwing a Budget Shindig. Because You Can't Fake Success.
Yesterday, we opened the windows.
Sure, it was still probably 90-degrees out in the afternoon, but the nights have been decidedly brisker, it's taking quite a bit longer for the heat to get uncomfortable during the day, and we just couldn't help it.  We wanted fresh air.  The house has been taking on the stale, ice-box smell that happens when it's been breathing processed air for too long, and I'm sure our lungs were doing the same.
We made it until about 5:00, which is when we decided that a sweat-soaking-into-the-sofa smell would be far worse than stale icebox.  Oh, the problems of the lower-middle class…
Speaking of lower-middle class problems, I feel exhausted from the sheer number of parties I've thrown this summer.  Okay, so it was only 2 parties and a couple of get-together celebrations, but for someone as decidedly un-Martha as myself, it felt like a lot.
On the plus side, I've managed to maintain a modicum of sanity by avoiding — at all costs — actually hosting the largest of these parties at my own house.  The baby hot tub bash was held at the guest of honor's house (I know — it's a good thing Martha doesn't read this blog — she would roll over in her grave.  If, you know, she were dead.  Which she's not.  And that's a very good thing.).
See, Alaina lives about an hour away from me, and it just made more sense to have it where all of her friends live.  Not to mention the fact that her lakeside setting was pretty picturesque.
No real babies were harmed during the party.
My husband's intimate graduation party lunch was at a restaurant downtown, followed by an unforgettable steak dinner on our back deck.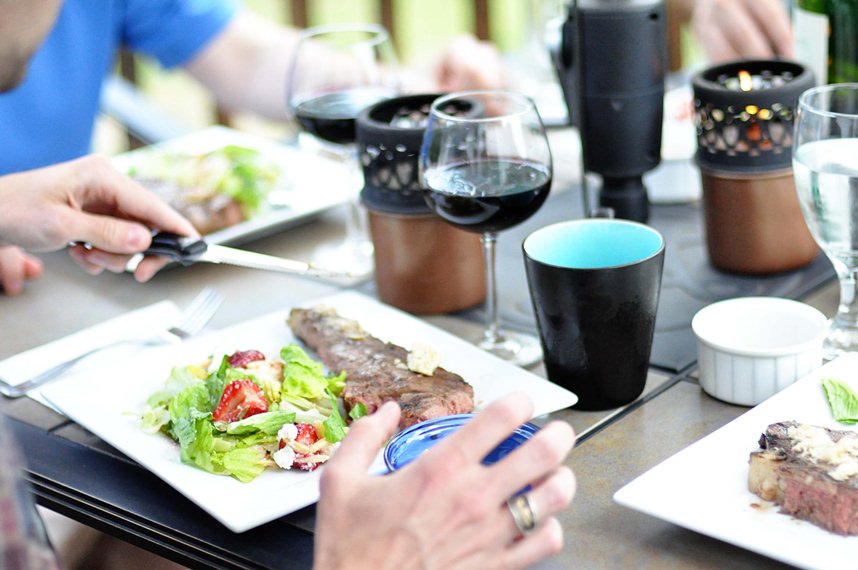 And, if we're going to be honest, that's really my favorite kind of party.  Just a few close friends, amazing food, and wine to suit the occasion.  Which is pretty much any wine.  Any wine you like.
But sometimes, you can't get away with just an intimate gathering.  Sometimes the occasion — or in this case, tradition — calls for something a little bigger.  See, this has been a pretty big year for Justin.  Not only did he graduate from college, but he made his next rank in the Air Force.  And, as is custom for Air Force promotions, the addition of a stripe called for — nay, required — a celebratory shindig.
Fortunately for his domestiphobic wife, my husband wanted the party at our neighborhood's lake, which saved me the huge hassle of trying to make our house guest-worthy.  And not just regular guests, but higher ranking "superior" type guests who, even though they try their damnedest to put on an air of casualness in off-duty, lighthearted social settings, still make me nervous that I'm going to say or do or think the wrong thing in my liberal/hippie fashion that would land Justin on some type of unmentionable blacklist for people of uniform.
And we wouldn't want that.
So I donned my party planning hat for the third time this summer and went in search of an affordable way to host the festivities without breaking the bank.
Fortunately, I didn't really need to do as much work as I expected due to a few key people:  My friend Danielle and the ladies behind the deli counter where I shopped.  I'm sworn to secrecy about the place, since technically they cost their store money by talking me out of the over-priced sandwich and cookie platters in lieu of a DIY quick assembly that ended up looking great and saved me mucho dinero.
Anyway.  I'll spare you the wordy details since, as per usual for a semi-stressful event, I neglected to take pictures.  Seriously bad blogger.
But I do want to share a couple of quick tips if you ever find yourself needing to throw a casual, budget-friendly party for 20-30 people and you don't want to cook.  Because while I might not be able to fake a thriving, lucrative and successful writing career, I learned I can certainly pull together a successful gathering on a dime.
I get by with a little help from my friends.
1)  Have a good friend to help you the day of the party.  I don't know what I would've done without Danielle, who picked up last-minute items from the store and assembled 45 mini-sandwiches and overall kept me laughing and at ease throughout the morning (as opposed to becoming a discombobulated wreck of a stressball).
2)  Don't splurge on the "fancy" party trays when you can make your own for a fraction of the cost.  The awesome deli ladies let me in on their secrets — buy as many little Hawaiian rolls as you need, plus one slice of meat per sandwich.  I wanted to make 45 sandwiches, so I bought 25 slices of turkey and 20 slices of ham.  I also bought 20 slices of cheese which, when split in half, covered 40 sandwiches.  (Who knew sandwich assembly was so math intensive?)  One slice of meat and cheese was plenty for each tiny roll.
The morning of the party, Danielle assembled the meat, cheese and buns on tray, then filled another tray with lettuce, sliced tomatoes, sliced cucumbers, and sliced onions.  Provide condiments on the side, and viola!  People can create their own little sandwiches to their taste.  The deli ladies were even kind enough to give me one of their plastic lidded trays for free.  I also bought a bunch of cookies and put them on another tray.  Add chips and a couple of sides from generous friends (thanks Christie for the pasta salad and baked beans!), and people will have plenty to munch on throughout the day.
3)  Kegs are overrated.  What?  You heard me.  They're expensive and you usually need to order them a week or two in advance, and who's coordinated enough to do that?  Actually, the lady at the military liquor store was kind enough to talk me out of buying one pricey keg and instead buy a variety of beer bottles to put in coolers.  Not only would people have a choice of beverage, but any leftovers (there weren't any) wouldn't go to waste.
Seriously, have you ever heard of more helpful store people?  I wanted to leap over their respective meat-and-liquor-laden counters and give them the most heartfelt, squishiest hugs of their lives.
And I'm not really a hugger.
4)  Make a special drink just for yourself (and your helpers).  Whether it's alcoholic or not, you deserve something apart from what you're serving the masses.  Don't ask me why, but it just feels good.  In this case, it was basil-infused peach sangria.
Don't worry.
The recipe is a-comin'.  And it couldn't be easier.