My Chins Ate The Streets In Newport News.
The thing about Newport News — the city where we live — is that it has a bad rap. At least amongst the military circles that tend to influence how I feel about a place before I actually get there. But if I've learned anything during my last eight months of residency, it's that snacking on peanut butter malted milk balls from Fresh Market while working from home is a surefire way to put on weight.
Back away from the peanut butter malted milk balls, Katie.
But also, it's that a locale — whether you've arrived willingly or not — is a formulation of what exists and what you make of it. Most U.S. cities take pride in their people, their events, and their recreational facilities, and Newport News is no exception. As far as I can tell, this city is offering up the goods — we just have to know where to find them.
City Center
I was out driving randomly around one day when I noticed some giant blue signs along one of the major thoroughfares advertising "City Center at Oyster Point." For some reason I'd always zipped past them without noticing while on my way to Target or Trader Joe's or any number of typical roadside chains found in many American towns. But this time my inherent curiosity overrode my general lack of observation skills, and I turned to see what was what.
And what was what was a charming, pedestrian-friendly, outdoor shopping center with retail stores, restaurants, office spaces, and apartments. Obviously fairly new, I could tell it was struggling to root itself into existence — the retail stores were limited, and I had a difficult time picturing people going there just to shop. But there was an adorable coffee shop overlooking a huge, man-made pond, several larger restaurants, a new movie theater in the works, a free parking garage, and a very nice ambience.
I was super excited about City Center.
This, after all, was proof that Newport News was not the drab, overcrowded city I'd been led to believe. They are forward-thinking, you guys. They just need a little jump-start.
Ever since visiting the Raleigh Food Truck Rodeo in North Carolina last fall, I've been craving a sequel. So when my friend Angie let me know there was a food truck event happening right there in City Center, just 10 minutes from my house, I was in.
And of course I dragged Justin along for the ride.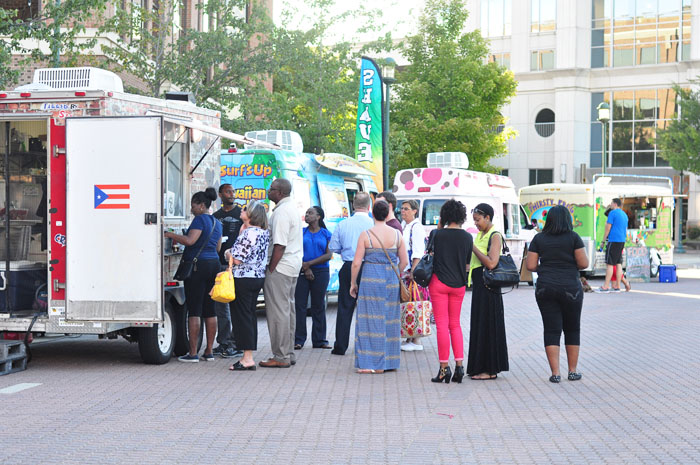 Unfortunately, there were only four trucks on opening night, and only one advertising actual dinner food — hence the long line. Like I said — City Center could use a bit of a nudge. But the awesome thing about this is that they're trying. They're trying to make this a place where people can emerge from their comfortable post-work cocoons, walk around a bit, meet their neighbors, and sample some tasties from Hampton Roads area food trucks.
We took another little foodie video to commemorate this moment of cultural awareness so close to our home:
Please ignore my chins. Kthanks.
We avoided the long line at first to check out the Thirsty Frog, where we ordered the only food item they had available — an amazing slow-cooked beef sandwich.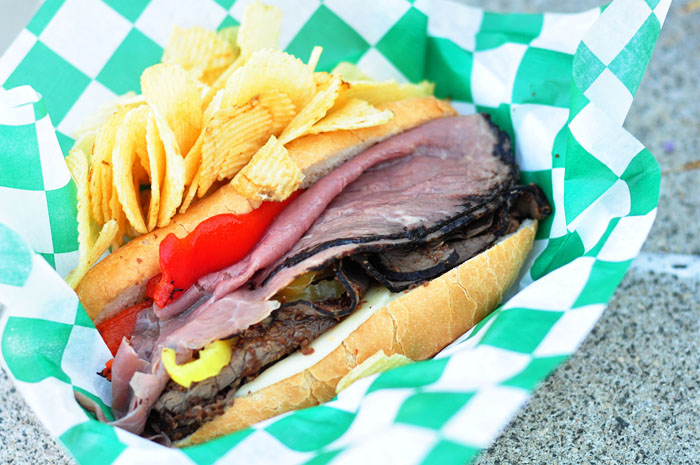 Marinated slow-cooked beef with roasted peppers.
Since this truck specializes in coffee and smoothies, most people didn't realize they had a meal option as well, and I'm so glad we asked the friendly gentlemen working there.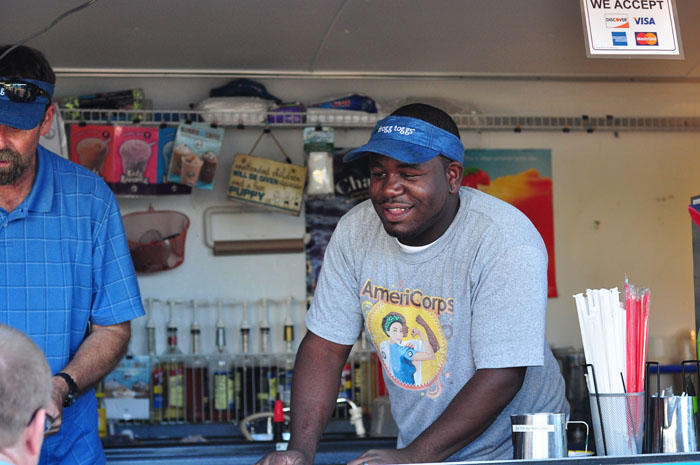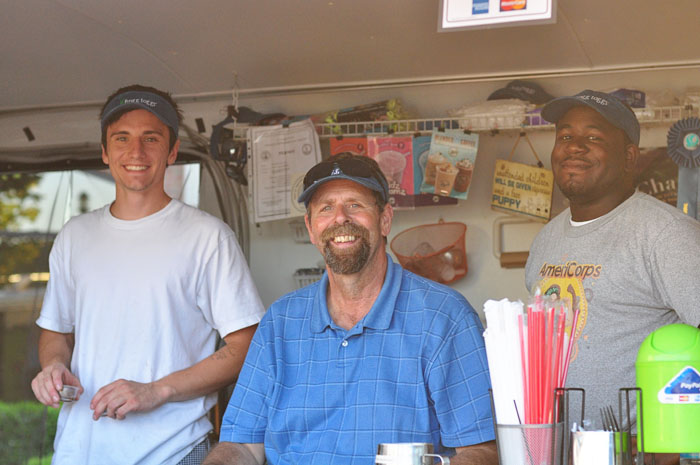 Justin was a fan of the strawberry banana smoothie as well: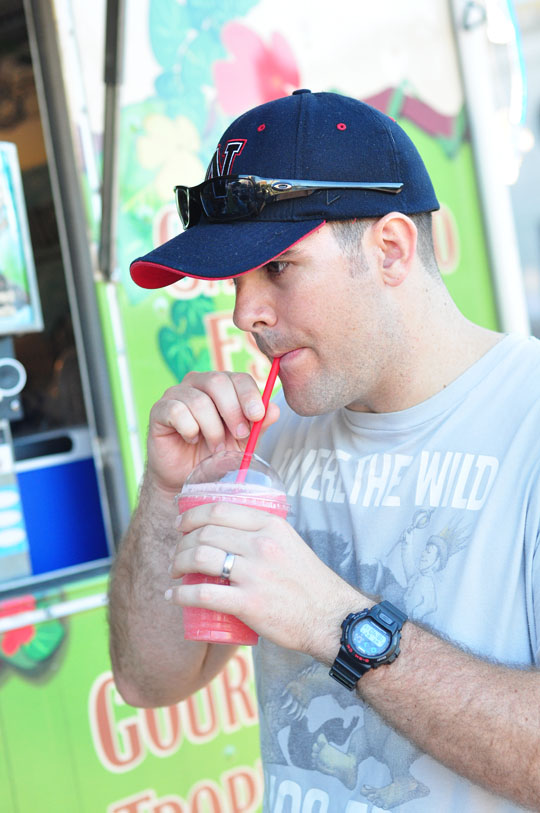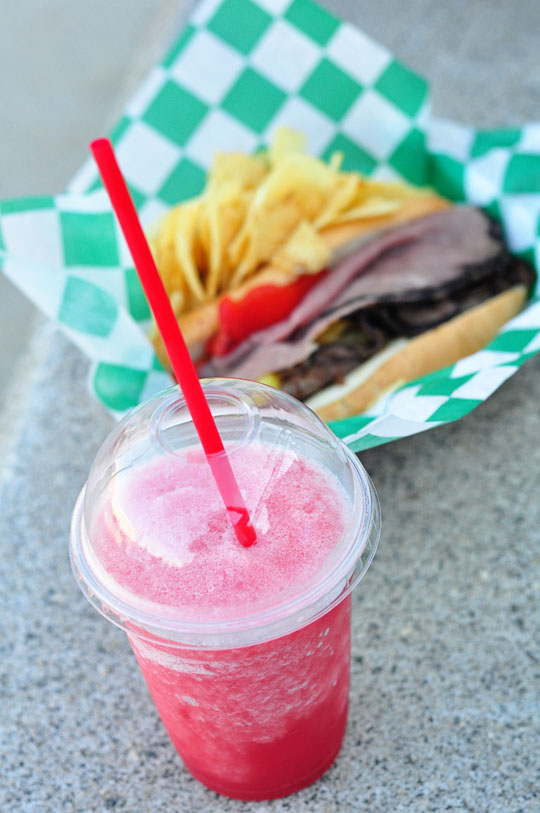 I was hankering for something a little different, and the savory Puerto Rican dishes offered up by Sofrito looked enticing enough to brave the line.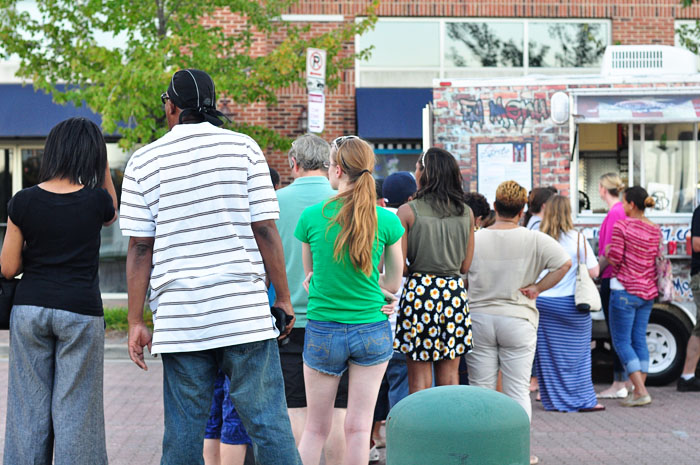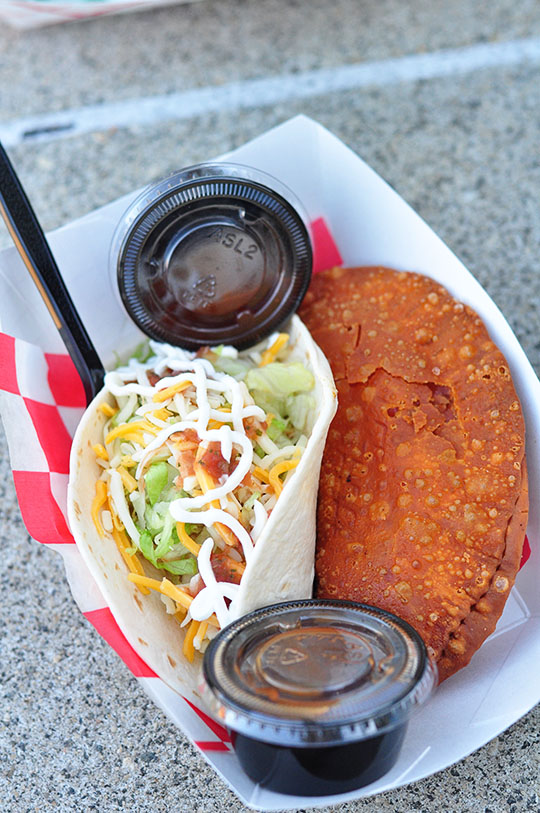 Chicken taco with sofrito and a beef-and-cheese empanada.
After devouring that, we skipped the Hawaiian Ice truck because it wasn't particularly hot out and went straight for dessert — an amazing key lime cupcake from Twisted Sisters.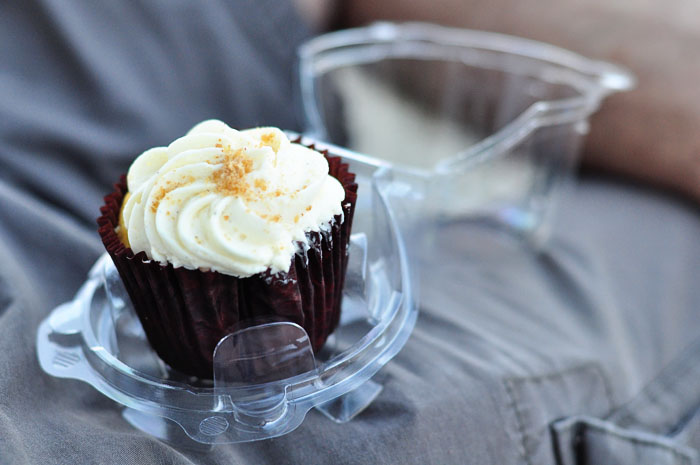 Texture-wise, it was a little crumbly. But the flavor — especially when we got to the tangy lime center — was totally worth it.


Yep. We're totally normal.

They created a nice ambience with some live music…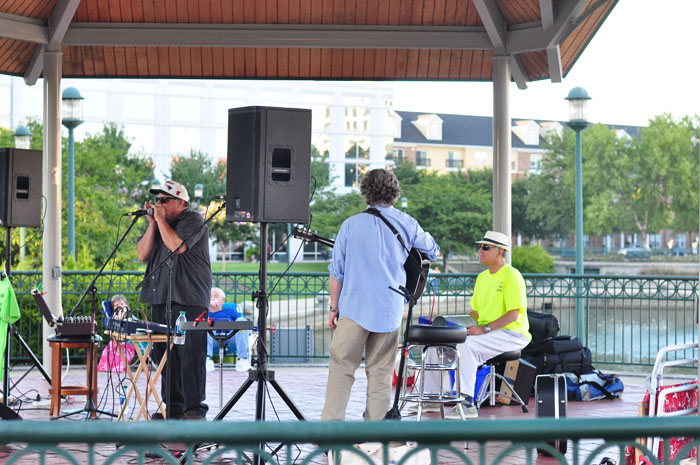 And games set up for the kiddos…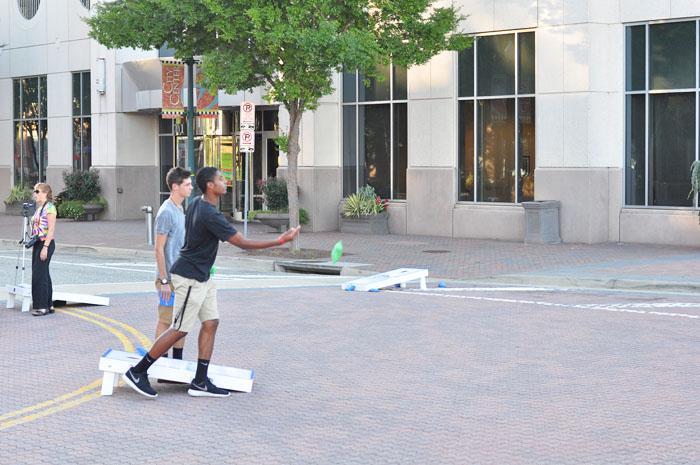 But we left hoping for a bit more. City Center has a gorgeous fountain, but it doesn't have a lawn, which meant they had to block off part of the street for entertainment and there were limited places to sit down and eat. And while the Raleigh Food Truck Rodeo was running on silent commercial power, these trucks had noisy generators. I spoke with a representative from the Newport News Parks, Recreation, and Tourism office, and she told me the event will grow over the next couple of months.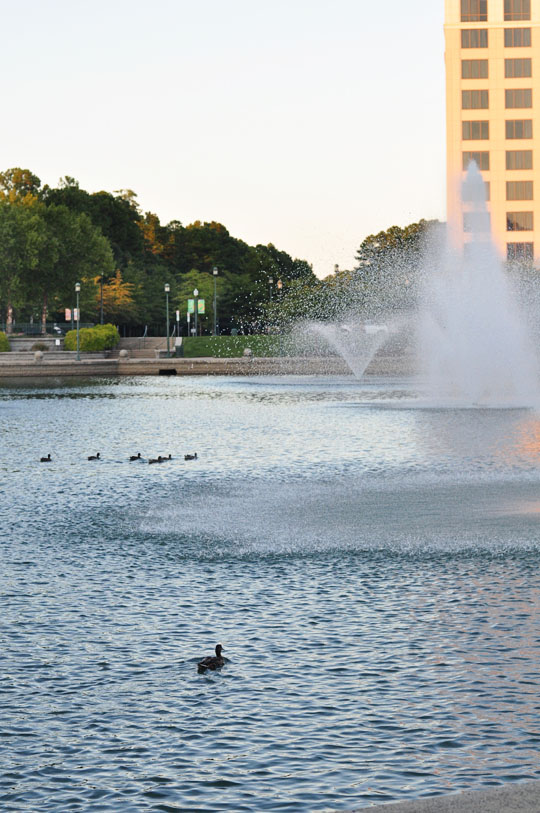 I really hope they do, because it's a really great concept — but they definitely need more than one main course-serving truck if they want to bring the crowds! With free parking and free admission, these food truck events are definitely worth a visit, though. You can visit the Eat The Streets 757 Facebook page to get a list of trucks that will be at upcoming events.
As we were walking back to the car, I was reminded once again of why I love to travel — even if it's just down the road to a local cultural activity.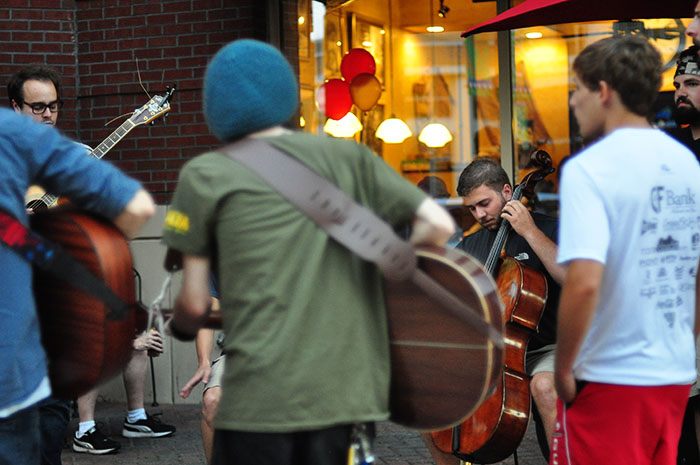 You know — just your typical impromptu 10-piece band outside of the local coffee shop.
Which is why people are awesome.
And why Newport News, as far as I can tell, is highly underrated.
What do you do to travel locally? Does your city offer up any fun events?
Need to Know:
City Center at Oyster Point
701 Town Center Drive
Newport News, VA 23606
Food trucks will be at City Center from 5:00 p.m. – 8:00 p.m. on September 10th and 24th, and October 8th and 22nd.