Hawaii Prep 102: Don't Feel the Burn
So I'm deep into Hawaii Prep 101: Feel the Burn.  Like hardcore.  I feel good.   
Please don't think I'm one of those braggy, workout type people who can't get enough of my own physique.  Trust me, I'm not and I can.  This workout thing is a new resolution for me – one I'd like to continue even after our trip to Hawaii – assuming I can find some other form of motivation.   
That said, I'm going to share with you Part 2 of my I'm-panicking-because-soon-I-will-be-in-Hawaii-and-expected-to-wear-a-swimsuit-in-front-of-my-photographer-cousin Hawaii prep regime.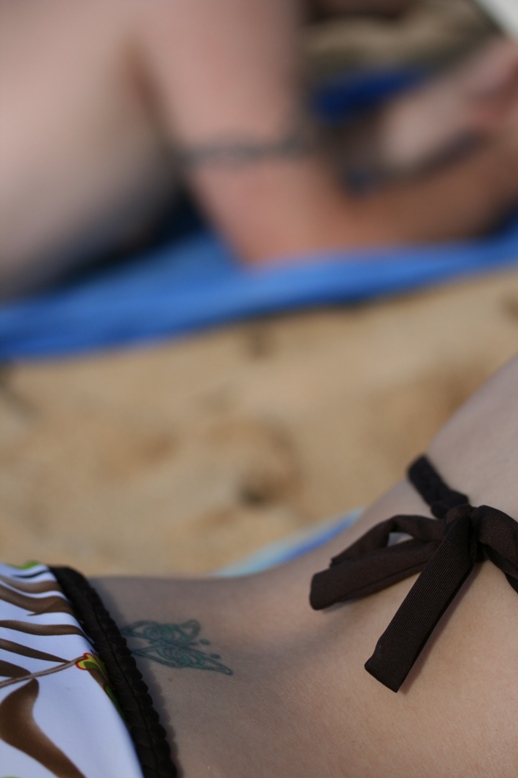 I put on a pair of shorts for the first time this summer a couple of weeks ago.  When I walked across the street to hang out with the neighbors and they yelled, "Hey, grab me some sunglasses – the reflection off your legs is hurting my eyes," I knew I had to do something about my pasty white thighs.   
I'm one of those unfortunate people whose skin is prone to freckling, burning and peeling whenever it's exposed to the sun for any long-ish length of time.  And I'll just say it – I'm not crazy about tanning beds because one time I fried like an egg on a hot engine and I don't think I'll ever quite get over the experience.   
Here I am on our honeymoon in 2006.  (This unfortunate lobster-like appearance is from the sun, not a tanning bed.)   
(Hey, I just wore that dress again last weekend to go see Wicked!  Have I told you how cheap I am when it comes to clothing purchases?)   
Enter Jergens and their wonderful Natural Glow lotion.  It comes in regular (Revitalizing), Express, or Firming.  I have the Firming.  And I just found out there is also a foaming version.  Whaddya know.   
I picked mine up at Target, but you can probably get it at similar stores.   
I've been using it for about a week, and people have actually started complimenting my tan.  It's very subtle (I bought the lotion for people with fair skin, because – well – I have fair skin.)   
I also use the face moisturizer, which has SPF 20 sunscreen.  (Please excuse the blurry photo – I still haven't finished this resolution.)   
I figure this will protect my skin from sun damage 2 ways:   
1)  The sunscreen in the face moisturizer will literally help provide a barrier between me and harmful rays should I forget to put on sunscreen for a bit.   
2)  The fact that I already appear somewhat tan will help me not try to tan, which usually ends up in nasty burnage.   
Just a couple of tips I'm learning along the way:   
Put this on every day right after you shower.
Exfoliate in the shower (i.e. use a loofah or pumice stone) to get rid of dry skin on your heels or anywhere else that's prone to dry skin.  The lotion can collect in those areas and start to look orange.
Thoroughly wash the palms of your hands and in-between your fingers after application, or again, they will turn orange.
If you plan on following Hawaii Prep 101 at the same time as Hawaii Prep 102, it would be extra helpful to have someone who can help apply this lotion to your back.  I can barely reach (this is either because I have stumpy dwarf arms or am extremely inflexible – I'm gonna go ahead and say it's a little of both), and with my sore arms and shoulders, it adds a bit of a challenge.  All in the name of vanity, baby.
Overall, this has been a really great lotion.  I don't look all streaky or discolored or overdone, and best of all, I'm no longer blinding my neighbors with my pasty white thighs.   
Because of this, I think we can all sleep a little better tonight.   
*Jergens has not paid me for this endorsement (although I can't say I'd complain).  This is a product I have tried and liked, so I thought I'd share it with you.