'Cause We're Livin' in a Material World
I know it's been a while – a long while – since I've posted anything about home improvements.
With the exception of certain small-ish projects I've mentioned here and there, like painting the office:
and painting/organizing the inside of the hall closet: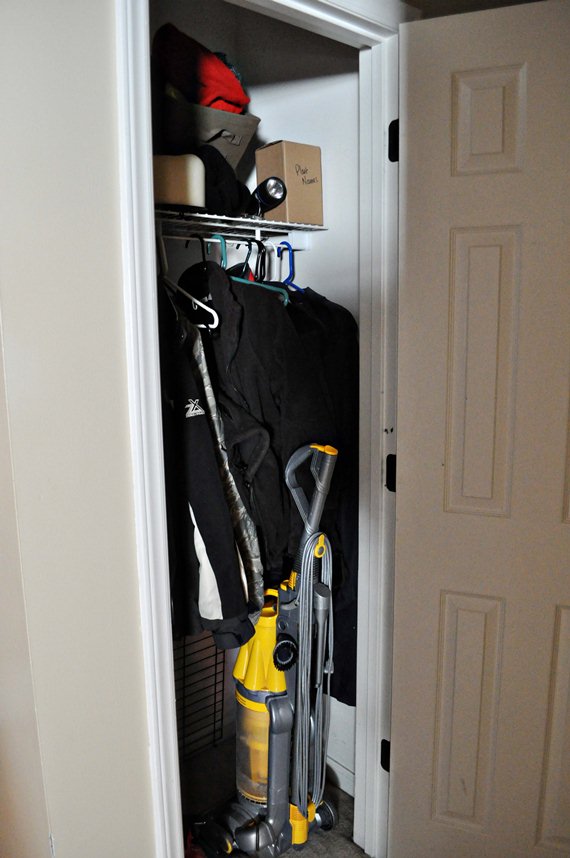 We really haven't been doing a lot around the house lately.
And, I'm ashamed to admit, the closet (which admittedly had more to do with putting off other things I should have been doing than actually making a closet look nice) isn't even done yet.  But almost.
I promise.
Sort of.
My avoidance of all topics home related is most definitely not because everything is finished.  I could share a list of the things we still need to do before we could ever hope to sell this place, but then I'd probably start crying and my tear-soaked keyboard would malfunction and I'd have to add to the list yet another piece of electronic equipment that's crapped out because it can't handle being around me and my hormones.
By the way, I love the fact that being a woman allows me to blame all irrational behavior on hormones.
What?  You think it was immature to throw my POS cell phone across the room?  Well it was the hormones, bitches!
What?  You think I made the waiter feel bad because I cried when he told me they're out of tiramisu?  Well don't blame me – it's the hormones!
Love it.
Anyway.
Like I was saying, the fact that we haven't been working on house projects has nothing to do with the fact that we're done.  Far from it.  It's just that with Justin working his butt off to get promoted (and coincidentally inviting me, of all people, to fancy events) and me gallivanting off to exotic places like Costa Rica, Miami, and Nebraska, (okay, they can't all be winners), we just really haven't had the time.  Or the money.  Oh, and my whole quitting my job to "find myself" and make a huge career change thing is actually fairly time consuming too.  And I'm talking about writing – not waiting tables.
But I thought you should know that I've finally taken another step towards completing the office.  That photo you saw of the paint job above is the room in its interim phase.  I was just taking a breather before moving on to the next step.
And what is the next step, you might ask?
Organization, organization, organization.
Oh, and I want it to be pretty.
The overall mental plan for the room is to build a new work surface, create a wall of shelving and storage, and paint the existing bookshelves.  If I can find a deal, I might replace the ugly fan with a new light fixture.  I'm working on a very strict budget here, so the goal is to make this as comfortable and functional of a workspace as I can (since I will mainly be working from home), without spending more money than I'll be making in a year.
(Sooo… what?  Like $50?  Riiiight.  Although, that would be a vast improvement from the $7.88 I earned last year.)
This means we're getting rid of the two cheap-o desks that were given to us out of pity by another Airman when we moved into our very first shoddy apartment and had only a bed frame with mattress, an old trunk (used as a coffee table), and an entertainment center to our names.  (Yes, we knew what was important.)
Seriously.  We didn't even have a couch.
So those old desks will either go on Craigslist or we'll donate them to some other poor military person just starting out.  (Have fun with that, friend!  The debt-less road to materialism is a long one.)
The tentative plan in my head is to jerry-rig a new L-shaped desk into a corner of the room.  The long branch of the "L" will be constructed using filing cabinets (I will need lots of file storage) and some type of narrow-yet-long table top component.  As you can tell, this part is yet-to-be determined.
I like these shallow drawer cabinets from IKEA that Kelly from Tearing Up Houses used in her beautifully serene office remodel to use as the desk "legs":
The short end of the "L" will be replaced with this desk from Overstock:
It looks almost exactly like this desk from West Elm, but at just over $150 including tax and shipping, the Overstock version is less than half the price:
The shallow drawers will be perfect for some pens, a couple of notepads, and some of the electronic-y type computer equipment (DVD drive, external hard drive, etc.) that doesn't need to stay out all of the time.
Not a bad deal, huh?  Although West Elm does have an awesome mirror version of this desk that I think would look pretty damn sweet in the office.  But, at $599, it's just a little out of my budget.  And I'm pretty sure it doesn't come with a maid who will stand next to it all day to wipe off my fingerprints and tell me to get back to work when I distract myself by squeezing pimples and checking for food in my teeth in its reflective surface.
Plus, I hate to think of all the bad luck I'd have when I crack one of the mirrors by throwing my cell phone too hard across the room.
Because these things happen, you know.
It's the hormones.