I'm Pretty Sure I Was a Covert CIA Operative in Another Life
My first job with an actual paycheck was quite literally flipping burgers at an A&W Root Beer restaurant attached to a gas station when I was 15 years old.  I came home from my first 8-hour Saturday shift, forearm speckled pink and red from hot grill grease, the clanking sound the frozen burger patties made when I threw them down on the sizzling surface still ringing in my ears, my belly full of fries and my head full of pride because I'd gotten so good at something I'd known nothing about just 8 hours earlier.
It didn't take me long, however, to learn that once the pride wears off, boredom sets in, and it's time to move on to something new.  I'd mastered burger assembly, fryer operation, and simultaneously taking orders through the drive through headset while making a root beer float with one hand and counting change with the other.
I'd learned all I cared to know about the fast food industry, and the white-collared jobs of teenage corporate America beckoned with their shiny, manufactured name tags and morning staff meetings and profit charts.
Aside from the employee discount, my favorite part of working at Best Buy were the secret shopping trips I was assigned to take with some fellow employees to report on prices at a competing local company.  I'm pretty sure I wasn't supposed to tell anyone about that, but hey – this was 12 years ago – there  has to be a statute of limitations or something.  But if no one hears from me for a couple of days after I post this, you might want to contact the authorities.  Unless, of course, they're in on it.
Anyway.
We'd forgo the pressed blue polos and khaki pants and don our "street clothes," packing our tiny pens and notebooks and product "shopping" lists so we could record the numbers all stealth-like because I'm sure I looked like your average 16-year-old surround-sound shopper comparing prices and writing down SKU numbers.  We totally blended in.  Except for when we didn't, and then store management promptly kicked us out.
Then we'd play some video games and eat at Burger King and head back to our store to regale our envious coworkers with our harrowing tale.
I was reminded of this blast from my teenage past yesterday when Don, an employee at the Fresh Market in Southern Pines, caught me taking photos inside the store with my camera phone.
The difference is that this much more technologically savvy time around, my intentions were pure.  I mean, if you were used to only shopping at… say… the Dollar Store and suddenly someone introduced you to the world of Wal-Mart, you'd want to commemorate the occasion, wouldn't you? And since I recently told you about my frustrations with my nearby Food Lion grocery store, I knew I had to share the Fresh Market experience.
Hence the blurry camera phone pictures.
I mean… I couldn't very well whip out my DSLR and tell the deli employees to smile.
I had to be sneaky, people.  Corporate espionage is serious business.
Plus, it was just more fun to do it this way.
Justin was off work yesterday, so we decided to head to the upscale Southern Pines area to hit up their Lowe's (since ours was destroyed by a tornado) and grab a nice lunch.  We also thought we'd stop by this place called Fresh Market, about which our neighbor raves.
All I can say is, how have I lived a mere 45 minutes away from this gem for 4 years and never gone??
We were greeted by a diverse group of freakishly friendly employees.  Seriously.  If I'm not mistaken', I'd say that they all actually liked their jobs.
The produce was amazing.  It all really did look fresh.  The variety was incredible.  I mean, I don't actually have a need for baby summer squash, but I might have to find one now.
Because they have it.
Need a potato?  How about a yam?  What color would you like?  Because here they're not just potatoes, people.  You have options.
Want to grind your own fresh coffee beans?  Be their guest.
And the meat?  Oh, god – the meat.  Remember when I went to Food Lion with the intention of buying brisket and all they had was this lousy tongue? I mean, it was value priced because it was about to expire. And no one likes expired tongue.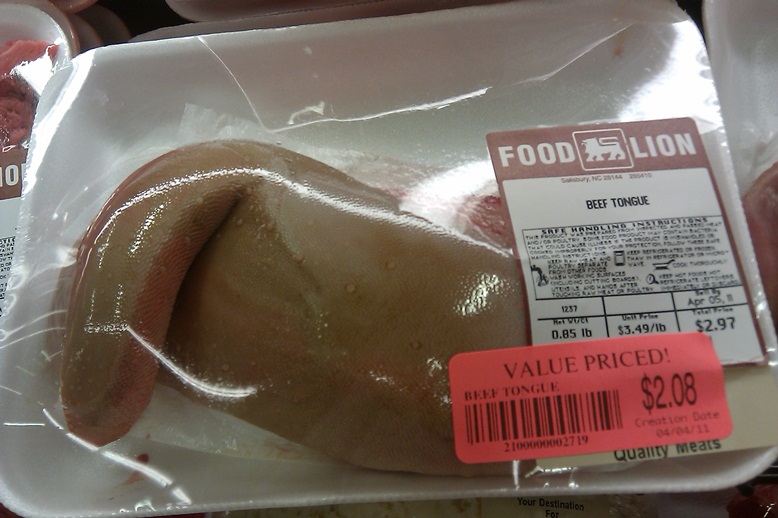 Well, the fresh meat selection at Fresh Market did not disappoint.  Gorgeously marbled steaks like the veins in Calacatta tiles, chicken with lovely, yellow fat, and a seafood selection that made me think we'd traveled east – not west – to get to the store.
And, while I didn't see any tongues on display, I'm fairly certain that, had I asked, the friendly folk behind the counter would've gone to the back and produced a nice, gleaming, not-about-to-expire beef tongue just for me.
Unfortunately, Don caught me before I could snap blurry photos of the freshly baked bread, bulk candy and nuts, and superb deli area.  You see, he'd found my Achilles heel.  The wine.  And the quality of my covert ops quickly deteriorated as I was faced with an actual selection.
Don knew my weakness.  And instead of kicking me out of the store, he exploited it to his fullest extent, taking me on a tour through the bottles and valleys and vineyards, explaining the intricacies of the various types and tastes and prices, and imparting on me some actual knowledge that I've somehow managed to avoid during my past several years of avid wine consumption.
I'm not going to lie – a little part of me wanted to have Don's babies.
I'm now fairly convinced that this is the only place around here where I'll be buying wine from now on.
Except, of course, for emergency situations.
And any other time I want to drink wine without driving all the way to Southern Pines.
And while the prices for some things were definitely higher at Fresh Market, I'm willing to pay a bit more for quality, service, and – you guessed it – the ambiance of a place that smells like freshly brewed coffee and all natural peanut butter over baby vomit and stale cheese.
I'm basically a marketing director's wet dream.
And tonight, while I sip a new kind of Don-recommended Cabernet from the Columbia Valley in Washington to go with my incredibly tender grilled fillet (a splurge, yes, but sometimes we need these things in our lives), I will somehow find a way to be okay with that.