Cart Thieves, Cauliflower, and an Ethical Dilemma
Listen.
It's been a weird day so far.
Like, someone-stole-my-shopping-cart-full-of-dog-bones-at-Target-while-I-was-looking-for-cauliflower kind of weird.  They have these new, giant shopping carts with super-smooth steering, but good luck getting one of those things down an aisle.  So I left it in the main aisle to avoid getting in anyone's way, but apparently I should have laid camouflage netting over the top and planted ferns and strategically placed landmines because some bitch stole my cart!
So that's the first weird thing.
And yes, I said I was looking for cauliflower at Target.  Because it appears as though Target finally realized they were on to something when they started carrying groceries, but people still had to stop somewhere else if they wanted any produce, and now Target carries produce as well.  I'm thrilled that I can do all my shopping in one place and have it not be Wal-Mart, but I'd still rather live somewhere I can walk to small specialty shops — markets, florists, hardware stores — without climbing back into the car between stops while wearing cute, heeled sandals and my feet don't get tired.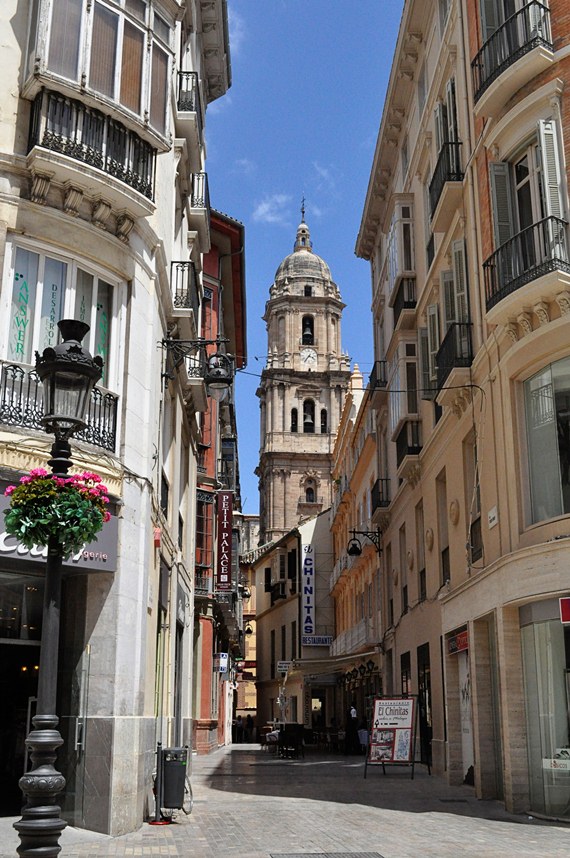 Remember the beautiful streets of Malaga?
And where it's not like 187-degrees F outside with 90% humidity.
Seriously… My clothes feel wet.  I get the back sweats when I'm sitting in the car.  Today, walking through the parking lot to Target, my knees started sweating.  My knees!  I'm shiny all the time.  I had that thought in the car — that thought about feeling shiny — and when I switched the radio station (I'm a switcher — I never keep it on one station for long), the song Shiny Happy People by REM came on.
No lie.
So that's the second weird thing.
Another thing happened as I was walking into Target.  I was actually coming from the Home Depot next door — trying to avoid a car trip across the parking lot between giant superstores — and I was somewhere in front of the outdoor gardening area at Home Depot when I heard someone just outside of Target yelling.
No, screaming.
Loudly.
Not scared screaming, but angry screaming.
And swearing.
Profusely.
"This is the WORST f*cking time OF MY LIFE!"
"You are SO f*cking BAD!"
"Shut up!  Just SHUT THE F*CK UP!"
Now.  You probably have already guessed what I saw as I approached the Target store.  But I want to preface the rest of the story by saying that up until now, I've consciously avoided writing about extremely controversial issues on this blog.  I take the Buddha/Lennon/Switzerland approach of can't we all just get along? and maybe I should just stay out of it.
But I'm curious.
Because when I saw what I saw, I'm ashamed of what I did.  Or rather, didn't do.
And I want to know what — if anything — you think should be done by a passerby in a situation like this.
Back in the Target parking lot, I zeroed in on a woman parked in one of the front-and-center handicapped parking places.  I'm pretty sure she wasn't handicapped, unless she had some incurable loss of control over her vocal chords, causing random, shouting, verbal diarrhea to pollute the air within a 200-yard radius of her body.
She was holding a small child, a little girl no more than 2 or 3 years old, and was walking around the car to put her in the back seat.
I did not see her commit any act of physical violence towards the girl, but the yelling?  It was full of I-hate-yous and untamed frustration and probably spittle.
She was basically acting like a 2-year-old.
Ironic, no?
I thought it was terrible, but I continued on into the store.
There, another patron looked at me incredulously.  "Can you believe that?" I asked.
"No!" he said.
"At least I didn't see the woman hit her…"
"I did," he said.
Now.
This was the moment.
That moment where you know you're making a decision that could affect someone's life.
For better or for worse.
And the bitch of it is that you just. don't. know.
Had I approached the woman, she might have gotten angrier and taken it out on the child.  Had I called the authorities, she would've been gone.  Had I reported the information, maybe the child would be taken away from a woman who was just having a bad day and put into an abusive foster home.  And by the time my mind finished processing this information — weighed the options and possible outcomes of action vs. inaction — she was gone.
Poof.
Personally, I like it when I see a parent discipline his or her child in public.  Even if it's harsh.  I don't think children are disciplined nearly enough anymore, and I'm allowed to say that even though I don't have kids, because I still have to see them and interact with them every time I leave my house.  Also, I was spanked as a kid.  I was not hit, and there's a difference.  The spanking stung, but it was on my cushy little butt and was intended as more of a humiliation factor than anything else.  And I undoubtedly deserved it every time.  I don't feel as though I am any worse off today because of it.
Now, no matter how you feel about spanking, and trust me — whether spanking is right or wrong is NOT the discussion I want to open here — there is a line.  There is a line between what my parents did to me and the full-on abuse of a child.
The discussion I want to open is whether or not it's right to intervene — whether or not there's an obligation to intervene — when someone's behaving in a way you don't deem appropriate.
The thing is, I don't know if what that lady did was something she could get in trouble for.  I didn't see the hit.  I only heard the rage.  And I didn't know if, by saying something, I would only make it worse for the child.
So I did nothing.  Like Amir in The Kite Runner, I chose the evasive route.
I kept expecting John Quinones from the ABC "ethical dilemma" show, What Would You Do? to jump out from behind the shelves in the $1 section, screaming "Coward!  Why didn't you intervene?!"
And the simple answer is, I don't know.
Had I calmly walked up to the woman, told her I understand what it's like to lose control — to get frustrated — to want to lash out — and it's okay, it happens to the best of us, but please think about what you're doing to your child — would she have calmed down?  Would she have taken a deep breath and come to her senses?  Burst into tears and cried on my shoulder?  Spit in my face and pushed me into oncoming traffic?
There's no way to know.
And that, I suppose, is why I didn't intervene.
But now, I think, I probably should have.
I'm curious to know what you would have done.  Or at least, what you think you would have done, because there's no real way to know until you're in the moment.  I'm especially curious about those of you outside of the U.S., because I have a feeling I know what the general response might be from citizens here.
And now I'm sweating again, but I'm pretty sure it's not from the heat.