Want To Make Everyone Jealous And Get Treated Like A VIP? There's An App For That.
So. You know how I'm pretty much a spur-of-the-moment, never-likes-to-plan-anything-ahead-of-time kind of gal?
Well.
I'll let you be the first to know:
I am changed.
Okay.
I'm not really changed changed, but something has happened that has opened my non-proactive, sleep-crusted eyes to the beauty of planning.
And it came from where I least expected —
A phone app.
Look. I'm not very tech savvy. I'm not into digital toys and computer gadgets and technological clutter that make things more complicated and frustrating under the guise of simplicity. If I could change one thing about my beloved 13-year-old Tracker, I'd give it manual roll windows so the back passenger side would work. I'd remove all buttons from my refrigerator, and my clothes dryer would only have knobs, incapable of overriding my logical decisions about timing and heat and spin speed. My GPS would not think it's smarter than me and the new Apple maps would let me skip ahead a step or two or six so I could see what's coming and decide whether or not that detour to Java Jack's is too far out of my way.
In my ideal world, technology would make my life easier.
But it would not override my ability to think for myself.
And this phone app does exactly that.
It's certainly not a new app, and most of you tech savvy people out there probably are already well aware of its virtues, but I used it for the first time to plan our trip to the North Carolina mountains and was shocked — shocked! — to discover that something so easy could actually work as advertised.
It's called Open Table and if you don't have it and enjoy eating out, you should download it immediately.
Also, it's free.
While planning this mini vacation/welcome-home-from-Afghanistan-Justin-now-you-can-eat-anything-you-want getaway, I knew I had to make dining reservations so we wouldn't become paralyzed with indecision, get stuck waiting 2 hours at the restaurant of our choice, and end up stumble-crawling over to the nearest chain just to get some sustenance.
I know. Even my fears are privileged.
I used Trip Advisor to narrow down my restaurant choices, headed over to the restaurant websites, and that's where I noticed you could make reservations through Open Table directly from the websites of certain restaurants. Unfortunately, you don't necessarily earn Open Table rewards points when you do it that way, so that's where the app comes in. If you make the reservations using the app or the Open Table website, you can earn points that, once they reach a certain value, can be redeemed for "Dining Cheques" that work like cash with affiliated restaurants.
The rewards program is a fantastic incentive, for sure, but honestly? I'm in it for the service.
I used it for reservations at 3 different Asheville restaurants, and each one was honored with the same amount of zeal as though I had called the head chefs on their own private phones. We felt like VIPs getting escorted past the line of anxious, non-reservationed amateurs as we were led to our prepped and ready seats.
Special requests? No problem. At Cúrate we were seated right at the bustling bar, exactly as I'd asked, so we could watch the chefs work their magic. At Limones (more on that here), we were led to one of the best tables in the house — a nook with a window seat to watch the street traffic, and our server brought us complimentary glasses of champagne upon greeting. When I'd made the reservation, I noted that we were celebrating Justin's homecoming from deployment, and not only did the mention get noticed through the app, but the restaurant went above and beyond to make it a special night for us.
The third restaurant was the largest of the three, away from downtown Asheville and right in the heart of the bustling Biltmore Village.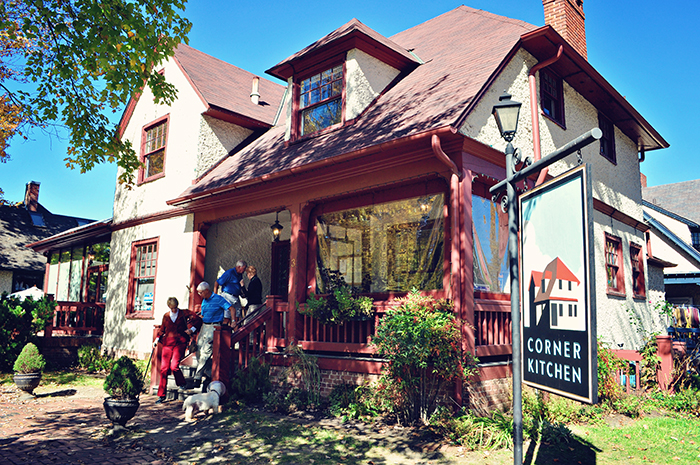 Because of its proximity to the tourist-sought Biltmore Estate and high-end boutiques, I sensed we might need a lunch reservation for Corner Kitchen — even on a Tuesday.
And that, we did.
It wasn't the cozy, intimate dining experience of Cúrate or Limones, and I didn't place any special requests through Open Table, but it was hard not to notice the envious stares as we were escorted past Burberry-swaddled, Coach-toting patrons waiting in the entryway.
And the food was delicious.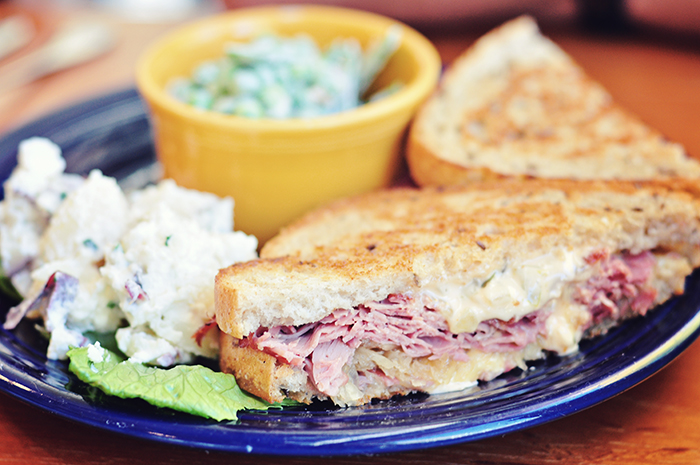 I booked it for its award-winning Reuben sandwich. This is Justin's favorite sandwich, and I knew he'd be craving one upon his return.
It did not disappoint.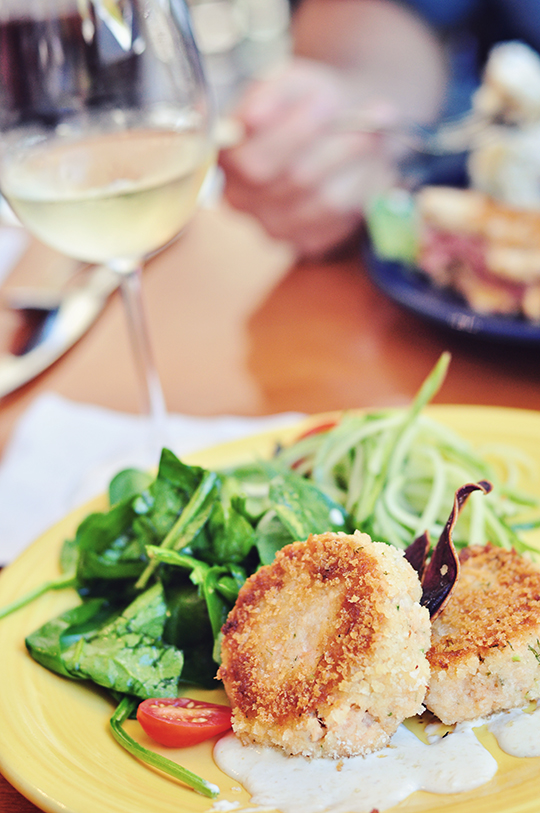 I ordered the salmon cakes.
You know, just trying to get my Omega 3s and eat light with my affinity for fried foods and mayo or cream-based sauces.
And let's not forget dessert.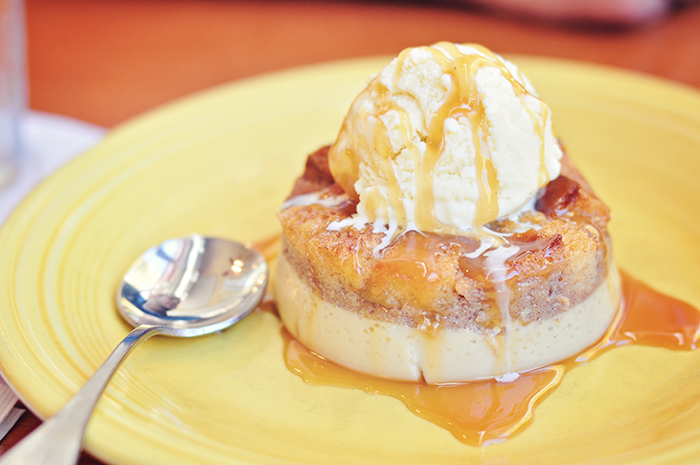 Some people think bread pudding is only for senior citizens with false teeth.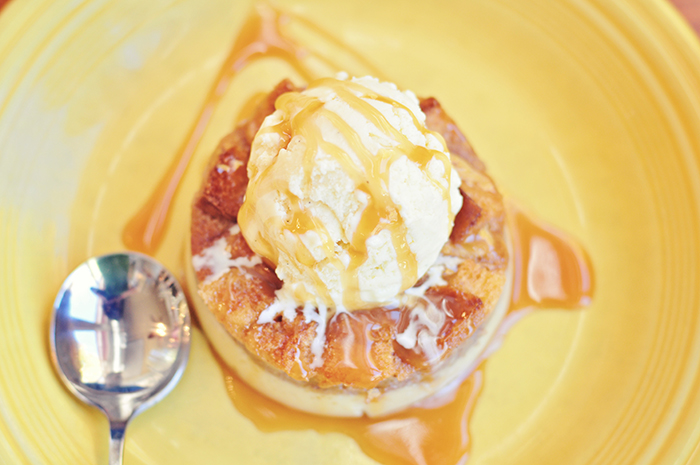 Some people are dumb.
*I was not endorsed by Open Table to write this post and all opinions expressed are my own. (Though if Open Table wants to endorse me, I can be reached at katie (at) domestiphobia (dot) net. Let's talk.) Also, I can't solely credit Open Table for the superb treatment we received from the restaurants. They could do that for all of their reservations. But I can thank Open Table for ensuring the requests were noticed. And, just to be fair, I will offer up a small, unrequested bout of constructive criticism: I really — REALLY — wish they would improve the restaurant search feature on the app. As it stands, it seems like I either have to be physically located in the town where I want to make a reservation, or the town has to be located in the applications (seemingly) random and oddly ordered list of featured metro areas. I can type a specific metro area AND a specific restaurant, but I cannot simply search for affiliated restaurants in a specific metro area if it's not on their featured list. If there is a way to do this, it's not obvious enough for my feeble and untechnologically savvy mind to discover.