It Feels Good To Be A Gangsta. (Getting The VIP Treatment In Asheville.)
So I'm thinking you guys just must not enjoy going out to eat as much as I.
Or should that be "as much as me?"
Here's where I get a little fuzzy on my grammar. The real me — the walking, talking, breathing person with really dry winter skin who desperately needs a pedicure wants to say, "You guys must not enjoy going out to eat as much as I do." But I thought that was blatantly wrong because I was under the impression that "do" was a preposition until I just learned from Wikipedia's list of English prepositions that it's apparently not, so maybe what I really want to say is right but I'm so conditioned to automatically think what I think is wrong when it comes to grammar that I'm afraid to be right.
All I know is after yesterday's debacle, I can abide no more internet research for a long, long time.
Anyway.
I'm thinking you must not enjoy going out to eat — or rather, you don't enjoy my posts about going out to eat because the last one was a total flop.
But I can't stop there, because I feel very strongly compelled to tell you about our experience at Limones in Asheville, North Carolina.
I'd used Open Table a few weeks prior to make the reservation and noted that we were celebrating Justin's homecoming from Afghanistan.
Then, I forgot all about it.
Since we thought our B&B was about a mile from the restaurant, we figured we'd hoof it down there in order to negate all of the calories we were about to consume and — you know — not drink and drive. Unfortunately, we slightly underestimated a) the distance, b) the number of hills, c) the sketchiness of our location, and d) my ability to power walk in heels (HEY. Carrie Bradshaw does it all the time — why not me?), I found myself a half hour later, sweaty and out of breath, calling the restaurant to tell them we'd be 10 minutes late.
Expecting the worst when we arrived at the cozy side street location and saw the line at the door, I was relieved when the smiling hostess sat us right away at one of the best two tables in the house — right inside the front windows where I could nestle myself in on a cozy, cushion-covered window seat and Justin and I could make fun of everyone who tried — and failed — to enter the restaurant because the front door swings the wrong way. (Trust me — we were not immune to its trickery.)
Then we waited.
And waited.
Someone finally brought us water.
And then we waited some more.
Just as I started to think that I'd made a huge mistake, our server arrived in a flourish of confidence, knowledge, and charismatic charm. The cheesy kind of server I happen to love.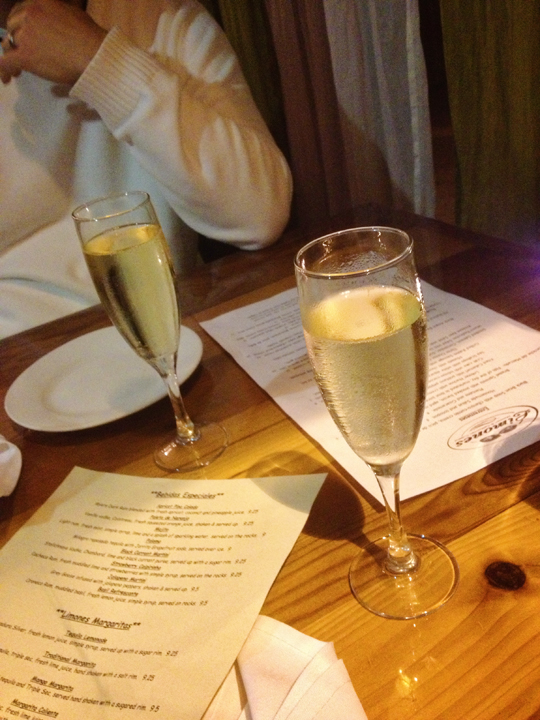 Plus, he brought complimentary champagne.
He said it was for our special celebration, and then I remembered that I mentioned Justin's homecoming on the reservation.
This was a very good start.
We then ordered our "real" drinks — one of their special Limones margaritas for Justin and a Black Currant Martini for me.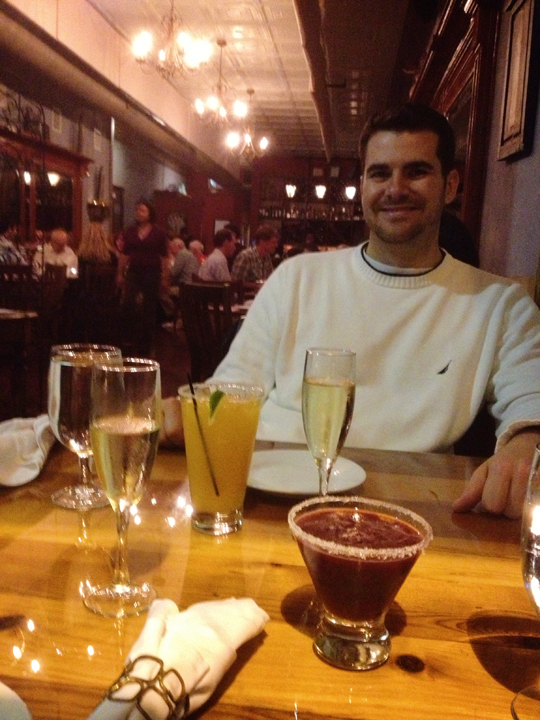 Hey. It's not a real meal until you have at least 3 beverages.
After some consulting with our server, we made our selections and waited in hungry anticipation. We definitely didn't need it, but he brought us some bread for our wait.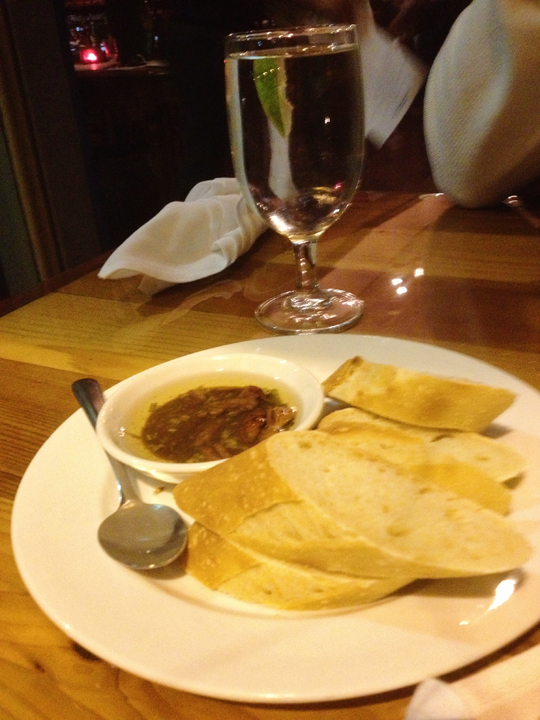 Then, this arrived.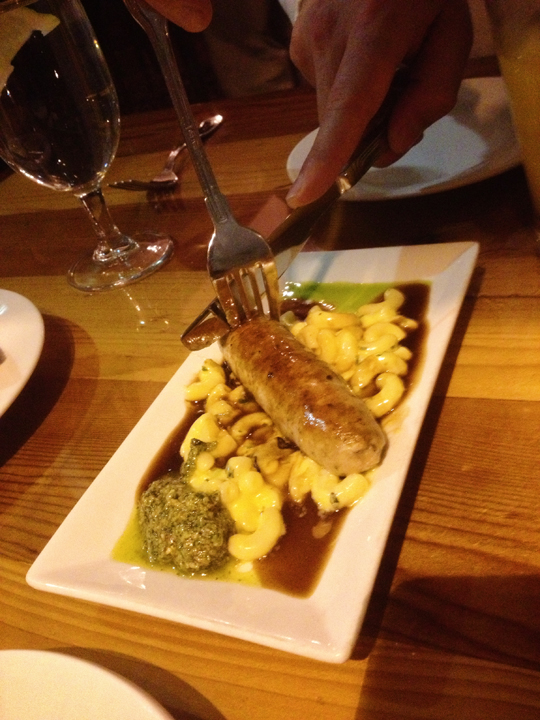 You'll have to forgive me. Limones' menu changes once per week, and I forgot, in all of my black currant and champagne infused inebriation, to take notes on exactly what we ordered. But this? I remember. It's an appetizer of rabbit sausage, black truffle macaroni, and arugula pesto.
I realize this lovely iPhone photo doesn't exactly look appetizing, but trust me. It is one of the most delicious things I've eaten in my life.
And it's for that very reason that I can't decide whether ordering it was the best — or worst — decision we made that night, because it somehow made the rest of the meal seem somewhat lacking.
I ordered some kind of seafood medley in a saffron seasoned broth.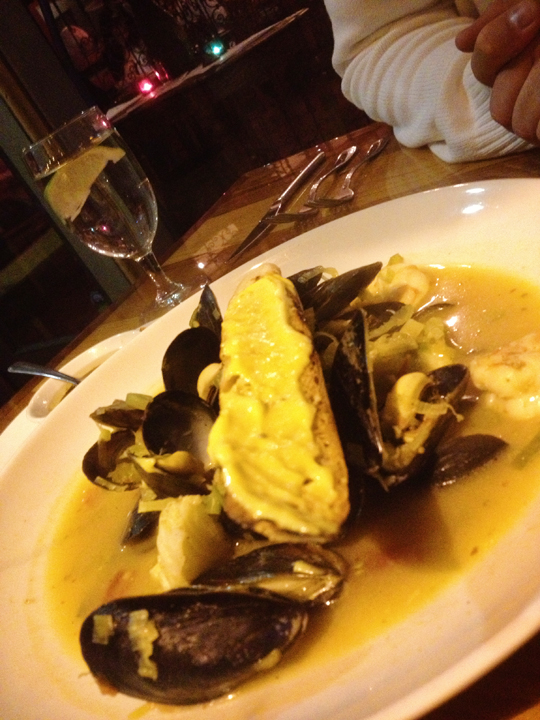 (That's a large piece of buttered bread sprawling across the top.)
Saffron is an interesting little spice derived from the stigmas of a flower. It's usually a reddish color and looks like featherweight fine threads, and its value by weight can is sometimes known to exceed that of gold. To me, it smells a bit like wet laundry (I'm sure chefs around the world would cringe at that sentiment), but it's pretty tasty in many dishes — especially seafood — like paella.
My "seafood bowl" was good — just not overwhelmingly good like our appetizer. Since everything bathed in the same broth, the mussels, fish, and shrimp all tasted the same.
It was one giant bowl of sameness.
Good sameness, but sameness.
Justin ordered the duck.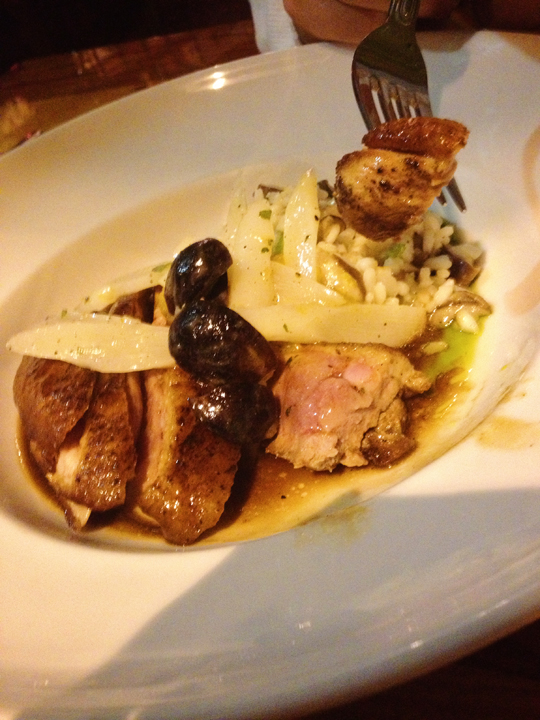 Again, it was fine, but I remember liking his mushroom risotto that came alongside better than the duck itself.
Our check came with these fantastic homemade truffles.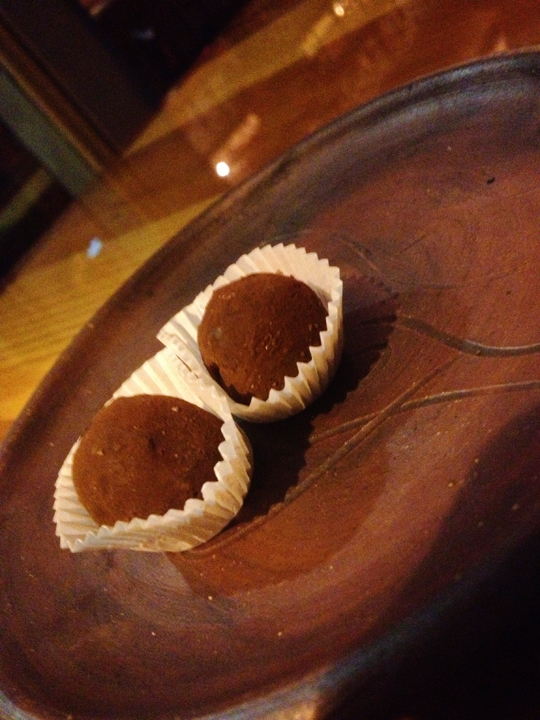 Chocolatey rich with a hint of spice (chili powder?), they were divine.
All-in-all, I would definitely head back to Limones if I ever make it back to Asheville. It was exactly the kind of intimate setting we love, and they went above and beyond to make sure we had a nice time. Next time, though, depending on the menu, I might just stick to small plates and cocktails.
Those were the best.
We spent the rest of the evening wandering around downtown and taking drunken videos of swing musicians.
It was a great night.
Thanks, Limones, for starting us off right.