Food Cleanse Update: It Turns Out Mimosas Are Totally Allowed.
So you might be wondering, especially after yesterday's Super Bowl festivities, how this cleanse and I have been getting along.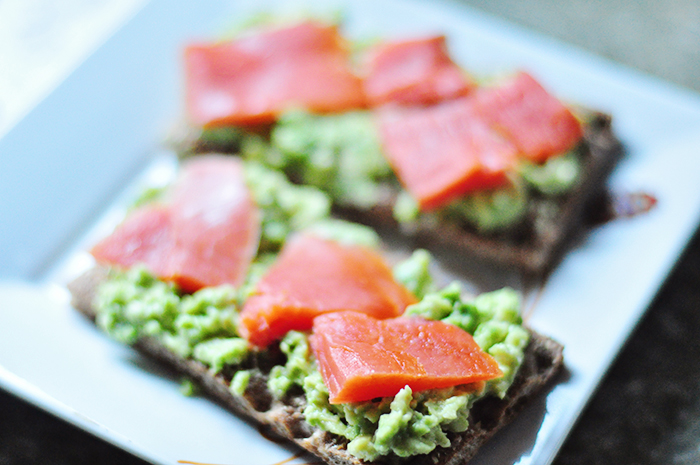 Crisp rye crackers with mashed avocado and smoked salmon.
And I will tell you — we have a love/hate relationship, this cleanse and I.
Sometimes she makes me feel so good.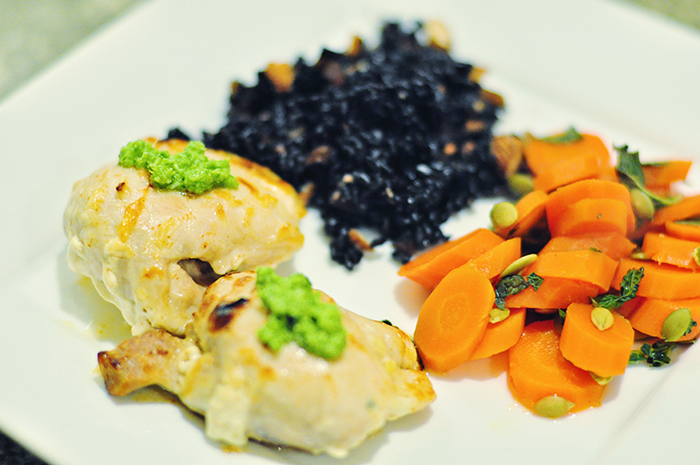 Yogurt chicken with spicy Serrano chutney, carrots with mint and pumpkin seeds, and black rice with toasted almonds and dried apricots. Please ignore the horrific lighting. Thank you.
She tells me I look pretty and fills my fridge with vibrant colors and appeals to my intellect by teaching me words like "bulgar" and "miso" and "Harissa paste."
You see, I'm not just a body to her — she cares about my mind. And when I'm feeling down, she shows me good things in the world, like hazelnuts and almond milk. She taught me the virtues of fresh Bosc pears, and how just because I may not have liked something as a child, doesn't mean I won't enjoy it today.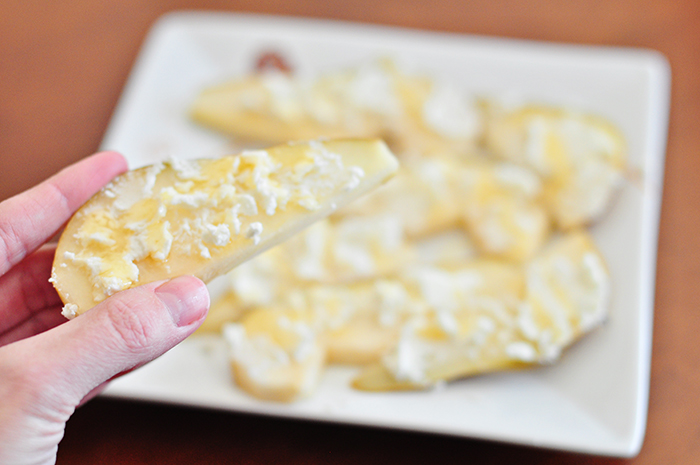 Bosc pear slices topped with goat cheese and honey.
But then there are other times.
Other times when she makes me wake up early to prepare breakfast, lunch, and a snack so Justin has everything he needs at work. She sends me to five different stores, including the largest Asian market in Fayetteville, in search of chili paste with fermented black beans which, I'm convinced, doesn't actually exist if you live outside of New York City.
It may not even exist at all.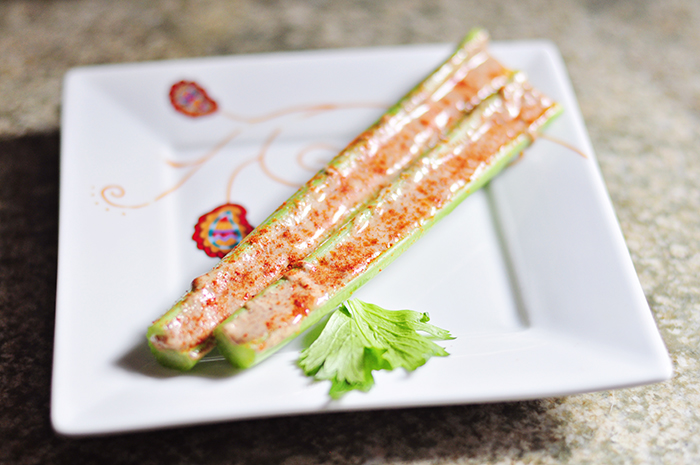 Celery sticks topped with almond butter, sea salt, and smoked paprika.
She sends me home exhausted and defeated, smelling like kimchi and curry.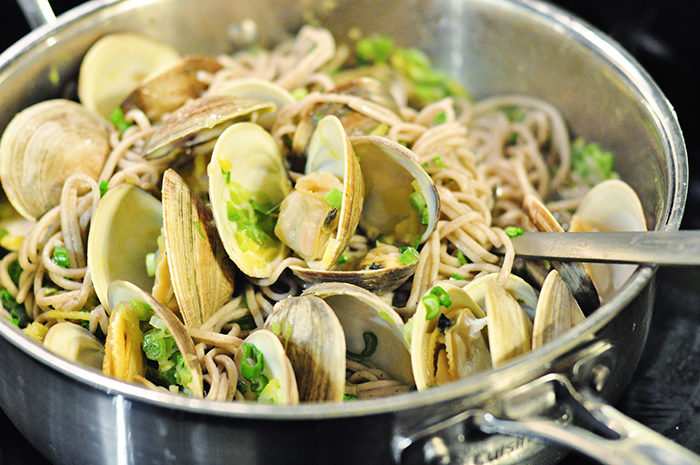 Fresh saki steamed clams with soba noodles.
She's frustrated me to no end with her irregular serving sizes and the assorted plastic baggies of bulk dry goods taking over my kitchen counters, and more than one bloody injury has stemmed from her relentless, mincing, dicing, and slicing demands.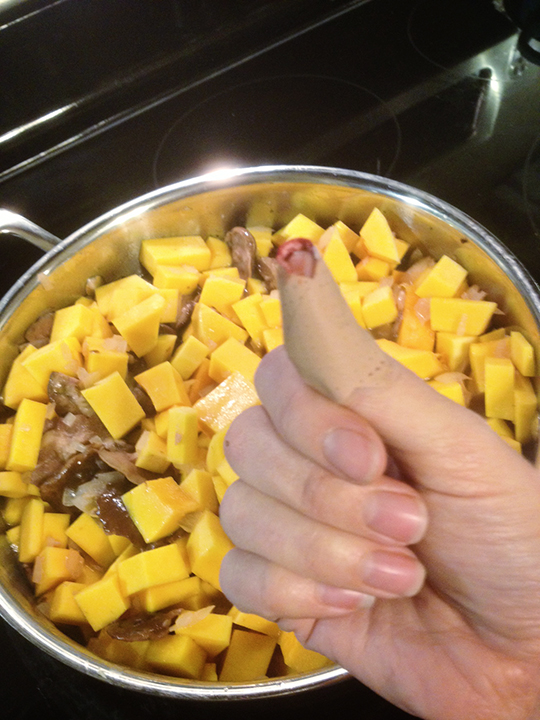 I'm pretty sure I didn't get any blood in the butternut squash-shiitake ragout.
She makes me feel weak.
Like yesterday, when I drank a mimosa at 11:00 a.m., my first alcoholic beverage in four whole days, and told myself I'd have no more.
All lies.
I knew it was lies when I scheduled the morning boudoir photo shoot for my friend.
It turns out mimosas are practically a necessity when it comes to putting both photographer and photographee at absolute ease.
And it's from mimosas that happy sexy pictures are borne.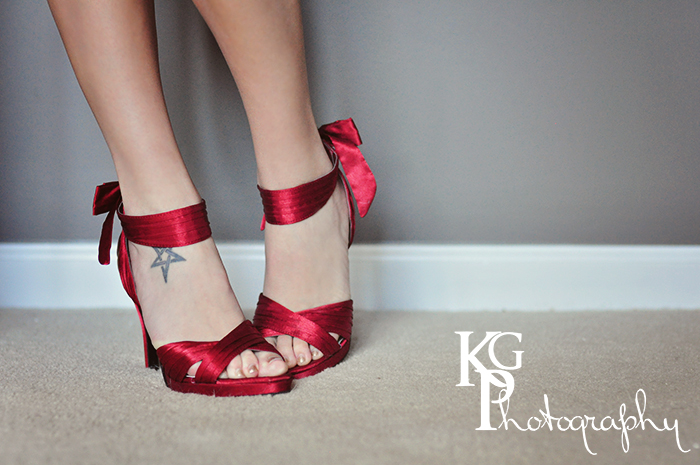 At least that's my philosophy.
And I knew it was lies when I brought a bottle of wine to a Super Bowl party later that day, convincing myself that, hey. At least it's not beer. Wine has antioxidants and grapes some virtuous, cleanse-like qualities, right? And the cleanse concedes up to four alcoholic beverages per week, so the day's drinks I could justify in light of my otherwise dry week, but not — so not — the bacon-wrapped artichoke hearts. The melty, saucy, hammy sammies. The chicken wings. The cheeseburger dip. The pizza dip. Or the chocolate coconut cheesecake with the oat butter coconut crust (recipe coming soon).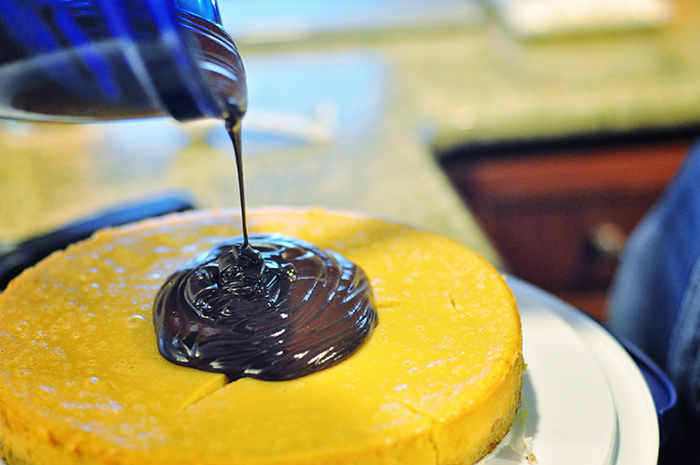 So weak.
But I've decided to not beat myself up for yesterday.
In fact, my body has already done that for me.
I feel gross. Sluggish.
But guess what? That's nothing a little orange breakfast bulgar with almond milk and toasted pepitas can't cure.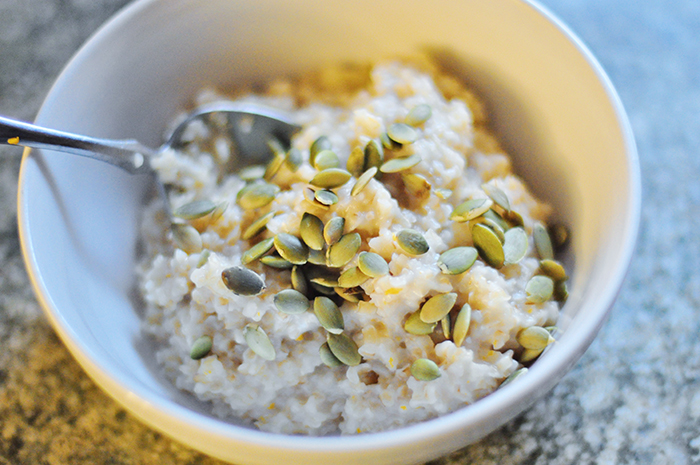 So, really?
It's not just a cleanse.
It's a mindset.
Justin and I are not only learning how to put better things in our bodies, but we're actually learning to like it.
Of the recipes we've tried so far, there have been some very clear winners, and some very clear — well — not-so-winners. And I plan on sharing the best ones with you here.
After the cheesecake.
So stay tuned.