How To Refinish Your Nasty Yellow Fiberglass Tub for $50.
Want to know how to refinish your bathtub to make it look new for just $50? Read on!
I'm so glad we did this. This project made the tub look cleaner, newer, and most definitely helped with the re-sale of our home. All it took was some elbow grease, minimal tools, and this nifty product:

It saved us the hassle and expense of trying to rip out and replace it or having it professionally refinished (something we did in our other bathroom to the tune of $400!).
I'll admit though that I did something with the title of this post.
That's a fancy marketing technique called lying.
I used it to lure you into the post because if I'd titled it, "How To Make Your Nasty Yellow Fiberglass Tub Look New for $50 Plus The Cost Of A New Shower Head, Fancy Curved Curtain Rod, Curtain, Paint Rollers, Roller Pads, Paint Trays, Lots Of Elbow Grease, At Least 6 Hours Of Your Time, And 40% Of Your Brain Cells," it might not have sounded as enticing. But I promise you it was still worth it.
When we moved into this house almost six years ago, we knew both bathrooms would need to be renovated.
We started with the guest bathroom, thinking we'd save money by having the tub re-finished rather than replaced. Then, down the line, we'd fully remodel our master bathroom to give it a separate tub and standing tiled shower.
We were so cute.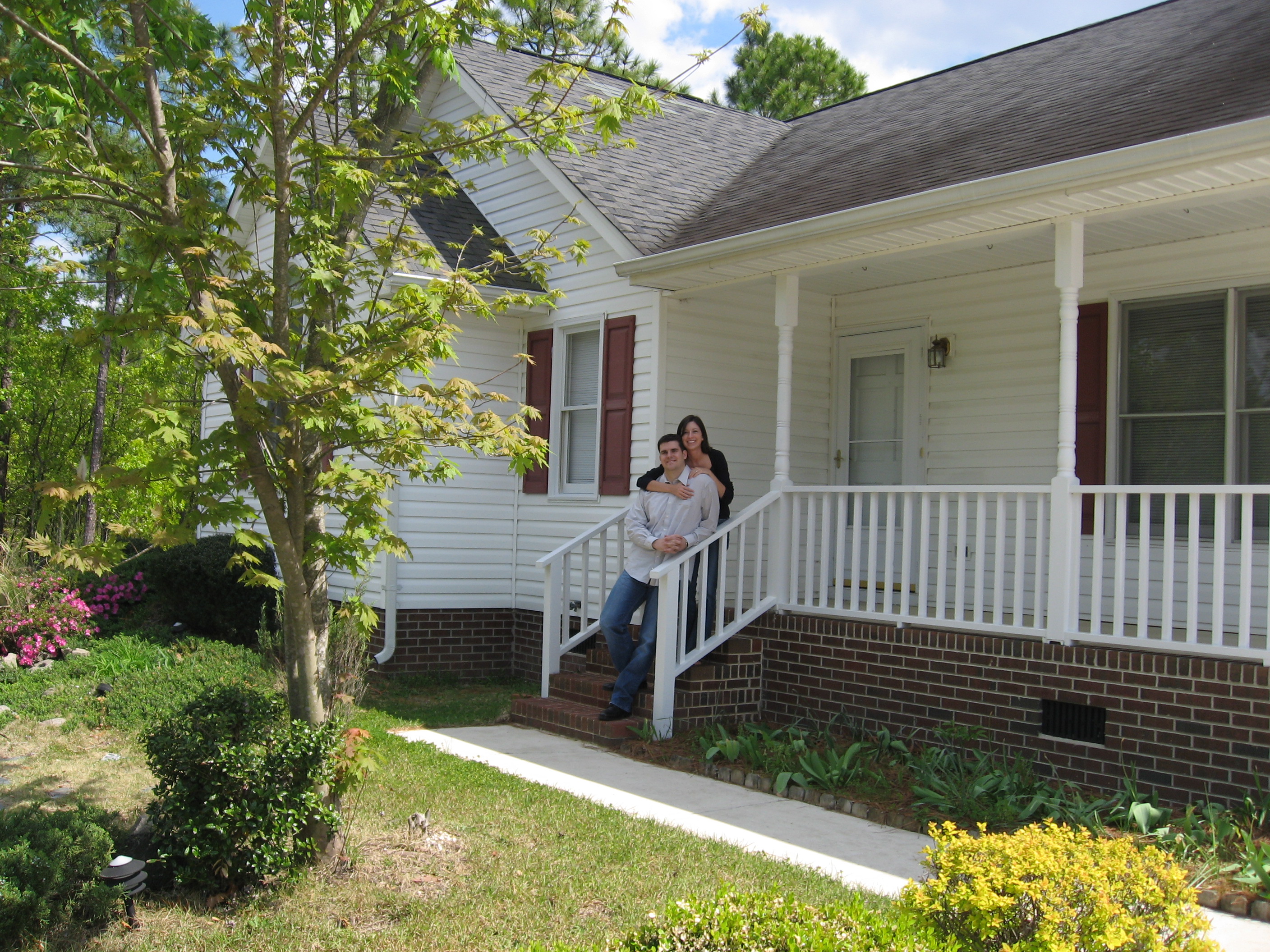 And deluded.
And while we did take the guest bathroom from this: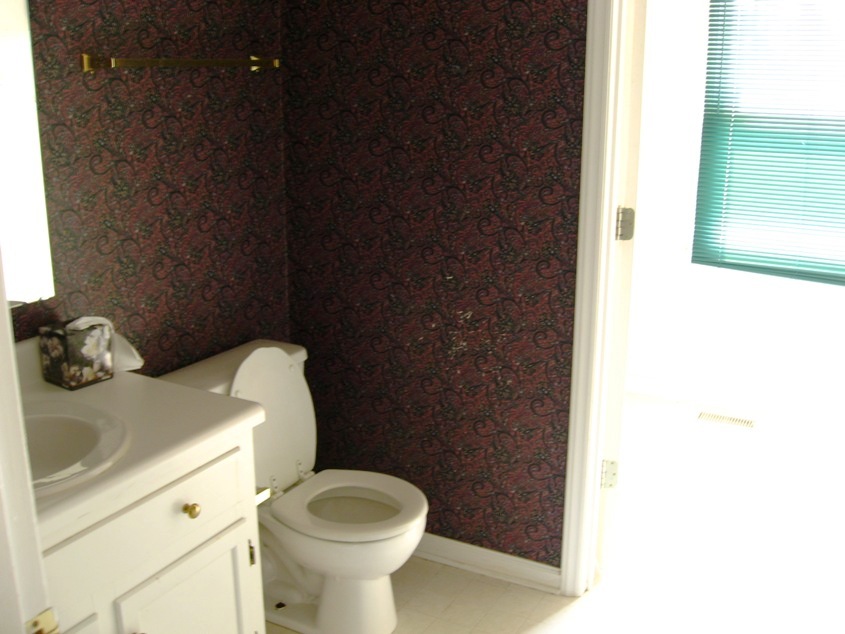 To this: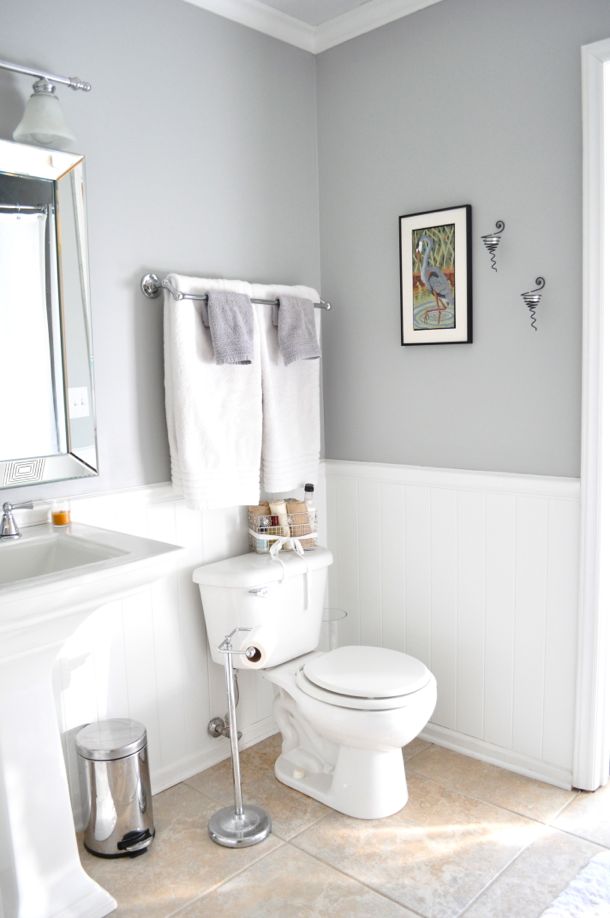 We had no idea how much renovations actually cost. From the hundreds of dollars we spent having the tub professionally re-finished, to the time it took to peel off that horrific wallpaper, and to the near-filing of divorce papers when I knocked over and broke our last, intricately cut porcelain tile for the floor, we were clueless.
I have donated blood, sweat, and tears to every room we've touched.
See, every project you take on actually has three costs involved:
Three Costs of Home Renovation:
1. Money.
As first-time buyers, this is the only factor we took into account. Big mistake.
2. Time.
Thinking we'd save ourselves a bit of cost factor #1, we sacrificed cost factor #2. Time. And it's important to understand that your time is precious. If you're adamant about at least attempting to DIY, you need to factor in the cost of your time. And not only the time it takes to complete a project, but the long-term time it takes to "complete" a home. Six years ago, we thought we would only be living here for four years. We thought four years was plenty of time to get this place ship-shape before it came time to sell. And for some, that would be true. But we didn't realize how little we actually like working on the house — and how we'd rather be going to Spain.
3. Sanity.
This, my friends, is the most important and often least factored cost when it comes to home renovations. If the very idea of heading out to Restore Warehouse and picking out a ten-million pound pallet of deeply discounted porcelain tiles and matching grout, then Home Depot for huge chunks of cement board and bags of mastic, then coming home to spend two full days shoved into a 4'x6′ space with your significant other breathing tile dust and sporting knee bruises and passing the time pulling each others' nerve endings like little loose sweater threads gives you an uncontrollable eye twitch, you may want to reconsider DIY.
My point is that sometimes, the unseen costs of #2 and #3 might outweigh #1.
So this time around with our master bathroom, we're getting a little smarter.
We know a move late this year is inevitable, but we just don't know when or where. (Oh, the joys of military life.) Realizing the stresses that are soon-to-be upon us, we've ultimately decided to make cost factor #3 a priority. We like our sanity. In doing so, we've found we're saving ourselves a little of #1 and #2 as well.
As you already know, we decided to paint the huge vanity rather than replace it. The choice made sense by saving us the stress of having to find something else that fit and the substantial cost of buying a new one or the time cost of searching for and retrofitting a piece of furniture. Since this isn't our "forever home" and we've already put more money into it than we're likely to get out, it's not worth it for us to spend money on things that at this point we're not going to be able to enjoy for long.
Before: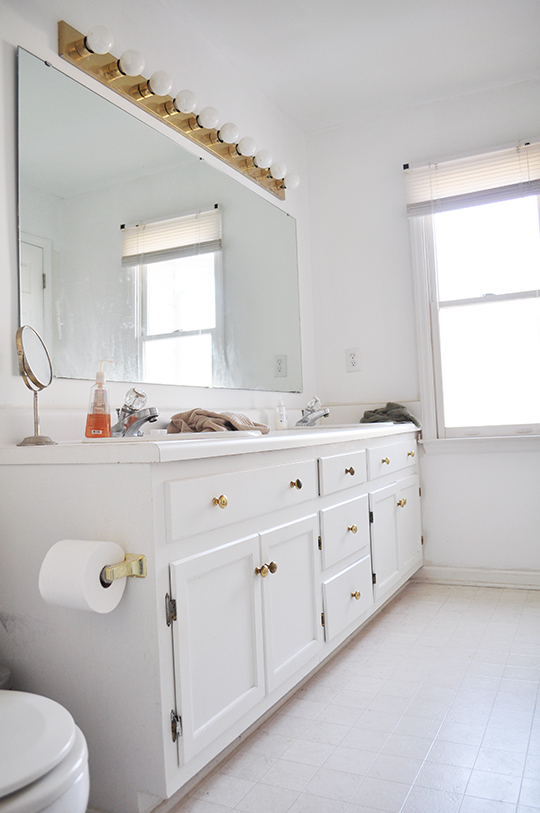 After: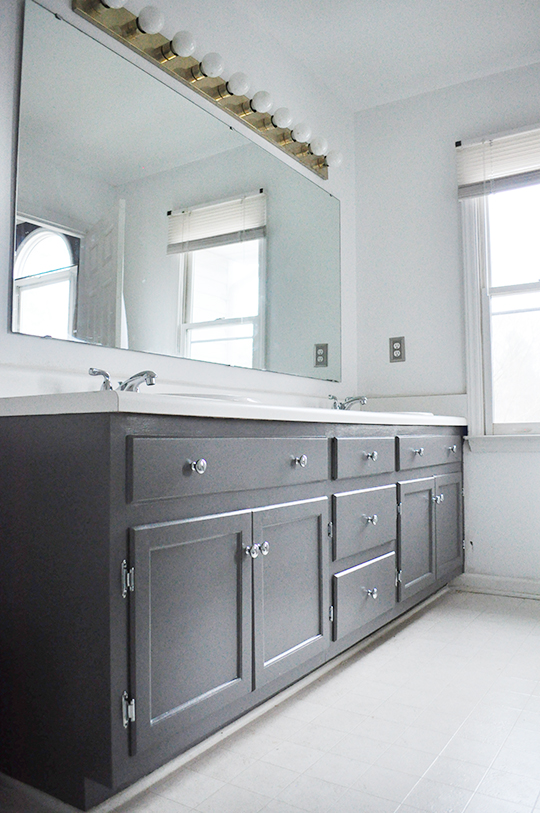 Since that seemed to work so well, we decided to take the same approach with the tub.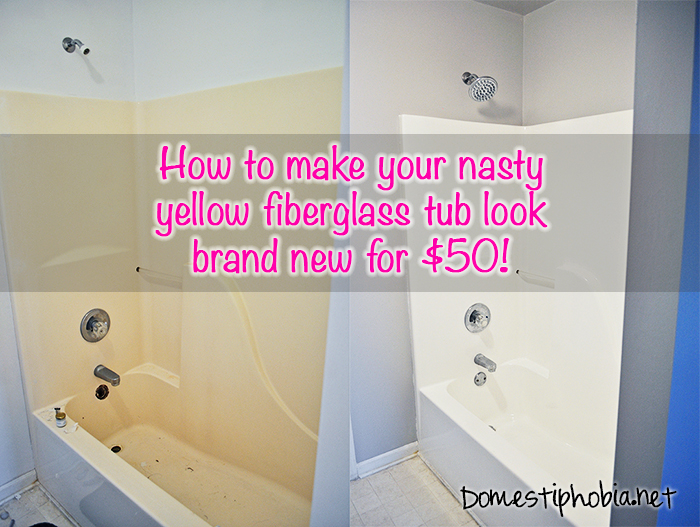 Having the guest bathtub professionally repainted cost, if I remember correctly, $400-$500 last year. We'd figured that was still substantially less than what it would've cost us to bring in a new one, so we felt justified. But now? Notsomuch.
After pouring through reviews, I ordered two of these tub refinishing kits by Rustoleum from Home Depot. They appear to be no longer available, but you can get the same tub refinishing kit here.
When I bought them, they were $25 a pop. Based on the reviews, it looked like we may have needed the second kit to cover both the tub and the fiberglass surround (which we did). If you just have the tub with a tile surround, you can probably get away with just one kit.
I'm not going to go into step-by-step details about exactly how Justin accomplished this, because that's what the instructions are for. What I will tell you is that the prep work was the most important. He spent a lot of time scrubbing and sanding and cleaning before he even started the painting process. Also, plan on throwing away whatever rollers you use. This stuff is potent and you will likely not be re-using your tools. We did not use foam rollers because we read in the reviews that this stuff would eat right through them. Justin said not to worry if it goes on a bit bubbly — it tends to smooth out as it dries. He also said to work quickly because it does tend to dry fairly fast.
Finally, I will tell you to work in a WELL ventilated room. We had the window open and a fan blowing for 3 days, and it still smelled like fumes in there.
In the end, though, the effect was worth it.
Before: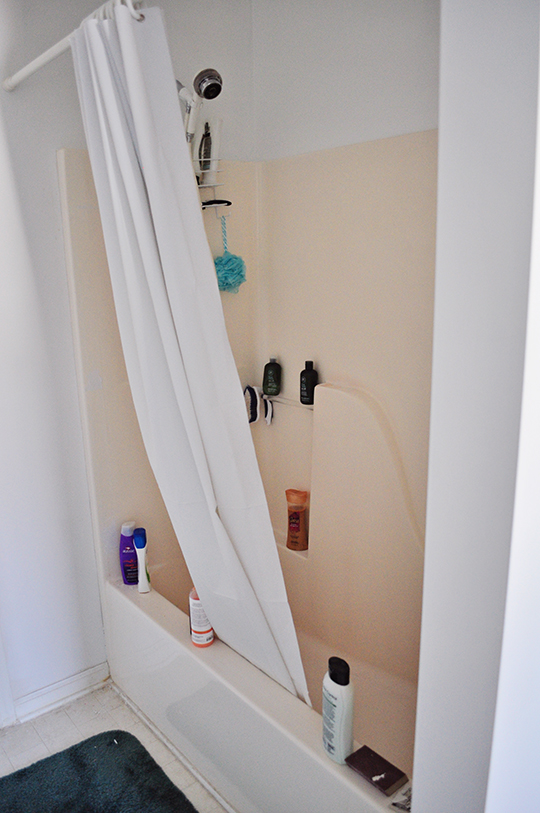 Prep: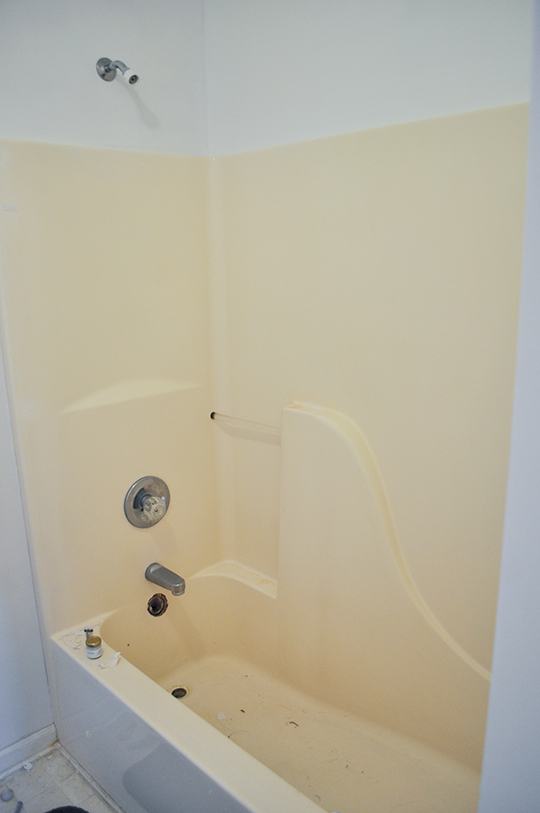 After: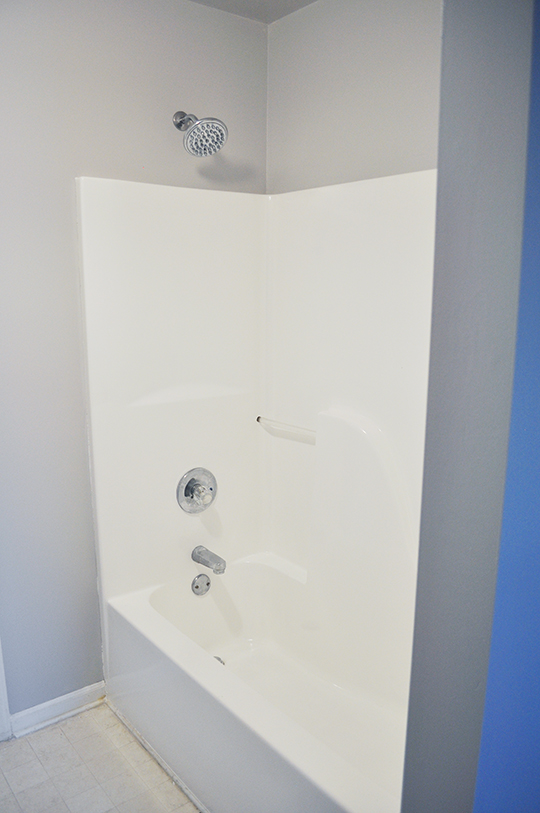 The walls and ceiling are also painted in the "after" picture so that makes a bit of difference as well, and in the interest of full disclosure, we are probably going to put that plastic showerhead back on (this one is from the guest bathroom) simply because I like the pressure better, but can you see the difference?
Obviously we still need to grout around the outside, scrub the bathroom floor with a toothbrush (how embarrassing) and paint the trim a clean, crisp white, but I'd say this is a vast improvement.
And also:
Remove the "popcorn" ceiling finish
Repair rotting drywall above tub
Re-finish nasty bathtub
Paint walls and ceiling
Replace brass fixtures
Paint and fix vanity
Replace faucets(?)
Frame mirror(?)
Accessorize
We haven't actually used the shower yet, but I suspect since we've let it dry for a couple of weeks, we hopefully won't have any issues.
I'll let you know if we do.
How about you? Have you been killing brain cells with any toxic epoxy lately? Or is that just us?
UPDATE 8/5/2015: This is by far one of my most popular posts (thanks, Pinterest!), and I frequently get email questions about how well this project held up. The truth is, I don't know! We moved about 8 months after painting the bathtub, but in that 8 months we had absolutely zero problems. By the time we left, the finish showed zero signs that it planned on going anywhere anytime soon, and I'd honestly be shocked if it has. That stuff was seriously noxious, and it meant business. If you have excellent bathroom ventilation and can spend a couple of days far away from it, I'd still highly recommend this project for old yellow fiberglass tubs.
In case you're curious, here's the final tour of that home!
*This post contains affiliate links.