The Joy Of [Cooking With] Nutmeats.
So I've been on a bit of a pistachio kick lately.
It's odd because until a couple of years ago, I really didn't even know what pistachios were.
I mean — I knew they were some kind nut and also a weird green ice cream flavor that didn't sound the slightest bit appetizing so I skipped them, and the ice cream, and went on with my life.
And, as with so many things we don't bother to try, that was a huge mistake.
I missed out on years of delectable pistachio consumption.
Then one day I noticed my neighbor plucking the bud-like nuts from a bag, pulling apart the pre-cracked shells, munching on the kernels, and tossing the shells into a bowl on the ground.
"What are those?" I asked, fascinated.
She looked at me like I'd just arrived from another planet. "Pistachios. Want some?"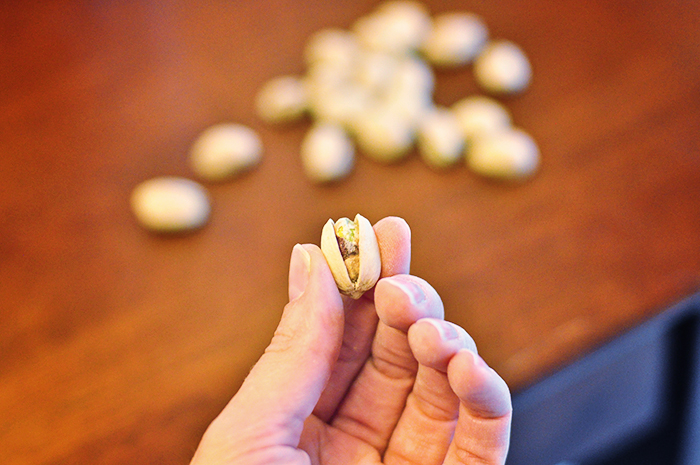 And thus began the start of my addiction.
Pistachios, it turns out, are like the Pringles of the nut world.
Once you pop, you just can't stop.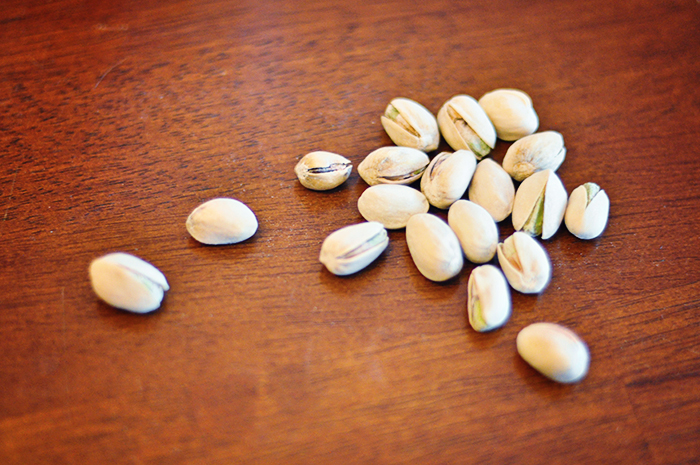 And the great thing about them is that because they take a little work to eat and you're forced to watch the discarded shells pile up, you don't actually end up eating as many as you would with, say, a container full of cashews.
Side note: When we were on our honeymoon in St. Lucia, we learned that cashews, which I consider to be the God of all Nuts, are actually harvested from these bell pepper-sized fruits. That's ONE nut per fruit. Can you imagine buying a bag of "unshelled" cashews?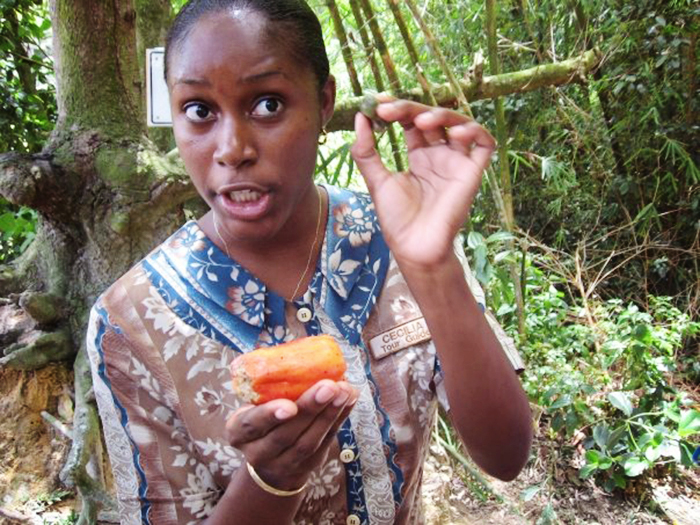 You can actually buy pistachios pre-hulled which, to the surprise and delight of someone with my level of maturity, Trader Joe's likes to call a big bag of "nutmeats."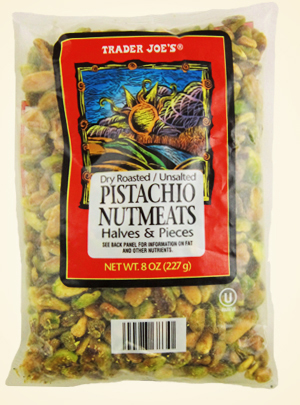 Of course, pre-shelled nutmeats are more expensive.
Good nutmeat always is.
I prefer my nutmeats lightly salted, but you can purchase unsalted nutmeats as well.
Are we done laughing yet?
Nutmeats.
Okay.
So usually, if I'm just hankering for a snack, I buy pistachios that are still in the shell. But if I'm using them in a recipe, I take the lazy route and buy a big bag of nutmeats.
One of the easiest things in the world to make at home is granola.
Homemade granola tastes so much better than dried-out store-bought granola. I love it so much that I've shared the same recipe twice on this blog — once in 2010 and once in 2012.
No, I didn't realize I did it until after I published the second post.
Which is further proof that I'm losing my mind.
Anyway.
That's my "healthy-ish" version with ground flax and wheat germ and seeds and such.
This — my sweet, salty, pistachio nutmeat filled kind — is likely decidedly less healthy.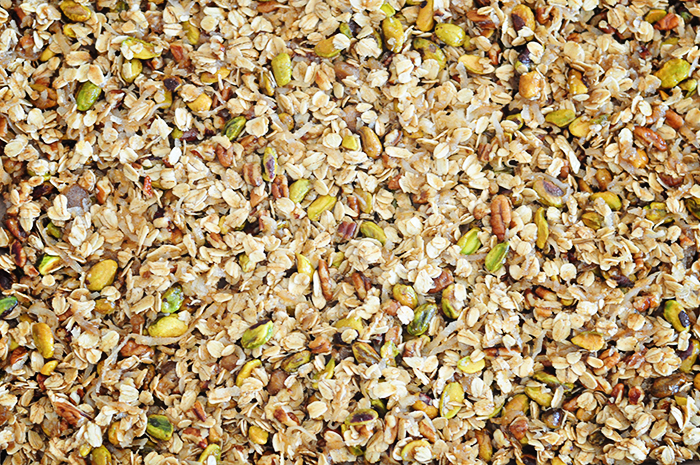 But it's delicious, and probably still better than anything you would buy at the store.
My friend Tracy sent me the recipe a while back, and I make it whenever I'm in the mood for a sweet, crunchy treat. You can cut back on the sugar and maple syrup if you like your granola a little more savory. It's a super versatile recipe that can be tweaked any number of ways, but I wouldn't recommend skipping the nutmeats, simply because you would miss out on the fun of laughing about calling them nutmeats.
Sweet and Salty Nutmeat Granola
1-1/2 c. old-fashioned rolled oats
3/4 c. raw pistachios, hulled
1/2 c. walnuts (I use pecans because Justin is not a huge fan of walnutmeats.)
1/2 c. sweetened coconut flakes
1/4-1/3 c. pure maple syrup
1/4 c. olive oil
1/3 c. packed brown sugar
1/4 tsp kosher salt
1/4 tsp ground cinnamon
1/4 tsp ground ginger
1/2 c. dried cranberries (optional)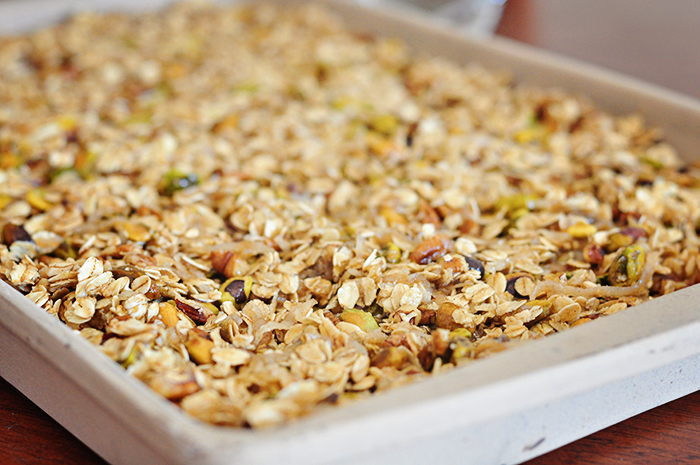 1. Combine everything but the cranberries in a large bowl. Spread onto a rimmed baking sheet and bake at 300-degrees F for 30 minutes until lightly browned and toasted, stirring halfway through. Add dried cranberries if using, cool completely, and store in an airtight container.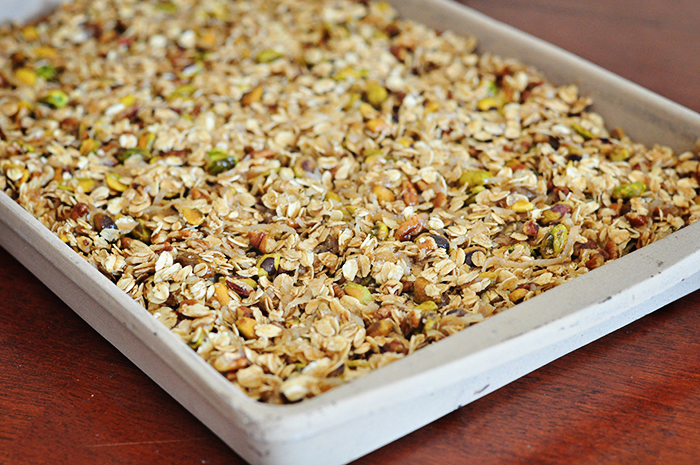 What?
That's it?
Yep.
And even though I'm a little late in the game here, I'm pretty sure pistachio nutmeats are making a comeback.
If you buy them pre-hulled, everyone — young, old, and even the least dexterous among us — can experience the joy of nutmeats.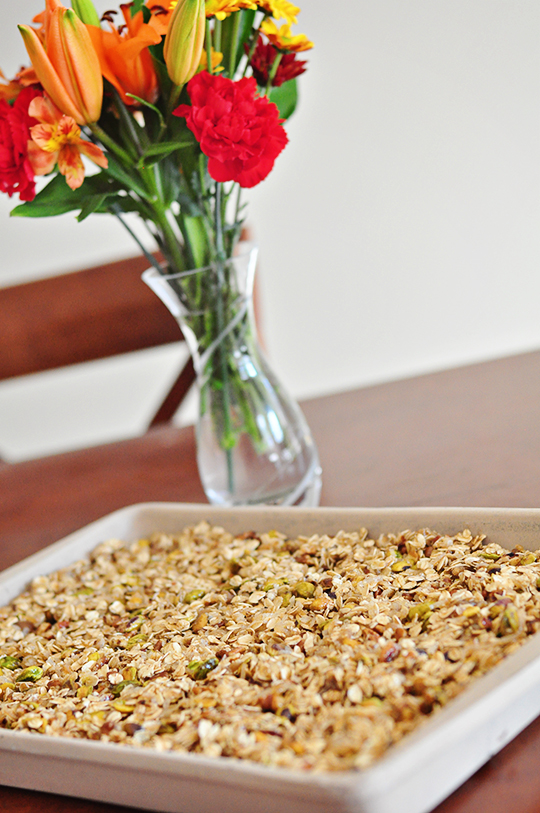 Nutmeats.