It Just Goes To Show That There's A Very Fine Slackline Between Stupidity And Love.
Okay so there's this viral video that was very recently — as in 6:30 this morning — brought to my attention.
Basically, it's a video of this (apparent) dickwad pushing his girlfriend off of a cliff.
Okay, okay. It's not that bad. She's attached to a rope. And it's only like a 400-foot free fall before the slackline catches and hurls her, screaming, towards the face of the opposite cliff.
Not terrifying at all.
Multiple times, while she's standing at the edge of the precipice, she says, "I don't wanna do it" or "I don't think I can do this" or "I can't do this" or some variation.
Over and over.
She seems terrified.
And then her boyfriend is seen standing next to her, comforting her, giving positive words of encouragement.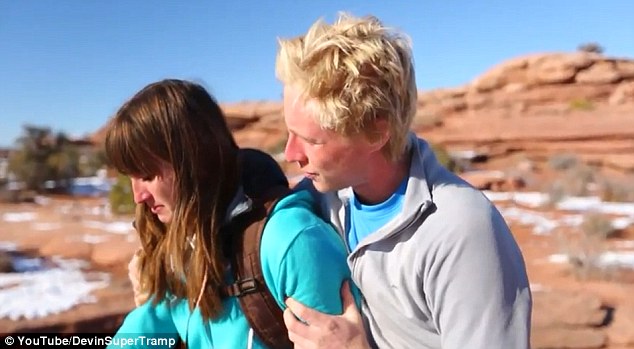 "You can!" he says. "I know you can!"
Then she looks like she's about ready to jump, only to back off once again. He nudges her closer. "Please don't push me off. Please don't."
"I am not!" he assures her. The frustration is evident in his voice. Then, calmer, he says, "I'm right here. I'm not gonna push you. I'm not gonna push you."
For a second, we like him again.
Then he adds, "But if you stand here for more than ten more seconds, I will."
Dick.
Apparently she thinks the same, because she gives him a withering look and shoves him away as he laughs.
But then, next thing we know, he's counting down from three and he just pushes her.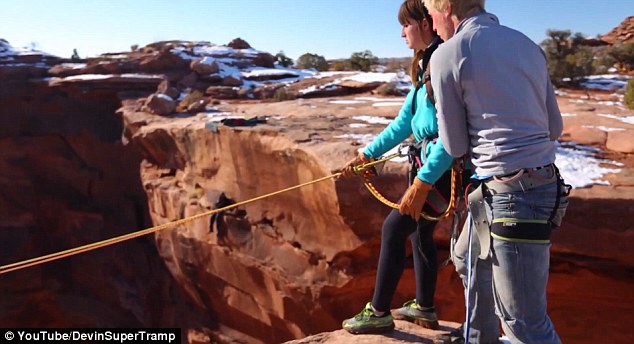 Just… boom. She's gone.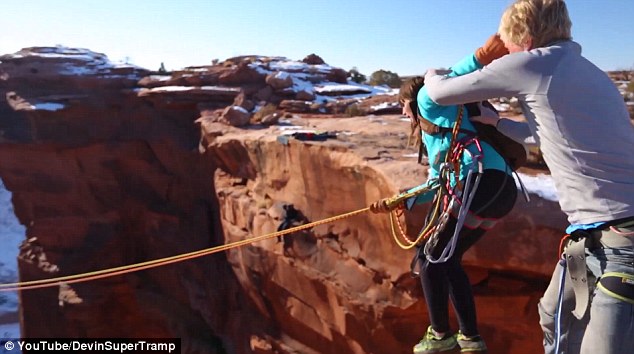 "Honey? Honey?!" her disbelief is evident even as she slips off of the edge.
The rope catches as she swings through the narrow slot canyon between the red vertical cliff faces towering above, and the echo of her voice is almost majestic as she yells out into the void, "I'M BREAKING UP WITH YOU!"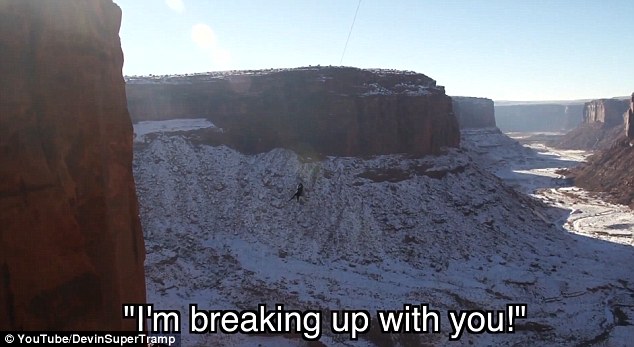 Her (now ex) boyfriend, up on the cliff, is laughing hysterically. "What did she say?" asks the man behind the camera.
"I just got dumped!"
His friend asks, "Was it worth it?"
His laughter sobers. "It will be worth it," he says. "Someday, she'll thank me."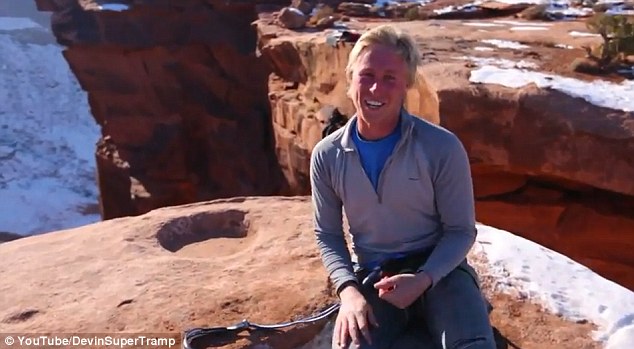 Famous last words, right?
Of course this video has generated a lot of commentary about the general douchiness of his behavior.
He PUSHED his girlfriend off of a CLIFF.
Okay, I get it. Kind of messed up.
But here's the thing: The girl was rigged up. Snug as a bug. There's a longer video about the jump here:
And an even longer "behind the scenes" video about the process here:
And what you don't see in the shorter video are the experts who set up the lines. Or the numerous jumpers who went before her. Or the multitude of countdowns from the group encouraging her to go. At first the entire group is counting down, but by the end it's just the camera man. She had plenty of time to either jump on her own or simply unhook herself from the tether and walk away.
But she didn't.
And I realize it's treading dangerous territory to insist someone means one thing when she says another, but it is my belief that she wanted to jump.
She said she didn't, but she really did.
She was scared, but she didn't want to walk away.
And how many times, metaphorically, has that happened to you in life?
How many times have you been terrified to take a risk — to buy a plane ticket somewhere exotic, pack your belongings and move to a foreign city, or embark on an adventurous new career — and how may times have you wished you had someone who pushed you?
Someone who gave you no choice but to take the leap you already knew you wanted to take?
During those times you know, deep down, that pushing you to the point of forcefulness — even to the brink of anger — might just be the most loving, selfless act another person can do for you.
Even if it makes you hate him.
Because, for whatever reason, you just can't do it on your own.
Sometimes, encouraging words aren't enough. When someone says, "I know you can do it," we think, How do you know? Even I don't know if I can do it, so how do you? You don't. You don't really believe in me. You're just saying you believe in me because you think that's what I want to hear.
See, when we're scared to make a change, when we're scared to take a risk, our mental safety lines of self-preservation kick into full gear.
It's easier to do nothing. It's easier stay home. To keep this house. To stay with this job. To make the same boxed dinners and watch reruns of How I Met Your Mother and say to ourselves, Tomorrow. Tomorrow I will write my resume. Put my house on the market. Buy the ticket.
Alone, it's easy to be weak because we're so afraid to fail.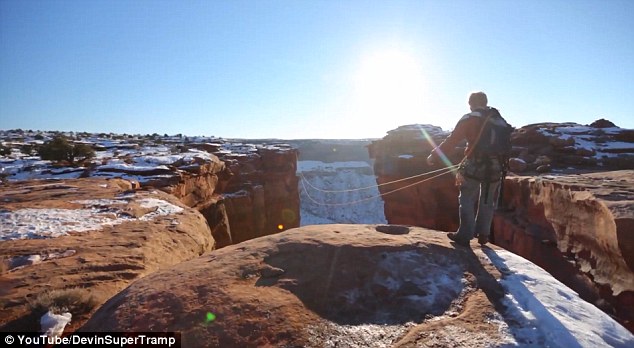 We want to know that someone else believes.
We need proof.
And we also need an accomplice in case things go wrong.
It's why we hesitate.
It's why we're so scared.
It's why, sometimes, we spend a lifetime just wishing for someone who cares enough to push.
What do you think? Do you think he should've pushed her? If you were the girlfriend, would you be mad that he pushed? Even more interesting — if you were the boyfriend, would you have pushed?
*Video stills sourced from here.