When I Can't Travel In The Literal Sense, I Travel In The Gastronomical Sense. And Today We're Going To Thailand. Kind Of.
I realized this morning that I didn't really share many recipes with you over the winter. I have this fancy new recipe page, yet it's been feeling neglected — like that gorgeous pair of pumps you only wore once because they cut into your toe-skin or guys, that condom you stuck in your wallet when you were fifteen.
See? I know what you go through. That's why you're here.
I didn't post many recipes because I wasn't really taking any pictures of the recipes. My kitchen, much as I love the layout and functionality, is really awful when it comes to natural light. My whole house is. Which is awesome when it comes to delaying those North Carolina air conditioning bills, but not-so-awesome when it comes to photography. And of course it's worse in the winter, what with the sun setting at like 5:00 p.m.
Also, I'm just not very good at cooking.
I know — WHAT?
It's been brought to my attention that some of you think I'm actually good at cooking because I post recipes and instructions and other things that make it look like I know what I'm doing, and I think it's very important that I clear something up right here and now: I DON'T KNOW HOW TO COOK.
Like, I'm not "a natural."
I don't have that innate ability to add a pinch of this or a dash of that to make everything taste right. I post recipes because, well, I think it's important to try new things. It's part of my treatment as a Domestiphobe. And I enjoy the added challenge of setting my focal point on a DSLR while trying not to break my fried goat cheese balls. It makes me feel accomplished, even if I only end up with a single in-tact ball at the end. I'm building my repertoire of accomplishments so that if I'm lucky enough to become old and full of wrinkles, I can look back on my life and know that at the very least, I tried things. It's like a resume — they only want to see a list of your accomplishments. They never actually ask how well you completed the task.
So it's true.
Many nights what I make looks really really pretty and delicious, but then we eat it and it's meh. And many nights what I make looks horrible and lumpy and sometimes like it's already been eaten once before, but then we try it and it's fantastic. So I'm always torn on what to share with you because of course I want it to taste good, but it also has to look pretty decent to make up for my limited in-kitchen photography skills. And I made something about a week ago that I think fits the bill.
Since Justin and I eat out so much when we travel, we often try to eat a bit healthier while we're at home. Not all of the time, obviously, but I try to cut out meats and cheeses and heavy creams several times a week, and then make up for it with one really decadent meal.
But this meal? Not so decadent. Just tasty. And simple. And it looks fancy enough for company. Next time I'd definitely cut it in half since it made enough to fill a HUGE serving dish, which is crazy considering I only used half of a box of rice noodles. Apparently rice noodles mean BIDNESS and totally try to take over the world once they're cooked. Noted.
The recipe comes from here, and the only major thing I changed is that I added some nice stir-fry veggies to make it more of a meal than just noodles.
Easy Thai Rice Noodle Stir-Fry with Basil Cashew Sauce
To make it the way I did, you will need:
6-10 oz. Thai rice noodles (I used the wide-ish flat ones – about 8 oz.)
2 Tbsp. vegetable oil for stir-frying
Veggies (optional – I used fresh broccoli, mushrooms, and snow pea pods)
Toppings: handful fresh basil, plus a handful of chopped or ground cashews
1/2 cup fresh basil
1/3 cup dry roasted unsalted cashews (I toasted unsalted cashews on the stovetop because I couldn't find "dry roasted")
3-4 cloves garlic
4 Tbsp. (1/4 cup) coconut OR olive oil (I used coconut oil)
1 Tbsp. freshly squeezed lime juice OR fresh lemon juice (I used lime juice)
1 Tbsp. fish sauce OR 1+1/2 Tbsp. [wheat-free] soy sauce for vegetarians/vegans (I used fish sauce)
optional: 1 red chili, minced OR 1/4 cayenne pepper OR 1/4 to 1/2 tsp. dry crushed chili (I'm pretty sure I forgot this part. But I probably would've used cayenne.)
1) Look. I'm not a food expert. I don't know if all cashews are dry roasted and that's why I couldn't find any that said so on the packaging, but I didn't want to take any chances and — gasp — serve raw cashews, so I bought some unsalted nuts and toasted 'em over medium heat until they smelled nice and fragrant.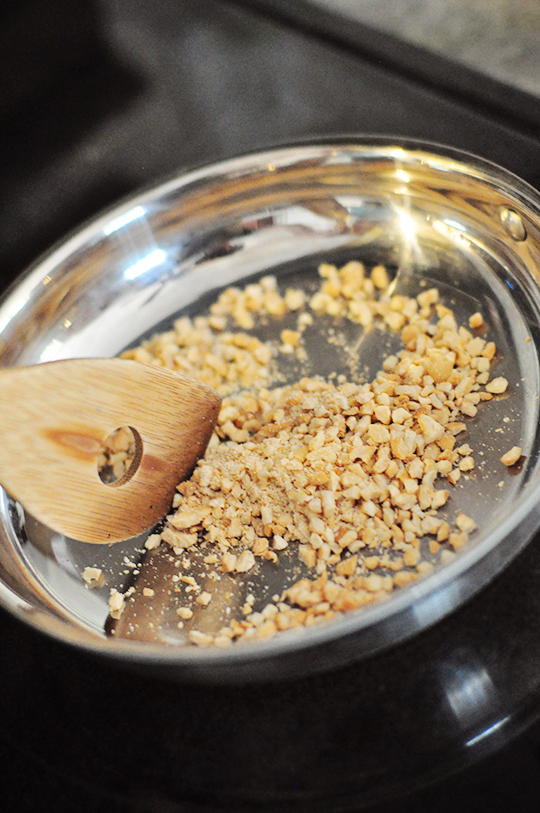 These are chopped because I misread the recipe and basically chopped all of my nuts, which wasn't necessary since some go in the sauce and get chopped in a food processor.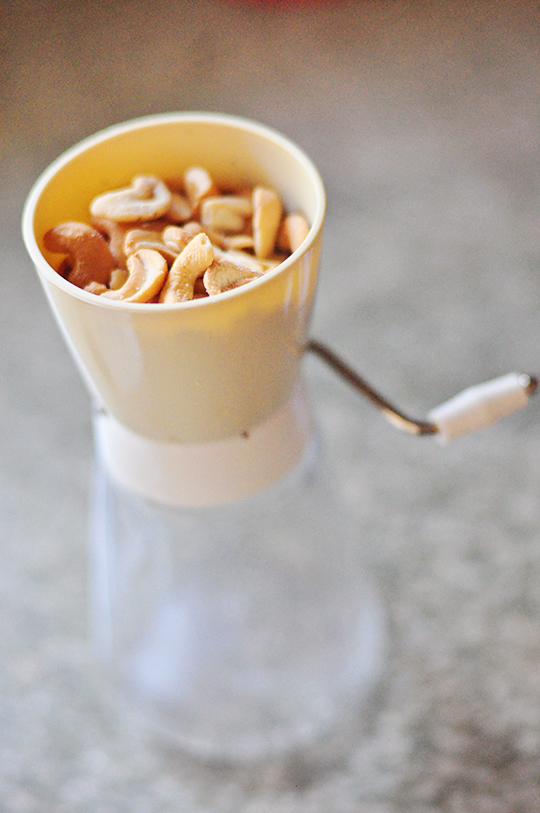 The nut chopper I stole from my mom.
2) Prep your veggies if you're using them. I washed and chopped my broccoli into florets, washed and sliced my shroomies, and washed my snow pea pods.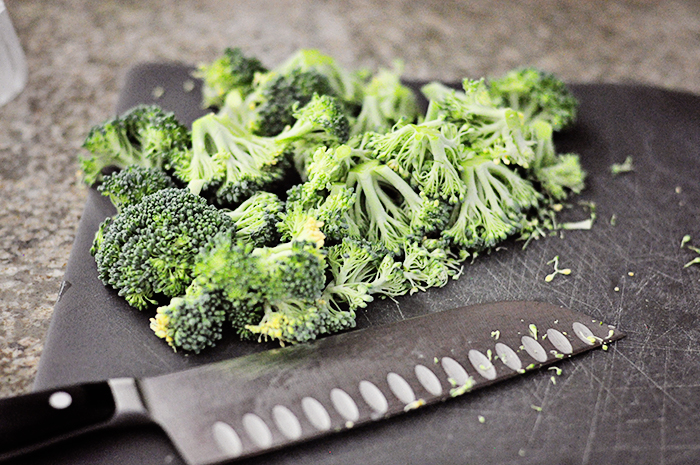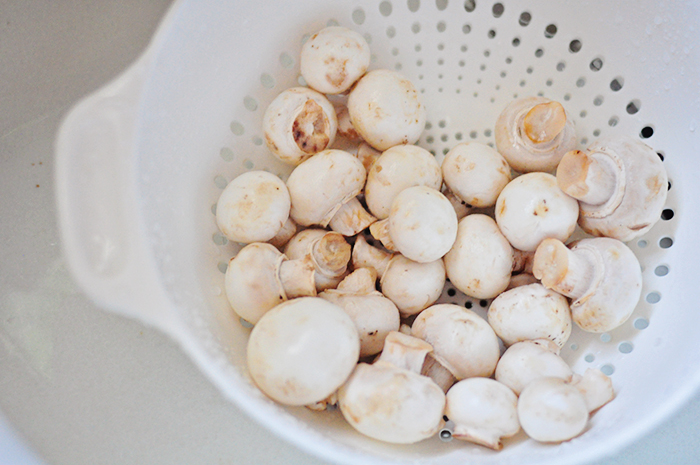 2) Get your noodles cookin'. This is a wee bit different from regular pasta because we're actually going to stir-fry the noodles in a bit, which means you just want to soften them up enough so you can get them in the stir-fry pan. I did this by bringing a large pot of water to an almost boil: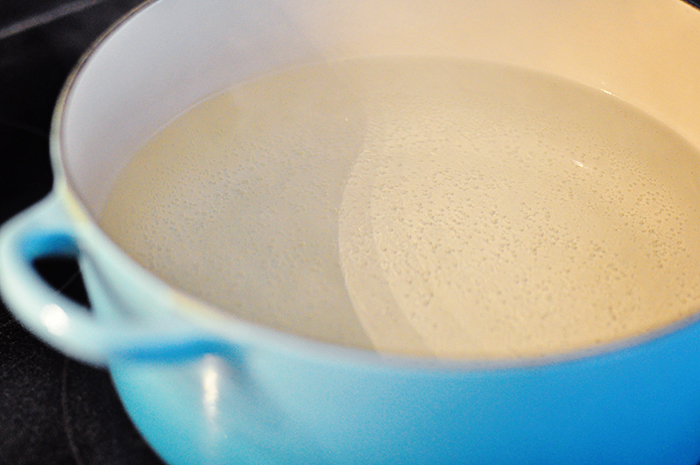 Then I removed the pot from the heat and threw in my noodles for about 10 minutes. The directions say they should be soft on the outside, yet still a little crunchy on the inside.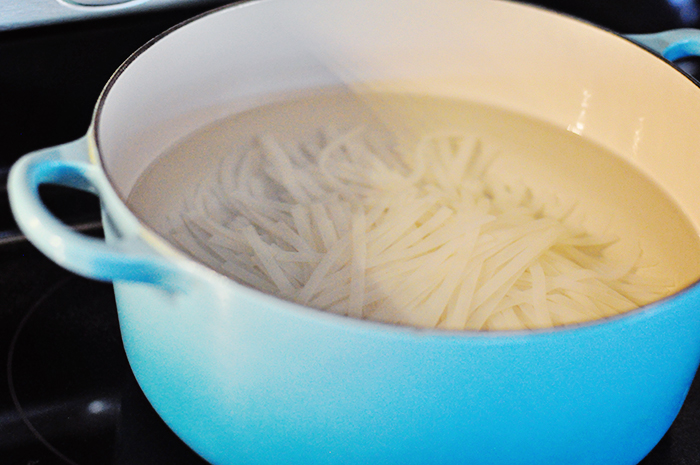 3) While your noodles get a spa treatment, add the sauce ingredients (1/2 cup basil leaves, 1/3 cup of your toasted cashews, 3-4 cloves of garlic, 1/4 cup coconut oil, 1 Tablespoon fresh-squeezed lime juice, 1 Tablespoon fish sauce, pinch of cayenne) to a food processor and blend until smooth-ish.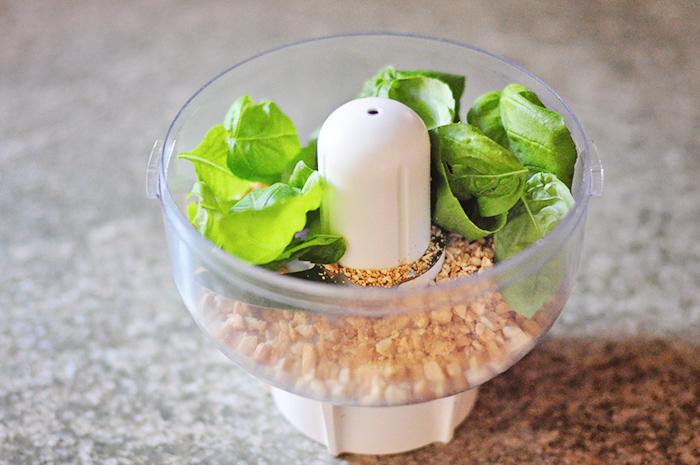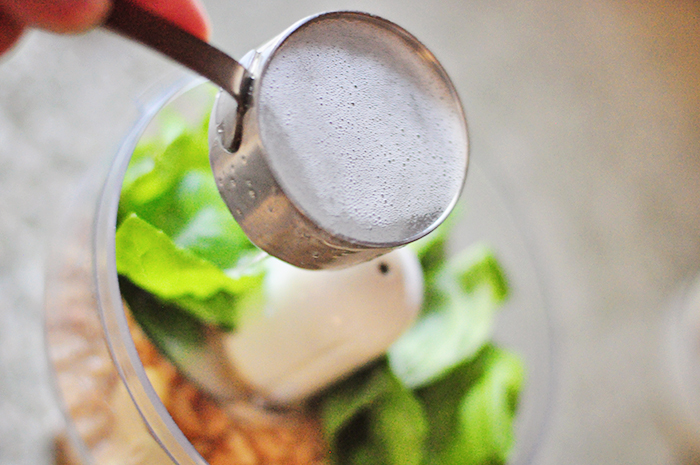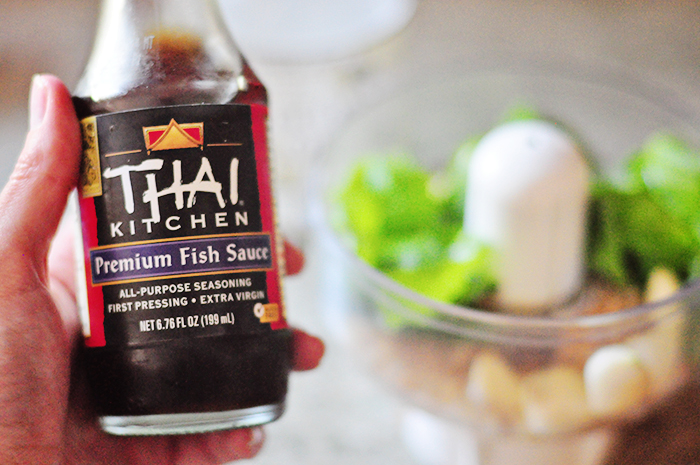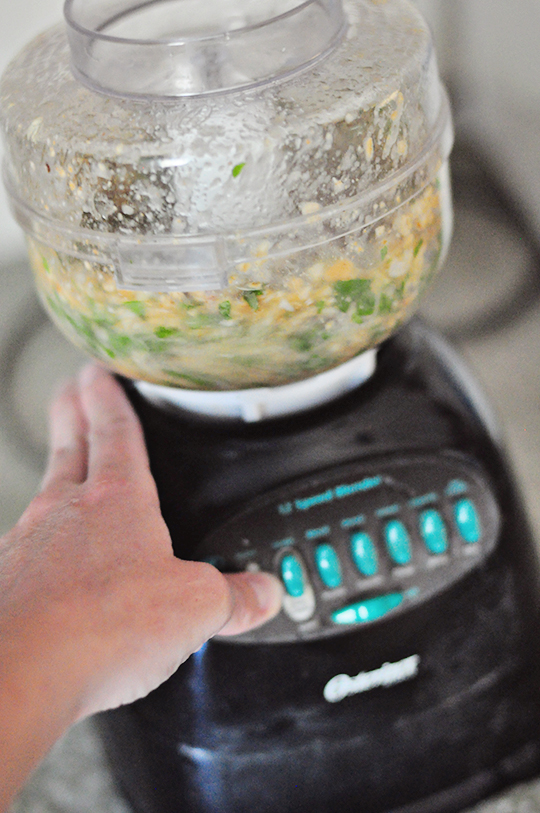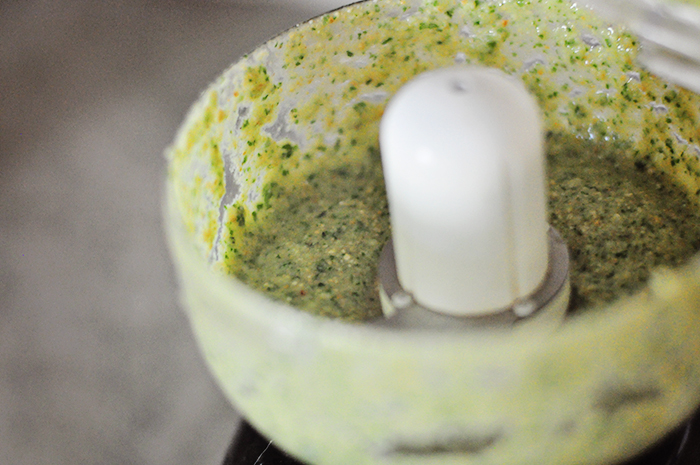 YUM.
4) If your noodles are ready, go ahead and drain and rinse them with cold water to keep them from sticking together.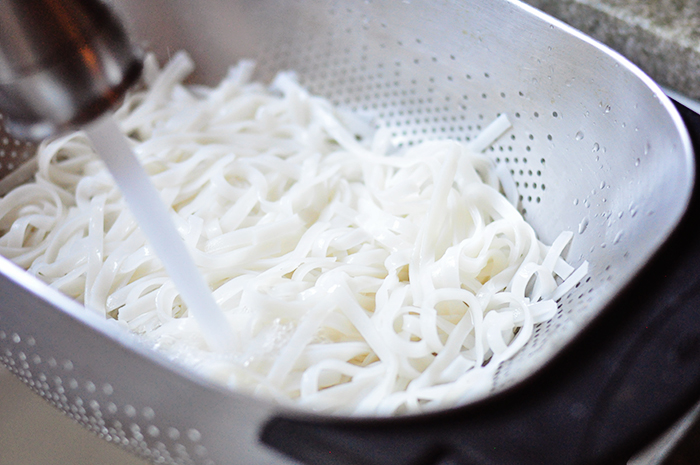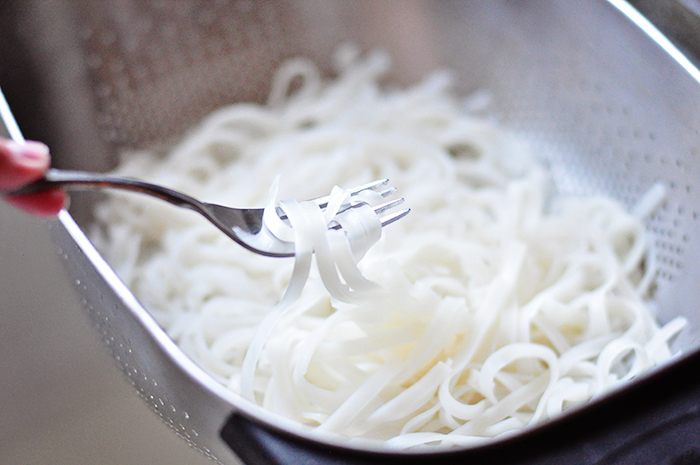 5) Get ready because this is where things start to go fast. Heat a large skillet or wok over medium-high heat, and when it's sizzlin' HOT, add a couple of tablespoons of vegetable oil, swirl it around, and toss in your broccoli.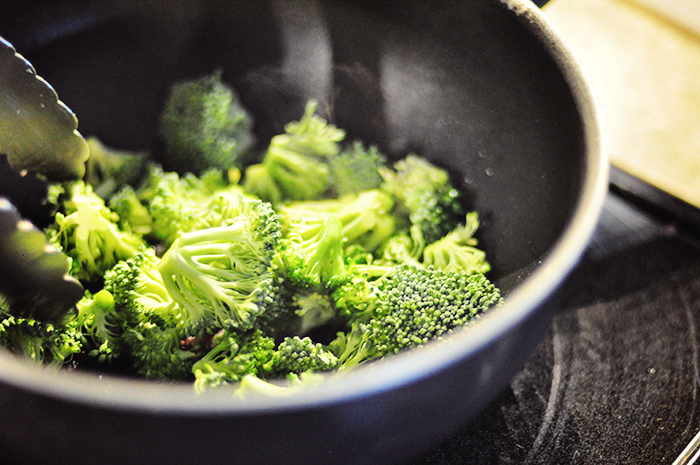 When it starts to turn a nice, bright green, toss in your mushrooms and snow peas.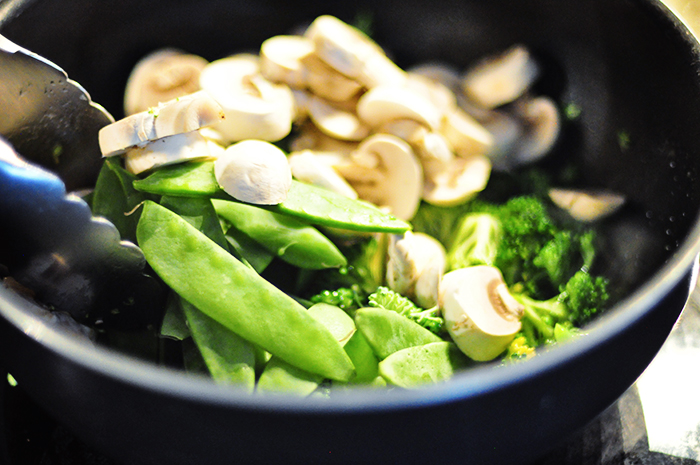 Stir them around for a minute or so, then throw in the mostly cooked rice noodles and a couple spoonfuls of basil sauce to help keep them from sticking together.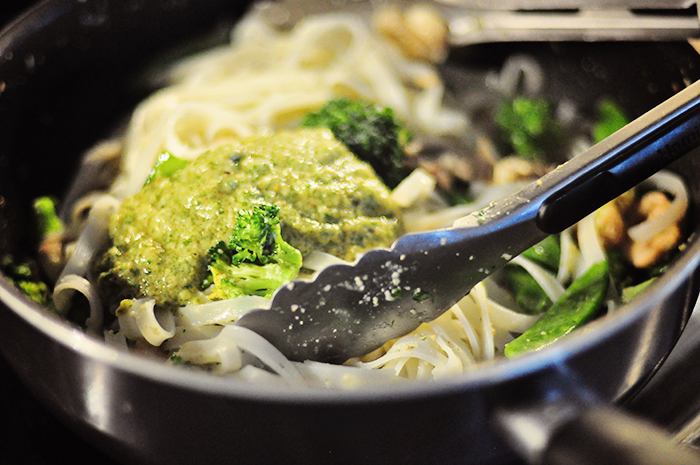 Toss, toss, toss! Keep the pan nice and hot and just toss everything together for a minute or two, adding more sauce if necessary.
Once the noodles are cooked, remove the pan from the heat, throw in the rest of the sauce, mix it up, toss some more fresh basil and toasted cashews on top, and serve!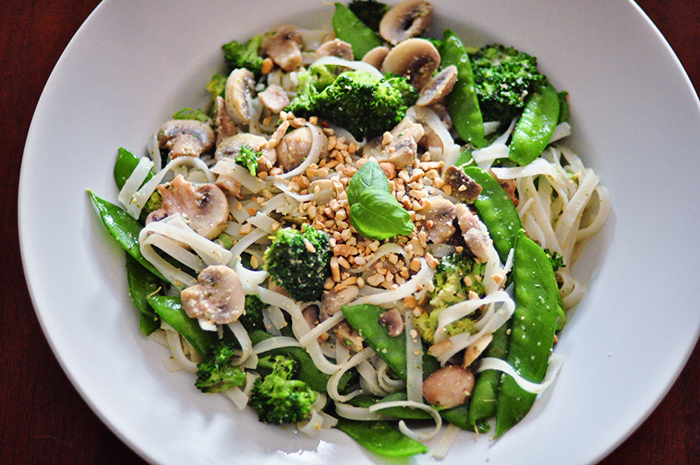 It's green so it must be good for you.
With the added veggies, this is a pretty hearty meal. And, once the basic veggie prep work is finished (which should always be done with some good music and a glass of wine), can be done in about 15 minutes.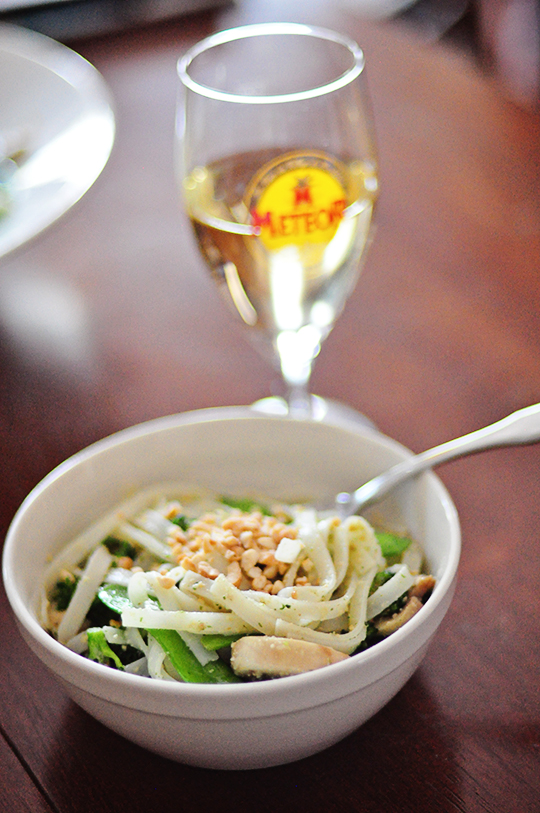 Even my meat-loving husband didn't complain about this one.
Too much.
Do you ever try cooking food inspired by other countries?