The Best Chefs Don't Even Need Burners. Or Kitchens, For That Matter.
Well, we're home.
We're home from our freeloading adventure in Orlando and in case you missed it, this is the part where you get extremely jealous because a girl I befriended at a wine tasting one night at a local restaurant invited Justin and me to stay with them at their fantabulous timeshare resort for a week at no cost to us, which meant we had money to do things like visit a single theme park and go outlet shopping. And yes, we'd hung out with them several times since wine tasting night so we knew they weren't serial killers. Or swingers. And we also knew they weren't trying to suck us into the world of timesharing because Missy knows I'm more of the free-spirited travel type who needs more flexibility than what timeshares — even cool ones like hers where she can stay in places all over the world — can really provide.
So it really was a no-strings-attached-just-come-chillax-and-have-a-good-time kind of week in the sunny state dangling off the southeast corner of the U.S., which is exactly what we needed after our week in chilly, gray Minnesota. We did many things during our stay, but you know what I'm going to start with. The FOOD.
On our very first night at Reunion Resort in Kissimmee, Florida near Orlando, we dined at the bar in the main hotel lobby. We did this for several reasons:
1) The four of us — Missy, her husband Pedro, Justin and I were exhausted from driving eight hours to get there from North Carolina and we didn't want to drive any further.
2) It was late. We were hungry. And also we wanted a drink.
3) They had sushi.
I managed to get a couple of blurry, late-night shots with my iPhone of our surprisingly delicious hotel lobby dinner complete with complimentary chocolate torte for dessert (since they were out of the tiramisu), but we went back on Thursday night because it was just that good.
And also we wanted the tiramisu.
Even though they were much busier than our first night there, Chef Michael Ha —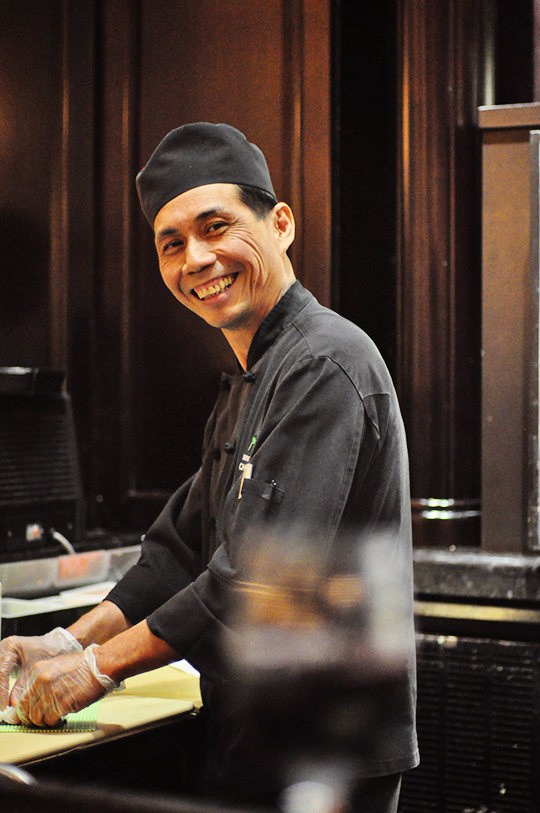 — actually remembered us when we managed to grab a seat at the bar and immediately sent over a complimentary cucumber roll appetizer with toasted sesame seeds.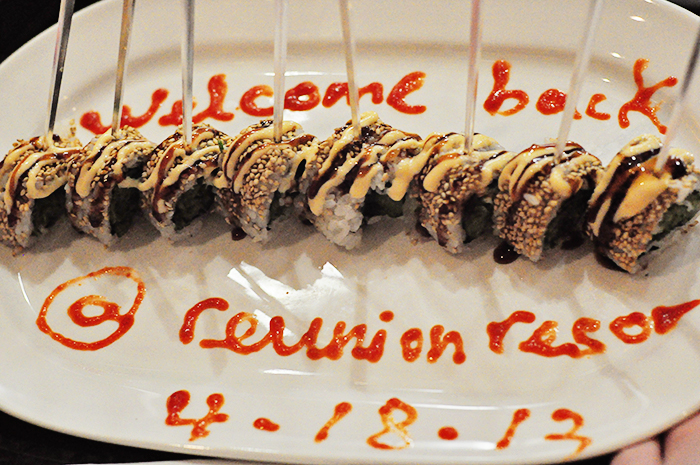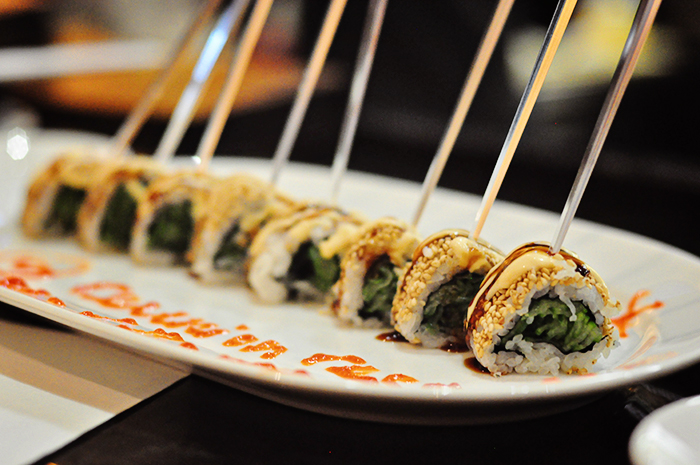 We're off to a great start!
Free food has always been the way to my heart.
If you've been reading Domestiphobia for any solid amount of time, you already know that I have an affinity for sitting at bars if there's an open kitchen like we did here in Asheville and here in Durham. There's just something cool about watching commercial kitchen people do their thang. I loved it back when I waited tables, and I love it today. And while the tiny behind-the-bar work surface with a few assorted coolers at the Grande Lobby Bar at Reunion Resort would hardly qualify as a "commercial kitchen," it was still pretty cool to watch Chef Ha work his magic.
Plus, you don't have to struggle to converse with people you've just spent an entire week with or, in the case of my husband, lived with for nearly a decade.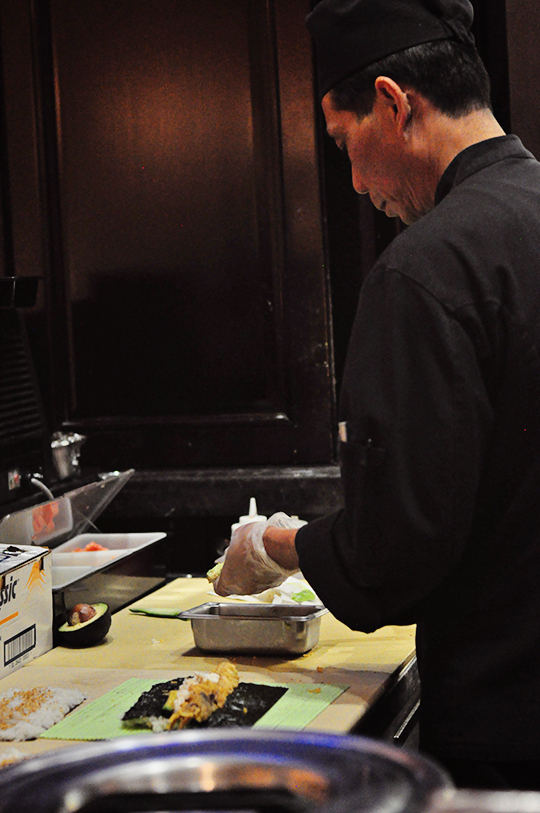 Just watch and eat.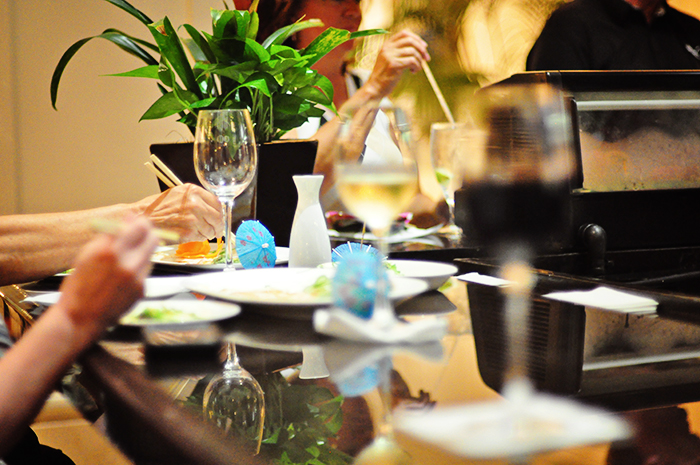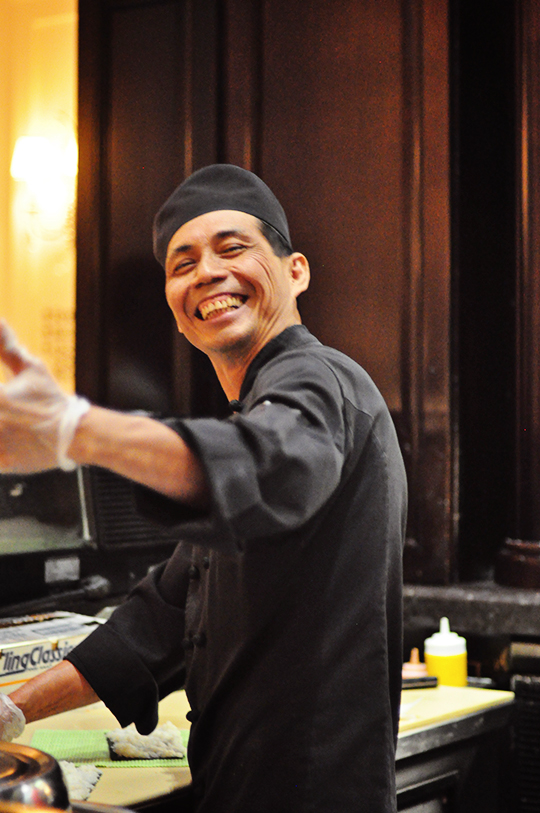 Oops, I cut off his thumb. Which is something he's probably used to, being a chef and all. Har-har.
We ordered our favorite roll from the first night we went — the super fancy "Grand Reunion Roll" with shrimp tempura, cucumber, steamed shrimp, toasted sesame seeds & "HA" special sauce.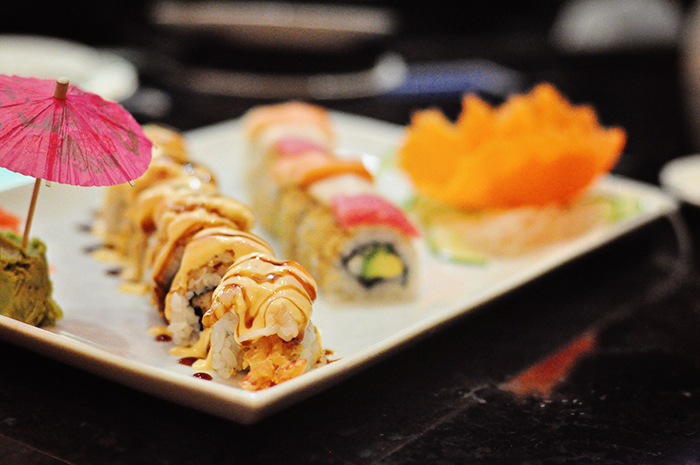 And we also tried the "Rainbow Roll" with escolar, salmon, shrimp, avocado, real crab lumps, cucumber, and toasted sesame seeds.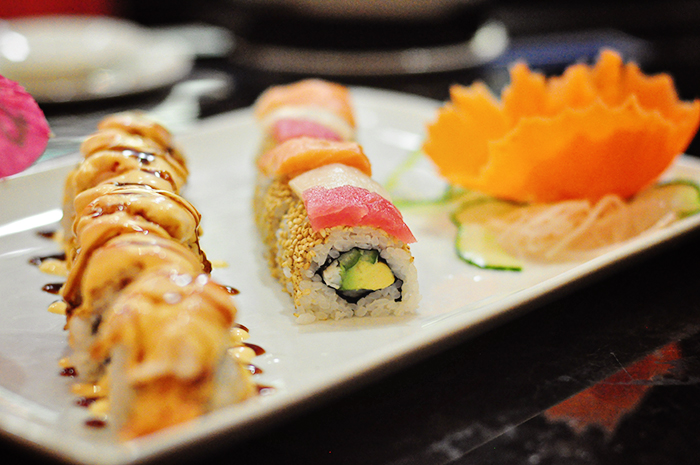 And I don't remember what this roll was, except it was delicious:
I didn't get a photo, but there's also some pink slabs of Maguro (Sashimi tuna) on the platter as well.
Even the garnishes were pretty, with carved ginger flowers and ribbons of bright cucumber.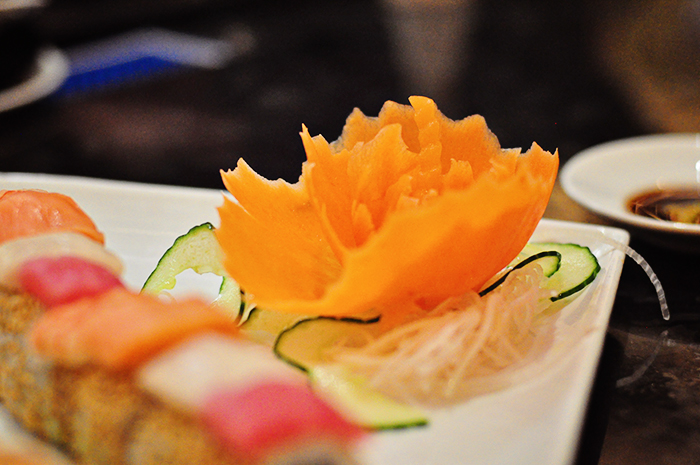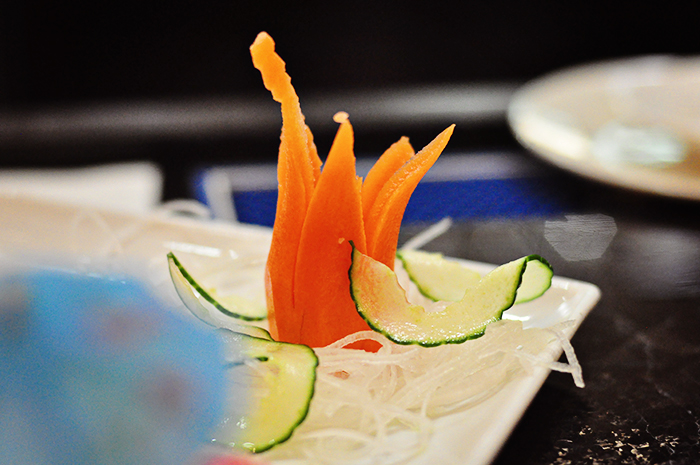 Chef Ha sent us another complimentary snack between platters. I can't remember what he called these, but they were basically shrimp and toasted sesame seeds over some type of light, cucumber salad.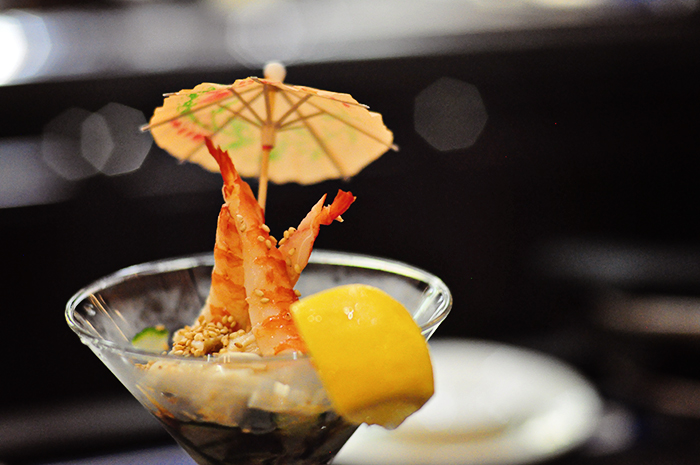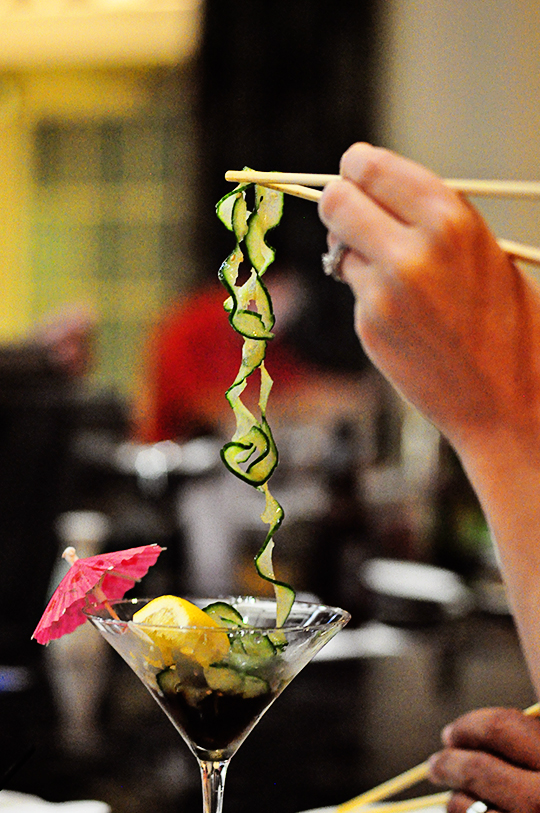 I'm so learning how to do this.
Then we ordered Chef Ha's personal favorite, a spicy tuna roll with some type of sauce and sriracha: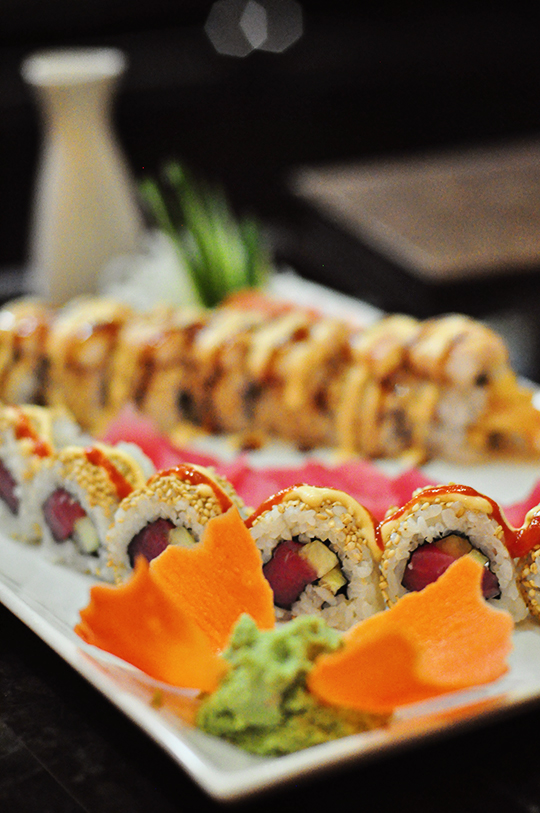 And of course another Grand Reunion: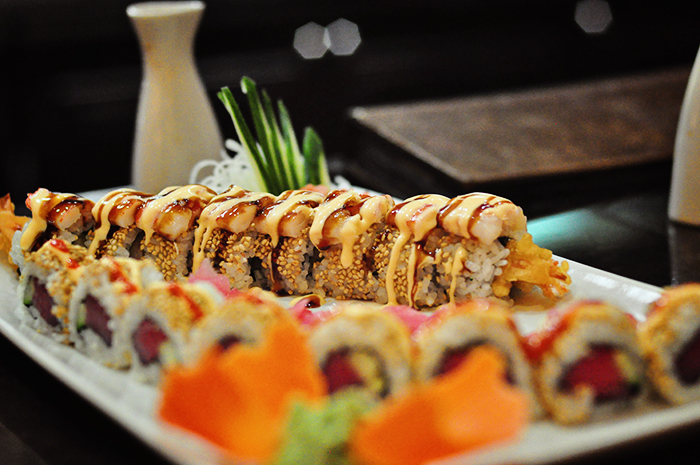 Then it was time for dessert. And I know what you're thinking. You're thinking, Who orders tiramisu at a sushi restaurant?
Either that, or WTF is tiramisu?
Well. If you know what tiramisu is, then you'll already know why I'd order it at any restaurant. (Except Carrabba's. Don't get me started on their sad excuse for a tiramisu.) And if you don't know what it is, allow me to explain: Tiramisu is an Italian dessert, which is why it's strange they serve it at Reunion's sushi bar. I can only guess they snag it from the hotel's nearby Italian restaurant, Forte. And I'm so glad they do. A typical tiramisu consists of decadent layers of coffee-soaked ladyfingers (kind of a sponge cake cookie), whipped, sweetened marscapone cheese (think cream cheese), cocoa, and sometimes a hint of rum or marsala wine. Done right, this dessert is fluffy and delicious. Done wrong, it's dry, bitter, and completely unappetizing.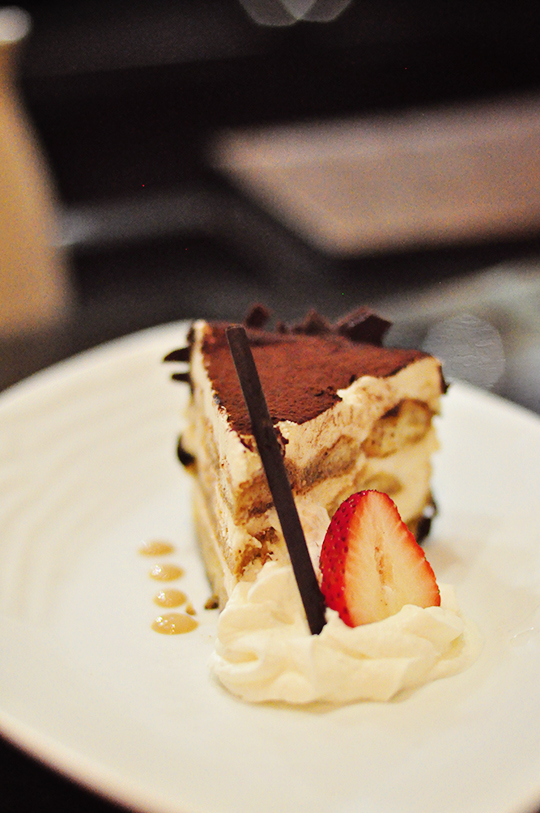 It's a good thing Reunion does it right.
Grande Lobby & Sushi Bar
Champion's Gate
7593 Gathering Drive
Reunion, FL 34747