Spiced Peach Mango Greek Yogurt Pops And Something About A Refrigerator.
Okay.
This may be a sponsored post, but it's filled with readable stuff and hey — a recipe! — so I would qualify it as more of a "bonus post" than an actual promotion.
Or maybe a bonus post with a promotion thrown in.
I hope to be back home and blogging about my actual trip (it's been a whirlwind — let me tell you) by tomorrow afternoon!
So I have this problem. When we remodeled our kitchen several years ago, we knew we wanted a fancy, schmancy French door refrigerator. And for the most part, we've been pretty happy with the one we bought. But I have noticed one major problem with the temperature control. You know those drawers at the bottom that are supposedly intended for fruits and veggies? Well. If I put any actual fruits or veggies — especially the leafy kind — inside those drawers, they freeze. Or at least the parts that are close to the bottom of the drawer freeze because, as I've deduced with my stellar detective skills, the bottom of the drawer happens to be quite close to the freezer drawer at the bottom of the fridge.
And what do leafy greens do when they freeze and then thaw?
Mush, my friends. They turn to mush.
And I'm sorry, but I just can't abide mushy greens. Even if I'm putting them in a smoothie which I know is weird because smoothies are mushy, but there's something about green slime that's inherently unappetizing.
Or maybe that's just me.
I've since learned that Electrolux makes a gorgeous, stainless steel French door refrigerator with adjustable, humidity-controlled crisper drawers that will actually keep veggies… well… crisp.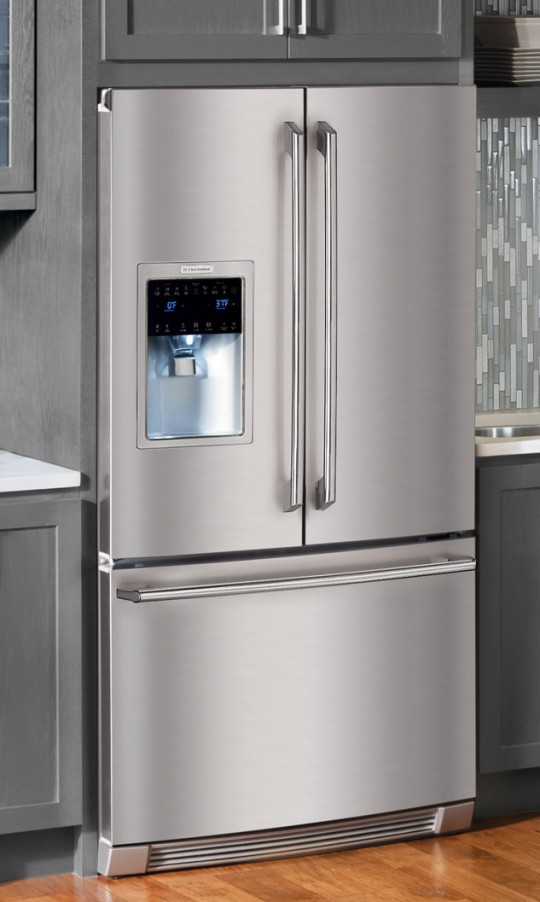 Technology, I'm telling you. It's crazy.
If it were up to me, I'd still have my slide-down Nokia chrome phone with the green screen or better yet, the hefty, olive-green land liner with the curly cord I could wrap around my waist. But when it comes to storing my food? My real, delicious, often-organic, and have-I-mentioned-expensive food? I don't want to mess around. And storing these ingredients at the ideal temperature is imperative to getting my money's worth.
That's why the Electrolux fridge also has this fancy, schmancy "Perfect Temp Drawer" that allows you to set a custom temperature for whatever you have stored in there, be it "chilled beer" (yep, there's a preset for that) or, if you're me, wine and cheese: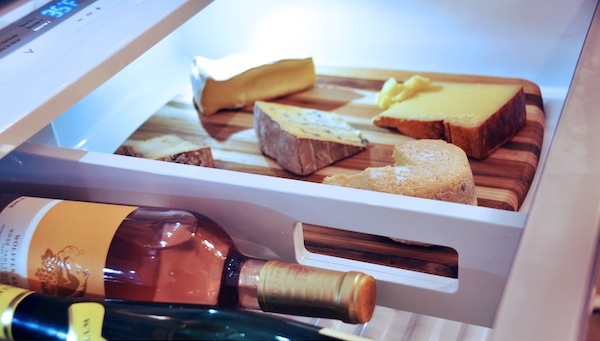 It's like they know me.
Now. I don't own one of these puppies myself, which is unfortunate. But apparently Kelly Ripa like loves them because she's always going on about how awesome they are, and even though she's very likely getting paid bucko bucks to say these things, I'm pretty sure she believes them because Kelly Ripa has integrity. I wanted to not like her, you know, back when she replaced Kathy Lee because she was so sunshiney and blonde. But then her sunshineyness eeked into my soul and, despite my better judgement, I can't help but think she's the supermost adorablest person ever.
Plus, she's providing us with what appears to be a really yummy popsicle recipe, which is totally relevant to this post because popsicles, it turns out, can be stored in a customizable Perfect Temp drawer. I've added a couple of notes to Kelly's recipe in parenthesis because it's my blog.
Spiced Peach Mango Greek Yogurt Pops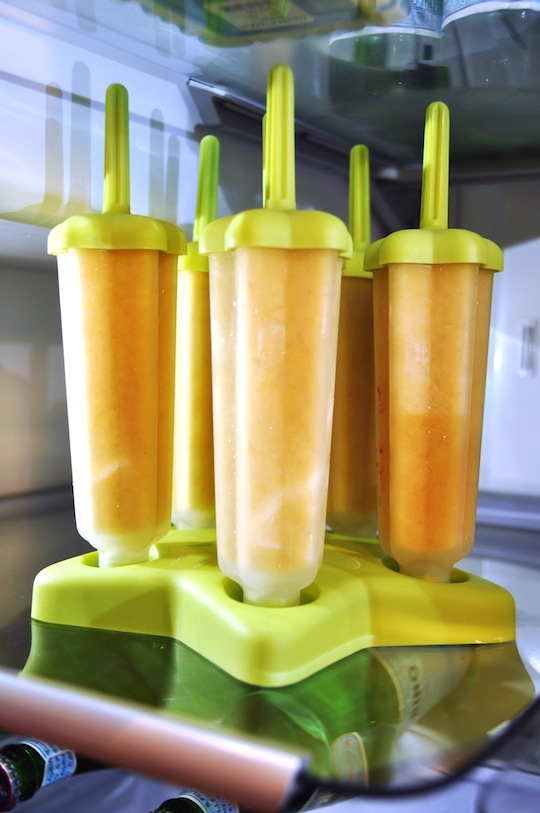 To make them, you will need:
2 cups chopped ripe mango

1 1/2 cups nonfat Greek Yogurt (I'd use full fat. Because I'm crazy like that.)
1/2 cup peach nectar
2 Tbsp sugar
1/2 tsp ground cardamom
1/2 tsp ground cinnamon
1/4 tsp ground allspice
1. Blend all of the ingredients in a food processor until smooth.
2. Pour into popsicle molds and freeze for 30 minutes. (As a kid, my family used to use ice cube trays. Does anyone even have ice cube trays anymore?)
3. Insert the popsicle sticks and return them to the freezer for six hours or overnight until they're solid. Kelly says she stores these in her Perfect Temp drawer at 30-degrees F.
Are you kinda thinking you might want one of these fridges? Well good news!
Now through August 22, you can visit www.livelovelux.com and enter the Electrolux Perfect Temp Sweepstakes daily for a chance to win your own Electrolux French Door Bottom Mount Refrigerator and a trip to a climate with a perfect temp — the sunny Abaco Islands in The Islands Of The Bahamas. For every entry and share, Electrolux will donate $1 to Ovarian Cancer Research Fund (OCRF) with the goal of reaching $125,000.
Okay, that's it! Promo post over. That wasn't so bad, was it? Let me know if you try the popsicles.
I was selected for this opportunity as a member of Clever Girls Collective and the content and opinions expressed here are all my own.