Because Calories Don't Count When They're Consumed In The Dark.
I don't know if you remember, but back when I turned 30 (whaaaat? I have to say "back when" now?), I went to the Florida Keys.
(***UPDATE*** It has been brought to my attention that there are technical issues with the comment feature on my last post. That has been fixed. As far as I know, you CAN comment on this one. Please do so I don't think you hate me.)
Justin was in Afghanistan, so my sister Kelly and my BFF Alaina decided to help me bring in the big 3-0 with a trip to the southernmost point in the continental United States to celebrate. (And also to cleverly remind me that 30 is the age when everything — boobs, energy level, ovarian egg count, you name it — starts dropping.) We pretty much ate the entire island of Key West, and I almost ran away with a homosexual sugar daddy and his moped until he made it clear that he'd never let me drive.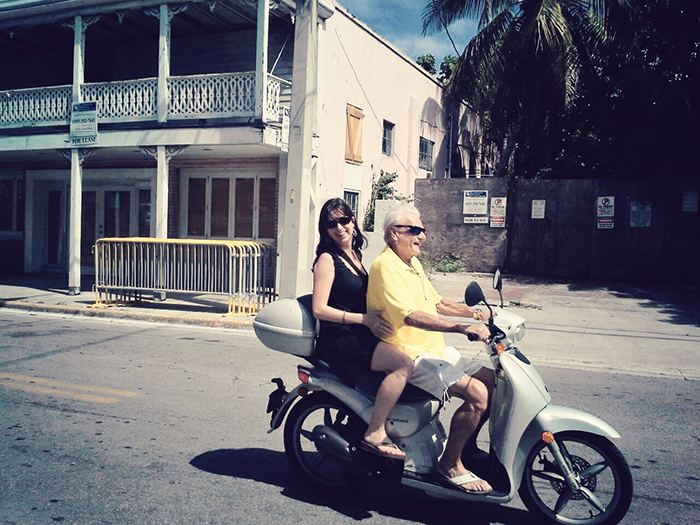 So that was the end of that.
And now that I'm thirty-one, I was perusing some old photos from my younger years and ran across some from that trip that, even though I shared a few in that original cop-out of a Key West post, I feel like I should elaborate on.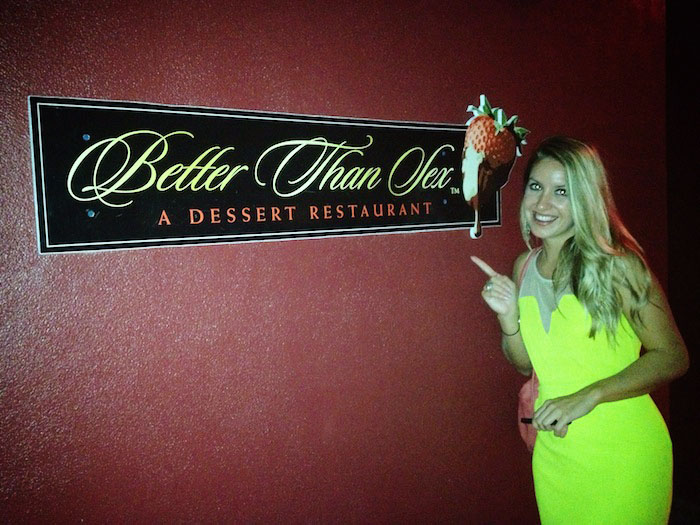 After an incredible meal at a restaurant whose name I can't remember, we headed down to a restaurant whose name I'll not soon forget — Better Than Sex.
The restaurant's signage has to clarify that it is, in fact, a restaurant, because imagine the many confused and drunken tourists who might otherwise wander in expecting something else.
But it wasn't the fun name that enticed us to try it out — it was the bold claim of the name.
Better than sex? Really?
We had to find out.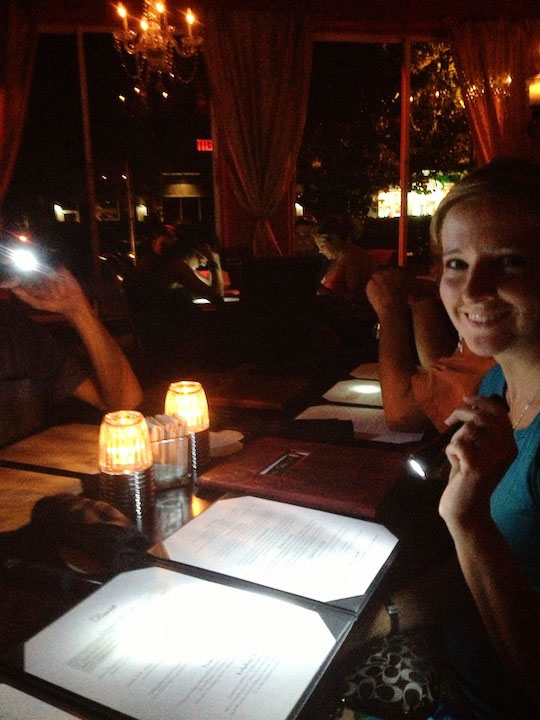 Inside, the dining room was almost pitch black. It looks lighter in the photo because my iPhone was desperately trying to suck in any drop of light that it could. Among the dimly lit chandeliers, we sensed an intimate surrounding of plush, velvet drapes and the thrum of whispered voices. We were seated and handed individual flashlights for reading the menus, and let me tell you —
If I could create a dream job for myself, it would be naming food items and writing the descriptions for creative restaurants like this one.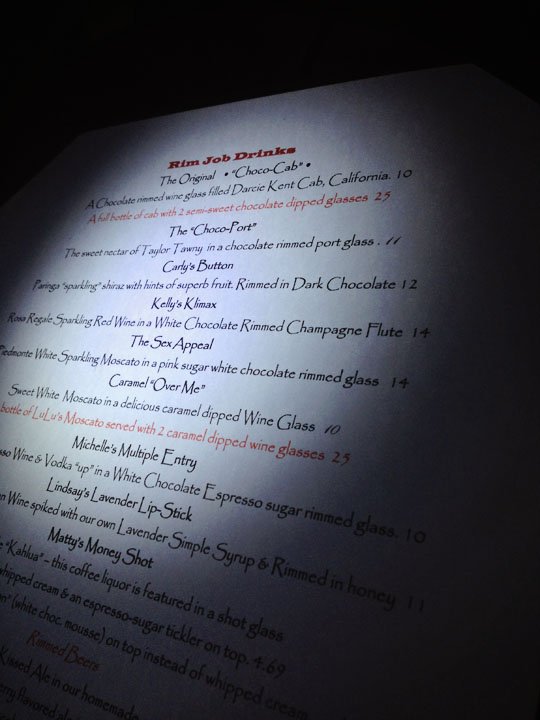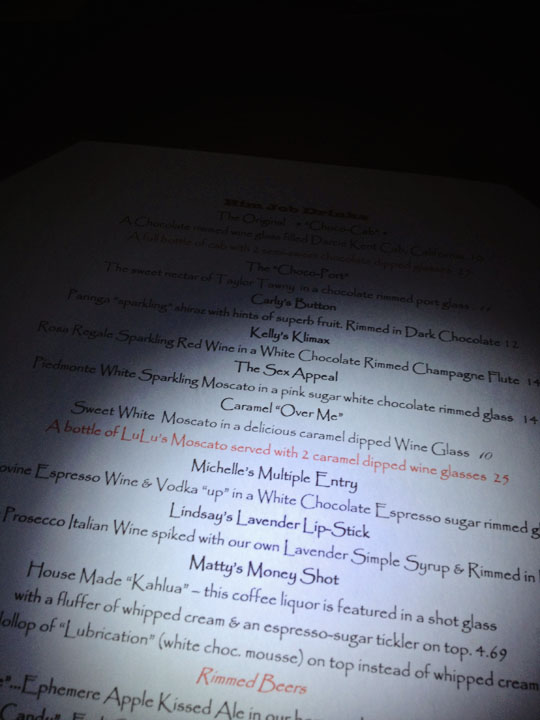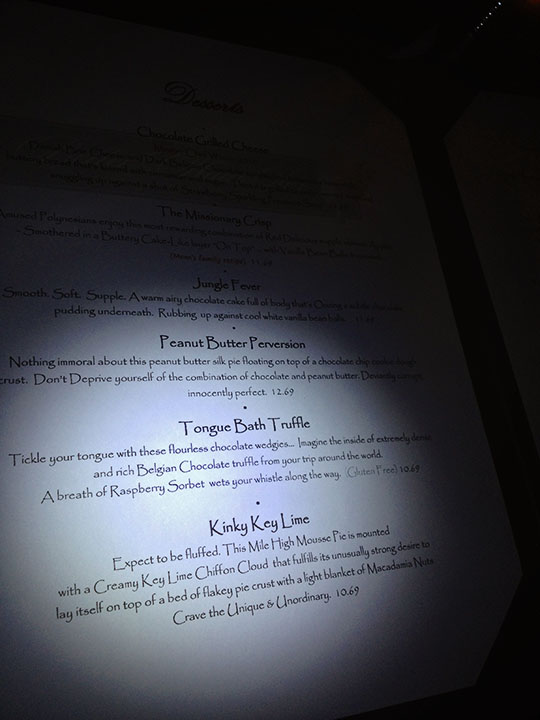 The idea of the dark restaurant, I believe, is to create a heightened taste and touch sensory experience by taking away one of our most relied upon senses — sight. But I know the real reason they keep it dark: so no one will see you blush as you try to pick out a drink.
OR so no one can watch you lick your dessert plate.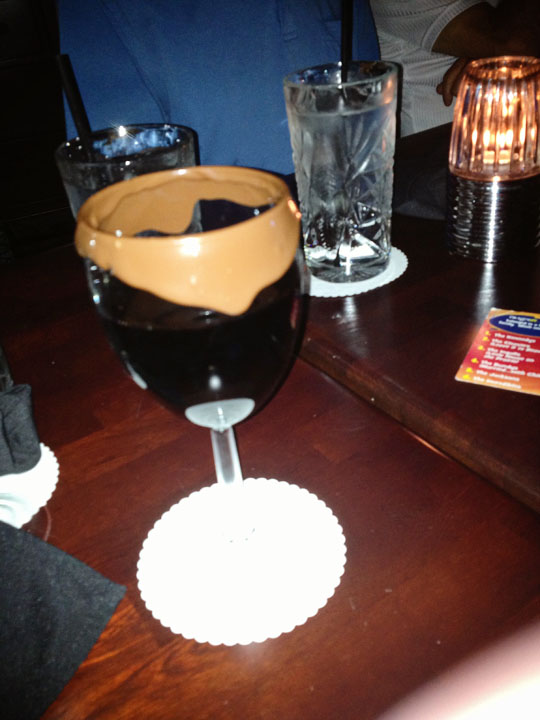 It looks terrible in the camera flash, but I'm pretty sure this was the Original "Choco-Cab," a chocolate-rimmed glass of Cabernet. From what I remember, it was delicious. It's customary for me at home to nibble on a square of dark chocolate while sipping a glass of red, but the dipped glass took the chocolate-and-wine experience to a new level. Really, it was a decadent dessert in itself, but I couldn't stop there.
I was turning 30, and indulgence is practically my middle name.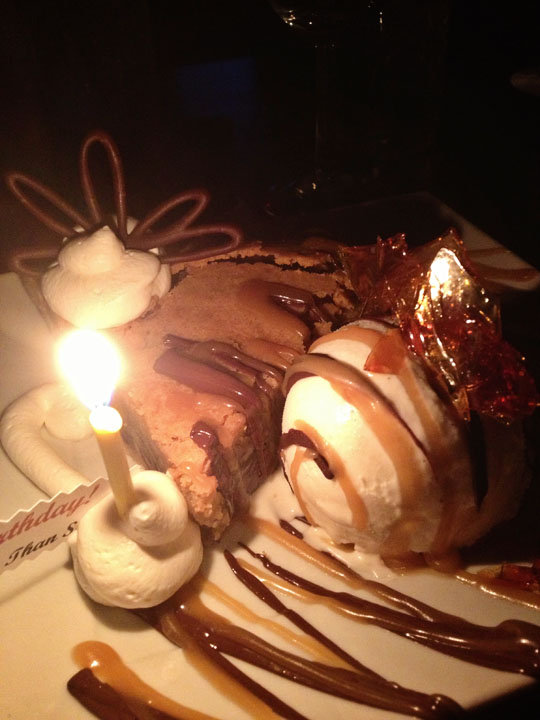 I believe this is the "Peanut Butter Perversion." It was good, but not among the top desserts I've ever had. (It doesn't even come close to Justin's cheesecakes. But then I'm biased.)
As I stuck my finger in the dollop of cream on my plate and licked it off, I couldn't help but think there was even more, psychologically speaking, to this business of dining in the dark. It seemed designed, in a way, to provide a guilt-free atmosphere for over-indulgence. After all, if no one can see you eating it, are you really eating it at all? Calories don't count when they're consumed in the dark, right? And in a way, it felt a little… wrong. To me, food is special. The food is the experience. I try to eat mostly healthy, real food and indulge in moderation. And when I'm going to indulge, I want to immerse myself in the experience — not feel guilty about it.
Food-wise, I wasn't quite sure the restaurant lived up to it's name. But then I realized — this place wasn't just about the food. It was about the experience. Whether it makes you feel decadent, mysterious, or just a little bit guilty, the experience itself is uniquely pleasurable.
And to that end, I think, they've undeniably nailed it.
Pun intended.
Have you had a unique dining experience where the atmosphere played as much of a role as the food? And please don't say the Rainforest Cafe. Kthanks.
Need to Know:
Better Than Sex
926 Simonton St.
Key West, Florida 33040
305-296-8102
Good to Know:
Make a reservation. We were with some locals who asked the place where we ate dinner to call ahead to Better Than Sex for our party of six, but it's rare to have more than four to a table at this tiny restaurant.
It's dark, and it's quiet. Perfect for romance or a couple of friends, but not ideal for groups.
Whether or not it's actually better than sex is a call based on personal experience. But I will say this — it's worth finding out.