Six.
I'm going to be honest here.
The travel bug has bit me but hard in recent weeks.
I know, I know. I just moved. Justin doesn't even technically live here yet. We're hardly settled. How can travel possibly be at the forefront of my mind?
It just is.
And while I am in the works of planning a larger trip or two this year, you should know that I made a pact with myself to do more local exploring in my new home town as well. Because the way I see it, I have two options:
1) Lament the fact that my dreams were crushed when we didn't get orders overseas and spend the next three years crying about it, or
2) Let Virginia be my overseas.
And let me tell you, I'm quickly discovering that this state has a lot to offer.
You want mountains?
Check.
You want ocean?
Check.
You want large(ish) cities?
Small town festivals?
Tricorne hats?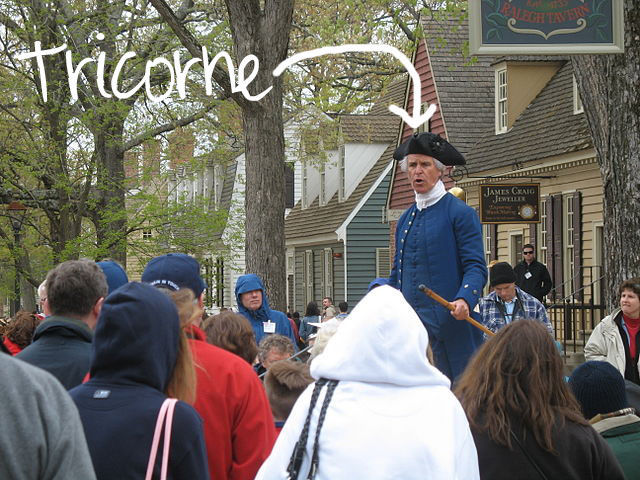 Check. Check. Check.
So we're going to start small. I live on a sticky-outy chunk of land along Virginia's jagged, river-etched coastline known to locals simply as "the peninsula."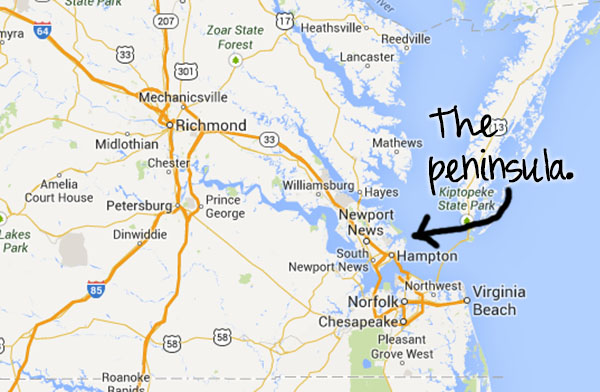 Smack in the middle, pretty much, is Newport News, and I live on the south side near the James River — that large crack of blue that empties into the Chesapeake Bay.
To the northwest is Williamsburg, home of the Tricorne hat and other old-timey, historically significant things, and to the southeast is Hampton, pretty much the gateway to bridges and tunnels that lead to other interesting Virginia places.
And truthfully, Hampton doesn't have a stellar reputation. Nor does Newport News. In fact, while perusing forums to find out more about where the military was sending us, I was starting to get downright petrified that if we bought a house in either of these towns, I would probably be stabbed and shot and our house would flood within the first week.
Fortunately, (knockonwood), that hasn't been the case.
And the more I explore, the more I find they're just like any other town — good areas, and not-so-good areas, and everyone I've met so far has been warm, friendly, and not at all what the salty people of the internet had led me to believe.
To celebrate Justin's birthday last week, our friends Angie and Sean, whom we'd met back when we lived in Georgia (gotta love the small world of the Air Force), decided to venture with us into downtown Hampton. We called a cab for the evening so we could all safely partake in the wide variety of alcoholic beverages served up by Six, a restaurant that's part of a local quartet of restaurants known as Little Bar Bistro. (The other three restaurants are located across the water in Norfolk and Virginia Beach.)
Now. My very short, early evening impression of downtown Hampton was that it was dead. Dead, dead, dead. And we could hardly find the nondescript little joint with its sign high up on the building's second story. But we made it, and were pleasantly surprised by the dim, sleek-but-not-uppity atmosphere.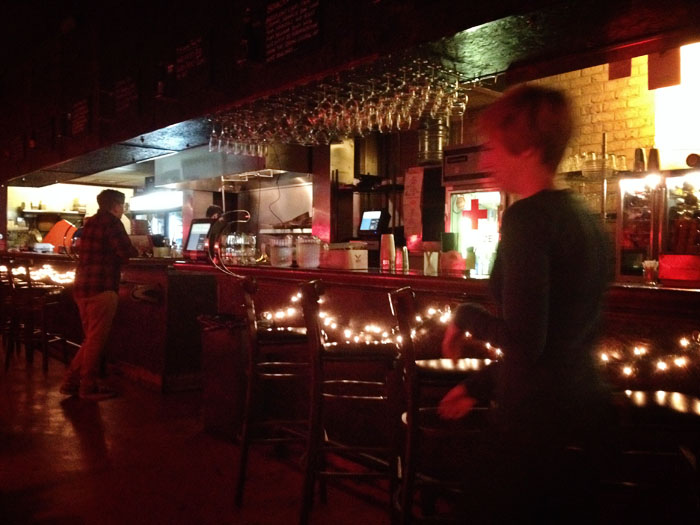 (As usual, please ignore the fuzzy iPhone photos.)
Six is actually a tapas bar. I've found in the past that if you're dining with men, especially, it's hard to convince your fellow diners of the merits of eating at a tapas restaurant. "But the plates are so smaaallll!" They whine. "I'm still huuuuungry!" But I'm here to tell you, if you leave a tapas restaurant — especially a good tapas restaurant — still feeling hungry, you didn't do it right.
Fortunately this time around, our friends were seasoned tapas connoisseurs and looking forward to the experience.
The two keys to eating tapas are 1) drink, and 2) pace yourself. Traditionally, tapas were served in Spain as small plates literally brought on top of your drink glass. Every time you bought another drink, you got more tapas. Of course, in modern tapas restaurants in the U.S., that's probably not the wisest of moves because you'd quickly become plastered and broke, but the general concept is the same. Slow dining. Conversation. Enjoying good company while food is continuously brought to your table over the course of an evening.
And for someone as indecisive as me, tapas are the perfect way to try several different foods in one sitting without committing to a plate.*
*Six does, however, offer their tapas as entrees for an up-charge, but don't do it. Don't cheat yourself of diversity.
The drink menu was extensive. I ordered a Sidecar to start, and it was fantastic.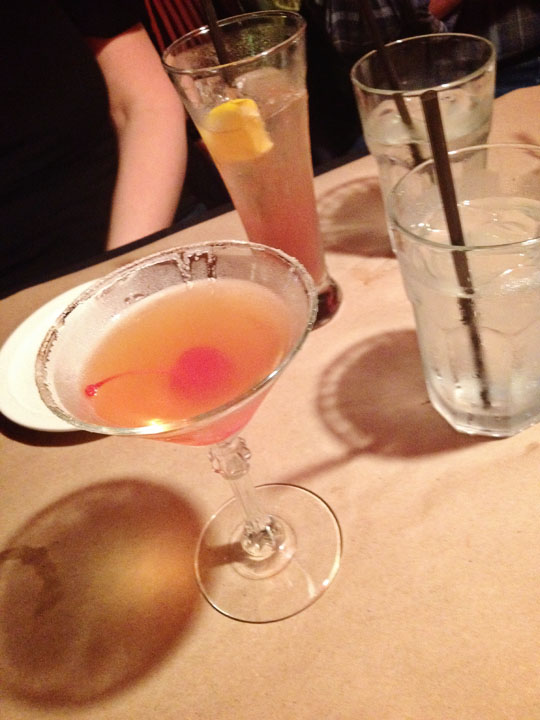 And then came the progression of deliciousness.
Paper-thin lattice-cut potato chips with parmesan and bacon aioli.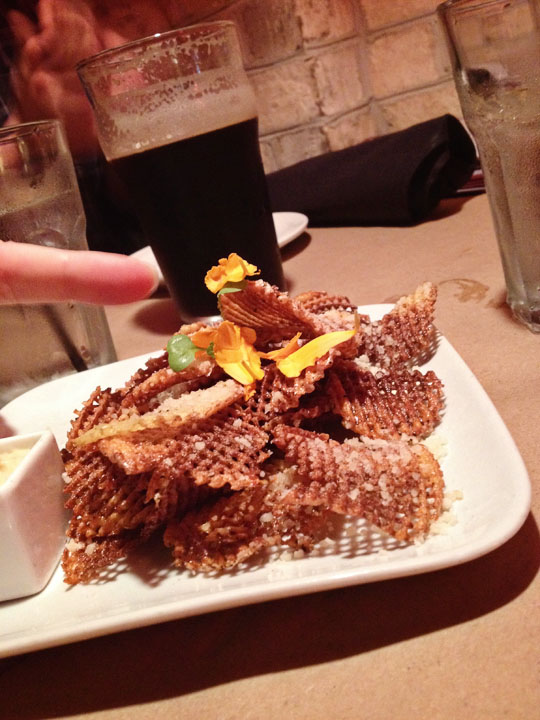 Goat cheese, olive tapenade, roasted peppers, and baguette.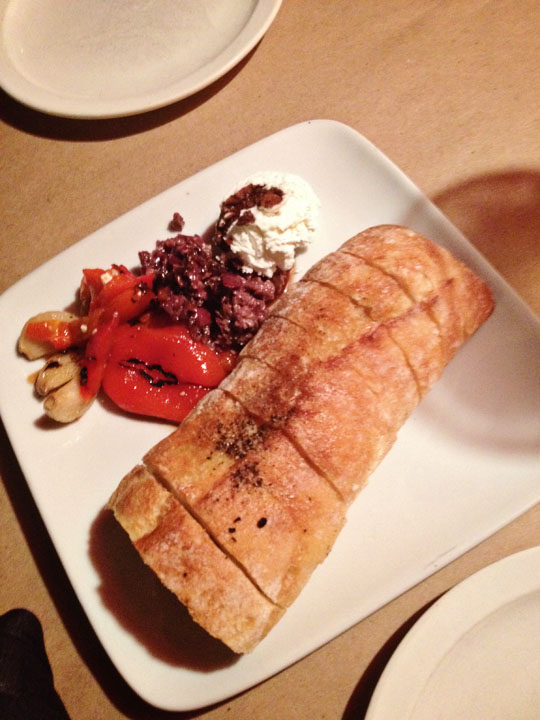 Oh, the Berkshire pork short ribs with mushroom and port demi. (My favorite.)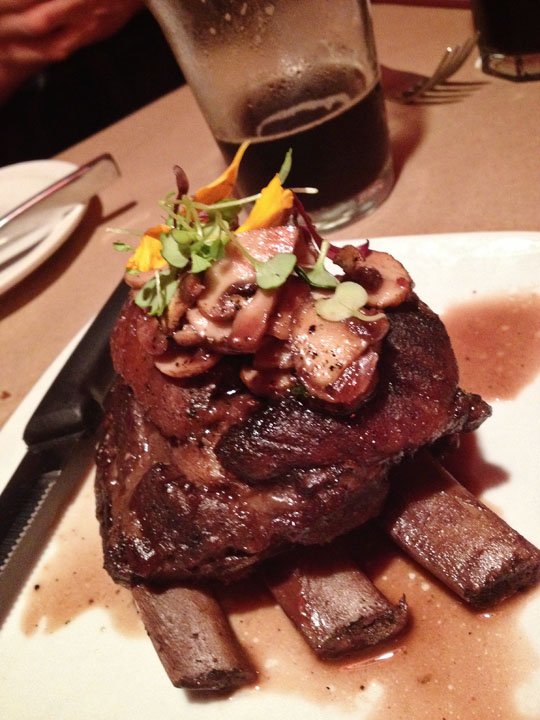 Pork and ginger pot stickers with sweet chili sauce and ponzu.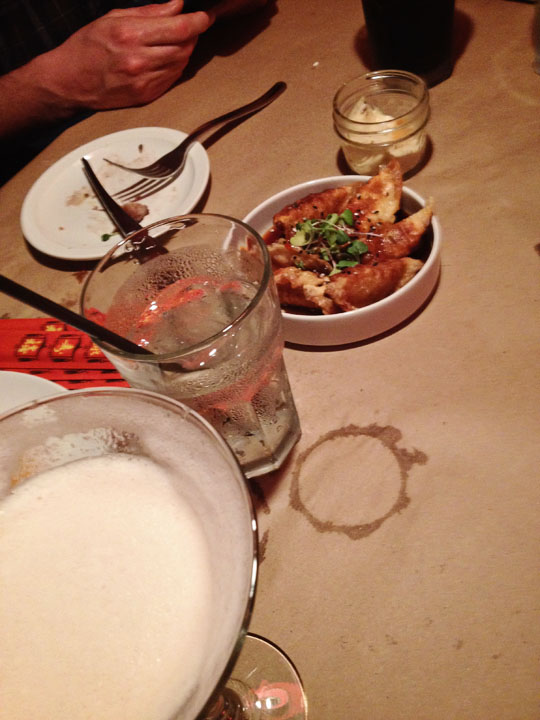 My only complaint was that some of the plates came ready-to-assemble, which turned messy pretty quickly.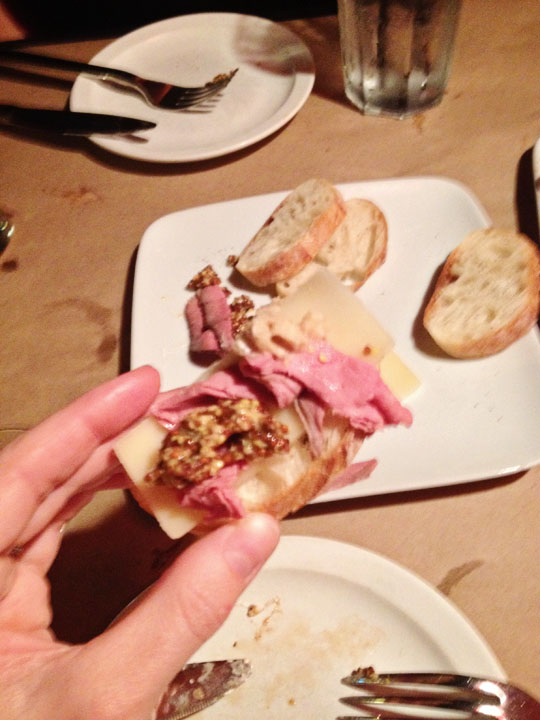 Pleasedon'tfalloff… Pleasedon'tfalloff…
Especially after a Sidecar and then one of these: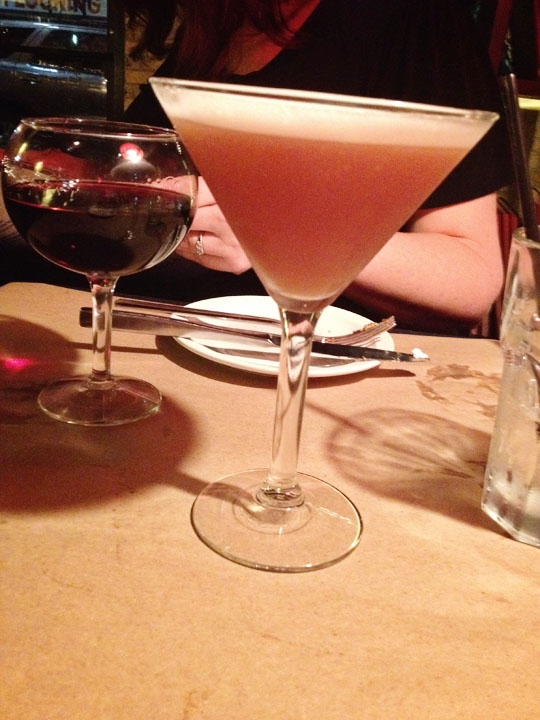 French martini.
We kept going.
Moroccan chicken salad, pickled onions, cous cous.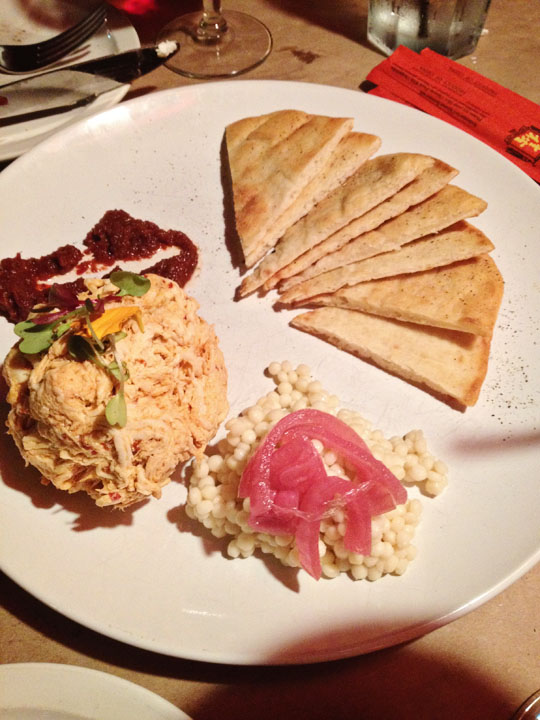 Shrimp 'n grits with chorizo and cider jus.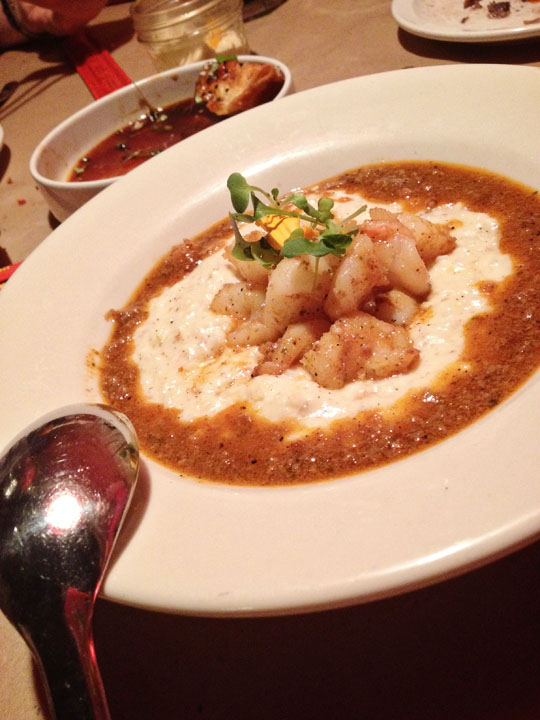 The meat special for the evening. I can't remember what it was, but it was the boys' favorite.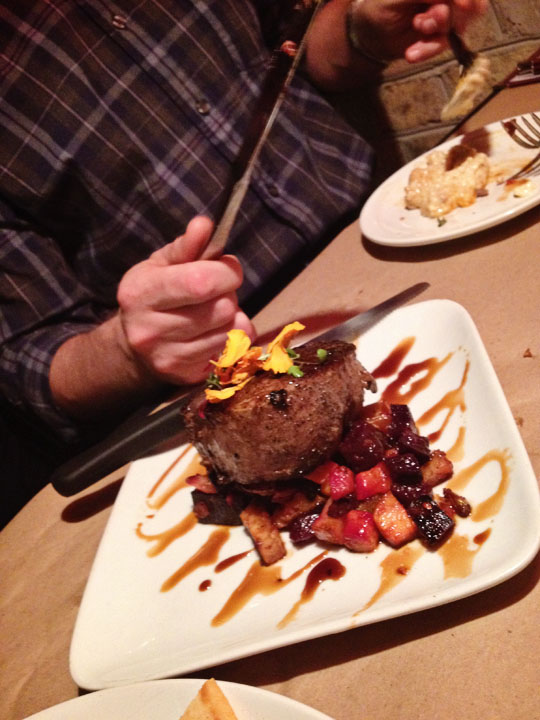 Shenanigans.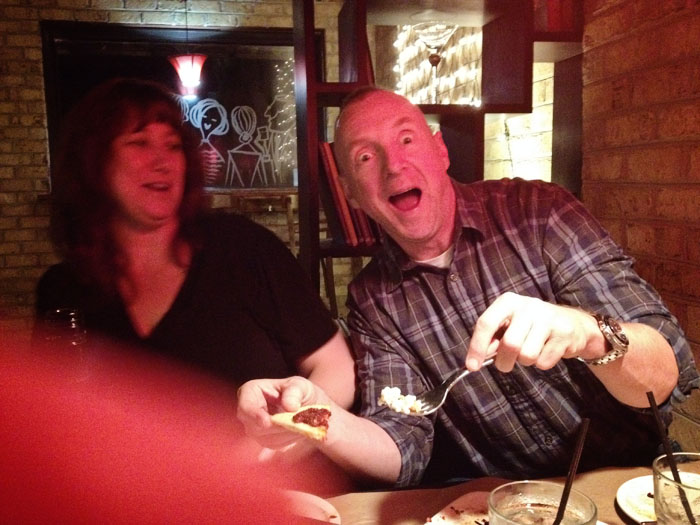 Probably because of this.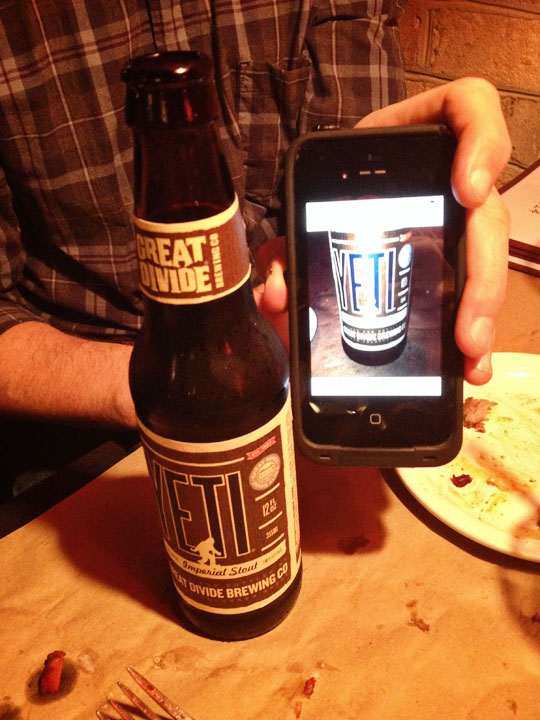 And finally, butternut squash and leek risotto with apples and Surryano ham.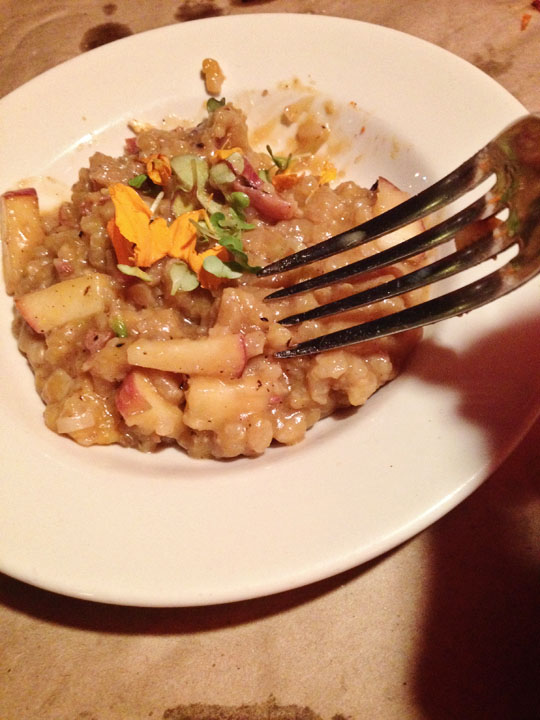 And I'm serious, guys. This is barely a fraction of the menu, but there's not one thing — one — that I wouldn't order again.
It was all incredible.
I can imagine our ticket was exorbitant, but we have some very generous friends who wouldn't allow us to see it.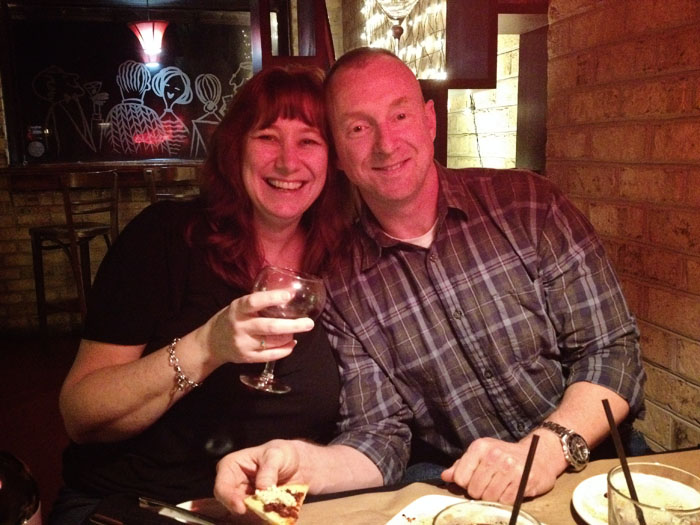 But the thing about a place like this is, it wasn't just about the food. It was the experience. A slow meal, a medley of flavors, fantastic conversation, impeccable service, and a chance to just live.
We had to dig a little to find a place like this nearby, but there it was.
It was travel, but not.
And I plan to do a lot more of it.
Need to Know:
Six
6 East Mellen Street
Hampton, VA 23663
757-722-1466
Good to Know:
Trust me, it's there. Look high up to see the sign or look for the friendly people decals on the windows.
Be prepared to spend a little money. In this case, it's worth it.
Spring for a cab or bring your favorite alcohol-free friend. These drinks are not to be missed.