A Breakfast Amalgamation.
Fact: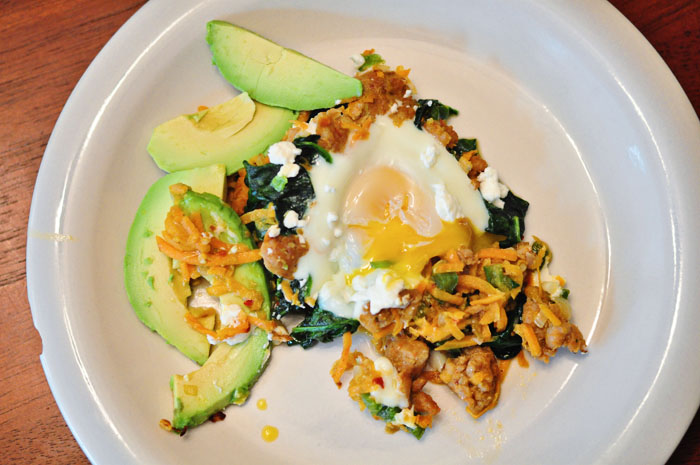 This might be the ugliest series of food photos to ever grace the internet.
Fact: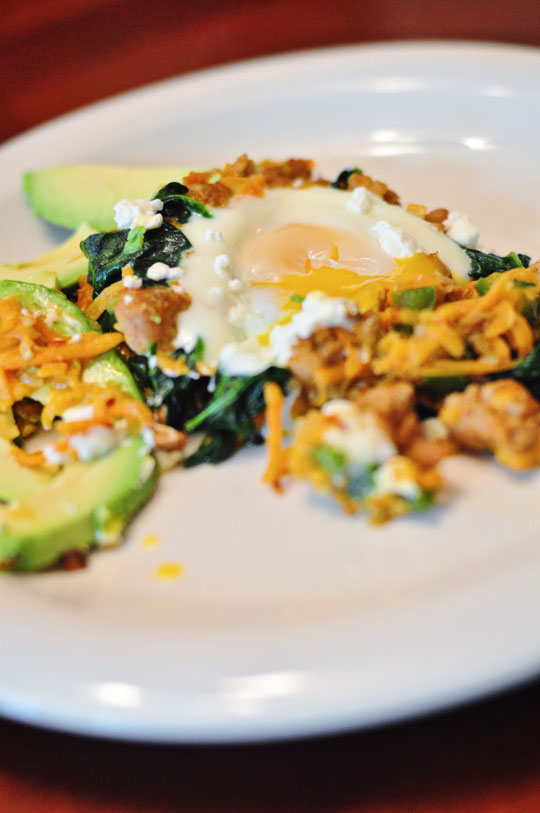 It's also probably the most delicious.
Fact: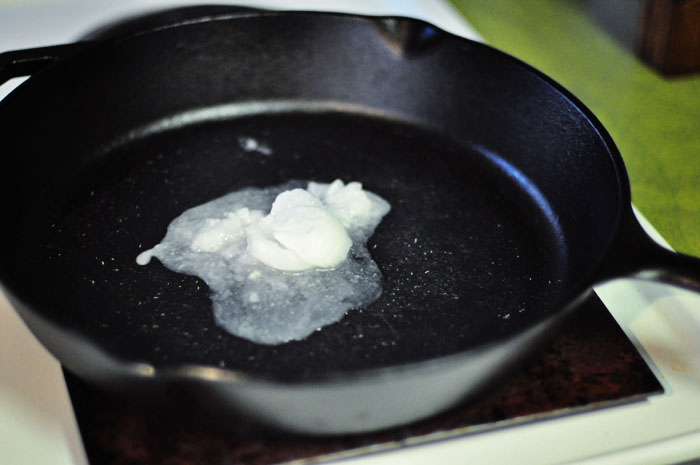 Coconut oil is solid at room temperature, soothing to dry skin, and makes the food you cook in it taste like piña coladas and sunburns.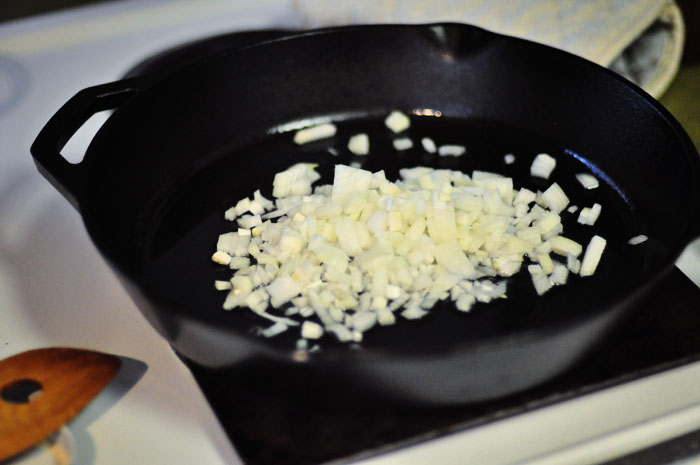 Onions are a major source of polyphenols and flavonoids, which is apparently a good thing. Sautéed in coconut oil, they smell like ocean breeze and awkward tan lines.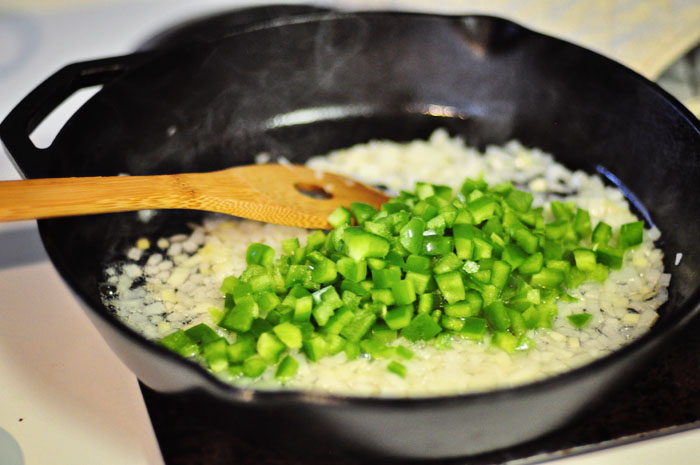 It has the same effect on green peppers.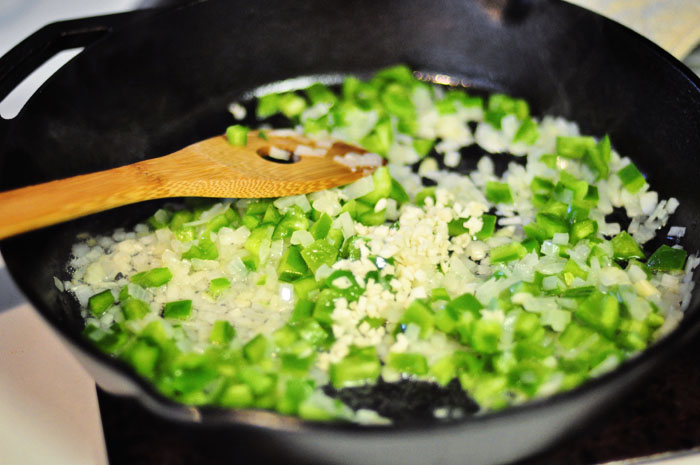 And also garlic.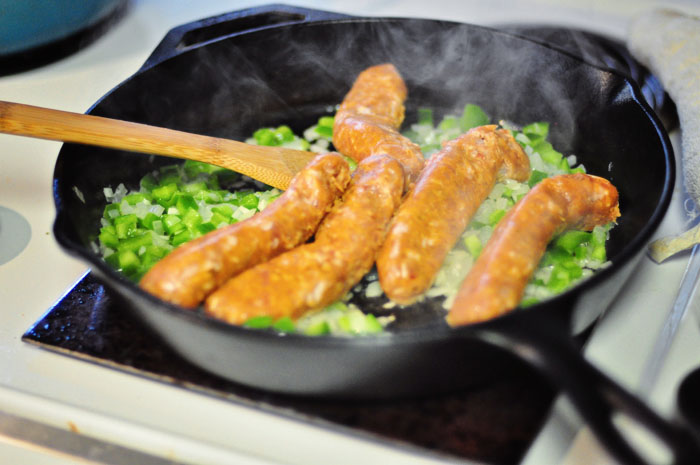 The second time I made this, I accidentally doubled the amount of hot Italian Sausage.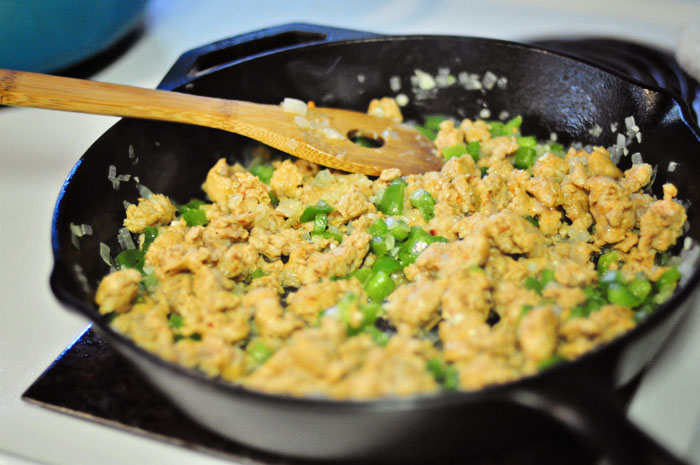 I thought it was too much, but Justin thought the accident was a happy one.
It could easily be made as a vegetarian dish, though.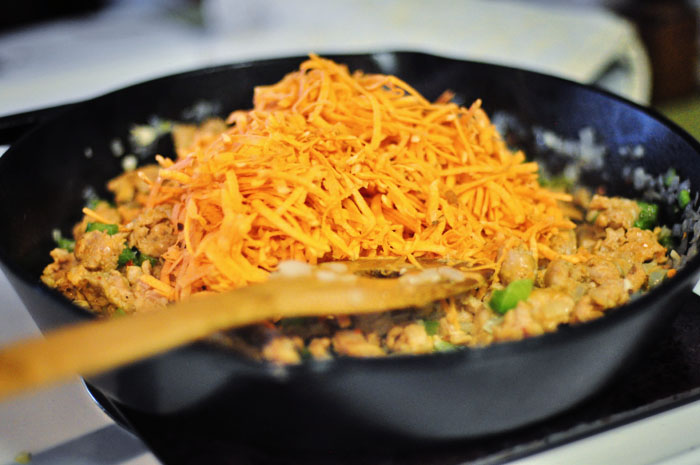 Because the sweet potatoes make for one helluva sophisticated hash brown.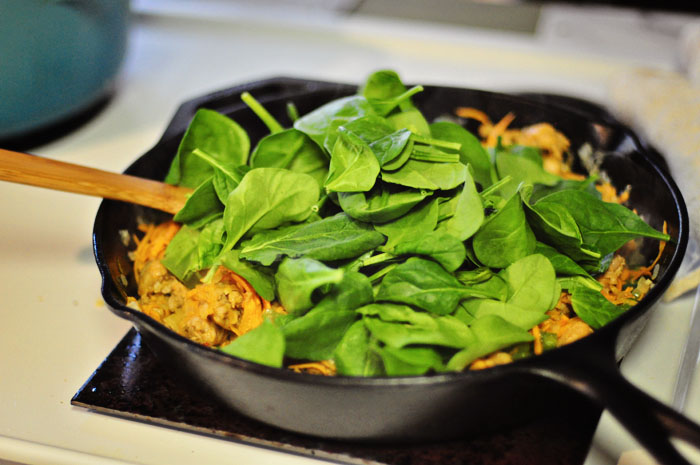 There's also spinach. Because this is healthy, yo.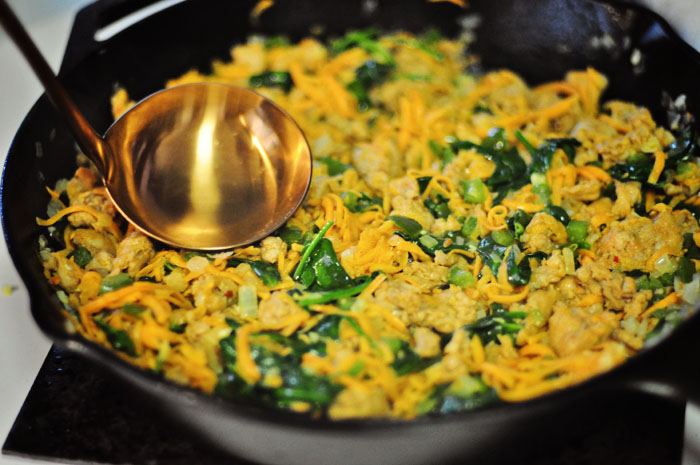 But wait. There's more.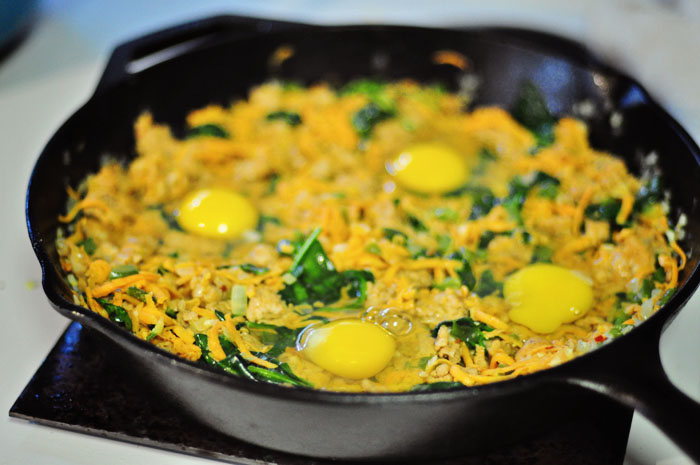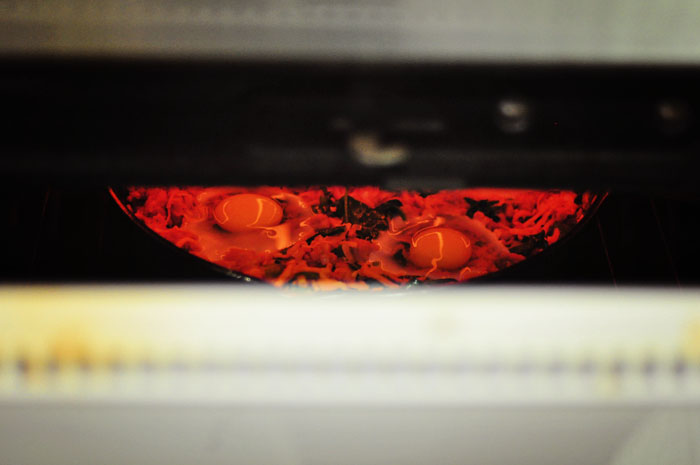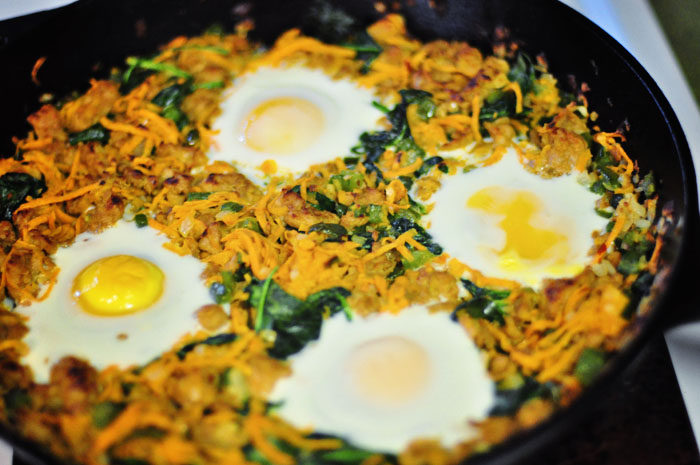 My kitchen is dark and my broiler is apparently very, very uneven.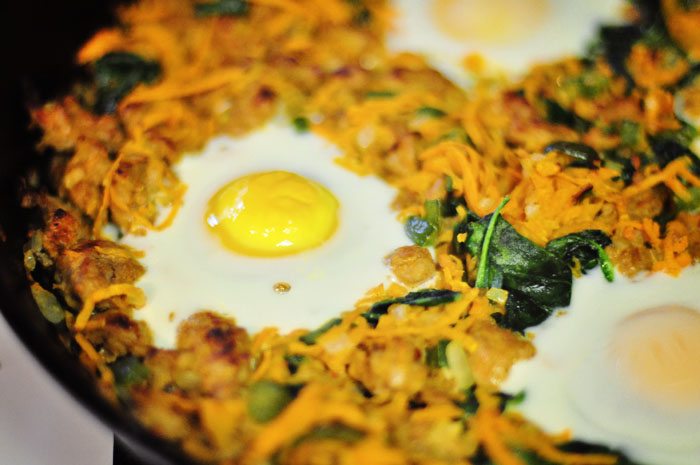 This little eggey is over-done.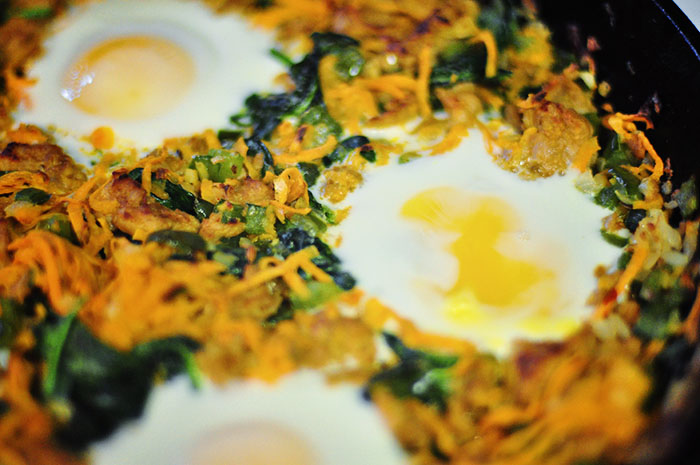 This little eggey is broken.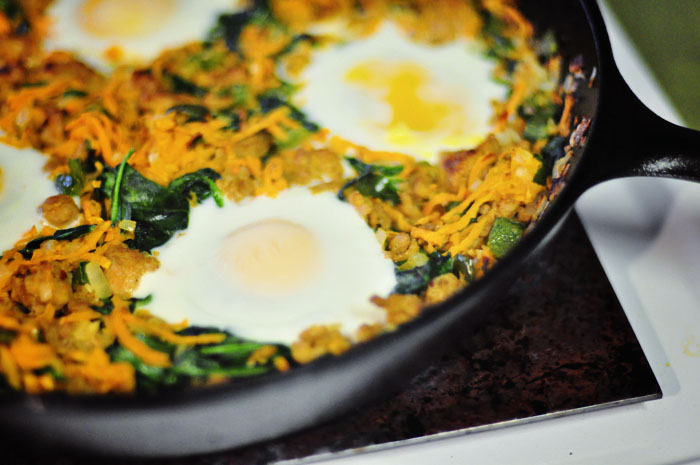 And this little eggey is juuuuuust right.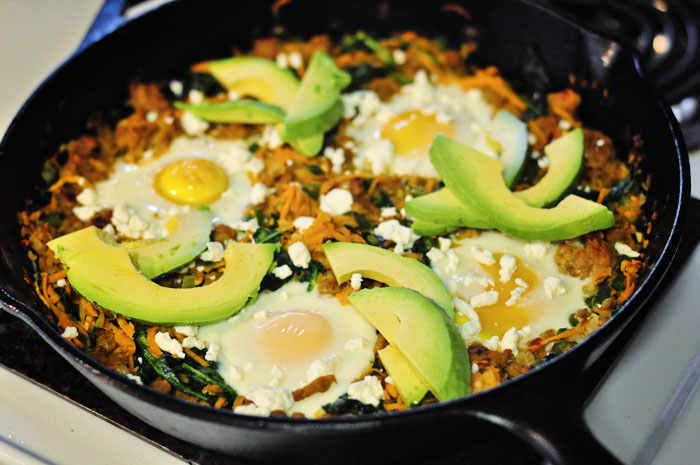 The good news is that if we pile on some ripe avocado and crumbled goat cheese, no one will notice the imperfections.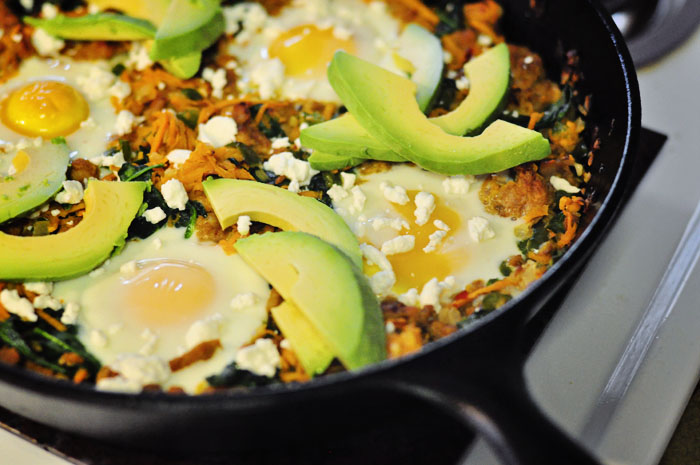 Broken egg? What broken egg?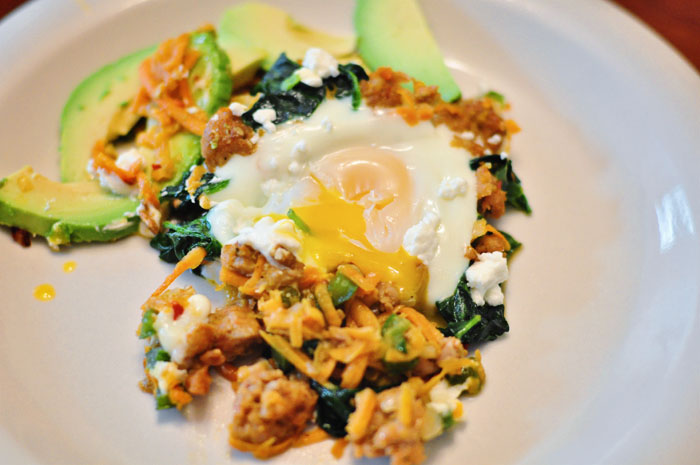 I know when you answered my poll, you indicated that my cooking posts were low on your list of faves.
And I'm trying to respect that.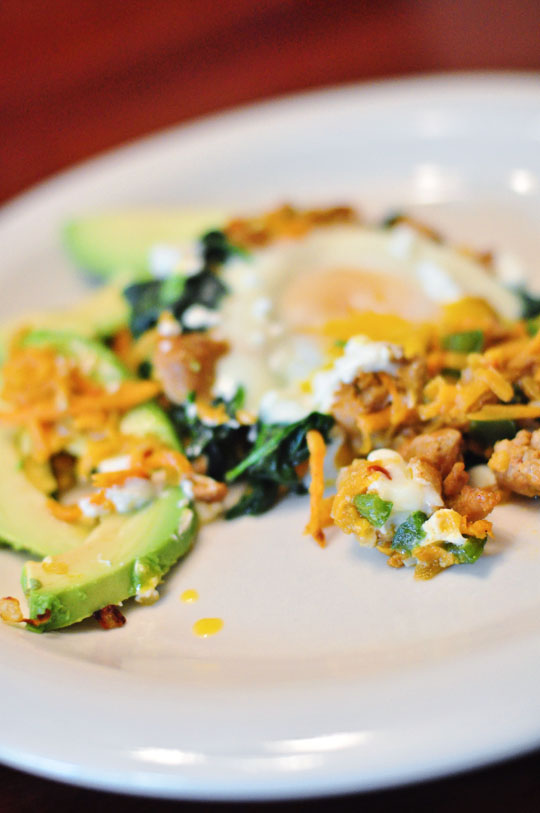 I am.
But to me, the enjoyment of food is one of the greatest pleasures life has to offer.
Sometimes it's ugly. And sometimes I mess up when I make it.
But if it's good–
–really, really good–
then it has to be shared.
Sweet Potato Breakfast Skillet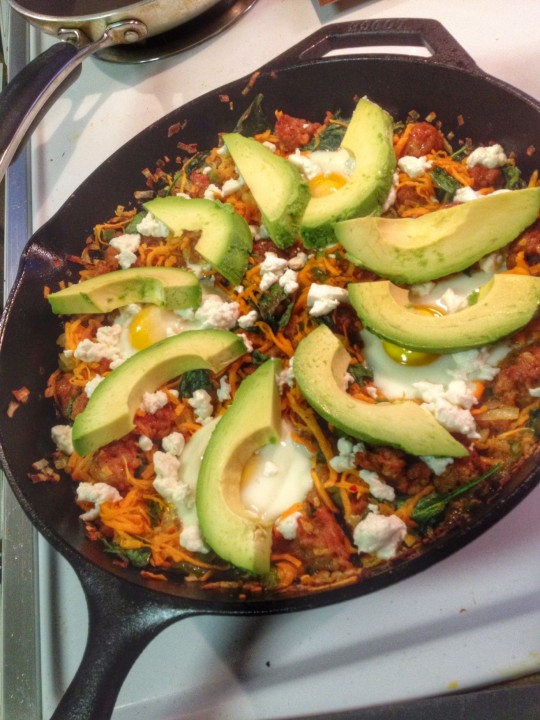 Original recipe, plus better food photography, found on Civilized Caveman Cooking.
This recipe is an amalgamation. And if you have everything ready before-hand, it basically compiles itself. You just keep adding stuff to the skillet until it's done.
Ingredients:
4 tablespoons coconut oil
1/2 medium onion, diced (1/2 cup)
1/2 green pepper, diced (1/2 cup)
2 cloves garlic, minced
2 italian sausages, casing removed (you could also use ground beef, bacon, or leave the meat out for a veggie option)
2 cups shredded sweet potato
2 cups spinach
3-4 eggs
goat cheese to garnish
avocado to garnish
To make:
1. Preheat your broiler. Prep your veggies by chopping the onion, green pepper, and garlic, then peel and shred the sweet potato. This takes approximately .2 seconds if you have a food processor.
2. In a cast iron skillet over medium heat, melt the coconut oil and let it get hot. Add the diced onion, and let it cook a few minutes until soft. Add the green pepper and cook about a minute. Add the garlic and cook about 30 seconds. Add the sausage, stir, and cook 3-5 minutes until brown. Add the shredded sweet potato to soak up all of that delicious grease, and cook 3-4 minutes until soft. Toss in a couple handfuls of spinach, and stir around until wilted.
3. Using a ladle or the back of a spoon, make small "wells" in the surface of the hash. Crack an egg into each one, and put the entire skillet under the broiler until the egg whites are cooked. (They should be white — not clear.) Ideally, the yolks will still be runny.
4. Garnish with crumbled goat cheese and sliced avocado.
There is a lot happening in this dish — spicy sausage, subtle, nutty sweet potato, rich avocado and egg yolks, and a certain, inexplicable umami lent by the coconut oil and goat cheese. This is the kind of food that makes me feel incredibly happy to be alive when I'm eating it. I think I may have found the perfect hangover breakfast. And company breakfast. And dinner breakfast. And I-just-feel-like-eating-something-incredible-today breakfast.
It's your choice. But you should make it. You won't be sorry if you do.