Why We Chose Laminate Counters And How I Feel About Them.
Money Money Money Mon-ay — Mon-ay!
Sing it. You know you want to.
There comes a time during every renovation when you have to admit financial defeat. When you have to stop saying, "You know, the stove with the extra burner is only a few hundred more. Let's get that," and start saying, "Okay, kitchen. You have sucked up every last dime we can spare, and now we're digging pennies out of the sofa cushions. So. How do we finish this thing?"
Granite was still fairly tempting, despite all of the aspects I don't love about it, because — omg omg it's so soooo soo pretty! — but at this point in the game, spending several thousand dollars — possibly upwards of 4K on 47 square feet of even the least expensive stone — would be excessive. Solid surfaces here can cost the same if not more. I still check Zillow on a weekly basis, and no one updates their kitchens around here. No one. They'd maybe slap granite on our old kitchen setup without changing anything else, but I just don't function that way.
It would be like buying silk diapers for a baby. They don't care where they poop.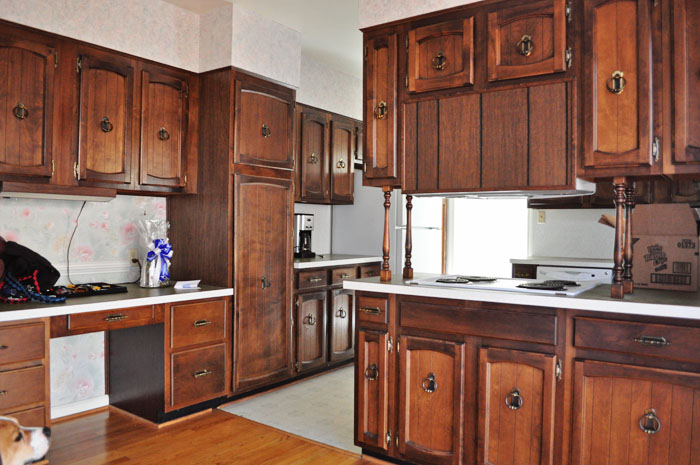 You want me to put granite on that? Riiiiiight.
See, when it comes to renovation, we typically find ourselves splurging on 2 aspects beyond the builder-basics:
1. Form.
2. Function.
And while I sometimes fall prey to Form's shiny lures, it's Function that'll have me reaching for my wallet every. single. time.
"What's that you say? The Zephyr hood costs a couple hundred more, but the CFMs are unbeatable for that price and the lights are in the front so they actually shine down on the work space where I'll need them? Sold. And the spice rack filler pull-out is only $87 plus shipping and it will hold almost-but-not-quite-two-thirds-of-my-spices behind a conveniently hidden panel within reaching distance of the stove? I must have it."
So because granite was appealing because of form to me, and not really function, she lost this round. After ruling out cement (too messy) and eco-friendly options (too expensive), I moved on to research a material I've seen and used plenty throughout my years of homeownership, but have never actually had to buy — laminate. I'd been putting it off because every time I went to the big box stores to ask questions, none of the counter people actually seemed to know what they were talking about when it came to this material, which is essentially plastic-wrapped plywood or particle board.
It's not rocket science, guys.
But there is craftsmanship involved when it comes to measuring and cutting the substrate and adhering the decorative plastic to the top. Which is why Lowe's and Home Depot actually hire third-party fabricators and installers to do the job. Which is probably why their sales floor employees really don't know anything about it. Which is probably also why buying it through these stores would be significantly more expensive than just hiring someone yourself.
It wasn't until a representative from Lowe's told me that everything — from removal of the old counters to installing the new ones — would cost upwards of $3,800, that this fact dawned on me.
Let's let that sink in for a sec.
You want $3,800, Lowe's? For laminate? Would you like me to throw in my dogs and maybe my uterus while we're at it? You must be out of your mind.
In retrospect, I suspect she might have accidentally calculated her cost based on square feet when she was supposed to calculate based on linear feet. That's the only way to explain that exorbitant number. Either that, or the box stores just don't like selling laminate.
Still.
I ordered some countertop samples directly from Formica and Wilsonart (though the Formica ones never arrived, despite them telling me they'd shipped them twice), and narrowed down my choices to those in the charcoal gray family. My two favorites ended up both being by Formica anyway — Basalt Slate in a honed finish (3690-77), and Smoke Quarstone in Radiance finish (6220-RD).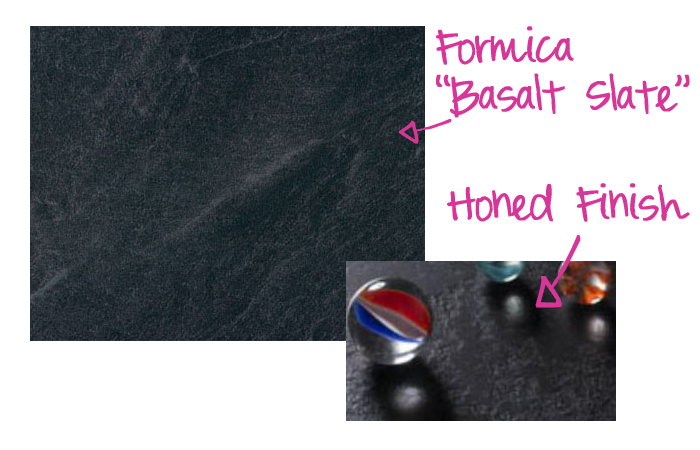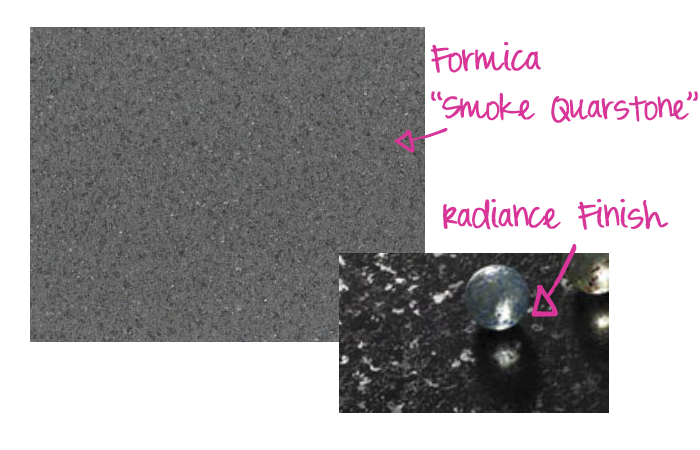 While the honed slate probably would've looked incredibly realistic, especially if I'd sprung for some fancy wrapped edges and maybe even thicker plywood, it just wasn't worth it to spend the extra cash on such extravagance in this kitchen. So I went with the Smoke Quarstone, because SHINY.
What was worth spending the extra cash on, however, was an under-mount sink. There's just something about the luxury of wiping all of the gunk from your counter directly into the sink without that grimy, germ-collecting lip. It's heavenly. But the idea of undermount sinks are still relatively new in the laminate industry. Obviously, since the counters are made of wood, there are special concerns when it comes to water potentially seeping through any cracks. From what I read on the GardenWeb Kitchen Forums, everyone says these are a huge no-go. But none of them actually had laminate countertops with undermount sinks. So I did a little research and found these.
Armed with the proper information and questions, I gathered estimates from 3 different countertop guys I found through a series of haphazard internet searches and personal references. The first was nice and quoted me $1,880 before he even left my house, but he didn't bring any samples or know anything about installing an undermount sink. The second was nice also, and seemed a little more professional, but I waited 4 days for his quote before receiving a text asking me to send him the number of the sample I'd liked because he hadn't written it down. I never did get his quote or send him the sample because in the meantime, Contractor #3 had arrived, brought a bajillion samples, knew everything there is to know about laminate, could have it installed within a week, and, without knowing my previous estimate, quoted me $1,875 including the undermount sink.
This third bear was juuuuust right.
It sounded too good to be true. But he also collected NO money up-front, so I really had nothing to lose but time. And I'm totally used to that.
Frank ended up getting my counters installed a whole day early. This is unheard of, guys, in my current world of contractor dealings.
This is Frank wielding the drill: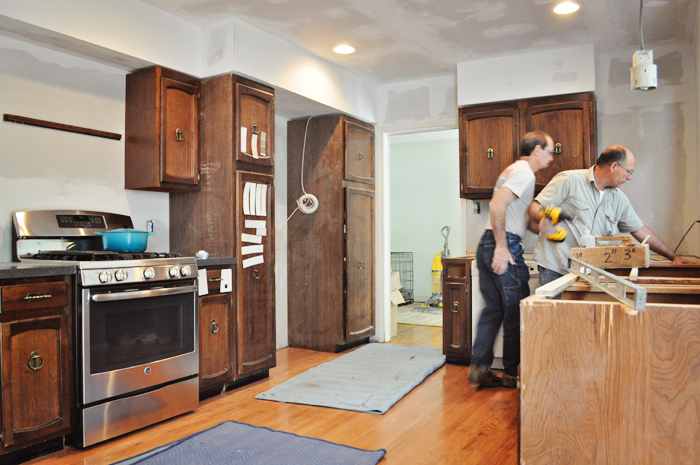 And the blurry guy is Darien.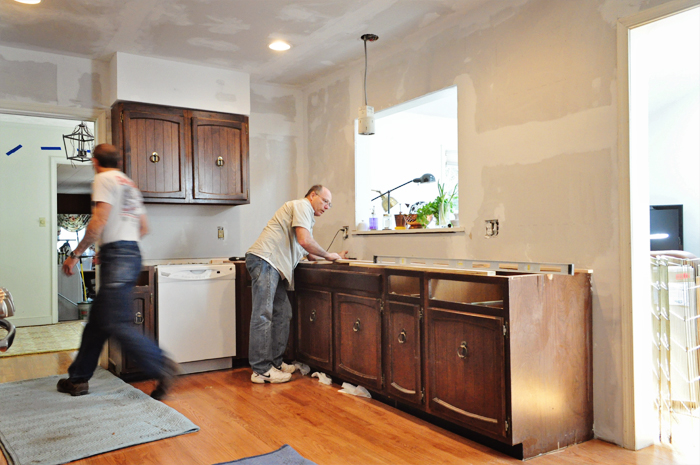 And the counters are just… well look.
(Please excuse my lack of cabinet doors. I removed them and have been thinking about possibly starting to consider prepping them for paint for at least 6 days.)
Straight-on: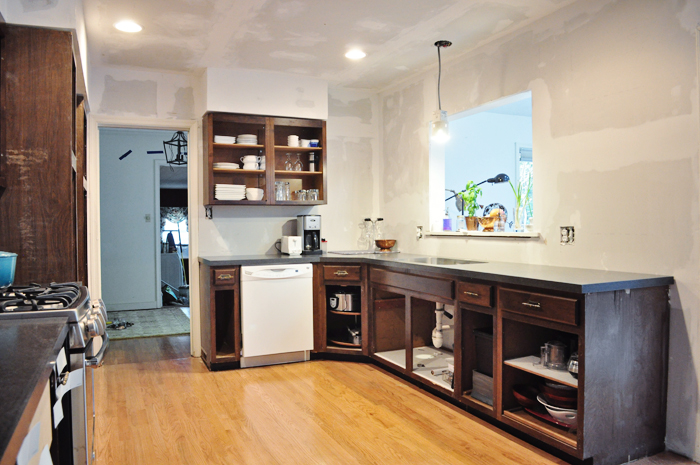 Looking down: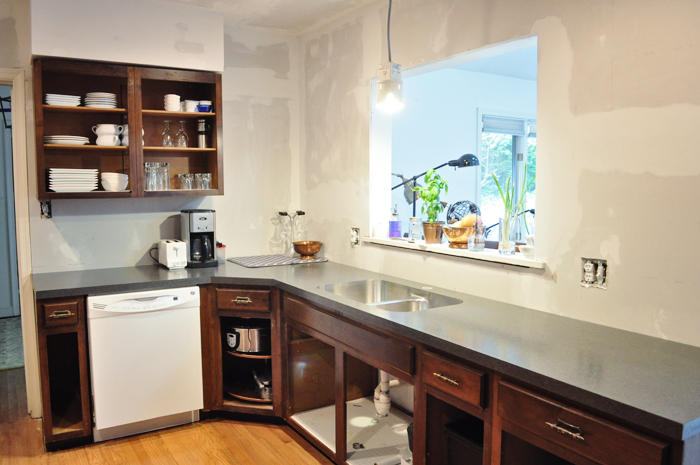 Ooooh… shiny.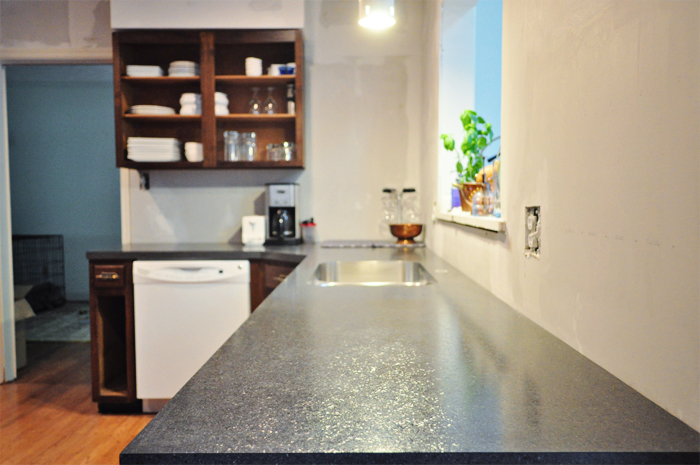 So far, it's been great. I have to focus to remember that I can no longer set hot items directly on the surface, lest I cause my laminate to melt, or do whatever laminate does when you set hot things on it. If I had to admit to missing one thing about granite, aside from the sheer beauty, it would be the laying of hot things.
I'm still waiting for my plumber to hook up my drains and faucet, so I can't attest to the functionality of the undermount sink, but so far it looks even better than my old undermount with granite, which left a gross lip under the counter where gunky fungus could collect. But no such lip exists here.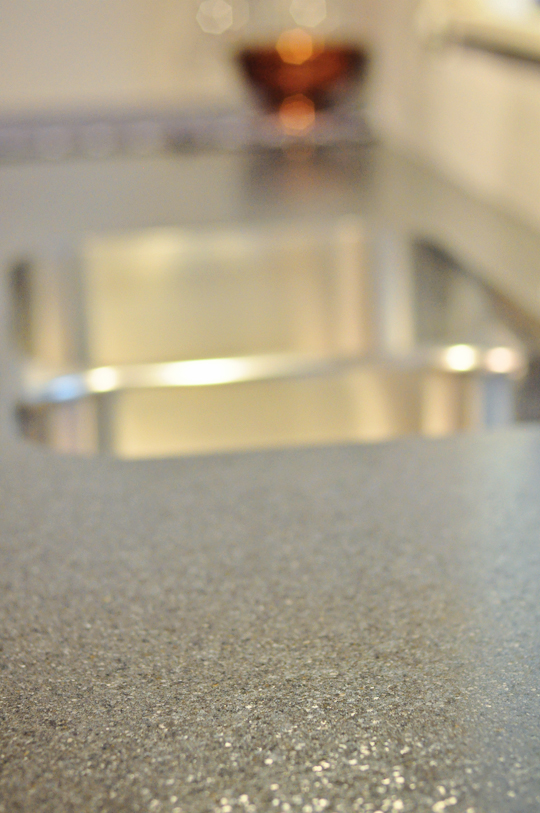 Overall, I'm super thrilled with this choice in the kitchen. Now we need to paint the cabinets, finish the walls, install a backsplash, and accessorize.
Now.
Does anyone have any loose change?
Good to Know:
I didn't ask about the fancy edges or upgrades aside from the undermount sink — I didn't want to be tempted to spend more money!
Frank was easy to communicate with, extremely knowledgable, and fast! Though I didn't feel like that compromised the quality of his work.
I told Frank I had a blog so I could take photos while he was doing the installation. I received zero kickbacks on the counters, and am recommending him because I'm absolutely thrilled with his work.