Honestly. It Was About As Romantic As Baseball And A Butt-Cut.
"So… um… don't enjoy the game too much." Justin laughed, but it was the nervous kind — the obvious kind you don't have to be married for 8 years to hear and know that he's not really joking.
"Don't worry, babe — we're going with a group! Guys and girls."
"Oh!" His relief, despite the fact that it'd traveled via voice across a thousand miles of space in mere milliseconds, was palpable.
See, the baseball game was my second "date" with Brock, an outgoing, eligible bachelor-type who lives in Norfolk and has a job and a house and all of those things that women who haven't been married for 8 years might find attractive on the dating scene. But me? I was just using him for s–
–ome baseball tickets.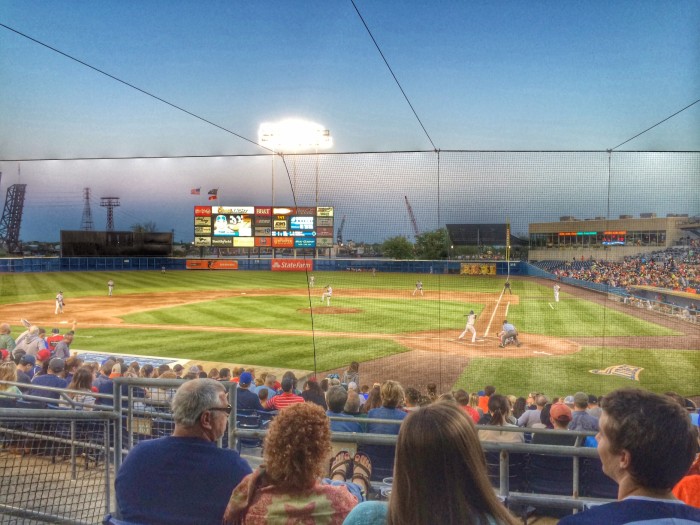 Psyche.
(Do people still say that?)
(Or is it sike?)
(Am I so un-cool that I'm misspelling the slang that's outdated by two decades?)
Anyway.
I'd already been on a lunch date with Brock, and since Justin is a thousand miles away for work during prime friend-making weather, I feel like it's up to me to nab us some compadres before the full heat of summer hits and people escape the tourists by retiring to their backyards with their tight-knit buds, Bud Lights, and — if they're really fantastic — a craft beer or six. So a couple of weeks ago in a pitiable public moment of weakness of which I'm not particularly proud, I published the following status update on Facebook:
"I need local friends. Also, is there a way to delete all of the follow-your-dreams-and-live-life-to-the-fullest inspirational type movies off of Netflix so I stop watching and start doing? Kthanks."
Apparently I was bored and feeling sorry for myself, which is pretty much inexcusable for a girl with my kind of aspirations, lengthy to-do list, and a subscription to Netflix.
Like, really?
Yet despite my whiny, block-worthy status update, friends came out of the woodwork to platonically hook me up. Brock is a friend of Katie, one of my old sorority sisters — a girl I loved for her no-B.S. approach to life and her incredible spinach artichoke dip — not just the fact that she has a cool name. It's been ten years since I've seen Katie and yet, through the miracles of social networking, she was able to set me up on a blind friendship date. And considering the fact that I haven't been out for a non-work-related meal alone with a guy other than Justin since 2002, I must have done pretty well at lunch because I got the callback for the baseball game shortly thereafter.
Or maybe it's because I told Brock I'm a fantastic wingwoman.
Which is totally true.
Yet still. I've compared making friends to applying for a job, but it really is like dating, too. It's going out in public, testing the waters, seeing if there's compatibility. Which is why it probably seems weird, somehow, when it involves a person in a committed relationship making friends with a single — or married, for that matter — member of the sex to which they're typically attracted. So in my case, it's a straight married woman making friends with a straight single guy, but it also applies to straight committed men with straight single/committed women, gay committed women with gay single/committed women, and gay committed men with gay single/committed men. And I don't care how evolved or polyamorous or openly sexually non-monogamous you think you might be, it's pretty rare to completely evolve beyond jealousy, insecurity, or irrational mistrust.
Like those circa 1999 photos of you floating around with the center-part "butt cut" and an overdose of Sun-in, it's out there.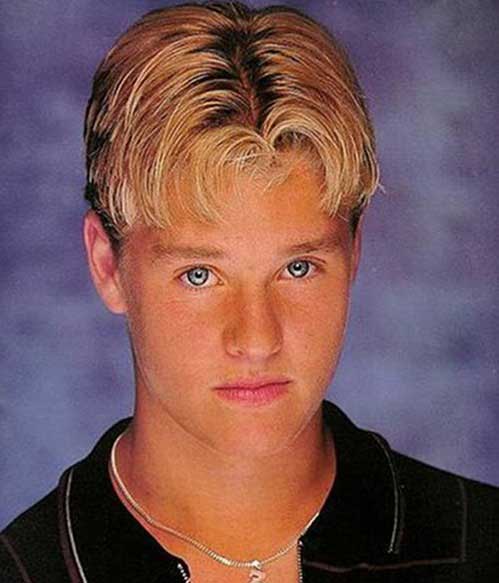 (Side PSA: Do yourself a favor and never google images for "bleached butt cut." Just don't.)
So when I heard Justin's I'm-totally-joking-but-not-really laugh, I tried to imagine how I'd feel if he was heading out to socialize with a single girl I'd never met. And I'll admit it — I wouldn't be thrilled. But I wouldn't stop him, either. I mean, as long as the romance potential doesn't surpass baseball and butt-cuts, what would I have to get upset about? And when I tried to pinpoint the cause of my discomfort, I came up empty-handed. I trust him implicitly, and I'm a friend to women.
So what's the deal?
The fact is, it's simply harder to make friends with the opposite sex once you're married because of the societal implications. Throughout this process, I've had to make it clear that I'm scouting friends for the two of us — and not looking for some male to fill the void while Justin's away. And the last thing I'd want to do is make him feel insecure. Basically, it's a touchy subject, further complicated by the fact that he's not here to partake in the friendship-making process. When he gets back, everyone will meet, we'll all get along, and the world will keep on spinning as it should.
In the meantime, if Justin were to become friends with a really great girl who happened to love Star Wars, cheesecakes, the military, and all of the things that Justin and I don't always agree about, would I feel insecure?
Absolutely.
But, if I'm completely honest, it's really what other people might think or say or imply that might trigger those insecurities — not the actual people involved. The potential for an emotionally intimate connection would be worrisome as well. I mean, they could go out to lunch, but talking about our relationship would be off the menu.
So what do you think?
Is it taboo to try to make friends with the opposite sex when you're seriously involved with someone else? Is it okay as long as everyone's clearly on the same page? Am I making these issues up? I mean, it's 2014. Physically, we're no longer living in the era when young women need chaperones lest we risk the marring of their pristine reputations through harsh rumors and speculations, but socially?
Sometimes it feels like we haven't moved an inch.