I Only Wanna Eat The Good Stuff.
Food.
What can I say? I love it. I love it so much that I sometimes watch the scene from Spanglish where Adam Sandler makes The Sandwich on repeat. I love it so much that I plan whole days, weeks, vacations around its consumption. I love it so much that I watched Ratatouille yesterday while I painted cabinet doors because it's one of the best foodie movies I own.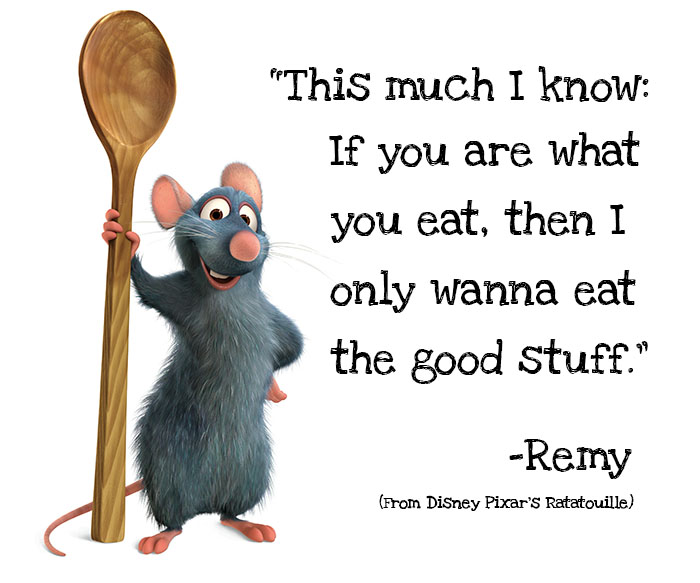 That's a solid piece of educational material for children and adults, right there.
And while dining out during these last several months while the kitchen was ripped up has been fun, it's also been over-indulgent, greasy, and completely budget-blowing. I mean, yes, we could have survived on sandwiches and things you cook on a grill or griddle, but when one or more of your major kitchen components like your range or sink or countertops or floor isn't functional and you have to wade through piles of drywall dust-covered rubble to unearth your ingredients, it's easier to just declare an eff-it hour and grab some Chinese.
But now?
Now I have a range. A beautiful gas range. And a nice deep sink with a wicked sexy faucet. And countertops. And floors. And while I've definitely succumbed to the occasional microwaveable bean burrito or green curry rice bowl from Trader Joe's since Justin's been gone, I do still cook for myself. And the beauty is that if I make enough of a really good thing, I'll be able to relax and enjoy it for days.
If you've been here for any length of time, you'll know I'm not exactly a wiz kid in the kitchen. I'm interested in taste and variety and technique and all of that jazz, but I tend to approach it from a very scientific — not artistic — mindset. Which makes me kitchen-capable, but not exactly a great cook.
I know.
I'm working on it.
The only way to work on it though, is to work on it. Try new recipes. New flavors. New ways of getting the ingredients from the fridge to your mouth. Good ingredients. Real ingredients.
One of my favorite go-to blogs for recipes and inspiration has been Two Peas & Their Pod. They cook the way I like to eat — real, fresh, mostly healthy, and adventurous. And they're not afraid of the occasional cookie (or six). Their food photography is incredible, unlike the orangy dark kitchen stuff you're about to see below. And, bonus, almost everything I've tried of theirs has been delicious.
Last night's dinner was no exception: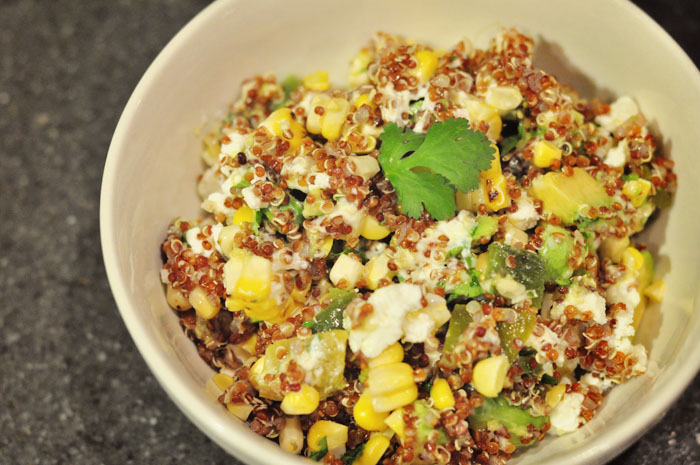 Red Quinoa Salad with Charred Sweet Corn & Avocado.
It also had roasted poblano peppers, cilantro lime dressing, and goat cheese. (The original recipe calls for cotija, but I had lots of goat cheese on hand. I mean, doesn't everyone?)
Don't be scared of quinoa if you haven't tried it. It's incredibly easy to cook and doesn't taste like much on its own, which is why we add all of this other stuff. In fact, this same recipe would be DELICIOUS with couscous (tiny pasta balls), if you're more into gluten and less into an incredibly healthy superfood. (Which I sometimes am, so hey. No judgement.)
To make it the way I did, you will need:
2 cups water
1 cup red quinoa (or any color quinoa)
Pinch of salt
2 ears grilled sweet corn, kernels removed from cob
2 roasted poblano peppers, diced (these just have a mild spice)
1/3 cup chopped cilantro
1/3 cup goat cheese (their recipe calls for cotija, a nice Mexican cheese, but I had a whole log of goat cheese on-hand)
2 avocados, chopped, pit and skin removed
For the dressing:
1/4 cup olive oil
Juice of 2 limes
2 cloves garlic, minced
1 tablespoon chopped cilantro
1/4 teaspoon ground cumin
Salt and black pepper, to taste
So all of this is pretty straightforward:
1) Cook the quinoa with the water and salt according to the package directions. I followed the instructions from Two Peas and Their Pod by bringing the quinoa, water, and salt to boil for 5 minutes, then simmering it for 15 minutes until most of the water evaporated. You know you're quinoa's cooked when the little seed thingies sprout. It's crazy and very sci fi. You'll know what I mean when you see it.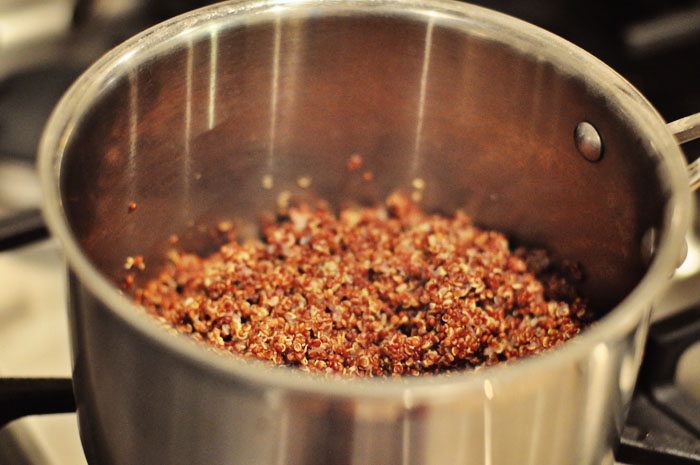 See those little white thingies around each red quinoa seed? Those are the sprouts.
When the quinoa is cooked, set it aside.
2) In the meantime, make your dressing by whisking together all of the dressing ingredients — 1/4 cup olive oil, juice from 2 limes, 2 cloves of minced garlic, 1 Tablespoon of chopped cilantro, 1/4 teaspoon of cumin, and salt and pepper to taste.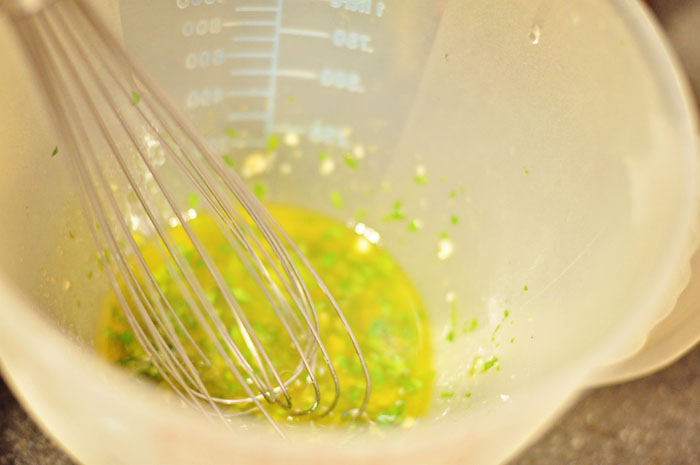 You can also just throw it all into a food processor if that's more your style.
3) Cook your corn and peppers. Now. You could do this any number of ways. It would be delicious on the grill, but I didn't feel like messing with that thing, so I did what any easily excitable first-time gas range owner would do —
I played with fire: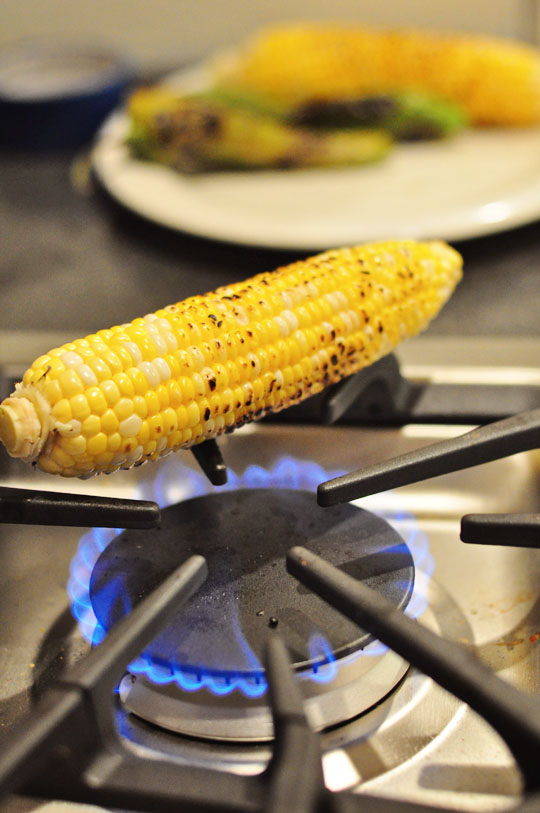 Which basically means I held the corn and peppers over an open flame with a pair of tongs and almost peed my pants every time they snapped, crackled or popped like a highly flammable bowl full of pyromaniacal rice crispies.
It was awesome.
And mildly terrifying.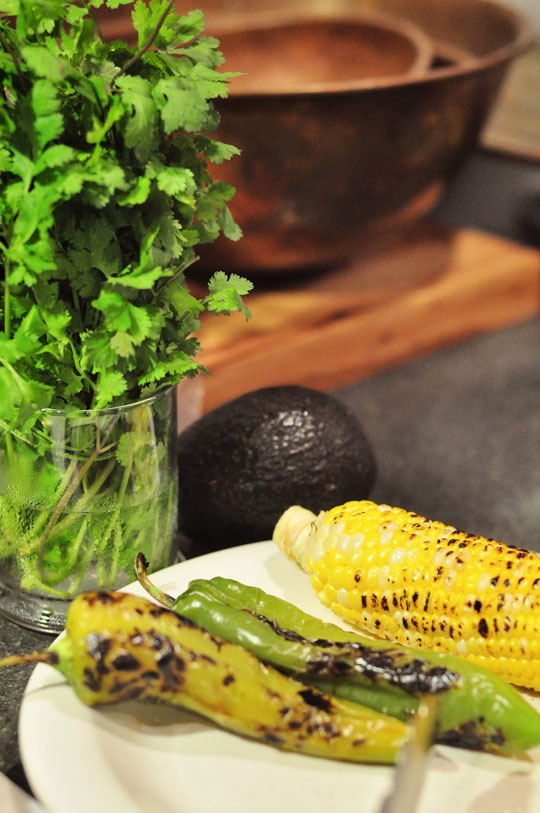 When everything's good and charred, just cut the corn from the cob and peel and dice the peppers. (If you wrap the peppers in tinfoil right after removing them from the heat, the charred skin should peel off fairly easily and you'll be left with the soft roasted pepper. Don't forget to remove the seeds!)
4) Stir together the quinoa, peppers, corn, avocado, chopped cilantro, diced avocado, cilantro dressing, and viola!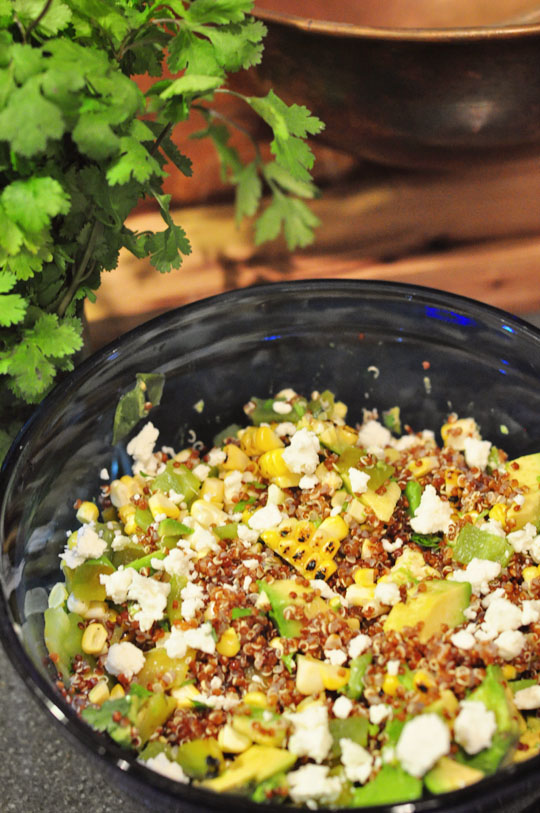 It's beautiful, healthy, and delicious.
Tip: I only added one avocado, knowing I'd be having this for leftovers. Avocado gets brown fairly quickly, so I'll be adding more fresh avocado to my leftovers right before I eat them.
Have you been loving the summer foods lately? Do you cook for yourself when there's no one else around to cook for?