A Painted Kitchen Cabinet Reveal. (I'm Bringin' Ring Pulls Back.)
Okay. If I write a lot up-front, I know you're just going to skip right to the pictures of my beautiful newly painted kitchen cabinets, so let's just get them out in the open, shall we? And then I can pretend you're going to go on to read the gritty details down below.
Here's our kitchen when we first moved in: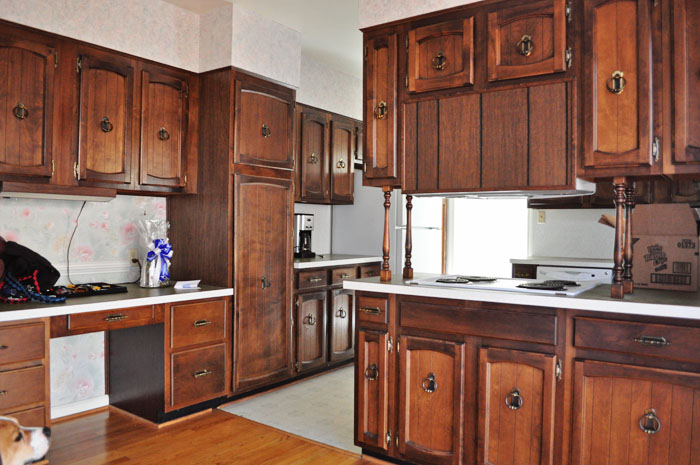 And here's how she's looking today, from almost exactly the same vantage-point (use the dishwater for reference — we didn't move that):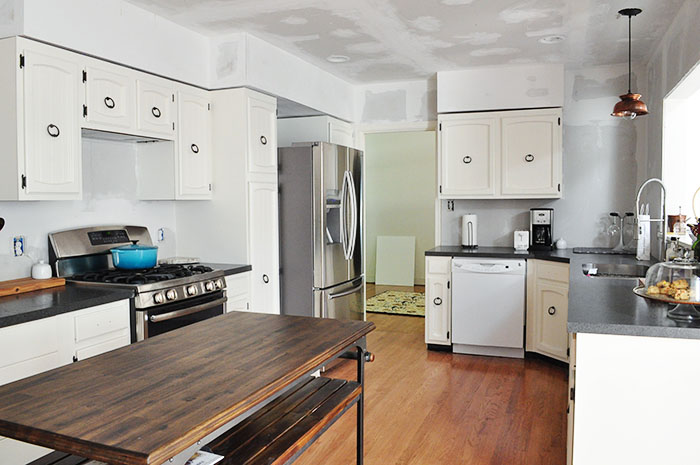 And I'm not sure if the picture even portrays just how much lighter and more open and functional she is, but I'm telling you.
My life has been changed.
Obviously there is still some major work to be done. The kitchen is fully functional now, but it will be even better once I buy drawer pulls. And shelving. And finished toe-kicks. And outlet covers. And… say… finish the walls and ceiling.
Minor details.
The layout of the sink side stayed mostly the same. We took out the peninsula and most of the wall cabinets to open things up and rotated the end cabinet so it was facing in towards the kitchen. We replaced the narrow cabinet just to the right of the sink with a wider cabinet that could fit a trash pull-out from IKEA.
Before:
Current: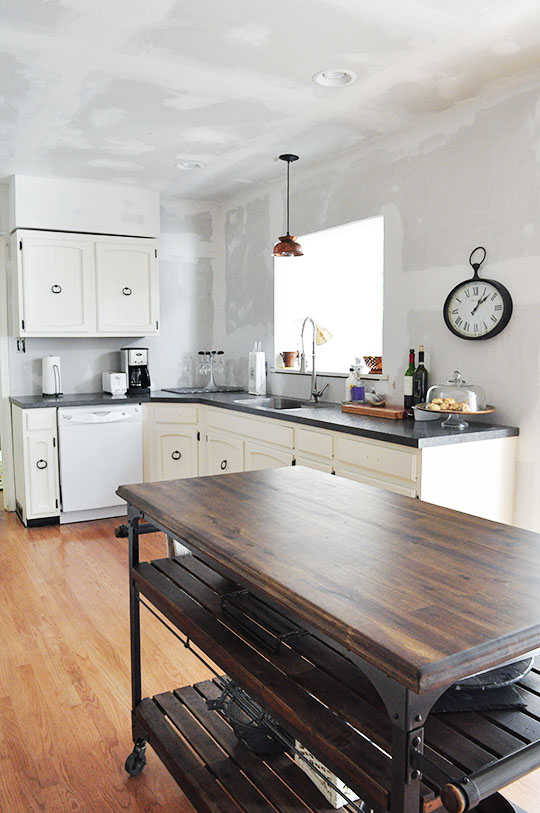 The biggest layout changes happened on the fridge side. We switched the two pantries around so the wider one is now on the right, making a bit more space for our ginormous man-beast of a fridge.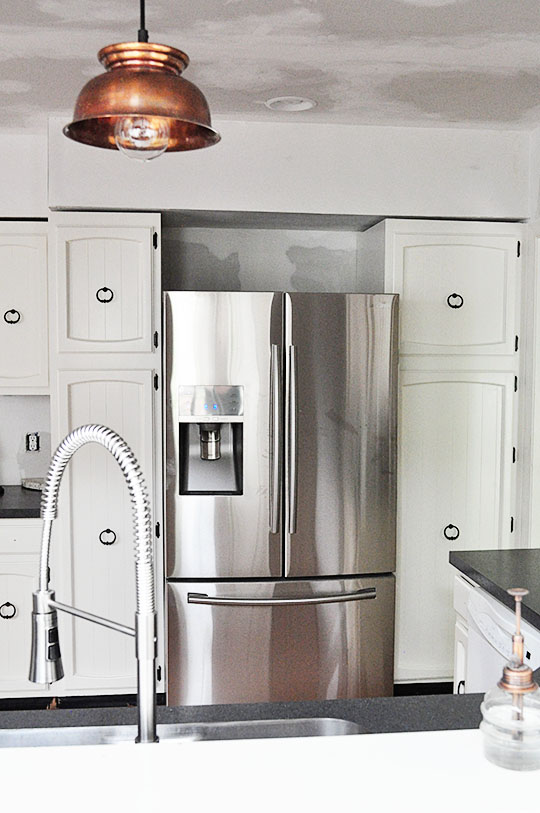 The microwave is actually hidden inside the top part of the pantry to the right of the fridge.
Then, we had a plumber install a gas line (we already had gas running to the house for the furnace), so Justin and I could finally — after 10 gas envy years — buy a gas range. And we've been using the crap out of it.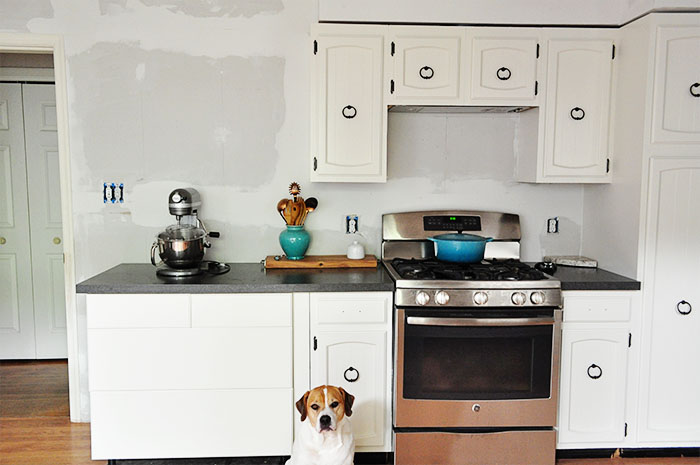 We installed a hood in the cabinets above, which required Justin to re-arrange the attic ductwork a bit. He loves working in the attic. Especially in the summer.
Finally, we removed the old kitchen desk (does anyone use those anymore?) and added a nifty pull-out spice rack and IKEA drawer base at the end of the run, because I knew I wanted deep drawers for our pots and pans.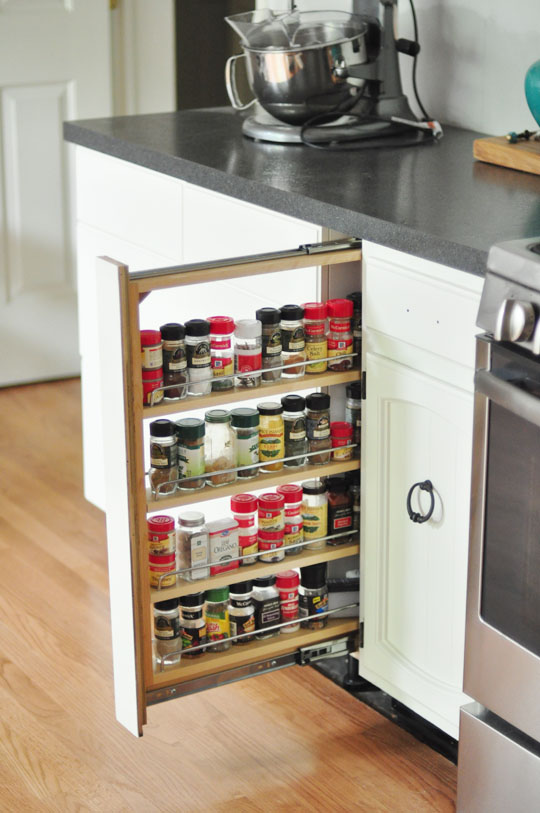 This makes all of it worth while.
I'm feeling like this reveal is pretty major because for months — months! — we haven't even had the doors attached to the cabinets. I'll detail the painting process in another post, but suffice it to say, procrastination wasn't the only reason for the delay.
There was also indecision. First, I couldn't decide on a paint color. Then, I couldn't decide on what kind of paint. Then I had to research various application process, and by the time I got started doing actual work on the cabinets, that required a couple days' worth of cleaning, deglossing, and priming before I could even start to paint. I decided to let the paint fully cure while we were on our road trip (mostly so I could procrastinate on applying the polyacrylic), and then I returned, only to realize I still needed some touch-up work.
After touching up, I started applying the poly and promptly began FREAKING OUT because it looked uneven and streaky and I kind of just wanted to set everything out by the curb for bulk trash pickup because, really. Cabinet doors are totally overrated.
And maybe I happen to like my casseroles seasoned with dog hair, thankyouverymuch.
After some discussion with the fine folks at Benjamin Moore, we concluded that I don't actually need a protective coat of poly because I used their Advance paint, which is a special latex paint with oil-based hardening properties and, since I'd given it a couple of weeks to cure, should be strong enough to stand up to kitchen use. The Williamsburg store where I bought it, Virginia Paint, even let me return the open $80(!!!) can of poly.
So I pulled out the hinges I'd ordered from HardwareSource.com (highly recommend), and said a little prayer to the renovation gods that the holes would match up with my cabinet doors, and holy crap they did.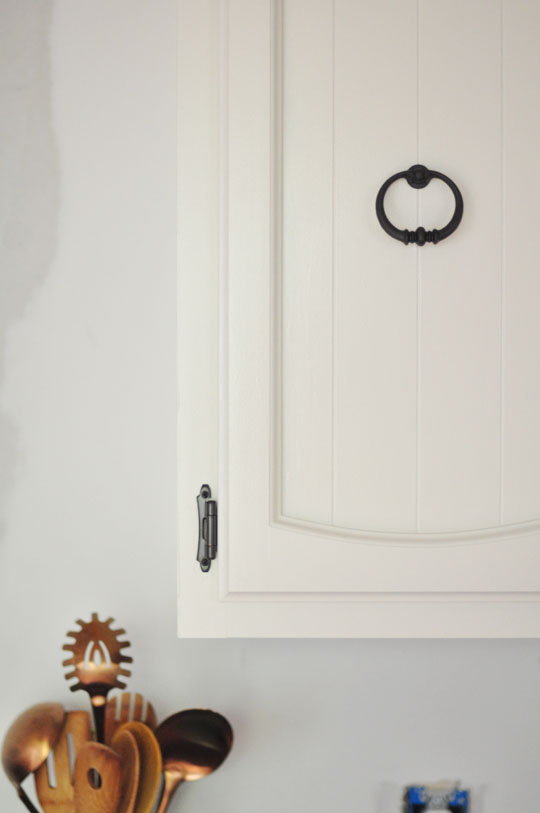 The holes on the cabinet boxes are pretty standard, but there basically aren't any regulations for where the holes that attach to the back of the doors should go. So I totally lucked out.
So then I spent an afternoon and at least 5 episodes of Sex and the City hand-tightening approximately 782 screws to hang the doors.
I also removed the deco-style plate behind the old brass ring pulls, cleaned them thoroughly (they were DISGUSTING), and spray painted them using Rust-oleum Universal Paint & Primer In One in the metallic oil-rubbed bronze finish.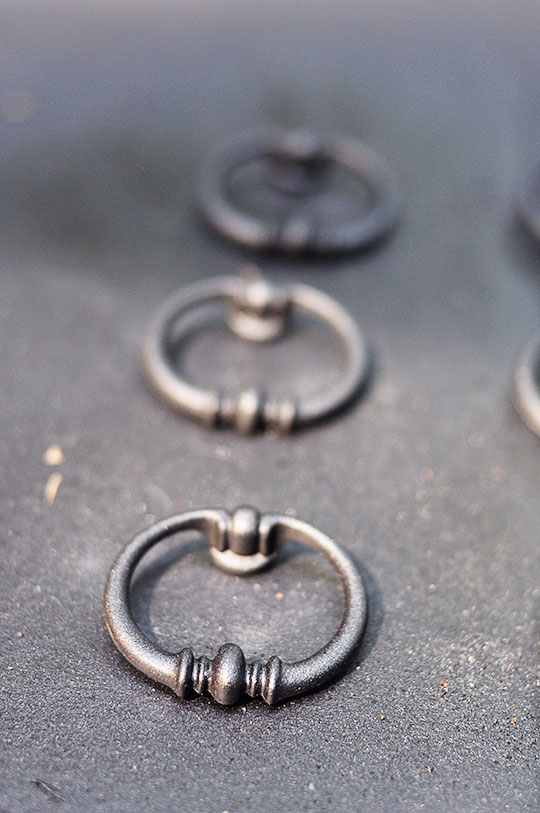 I really love how the hammered finish makes them look like old iron.
A trusted DIY-savvy friend swears up and down that the spray paint won't hold up on the hardware, so I'll keep you posted. I gave them 4-5 very thin coats, and they feel pretty solid.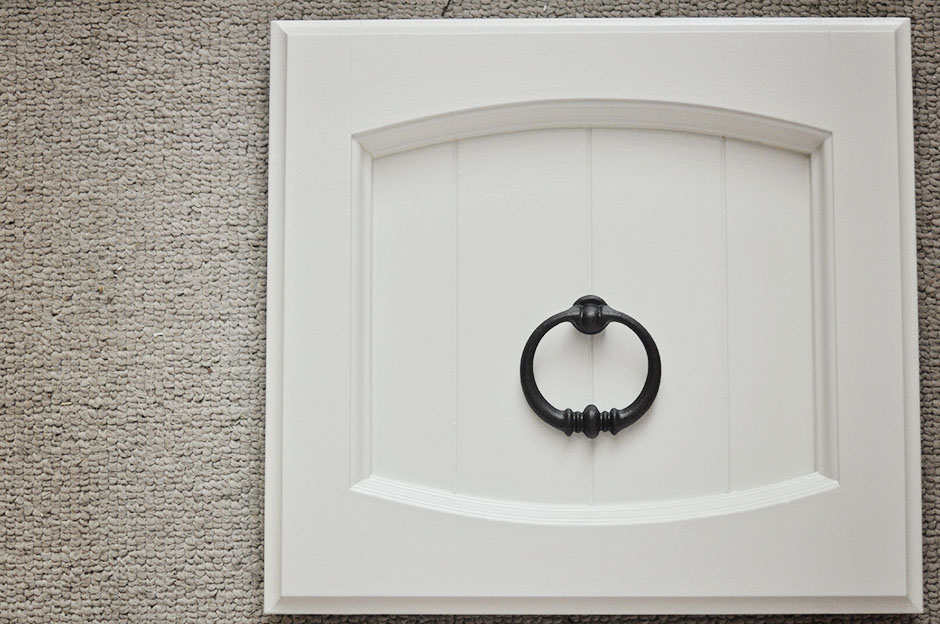 What do you think? I know they're not the "in thing" when it comes to kitchen decor, but am I bringin' ring pulls back?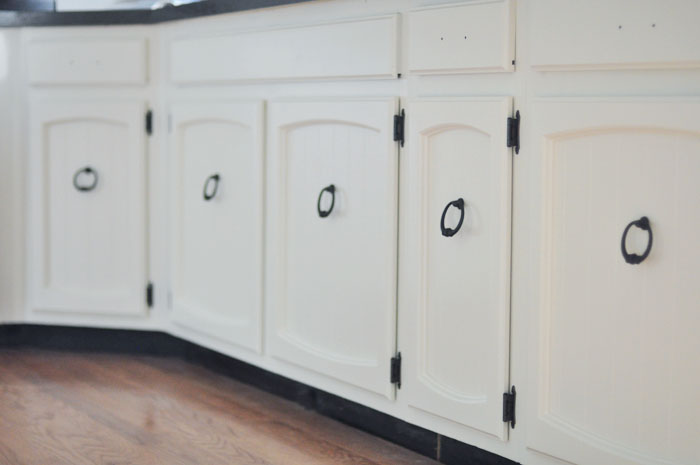 I feel like I am. But then, I could be that woman wearing a banana clip as a nod to the current 80's remix fashion trends, and I'm not sure if you'd say anything because you're so dang polite.
I fell in love with this pull for the drawers: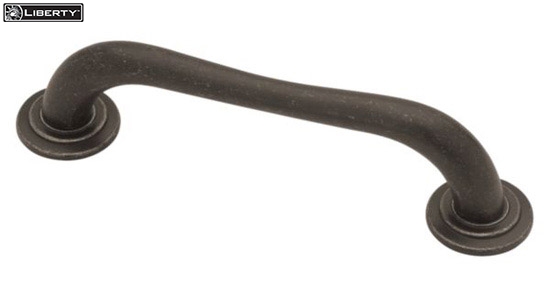 But of course they're not the right size. So what do you think I should go with? Cup pulls? I'll probably go with cup pulls.
Oh. And I'm not sure if you noticed, but we did invest in one more thing for the kitchen.
One tiny thing.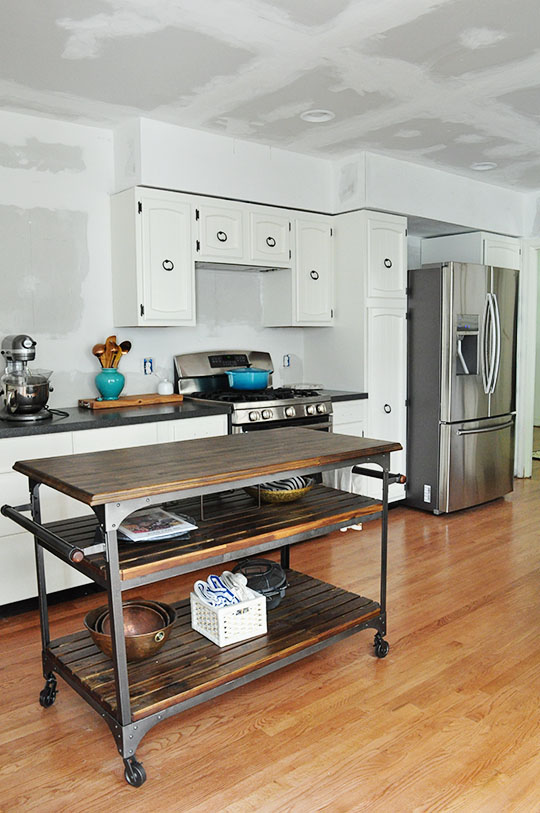 Hello, island.
I didn't think there'd be room for an island in this kitchen because the space between the fridge side and the sink side is too narrow, but when we were designing the kitchen layout, we knew it made sense for us to utilize the old eat-in area as workspace, rather than a kitchen table. We have a dining room for sit-down eating, and when we're not eating there, we plop our butts on the sofa like the rest of America.
We'll eventually get a chandelier to hang above the island so future owners can turn it back into an eat-in kitchen if they'd like, but for us, this is far more functional.
So, what do you think?
Before: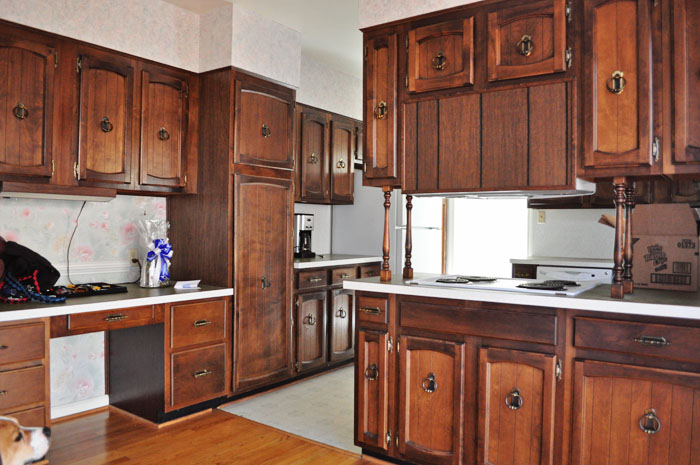 Current: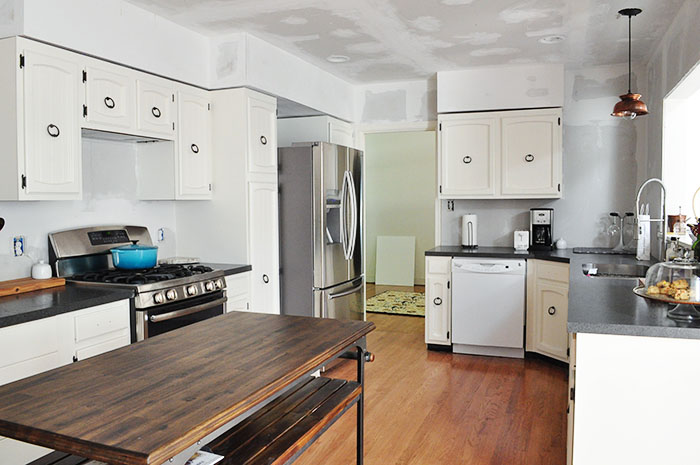 Did we do good?