Mushroom Stroganoff. All In The Name Of Love(handles).
It was Justin's night for dinner.
"What are you making?" I asked, sniffing around the parsley and egg noodles, searching for the inevitable slab of beef, strip of bacon, or, at the very least, fillet of fish that would be accompanying our meal. See, Justin will eat vegetarian, but he rarely cooks vegetarian.
"Portobello mushroom stroganoff," he replied while dicing up a red onion.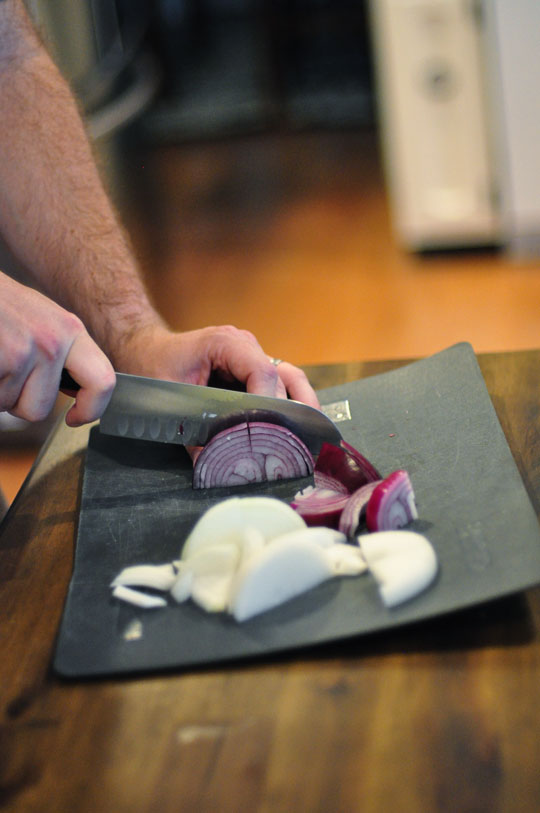 "Mmm-hmm," I said, pushing aside a container of sour cream in search of the beef broth he undoubtedly intended to use.
"Would you mind mixing up the vegetable broth?" He smiled superiorly, knowing full-well what I was up to.
Hey. We've been married for eight years.
Grabbing some Better than Bouillon from the fridge, I heated 1 1/2 cups of water on the stove and mixed in the vegetable base. "Well it's still not healthy," I mumbled, knowing his meal would turn out delicious while I'm normally experimenting with lentils and tofu and things that just don't inherently taste quite as good as butter and sour cream.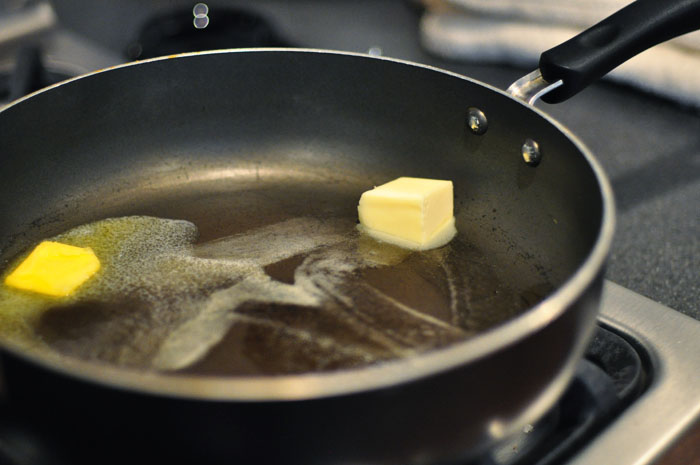 "I feed you gross things because I love you, you know."
I glanced longingly at the glistening butter-coated onions he had sizzling on the stove.
"QUINOA is our friend," I explained as I set a large pot of water on the stove for the noodles. "QUINOA isn't going to send us to the hospital for coronary heart disease."
He tossed the sliced baby 'bellas into the pan, and the butter hissed with pleasure.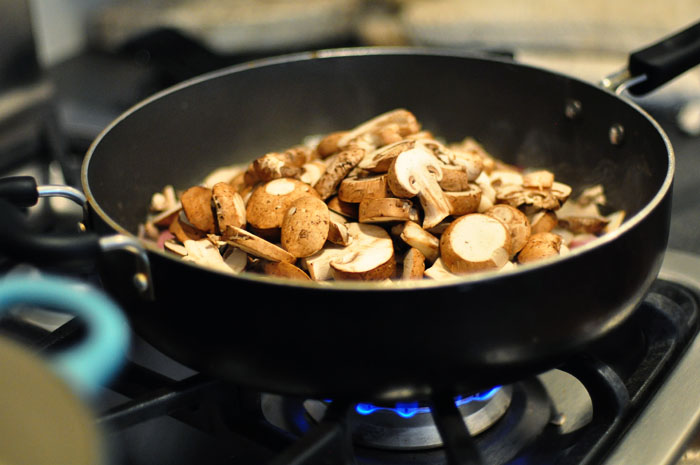 "Neither will mushrooms," he smiled, knowing the scintillating scent of sautéing fungus and root vegetables does strange things to my insides.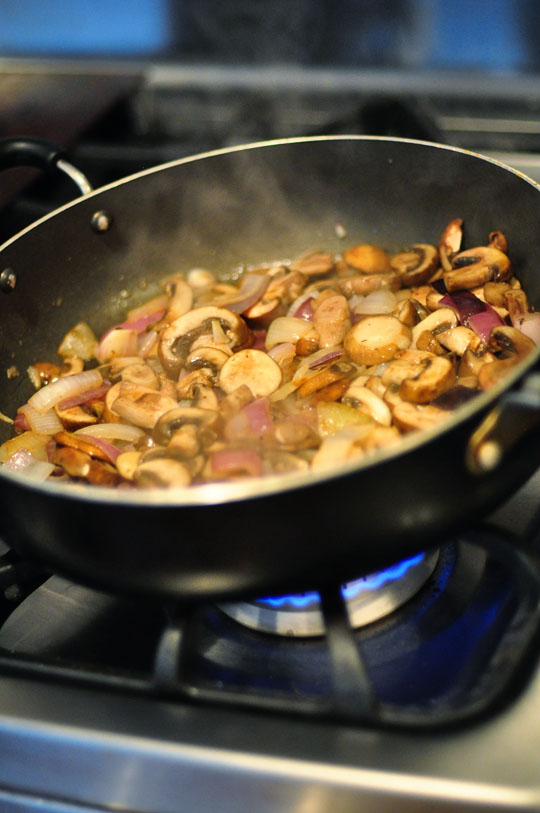 Just for good measure, he gave 'em a toss.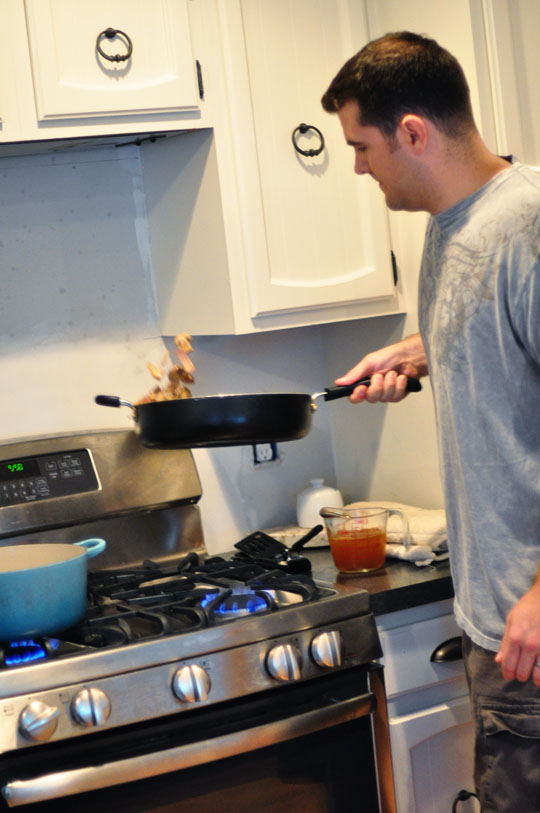 When it smelled good enough to keep me quiet for a minute, he slid the veggies out of the pan and poured in my broth, gently scraping browned buttery particles from the bottom to incorporate them into the sauce.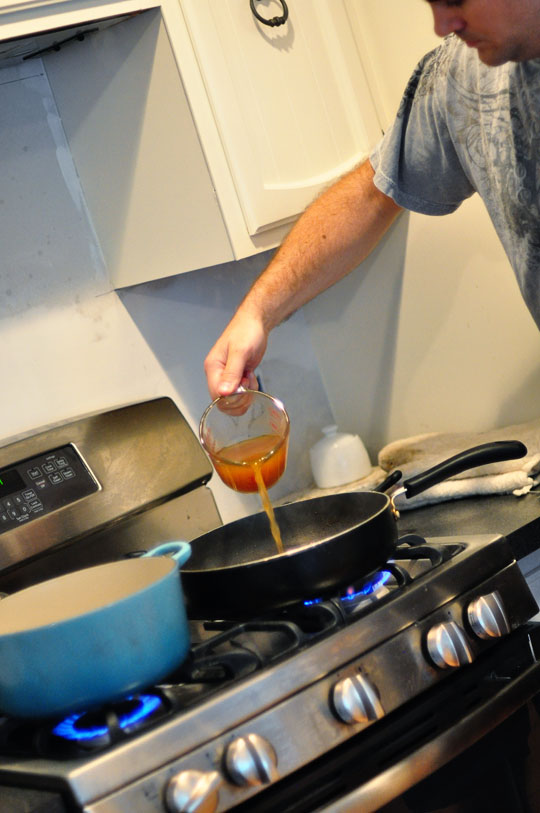 Then he simmered and stirred it for a few minutes while I distracted myself with social media. Once the broth reduced by 1/3, he added the mushrooms and onions back into the pan.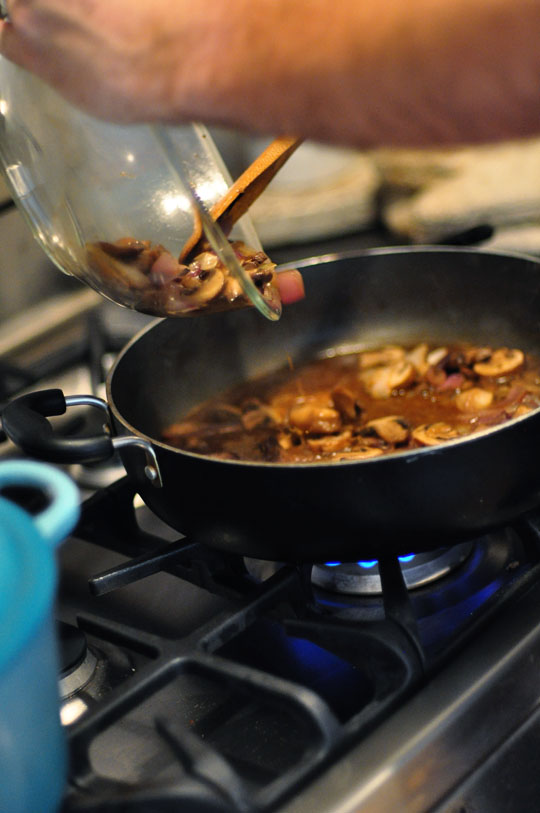 "I'm not even sure why you had to remove those," I inquired. "It seems kind of silly to dirty another–"
"Go play with your internet friends!" he laughed, while mixing 1 1/2 cups of sour cream with 3 teaspoons of flour.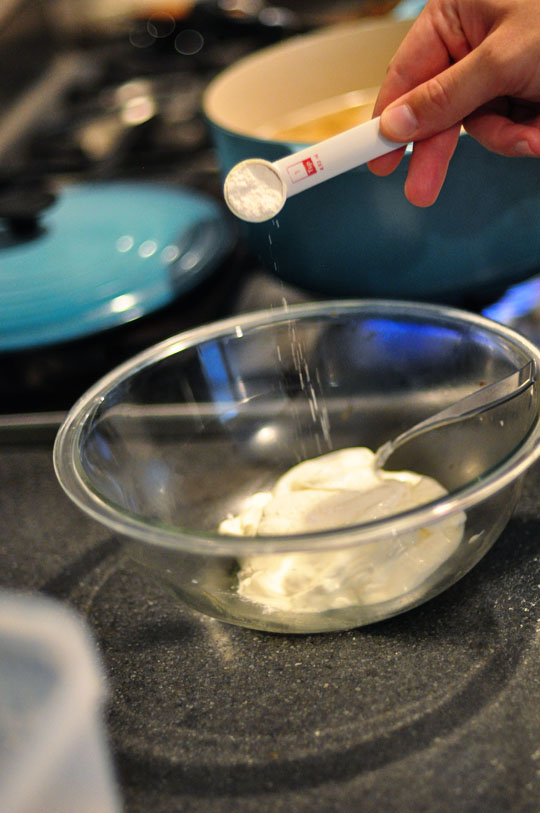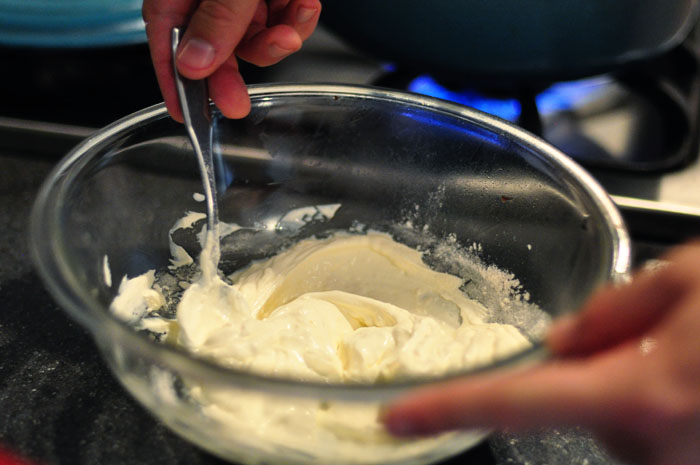 Justin and I have different ideas about what makes a strong partnership. Me? I'm all about communication, collaboration, and figuring out who's right. Justin, on the other hand, would rather go with the flow and tends to get defensive when questioned.
Basically, we're a match made in mutual annoyance.
Straying from the recipe, he added a drizzle of Japanese dark soy sauce.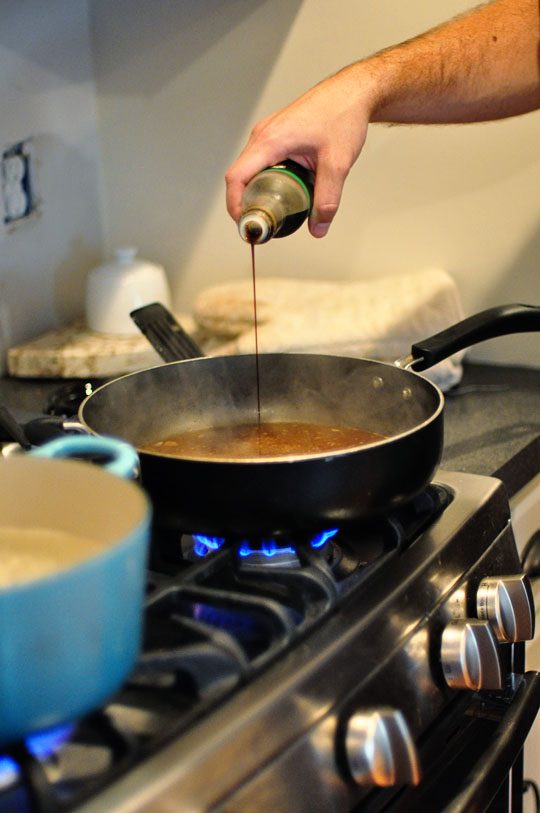 Then a glug of the wine I'd been sipping while quietly watching from the corner, trying to respect The Chef's personal space. It was, after all, his turn.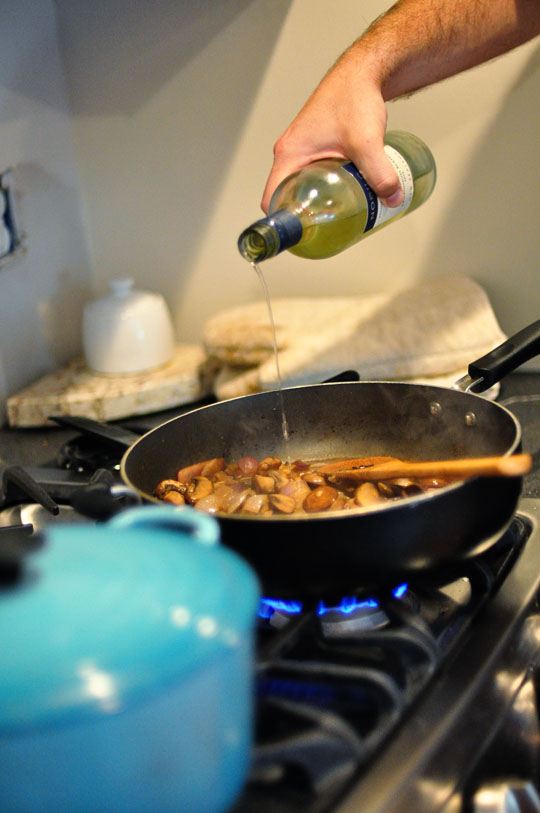 The smell was out of this world while those few simple ingredients mingled and danced.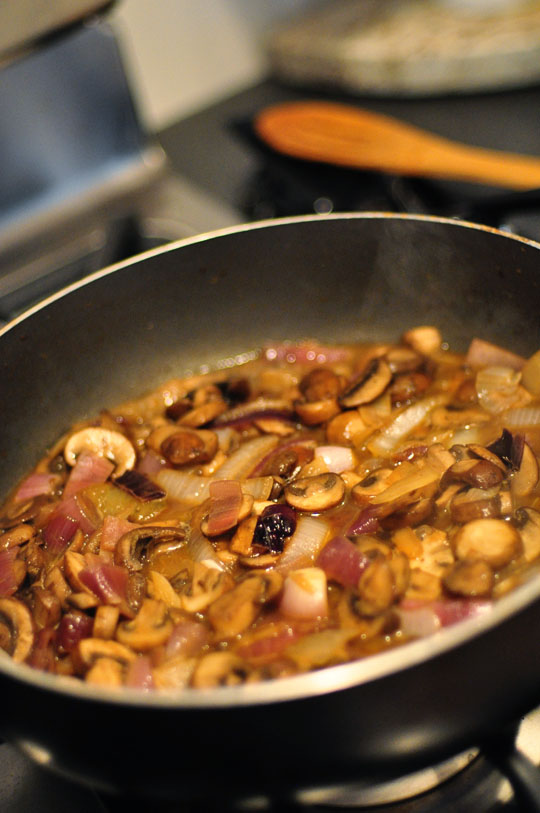 He plopped the sour cream mixture into the pan…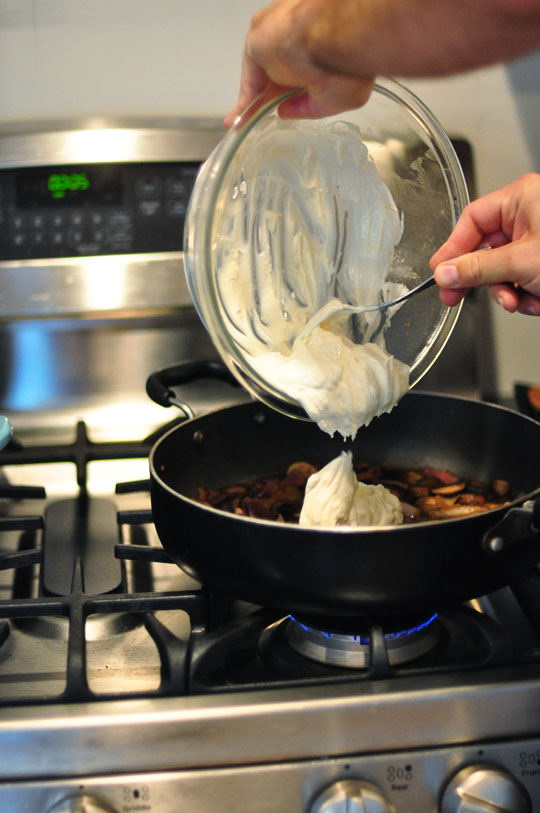 … and then he poured the bag — the whole bag — of egg noodles into the pot of boiling water.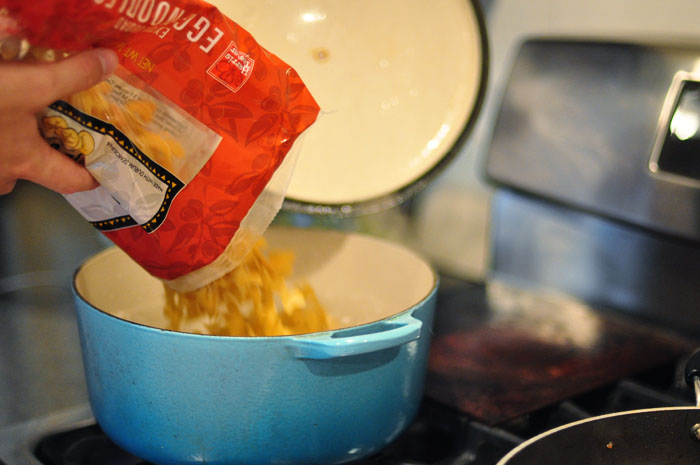 "Erm –" I peeped, trying to play the demure, timid wife we both know I am not.
He sighed.
"Are you sure you were supposed to pour in the whole bag?"
…
"Because… it's just… well that's a lot of noodles."
It really was.
"Oops — we'll just use the leftovers for pesto or something," he said.
Meanwhile, the sauce was looking pretty delectable.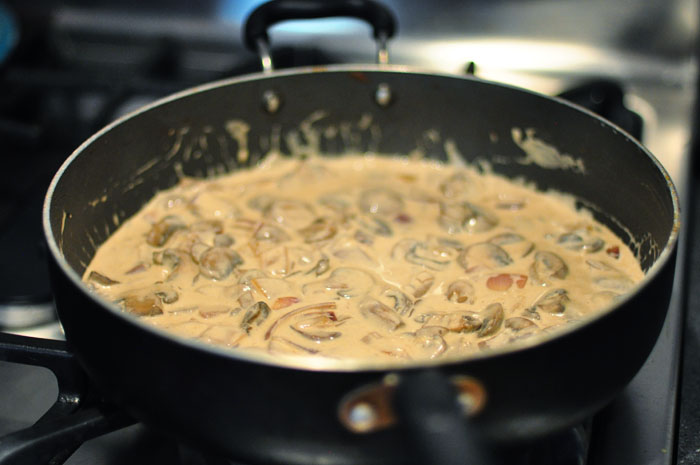 He seasoned it with a little salt (but not much because of the soy sauce)…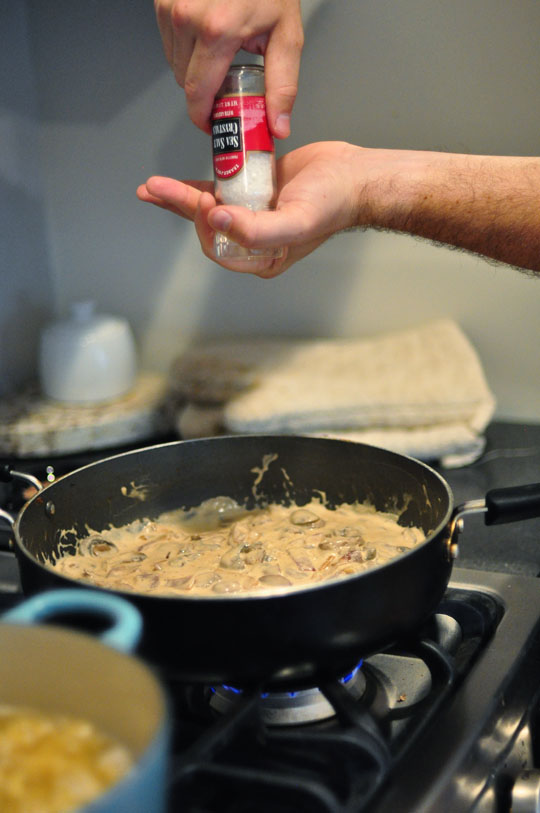 And a generous amount of pepper…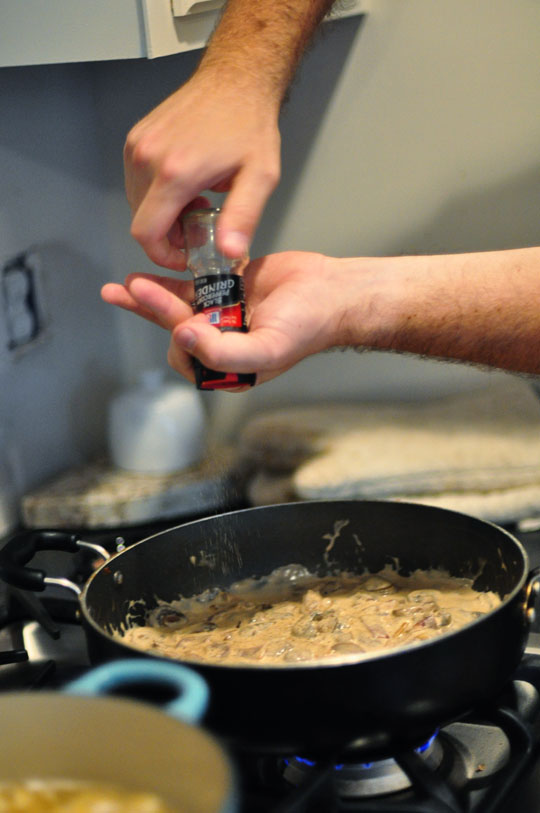 And then drained the noodles.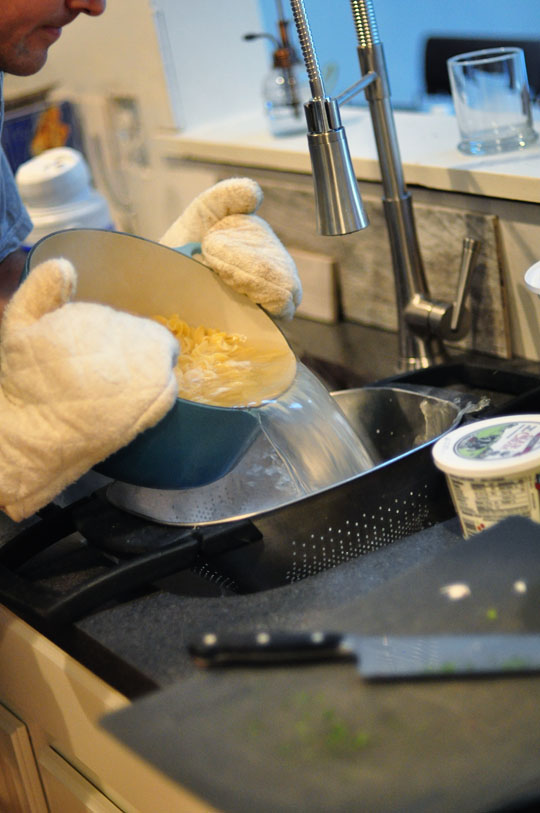 I chopped some parsley and stirred it into the sauce while heavenly smells wafted towards my nose.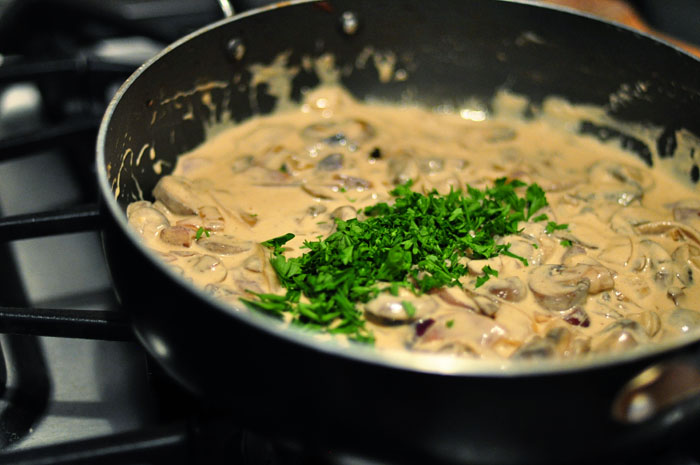 It's not the prettiest meal in the world, but the flavors — especially with the addition of the soy sauce and wine — were inarguably divine.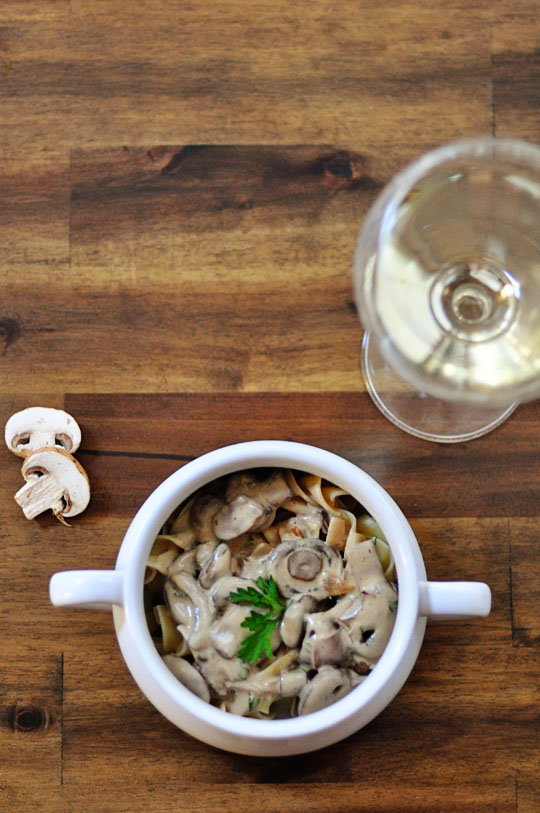 Mentally, of course, I reluctantly admitted that Justin's penchant for summertime comfort food was a much-needed break from the stuff I've been making. After all — it's not really winter without a proper set of love handles to keep me warm, so I better start growing them now.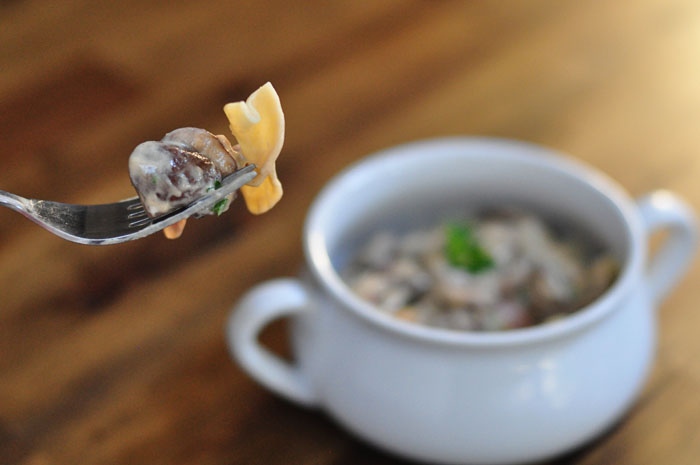 You know — in preparation.
Portobello Mushroom Stroganoff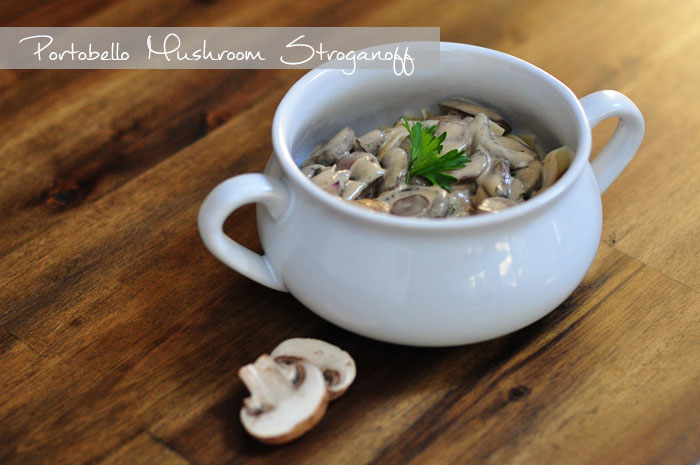 (Original recipe found here.)
To make it the way we did, you will need:
3 Tbsp. butter
1/2 white onion, 1/2 red onion, chopped (or just 1 white/yellow onion)
3/4 lb. baby Portobello mushrooms, sliced
1 1/2 cups vegetable broth (we use this, but this mushroom bouillon base would work also)
Drizzle of soy sauce (he probably used about a tablespoon)
Glug of white wine (red would be nice, too — he probably used a couple of tablespoons)
1 1/2 cups sour cream
3 tsp. flour (The recipe calls for tablespoons, but I notice in the pictures Justin used teaspoons. Ours still turned out plenty thick.)
1/4 cup chopped fresh parsley
8 oz. egg noodles (this is HALF of a large 16 oz. bag for those of you who get over excited about noodles and don't like listening to your spouses)
Directions:
1. Bring a large pot of water to a boil and cook the egg noodles (about 7-8 minutes) according to package directions. Drain and set aside.
2. Heat the butter in a large skillet over medium heat, then add the chopped onion and saute for a few minutes until softened. Turn the heat up to medium-high and add the mushrooms, stirring occasionally for several minutes until the mushrooms are brown and limp and release all of their delicious juices. You want them to give up on life. Once they do, remove the onions and mushrooms to a bowl and set aside.
3. To your hot, unwashed mushroom skillet, add the vegetable broth. Everything should simmer and steam and if there are any brown bits left on the bottom, you should be able to scrape those up now so they get incorporated into the sauce. That's the good stuff. Bring it to a boil and let the broth reduce by about 1/3. Then turn the heat down to low and add the mushrooms and onions back into the pan. Stir in those highly technical measurements of soy sauce and wine, tasting the sauce to see if you like it.
4. In a separate bowl, stir together the sour cream and flour. Add it to the skillet, stirring to incorporate until it thickens a bit. Toss in the chopped parsley, stir, and then serve over the cooked egg noodles.
Enjoy!