Virginia Beach Stand-Up Paddle Boarding: Like A Pug In The Water.
So it turns out that I'm not a terribly synchronized person. I once described my dancing as a pug trying to swim — all wiggly and uncoordinated and ultimately spinning in circles when I know more should be happening, if I could only get all of my parts to cooperate.
But they don't.
It's like each of my limbs has a mind of its own, the muscles and joints all acting independently of one another in such a manner that when collaborative efforts are required — like, say, when I'm attempting to display some form of athletic prowess or, you know, walk up some stairs without falling — it takes a heightened level of concentration on my end to make sure every part is doing what it's supposed to be doing at the time it's supposed to be doing it.
My mom says I'm special.
So when my new friend Brianna at The Casual Travelist invited me for sup this past weekend, I was like yes! Supper? I have seen your blog. I know you can cook. And she was like, "Umm… no. It's SUP. Stand-up paddle boarding. And on the outside, I was all, yes! I want to try this because it's new and exciting and another local Virginia travel experience to cross off my list! But on the inside, I was all, yeah… but this is like… a core workout, right? And it requires me to balance? While standing a board? On the water? While paddling?
Pug swimming, you guys.
And it was even intimidating because Brianna is an experienced SUPer.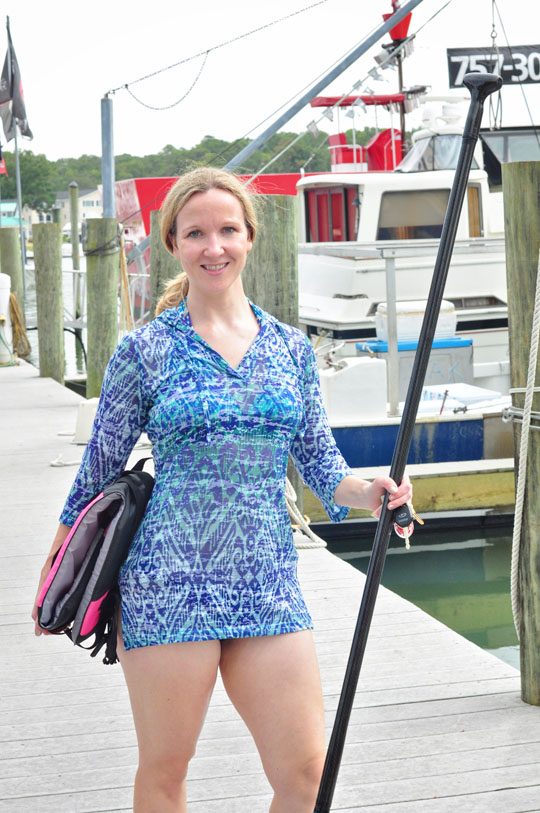 I mean, she has her own board and everything.
When we arrived at Rudee Inlet SUP Lessons and Tours, Randy, the owner, greeted her as an old friend and offered to carry her board to the water.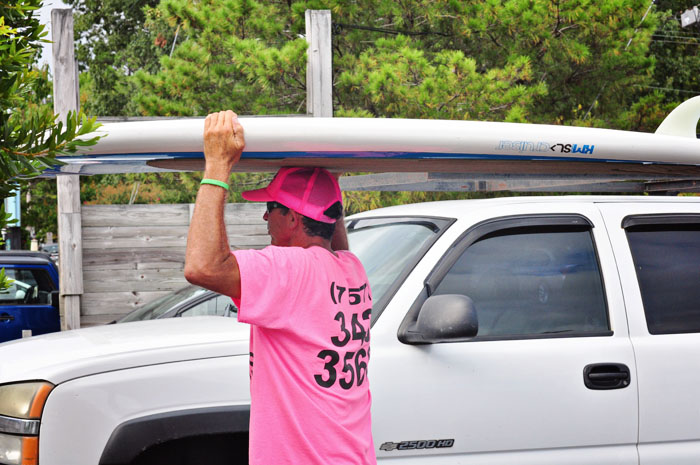 I was immediately transported back to the carefree air of Hawaii — his hot pink shirt and surfer 'tude an immediate reminder that here, just a few hours from the besuitted briefcase carriers of D.C., I am living where people go to vacation. Randy grew up on the inlet, so his knowledge of the place and connections with the people are second-to-none.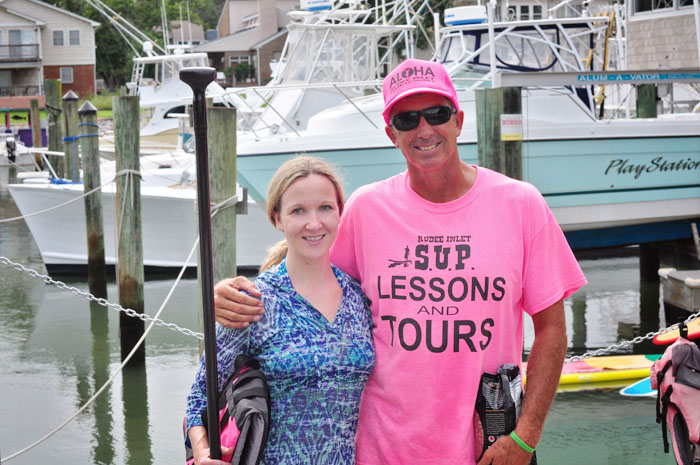 Randy wears pink not just because it looks good on him — it's in honor of breast cancer awareness, a cause that is dear to his heart.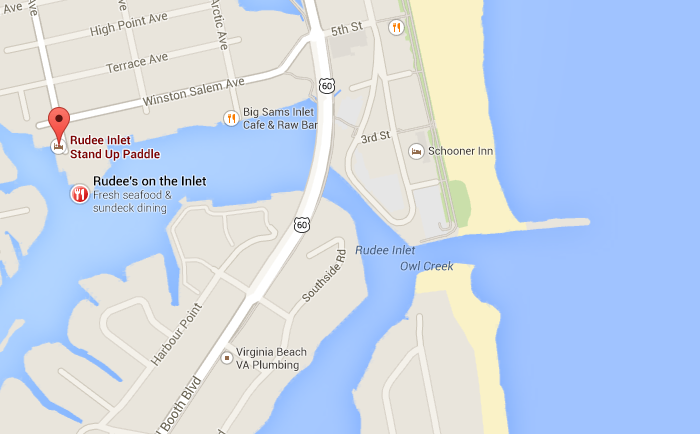 While he offers lessons on the ocean, Brianna (wisely) thought it would be a good idea for a first timer like me to learn how to SUP in the geographically protected waters of Rudee Inlet, away from the balance-swaying waves of the Atlantic.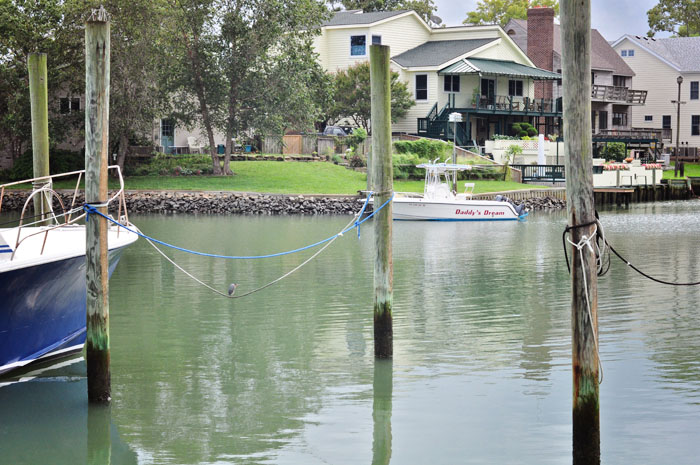 The inlet is a fun little area I'd like to explore more, with a few typical casual seafood restaurants and laid back beach vibe. It'd be a fun place to do some paddling and then meander — possibly pantsless — into a bar for some beer and fried cod.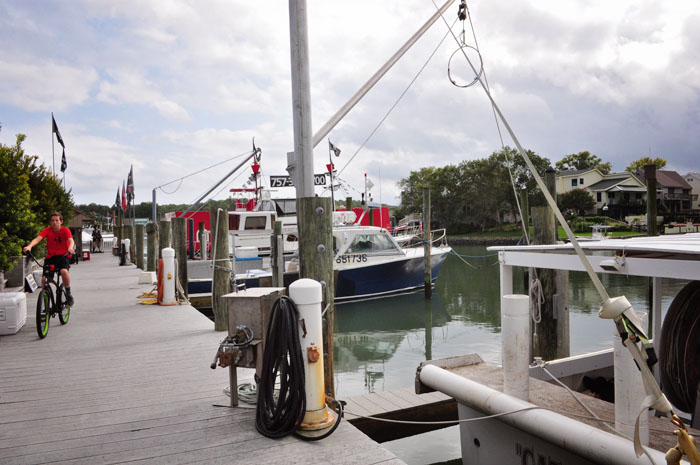 Unfortunately, the weather that day had other plans.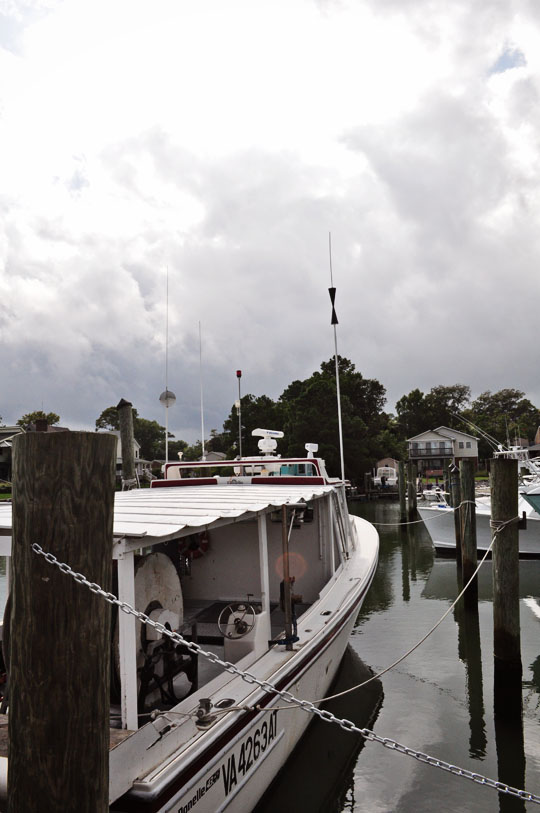 Anxious to get on the water before the rain hit, I had to stow my camera for our group's brief dock-side lesson.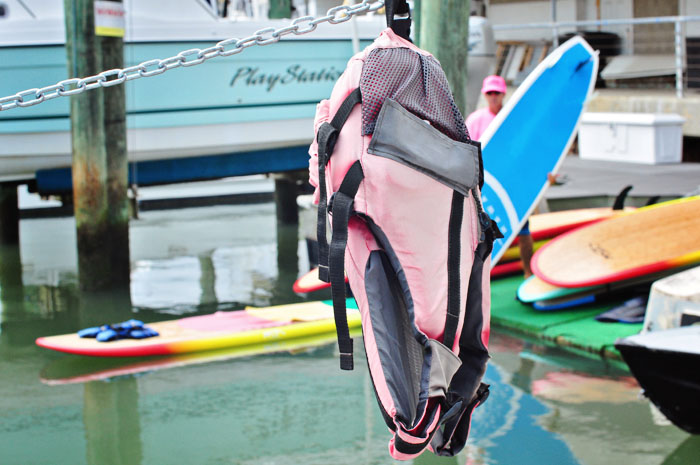 It turns out there's actually not a lot to learning how to paddle board, aside from holding your hands the proper way on the oar, keeping your head up, and — you know — trying not to fall off. And of course for me, there was that whole coordination thing.
We launched on our knees, paddled out to more open waters, and attempted to stand up. I almost lost it immediately — my legs wobbling in near-drunken protest at the sheer physics of it all, while my mind tried to comprehend exactly what it was I was trying to do. At one point while I was attempting to row, Randy kindly laughed and asked, "What are you doing? Your arms are all– and your legs are kind of… and what are you doing??"
At that point I knew I had to get it together if I was going to gain any sense of accomplishment from this experience, so I sternly told my arms to straighten and my knees to bend and managed to somewhat guide myself into the synchronized bend-stroke-straighten-switch dance that has to happen when you want to move with a bit more fluidity. We only had about 45 minutes on the water before the rain came, and I felt like I was finally just starting to get the hang of it when it was time to head in. I'd definitely worked up a sweat, but it was a fun kind of sweat. The rain felt nice and cool, and I only almost fell in once.
When I made it safely back to shore, I ran for my camera while a few members of the group kindly braved the strengthening rain to oblige me with some photos to prove how badass we all were in spite of the weather.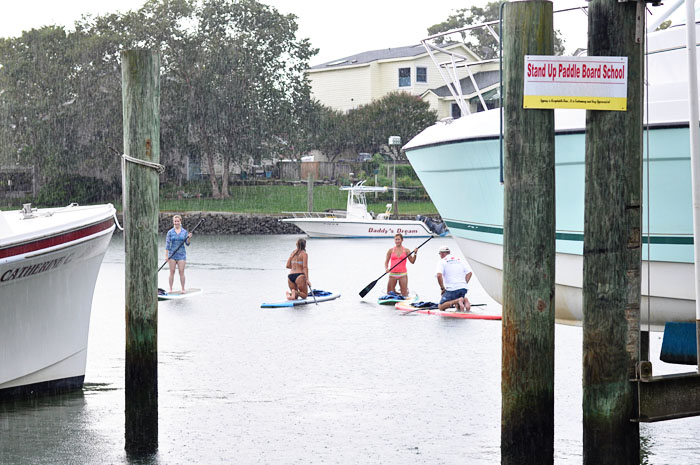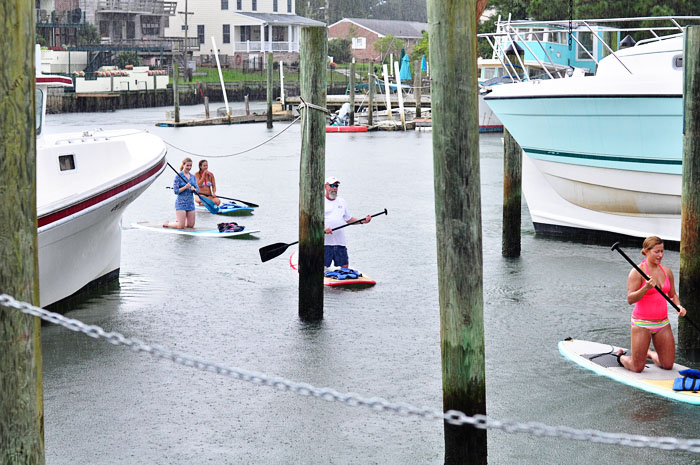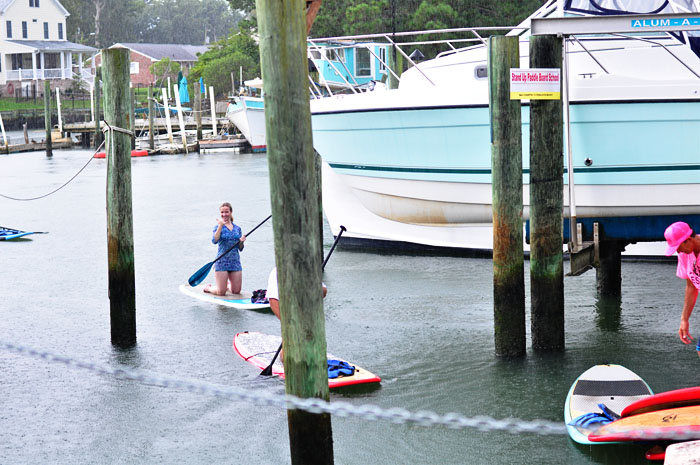 Soaked but still smiling!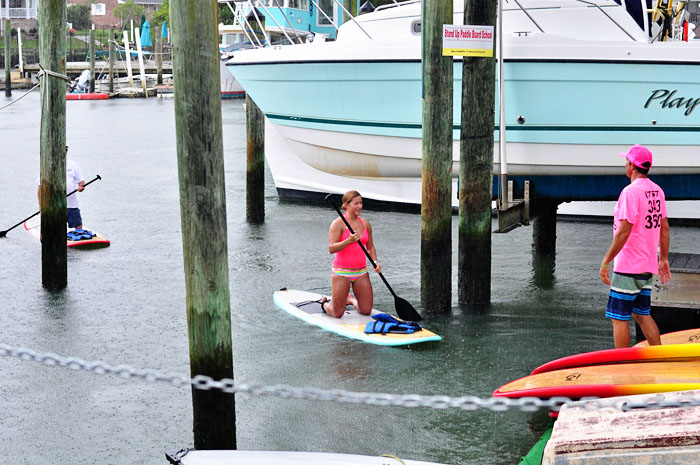 I was bummed that the rain chased us out early and that we didn't get to spend a bit more time hanging out along the waterfront, but Randy made sure that the time we did have was a blast.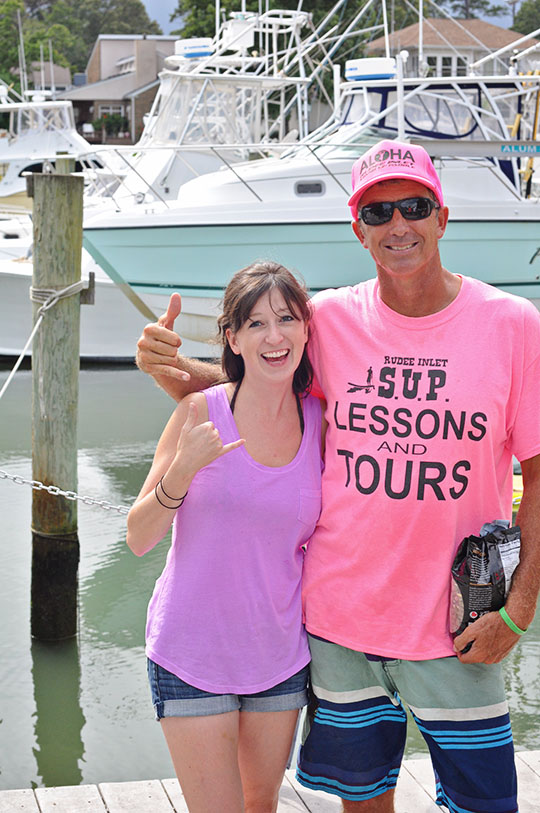 This is something I'd take friends and family to enjoy when they come to visit, and I can't wait to try it again.
Maybe next time on the ocean.
Good to Know:
Swimwear essential — cover-ups optional.
Wear a hat or sunglasses with stylin' straps because you don't want to lose those puppies in the water!
You don't really need to bring anything except a spirited sense of fun. But if you don't have it, don't worry — Randy has it in droves.
There was a little pile of trash on the floating dock, which Randy pointed out. When they go out every day, they pick up trash from the water. He explained that their motto is to leave it better than it was before they came. The same goes for people. I like that.