The International Kitchen Mediterranean Culinary Tour: Day 1.

The conveyer belt continued to spin, but it was empty. Mocking. We stared at it anyway, willing at least one — better, two — little pieces of luggage to emerge from around the curve, maybe sporting little flags that read Ha! Gotcha!
With an archaic shudder, the belt came to a halt.
Alaina and I stared at each other, sighed, and fought through a group of 52 German tourists (I know — I asked) to reach Lufthansa's luggage counter. A chic Italian woman peered back from behind the glass. All Italian women are chic. (I know — I saw.) Our exchange was short and trite. We signed some forms. We'd be getting our bags when we got our bags. There was nothing to be done.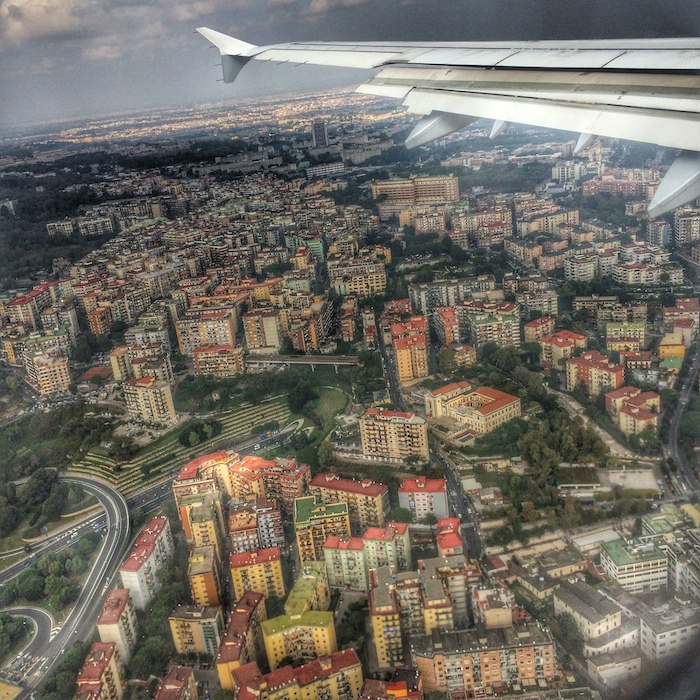 View of Naples from the plane.
I'd called the hotel so they could let our driver know we'd be late from the airport. Our tour company, The International Kitchen, had arranged a transfer from the airport in Naples to the tiny village of Sant' Agata sui Due Golfi ("between two golfs"), where we'd be spending the next week at the gorgeous Oasi Olimpia Relais — apparently sans clean underwear. After some minor annoyance that our driver wasn't outside when we finally emerged into the glaring Neapolitan sunlight, I squatted along the curb so I could clean out my sleep-encrusted contacts, accused Alaina of ruining my travel mojo, and resigned myself miserably to the fact that I'd be donning knee-high boots in Italy's warm southern resort towns for as long as the airlines decided to hold our bags hostage.
It wasn't my finest moment.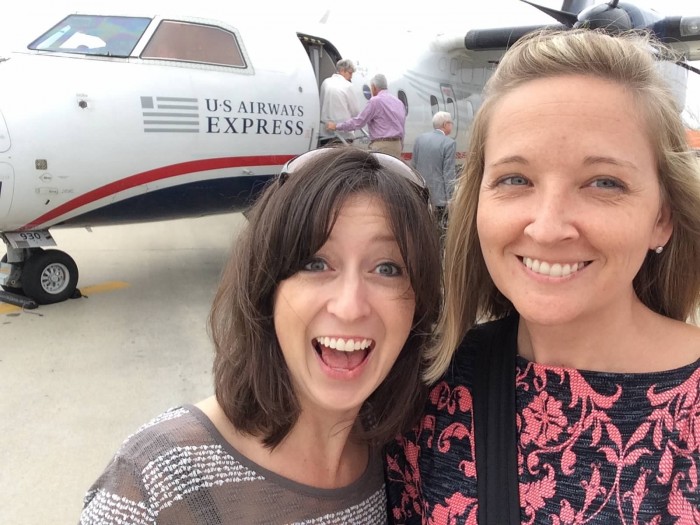 This was us before our first flight. So cute and unassuming.
But then the driver arrived, tucked us safely into the back of his sleek black Mercedes, and did his best to point out our surroundings in broken English while we stared, slack-jawed, at first the gritty Napoli suburbs, then the towering appearance of Mount Vesuvius, and eventually the winding cliffside roads creeping higher and higher above the Gulf of Naples where he deposited us in Sant' Agata at the crest of the peninsula.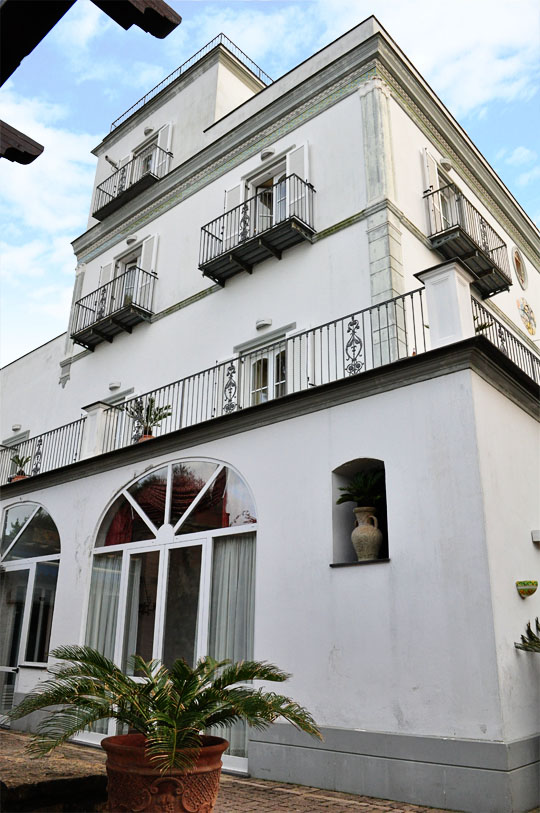 We'd arrived.
The hotel really was an oasis — not from the less-than-hideous landscape around us, but from the treachery of travel — the stiff joints, the stale food, the frustration of luggage lost all melted away upon entering the beautiful lobby and our corner room, Suite Vesuvio, with a breathtaking view of the sleeping volcano.
The Lobby
The Suite
The Grounds
Chef Carmen, the hotel manager and woman in charge of our cooking classes, settled Alaina and I into the outdoor seating area with some glasses of wine and my favorite olives — Castelvetrano — and despite our lost luggage (or maybe even because of it), I felt grateful.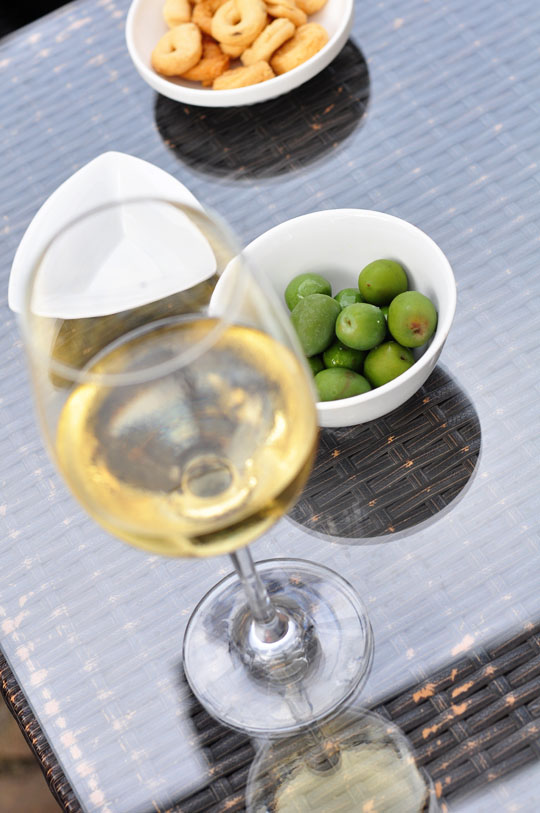 Olives and wine are really all I need in life to be happy.
Our vacation had begun, and from that point forward Alaina and I were determined to enjoy it.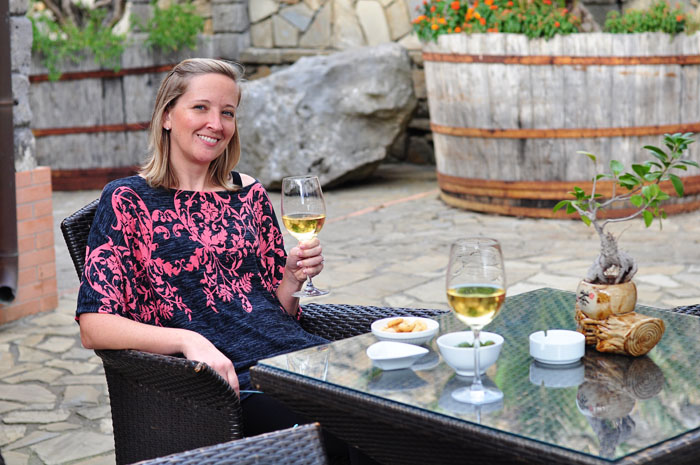 Not that it was hard.
From the moment we arrived, Karen and The International Kitchen team made sure we didn't have to worry about anything — the Mercedes, the olives, the wine, and the welcome were all included in the package.
Later that night, we met the rest of the women in our Women Only Week group (more on them later) in the lobby for some prosecco, after which enjoyed an amazing 4-course dinner prepared by Chef Carmen.
That night I learned — sometimes the travel mojo finds it necessary to test your reaction to adversity before deeming you worthy of its many, many gifts. Fortunately I'd apologized to Alaina for calling her a mojo stealing wench, and she was nice enough to share her facial cleanser with me. There's a lot of capacity for forgiveness between friends who can hold college stories against each other.
And we could've let our lack of luggage ruin our whole trip, but guess what?
We were in Italy.
And complaining never made anyone any happier. It took a few hours, but the travel mojo rewarded us generously — with amazing people, incredible food, luxurious accommodations, stellar weather, and — after 5 glorious days — the rest of our clothes.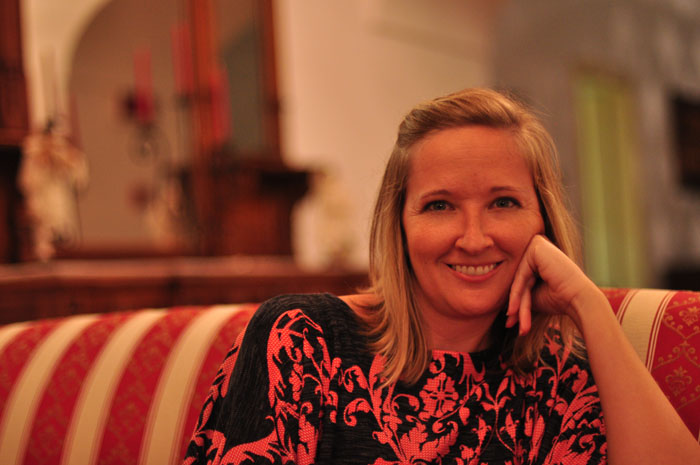 Disclosure: My Women's Only Week Culinary Vacation was provided for review by The International Kitchen. Rest assured, though, that all opinions — as always — are entirely my own.
---
If you're not signed up for my email updates, you might not know — I made it back from Italy! You were probably a little bit concerned, what with my lack of solo international travel experience and extended blog silence, but despite a slight snafu in my plans for getting to the airport yesterday morning (my apartment rental place left me the wrong phone number for a cab company so I hoofed it to the train station and arrived a sweating mess 3 minutes after my bus departed and had to haggle with a taxi driver to get him to take me to the airport for my last 20 euro), I actually managed to get to the airport in plenty of time to catch my flight.
And guess what?
My luggage made it, too.
Speaking of luggage, below are the winners of the Travelon carry-on bag and travel accessories. These all held up really well on my trip — I'm excited for you to give them a try! Congratulations!