The Only Bag That Isn't Lost And Also A Giveaway.

Hello from Sant' Agata sui Due Golfi, a tiny town in the Campania region of Italy that translates to "Saint Agatha between two golfs." Basically, we're nestled on a mountainous spit of land near the Amalfi coast, perched between the Gulf of Naples and the Gulf of Salerno.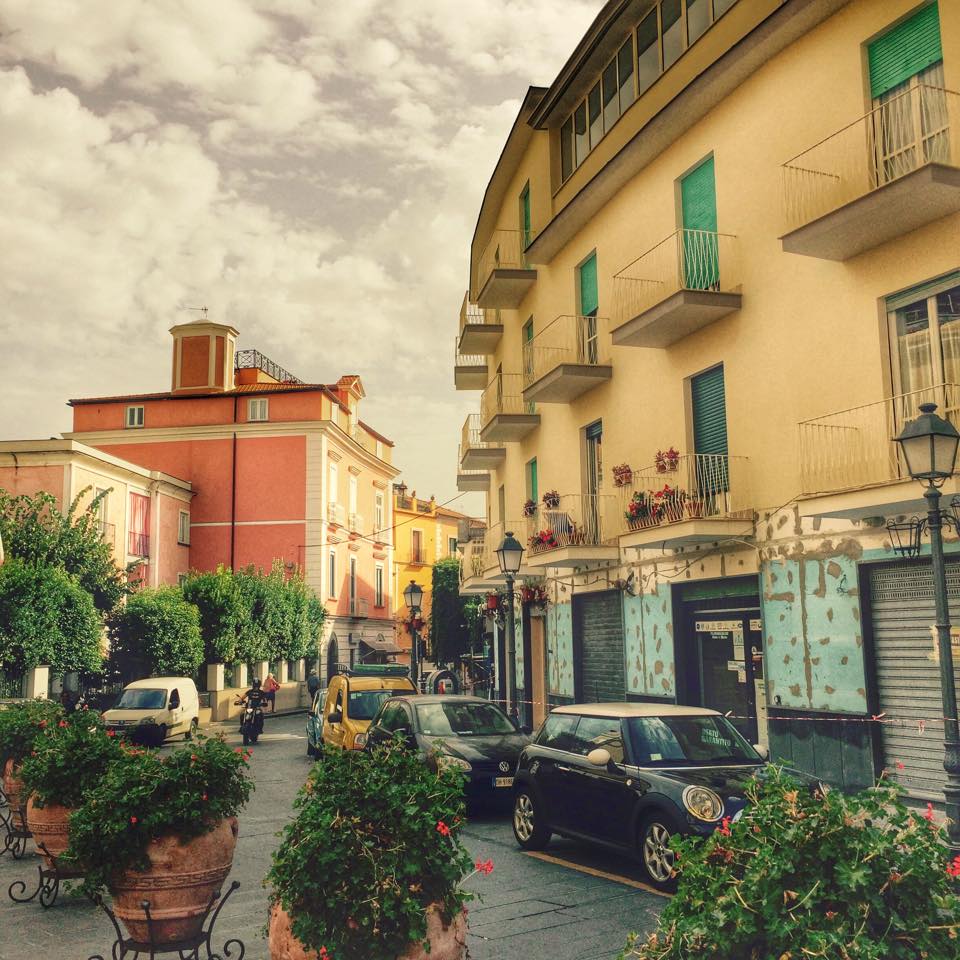 Sant' Agata sui Due Golfi
Our hotel is stunning, and our cooking classes with The International Kitchen have been informative and exhausting. (In a totally good way.) The only stressful kink in our experience has been Lufthansa's negligent loss of our luggage and lack of any information on its whereabouts or reliable way to reach them. Word on the street is there might be a strike, but you can imagine how frustrating it is to spend $1,300 on a plane ticket with no liability for your belongings or explanation of where they might be.
The only thing that has worked out so far, luggage-wise, are some of the goodies Travelon sent me to share with you. (Literally. If you're signed up to receive my email newsletter, you'll already know there's a giveaway!)
It all started when I needed a travel-safe way to organize my purse. While Travelon makes travel purses, I'm kind of partial to my consigned leather messenger bag, and when I realized they make inserts with technology to block thieves from scanning my credit cards, I was sold.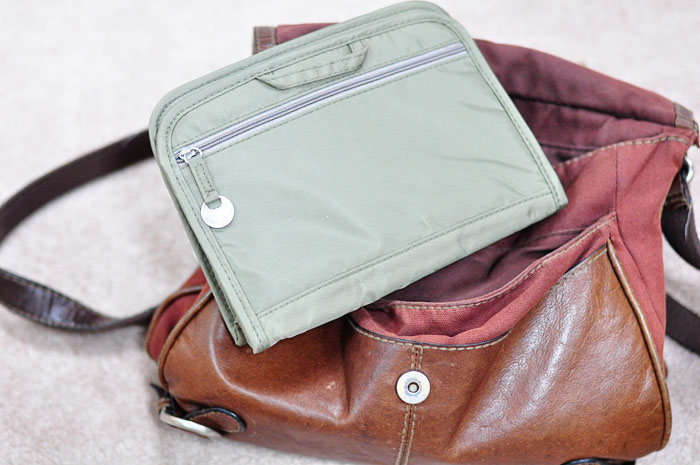 They sent me the medium-sized SafeID Purse Organizer, which tucks perfectly inside my bag.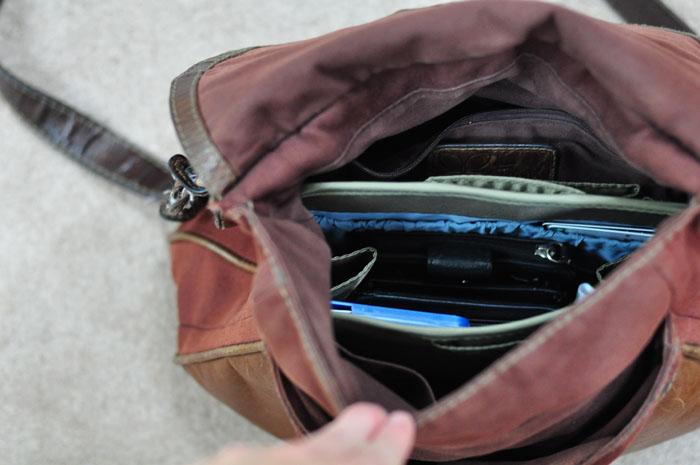 It has enough interior and exterior pockets for credit cards, makeup, cell phone, etc. that I don't even need to carry my wallet, though there isn't a great place to stow cash.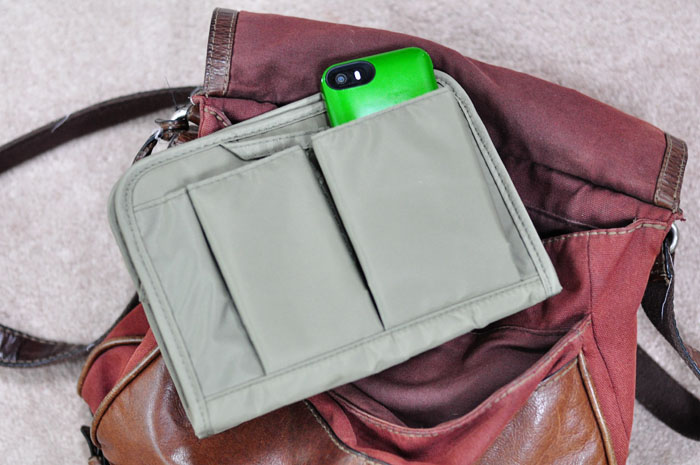 It even comes with a nifty little flashlight so you can look for items I might need deep down in the forgotten innards of my bag — like old, worn eyeliner pencils and fortune cookie tags.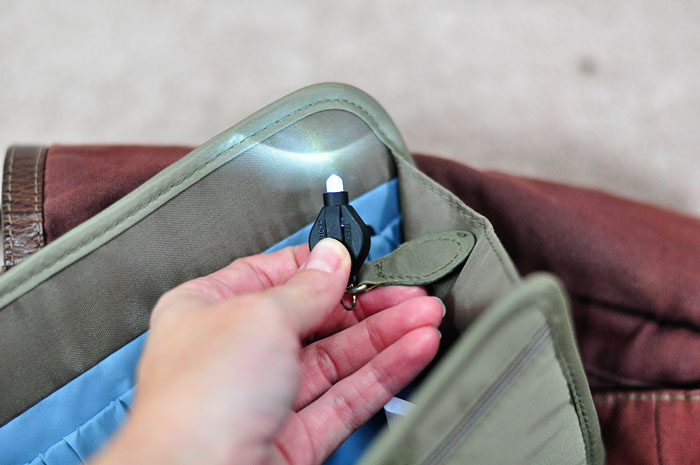 I actually love the level of organization this adds to my purse, and will continue to use it even when I'm not traveling.
Suggestions for improvement: I'd love to see an interior slot for cash, and a zipper along the top would be ideal for added security — especially since my purse does not zip closed.
Another interesting organizer they sent was this Jewelry Clutch: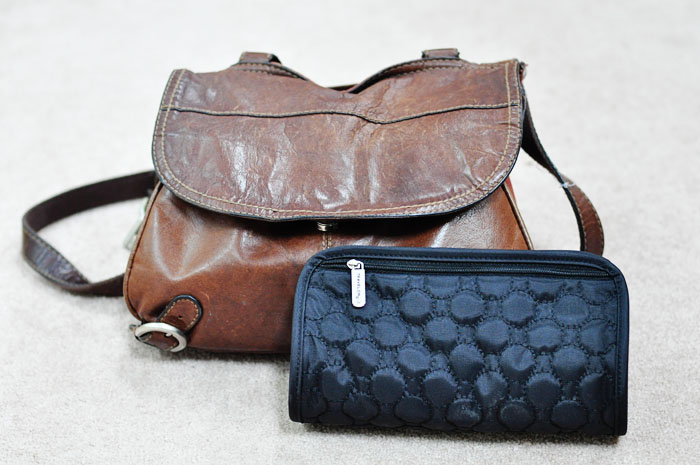 Unfortunately, mine is missing along with my baggage, but I love the fact that it has dual functionality — the outer "wrap" works great for jewelry, while the inner zippered pouch, which happens to be magnetic, is fantastic for cosmetics or hair wrangling devices.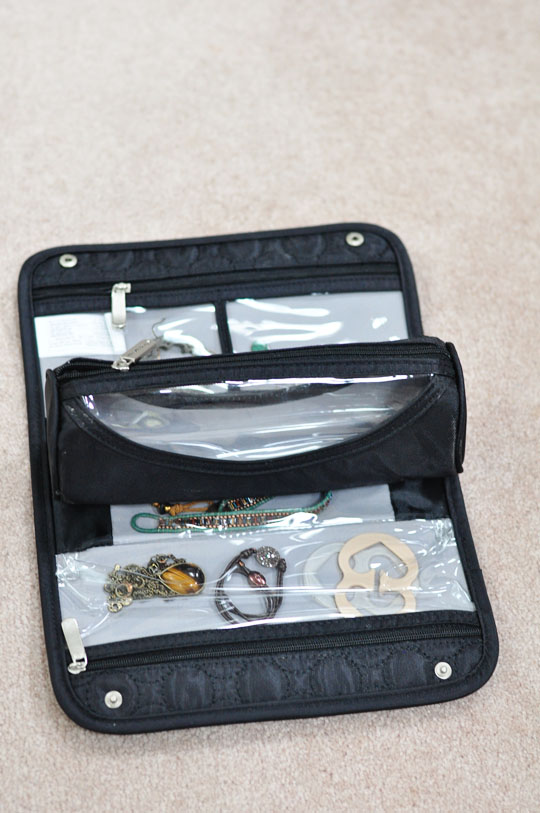 I really hope I get that jewelry back.
And I don't know if you've heard, but these little gadgets called "packing cubes" are all the rage these days amongst highly organized traveling types.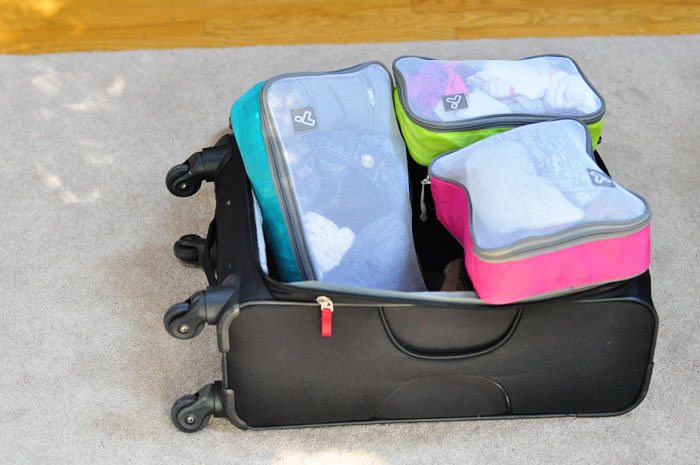 The breathable mesh bags allow you to roll your garments individually and stuff them inside, effectively compressing all of your garments into tiny burritos and taking them from this: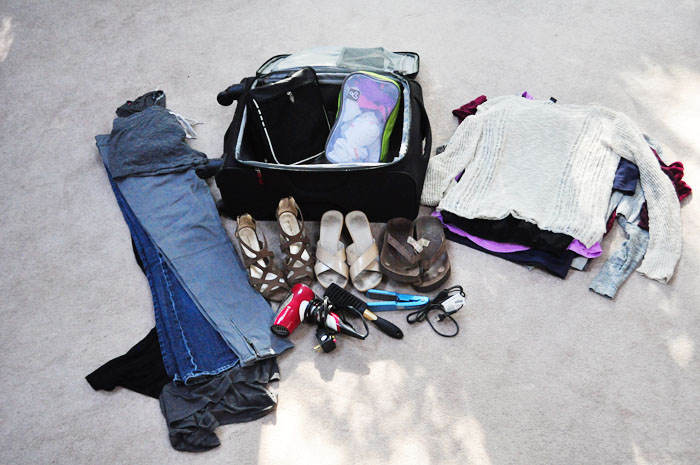 To this: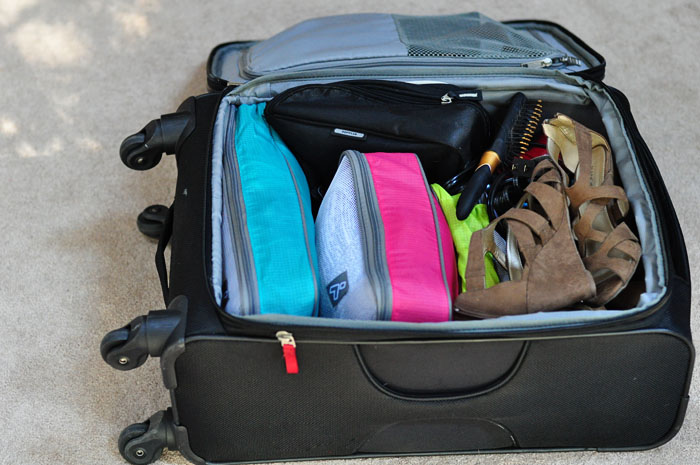 I'm not sure I like the lack of accessibility once the clothes are stuffed inside, but they really do leave a lot of room. I think these would be fantastic if you're planning to stay in one place and don't have to continue to unpack and repack them.
Since their functionality is kind of hard to explain, I went ahead and made you a little video of my packing method and dorkishness in all its glory:
The cubes, clutch, and especially the insert (since — you know — it's not lost in Lufthansa Land) are nice little travel helpers, but the thing I'm most excited to show you is THIS: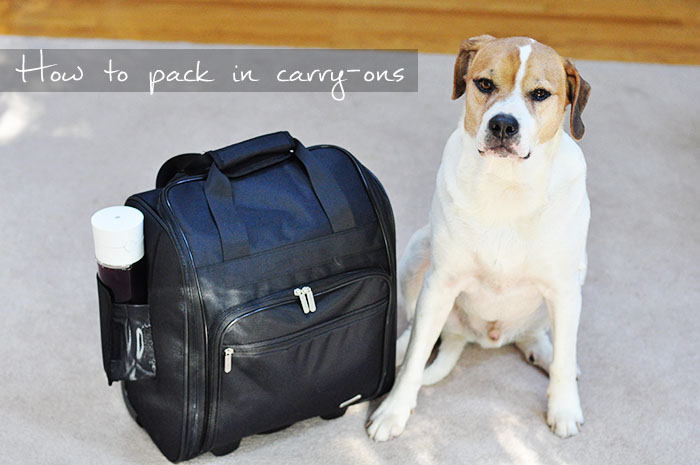 It's Travelon's 15″ Wheeled Carry-on, which actually fits under the airplane seat in front of you.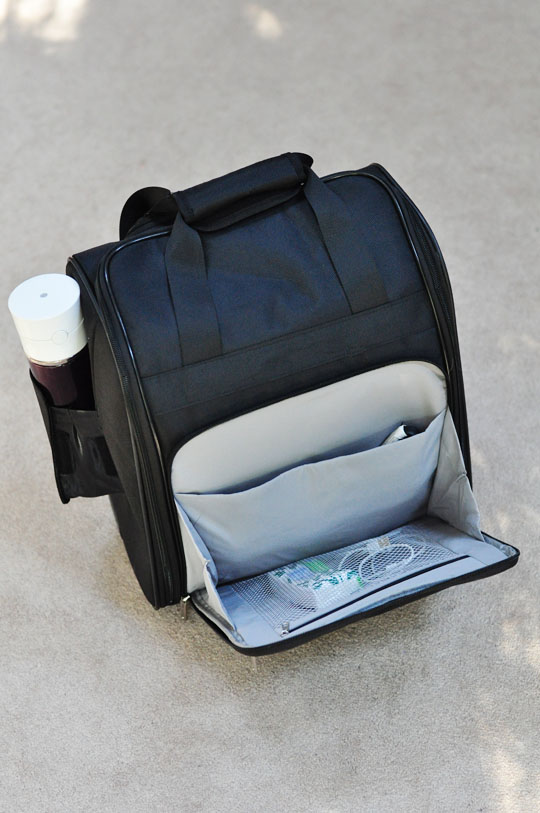 It has loads of pockets for storing assorted odds-and-ends, and the interior is crazy roomy for such a portable bag: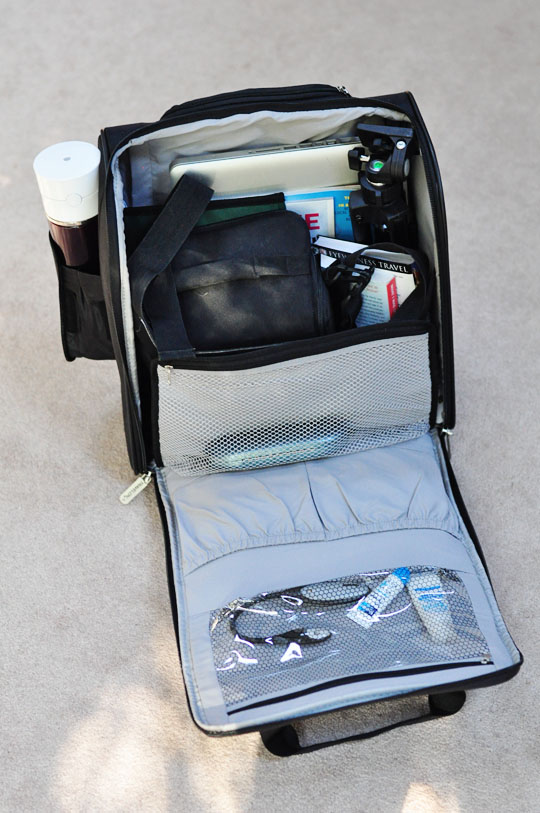 It took us three different planes to get here — from a tiny one we could barely stand in to a giant beast that took us across the Atlantic, and this bag fit beneath every seat. Of course, I didn't want it under there on the long flight, and it was incredibly easy to maneuver and lift into the overhead compartment. There's a strap on the back to help it slide easily over the handle of other rolling bags, which Justin was kind enough to model for your viewing pleasure: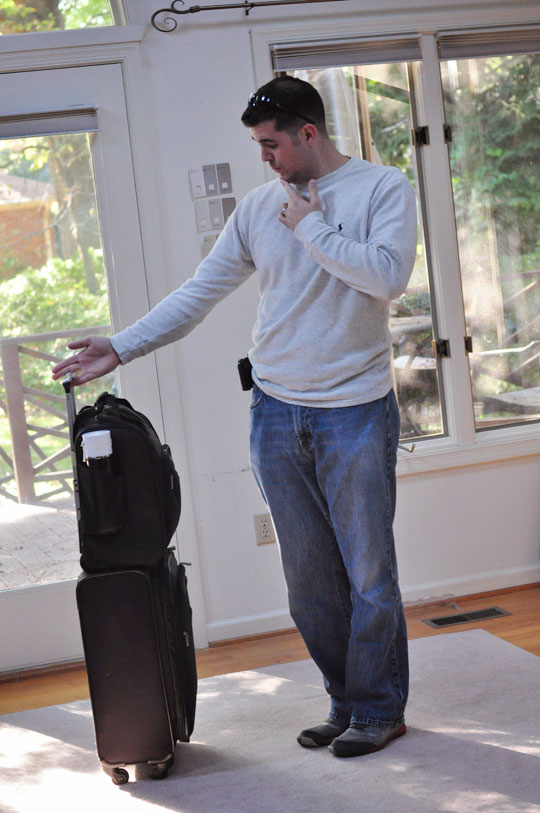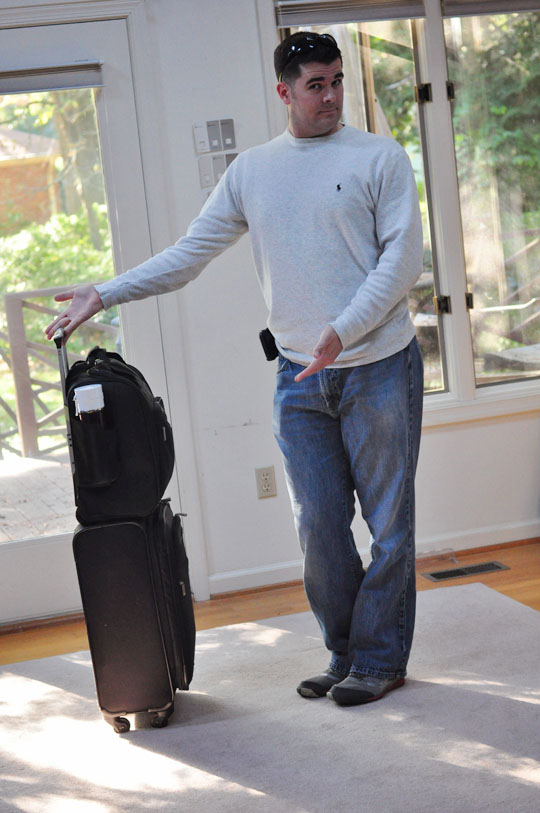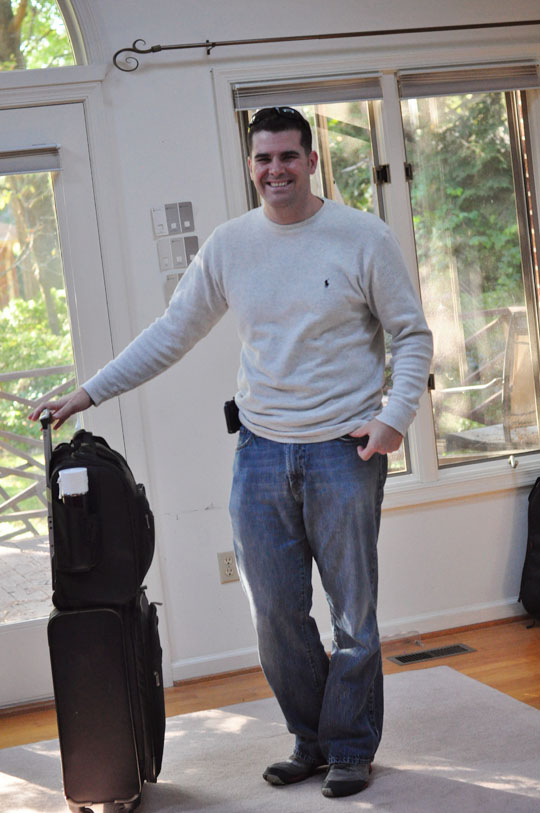 And if you're into slightly neurotic chicks who don't like brushing their hair, I've got a little sumpin' sumpin' for you, too: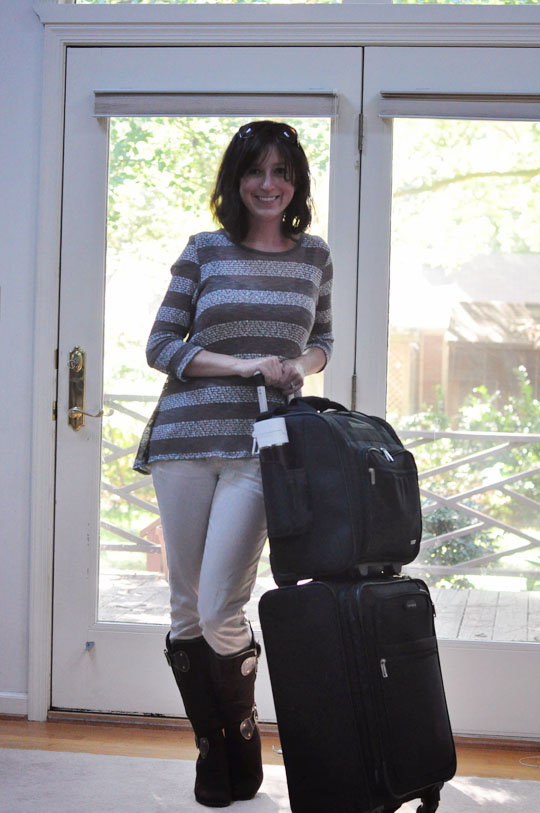 I'm so excited about this carry-on that I made a little video about it, too:
Suggestions for improvement: I really love the concept of this bag, and a couple of small tweaks would put it over-the-top on my list of travel "must-haves":
Interior zippered pouch for laptop.
Back exterior pouch for magazines.
Possibly some interior side pouches, because only relatively flat items can be properly stored in the front flap compartments and still allow the bag to close properly.
Four spinning wheels as opposed to two fixed wheels.
That said, this bag has been a lifesaver on an otherwise bag-less journey.
My posts might be light for the next couple of weeks due to general baggage stress and the fact that I'm busy eating all of the food in Italy, but to make it up to you, Travelon is giving away a set of packing cubes, jewelry clutch, and purse organizer to one lucky winner, and they're also giving away one 15″ wheeled carry-on to another lucky winner!
a Rafflecopter giveaway
In the meantime, follow along on our week-long culinary tour on Instagram, Facebook, and Twitter using the #WOWamalfi hashtag, and the rest of my trip using #iateitaly.
Disclosure: This giveaway was provided by Travelon. Rest assured that all opinions, as always, are entirely my own.