Agriturismo: Wining & Dining In The Tuscan Countryside.

"…and you never — never — order a cappuccino after noon. To the Italians, that's like… it's so creamy and filling. It's not right for the end of a meal or the end of a day. You just don't do it." Stefano smiled his charming Italian schoolboy smile, his right hand holding the voice amplifier to his mouth while his left gripped the "oh, shit handle" in a vice-like hold. The veins in his forearm strained against the tipsy curves of winding Tuscan roads while he balanced in the front passenger seat on his knees, addressing our group of seven tourists in the bowels of the van.
I was exhausted.
Stefano, an amazing guide with Walkabout Tours, had just finished explaining typical "rules" of Italian feasting after describing the ornate, multi-course dinner in which we were about to partake. And of course I was looking forward to experiencing Tuscany's popular sugo di cinghiale, or wild boar sauce, for the first time while washing it down with a swig of Morellino di Scansano, a punchy red wine made mostly from Sangiovese grapes. But I'd arrived via bus in Florence earlier that day, and after a lazy siesta in my adorable apartment, it took all of my energy to walk a couple of blocks to the Walkabout Tours office.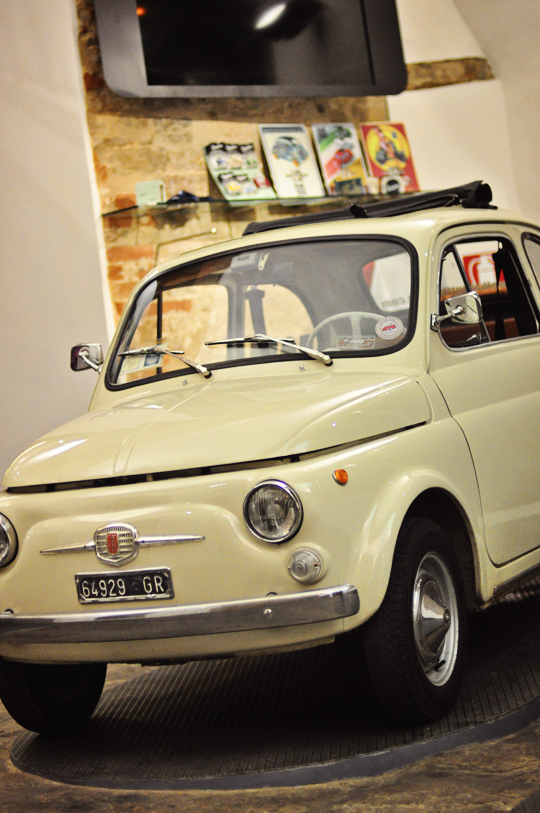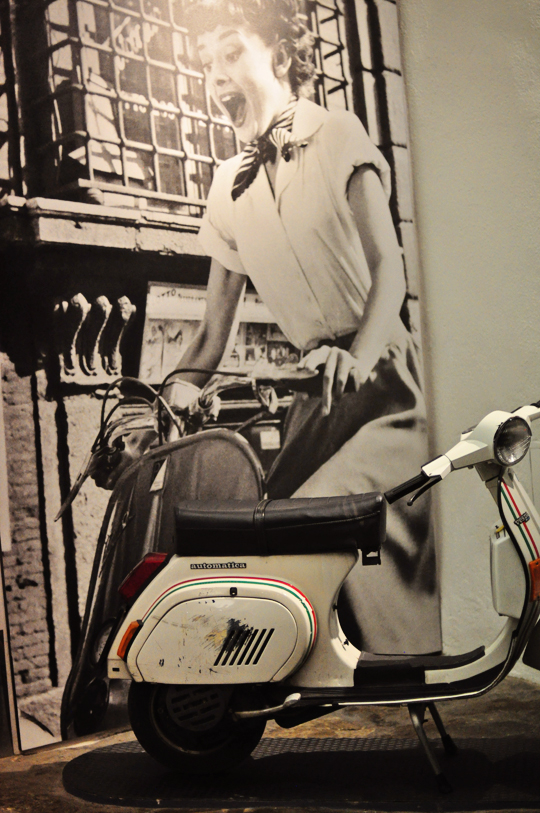 There I was greeted by the peppy Stefano, and I admired the old-timey Fiats and scuff-loved scooters while we waited for the rest of our group to arrive.
I'd signed up for the Wine and Dine in the Tuscan Countryside plus Florence By Night Tour. After a lengthy drive through the dark countryside, during which Stefano did his best to keep us entertained, we arrived at Fattoria Poggio Alloro, a picturesque agriturismo that by day, overlooks the rolling hills of Tuscany and by night, offers a glimmering glimpse of San Gimignano, its towers the candles atop a vineyard-covered cake.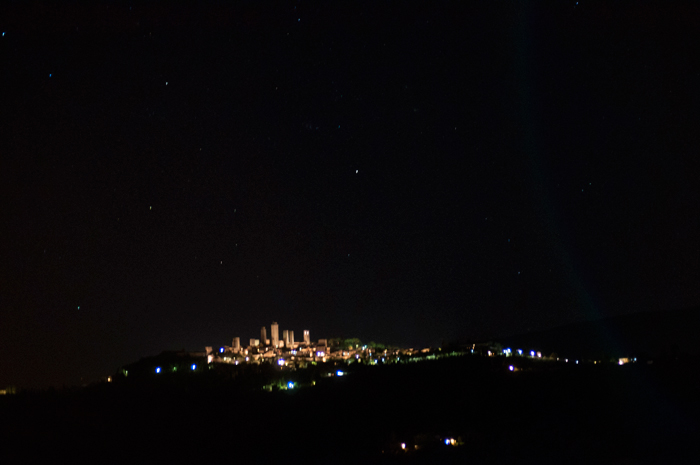 I desperately wished I'd brought my tripod, but alas. This blurry photo is the best I could do.
We were greeted by Sarah Fioroni, chef, cooking instructor, sommelier, and manager of the family owned organic farm where we found ourselves expectantly waiting for what would truly be an impressive meal.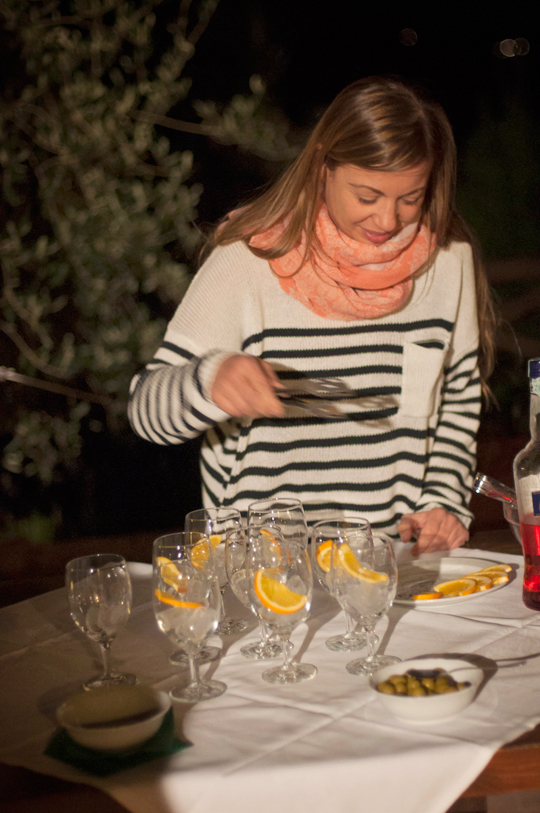 You know how some people just know how to do everything? They're simultaneously becoming fluent in languages and masters of kitchens and authors of books while you can barely manage to pull a home-cooked dinner together on a Wednesday night?
Sarah Fioroni is one of those people.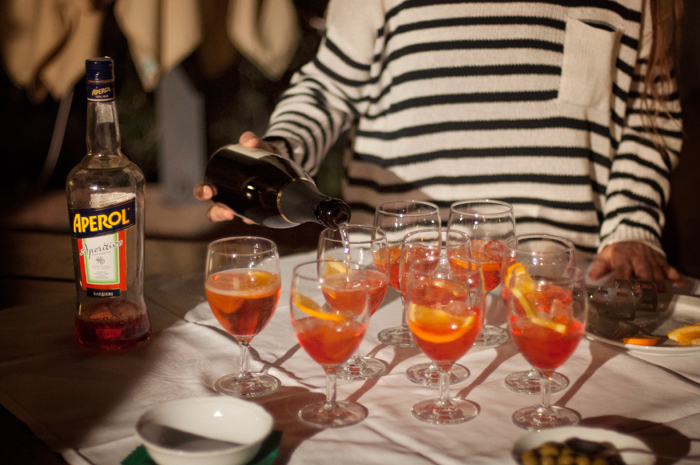 While she poured our Aperol spritzes as a pre-meal apéritif and explained some of the intricacies of the beautiful business her family had built, I stood in awe of this young woman who somehow had it so together.
I wanted to be her friend.
Aperol spritzes are a popular Italian apéritif, or light alcoholic beverage served prior to a meal to whet the appetite.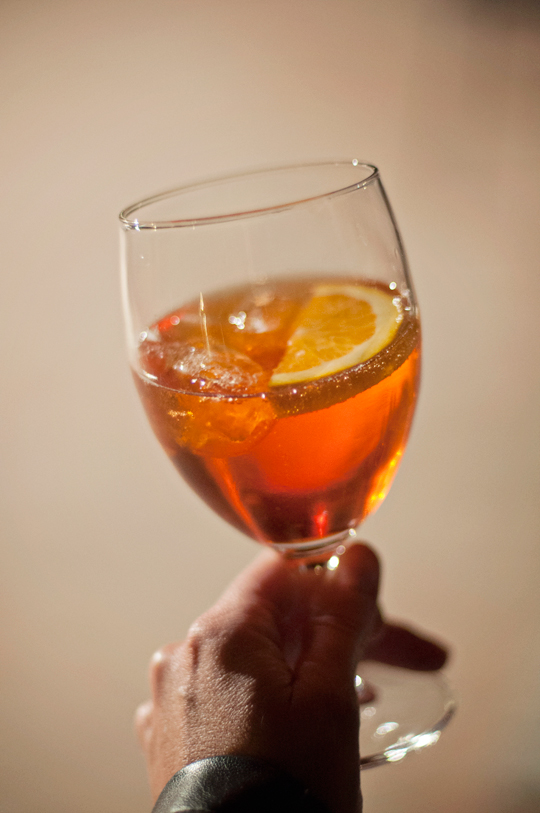 While it was a little sweet and cool on that chilly fall night, this would be a perfect beverage to sip on a sunny summer afternoon before devouring grilled steaks on the patio. I think I'll keep that in mind this year.
I hadn't realized we'd be dining at an actual agriturismo, which in Italy is an agricultural property that caters to tourists. Often they host meals, cooking classes, and overnight stays during which visitors can learn about local cuisine and a country way of life. Fattoria Poggio Alloro is an organic farm specializing in wheat, olives, grapes, bees, saffron chickens, cattle, and pigs. Sarah, of course, has even published a gorgeous cookbook (which I promptly purchased and had her sign), full of beautiful farm photos and inspiring family recipes.
During warmer months dinner is served al fresco on the patio overlooking the valley, but due to the chill we were ushered inside to a nice dining room with a lovely stone fireplace. There, alongside several Tuscan wines that Stefano had picked out and brought himself, we were served:
Cured meats produced right there on the farm
Baked pastry with pecorino cheese
Fried beef and pork meatballs
Fried polenta with wild boar sauce
Bruschetta (crostini) with freshly produced olive oil
Ribolata, a classic Tuscan vegetable bread stew
Sliced pork with salad and a fennel bake
Crostata di fichi, or pie with fig marmalade
Almond biscuits
Dessert wine
And of course, grappa and limoncello as a post-meal digestif
I ate everything and thought I might die of gluttony and bliss.
Hey.
There are worse ways to go.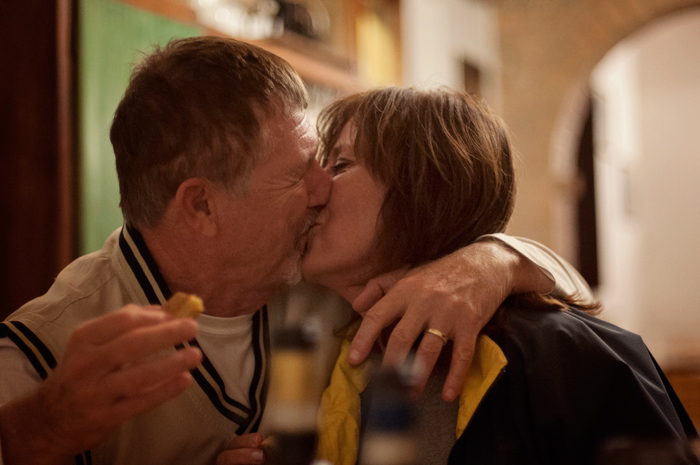 A couple enjoys a traditional exchange of wine-soaked biscotti and a kiss after an amazing meal.
When we were all sufficiently stuffed, we bid farewell to the farm and piled back into the van for our night tour of Florence.
I'll be honest — Walkabout Italy should probably forgo this part of the tour or offer it separately from the countryside dinner. I was far too full (and frankly, buzzed) to thoroughly enjoy the Florence portion of the tour. Plus, there was no walking about to be done — it was all conducted from the warmth of the van. The one place where we emerged from our four-wheeled cocoon was completely worth it, though: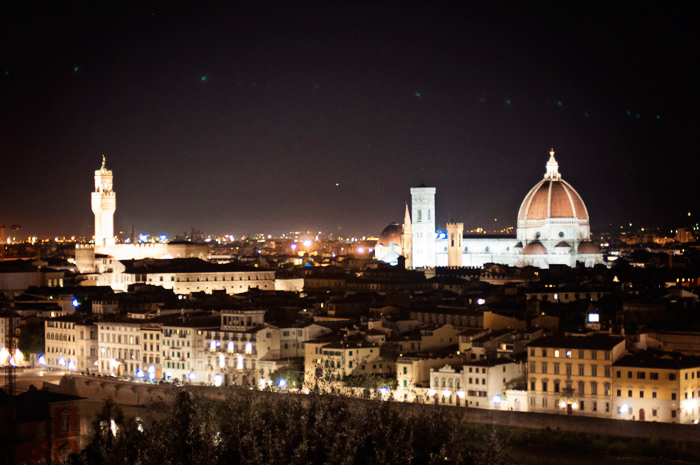 Stefano had taken us to a stunning vista overlooking the Duomo and glowing Florence skyline, where I once again regretted not having my tripod.
That they should definitely leave in the tour.
Sometime around midnight, I asked to get out. Stefano was still full of energy and hadn't yet finished our drive around Florence, but I had an early tour by day the next morning, and the tranquilizers they'd apparently put in our meal were taking their toll. I said goodbye to my group, bid Stefano farewell, and walked alone into the Florence night.
What They Did Well:
The van was the perfect sized and equipped with a sound amplifier so we could hear Stefano in the back.
The agriturismo we visited was perfect. In fact, I plan to visit Fattoria Poggio Alloro again during the day, and perhaps even book a stay, the next time I return to Tuscany.
Stefano was a fantastic tour guide — knowledgable, friendly, and full of ceaseless energy.
What I'd Change:
The meal was perfect, but the Florence By Night tour was almost a little too much. They should either start with that earlier and then take us to dine, or remove this part of the tour entirely. The rest of my group agreed.
Need to Know:
Walkabout Florence
Via Vinegia 23r, 50122 Florence, Italy
+39 055 2645746
info@walkaboutflorence.com
Good to Know:
Along with a variety of guided tours, Walkabout Florence also offers downloadable self-guided tours (including suggestions for local restaurants, shopping, and other hot spots) on their website.
My Wine and Dine in the Tuscan Countryside tour didn't require much walking, so feel free to wear your sexy shoes.
The English spoken was excellent, and I had no problems understanding my guide, our hostess, or booking my tour.
Disclosure: My tour was provided for review by Walkabout Florence. Rest assured that all opinions — as always — are entirely my own.