A Life Preserver.
Yesterday I was mad. I didn't take the time to work out, I was disappointed with how I handled something for my job, and Justin left me way too many dishes for me to clean after dinner. I deserved to do nothing further that night.
But don't you worry. When I stop complaining long enough to think about it, I realize I'm a lucky girl.
I mean, yes. To do some of the things I've done — to have had some of the opportunities I've had — it took discipline and hard work. But it's not like I was mining coal, people. The work took diligence and strength of mind, which, let's face it, is considerably easier than descending into the dark depths of the earth to dig a fuel whose dust will likely be the cause of my untimely demise. But I likely never would have pursued any of the things I've pursued had my life situation — my luck — been different. I was fortunate to be born in the country with freedoms, elected government, and infrastructure; during a time in which women have more rights than they've ever had before; amidst a social class that ensured I had a safe home, a warm bed, plenty to eat, and an above-average public school education; and of parents who never beat, neglected, or attempted to make me feel inferior. I married someone who, while we're very different in many ways, is ultimately supportive of my insatiable curiosity.
I had all of these things, and that was luck.
Yet sometimes, I get sad.
I get sad that, at 32, my husband and I didn't live the wildly nomadic military lifestyle I'd envisioned for our twenties; that I don't have an impressive career to show for my lack of children; that I haven't published a book.
I do that often. I focus on the things I haven't done, despite my privilege, and then proceed to plop my ass on the sofa to watch three episodes of Girls.
It's a sickness.
My friend Kevin calls it The Lazy, Steven Pressfield calls it Resistance. I just call it stupid.
This kind of behavior is akin to lamenting modern slaughterhouse practices while frying up an industrial-sized pan of Wal-mart bacon. It's thoughtful inaction. And while it sounds nice and maybe even feels like an accomplishment — because, hey, at least I acknowledged the things I'd like to change — the reality is that thinking alone is never going to improve the situation. The sadness will always be there, a snake in the shadows, waiting for the next quiet moment to pounce.
The truth is, if there are things you've wanted to do — little things like learning a language and taking more weekend trips with the family, or big things like writing a novel or stepping foot on Antarctica before you die — just thinking about it while shoving another handful of popcorn into your mouth is never going to make it happen. Sure, you might have the immediate gratification of a warm, buttery kernel. Of curling up next to a loved one to enjoy an inspiring flick. Of spending one more night free from the responsibility of taking action on your dreams. You might have that. But it will never take you closer to those things you really want.
As I get older, it's occurring to me more and more that I am actually responsible for my own happiness. Not my husband, not my parents, but me. If I want to travel more, I'm the one who has to find ways to financially make it work. If I want to write a novel, I'm the one who has to peel my butt from the cushion and go write a novel. Hell, I don't even have to peel my butt from the cushion — I have a laptop.
My point is not that you can never again enjoy a lazy evening of television.
Especially if down time with your family is that thing that drives your inner source of happiness.
My point is that, unless you acknowledge that inner source of happiness and start feeding it on the regular, no one will feel sorry for you if you remain unhappy.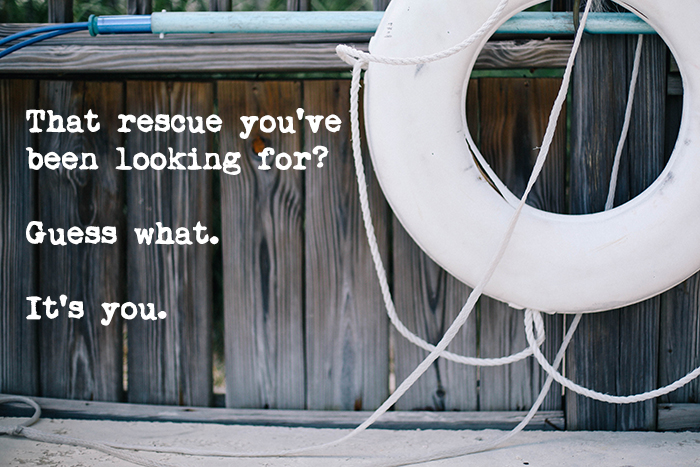 #realtalk.
For the last several months I've been actively making decisions to change the things that make me sad.
And guess what?
I feel sad less often.
(Funny how that works.)
Even better, the more I propel myself in this direction of change, the more things start working out in my favor. It turns out action begets not only results, but luck.
Who knew?
(Probably Oprah Winfrey, J.K. Rowling, and Jon Stewart, to name a few.)
Sometimes I still get sad. Sometimes I still sit on the sofa staring at the television for way — way — longer than is physically or mentally healthy. Sometimes I compare myself to other people who know how to do things better/smarter/faster than me and for a minute or six it paralyzes my ability to do anything at all. But then I tell myself to get over it and take more action to produce more results. And I can't tell you how good that feels.
You just have to experience it for yourself.
Change isn't going to send you an invitation. And to get there requires action. Time. Discipline. And the encouragement of luck. Which makes it ridiculously easy to sit, do nothing, and quit before you start. And this, without failure, will make you sad. Because a year from now you may wish you had started today.*
So tell me. What's that thing you've been waiting to do? And why don't you start it today?
*This quote is attributed across the internet to author Karen Lamb, but since I can't find reference to the original source where she said or wrote it, I'm hesitant to attribute it solely to her.