Where Corned Beef, Facebook, Lingonberries and Wandering Desks Come to Play
I have several things to address here.
First and foremost, Happy St. Patrick's Day! I love this holiday, because even though I'm not Irish, it gives me an excuse to wear green underwear (green is my favorite color – not that you really need an excuse to wear green underwear) and drink dark beer (also my favorite color) and eat corned beef and cabbage like it's my business when any other time of year people just look at me weird for actually loving corned beef and cabbage and wanting to eat it by the plateful until my skin forms a lovely crinkled pie crust of an edge around the waistline of my pants and why are you judging me?!
Second, I finally caved to Mark Zuckerberg, who's undoubtedly trying to take over the world, and created a Facebook Page for Domestiphobia. I also learned that until I cave again and either pay to self-host this site or pay WordPress for an upgrade to edit the code for this site, I can't just add a simple "Like" button to the sidebar that you can click to like Domestiphobia on Facebook.
So, in the interim, feel free to click the little Facebook doohicky on the right side of the screen, which will take you to the Domestiphobia Facebook page where you can click "Like" if you want to stay connected to me via Facebook. Of course, you don't have to do this, but I'm not sure why you wouldn't want to do this.
The tentative plan is to add photos to that page that you might not see here on Domestiphobia.net (not because I don't want to share, but because I might never actually get around to writing entire posts about them) and also allow each of you to post photos, questions, links – whatever you want – and maybe generate some discussion. Who knows?
If nothing else, it's a great way for all of us to cyber stalk each other.
Third, I'm really excited because in a couple of weeks, Alaina and I will be day-trippin' it to IKEA in Charlotte with the intention of outfitting our homes with the latest in ready-to-assemble Swedish decor. She thinks we're going so I can buy some things for the office and she can find some items for her nursery, but we're really going so I can indulge in delectable Swedish meatballs with lingonberry sauce served cafeteria-style.
I just hope the Tracker can handle all of our purchases on top of our growing bellies (hers from the baby – mine from the lingonberries).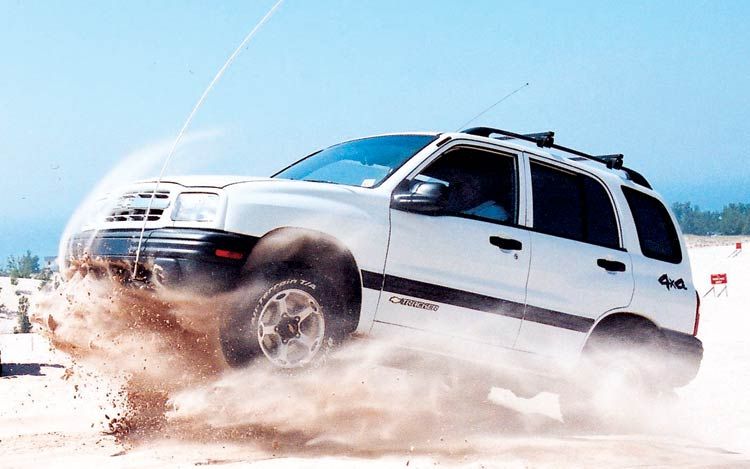 And finally, this Saturday (March 19th) marks the 1 year anniversary for this blog. I know, I can't believe it myself. I plan to share some interesting facts about the site and maybe recap a few of my favorite posts, so if you're new here or haven't been able to read everything I post every single time I post it (although again, I'm not sure why you wouldn't do that), Saturday's post will be a good one to catch.
And now, because it's gorgeous outside and because I'm no longer stuck in a cubicle, I'm going to go in search of something that could potentially be used for the top of my jerry-rigged office desk. (And no, the one from Overstock hasn't arrived yet. I'm actually a little envious of its cross country tour, which has so far made stops in Utah, Colorado, Kansas, Oklahoma, Texas, and is now finally taking the straight shot over to North Carolina.)
Just a little tip for today: If you see me flying down the road in the tracker with my body contorted around a piece of wood that you would think would be way too large to fit inside my vehicle, don't ask questions. Just get out of my way.
Thank you.