I'm Finally Out of the Closet
Okay, I have yesterday's promised closet makeover pictures for you.  I apologize that this is pretty anticlimactic because, while I'm thrilled with the new sense of peace and organization this brings me, in the end, it's still just a closet.
Except now it's clean and painted and oh yeah there's no taffy stuck to the inside wall covered with scotch tape.
Don't ask.
Before: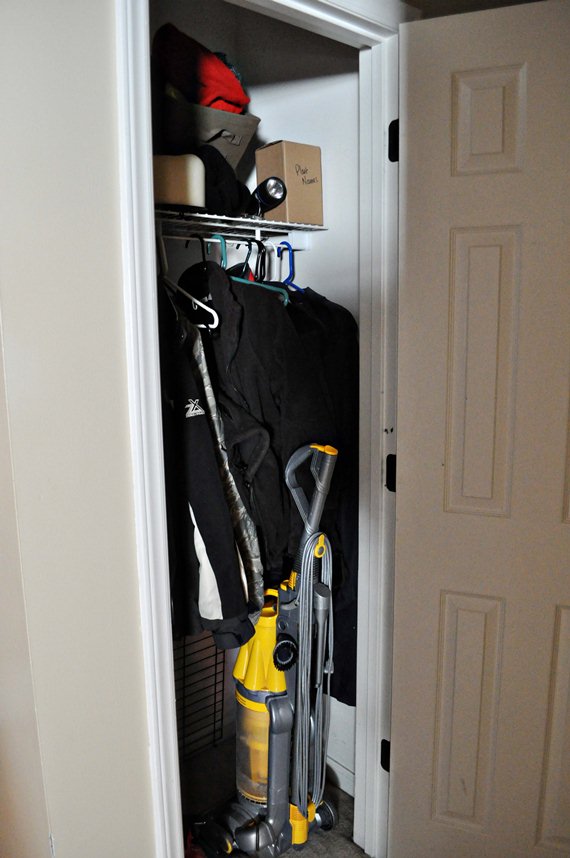 After (empty):
All of the scratches and general dinginess have been smoothed out and painted over.  Justin hung the new shelf using some old 2×4's we had in the garage, and I primed and painted them to match the shelf.
The really inexpensive hangars are from Bed, Bath and Beyond:
And both types of bronze hooks are from Target:
By hanging the hooks, taking out a few of the winter coats (umm, Katie?  Do you really need 4 winter coats hanging in a main hall closet in North Carolina for 4 years?), digging out some storage baskets I had hiding in another closet, and throwing out some of the junk, I was actually able to fit more stuff in here.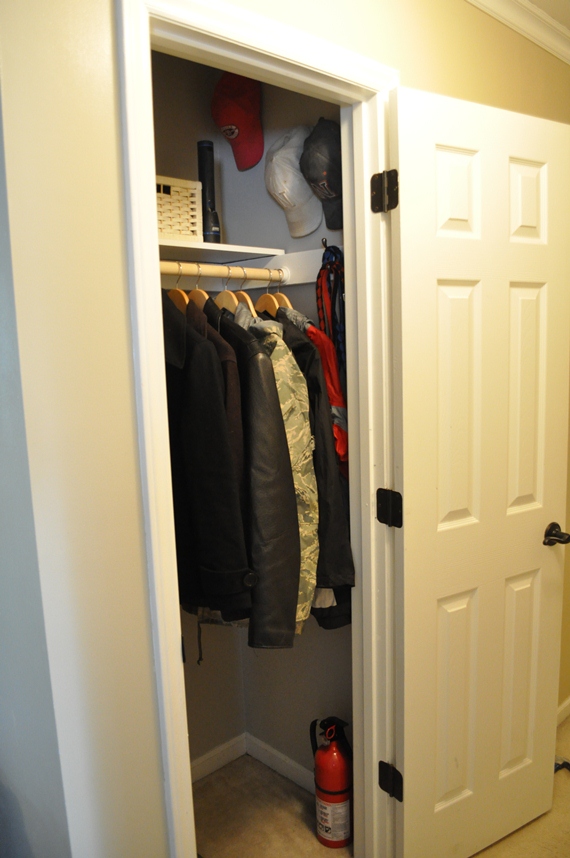 The dog leashes and car harnesses came in from the garage, Justin's baseball hats finally came down from the top of the television in the bedroom, and everything is now much more accessible.
We can even still fit the vacuum in there, and we have some extra space for guest coats.  Apparently people appreciate that as opposed to flinging them over the back of a dog-hair covered sofa.
Go figure.
In the end, it really was worth the hassle.
Even though it might not look much different to you, cleaning out this closet helped clean me out a little, too.
Not in a literal enema sort of way, but in a figurative mind clutter sort of way.
Getting rid of crap you don't need – both physically and mentally – is therapeutic.
Who knew you could get so much from a tiny little closet?
I can't wait to see what happens when I move on to the walk-in…