I Tasted Carolina. And Then I Ate It All. (Part 1)
It's times like these.
Times when it's cold, and the forecasters predict that later today it will progressively get colder, because there's this evil thing called a COLD FRONT and it's headed this direction and some time — some foreboding time later this afternoon — it's going to actually start feeling a little bit like winter, and even though it's already mid February, which means I've had months to prepare for this, I realize I'm still not prepared and I feel like it would probably be best for everyone if I just stayed snug under my 35″ high covers until April.
That's right, we're still sleeping in the guest room, in case you were wondering.
The progress on our bedroom is slow, and not very steady, but I promise you there is progress, even though it occasionally/all-of-the-time gets hindered by wine by the fire and new episodes of Revenge and me spilling baseboard paint on the carpet.
Yes, that happened.
Yes, I will tell you about that little fiasco one day soon, when I'm ready to share some more positive progress.
But anyway.  Not only do I have the overwhelming urge to hibernate this time of year, but I also reminisce.  I reminisce on happy times of yore, like just 4 months ago when it was pleasant and warm and sunshiny — when I could wake up with the bright morning rays, stand outside in all of my barefooted glory, sip my coffee and stretch to greet the world.
Nearly 4 months ago, on the weekend of my 29th birthday, we did something we should probably be doing a lot more frequently.
The concept is simple.  I've heard it called "taking a 'staycation,'" in which the participants are traveling, but not, because they're staying at home.  But I don't really like those cutesy terms people come up with to make a concept stick — like "Brangelina" or "frenemy" because they make me feel lazy, so really.  I'll call it what it was.  It was a day trip.  Something fun we could do without the cost of booking a hotel or packing camping gear or sleeping in the car.
I know.
It sounds like we're taking all of the fun out of travel.  But hear me out.
See, with my unending itch to explore and discover and be moving all of the time and Justin's desire to… well… not, we discovered this extremely enjoyable and compatible compromise that earned us at least 2 weeks worth of patting ourselves on the back for how awesome we sometimes are at being married.
We both love trying new foods, so when I heard about gourmet food tours by Taste Carolina, I knew exactly what I wanted for my birthday.  We opted for the walking tour of Chapel Hill and Carrboro, which is about an hour and a half from where we live, for $44.98 per person, which earned us over 3 hours and 8 stops at amazing, locally owned eateries.  That's less than we would've spent on a "fancy" night out at our local Red Lobster.
We were pretty psyched.
Now this is where I'm a bad blogger.  Bad.  I actually managed to take many pictures this time, so no worries there, but notes?  None.  I didn't expect to wait 4 months before blogging about it.  So, sadly, I don't remember many of the details about what we ate, but I will try my best to explain and then let the pictures speak for themselves.
Our very first stop was one of the best, in my humble little opinion.  I was a little camera-shy at the start, so I didn't get a photo of the place, but it was called Neal's Deli.  I was a little disappointed that the tour didn't take us inside the establishment, but instead we were parked on some benches outside.  My disappointment quickly faded when I bit into one of these:
On the left, we have what I believe to be some type of homemade pastrami with mustard.  The beef was unlike anything I've ever tasted — full of pressed spices and divine on the homemade buttermilk biscuit.  The other was some type of egg and cheese, with a buttery, melty consistency that made me want to eat one of these every morning for the rest of my life.  It made me very, very glad that I don't pass Neal's on my way to work.
Next, we headed to the renowned Carrboro Farmers' Market, established in 1996.  It's held every Wednesday and Saturday morning in the "town commons" (no joke), and it felt like stepping into a type of fairy land filled with fresh produce, vibrant blooms, hand-made crafts, and local meats, cheeses, and an impressive variety of gourmet delicacies.
Our first stop in the market was at the booth of Chapel Hill Creamery, a company I love because I love to say its name.  Go ahead.  Say it out loud.  Sounds like something you might say if you'd lived in pioneer times, like in the game The Oregon Trail. "I'm off to the Chapel Hill Creamery to fetch some cheese before we leave," you'd say, not knowing that you're destined to die 3 days later from a broken leg you suffered during a wagon axle accident while fording a river, and you'll wish you'd just stayed with the happy cows at the creamery, because California is probably overrated anyway.  (It's not.)
My favorite was their Dairyland Farmer's Cheese, which was very simple, creamy, and would probably taste delicious melted over some frijoles negros and tucked inside a burrito.
Next, we were treated to a very generous sample from The Pig, a restaurant with a booth at the market serving up fresh grilled pork franks made from local, hormone and antibiotic free piggies.
Of course, I tried the Reuben frank because it marries one of my favorite sandwiches (the Reuben) with one of my favorite foods (the Hot Dog) to create this orgasmically inspired offspring:
They say you can taste the difference between real meat and the kind you buy discount packaged at the grocery store, and now I'm convinced.  You can.
(Remember this?)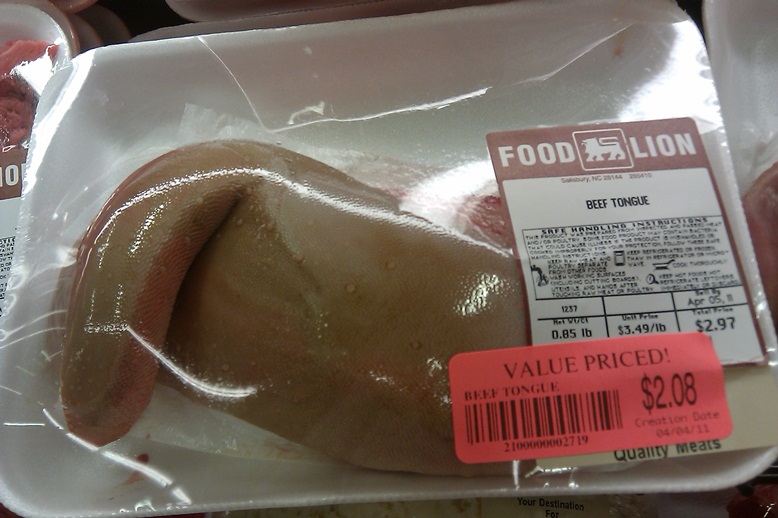 I'm pretty sure if I were going to buy tongue, it would NOT be from my neighborhood Food Lion.
Moving on.
Our last stop at the market was at that of the fantabulous Alfred De La Houssaye's Sweetwater Pecan Orchard.
If I remember correctly, he started the orchard because he loves pecans and he loves oriental persimmons.  Ignoring the fact that everyone told him he would not be able to successfully grow those things here, he managed to do so and to do so quite successfully.
With pizzaz.
And I love him because he insists that the correct pronunciation of the nut is pecaaahn, with a soft "a" and not the harsh, biting hard A that so many southerners use.
And also because he makes these chocolate pecan chewies, which I couldn't stop eating.
And also because he gave us each a slice of pie to take to our next stop, the Carrboro Beverage Company.
But this post is getting a little long, methinks, so I'm going to save the second half of the tour for next time.
Oh, but trust me.  It's worth the wait.
There's more! Click HERE for Part 2.