Williamsburg Tastes Nothing Like Chicken. And That's A Good Thing.
Oy.
Lately I feel like this blog has become nothing but a representation of the gluttonous feast that has become my life.
Not that I'm complaining.
But I'm thinking that if maybe — just maybe — I could transfer just a fraction of the bounty that's presented itself as food into another form of excess, like luck in finding — and securing — us a new place to live, it would be very helpful.
Since Justin's parents were in town last week to witness what could be his last re-enlistment with the U.S. Air Force (this commitment will take him out to 20 years, which means he'd be eligible for retirement at the ripe old age of 38), he decided to surprise me for my birthday with a food tour in Williamsburg, VA last weekend since we'd be there to house hunt anyway. And I'll be honest– when I opened the card, I was torn between elation and flabbergastation:
ME: *eye twinkle + genuine smile* A food tour! How cool!
JUSTIN: *satisfied grin*
ME: *mouth-only smile* Right in the middle of our house hunting trip!
JUSTIN: *satisfied grin + raised eyebrow*
ME: *eye twinkle + genuine smile* You know how much I love food tours! Thank you!
JUSTIN: *satisfied grin*
ME: *mouth-only smile* Wow, on Saturday afternoon! Pretty much in the middle of the day! When we should be looking at houses!
JUSTIN: *satisfied grin + defensive jaw clench*
ME: *genuine smile* But a food tour! Yay!
JUSTIN: *relaxed smile + eyes that want to punch me in the face*
We hugged. The end.
And look. Before you go thinking I'm all ungrateful and undeserving of such a thoughtful husband, it's important for you to understand how all-consuming my virtual house search has been. We're talkin' zombie-like coma staring at the computer screen for hours on end. Searching online for weeks and weeks with only a limited smattering of poorly lit photographs and Google street view as a representation of our options. So I was excited — and mildly terrified — to finally get the real brick-and-mortar scoop on some of these places.
Especially since it looked like we might not have a whole lot of prospects.
See, a huge part of me wanted to stay positive, certain we'd find something on Thursday afternoon or Friday and have an accepted offer by Saturday so we could enjoy the rest of the weekend. But it was hard to not get too discouraged by the condition and price of the listings I'd already previewed online, and I was worried we wouldn't have enough time to explore — especially considering we hadn't even narrowed down which city we wanted to concentrate on.
But it turned out Justin had foreseen exactly what we'd need by Saturday afternoon — a reprieve.
After a (horrifically failed) series of showings Thursday afternoon, (that is, unless you happen to like the smell of cat pee or the feeling you might need to carry a concealed weapon with you to the grocery store), a five-hour house fest on Friday, and an early morning drive-around with peppered appointments on Saturday, we were ready for a break.
Really ready.
Enter Taste of Williamsburg.
Now. You know I'm no stranger to food tours. We had an incredible experience at a culinary tour in the tiny town of Carrboro, North Carolina a couple of years ago, and I recently experienced one of the most well put-together tours ever in Chicago's bustling China Town, so I'll admit that my expectations were high for this historically significant mini metropolis. I believe Justin had selected the "Colonial and College Food Tour," but it's hard to tell because if you look at the descriptions, several look like they visit the same places.
We met up with our group in Merchants Square.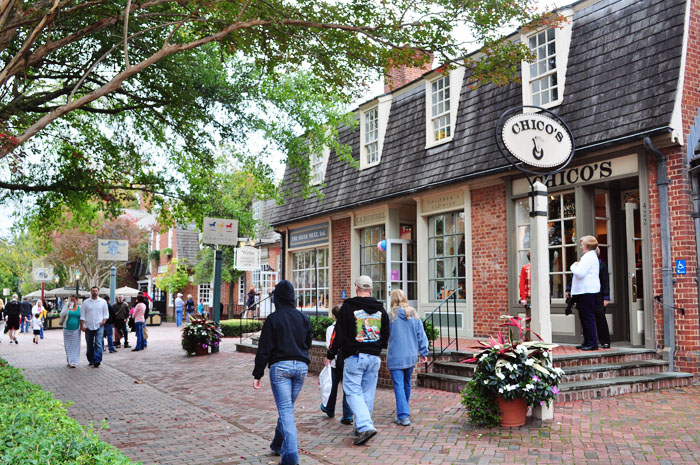 Believed to be one of the first planned shopping districts (aka. "strip malls") in the U.S., its planning began in 1927. So while it's not technically "colonial," its intent was to move the shops from the footprint of what was actually the original town, so that area could be restored. What they ended up with in the newer development was an adorable little shopping village with easy pedestrian access, underground telephone and electric cables, and some establishments advertising "ice-cold air" shortly after the invention of the air conditioner.
There were six of us in the group, including our friends Angie and Sean, as well as two lovely ladies whose names have left me but whose smiling faces I won't soon forget. Our tour guide, unfortunately, didn't meet us until 30 minutes after the time they designated in their email, so we were off to a rocky start.
I can't remember our guide's name either, but he was super friendly and approachable.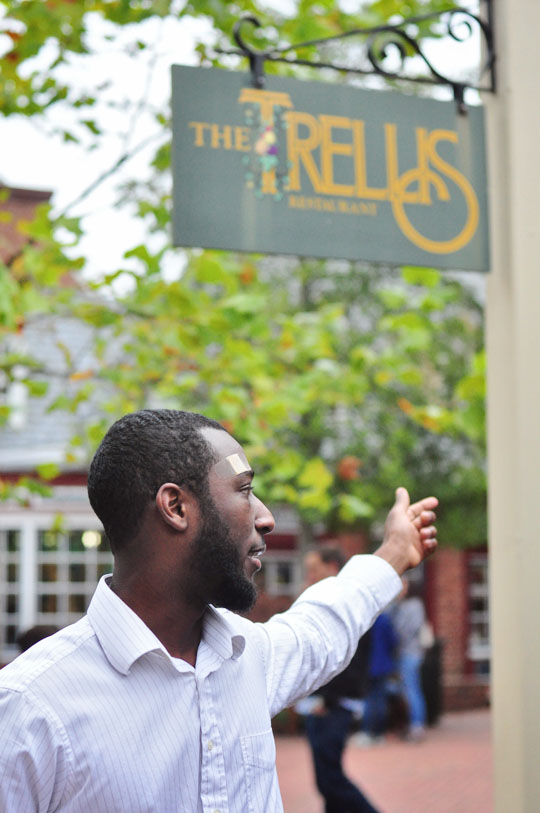 He was full of information about Merchants Square, Colonial Williamsburg, and the college. The difference, though, between him and the other food tours I've taken, is that it was fairly obvious this wasn't his career. As a recent graduate of the College of William and Mary, he was excited about starting P.A. school and this was a filler gig before he moved on to bigger and better things.
And while that certainly wasn't a big issue, I was almost immediately disappointed to learn that several "stops" on our tour were really just some of the merchant shops where we'd sample the free samples given out to anyone who visited.
Our first stop, for example, was Wythe Candy & Gourmet.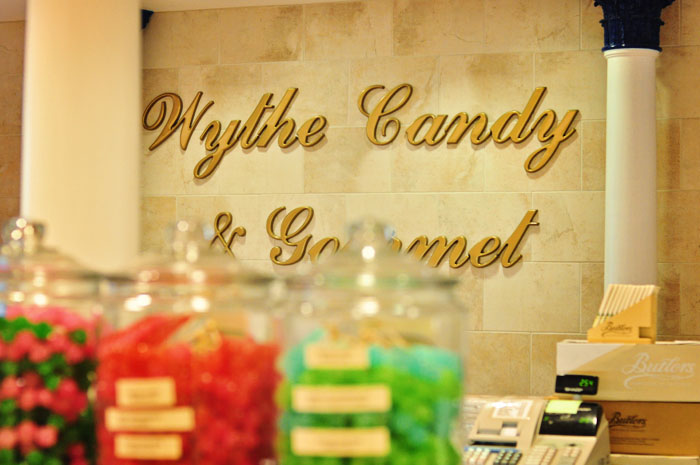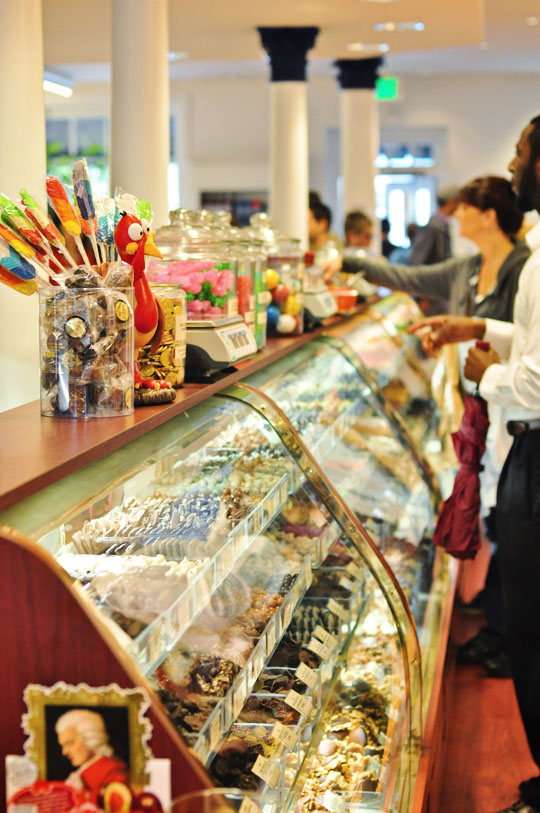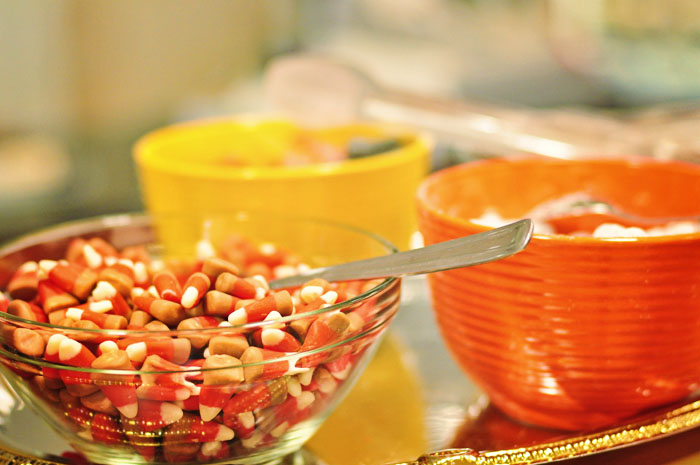 The samples were incredible.
(And also available to everyone in the store — not just those of us who'd paid $56 to be there.)
We were given a small bag of generic candy samples to take home, but nothing unique.
***UPDATE: Found the bag I didn't eat. White truffle Lindt egg (probably left over from easter), rock hard peppermint taffy, and… um… a hedgehog?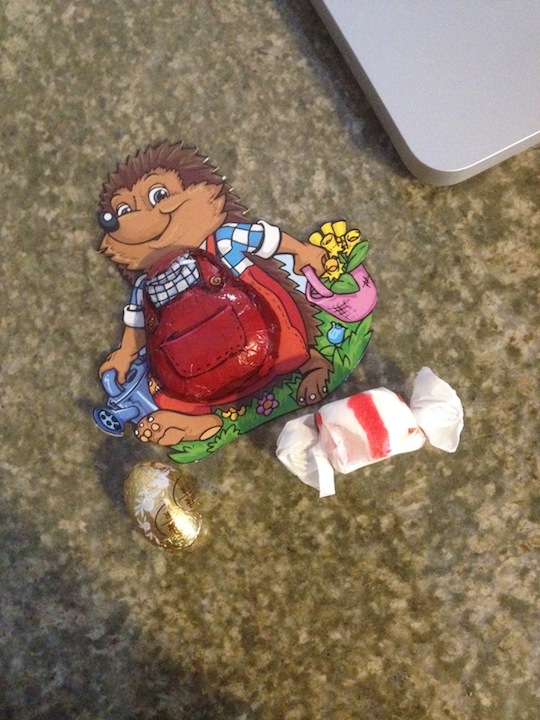 They probably should've just skipped the bag all together.***
Things improved a little at our next stop, DoG Street Pub, a cute, affordable gastropub right on the main drag.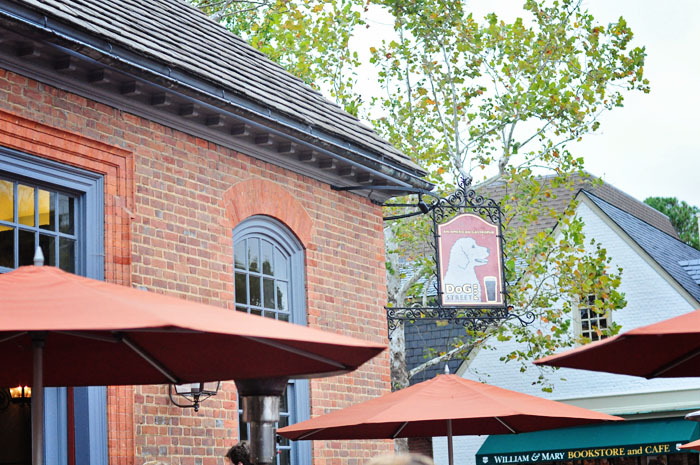 They served us the Ploughman's Lunch, which was basically a community plate of white cheddar, ham (I think ours might have been turkey), pate, tart apple slices, beet root, deviled eggs, pickled onions, and a few slices of bread.
It was tasty, but probably not what I would have picked as a representation of the entire restaurant.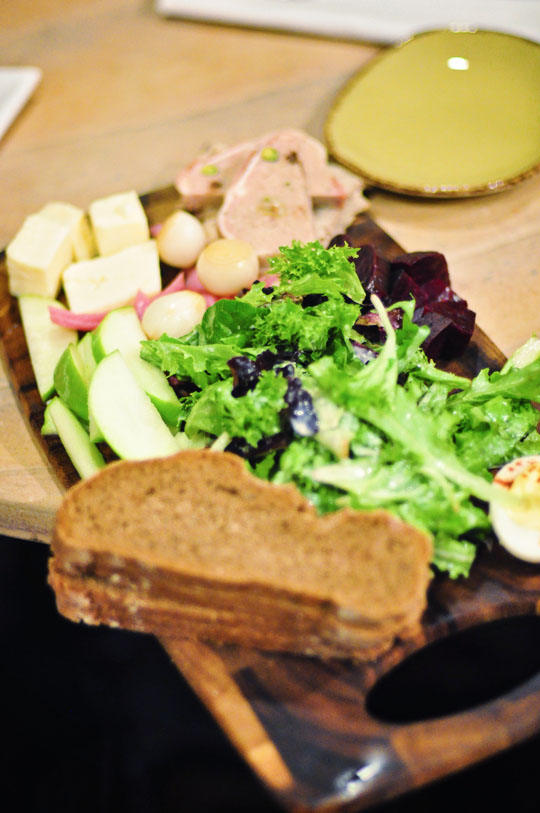 I would've preferred to try something a little more "signature," like their Reuben Croquettes or Mulligatawny Soup.
Maybe next time.
Our next couple of stops were places I was glad we got to see but probably, in all honesty, shouldn't have counted as real "stops" on a paid culinary tour.
First, The Peanut Shop, where we sampled many incredible nuts and toffee — all delicious, and all free to the general public.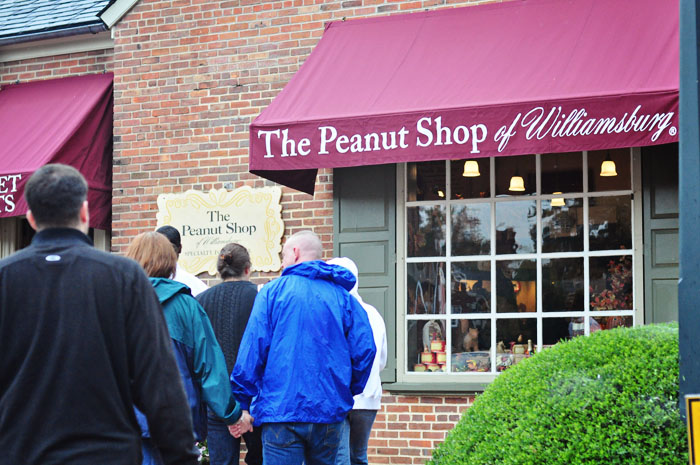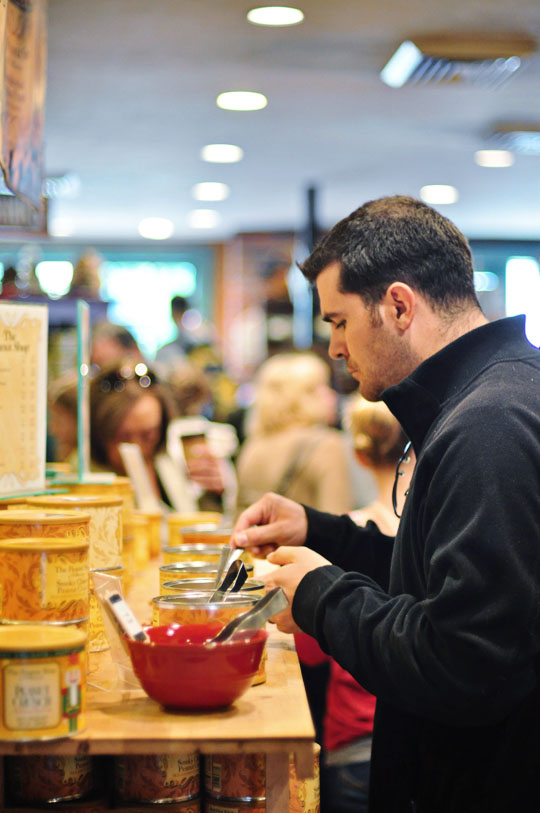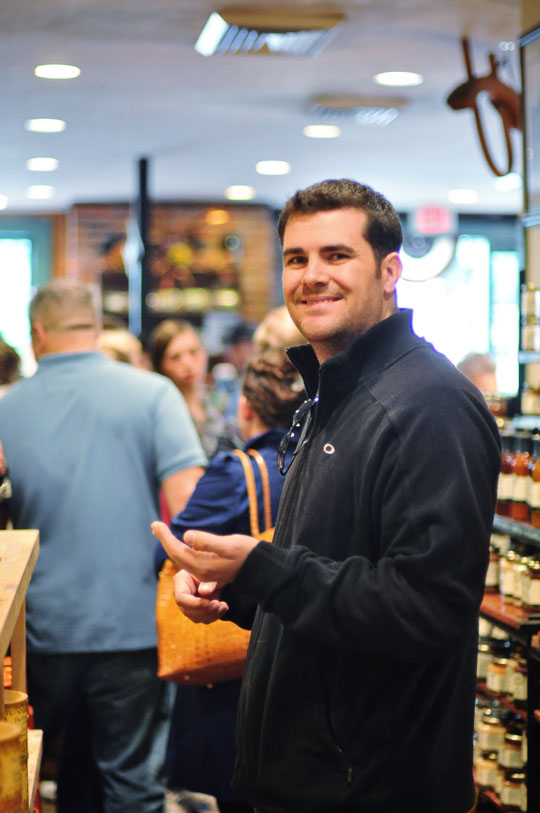 Justin likes his nuts.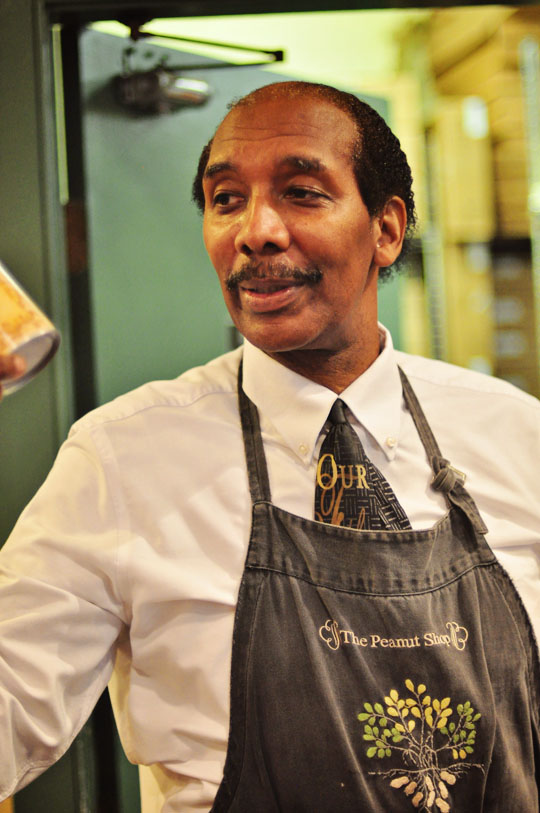 This merchant really seemed to love his job.
Next was the Spice & Tea Exchange and, while a fantastic little store for foodies, can actually be found all over the U.S. and isn't unique to Williamsburg.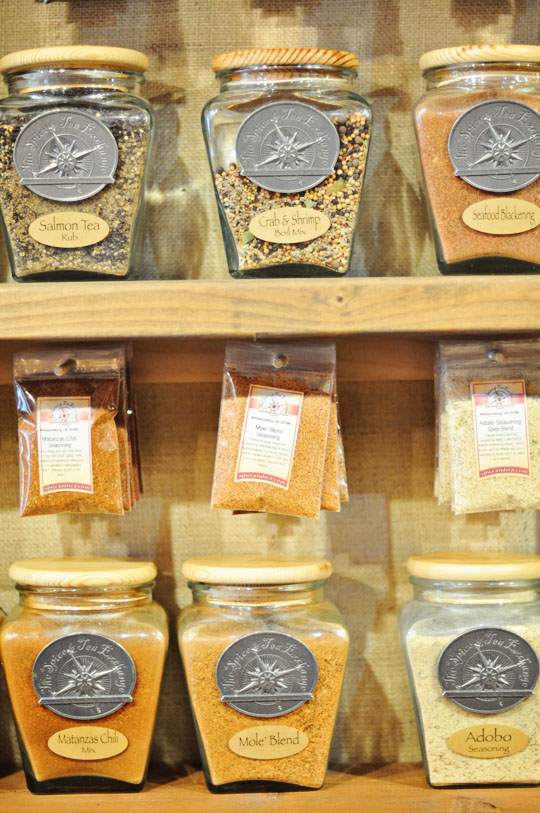 Some of these custom blends smelled AMAZING.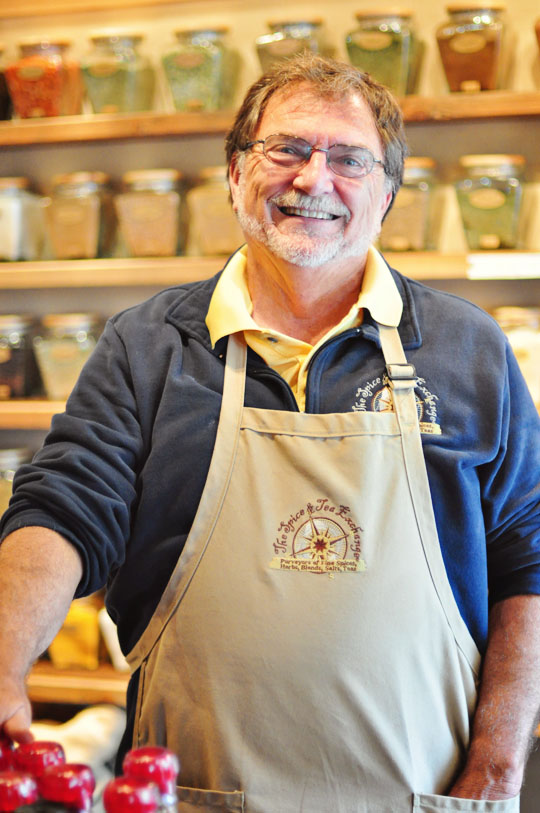 Another super friendly merchant.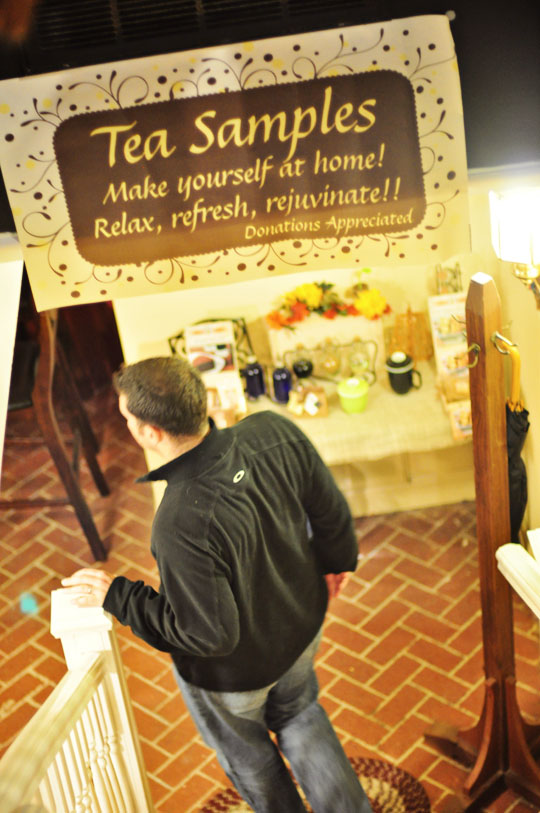 Again, we were directed to try the free samples available to the general public — a pear caramel tea and a mulled cider that tasted incredible with a little sample of soft caramel.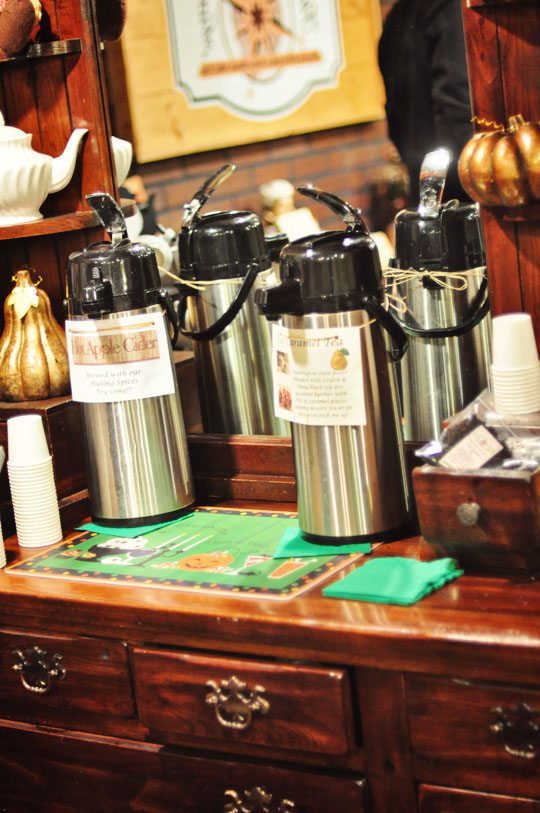 So far, we'd been to four places and only one was an actual restaurant where we'd eaten anything other than free samples. And while they were all delicious, I was starting to feel a little bitter about the money we'd spent. It didn't help that the next stop, the Blue Talon Bistro, wasn't ready to seat us and asked us to come back later.
Now I understand that food tours have to be flexible based on a restaurant's schedule and that these things sometimes can't be helped, but it was a discouraging development on top of an already-disappointing start. Fortunately, though, this is where things started to get better.
First, we meandered around town and through a quiet garden, which gave our nut-and-candy filled bellies a little time to digest.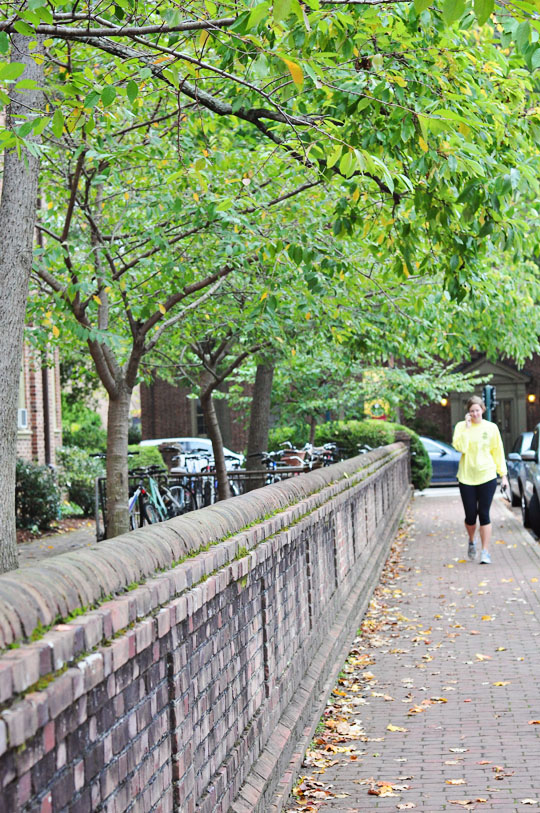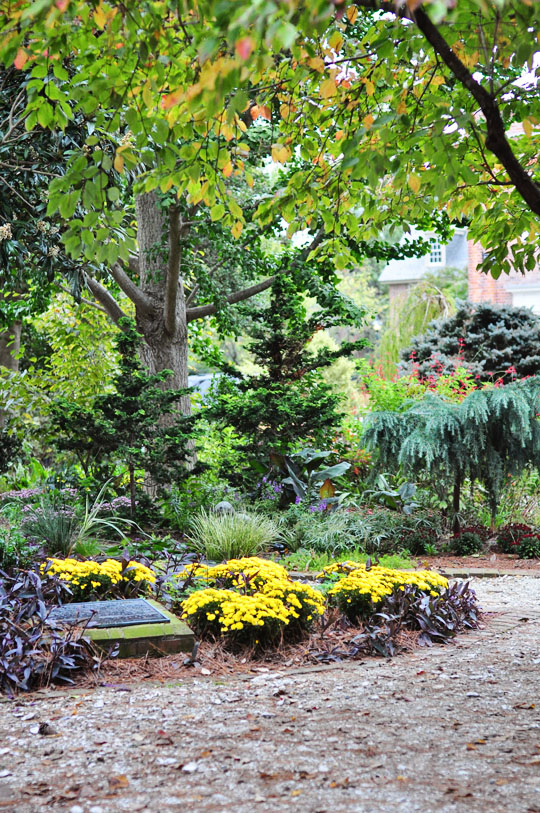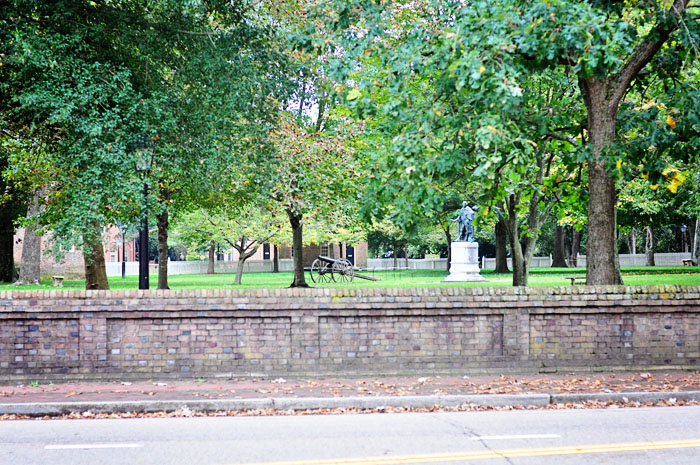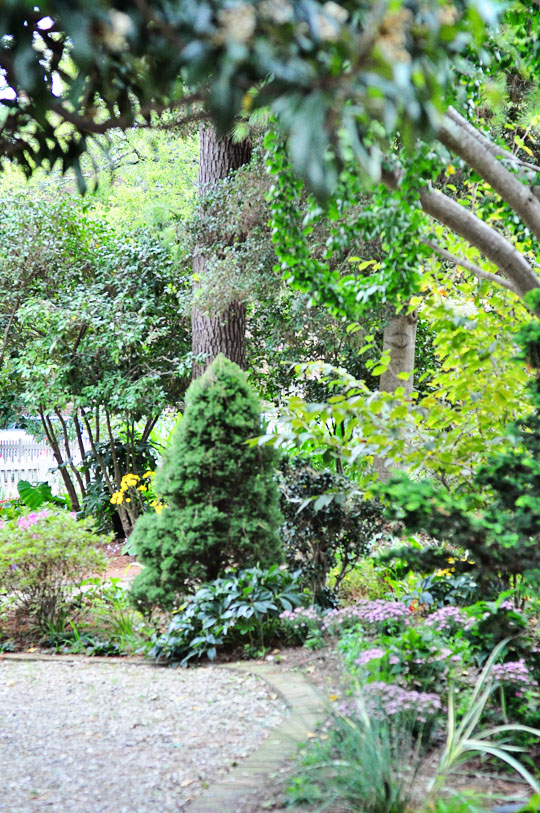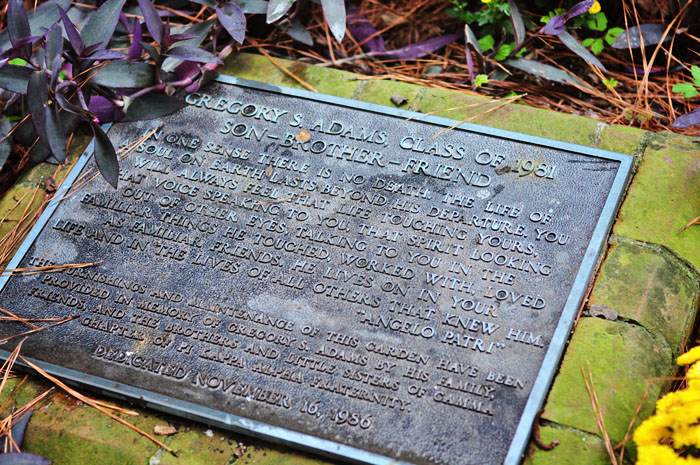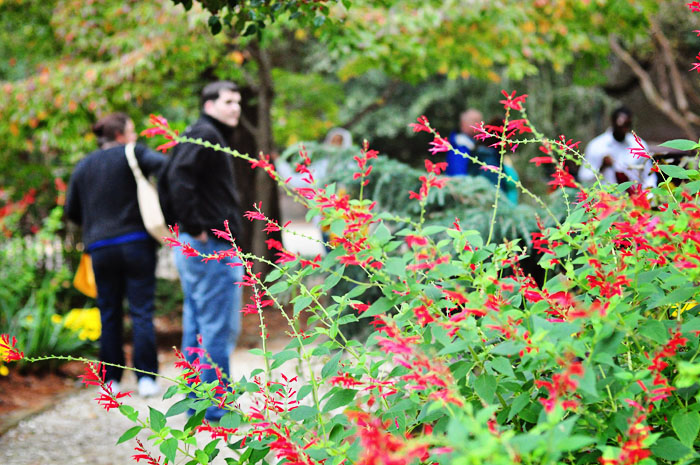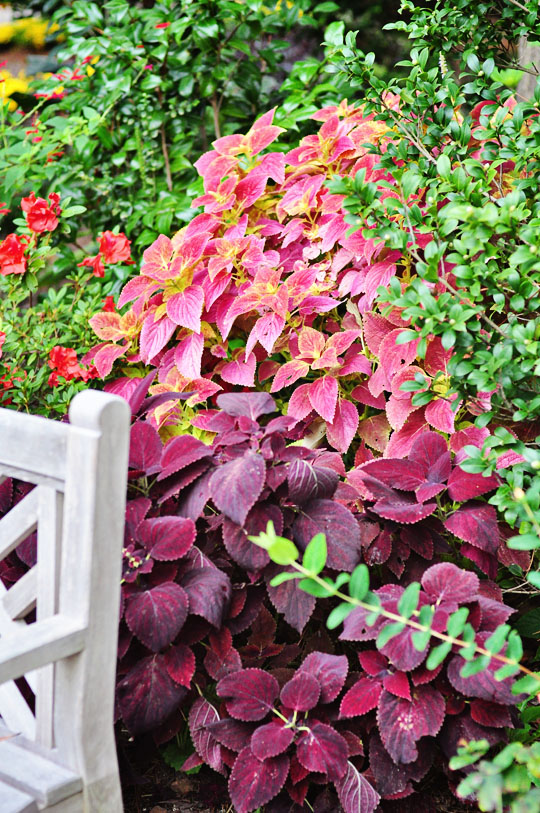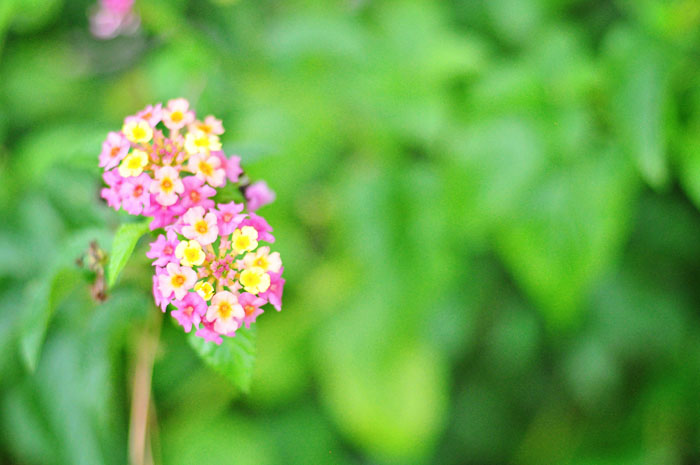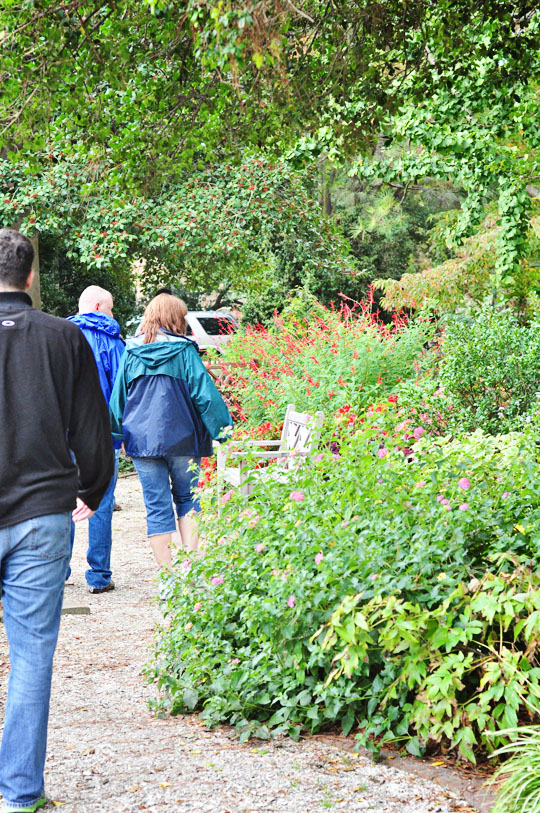 Then we headed to a restaurant called The Crust, a beer and tequila lounge celebrated for its wood fired pizzas.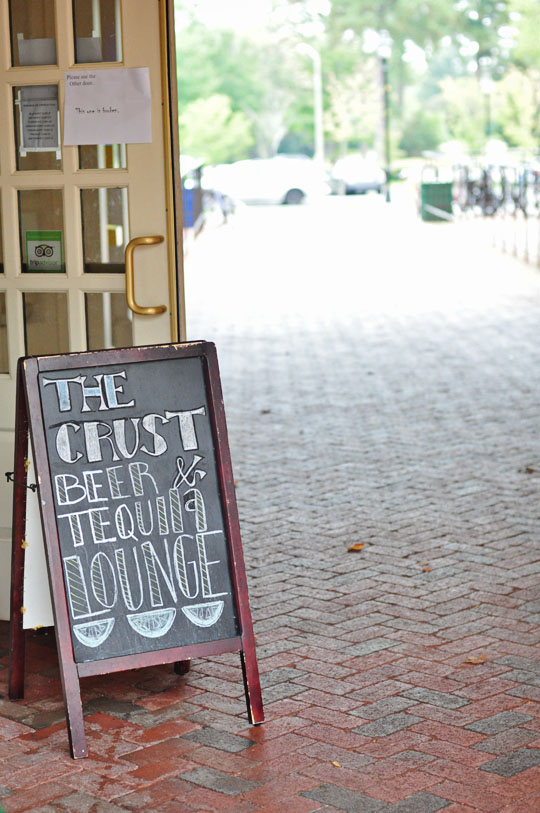 It had a great atmosphere, and is likely somewhere we'll return to when we live in the area.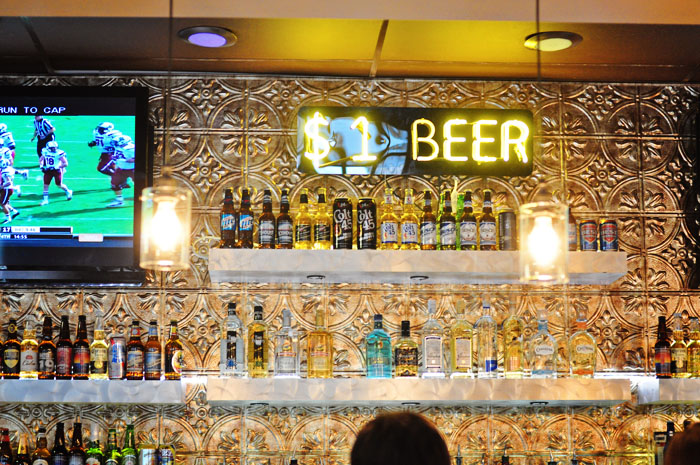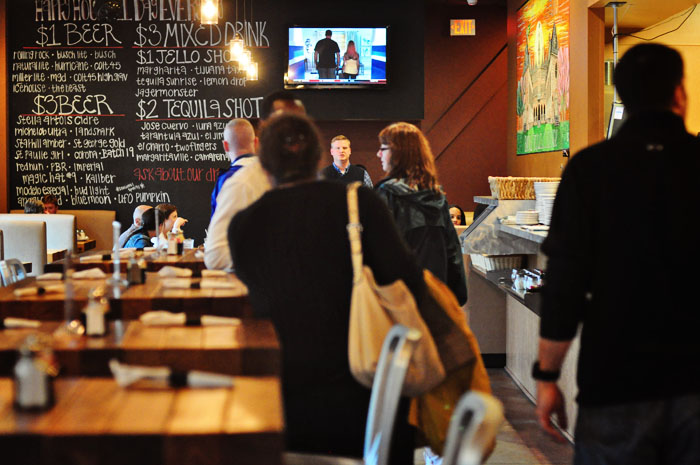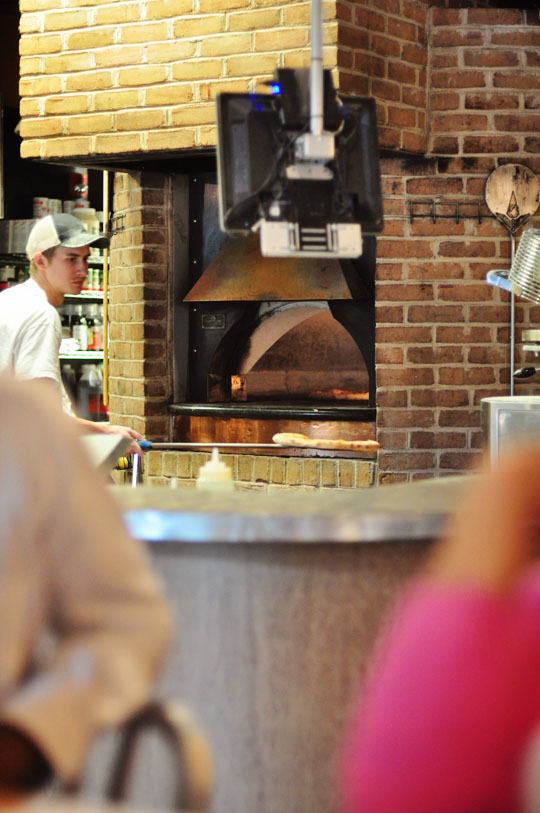 But again, they just served the basic. It was a margherita pizza I've had a million times before. (And it's really hard to compete with the one I had in NYC.)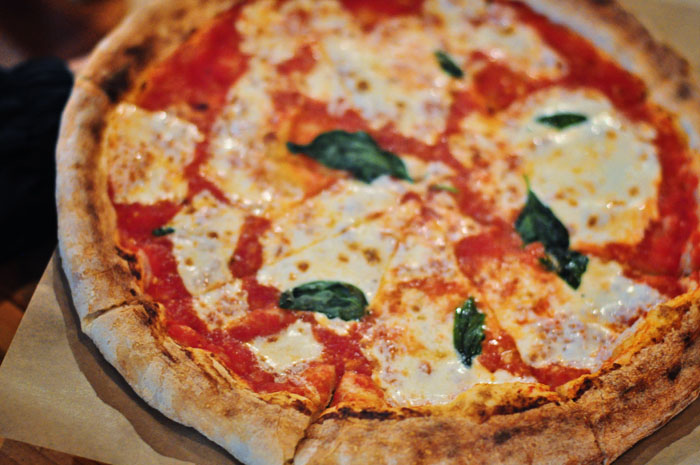 It tasted delicious (and was nice to have some real food), but I would've loved to try something more unique to their restaurant like the Fennel Sausage & Sweet Onion or the Popeye.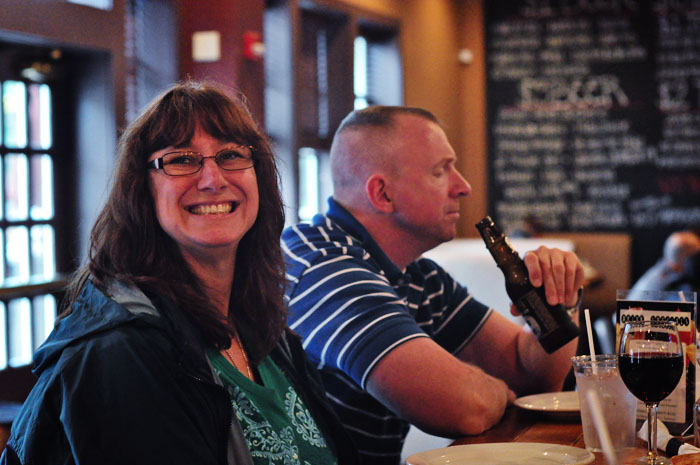 Angie and Sean (Sorry I didn't get a better pic of you guys! Next time.)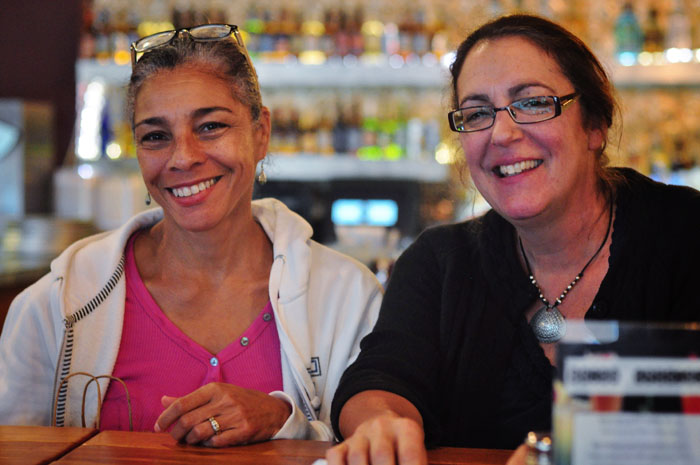 The other two lovely ladies on our tour. HI!
Next was Seasons Restaurant, a diverse steakhouse, and the first actual restaurant on our stop that seemed to take our tour seriously.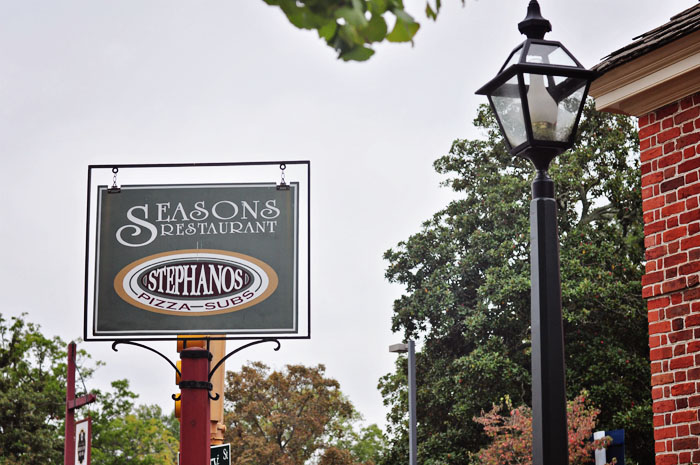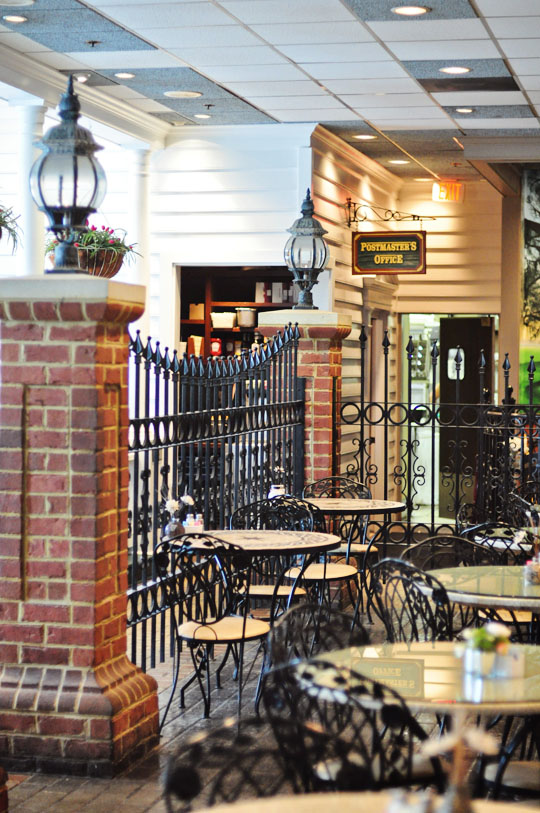 We were each served up a plate of their mouth-watering baby back ribs (and a nice salad for one of our vegetarian companions).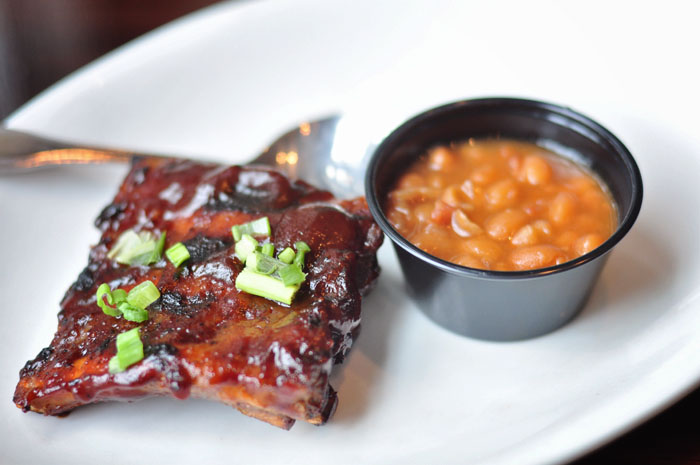 According to our guide, their ribs have been voted the best in Williamsburg by readers of the local newspaper, and I could see why.
Finally, we waddled back to the Blue Talon Bistro to see if they were ready for us yet.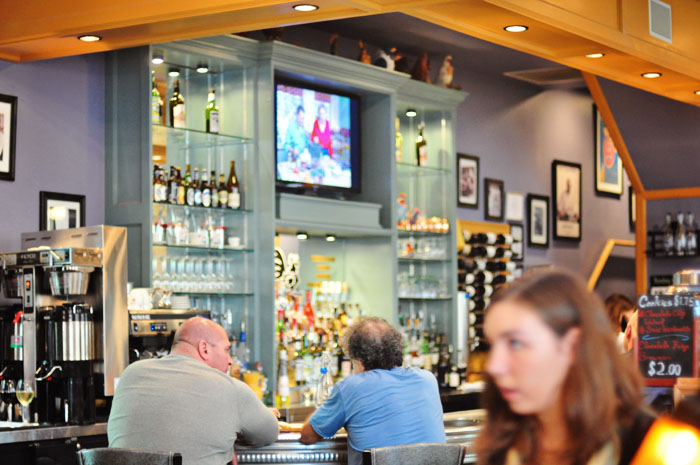 If there's one thing I can say about the restaurants of downtown Williamsburg, it's that few are lacking for atmosphere. Like many of the others, Blue Talon was visually stunning.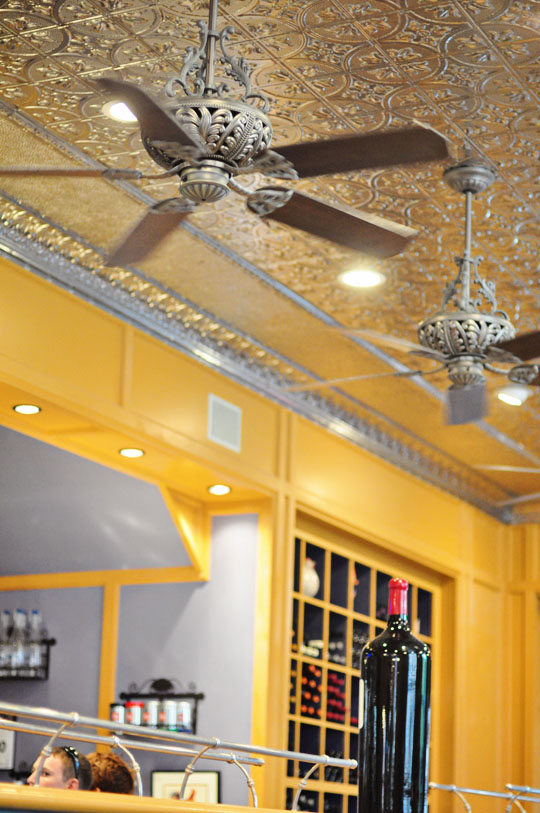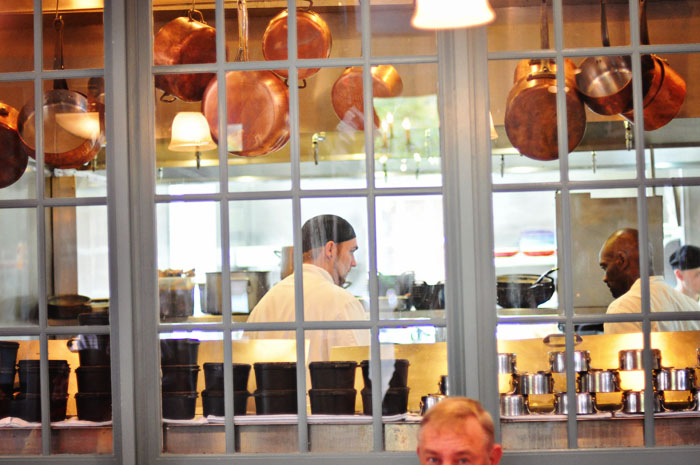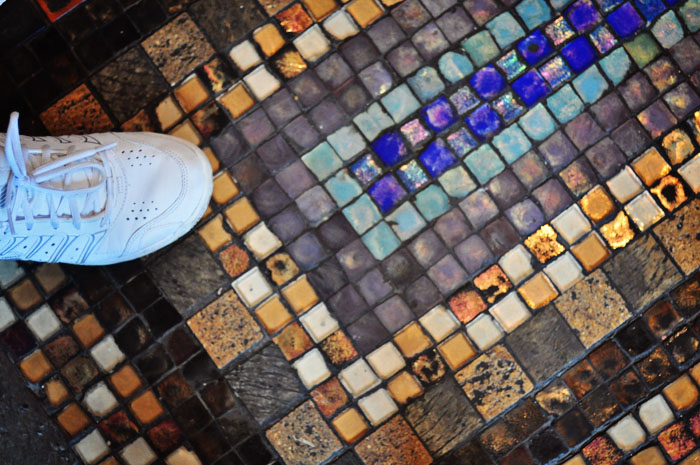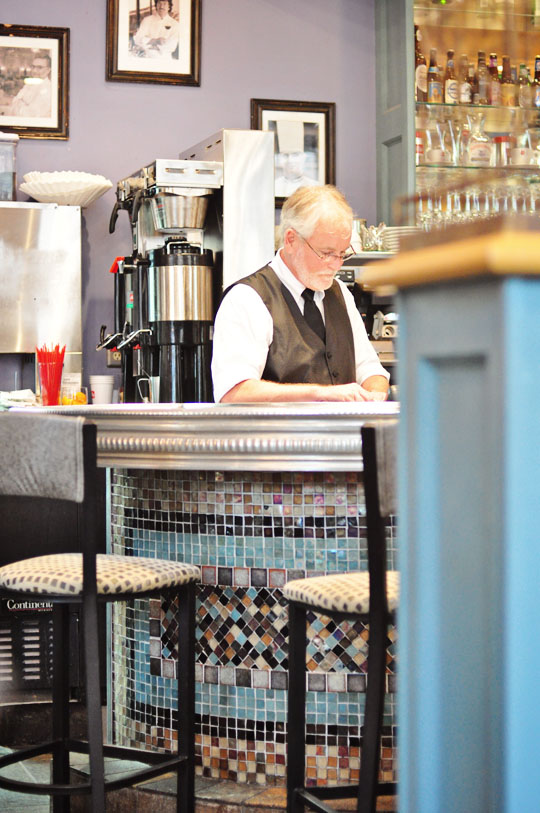 And while the Mac 'n Cheese they served us probably wasn't the most exciting thing on a menu full of goat, snails, and frog legs, I can't say it wasn't delicious.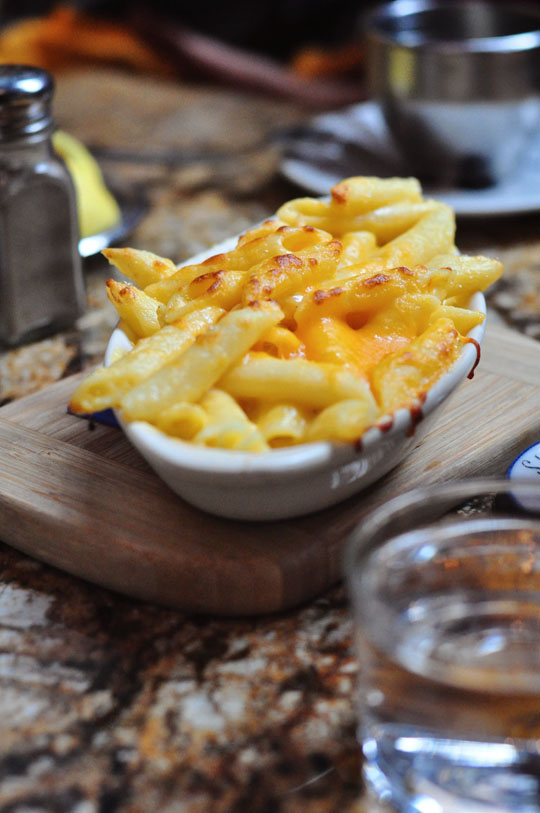 Really…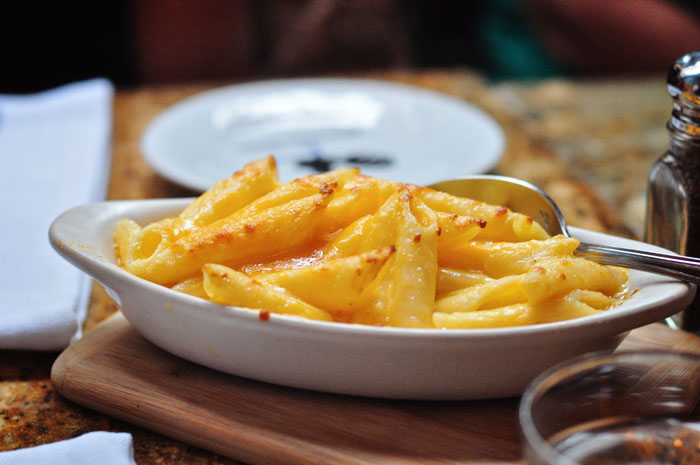 Really…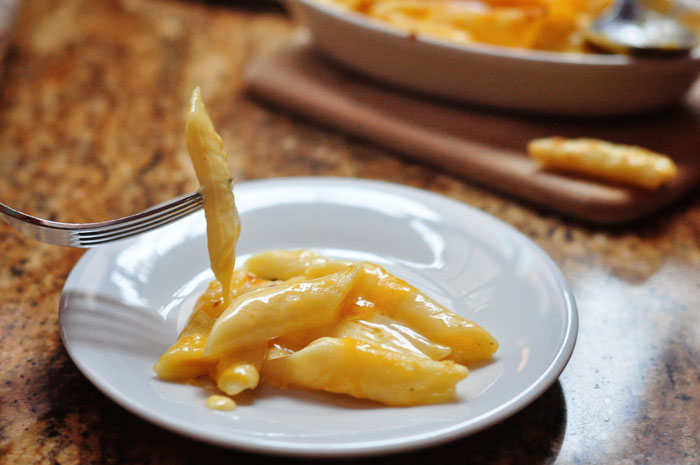 Delicious.
The coolest thing about this place is that they have recipes for many of their menu items — including the Mac 'n Cheese — provided on their website.
Feeling full and satisfied that we actually did end up getting our money's worth after all, we headed out for the last leg of the tour, which was a walk through the College of William and Mary and into some of the historic buildings.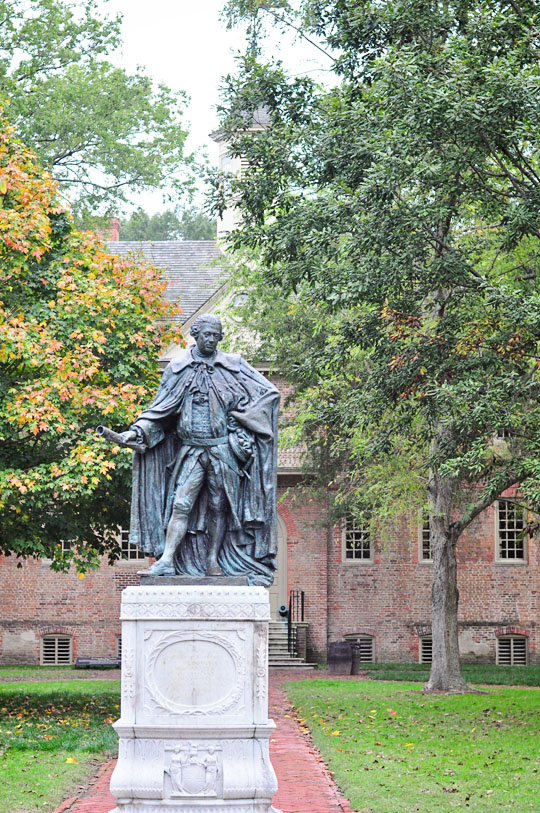 I'll spare you the photos (which I admittedly didn't take for lack of strength to lift my camera), and say that it was a nice wind-down.
Overall, Taste of Williamsburg has a few improvements it could make to transform the experience from "good" to "spectacular." By forming tighter-knit relationships with the local restauranteurs/shop owners and maybe providing maps and handouts of the places we visited and places we should visit in the future, it would seem more like a true culinary tour. It seemed like much more emphasis was placed on the town than on the food.
Yet even with the threat of eventual homelessness hanging over our heads, Taste of Williamsburg provided exactly the distraction I needed to de-stress, and a wonderful way to spend an afternoon.
Good to Know:
They asked us to meet a half hour early, but the guide didn't show up until the start of the tour. So don't panic if you're the only one there.
Garage parking is inexpensive and a short walk from the start of the tour – they provide the info on their website.
Tours are ever-evolving — we didn't try all of the items listed on the website, and we honestly didn't expect to. Wear comfy shoes and come with an open mind!