Foodie Tour Of Chicago's Chinatown And Probably Why My Pants Don't Fit.

*This post is long. But read to the end — there's a little sumpin' sumpin' in it for you.
I realize I haven't finished working my way through the highlights of our west coast trip yet, but I don't know — it's starting to feel like I've invited you to a cocktail party where you thought we might all get plastered and start playing truth or dare at the very worst, but instead I forced you to sit on the sofa and watch slide shows of family vacations.
And if I'm going to do that, I may as well skip ahead to one of my very favorite experiences during my past month of travel. It happened in a city that I didn't expect would surprise me. I thought it would be — you know — just another city. Tall buildings, maybe a park or two, some trendy eateries and high-end boutiques, yada yada. What I didn't expect was to fall completely, madly, head-over-heels in love.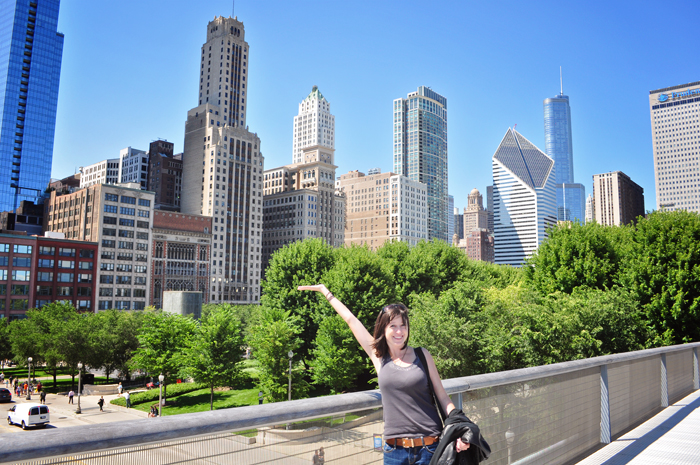 Friends, meet Chicago.
She's an impeccably dressed city of approximately 2.7 million people, making her the third most populous city in the United States behind — you guessed it — New York and L.A. She's 180-years-old, but let me tell you — she looks good for her age. Fresh and vibrant, she exudes none of that yellow L.A. smog or scent of N.Y. urine, and she probably has one hell of a plastic surgeon because visually, from every angle and even up close, she's really quite stunning. Of course — my sister and I didn't go trouncing around the South Side, mind you, where I'm sure we might've gotten a glimpse of some pimples or wrinkles or maybe a Ruger 9mm semiautomatic, but we weren't about to go looking for these things.
Since my sister opted to move to the 'burbs, we didn't have an excess of time to explore downtown. One place she knew she wanted to see while I was there was Chinatown. Having just visited the largest Chinatown in the U.S. only a couple of weeks before in San Francisco and perused the significantly less impressive Portland Chinatown only the week before, I kind of rolled my eyes at her infantile request because obviously I was a seasoned and all-knowledgeable Chinatown goer by that point, and therefore it was probably a complete waste of my time to visit yet another.
Sigh.
Another round of caviar? I couldn't possibly.
What? You want to give me Monet's original Water Lilies? I've been staring at the print for years. It's tired.
Oh, please. Once you've slept in one set of 1,000 thread count authentic Egyptian cotton sheets, you've slept in them all. Take them away.
And then I remembered my all-consuming obsession with dim sum. You know, the delicious, handmade little buns and dumplings stuffed with various meat, seafood, and vegetables, the thought of which has me quite literally salivating at 8:00 in the morning. My first real taste of dim sum was from an authentic Chinese meal my dad's girlfriend made for us, and I hadn't been able to stop thinking about it since. The first time we tried having it at a restaurant, however, was a little bit disastrous. Andi Fisher, foodie, travel connoisseur, and San Francisco native of Misadventures with Andi, suggested we try an amazing dim sum restaurant called Yank Sing in downtown San Francisco. After a twenty-minute wait at 1:00 in the afternoon even with reservations, we knew we must be hitting the dim sum jackpot. The four of us — Justin, Becca, Brad and I — were seated at a table, and before our server could even take orders for our drinks, we were overwhelmed with cart after cart of steamer trays filled with barbecue pork buns and pot stickers and shrimp dumplings and taro puffs. Justin, in his hunger-induced excitement, just started pointing, and before we knew it we had a table full of steamer trays and no idea how much it all cost. And then, about thirty seconds later, it was all gone.
Fail.
A delicious fail, but still a fail.
So when Kelly suggested we hit up Chicago's Chinatown, I knew this was a chance to do it up right. Remembering how much I loved the food tour Justin and I took in Carrboro, NC, I figured a food tour would be a perfect way for us to explore and actually learn about the food we were eating, rather than just inhale it. I contacted Chicago Food Planet Food Tours because, in all honesty, I really liked their website. It's beautifully designed, informative, and super easy to navigate. The website didn't lie because they were extremely friendly to work with and helped my sister Kelly, my friend Rachel, and me book their Chicago Chinatown Food Tour. I was a little worried because it was their most expensive tour and it had fewer stops than the others, but — SPOILER ALERT — there's a reason for that, my friends. A very good reason.
Armed with their informative email with detailed directions, we found our way to an inexpensive parking lot near Chinatown. We were early, so we had a bit of time to explore streets as I made a mental comparison to what I'd seen in San Francisco. Smaller and much less touristy, I felt more like we were in Asia than I had in the Chinatown of San Francisco. Though it was definitely small — really just one street. (Or so I thought. We later learned we were very wrong.)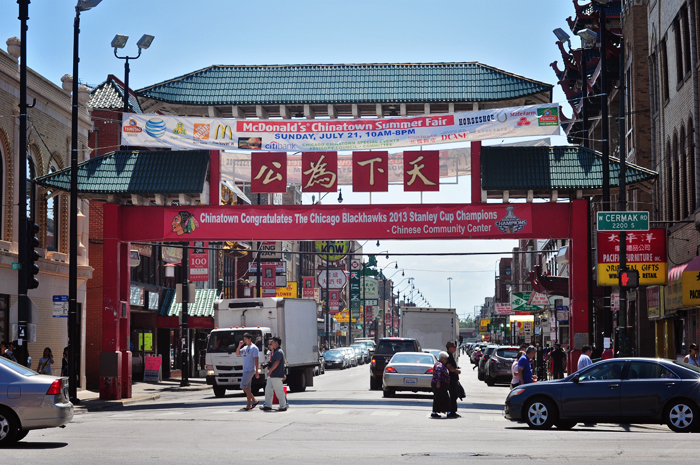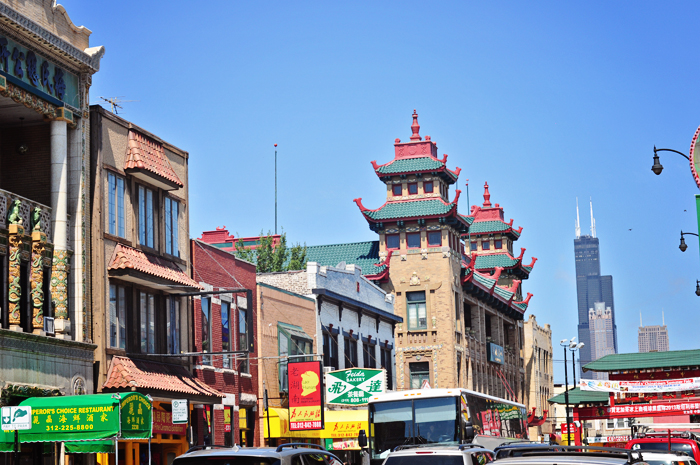 Eventually we made our way to the lobby of our first food tour stop, Triple Crown.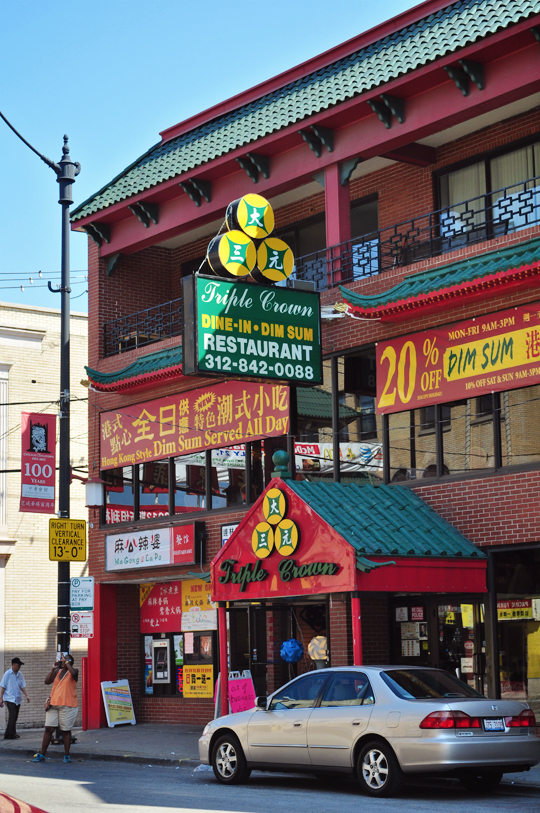 There, we met our tour guide, Ploy, and a couple who would be joining us on the tour, Andy and Renae.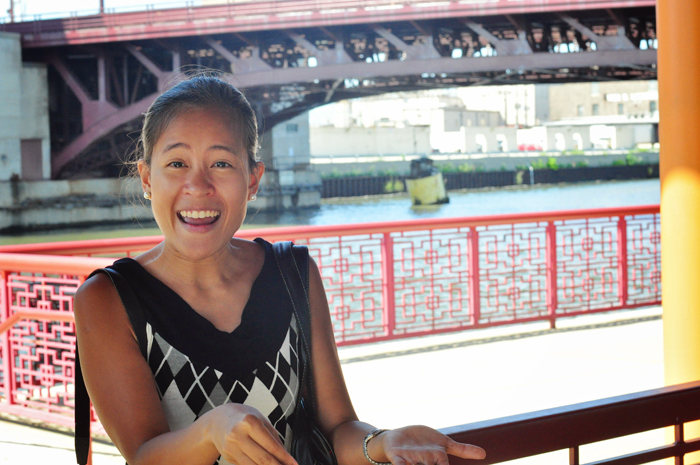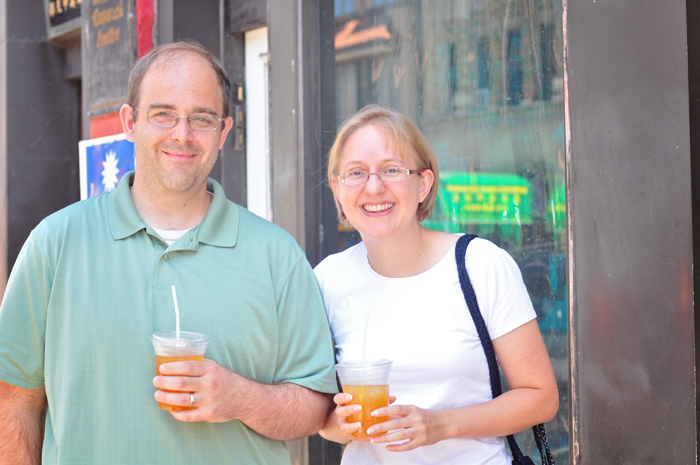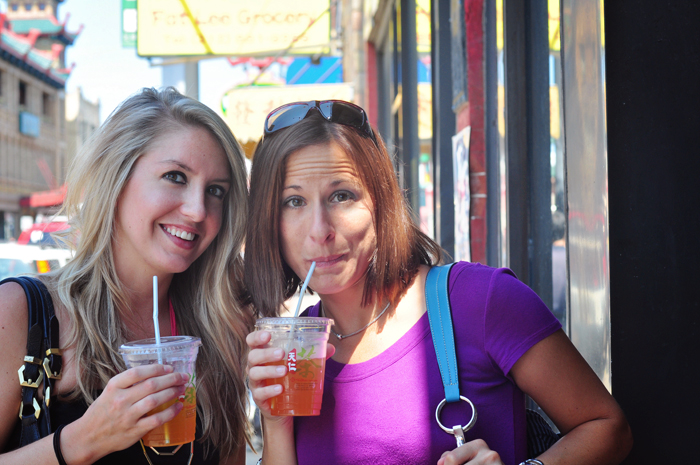 Before we even started, I quickly learned that this was more than just a food tour. It was a Cultural tour, Ploy implored. We'd be learning not only about the food we were eating, but the regions in China from which they came. As she handed us a beautiful pamphlet with a food guide, tour map, regional map of China, Chinatown guide, and even a neighborhood map of Chicago (which my sister later framed as a simple DIY art project), she explained that just like America doesn't have only one region of cultural cuisine, neither does China. For our tour, we'd be exploring Mandarin, Szechuan, Canton, and Shanghai food, and Ploy was set on ensuring we knew what that meant.
Our first stop, Triple Crown, would be the Canton representation, where we'd get to enjoy some dim sum. We were seated at a big round table and Ploy explained the art of pouring tea for our friends, a "tradition" we continued throughout the duration of the tour.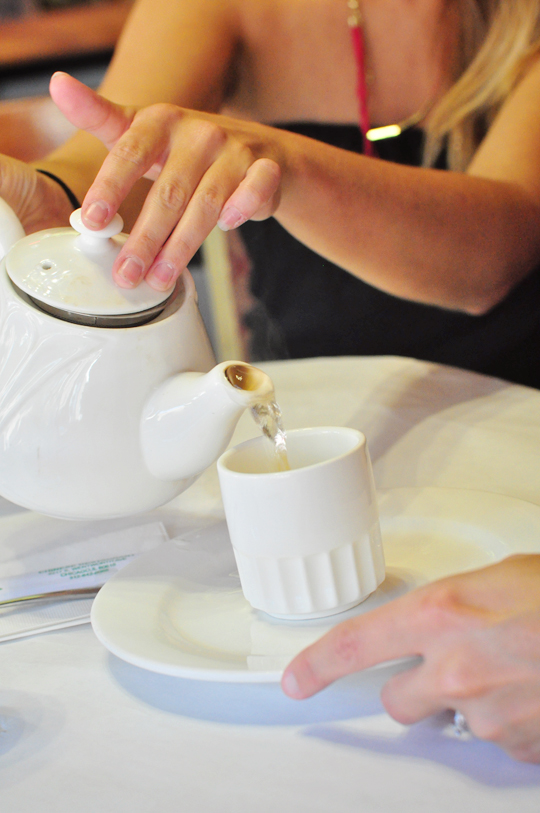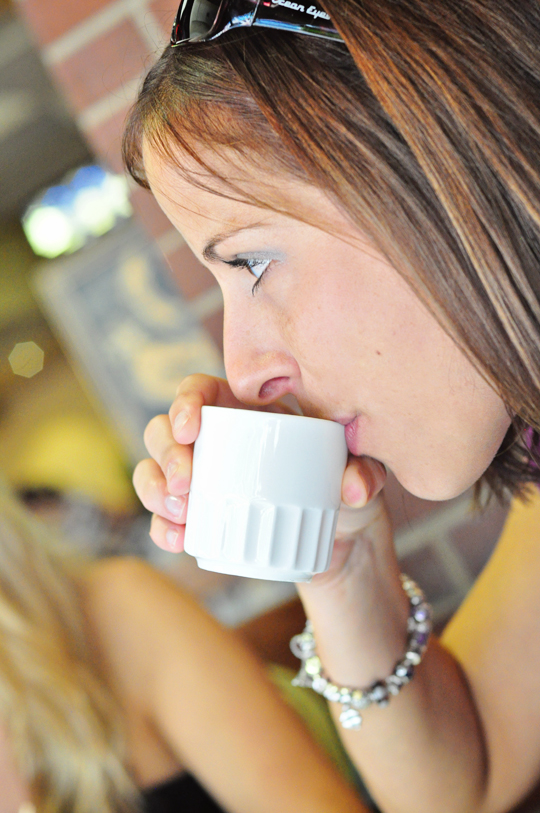 While we sampled the smorgasbord of delicacies that soon arrived, Ploy animatedly told stories about various emperors, The Buddha, the restaurant owners, and various Chinese customs.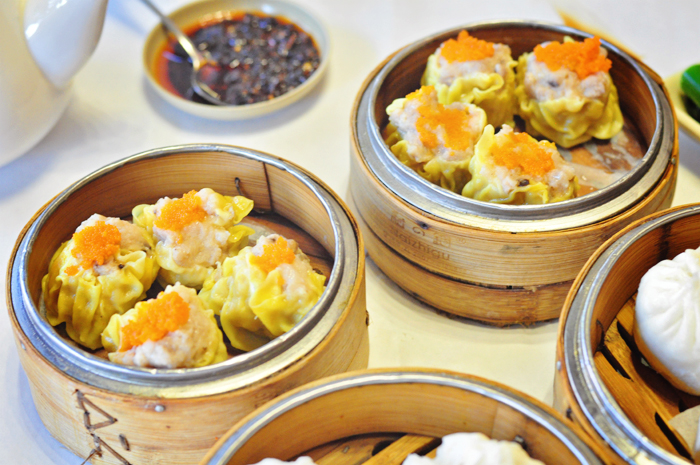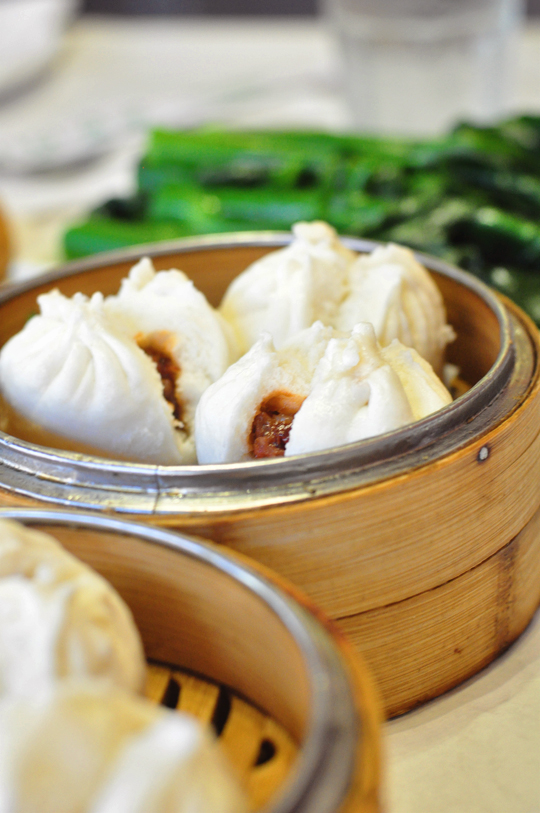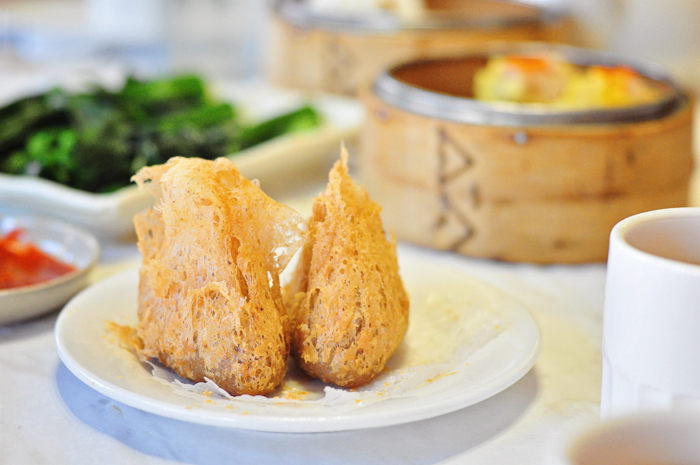 By the end of it, I felt like the smartest white chick to ever walk into a palace of dim sum, and also I felt full.
SO full.
And that was just the first stop!
We lugged ourselves out of there and out into the streets. Fortunately, Ploy knew we needed time to digest. For the next hour or so, we meandered the streets while she told us about the history of Chinatown and about the people and culture of China.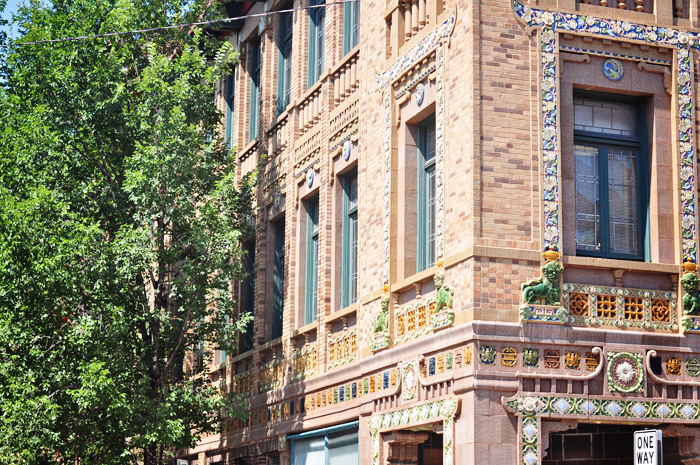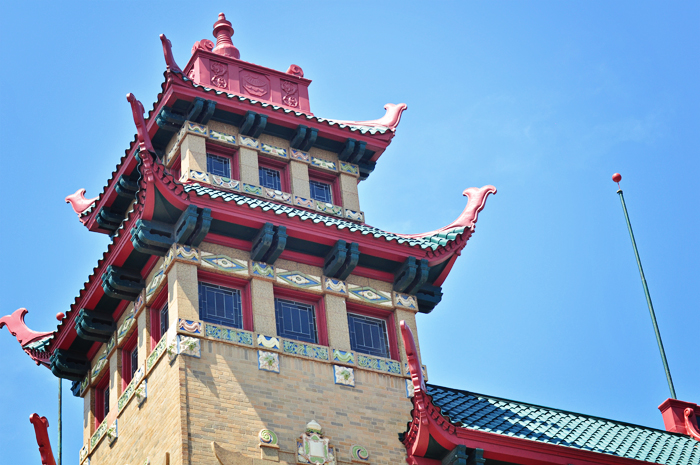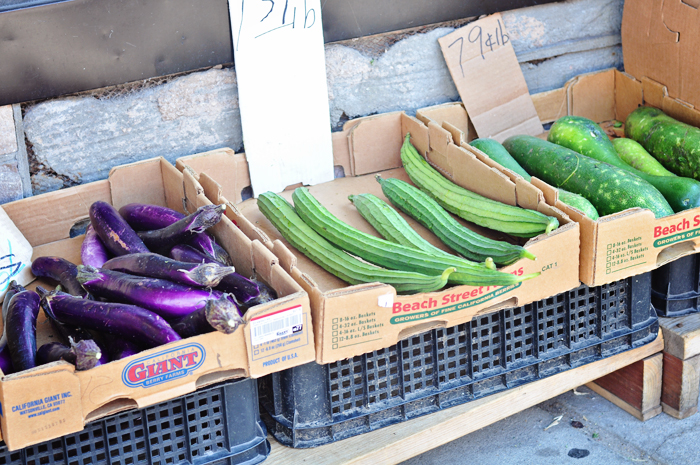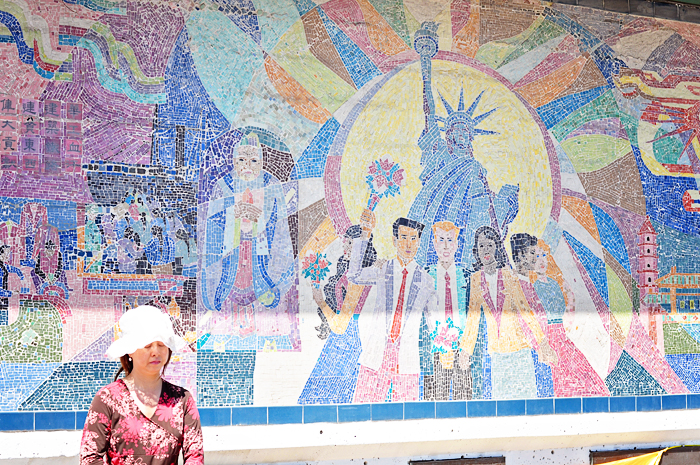 We peeked inside a Buddhist temple and stopped for tea at Ten Ren Tea & Ginseng Co., where we saw huge jars of bulbous ginseng and learned about its healing qualities (sorry, no photos allowed inside the store).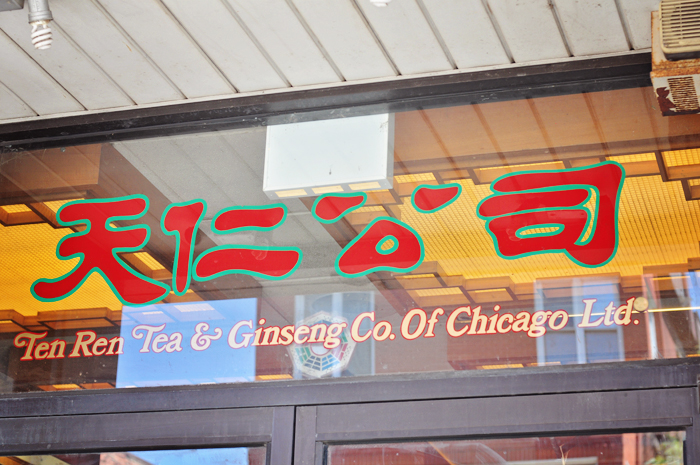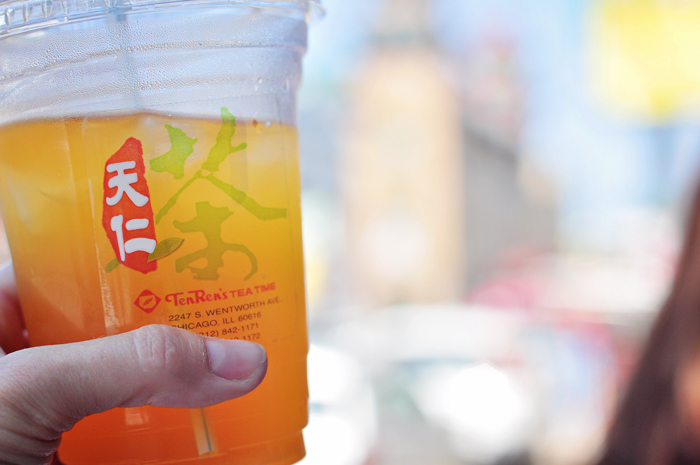 As we walked, we learned that what we'd assumed was all of Chicago's Chinatown was really just a part of it. There's actually a whole newer section known as — get this — "New Chinatown," with modern architecture, tons of restaurants and shops, and a completely different vibe.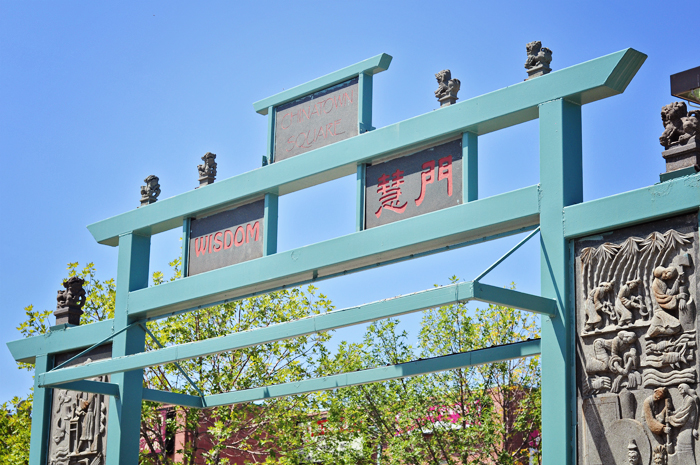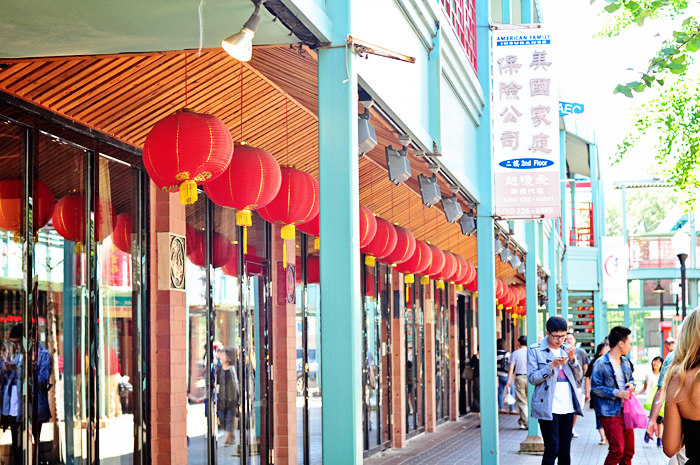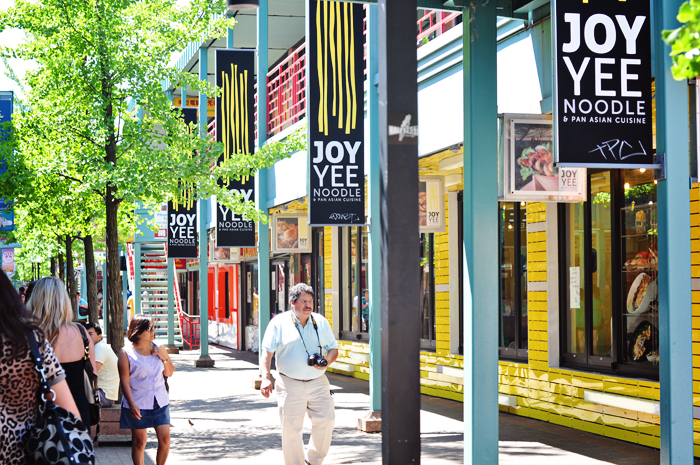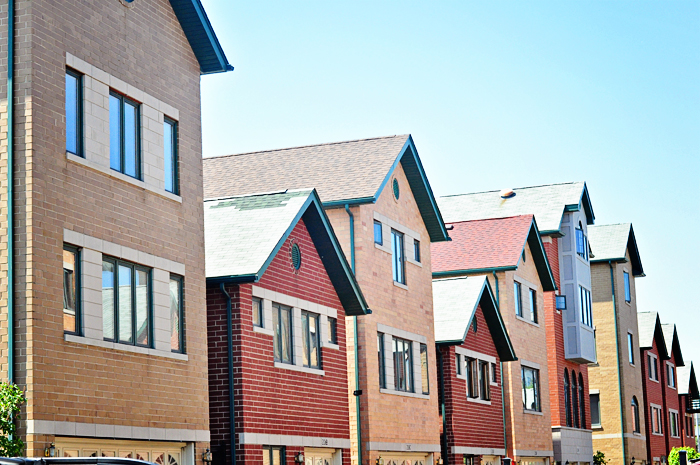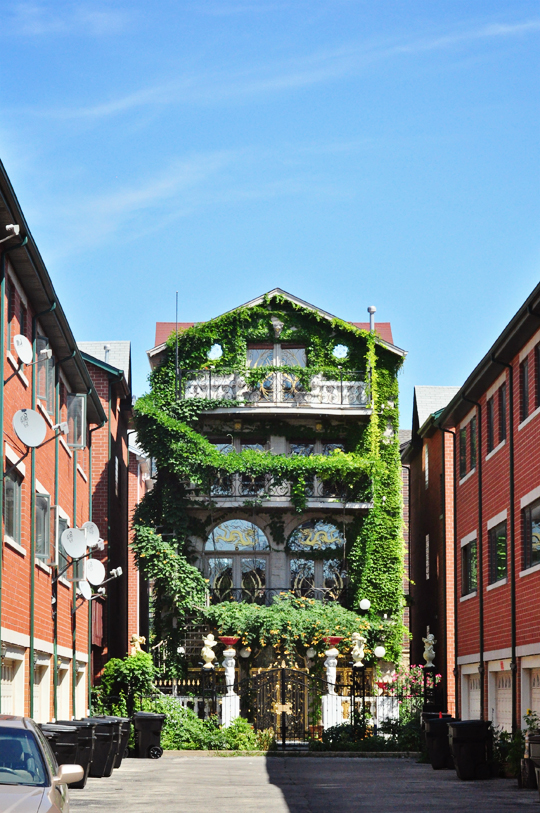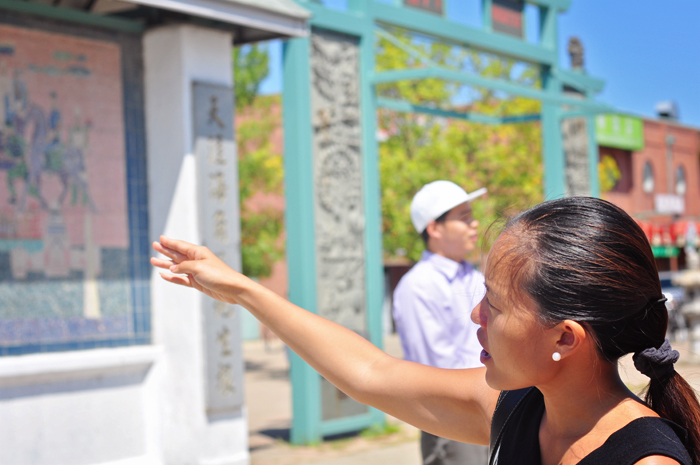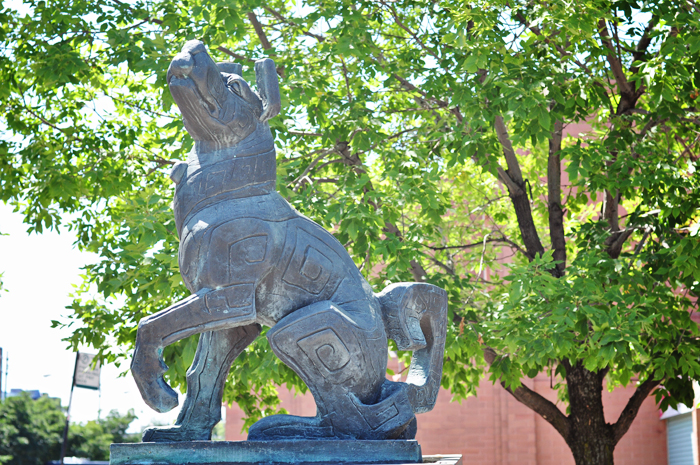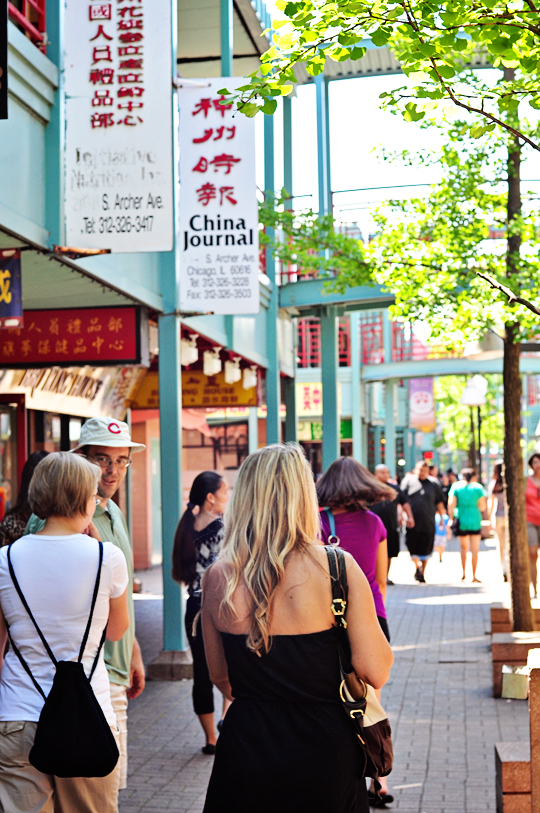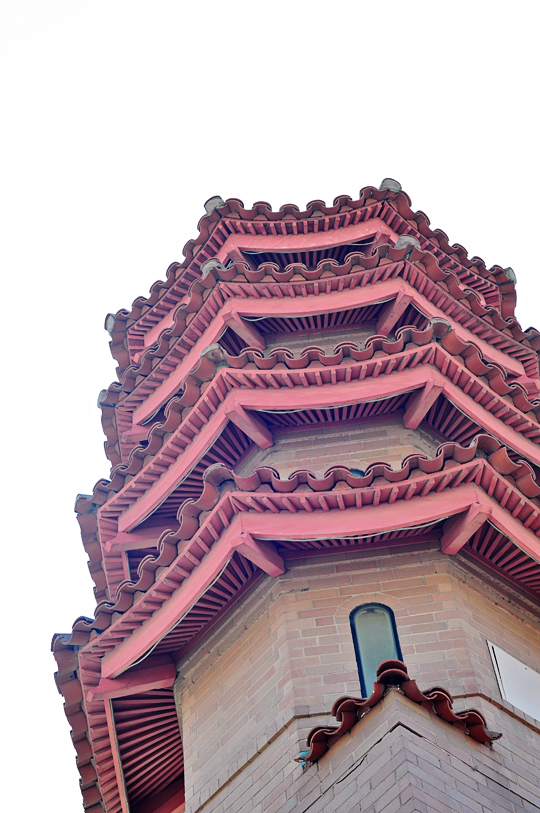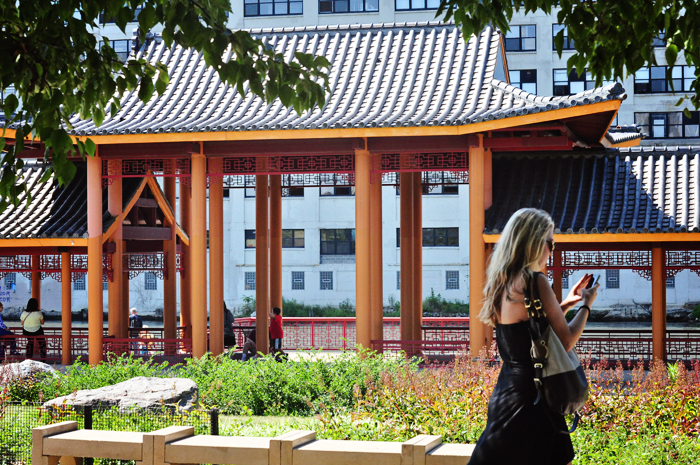 The next stop was Lao Sze Chuan, owned by celebrity chef Tony Hu.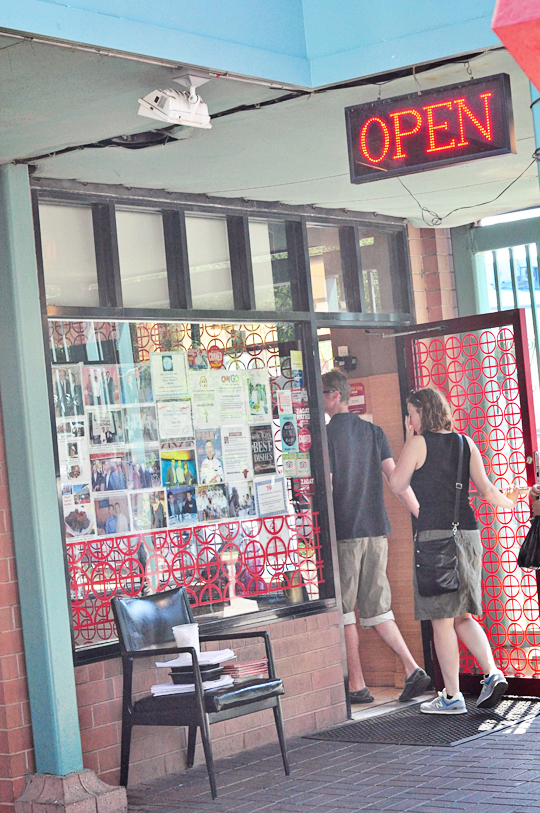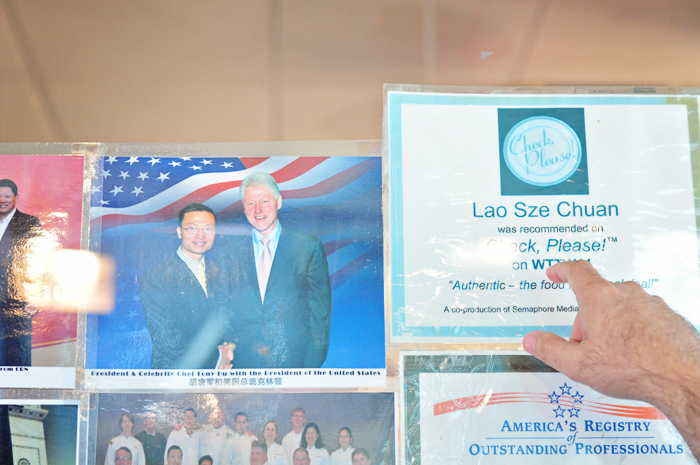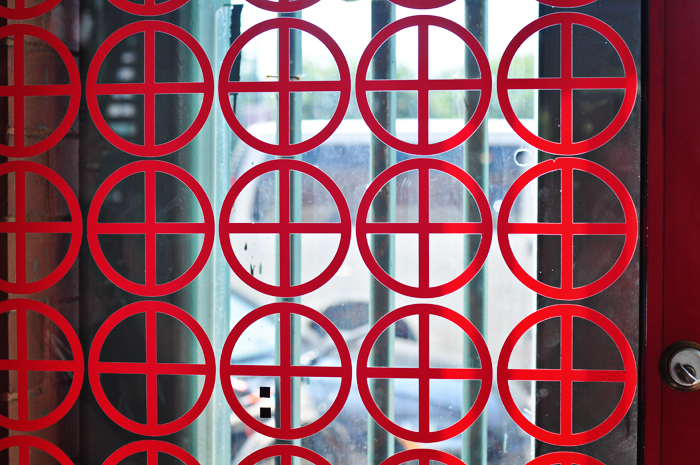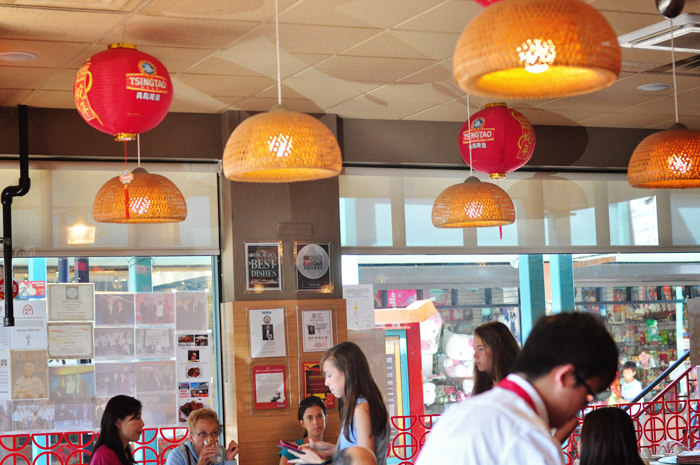 Here, we ate what basically amounted to another entire delicious meal where the theme, it seemed, was SPICE.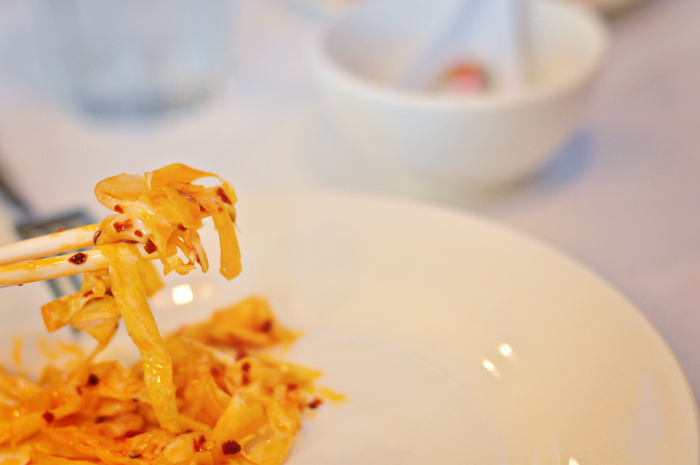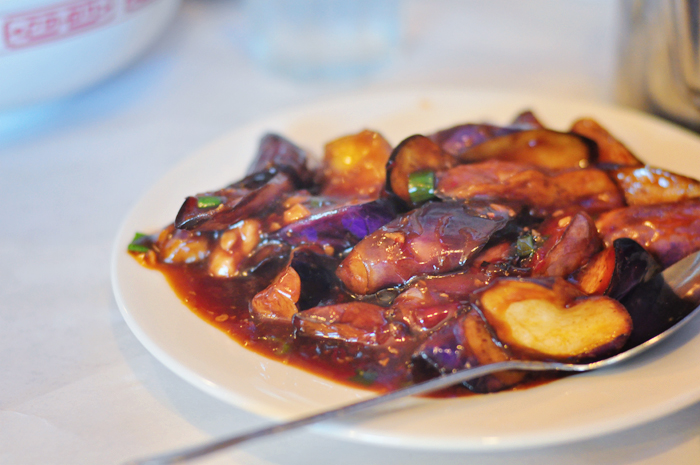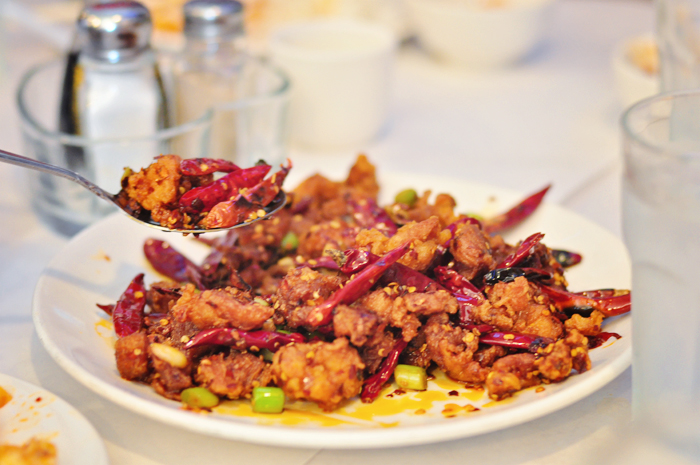 Eyes watering and noses running (though it was seriously worth it), we walked to Lao Beijing.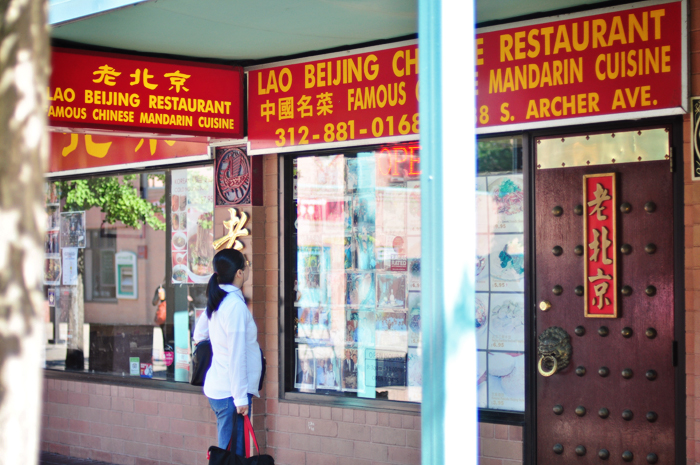 I honestly didn't think I could handle any more food, but when I saw the steaming plate of Peking duck, I changed my mind.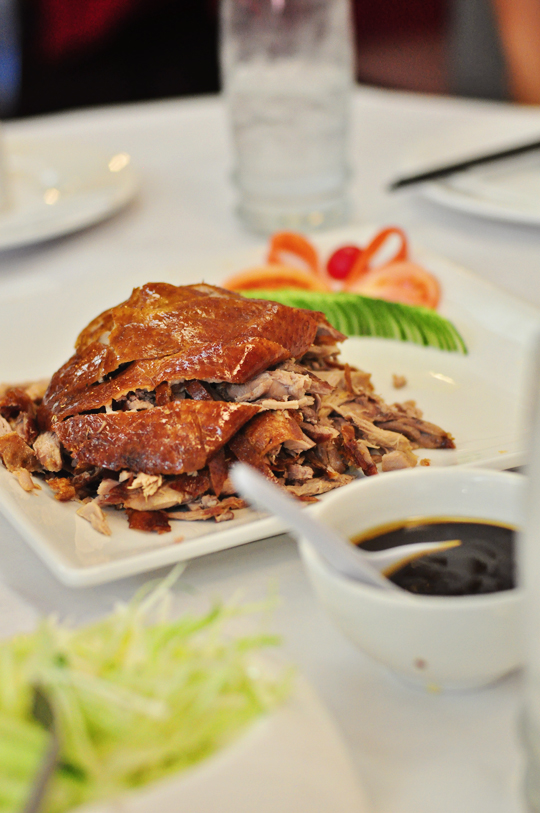 Ploy showed us how to assemble our "duck wraps" with a little slaw, some sauce, and just the right amount of meat so we'd fully appreciate all of the incredible flavors.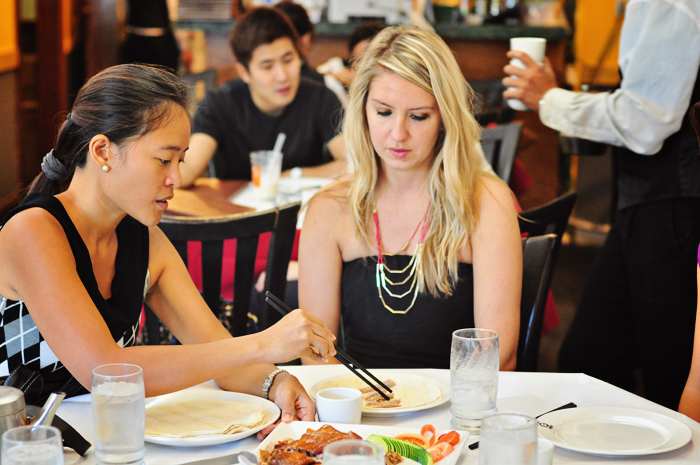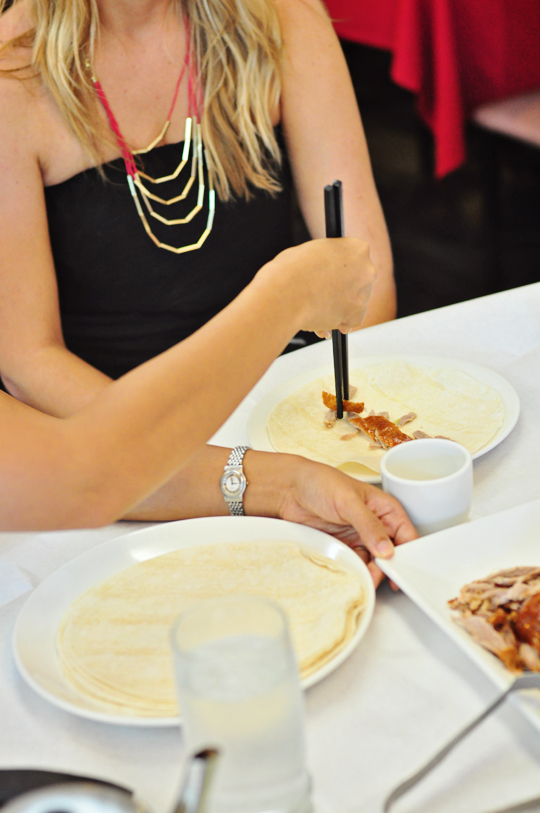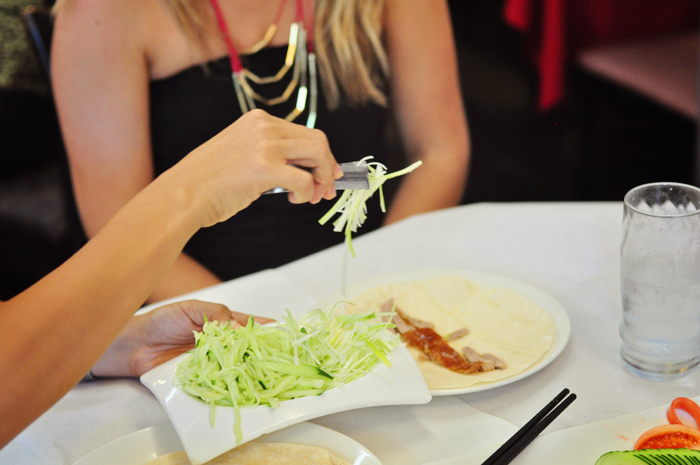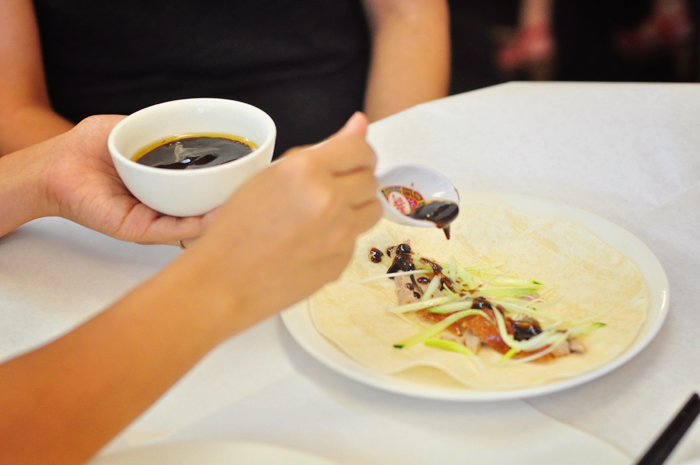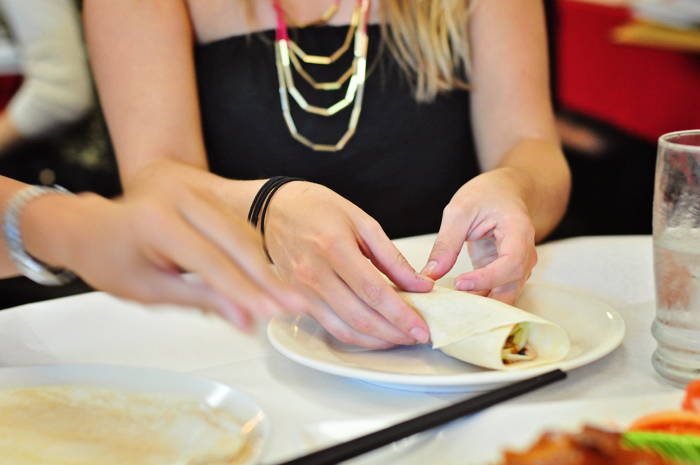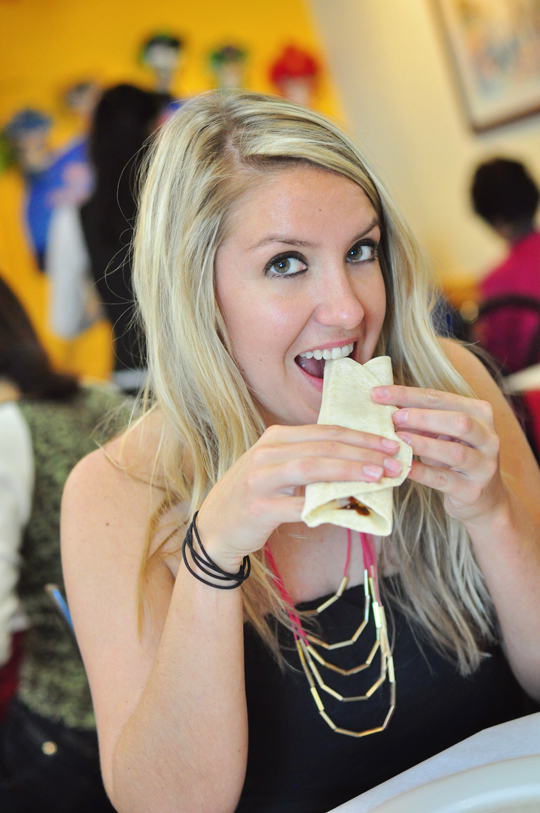 While we ate, she told us about the interesting history of the dish and its political significance. The duck was sweet and decadent. Crispy and chewy. I might've had two.
After that? SO. STUFFED.
But there was still one more stop — the Saint Anna Bakery and Pastry Shop, where we each received an absolutely divine Chinese Egg Tart.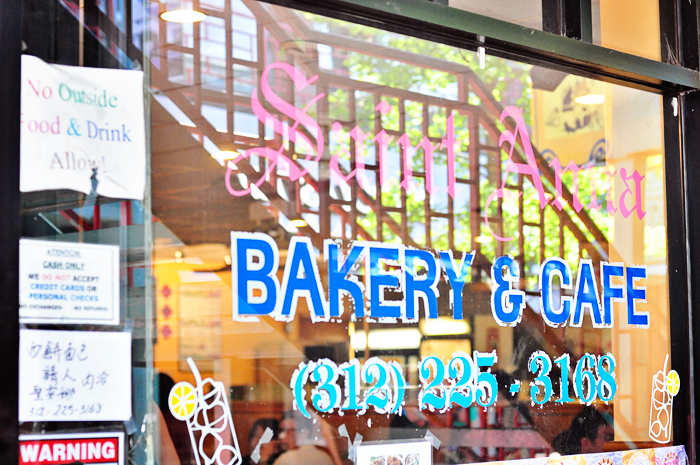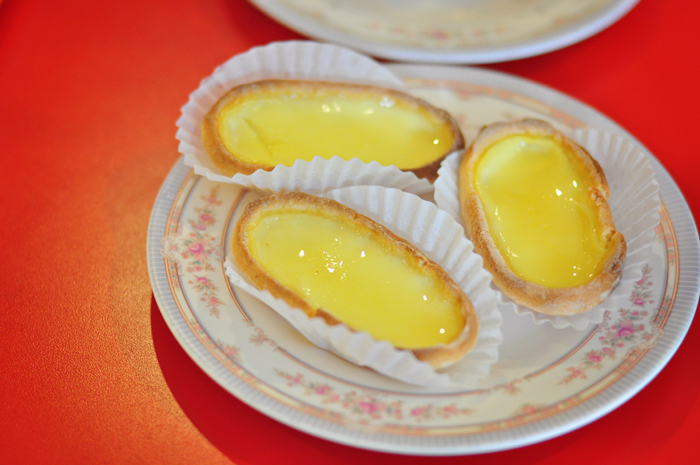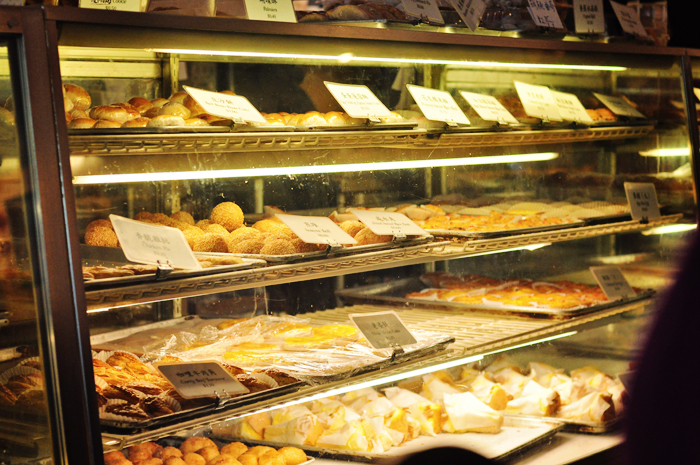 It was the perfect way to end what amounted to four hours of amazing food, fun, and an education about the Chinese culture.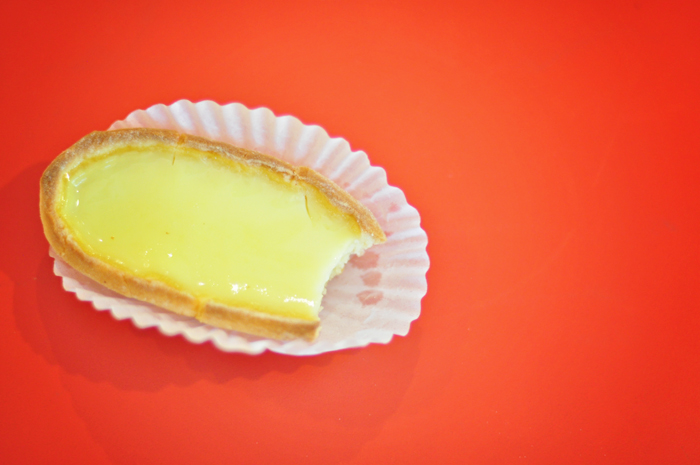 Overall, we couldn't have asked for a better experience. Rachel, who's newly diving into the realm of eating adventurously, raved about the experience and all of the things she never would've tried on her own. I'd finally sated my dim sum craving and tried several new things as well. (Hi. My name is Katie and I'm a HUGE fan of Chinese broccoli and egg tarts. I'd eat them every day if I could.) And Kelly, it turns out, could eat those fried taro puffs for breakfast, lunch, and dinner and never get bored.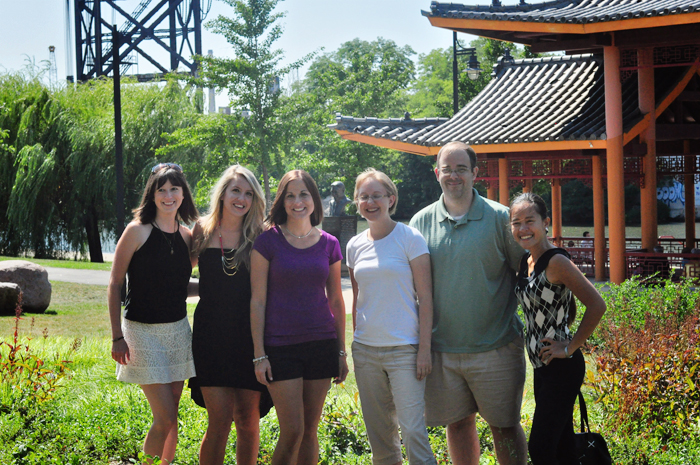 When I go back to Chicago to visit my sister, I will definitely be touring with Chicago Food Planet again. And that's not just because, disclosure — they comped the price of my tour and gave a discount to my friends in exchange for me writing about my experience with the written understanding that my review would be 100% honest — it really was that incredible. As of right now, they're offering two other cultural food tours: Gold Coast/Old Town, and Bucktown/Wicker Park.
The toughest part will be deciding which one to take.
And hey, guess what! They're offering Domestiphobia readers a 10% discount on all of their tours, valid if you book by 12/31/2013! Just use the code FOODIEFUN when booking your tour online. Whether you're going to Chicago, already live there, or know people who do, pass this to your friends. It would make an incredible gift.
Good to Know:
You can take Chicago trains to get close to Chinatown, but research ahead of time — the closest rail was closed while we were there.
Chicago Food Planet will send you all of the pertinent information — directions, parking, what to wear, etc. — when you book.
Tours are ever-evolving — if you take the Chinatown tour, there's no guarantee it will be exactly the same one I did. But I'm pretty confident in saying that it will be amazing.