Insert Joke About Cutting the Cheese Here.
I was at the grocery store the other day, and I saw a hunk of cheese.
A hunk of cheese that, it appeared, had no earthly business sitting in a grocery store in Fayetteville, NC.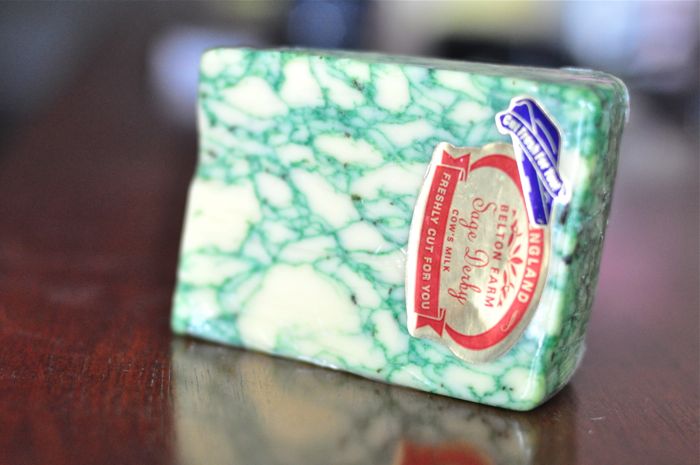 I moved on.
Then I came back.  Then I picked it up.  I stared at its martian green marbles, tried sniffing through the plastic.
Then, instinctually, I set it back down.
No earthly business, I thought.
But I came back again.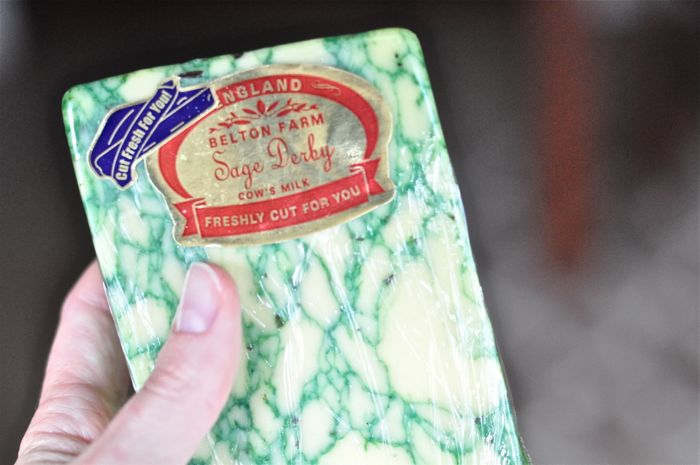 It's just so enticingly green, I thought.  I love green things.  Green is the color of nature.  And dragons.  And travel.  All of the things I love.
(Okay, so travel isn't green per se, but green is the color of U.S. paper currency.  Which allows me to travel.  So there ya go.)
Green is also the color of mold, which, okay in most cases maybe isn't a good thing, but I'm pretty sure I read somewhere that mold and cheese belong together.
Just like me and Scott Bairstow.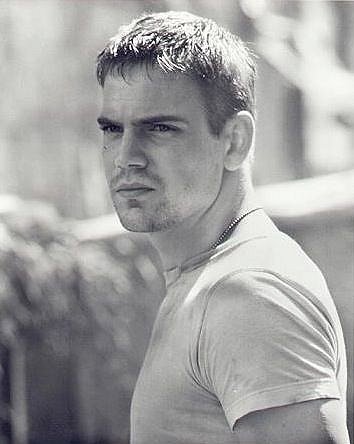 He just doesn't know it yet.
So by that logic, this must be the BestCheeseInTheWorld.
So I bought it.  And there, in the store, through the miracle of modern technology, I found a recipe to use it with as well.
Since I had no idea what this cheese tasted like, I didn't want to risk buying it and have it sit in my fridge for a decade while I, still rife with indecision, decided what flavors would go well with it.
While I was at it, I also did a little background research a la Wikipedia.  Apparently it's sage — not mold — that creates the marbled effect (hence the name), and it's pronounced daaahrby — not derby — with a proper English accent, as the British are wont to do.
When I got it home and ripped into the packaging with the ferocity of an 11-year-old girl at a Justin Bieber concert, (hey — I like my cheese), I actually found the flavor pretty mild.  Nothing to get worked up about.
But the open-faced sandwiches I ended up making with it?
Those are worth mentioning.  And I would venture to say that you don't need to hunt down Sage Derby cheese to make these bad boys.  Any good melting cheese will do the trick.
They're open-faced corned beef, cheese, and pickled onion sandwiches.  I found the original recipe here, on Food.com, and it's everything you could look for in a summer weeknight meal:  it's fast, and it uses the broiler so you don't need to heat up the entire house with the oven.
To make them, you will need:
1/2 onion, sliced paper-thin
2 Tbsp. cider vinegar
2 Tbsp. water
2 Tbsp. sugar
Pinch red pepper flakes
4 slices of Irish Soda Bread or French Bread or some kind of thick, crusty bread
Mayonnaise
Spicy Mustard (like Dijon)
Thin-sliced corned beef
Sage Derby cheese (or some kind of good melty cheese you know you like)
1.  Slice your 1/2 onion as thin as possible.  This would be much, much easier with a mandoline.  You know.  In case anyone wants to buy me one.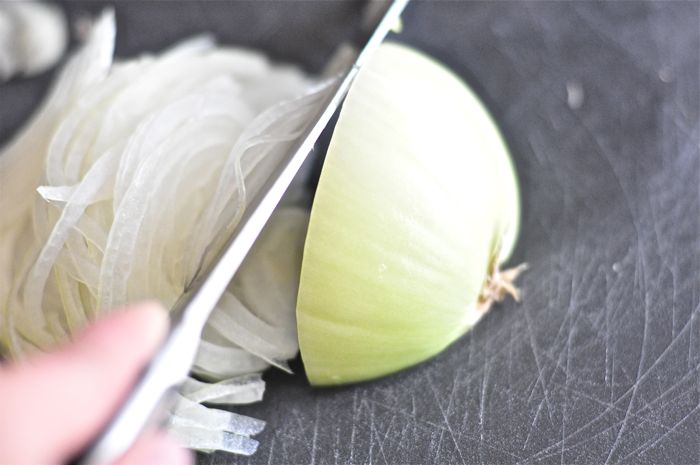 2.  Stick the onion in a bowl, and add 2 tablespoons of cider vinegar…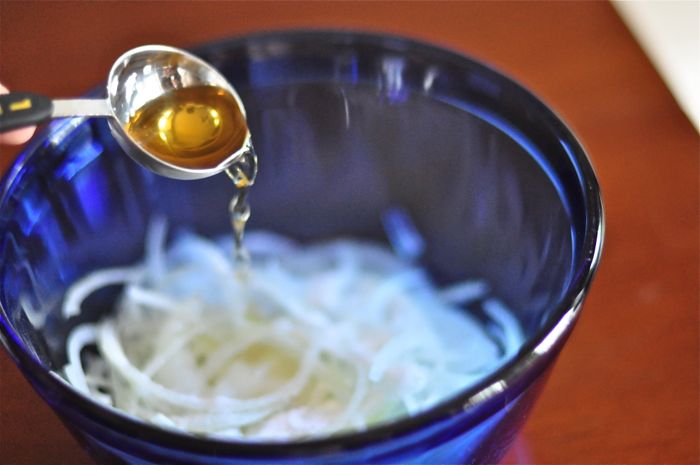 …2 tablespoons of water…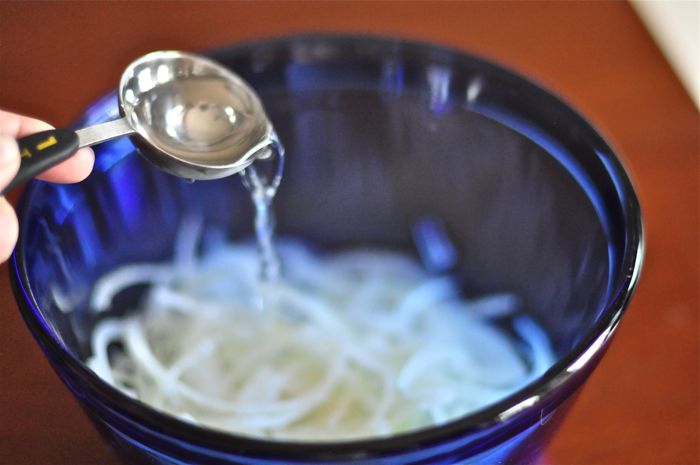 …2 tablespoons of sugar…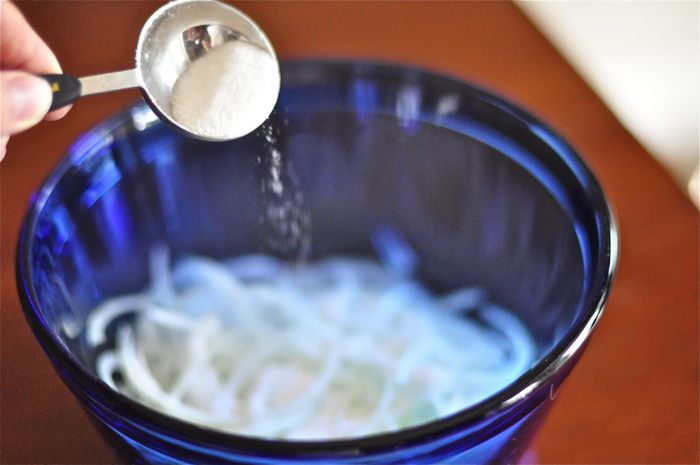 …and a pinch of red pepper flakes.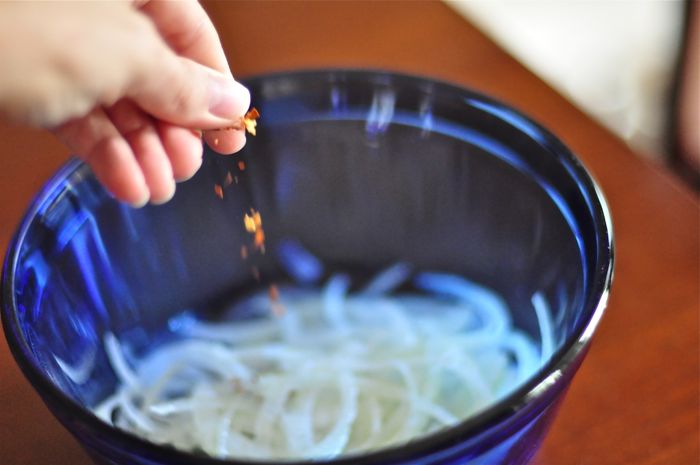 Toss to coat, cover the bowl, and stick it in the fridge.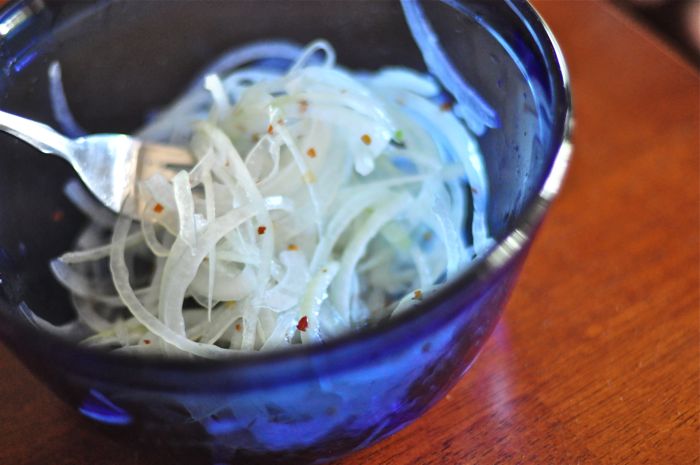 3.  Preheat your oven's broiler.
(Um.  I don't have a photo of that.)
4.  Slice your bread as thick as you'd like.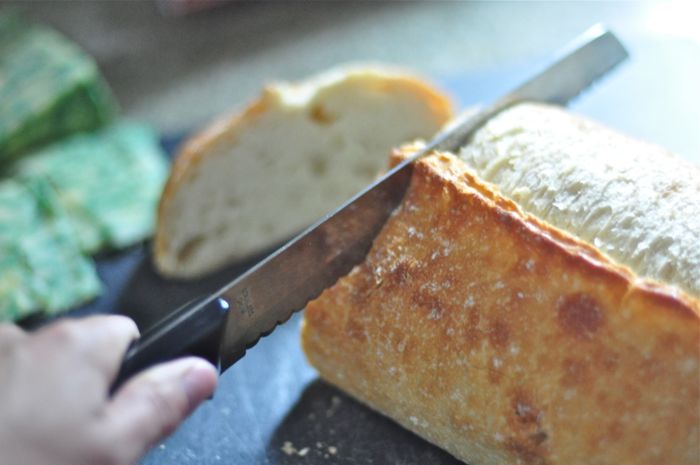 5.  Spread a thin layer of mayo and spicy mustard.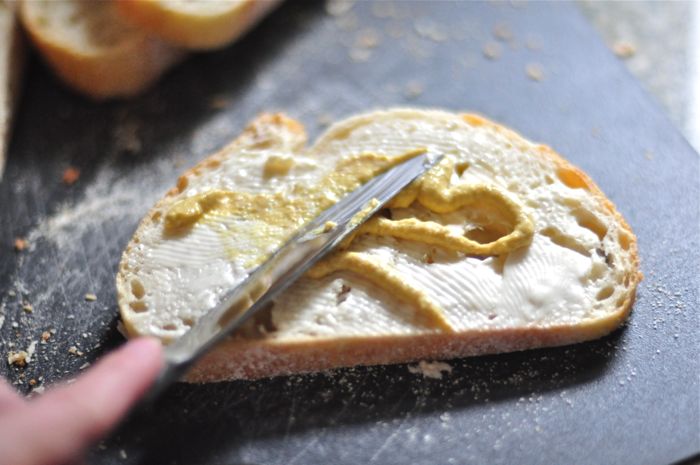 6.  Remove your pickled onion from the fridge and drain the excess liquid, then add that to your bread slices and top with corned beef.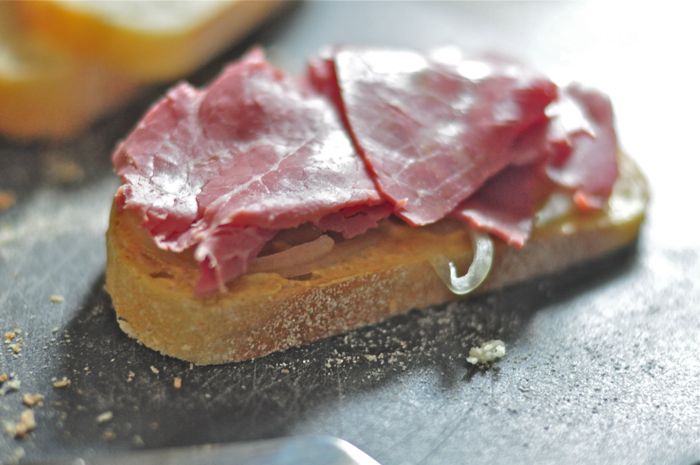 7.  Slice your cheese thin and add that as the final layer.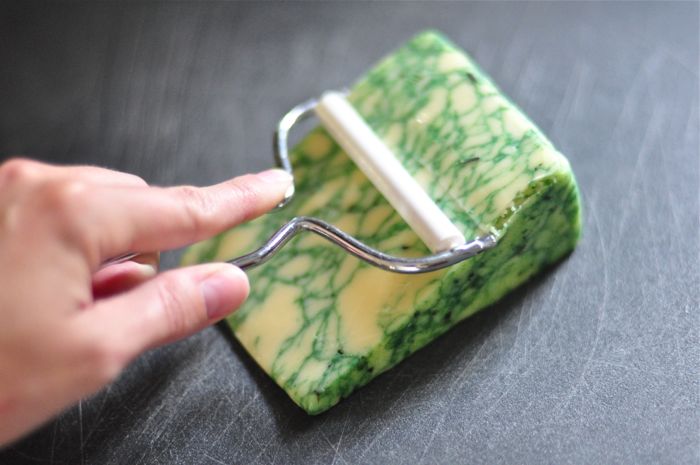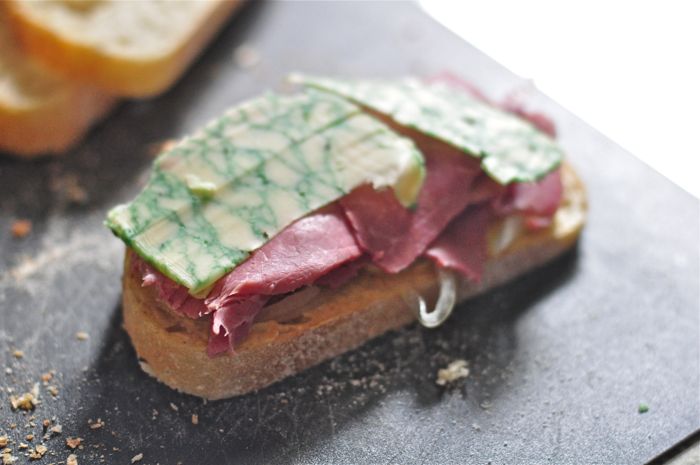 8.  Place your sandwiches on a baking sheet and stick 'em 6-8 inches under the broiler for 3-4 minutes.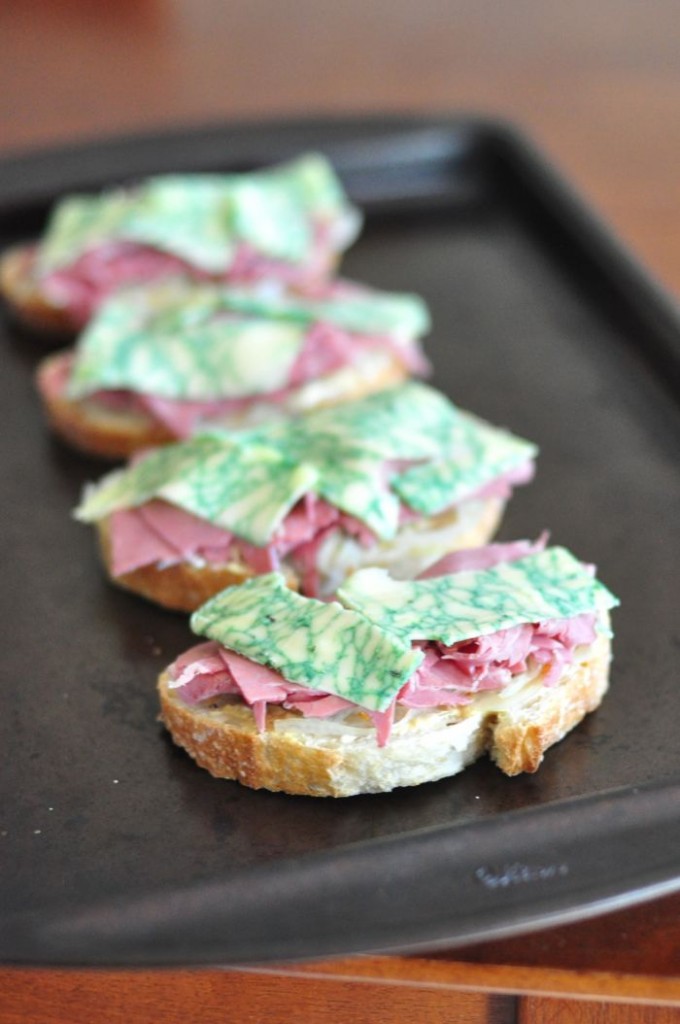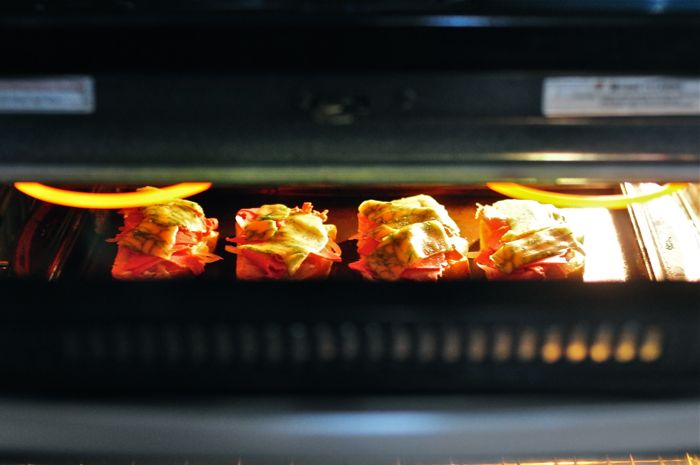 Watch close — you don't want to burn the cheese!
9.  Okay, so it looks like boring peasant food, but trust me.  Just take a bite.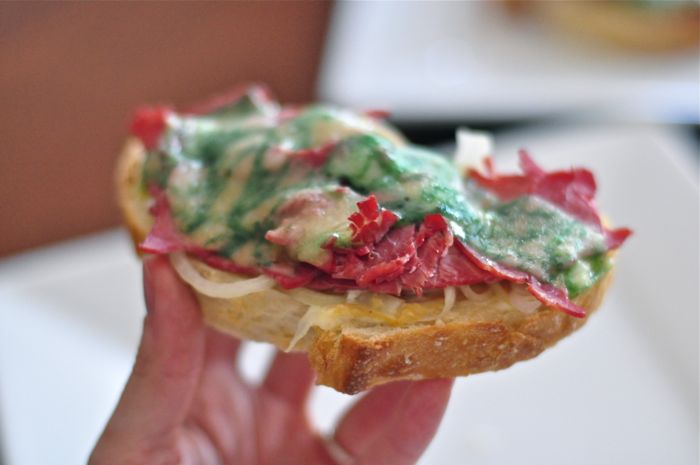 Feel better?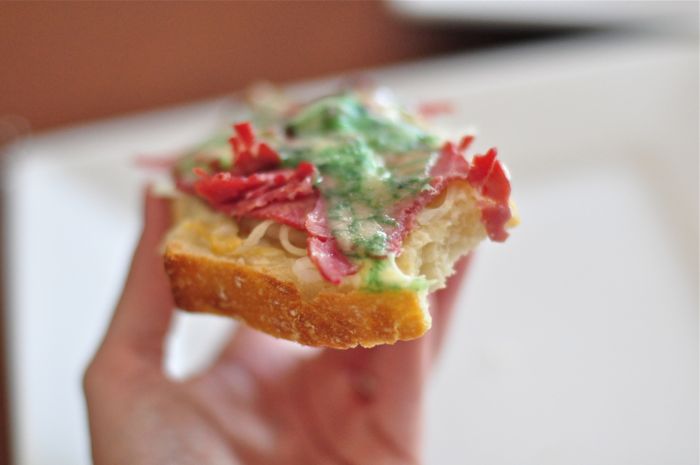 I mean, if I'd slapped a French name on it, like Croque-Monsieur, you'd be all over these puppies.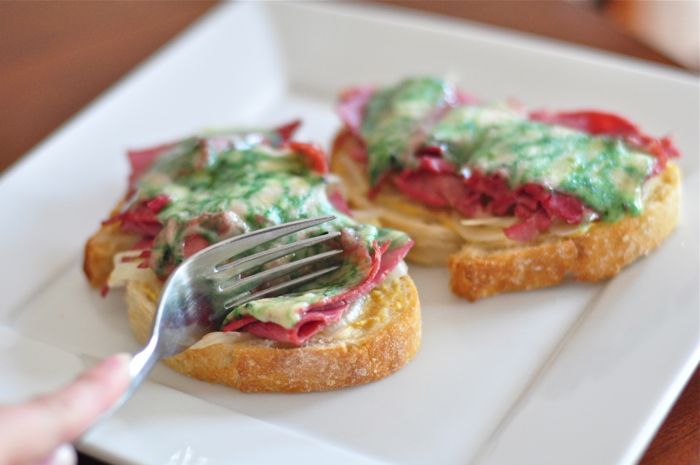 I know we were.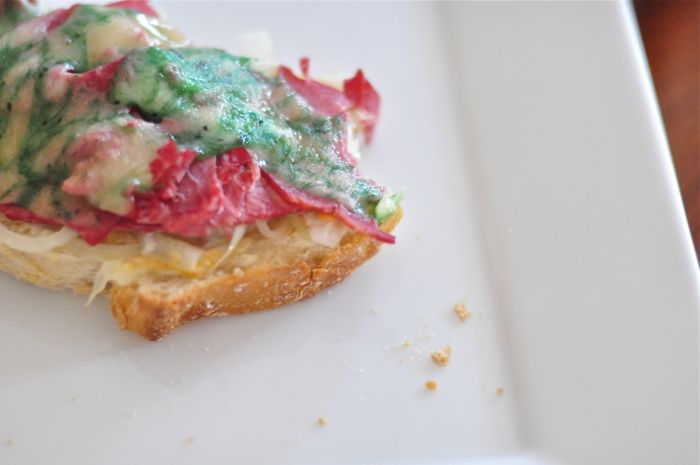 Two nights in a row.