This Might Be Scarier than Sponge Bob with a Speculum.
I have something to tell you.
It might make you think I'm odd.
But you probably already think I'm odd and you're still here, so really, that makes you kind of odd.
Which is probably why we get along so well.
Anyway.
It has to do with how much I dread a regular check-up like appointment I have to make with a certain specialist where I sit in an exam room so he/she can stare into certain orifices and pull skin to the side and poke around.  It's the most uncomfortable thing in the world.  Like an invasion of my entire being.  I don't know this person.  She doesn't know me.  Yet here she is, looking inside, inwardly (if not outwardly) judging my hygienic practices and probably how I wear my makeup.
Yep.  I'm scared of the Eye Doctor.
What?
You thought I was going to say something you thought was uncomfortable like Gynecologist or Dentist, didn't you?
Well.  I have news.  Those folks have nothing on Eye Doctors.
I've had the same Vag Guy for the past 5 years.  I'm comfortable with him.  My vag is comfortable with him.  We know what to expect and how long it will take.  There's no guesswork involved — just some mild groping and a tissue sample.  The entire yearly appointment takes all of 5 minutes for him to get in and get out.  Wham, bam, ThankYouMa'am.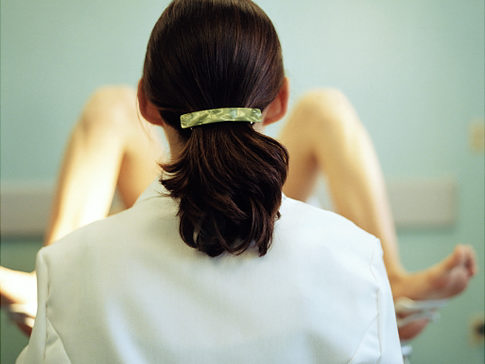 And the Dentist?  Them's small potatoes.  You see the Dentist for all of 30 seconds at the end of an appointment, and he/she is always super nice in a desperate attempt to make up for the fact that everybody hates them.  It's the hygienists you have to bond with.  Until recently, I had the same hygienist the entire time we lived here.  Every 6 months, Penny was my buddy.  She taught me how to floss properly, introduced me to Reach Gum Care woven floss, used water — not scrapers — to clean my teeth, and basically renewed my entire faith in the dental industry.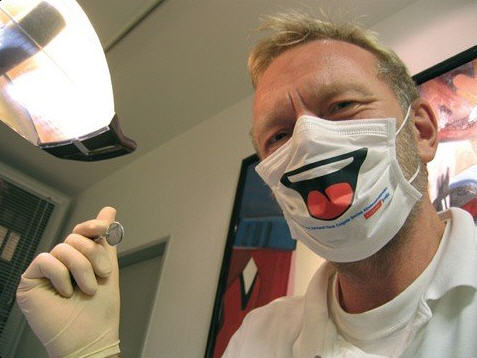 Nothing scary about that.
Then there's the eye doctor.
I abhor going to the eye doctor.
I think I'd rather get a pap smear by Sponge Bob than go to the eye doctor.
Okay.  That's not true at all.  We all know how I feel about him.
(Seriously, I was going to try to find a funny Sponge Bob photo to put here, and I couldn't do it.  It was just too scary.  You'll have to use your imagination.)
Not to belittle the undoubtedly interesting and challenging field that is optometry, but I have to say — it seems a lot less exact than the previous fields mentioned, which involve things like lab tests and visual verification to determine when something's out of whack.
Unfortunately for them, Optometrists have to depend on the patient for much of their diagnosis.  And I'm sorry, but I'm just not a good patient.
When you shine a light in my eye and then 2 seconds later stick a steampunk machine in front of my face ask me to stare at a lit chart on the wall and ask me what I can read, I feel like laughing because it seems like you must be joking.
You just directed a light into my eyeball and now you want me to stare across the room and read?
I stare at a fuzzy ball, 2 or 3 lines down from the top of the chart, and make a guess.
You grunt, flip a switch, and ask me if the fuzzy ball is now better or worse.
Better or worse than what?
It's still fuzzy.
You're asking me to decipher the difference between fuzzy and fuzzy.
I get frustrated.
You get frustrated.
I feel like an idiot.
You probably feel like an idiot.
But hey — at least you're getting paid for this.
And so it goes.  Four appointments, 3 trial lenses, and hundreds of dollars worth of prescription drops and cleaning fluids later, I have to miss a half day of work today to pay you a surprise visit because I was up all night with an intense headache behind one eye.  Because, I realize, my new prescription is much, much stronger than my old one.  And I can't see.  And I want to cry.  And I don't want to see you, and you most certainly don't want to see me, yet still here we are.
A different doctor every year.
So I know the problem must be me, which makes it even worse.
Always an ordeal.
Always an embarrassment.
I think it might be time to consider Lasik.
What doctor do you fear the most?