It's Memorial Day in the U.S. of A.
It's a national holiday — a day off from work, when we buy exorbitant amounts of ground beef and encased meats and charcoal and propane.  We light fires and start motors burn fuel like it's free and we'll never run out.  We consume large quantities of fermented beverages and potato chips and baked beans.  The sun crisps our faces to a nice, lobster red — raccoon rings around our eyes from our UV protective sunglasses prove we still have some standards when it comes to caring about our health and our bodies.  Our feet stay bare, and, if we're lucky, we dip our toes into the pool or the lake or the ocean.  We create a day of brilliant indolence.  We drink in life.
We also wave flags and remember those we've lost.  Those who likely wore uniforms on the day they died and whose empty boots, vertical rifle, protective round helmet — now jobless and forlorn — form the battle cross of the fallen soldier.  Unaffiliated with  religion or dogma or faith.  Just respect.
A way to honor the place where a soul has vacated the premises.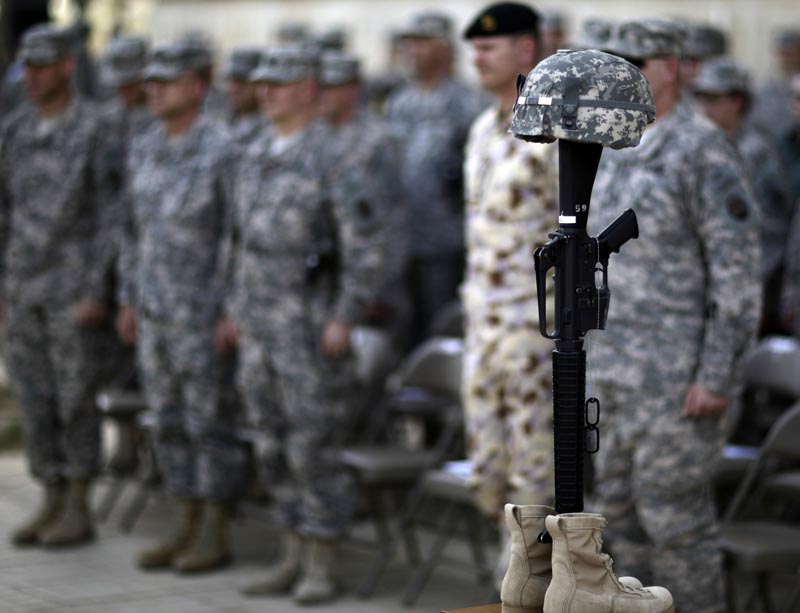 Photo by Dusan Vranic, Associated Press.
Whether we agree with how they died is irrelevant.
On what we should all agree is that we are grateful.  Grateful we're here to enjoy the day.  To sunburn our bodies.  To fill our bellies.  To laugh and sometimes cry but mostly, if we're smart, to smile.
I hope I never have to spend this holiday like many other spouses in this country —
On my knees, in the grass, at a stone.
So.  For those who mourn, and for those who don't:  It's important to enjoy the day.  Bask in the company of our family and friends.  Wear sunscreen.  And take, if you will, at least one moment of sobriety to remember the point.
And then, because we can, we smile again.