The Hotel California Ain't Got Nothin' On the Hotel del Coronado.
In case you're worried (which I'm thinking you're probably not), I'm working on the mother of all instructional posts so that you, too, can build your very own closet organizer out of plumbing fixtures.
Because, you know, I'm pretty sure this is the kind of stuff that keeps you up at night.
It does for me.
In the meantime, Let me tell you a little more about my time in San Diego.
As you can tell from my ah-maz-ing view from a balcony at the Marriott Marquis & Marina, the city itself does not actually sit directly beside the Pacific Ocean.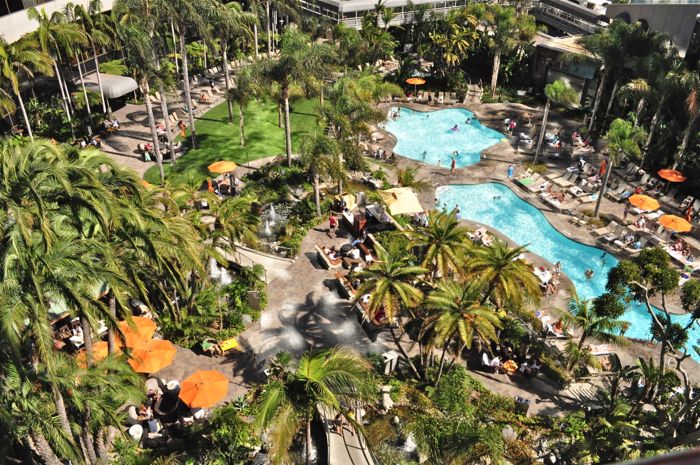 Wait.  That's looking directly down.  Let's tilt her up a little.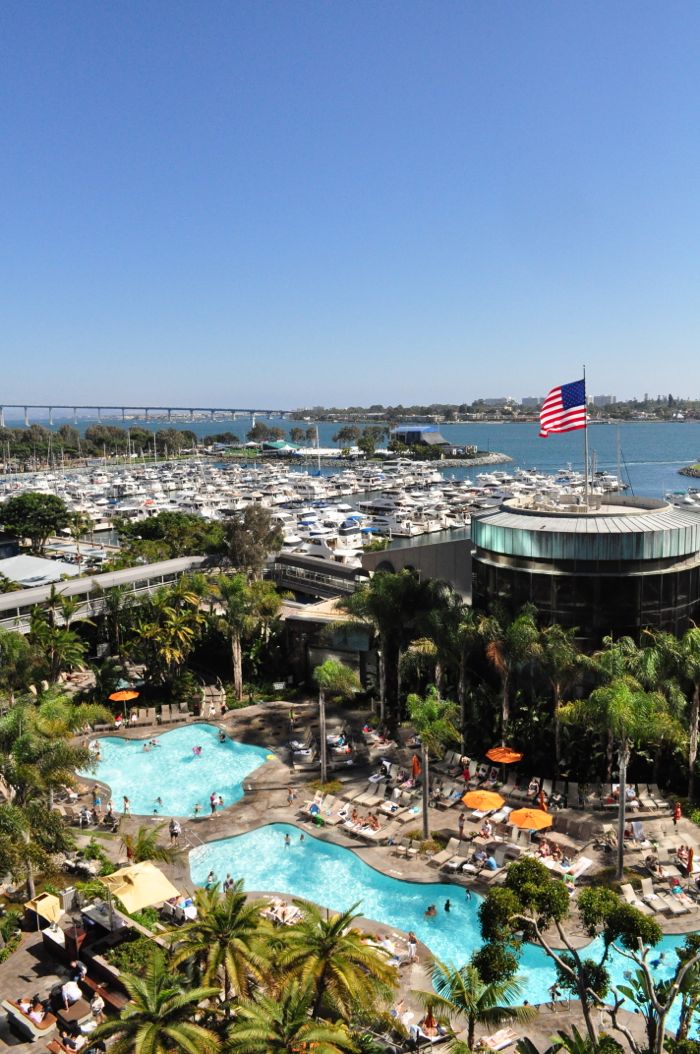 There.  If you follow my Facebook page, this shot might look familiar.
The water behind the American flag is actually a bay, which is protected from the rough oceanic elements by the spit of land you see beyond, known as Coronado.
Some people call Coronado an island, which gives my inner geoscience student a veritable eye twitch.  It's not an island.  It's technically a peninsula.  The main part you see above is the widest — over a mile across — while further south (beyond the bridge in the photo), it narrows down to a small strip that eventually connects back with the main California coast just north of Mexico.  So technically you could cross over to Coronado and walk to Tijuana, making this… not an island.
UPDATE: A marketing representative from the Hotel del Coronado (known to locals as the "Hotel Del," according to Dennis) actually read this post on my blog (whoa!) and submitted the following comment: "To give you a bit of history, Coronado used to be an island … at high tide. The skinny strip of land now called Silver Strand that connects Coronado to Imperial Beach used to be a lot smaller. During high tide it would become submerged (thus turning Coronado into a true island). It was later filled in with sand, turning it into the peninsula we know today."  Thanks for the clarification!  That definitely explains why it's often referred to as "Coronado Island."
The last time I was in San Diego, I took the Coronado bridge across the bay and rode directly to the beach.  This time, my friend Angie and I opted for a ferry, since we didn't have a car.  There are a couple of ferry options, including the Coronado Ferry and the ferry operated by the Marriott.  The Coronado Ferry is cheaper, costing $4.25 (I think) each way for an adult, while the Marriott ferry is $6.00 each way.  We still opted for the Marriott ferry since it left from nearby and ran every half hour.  Anyone can take it — you don't have to be staying at the hotel.
The captain was exceedingly helpful, and the ride only lasted about 10 minutes (if that).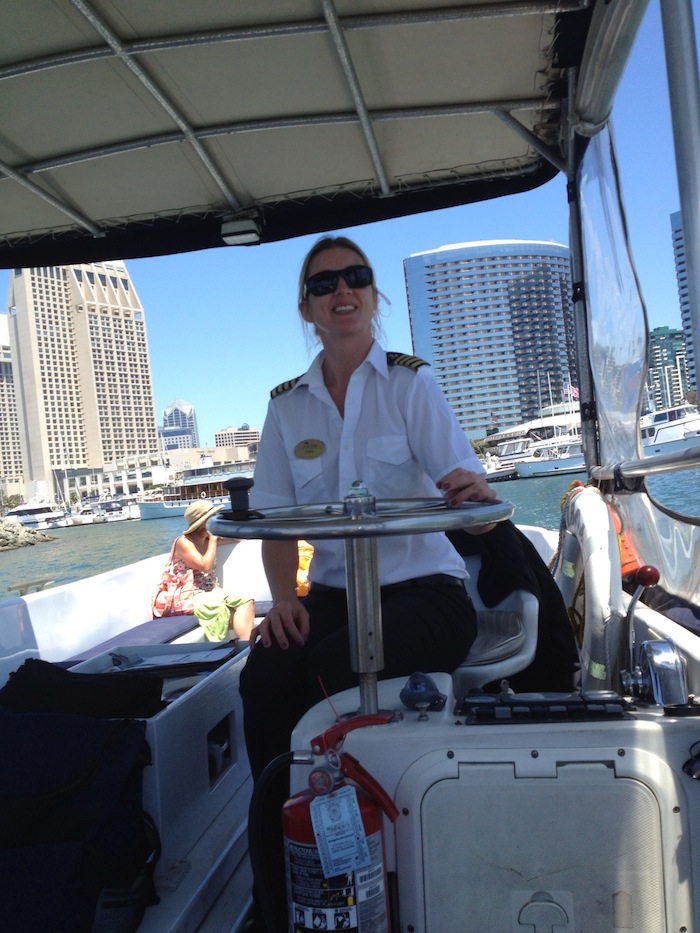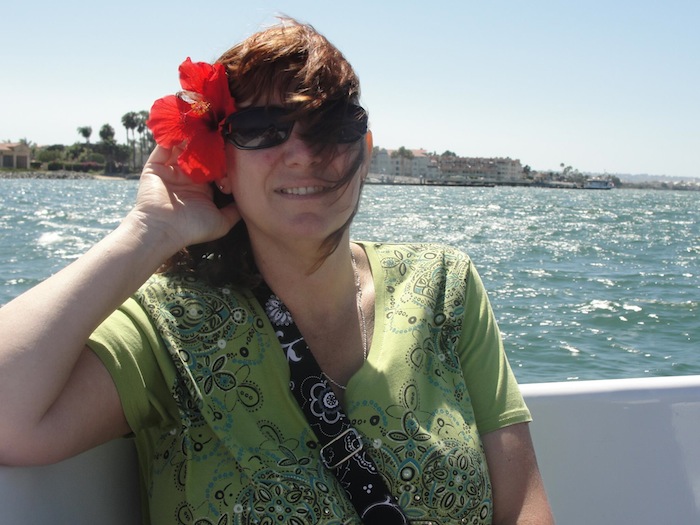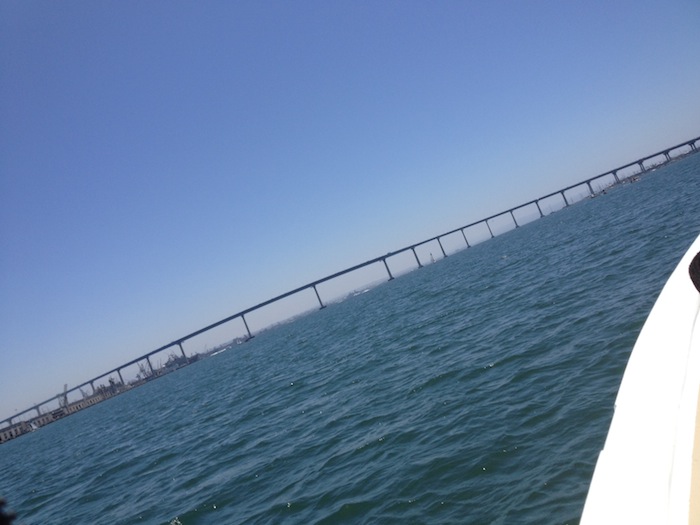 Of course, once we got to Coronado, we realized the Coronado ferry actually drops you a little closer to actual… stuff.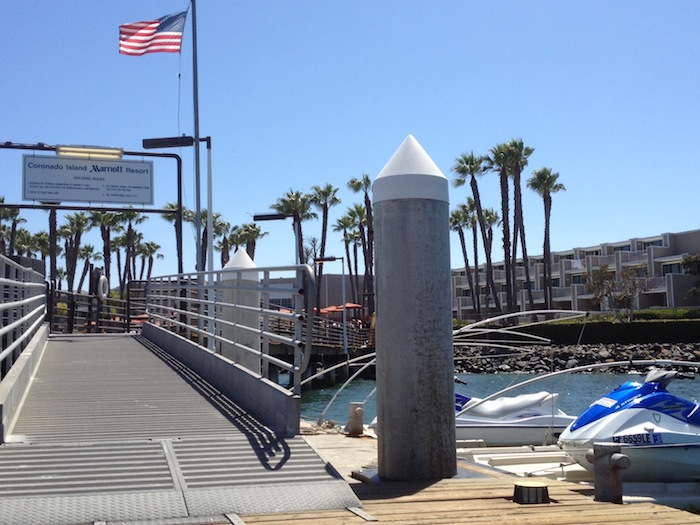 About half of the fat part of the "island" is occupied by a Naval base.  The other half is a small town with shops, restaurants, pasty tourists, beautiful homes, and tanned Seals (not the kind with flippers).  We decided to walk across the width, just to get a feel of the place and catch a glimpse of the ocean.  If you're wearing decent shoes, let me just say that a walking tour is the perfect way to appreciate the beauty of this place.
Skyline views…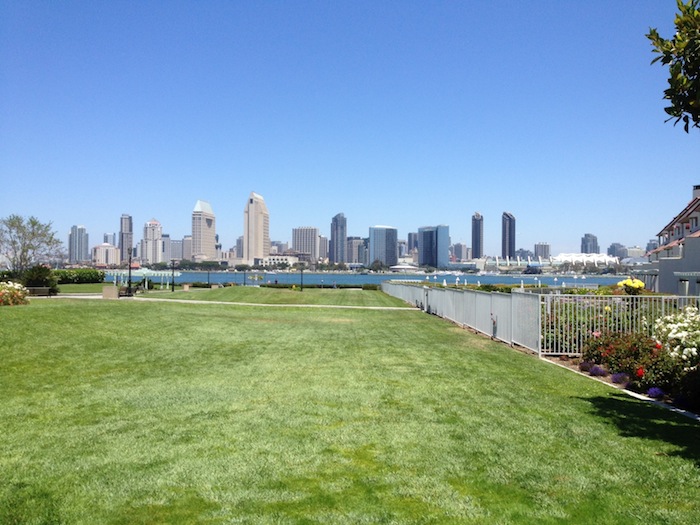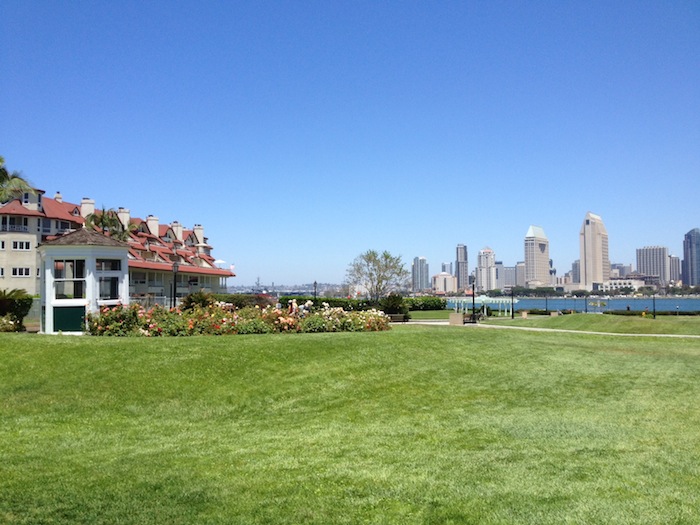 Gorgeous homes…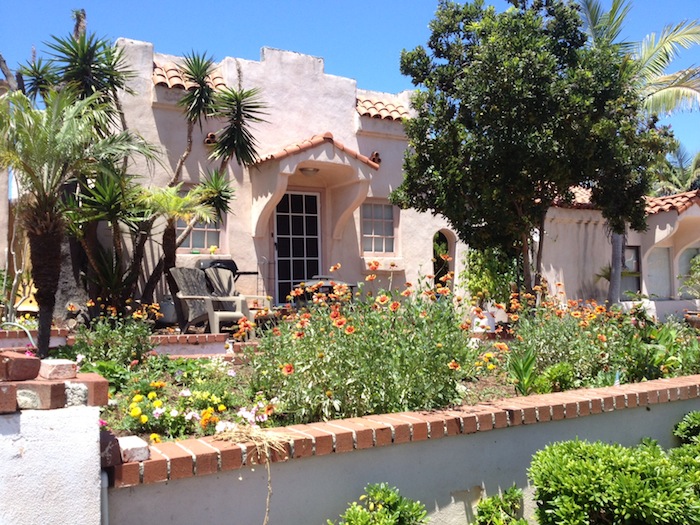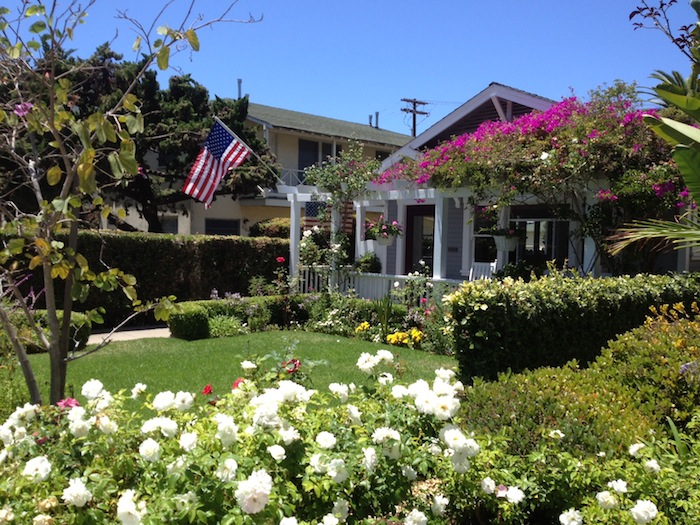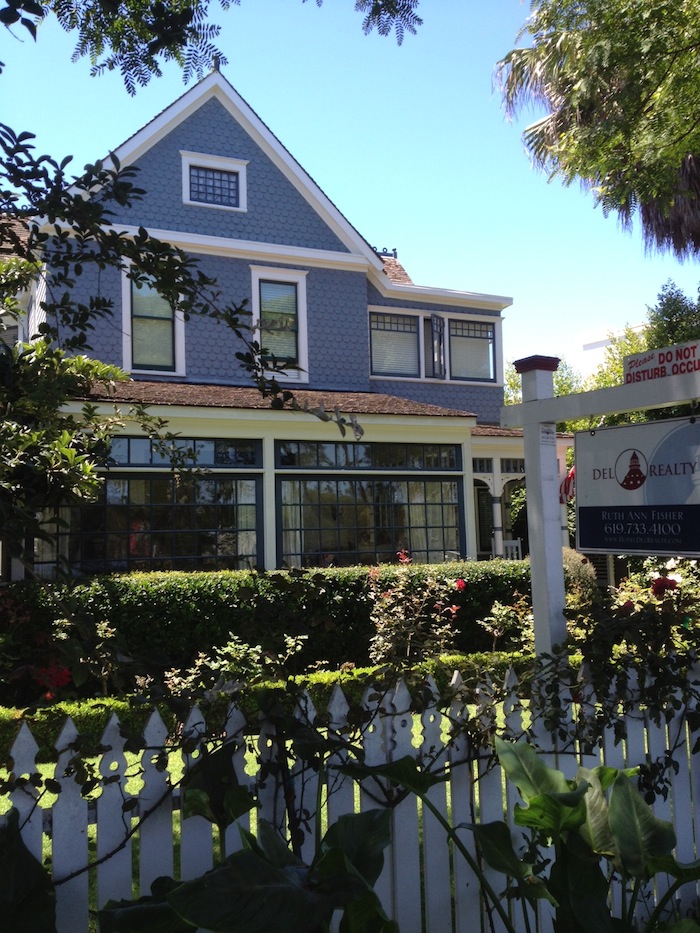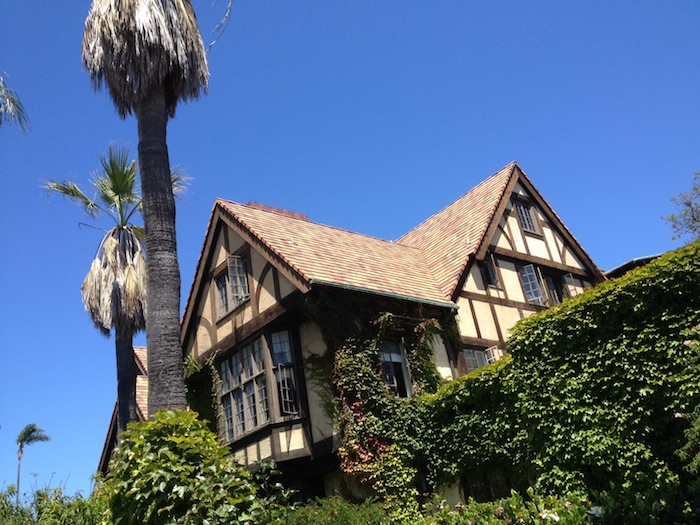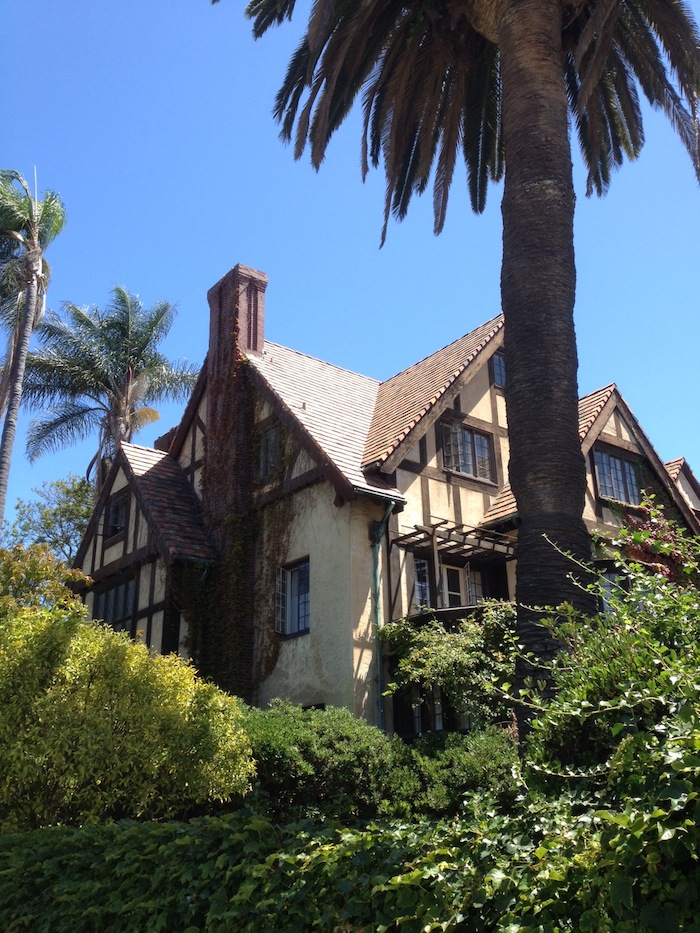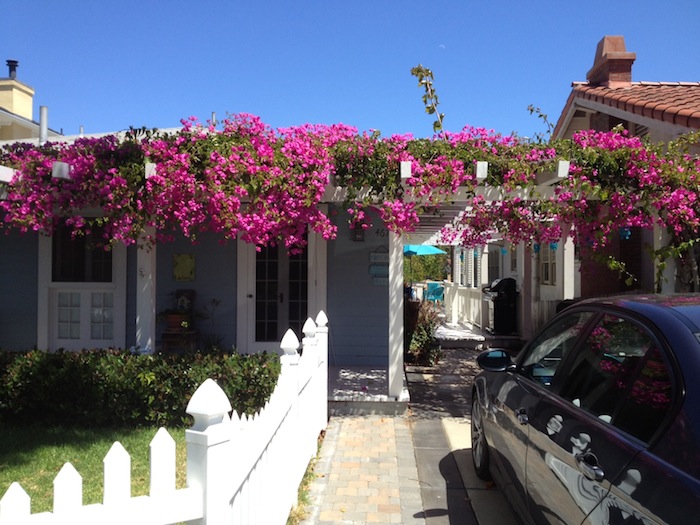 Flowers and fruits to smell along the way…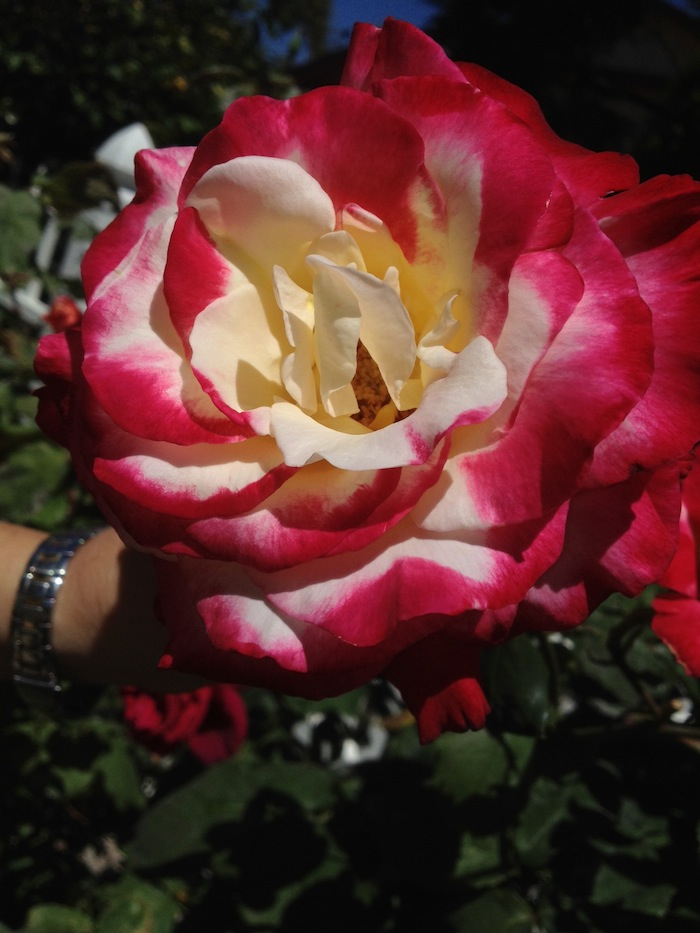 Cozy niches to wine and dine…
And finally, at long last, the Pacific.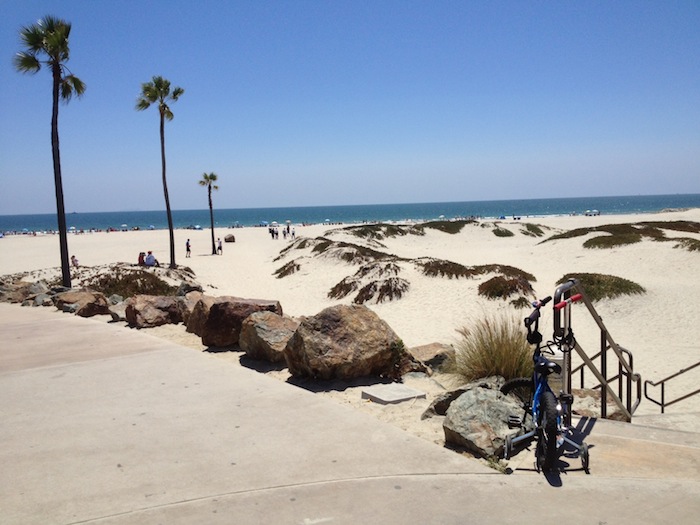 The beach here was fairly crowded.  Of course, we had to walk through the famous Hotel del Coronado and couldn't help but gawk at the extravagant wood moldings and opulence dripping from the giant crystal chandelier.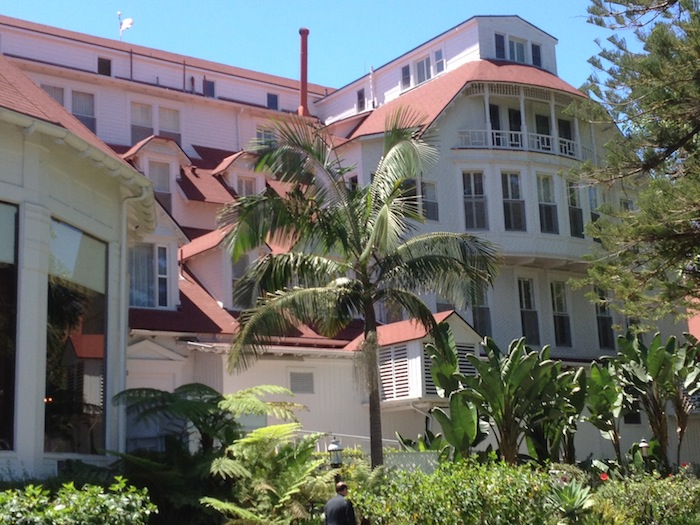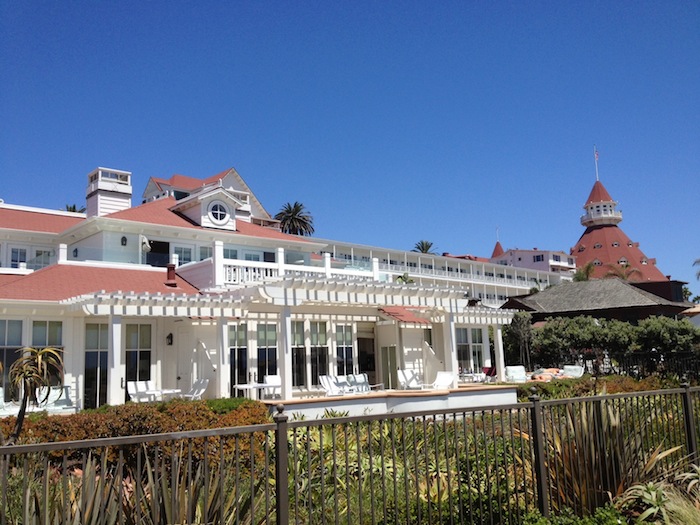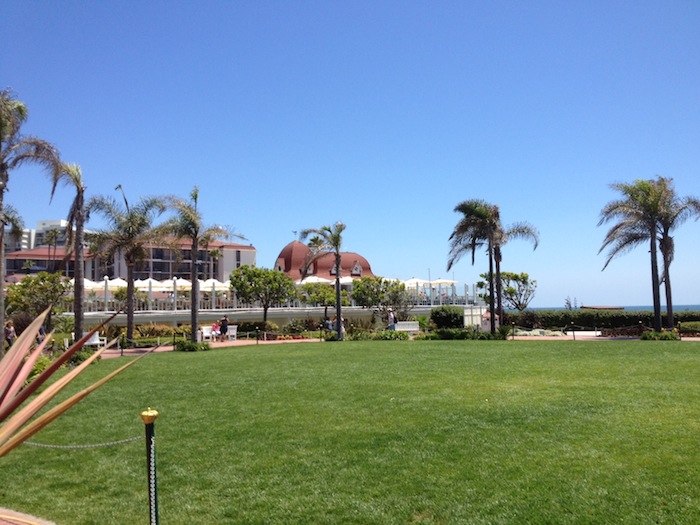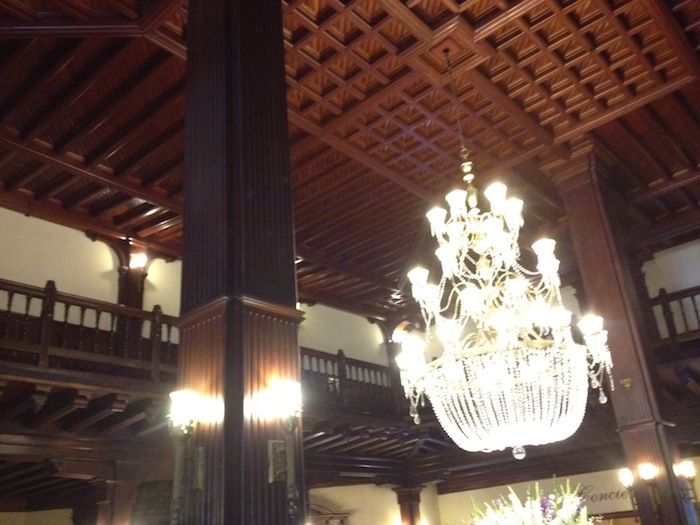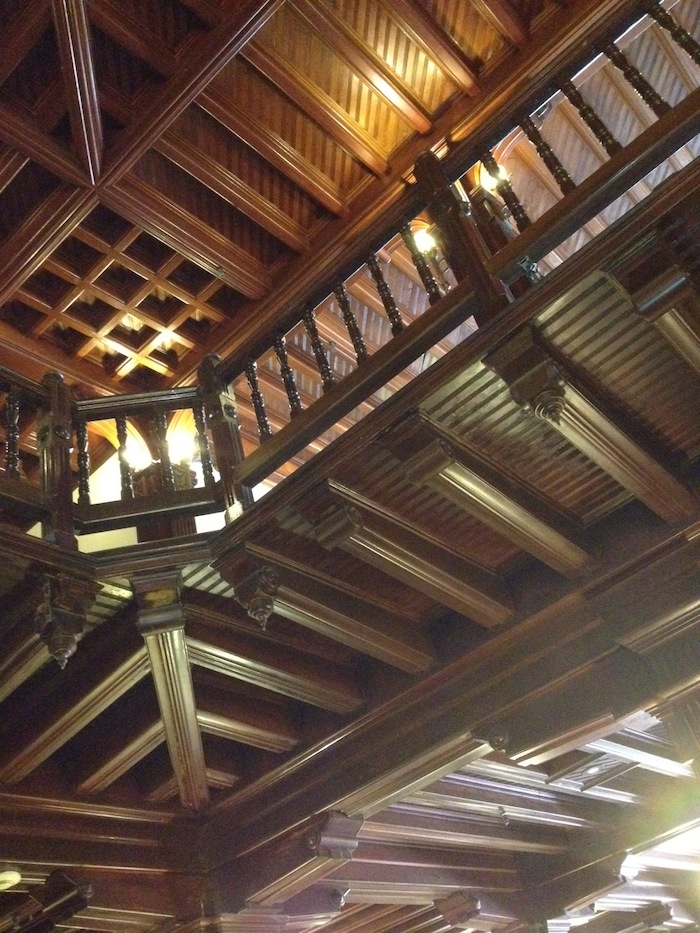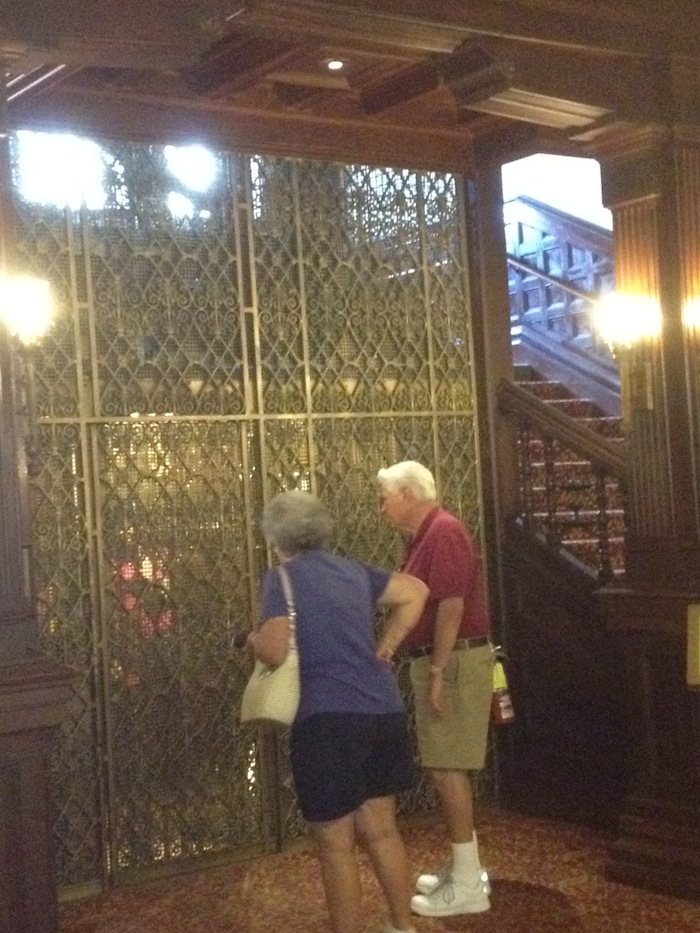 I'm pretty sure I flipped out over this old school cage elevator.
Unfortunately, my iPhone could do nothing to capture the sheer size of the place.  If you make it to Coronado, the hotel is definitely worth a look.  We hiked back a different way from where we came.  If you find yourself walking, take care when crossing some of the busier roads.  We thought we were avoiding the hustle of tourism and commuters by walking through quiet neighborhood side streets.  Unfortunately, those led to a major thoroughfare near the bridge, which is the only way by vehicle to cross the bay.
Honestly, I'm surprised we didn't end up tiny smears on the side of the road.
But hey.
As you can tell from the photos, there are worse places to die.
Katie
Thank you for reading Domestiphobia! Knowing you stopped by totally makes my day. If you want to make my week, you should sign up for my mailing list for exclusive updates. It's free, guys, and I won't spam you. I'm also on Facebook, Twitter, Instagram, and Google+ if you want to connect!