Travel Tip #232: Dress Maybe Not to Impress, But At Least to Get Free Upgrades.
Look.
Until a few years ago, I had pretty much been one of those I'm-going-to-dress-as-comfortably-as-possible-because-I'm-never-going-to-see-any-of-these-strangers-ever-again kinds of people when I was traveling.
It was just… easier.
I'm pretty sure it's my mother's fault (love blaming the parents) because I can trace it back to my family's trip to Disney World when I was 8 years old. My little sister and I had never been on a plane, and for my mother, it was a rare treat. She was so excited that she ran out and bought all 4 of us those zippered nylon track suits in posh color schemes of the late '80's — my dad in blue, mom and sister in matching pink, and me, ever the coolest tween (so not), had the best one in all black with splashes of the hottest fuchsia.
At least, that's the way I remember it.
(Not us. But it could've been. source)
We represented the epitome of stereotypical American tourists as we swish-swished down the airport corridors.
I'm pretty sure we wore visors.
And while at the time we honestly thought we were trendy as hell, the truth is that we were dressing purely for comfort. "And the jackets unzip!" my mom explained that morning as she tucked my long-sleeved turtleneck into the pinched elastic waistband of my swishy pants. "So you can easily take it off if you get too warm on the plane."
Had I been at all in tune with my surroundings that day, the only warmth I would've experienced was that of embarrassment as we swish-swished past the besuitted occupants of business class and tucked ourselves safely into coach. Instead, I occupied myself by creating masterpiece drawings in my sketchpad of the wonders I saw outside the airplane window: a network of rectangles depicting farmlands on one page; some puffy clouds — aka. "The Kingdom of the Care Bears" on another page; and a genius blank page in between representing the time we actually flew through the clouds.
Hey. This was pre-camera and my first taste of travel enthusiasm. I worked with what I had.
The thing is, I've never been a proponent of doing something solely for the benefit of others.
I mean, hey. If you like that 6-gauge septum ring, then you wear it with all of the pride of the bull that you apparently think you are.
But when traveling? I've just learned over the past few years that dressing up, even just a tad, has several more significantly positive aspects than that of well-dressed strangers not wondering if you smell as wrinkly as you look.
For example. I was headed to the middle-of-nowhere North Carolina last Wednesday morning to drop my dogs off at their kennel before driving over an hour in the opposite direction to get to the airport in time to catch my flight to Florida. I'd taken Justin's car since my beloved Chevy Tracker's back right tire seemed a little flat and I didn't think I had time to fill it before I left. So of course, as seems to be the general law when you make a decision that's supposed to make your life easier, one of Justin's tires blew when I was 45 minutes away from my house. And when I say "blew," I mean exploded.
So there I was, on the side of the road with 2 mutts strapped into my back seat, cursing myself for never bothering to learn how to change a tire. It didn't take long though, as I stood there making phone calls, for a friendly military officer to stop and change it for me.
Now.
I'd like to think he would've stopped regardless of what I was wearing, but let's face it — my airport-ready sweater dress, tall boots, and leather jacket probably didn't hurt.
And I don't think it's just because I'm a woman. I think a well-dressed man looking helpless on the side of the road is more likely to find assistance than someone looking bedraggled. It's just human nature. Accurate or not, general scruffiness, ball caps, and saggy jeans conjure images of serial killers.
And people don't tend to stop for serial killers.
Also, I think better dressed people are more likely to get assistance from airport employees. Think about it: They have one of the most under-appreciated jobs in the universe. They show up to work wearing pressed suits, uncomfortable shoes, immaculate hair, and they have to take orders from tourists all day. Have you ever had to work for someone who knew less about the job than you? Now imagine that person showed up to work every day wearing sweat pants and a fanny pack. Would you resent him more, or less?
Point made.
Finally — and this is really the kicker — it turns out that "uncomfortable" dress clothes can actually be more comfortable than "comfy" clothes.
Think about it: Well-worn jeans can be the best if you're working around your house or your yard or off running errands. They're industrial, don't wrinkle, and can wear coffee spills like they're in style. But for travel? No way. After a couple of hours on that plane, you notice them squeezing in places they never used to squeeze — pinching in places they never used to pinch. You find yourself tucking belly folds of skin back under the waistband and urging them to stay there. And they ride up. They ride up like they're in some epic race to see which leg can crawl up your butt the fastest, except for when you squeeze yourself into that miniscule airplane restroom. Then? Then you couldn't pull them up if your life depended on it.
Jeans are no good for travel.
Think dresses. Long or short, depending on the season, in soft wools, light cottons, and other breathable fabrics. If you're a man, think slacks. Again, soft. Breathable. What's not comfortable about that?
Think layers. The more you wear, the less you pack. Airplanes can get chilly, so bring that cardigan or jacket on board.
Think comfortable shoes, but not tennis shoes. Unless you wear tennis shoes on a regular basis, don't even pack 'em. Get yourself a nice pair of flats or boots with chunky heels — something you can wear rushing through terminals if need-be, but will also look nice with that sun dress or those khakis you packed and plan to wear later.
The greatest thing about looking good is feeling good. When I got off the plane in Florida, I was ready to grab some dinner with my sister without stopping to freshen up.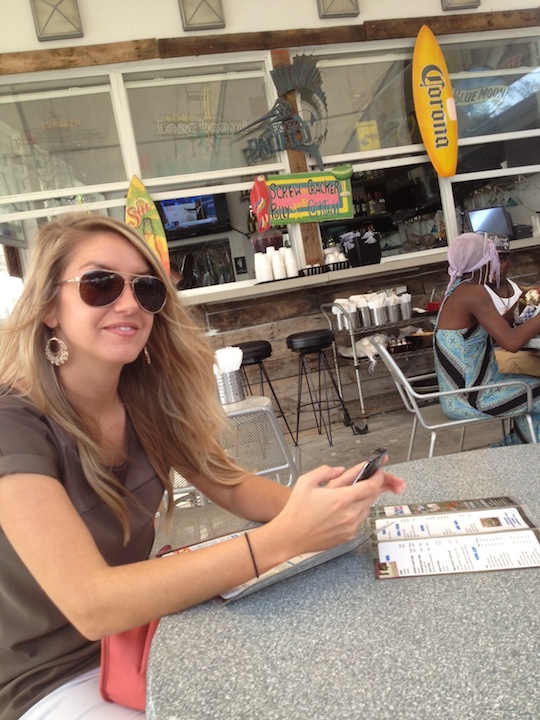 My sister. (Okay. Admittedly, at the Taco Beach Shack in Hollywood, Florida, dressing "up" means putting on a shirt. But whatever.)
And while my pasty northern skin will always give away the fact that I'm no beach local, the dress made me feel good.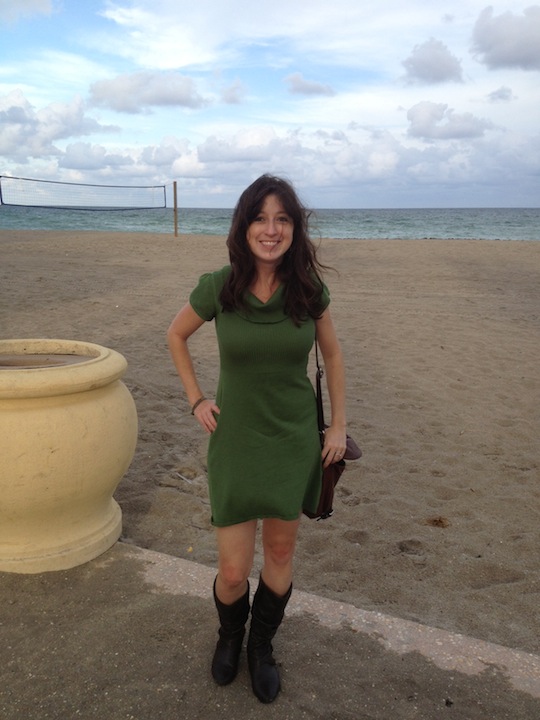 It also allowed me the room to eat this: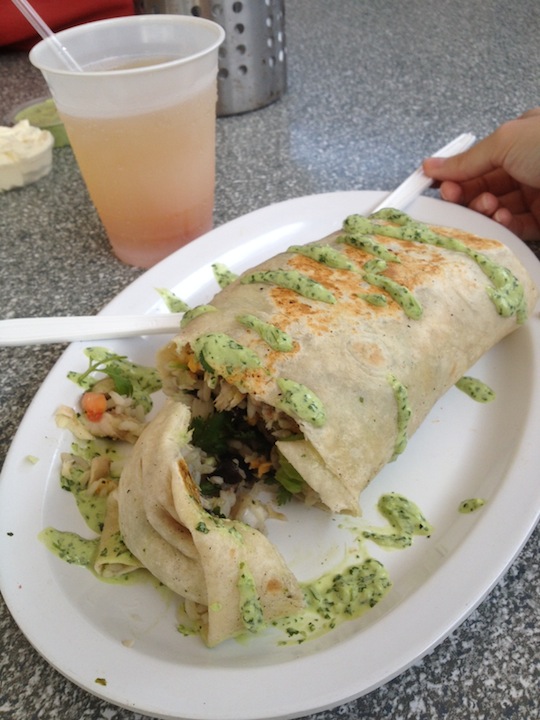 Hey.
Never could've happened if I'd been wearing jeans.