Boutique Hotel Spotlight: The James Chicago.

Destination: The James Chicago
There comes a time in every woman's life when she just has to face facts and admit the truth —
I am no longer twenty-five.
In fact, I'm so not twenty-five that I'm pretty sure the tingling pain I'm experiencing from my left hip down to my second-littlest piggy is probably a bout of sciatica brought on by my 20-hour drive home from Wisconsin.
I'm so not twenty-five that heading out to a club sounds like a punishment compared to sharing a bottle of wine over antipasto on my back deck with a few close friends.
I'm so not twenty-five that the idea of crashing on an air mattress in my sister's living room or — gulp — at a youth hostel makes me seriously reconsider this whole household budget idea because, hey. What's more important? Installing a tile kitchen backsplash, or having at least one night of plush, unadulterated privacy with your husband in downtown Chicago?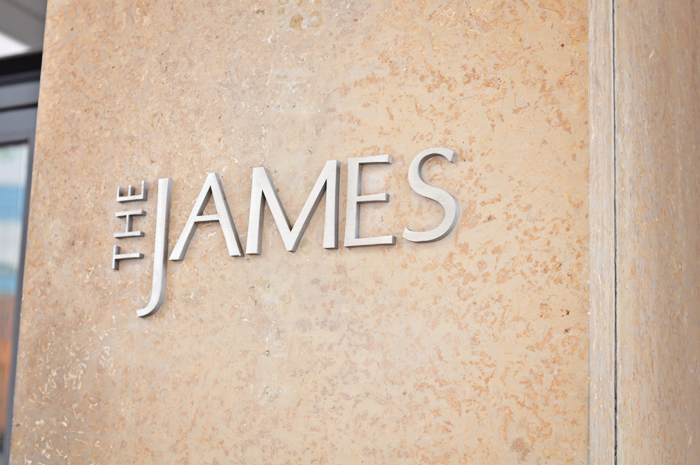 Lucky for me, I didn't have to choose.
Located in a nondescript building on the corner of E. Ontario Street and N. Rush Street, The James Chicago, a cozy boutique hotel in the heart of the city, is central to some of Chicago's most interesting sights and neighborhoods. Justin and I could walk or take a short cab ride to almost any place we could have wanted to see.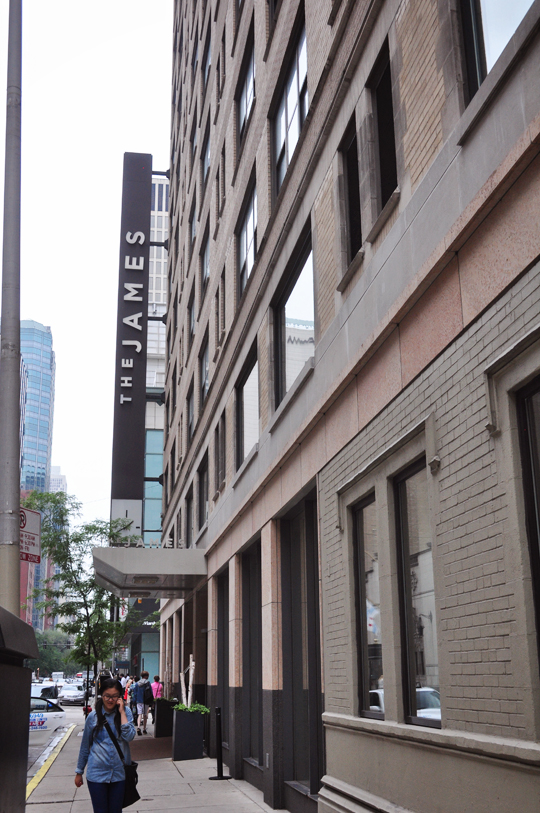 From the hotel's River North neighborhood with the city's highest concentration of restaurants, it was just one block to Michigan Avenue (aka. "The Magnificent Mile,"), a nice stroll to Central Loop, Millennium Park, and probably about a million other little pockets we didn't have time to explore.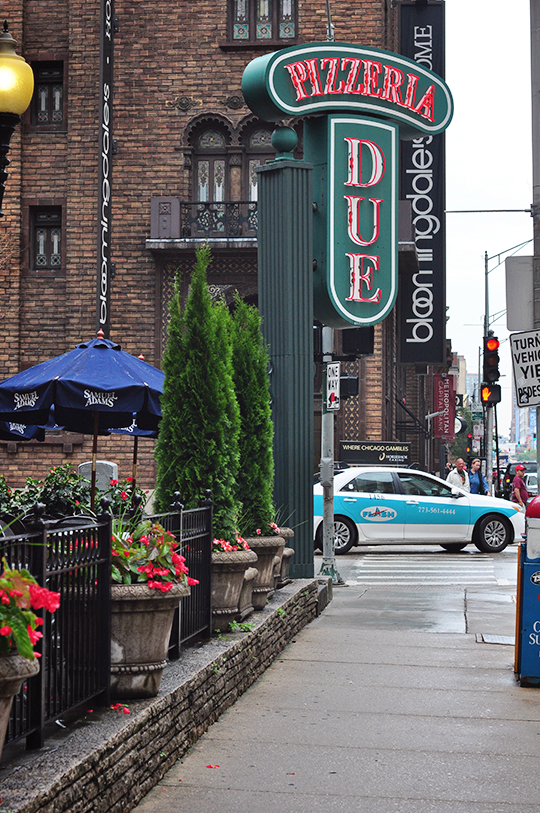 It's right down the street from Pizzeria UNO and Pizzeria DUE.
We were greeted by fancy-pants doormen who helped us unload and park our car for the night. The thing about staying in a hotel in a major metropolitan area is that parking will likely be expensive, so always ask about that up-front. But trust me — it's better than searching for your own, paying the overnight costs, and dragging all of your own things back-and-forth.
The James hotel brand is exceedingly pet-friendly, and I felt a pang of regret for not bringing the monsters as we passed the dog water dish and container of treats nestled alongside the revolving door.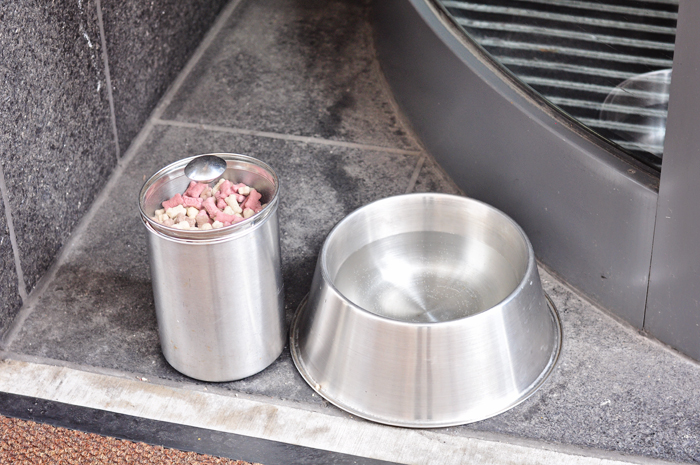 Inside, the modern lobby was surprisingly warm and inviting.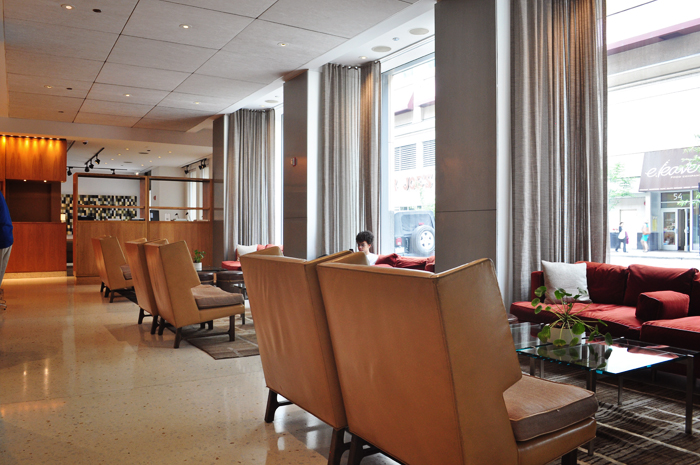 The sidewalk-to-ceiling windows didn't hurt.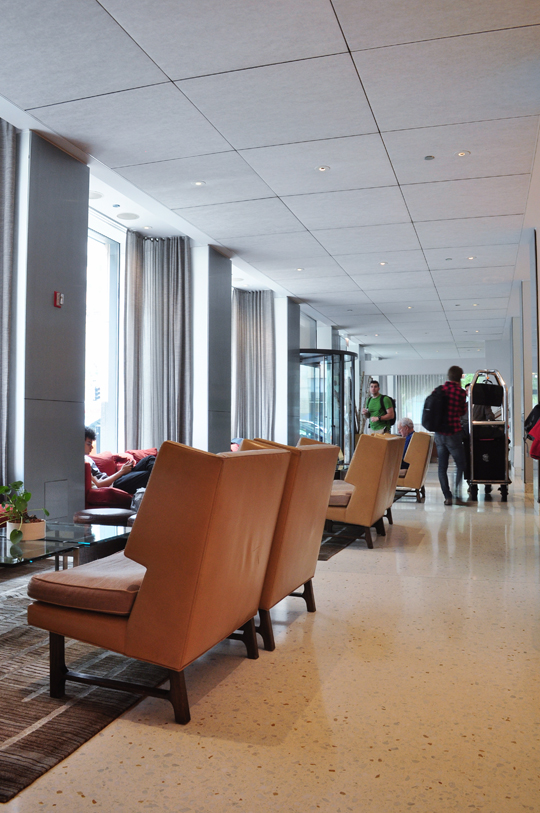 And, guys. They had an iMac work station behind a partition: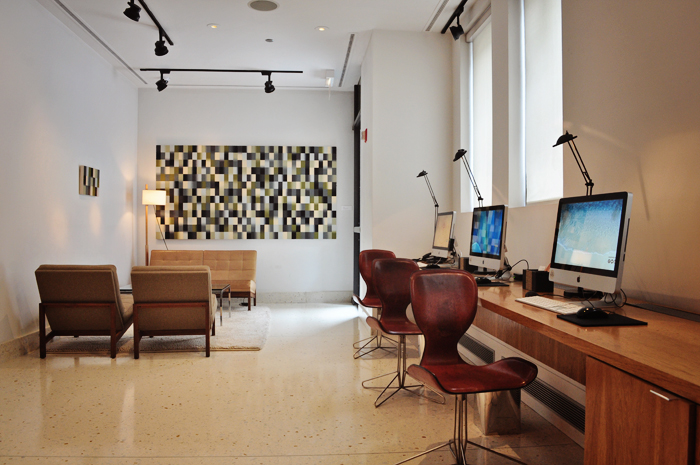 Talk about swanky!
The thing is, though, nothing about this place felt "stuffy." That's always my biggest fear when it comes to nice hotels. I'm worried someone will sniff me out — that they'll be able to take one look at me and just know that I'd probably fit in better at the generic chain place in the suburbs and could you hand me a fanny pack and a nylon track suit while you're at it?
But at The James, I didn't pick up on that vibe at all. Every member of the staff — from the bellhops to the front desk — were genuinely friendly, helpful, and just pleasant to be around.
My guilt at not bringing the mutts melted away when I saw our room.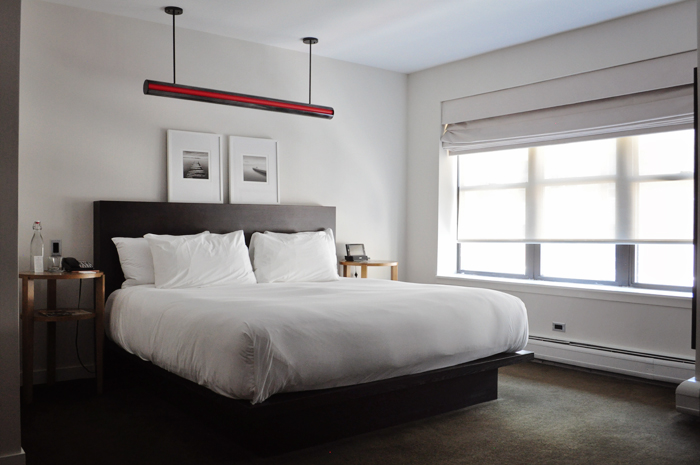 There was no way I was sharing this with a couple of 60-pound dog beasts.
Simple and modern, the charm was that it really wasn't trying too hard. Mid-century doesn't fit my personal home style, but I was surprised at how comfortable everything was — from the plush, whitewashed, king-sized bed, to the retro furnishings.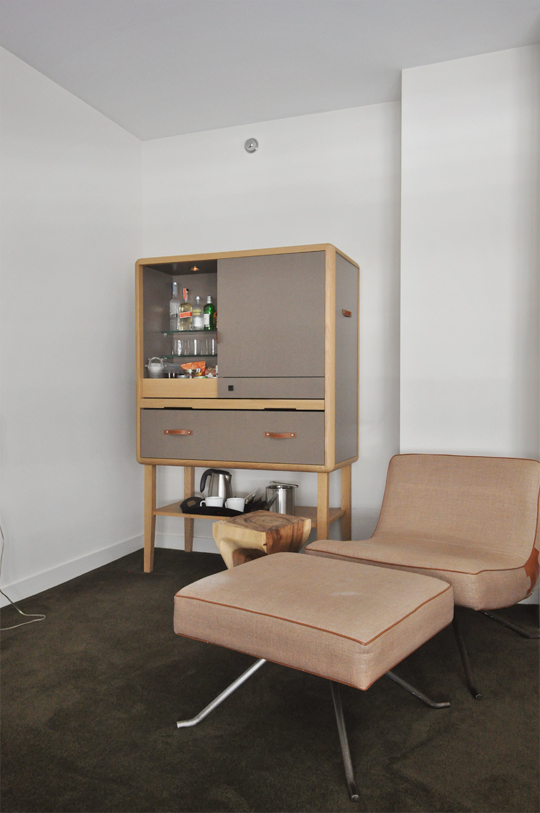 A girl could get used to that chair…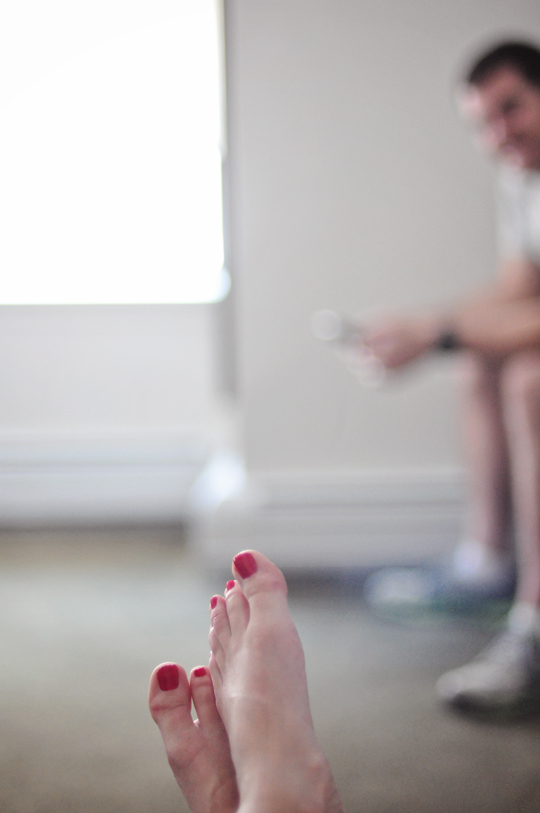 I also loved some of the curated touches like the cozy work station —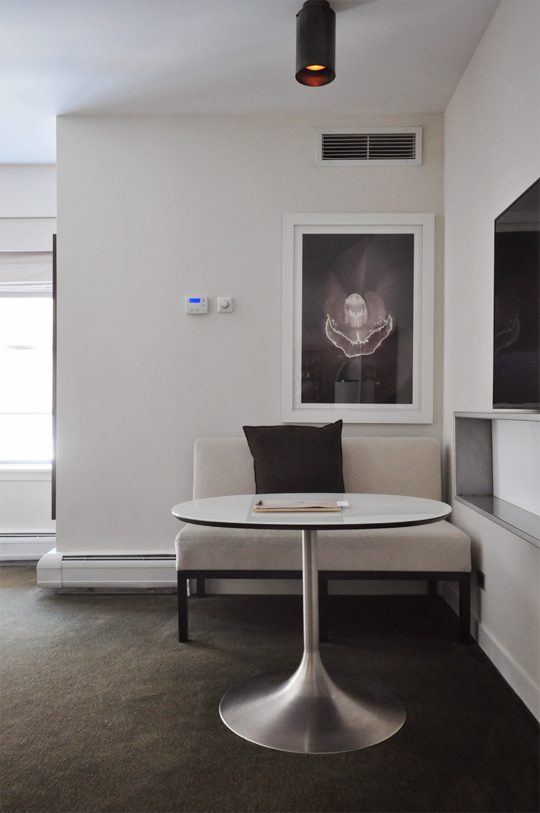 (The James has free WiFi, which is actually not all-too-common amongst luxury hotels these days.)
And it was all I could do to resist shoving this table into my over-stuffed suitcase: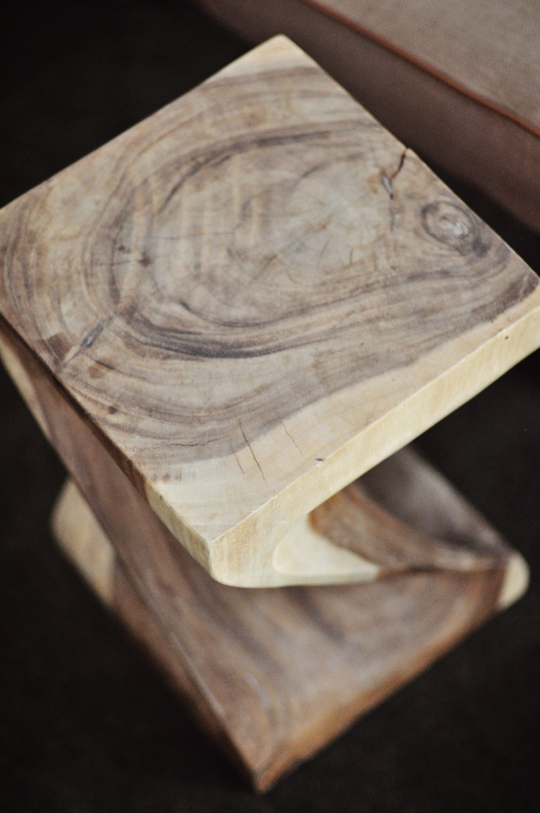 Our room was on the 8th floor, which had me a bit concerned when we first arrived because it's not too far from a hospital, and we heard several ambulance sirens. Of course, this is to be expected in an urban hotel, but it turned out that the location of The James is ideal because while it's in close proximity to plenty of bars and restaurants, they're not located directly next to the hotel. So our street (we faced Ontario) was very quiet during the night.
Such a relief! Apparently Trader Joe's, which is just across the street, isn't loud and hopping into the wee hours of the morning.
The bathroom had a really cool (though heavy!) sliding door: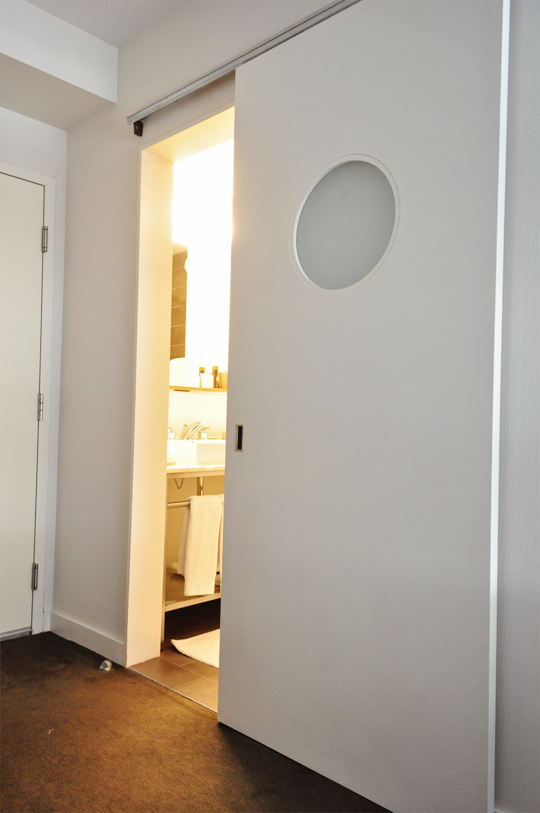 And I pretty much wanted to chisel everything (including those delicious gray tiles) out of it and transplant it into our bathroom at home: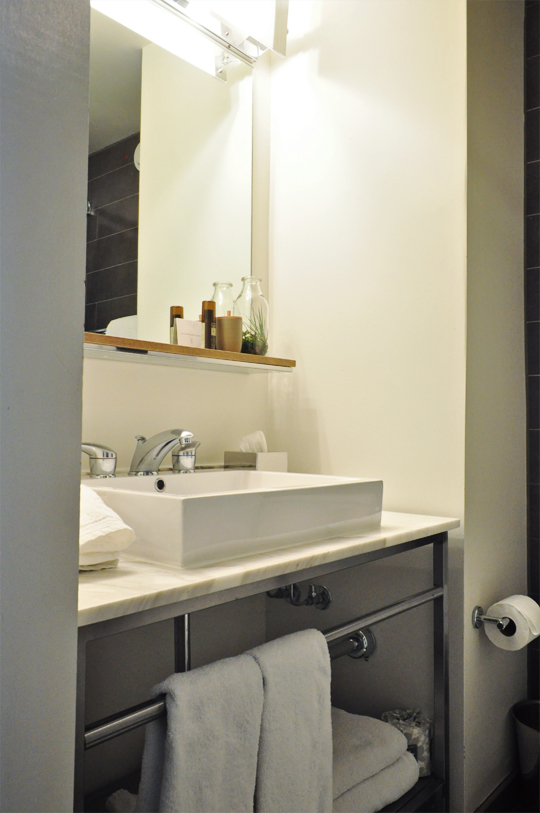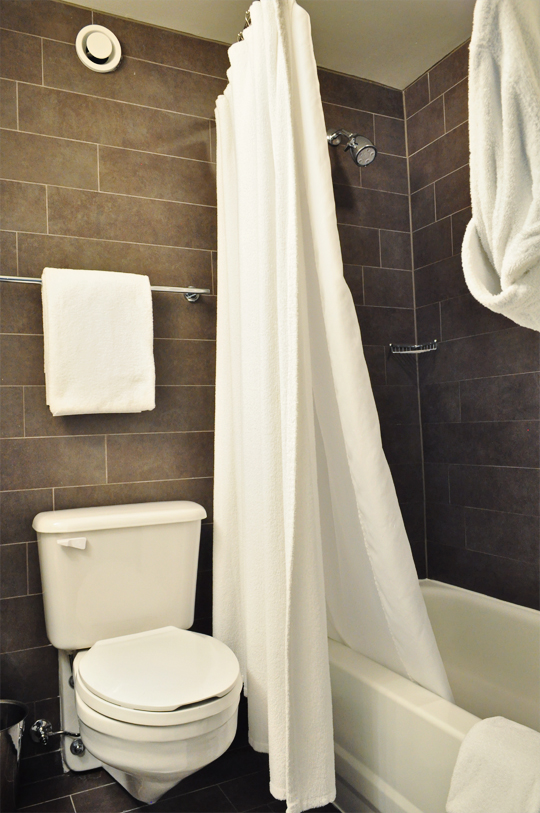 Oh hey, fancy bathrobe!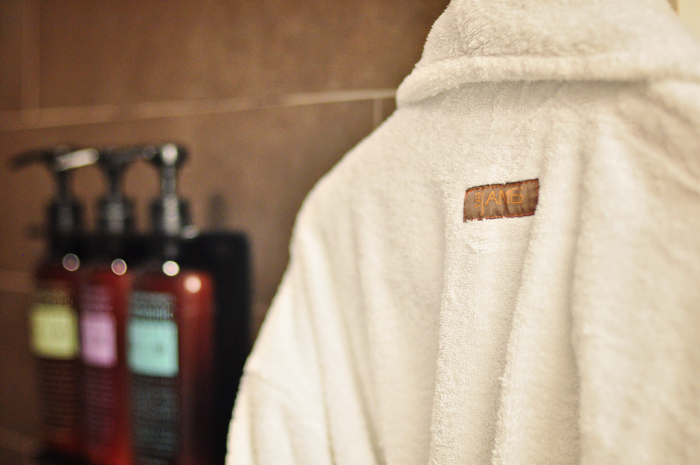 I loved this contemporary reading light over the bed: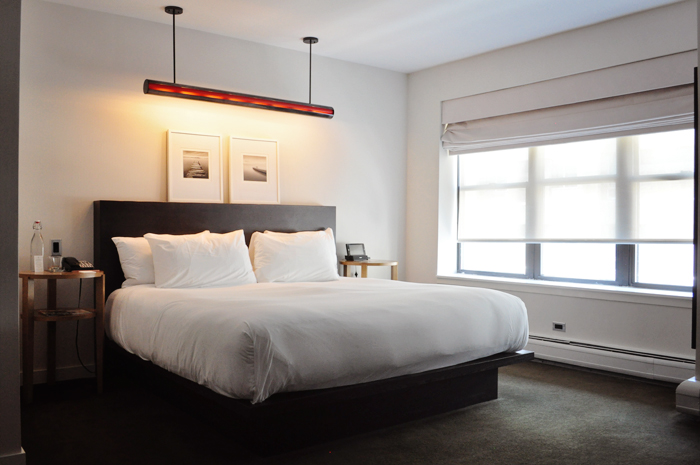 And Justin and I were both huge fans of the bed itself: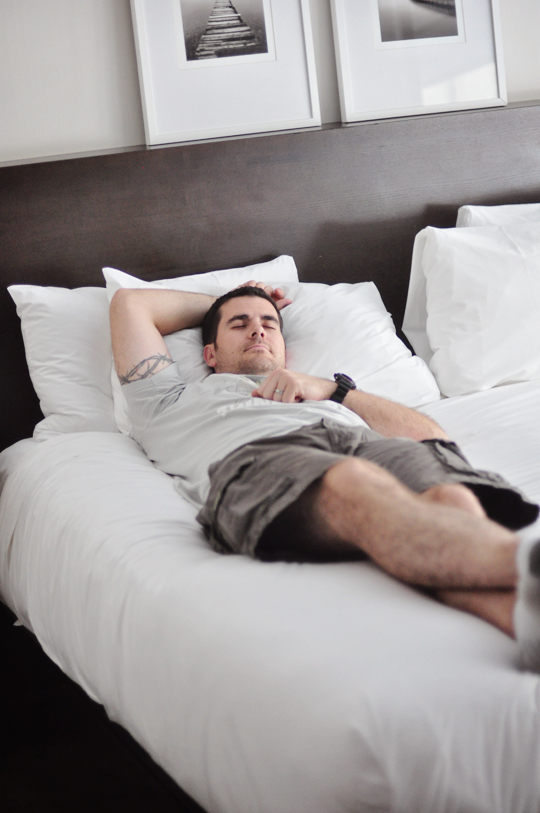 (Sorry, ladies — The James does not include him with the guest rooms.)
Plus, any hotel room with a full-length mirror will always have my vote.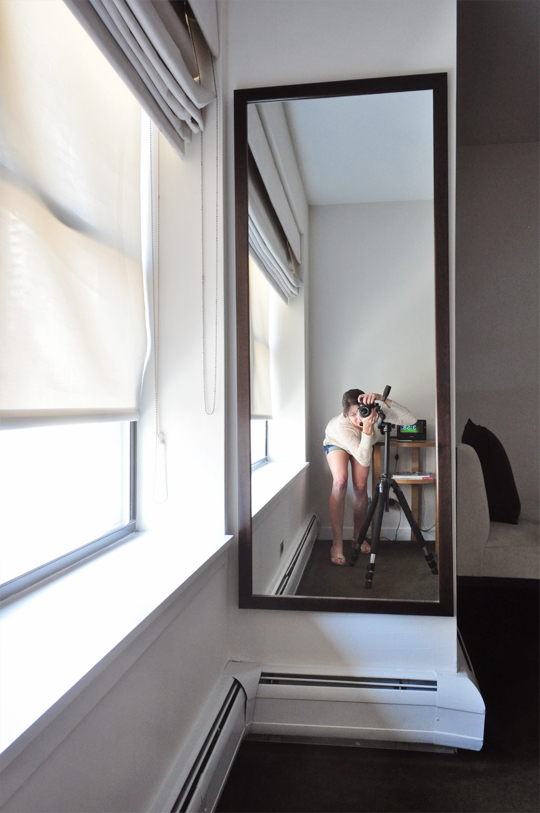 It's the little things, you know?
Speaking of, The James provided complimentary filtered water…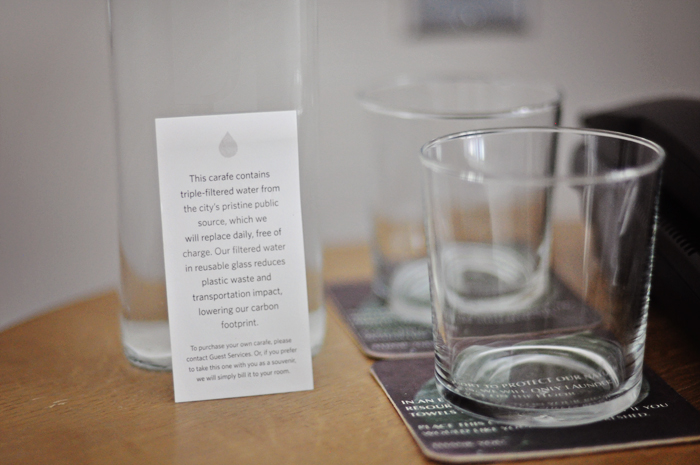 And hair and skin products by Intelligent Nutrients: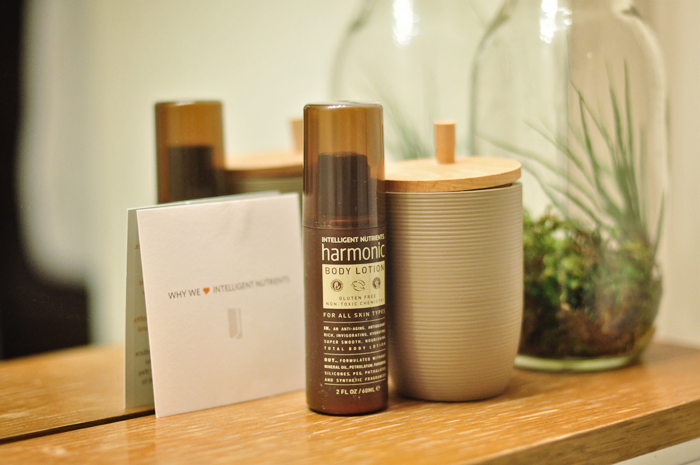 I didn't love the smell of the body lotion, but the shower products were fantastic!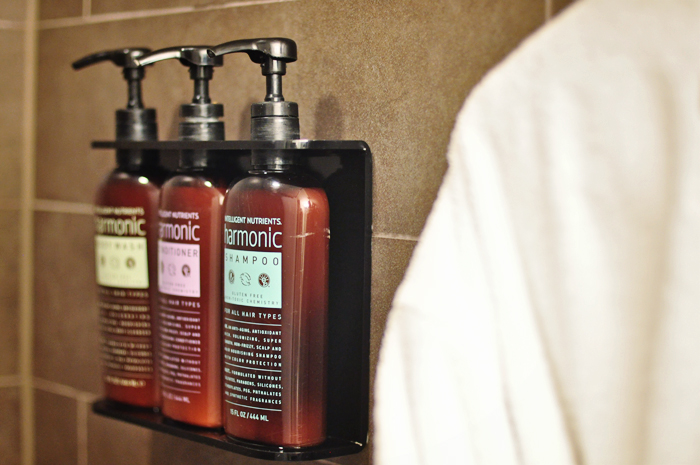 And if Trader Joe's across the street was too far of a walk, their pantry and not-so-mini bar were fully stocked: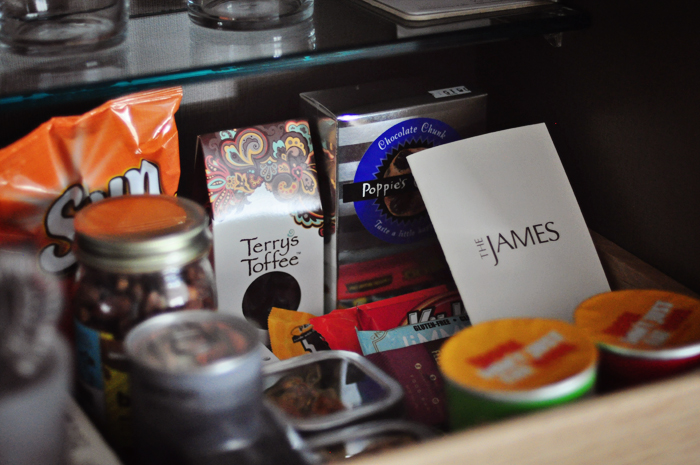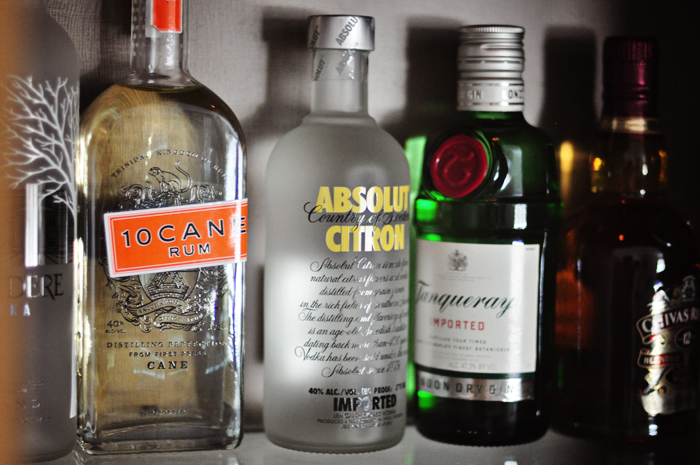 You know, I've noticed over the last few years that the major hotel chains have been stepping up their game. All over the U.S., these brands are overhauling their aesthetic and amenities to better compete with the customized feel of boutique hotels. And while I've been very comfortable in some of these places, the thing many of them don't seem to understand is that the appeal of a boutique hotel is its uniqueness.
Its charm.
The je ne sais quoi that comes with the care and customization that personally goes into curating the art, the linens, the service.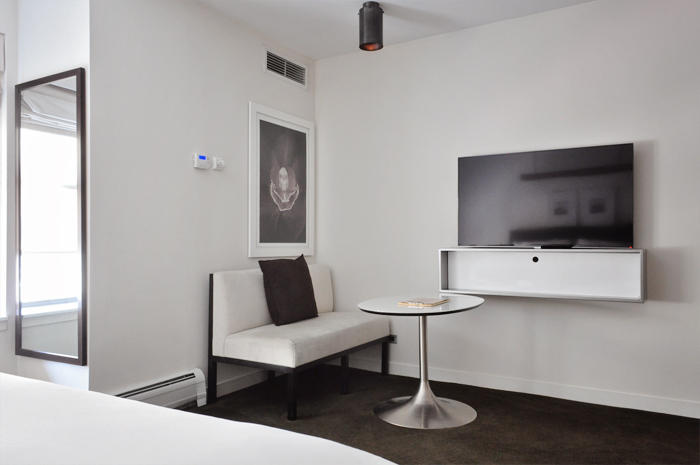 And that's why I'm starting the Boutique Hotel Spotlight on Domestiphobia — to show you that a prime location, personal service, and special touches (did I mention our room keys came with a card-sized map of the city?) are completely worth it.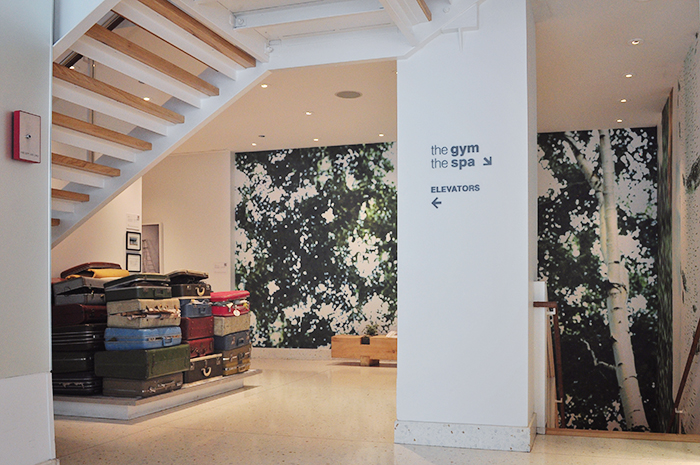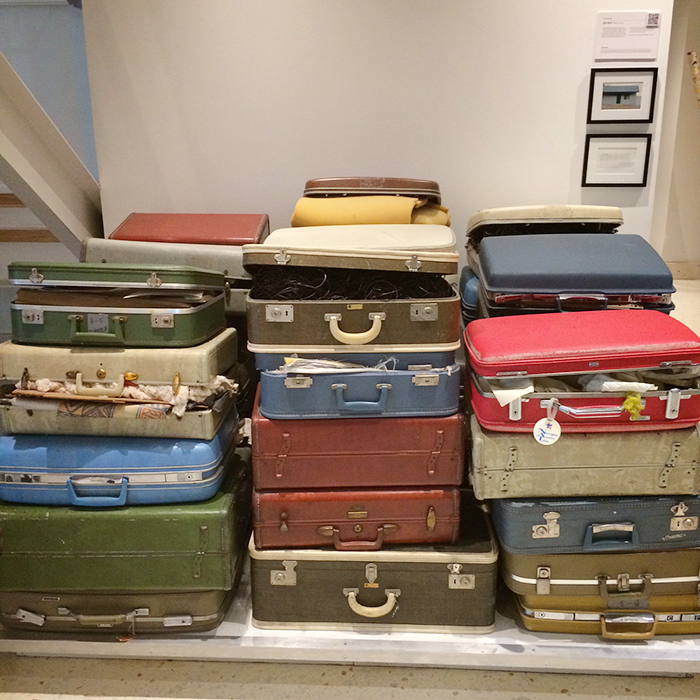 This lobby art, "Room 28" by James Ross, reads: "In September of 1997 I drove to Texas and stayed in a roadside motel about one hundred miles west of Austin. I checked in under an alias and paid for the stay with cash. I had hand tools and about forty empty suitcases in my truck. To avoid suspicion, I spent an afternoon unloading the truck two bags at a time, waiting five or ten minutes between trips. Once everything was inside, I cut down and packed the entire contents of the room (furniture, fixtures, mirrors, etc.) into the suitcases. I loaded the truck during the night and left before sunrise."
Also, guys. I'm so not twenty-five. This 31-year-old body, while still considerably fit and happy, feels its best when it travels with at least a touch of luxe.
And Justin and I were so grateful to The James for providing exactly that.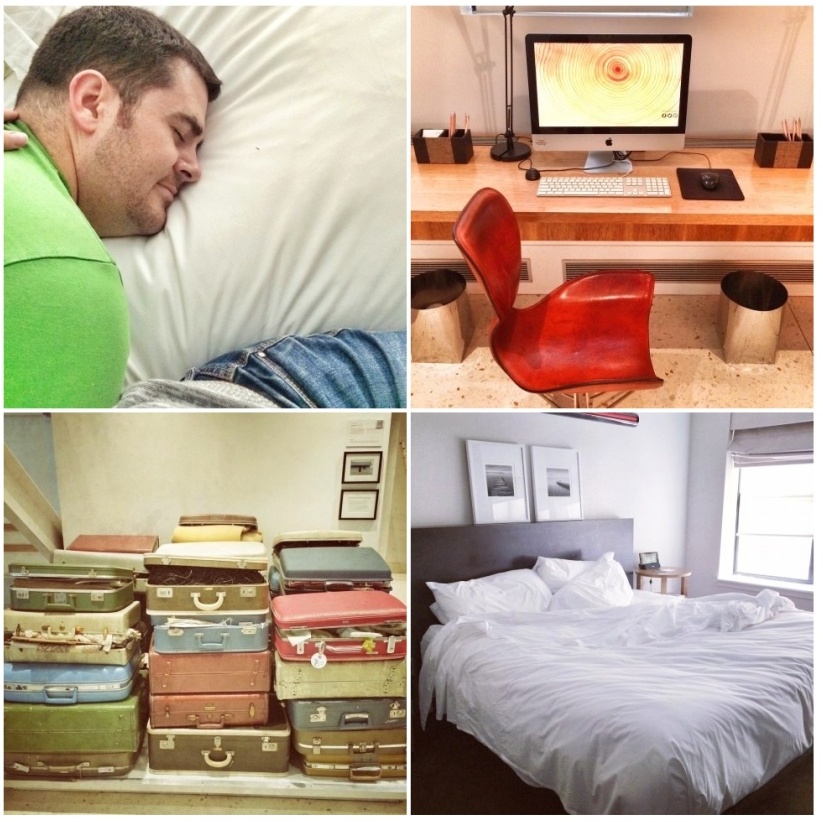 Have YOU ever stayed in a boutique hotel? Would you want to?
Good to Know:
We didn't have time to try it, but the hotel's restaurant, David Burke's Primehouse, was named the #1 steakhouse in Chicago by Chicago magazine in 2013.
There's also a spa and 2,500 sq. ft. fitness center!
Pet and kid-friendly. Seriously, I couldn't believe the special pet services that are available.
Before booking, check out their website for special offers.
Special thanks to The James Chicago for providing my stay. Rest assured that per our agreement, all opinions are my own.