Let's Get Something Straight. I DO Mind.
(Update: I found the true source of the quote, "Be soft. Do not let the world make you hard," and it wasn't Kurt Vonnegut who said it. I was told I should put this first so it shows up in search engines — read on to find out who really said it.)
Today, already, even though the clock has not yet even struck 9, I almost made a mistake.
To many, it's a mistake not very grave — not worth mentioning in this lighthearted niche in space.
But to me — to me — it's important.
More important than everything currently comforting my cold-riddled head. More important than fuzzy red socks. More important than over-the-counter meds. More important, even, than Fresh Market's Red Velvet coffee and let me tell you, my friends, that's pretty important.
I was muddling around for inspiration this morning, as many of us do, sifting through blog posts and Pinterest pins like piles of fortunes minus the cookies, and I found this. A quote:
"Be soft. Do not let the world make you hard. Do not let the pain make you hate. Do not let the bitterness steal your sweetness. Take pride that even though the rest of the world may disagree, you still believe it to be a beautiful place."
And of course I instantly connected, as many undoubtedly have before, and I felt a certain pride in discovering the words and felt they should be shared, almost as though they were my own, as though I deserved as much credit as the writer for spreading the wisdom to the masses.
It's easier, after all, than doing my own work.
Than creating my own inspiration.
So I actually re-pinned it, just for a minute, and noticed the words were attributed to one of my personal literary heroes, Kurt Vonnegut.
And just as I was about to spread the word all over Facebook, I stopped.
Because something was wrong.
I have not read the complete works of Vonnegut. Not even close. But I've read enough of his works and his transcripts from speeches and the opinions of others on the man who faced life with such adoringly contemptuous disdain to know, deep down, that this wasn't him.
It was too… puffy.
Too inspiring.
So not his style.
Where's the sardonic undertone? Where's the pinching cynicism? His uncanny ability to make you feel restless and ignorant and not quite able to understand the punchline but dammit, you'll go down trying.
No vagina doodles (that link is P.G. I promise. Except for the use of the word 'vagina.') for miles around.
It's too clean. Too sweet.
Drizzled with honey and served with a side of whipped cream.
What I'm trying to say is that it doesn't have Vonnegut's je ne sais quoi.
His particular brand of word umami is missing.
(Apparently my knowledge of the English language is insufficient to describe his work.)
So. I deleted the pin. And I set out to do something almost unheard of in today's social networking frenzy.
I researched.
And it didn't take long to discover that there was no actual concrete evidence — at least not anything I could discover via a 20-minute internet search — to attribute the quote to Vonnegut. It certainly wasn't in any of his books or short stories, and, as far as I could tell, it didn't appear in any of his lectures.
Then, as my impatience started to flare and exasperation started to set in (I know — Vonnegut would've been so disappointed in me after 20 whole minutes), I found it.
This teensy little blog post dated 16 August, 2007, from this not-so-teensy little blog called, I Wrote This For You.
The post is called "The Fur" and it consists only of the aforementioned quote and a beautiful black and white photo of a cat. I'm not really sure how the cat is relevant — I guess because it's soft — but it's there, and that's it.
And there, in the comments, one recent reader asks if "I Wrote This For You" is where the quote originated, stating that it seems to be attributed to Vonnegut elsewhere on the web.
The author replies, quite humbly, with, "It's an honour to have something I wrote attributed to Kurt Vonnegut. I don't mind."
Now. After a bit more mild research, I discovered that the author of the site — and the quote — appears to wish to remain anonymous.* Referred to with the pronoun "he" on Amazon.com where you can buy his book, he writes under the pen name "pleasefindthis" and works closely with a photographer named Jon Ellis. According to Amazon, he is a writer and "new media artist," whatever that is, and his work "focuses on non-traditional, intimate communication in all its forms." The blog started as a "project" back in 2007, was published as a book in 2011, and, according to the numbers on his Facebook fan page, has reached quite a few people.
*****
*Update (4/1/2014): So it appears as though this post has gone about as viral as I could ever expect a post from my blog to go, and I'm SO happy more people are realizing the misattribution of this quote. Since I wrote this post one grumpy morning back in 2012, the author, Iain Thomas, has emerged from anonymity. You can find him on Twitter with the handle @iwrotethisforyou. And, since we now know his name and I was even able to find a photo (I hope he doesn't mind), I did what should've been done long ago — created a meme with the right credit for the words. So what are you waiting for? Pin it!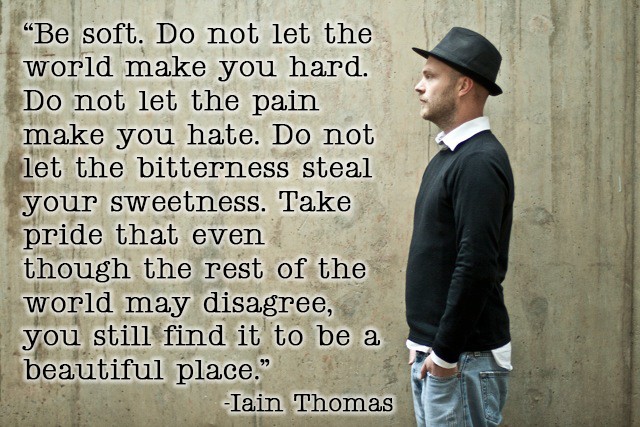 *****
It all seems a little hokey to me — especially as someone who admires the works of Vonnegut — but. I understand the need for the persona. His entire project reads as though your conscious — your you — is speaking to you. It starts with the words,
"I need you to understand something. I wrote this for you. I wrote this for you and only you. Everyone else who reads it, doesn't get it. They may think they get it, but they don't. This is the sign you've been looking for."
The typo (or is it?) in that first entry, titled, "Thank God You Found This" using the word "celebratory" instead of "celebrity" is distracting. And humanizing.
So while I may not understand or fully appreciate the entire project, I still love the quote.
And I certainly can't deny that he's a writer.
So. Let's get one thing straight.
Writers deserve to be heard.
And they deserve to be credited for the gifts they give when they speak to us.
Directly to us.
Now I feel the need to check everything I've shared. To make sure I'm giving credit where credit is due.
How about we all, in the future, do the same?
*steps down from pedestal*