A Rough Start in Paradise Is Like Getting A Botched Pedicure. No One Feels Sorry For You.
I don't know if you've noticed, but I've kind of been on a bit of a Spain kick lately.
That Málaga guest post I published a week or two ago triggered the story of how we acquired Iago, ugliest bird in the world, and now I can't stop thinking about it.
All of it.
And also how I never really told you anything useful about it after we got home, because I was too busy pouring through photographs and lamenting the fact that we were no longer there.
The good news is, it's not too late to remedy the situation. Which is exactly what I plan to do.
Since chronology is overrated, especially when 18 months have passed since the actual events, I'm going to start with the island of Formentera, one of the Balearic archipelago dotted just off the Spanish coast in the Mediterranean Sea.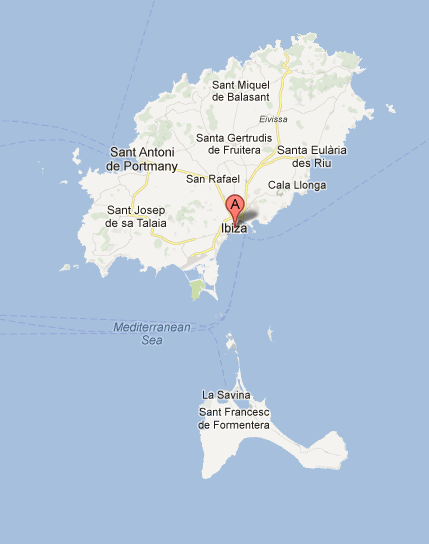 Ibiza is the large island to the north, and Formentera is south.
The plan was simple, in theory. Justin and I woke after only a few hours of sleep, the disgusting remnants of the previous night's water party washed clean from our bodies but not yet our memories, packed up our hostel room, gathered Justin's sister Becca and her boyfriend Brad, and headed off to explore Ibiza Town and return our rental car before catching the ferry to Formentera.
After Ibiza's bustling city-like smorgasbord of disco clubs, shopping markets and noisy hostels, even juxtaposed with the striking vistas, picturesque beaches, and one of the best meals I've had in my entire life (more on that in another post), we were headed for an all-out sensory overload. We needed to pace ourselves. And this is exactly why Brad had planned for us to visit the relatively flat, unassuming, boomerang shaped island dripping off of Ibiza's southernmost coast.
Unlike Ibiza with its winding circuitry of roads, bustling towns, and techno music choreographed with the sunsets, the sleepy island of Formentera has no airport. My comrades and I, therefore, remained huddled below the ferry deck for the duration of our early morning hangover commute.
Brad and Becca between the seats.
Of course, I had to sneak up to the top deck just as we departed to catch a glimpse of Ibiza Town (Vila d'Eivissa). We had stayed on the other side of the island, so I was anxious to catch a glimpse of the city whose population is nearly 5 times that of the entire island we were about to visit. I ignored my snickering European tourist audience as I walk-stumbled my way across the rocking deck to the railing and braced myself to get a shot.
Fortunately, the rest of the 45-minute ride was smooth. When we arrived on Formentera, Justin and I were completely dependent on Becca and Brad as they negotiated our bike rental in Spanish. The entire island is just over 82 square kilometers and (almost) completely flat, so biking is really the ideal way to get around. Of course, you can rent various vespas or bicycles with motors for added boost, but we thought we were hardcore.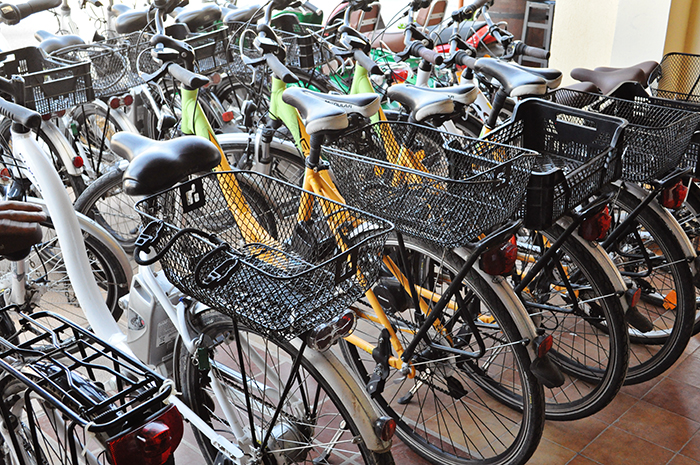 A delusion I later regretted.
Although the island's few main roads are well-paved with wide bike lanes, we set off on a dirt path — a dirt path! — to find the apartment we'd rented for the next couple of days.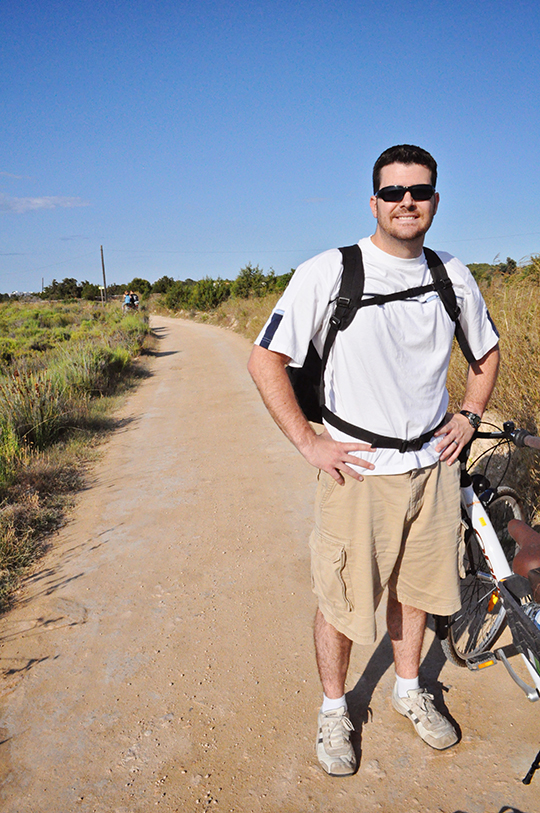 The views were flat and pretty, but my back was beginning to ache from my heavy pack, and the previous night's sleep deprivation was beginning to take its toll.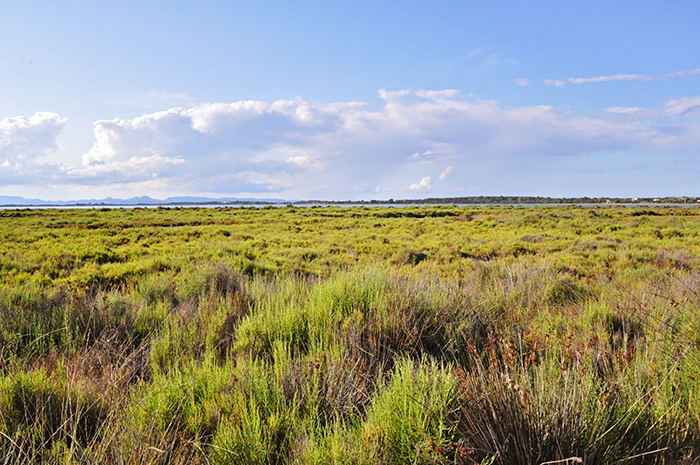 It probably took us about an hour to get good and lost, and let me tell you — there is nothing that will demoralize an already hungry, sleepy, slightly hungover group of travelers more than getting lost.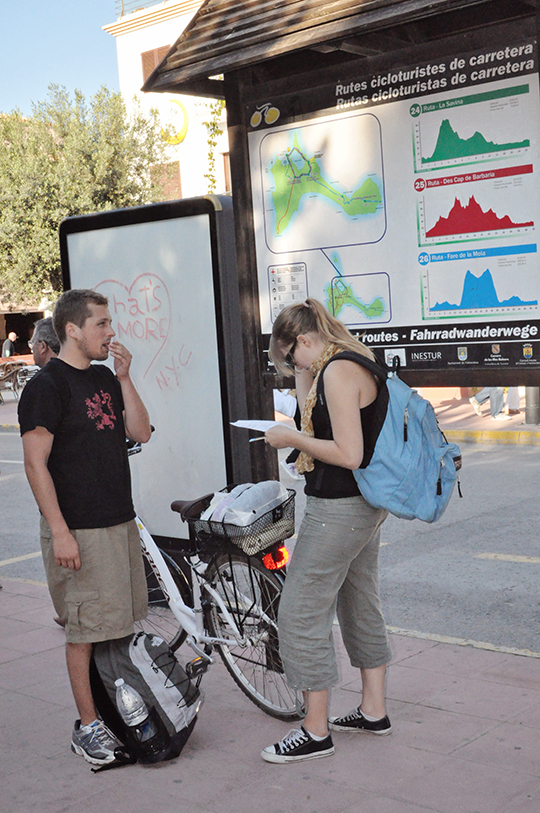 We found ourselves in a picturesque little village and I was tempted to stop for dinner.
And wine.
Lots of wine.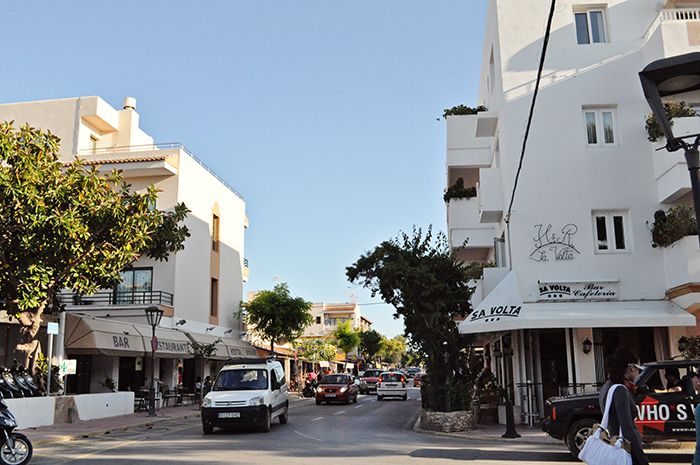 But my travel buddies (wisely) insisted that we find our apartment before dark.
We must have passed our road 3 or 4 times before we saw it, and finally we pulled in to our little sanctuary as the sun was getting low.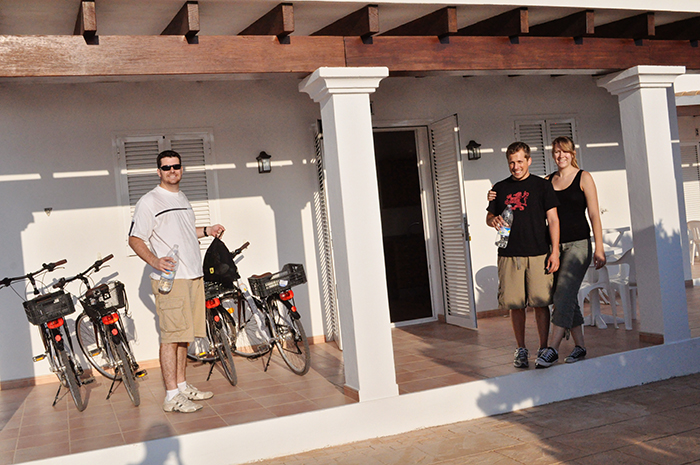 You can't really tell here, I'm sure, but the group was super thrilled I stopped them to take their photo.
The apartment had a full-sized bath and was sparsely furnished, but for our road-weary souls, it was perfect.
Shared outdoor swimming pool…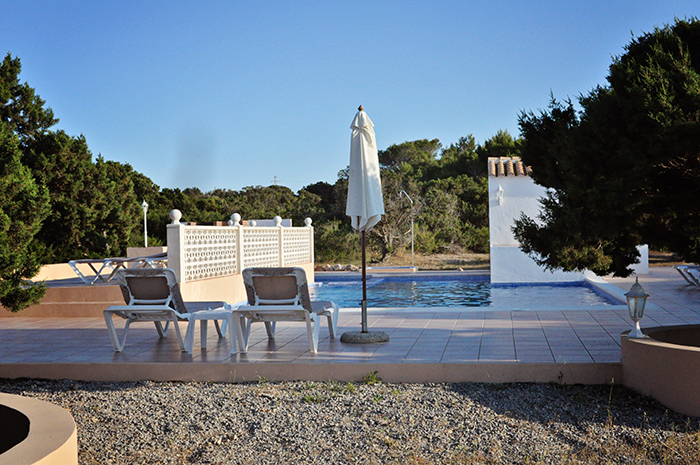 (It took all of our willpower not to dive right in.)
Drying rack for our still-damp Ibiza formalwear…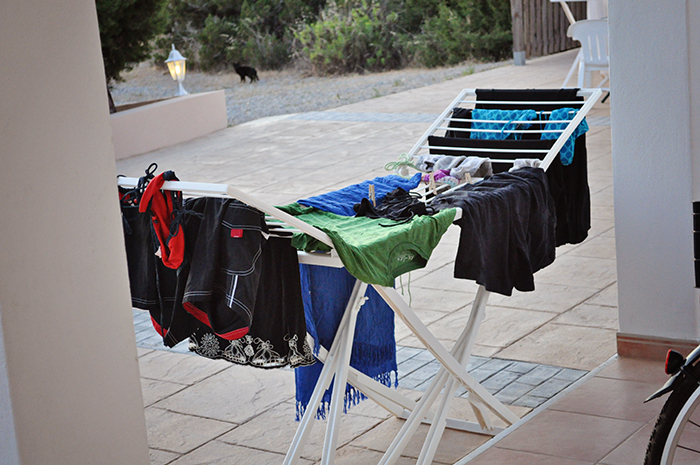 (It's the little things, you know?)
Living room with bed and futon…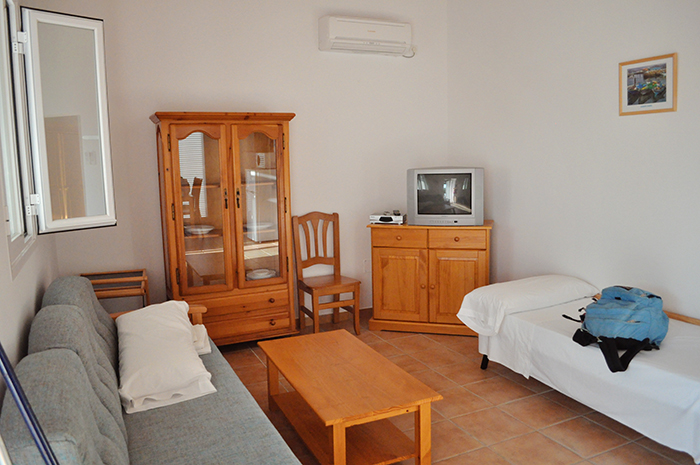 Bedroom with two — wait for it — beds…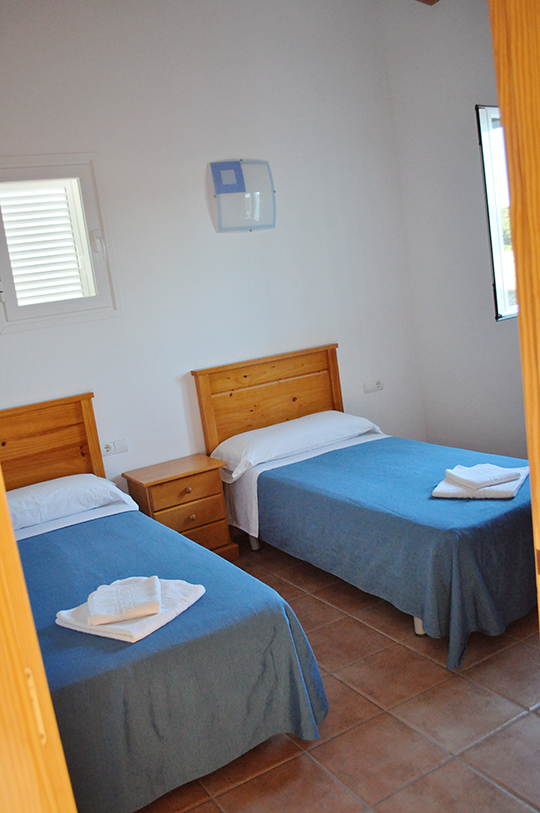 And a kitchen, fully stocked with plates, glasses, silverware, cooking utensils, and… zero food.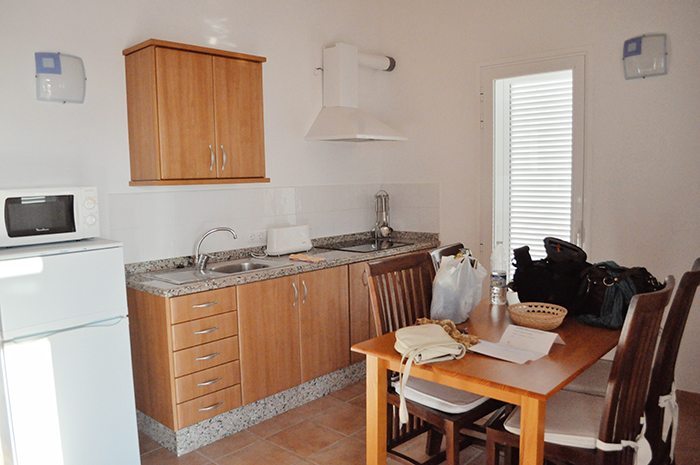 Though we had no idea how far it was to a grocery store and my butt cheeks had absolutely no intention of getting back on that bike, reason — and a rumbling tummy — took over. Justin, Brad and I headed back out in search of sustenance under the bargain that Becca would cook dinner for everyone in exchange for our brave food scouting adventure. Fortunately, we realized we'd passed a small shoppette just a half-mile or so down the road. It had everything we needed for a couple of days — pasta, sauces, eggs, fruit, bread, lunch meat, juice, garlic, and a plethora of those gloriously inexpensive bottles of Spanish wine.
We returned just as the sun was setting and sat back to enjoy it while Becca, well rested by then and in a significantly better mood, cooked our little travel family what ended up being one of the best and most memorable meals I've ever had.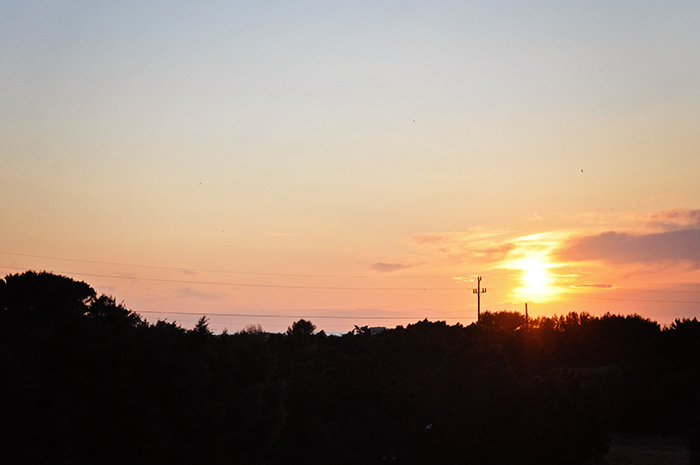 That tiny glimpse of ocean above the tree line was just enough to lift our spirits for the stay ahead.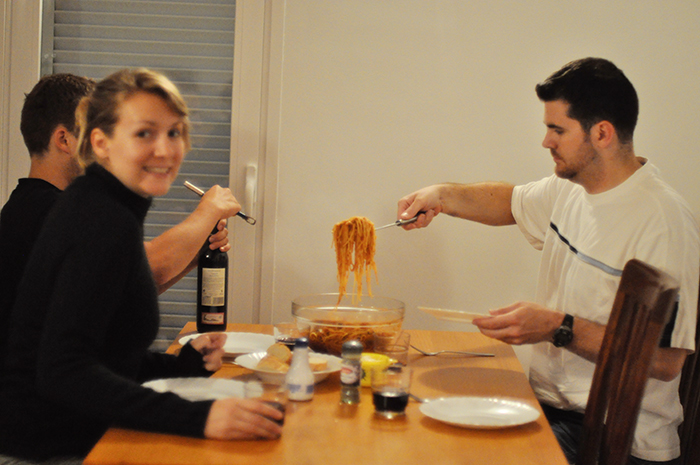 A simple meal of spaghetti, garlic bread, and a couple of bottles of wine turned into a 3-star Michelin equivalent after our exhausting day.
Afterwards, we played cards for as long as our weary eyes could stay open.
And that's the thing about travel.
It can be trying. Tiring. Sometimes a little scary.
But, at the end of the day, if you have fantastic company, a wonderful meal, and a warm bed in which a saddle-sore bike crotch is safe to recuperate, the trade-off is well worth it.
The feeling — that buzzing sense of life — is palpable.
The most addictive drug there is.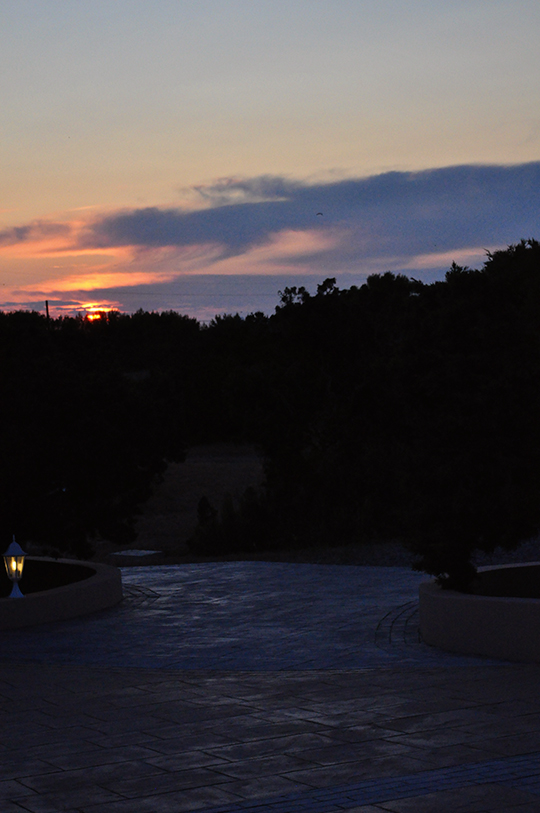 And yes, I said "bike crotch." And that was so not the end of it.
(See more Spain photos here, here, here, here, and here.)