Scenes From Málaga's Central Market: Not For The Faint Of Heart.
To market, to market.
That's where you should go when you feel like catching a glimpse of the gritty, unshaven armpit of a place.
Market folk don't care what you think of their city. Market folk don't dress in their Sunday best. They don't speak softly, they don't wait patiently, and they certainly don't blanche at the sight of a little blood.
On one of our last days in Málaga, Spain, Justin's sister Becca insisted we visit the Mercado Atarazanas, or Central Market.
Through a few minutes of totally reliable online research, I learned that Atarazanas means "place where ships are repaired" in Arabic, indicating that during Moorish times (back in the 1300's) when sea level was higher, this building sat on the edge of the water. Over the centuries its purpose has changed from shipyard to convent to military barracks to hospital to school to what it is today — an architecturally stunning warehouse of culinary adventure.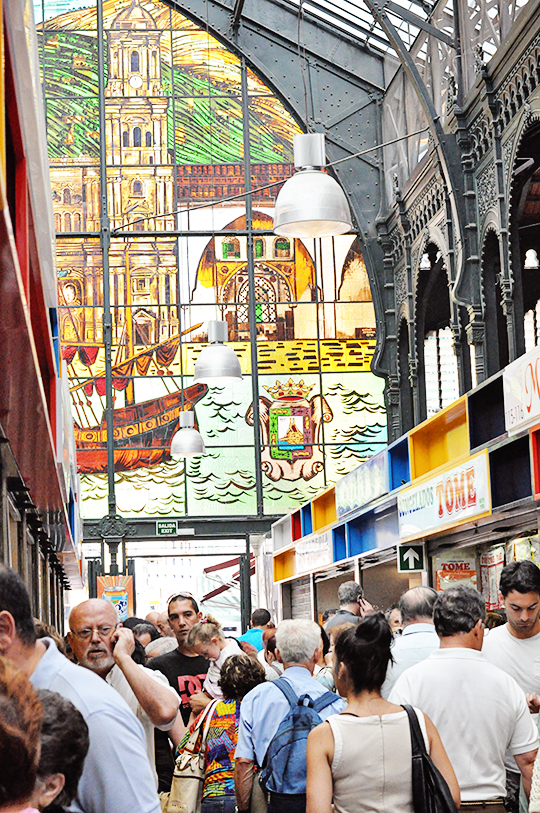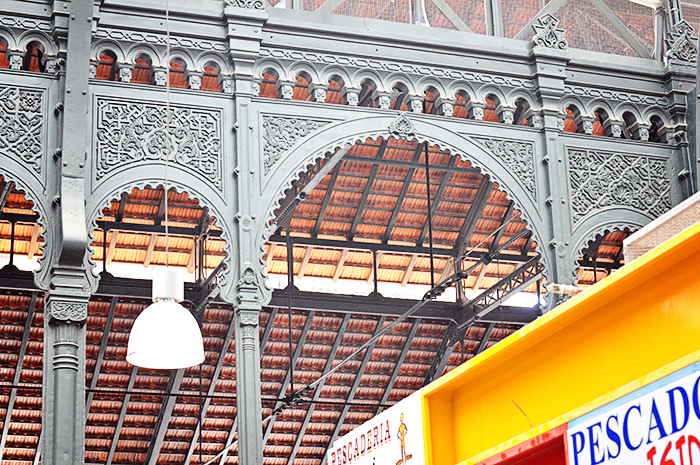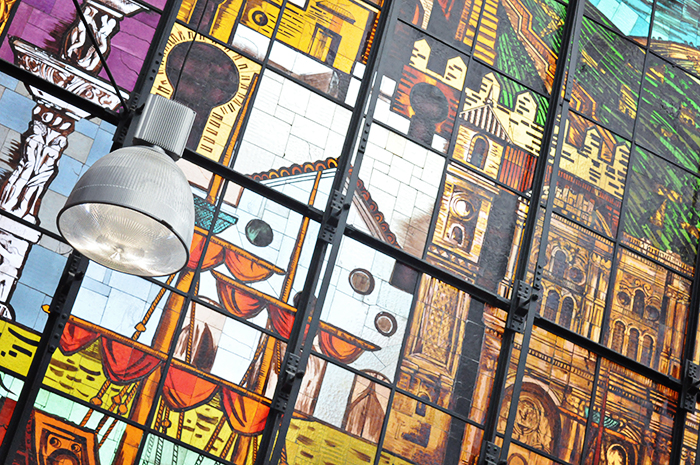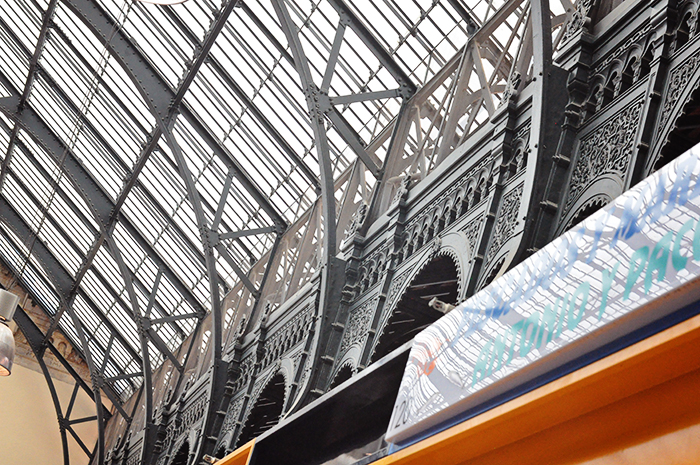 Dazed and sunburned from our time in on the Balearic Islands of Ibiza and Formentera, it was all I could do to wander from stall to stall, absorbing the smorgasbord of colors and sounds and smells.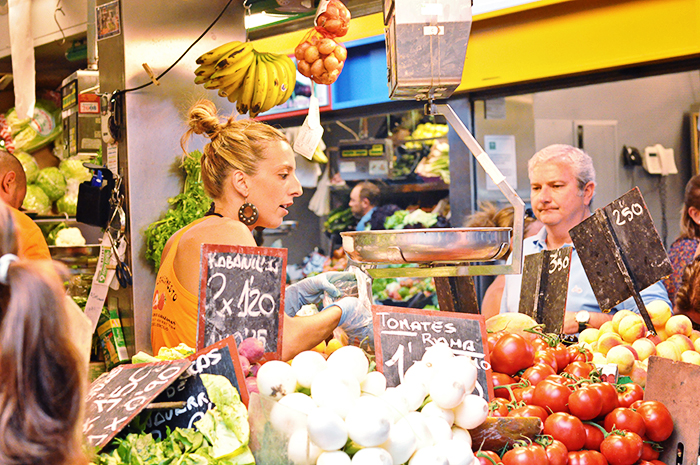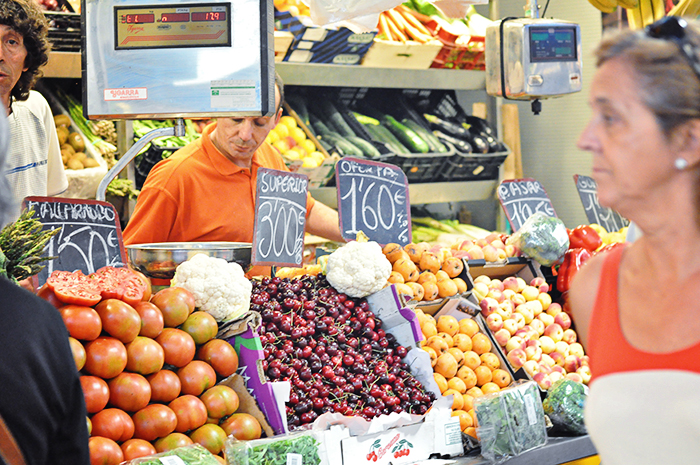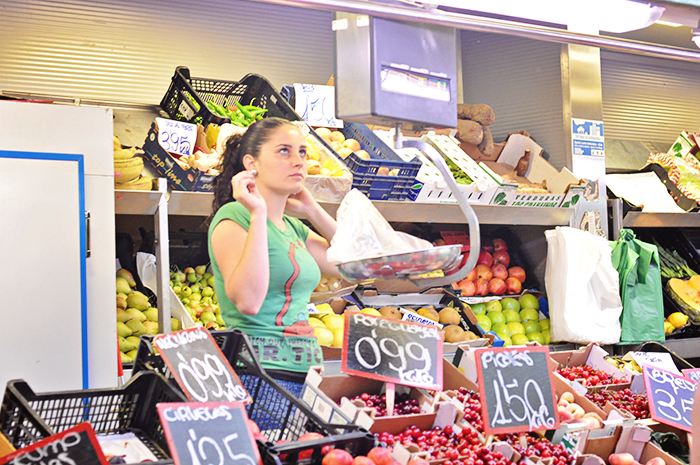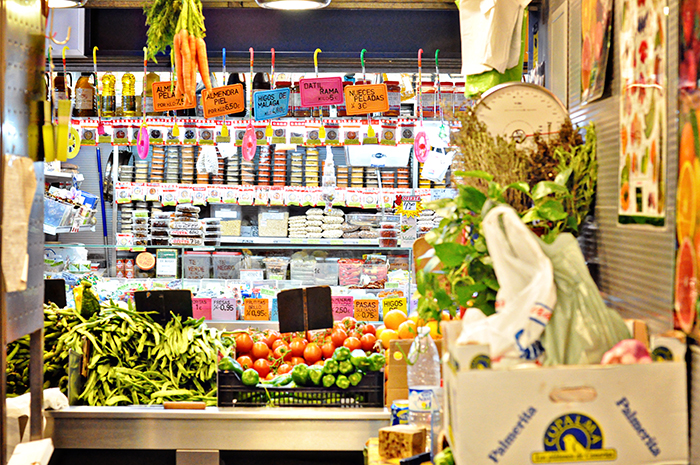 Becca eased us into it, meandering first through the stalls of fresh produce and dry goods. Sweet scents of candy and vine-ripened fruits filled my nose.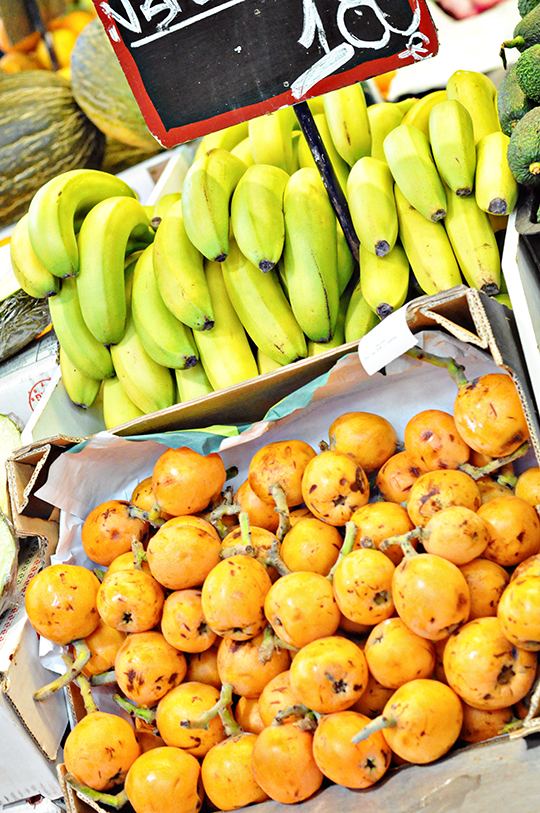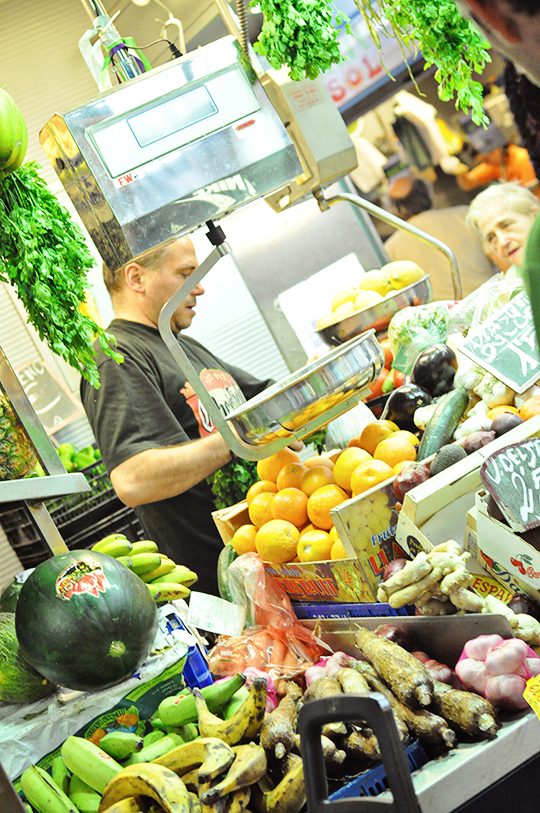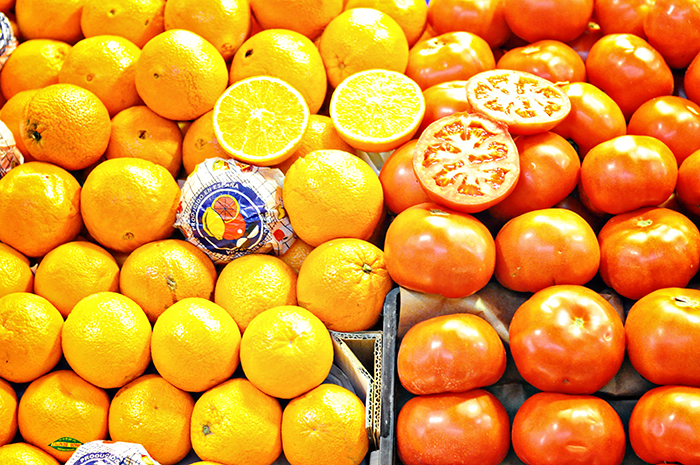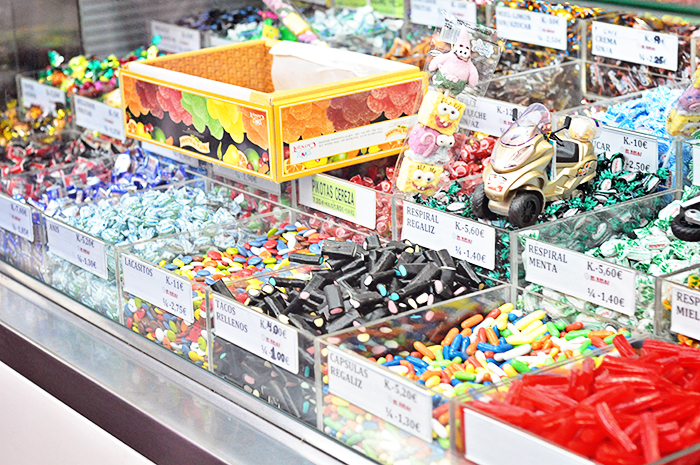 Sounds of washed, rustling greens and the clatter of nuts scooped from bins.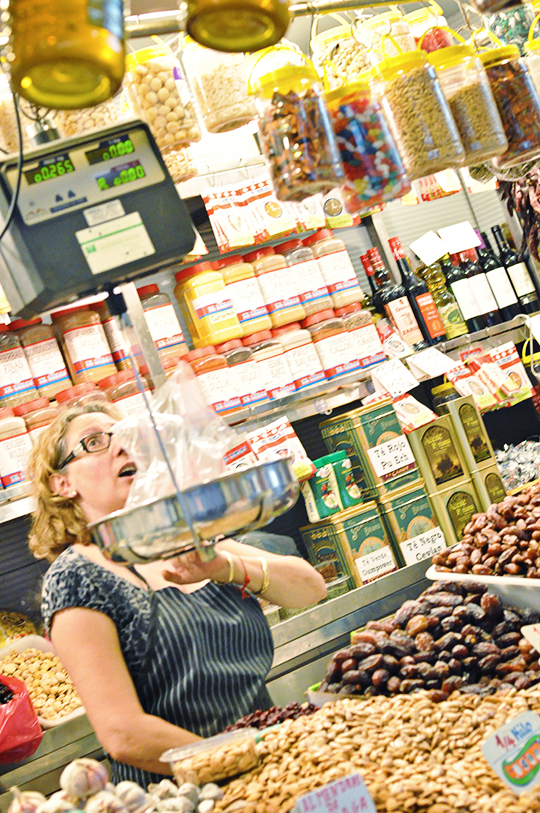 Fresh spices and dried fruits and house-made vinegars and oils.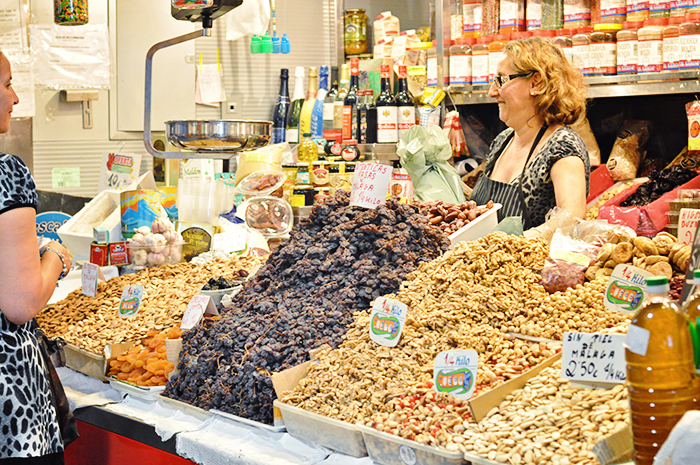 And the olives. Oh, the rich, briny olives.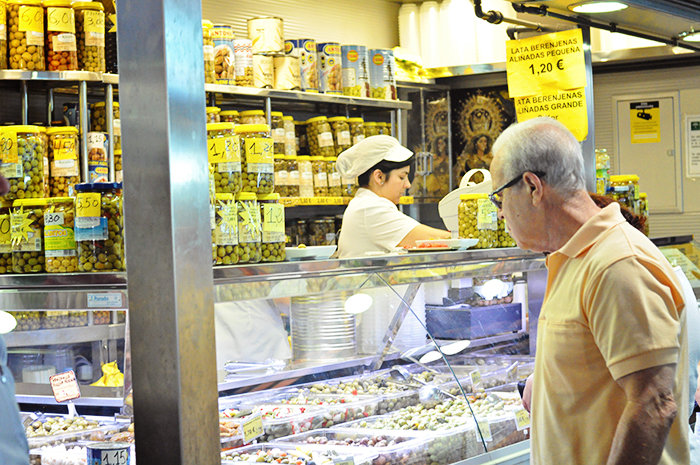 Have I told you how much I love olives?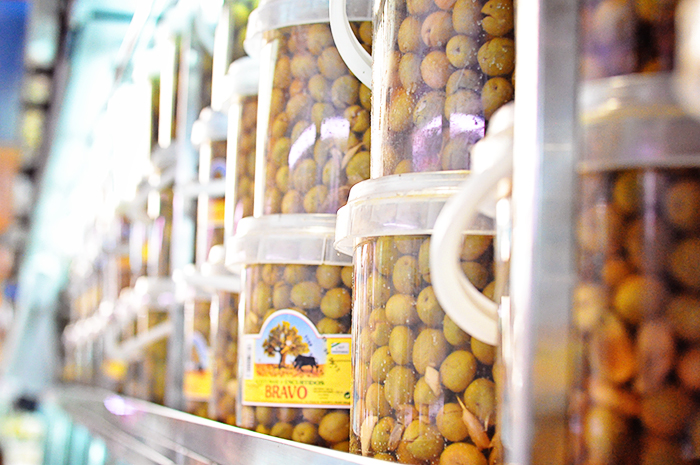 There were big olives and little olives. Sweet olives and sour. Olives stuffed with pickles and hot peppers. With pimentos or without. Black ones and brown ones and green ones and yellow ones. Buckets and barrels and bins filled with olives.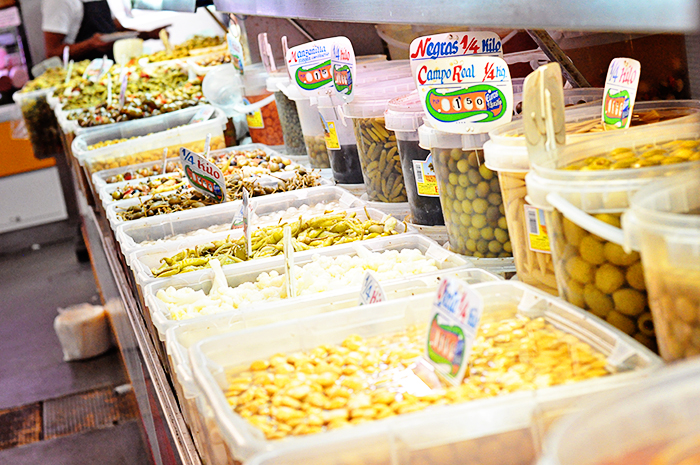 It was an olive wonderland.
I was immersed in the wondrous samples of olives from smiling, brine covered, pickling vendors, but then we turned a corner.
**Warning: Do not proceed if meat makes you squeamish.**
We turned a corner, and suddenly we were no longer in the land of colors and sweets and clean, dry aprons.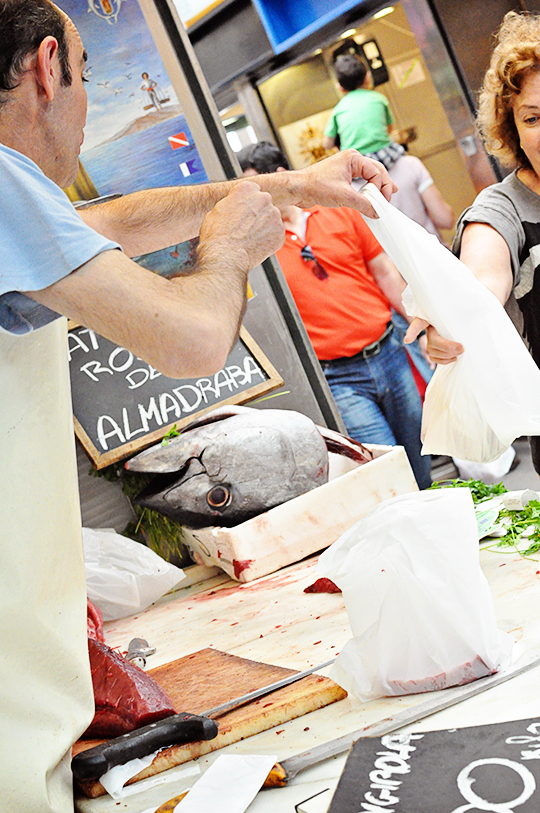 Where did all the olives go?
Oh, no. We were in the land of seafood and meats.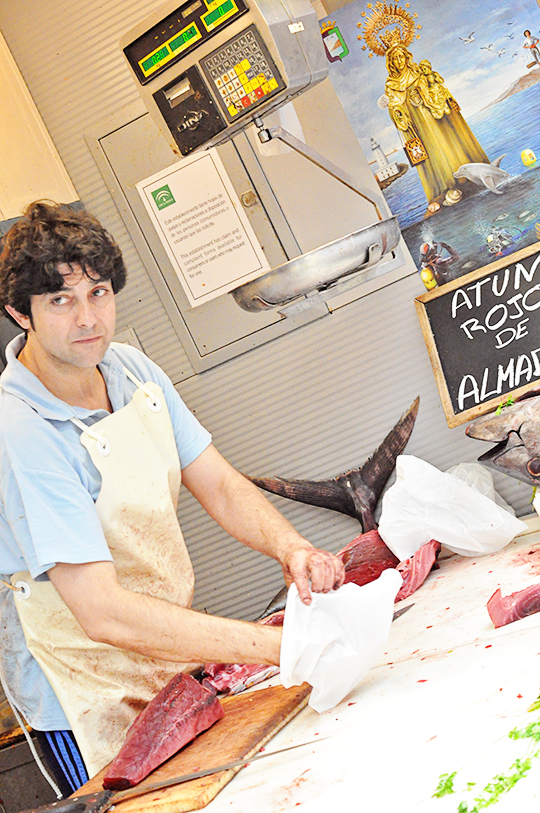 Of shells and bones and the putrid stench of fresh-cut flesh.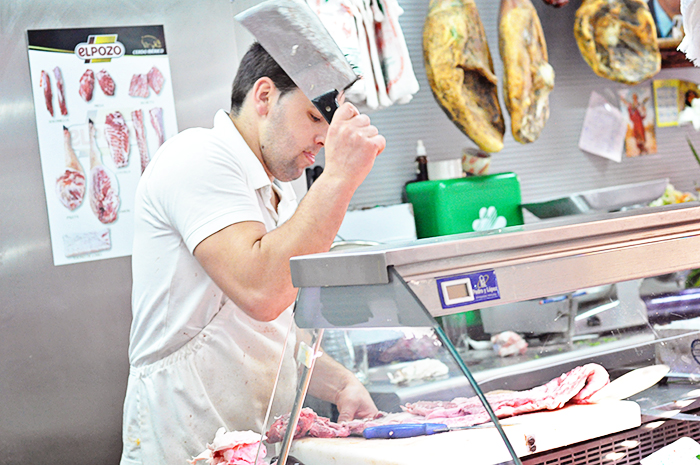 Where the only color to exist, it seemed, was pink.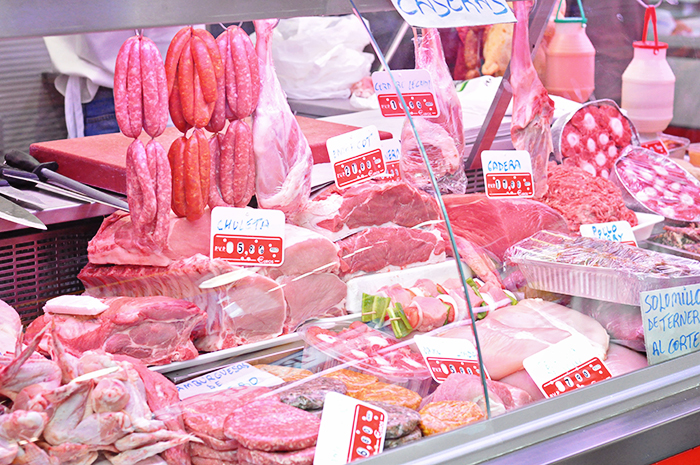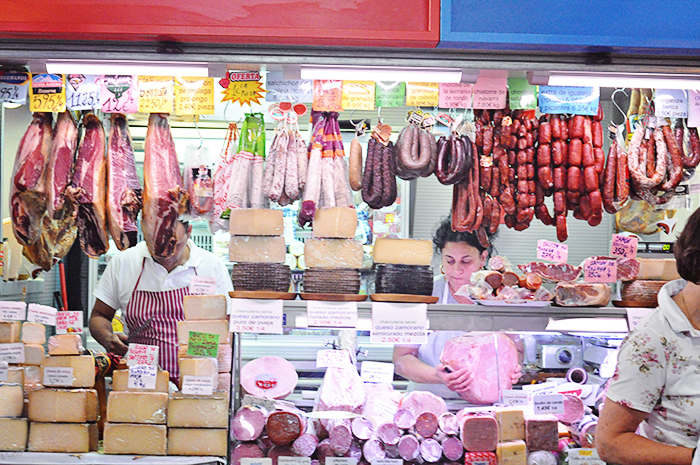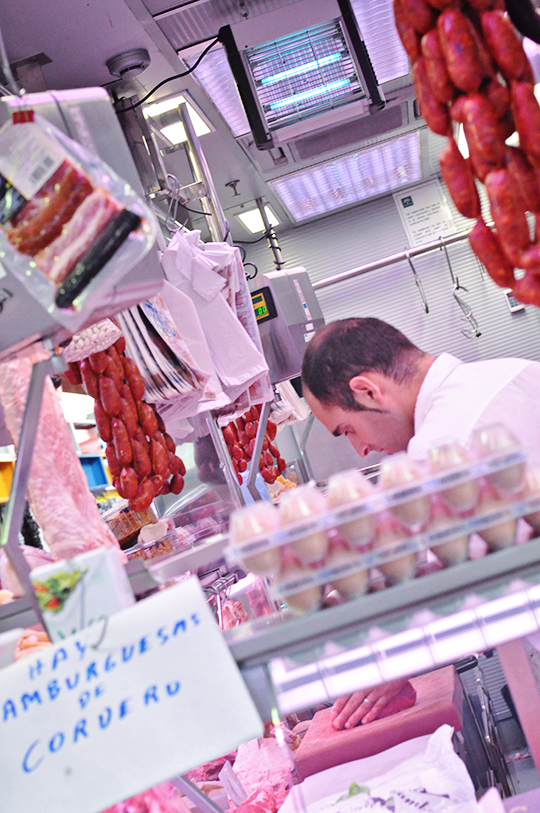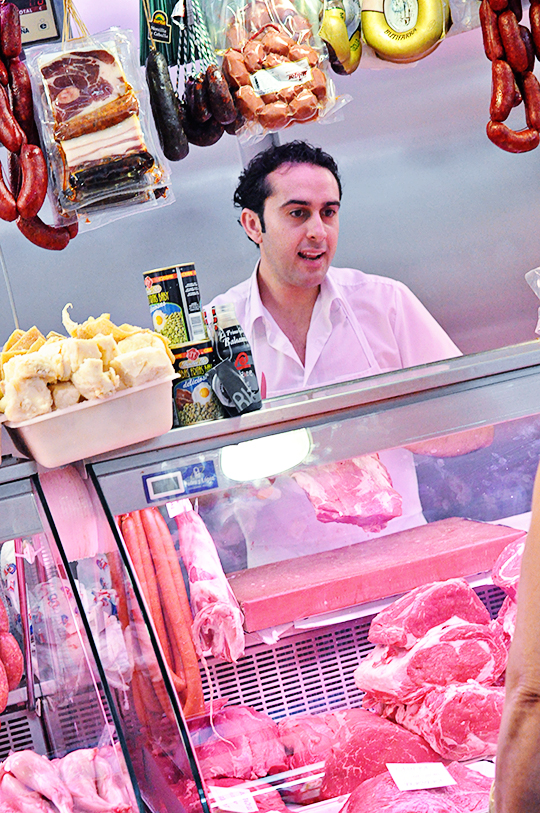 Hey. I'm not going to sugar coat it for you.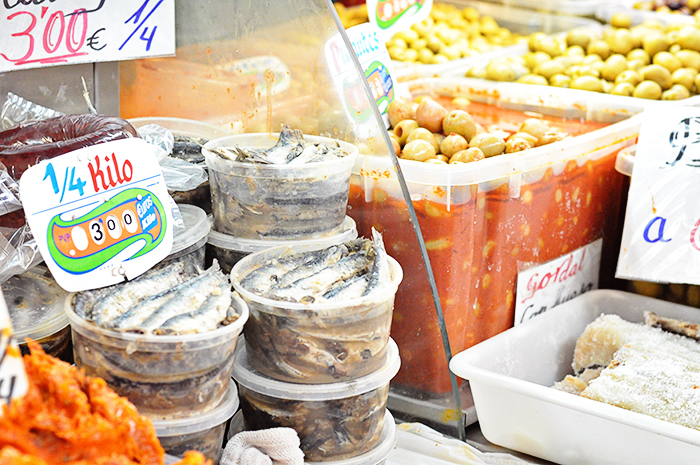 This place could be overwhelming if you're not used to seeing from where your meat comes.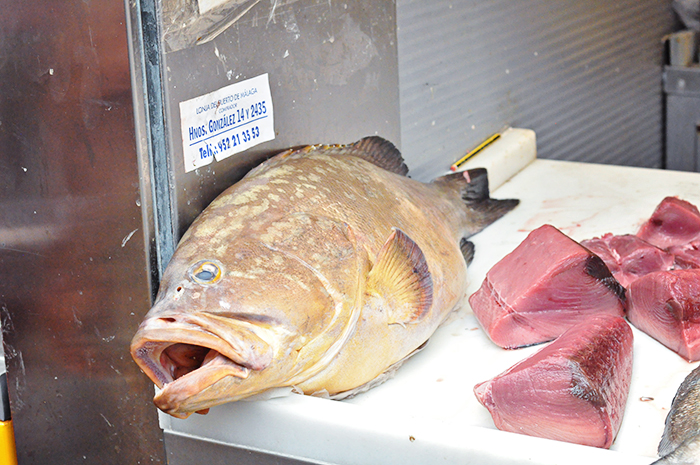 Oh, you were hoping for a before-and-after shot of my bathroom? Instead, take a gander at this before-and-after of a giant tuna.
Sure, it was a bit gory. Especially if you're a vegetarian. (I'm not, but all of the blood and guts could maybe bring me close.)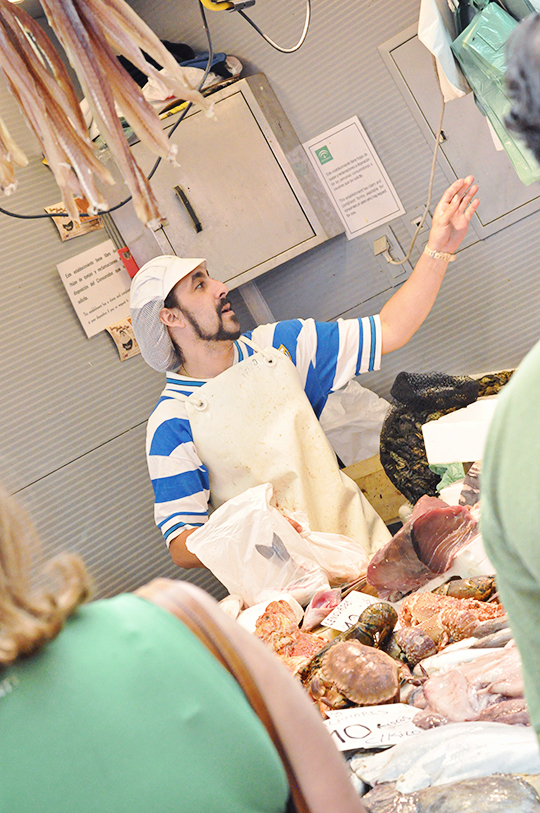 But as a bit of a foodie, I'll admit. I was kind of envious of the locals who can shop here every week — who can pick from the freshest of fresh ingredients, cook locally, and know where their food comes from.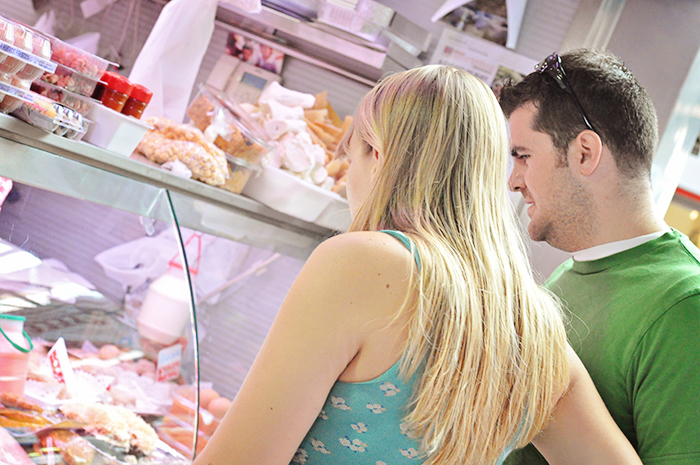 Becca and Justin picking out dinner.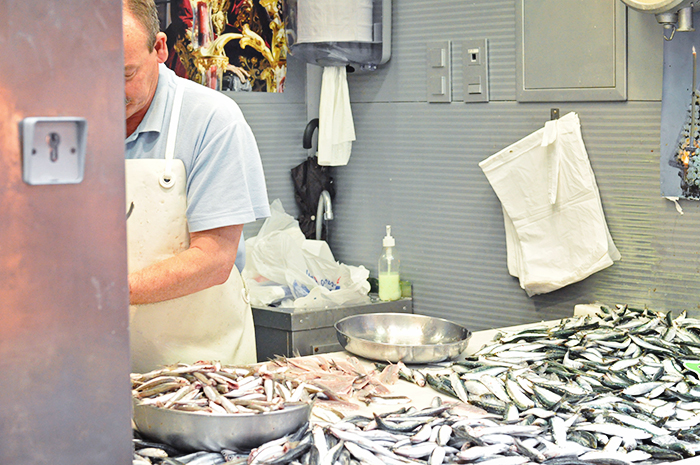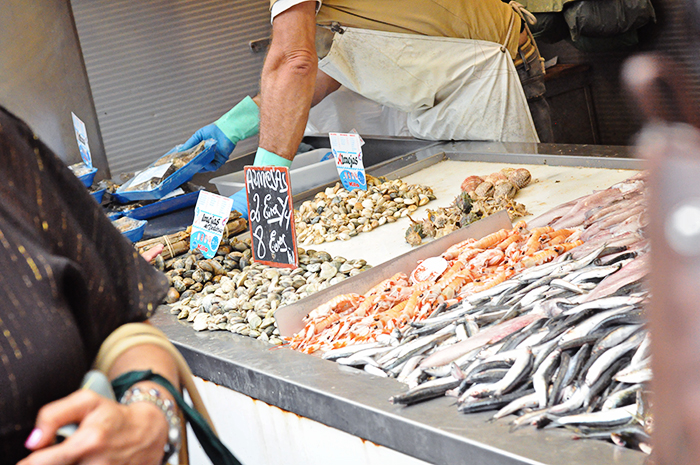 Here, consumers can smell and touch and even taste before they buy. There are no expiration dates because the food didn't have to travel across the country to sit stagnant on shelves.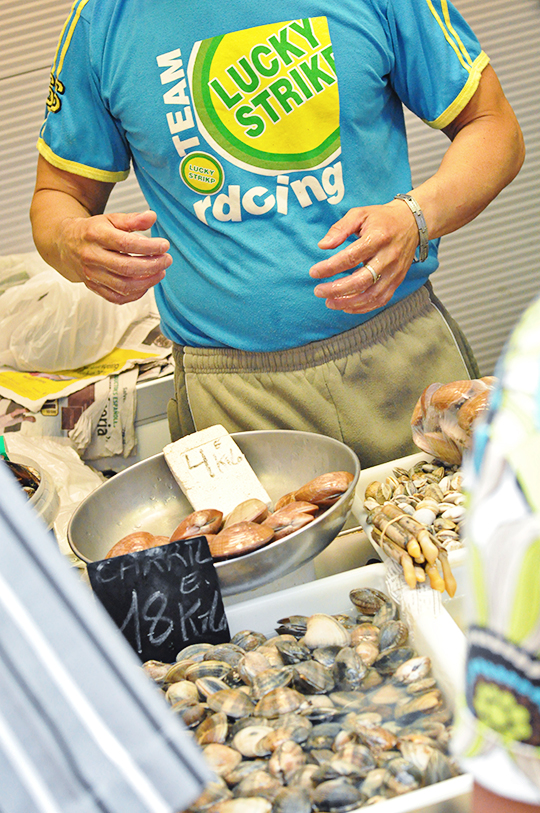 I can't say that about the value priced tongue at my local Food Lion now, can I?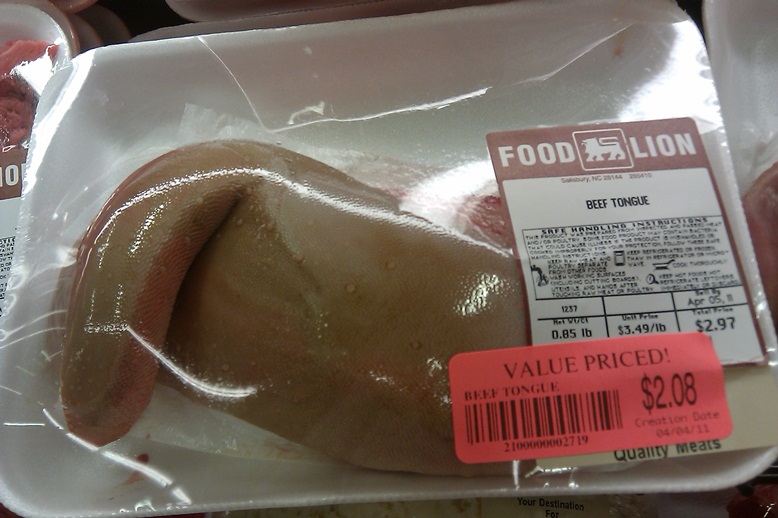 No, no I can't.
So.
There are two things we've learned here, I think:
1) If you want to see the heart of a place, find yourself the local market, and
2) If you have a hankering for beef tongue for dinner, you don't have to go to all the way to Málaga to get it.
But it ain't gonna be fresh.