I Wanted To Call It, "You Kissed Your Sister?" But Justin Wouldn't Let Me.
Okay so you know how we've been doing this Food Lover's cleanse, and how it's not really a cleanse but more a way of shoving all kinds of healthy stuff into our bodies for a couple of weeks in an effort to counteract that sluggish feeling we've had since December 25th?
Well.
I'll be honest.
While it's definitely given me a taste for some healthier foods, lately I've been craving a cheeseburger like nobody's business.
Oh.
And did you know it's Girl Scout Cookie Season?
Yep. It gets capitalized.
Like Deer Huntin' season only this involves legally scouting out underaged girls with flair-spotted green vests and sheepishly handing them a couple of $20s under the table before walking away with coveted red and purple boxes.
Or maybe that's just me.
And now the boxes taunt me because as much as I want to crack those puppies open, we've come too far with this cleanse to throw it all away now.
And we've already thrown some away.
Primarily in the form of cheesecake.
Chocolate rum covered coconut cheesecake, to be exact.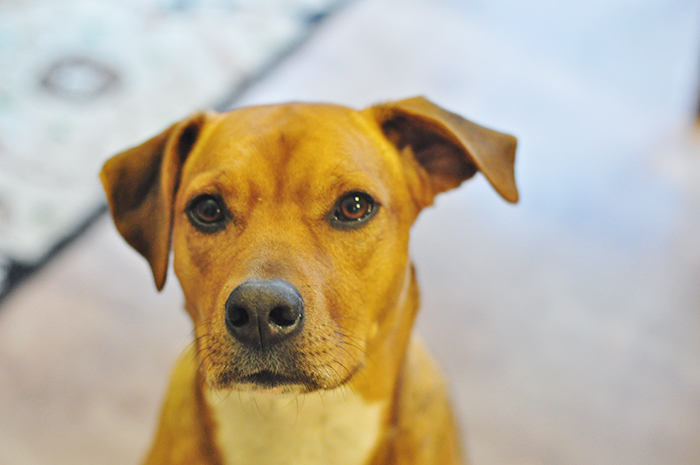 Did someone say cheesecake?
See, I have a dark, dirty secret that I can no longer keep from you, my dear readers, who've shown me nothing but love and loyalty as I try to figure out how to grow this blog without losing my voice.
So.
Here it is.
My husband makes cheesecakes.
Yep.
He may be a tattoo sportin', Air Force enlisted, hairiest manly man on the planet, but he also makes cheesecakes.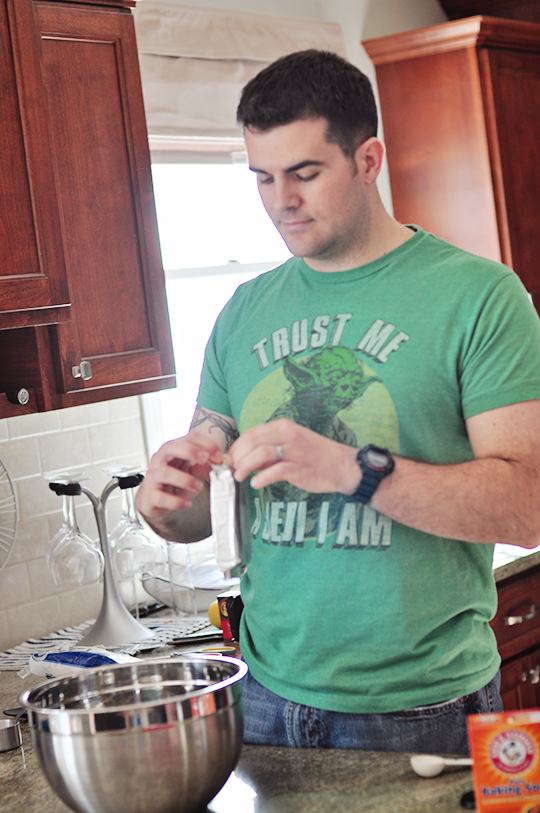 Trust him. A Jedi he is.
And he's a huge, huge Star Wars geek.
And he'll watch a Downton Abbey marathon with me with narry a peep of complaint.
The guy is a study in contrasts, I'm telling you.
But probably one of his biggest talents is making the cheesecakes.
I call 'em "Justin Cakes" because I think it's cute and slightly suggestive. But everyone else just calls them awesome.
After he'd experimented baking what is probably the most fattening kind of cake in the world for over a year (which, according to me, is how long it takes to establish whether an activity is only a passing interest or an actual hobby), I decided to buy him this book:
I bought a used copy of the hardcover version since new ones hovered around $100 at the time on Amazon. (I believe now they're around $70 which is still a ludicrous amount of money to spend on a book unless Johnny Depp touched one of its pages and then I could touch one of its pages and then it would almost be like we touched each other.
What?
That's not weird.)
Anyway.
Besides offering a plethora of tips that solved issues that had been frustrating him (cake cracks, messy knife cuts, and general consistency), it also opened a whole new world in the realm of cheesecake assemblage. Cheesecakes can consist of three basic parts: the crust, the cheesy filling, and a topping. Of course, all you really need is the filling for it to be considered a cheesecake, but crusts and toppings — especially when mixed and matched in numerous types and configurations — are what can make a cake especially interesting.
The particular cheesecake he made for Super Bowl Sunday — the Chocolate Rum Covered Coconut JustinCake — consisted of an oat coconut crust (from this incredible recipe), a coconut cream filling (inspired by this recipe), and a chocolate rum and toasted coconut topping (from this recipe).
*EDITOR'S NOTE: He has since tweaked the chocolate topping he made for the Super Bowl because that one made way too much and stiffened to a chocolate "shell" when refrigerated. The newer, softer, rummier topping is what's included here. Also, while this buttery oat crust is incredibly delicious with light, citrus cakes, he and I both agree that this heavy chocolate coconut cake might actually be better complemented with a simple 'Nilla Wafer or shortbread crust.
*JustinCake Tip: The very first thing you should do before embarking on other cheesecake bakery is set out your eggs, cream cheese, and butter  that will go in the crust and filling so they can get to room temperature.
I don't know why you should do this. Just listen to the cheesecake expert on this. And the cheesecake expert on this blog is Justin.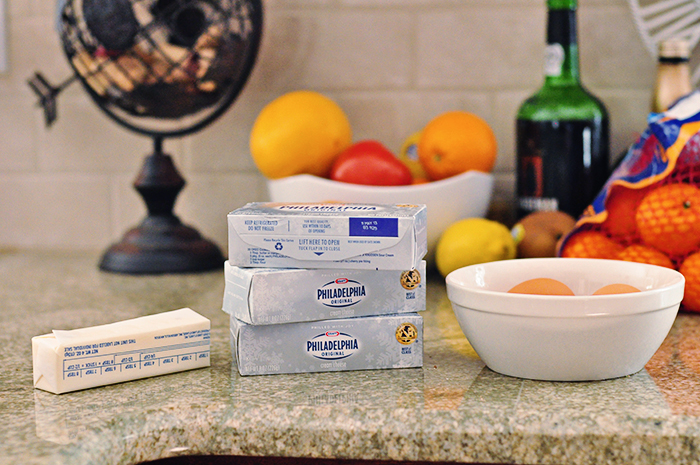 Buttery Oat Crust
Then, if you decide to make the buttery oat crust (which really is awesome), you need:
2/3 cup rolled oats
2/3 cup flaked coconut
2/3 cup all-purpose flour
1/2 cup white sugar
1/2 cup butter, melted
2 tablespoons light corn syrup
1/2 teaspoon baking soda
1. Preheat your oven to 350-degrees F and prep a springform pan. You can probably use something other than a springform pan, but really, these are ideal for cheesecakes because the side of the pan unlatches and "springs" away from the cake once it's done baking while the cake itself remains resting safely on the bottom of the pan.
I stole this springform pan from my mom in 2003 because I liked to make tiramisu in 2003.
I doubt she ever noticed it was missing. (Hey, Mom!)
Then I became too lazy to make tiramisu and it sat in various cabinets as we moved from place to place until around 2010, when it finally stripped its confining cardboard box and entered the evocative cheesecake scene.
Justin preps his cheesecake pan with parchment paper and PAM, like so: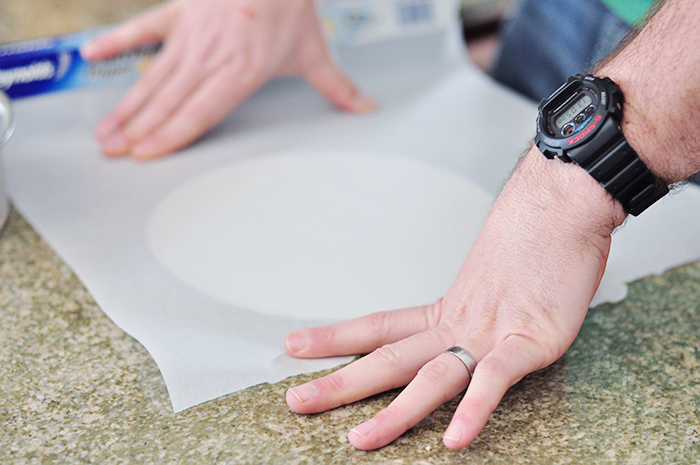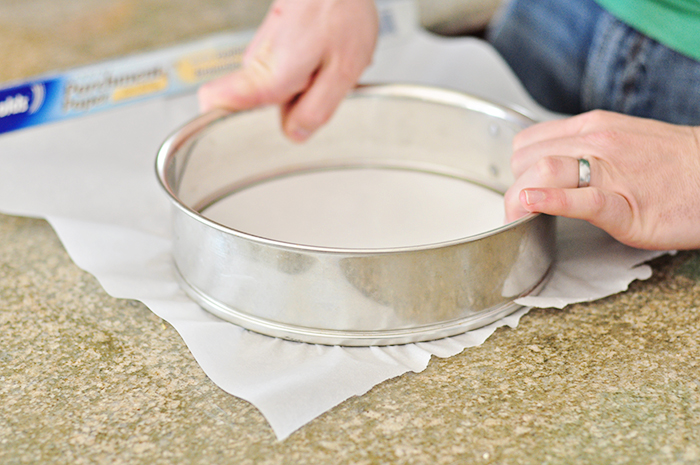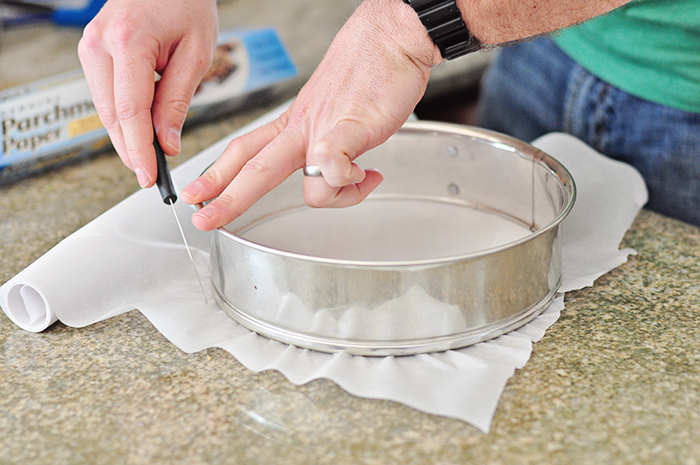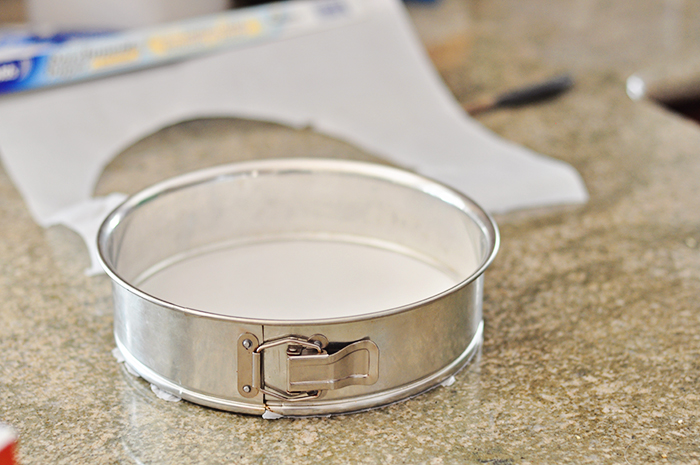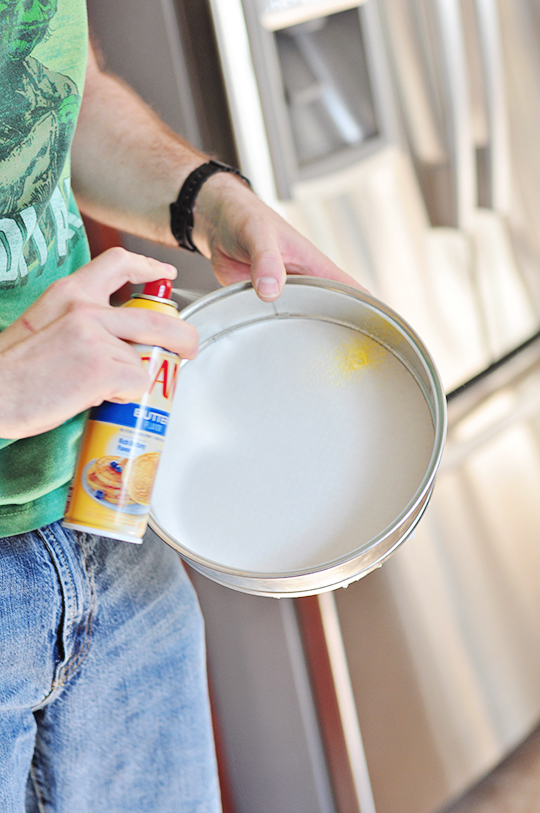 Umm… only maybe not quite so PAMmy. I made him nervous with the pictures.
2. Mix the oats, coconut, flour and sugar together in a bowl. Heat the butter and corn syrup on the stove until the butter is melted, then add the baking soda. Pour the stovetop mixture in with the oat mixture, fold together until everything's nice and sticky, then press it all into the bottom of your prepped pan.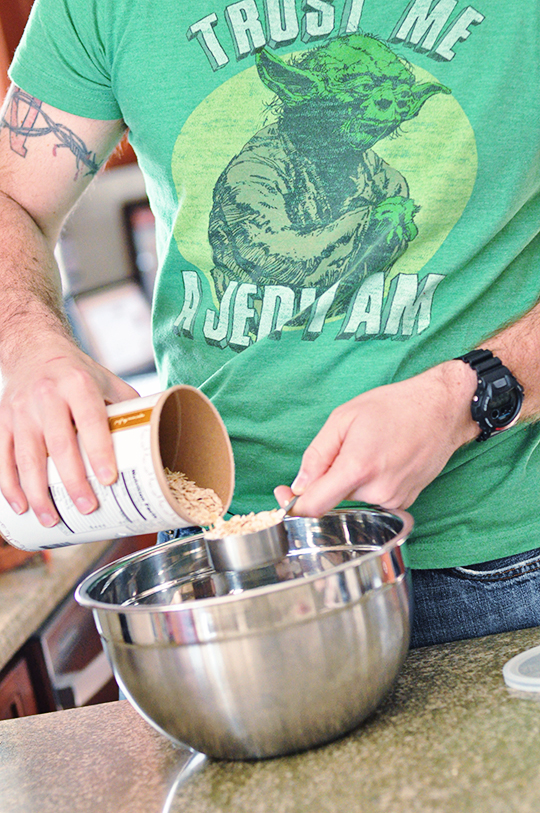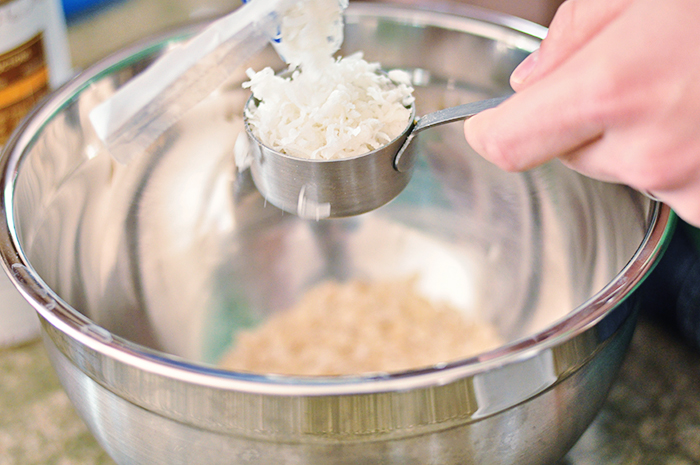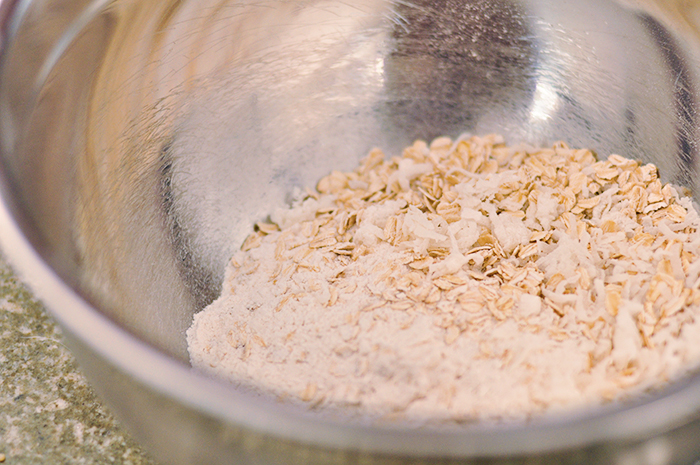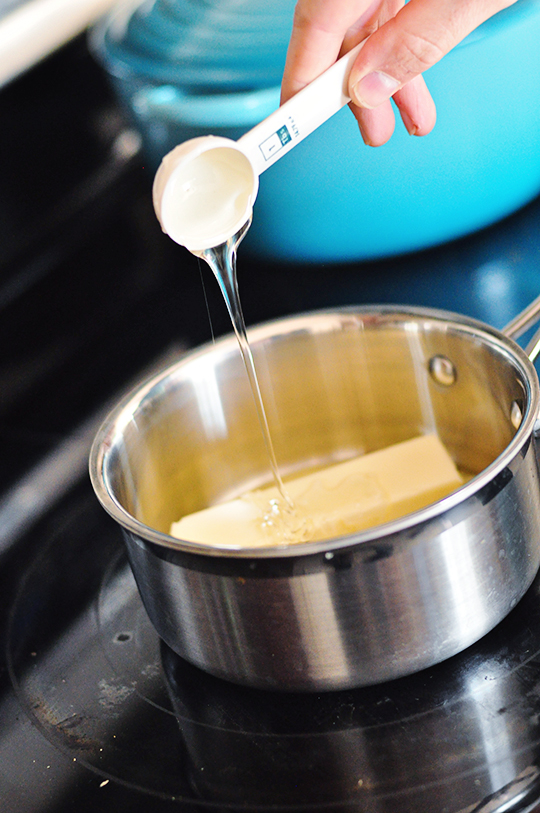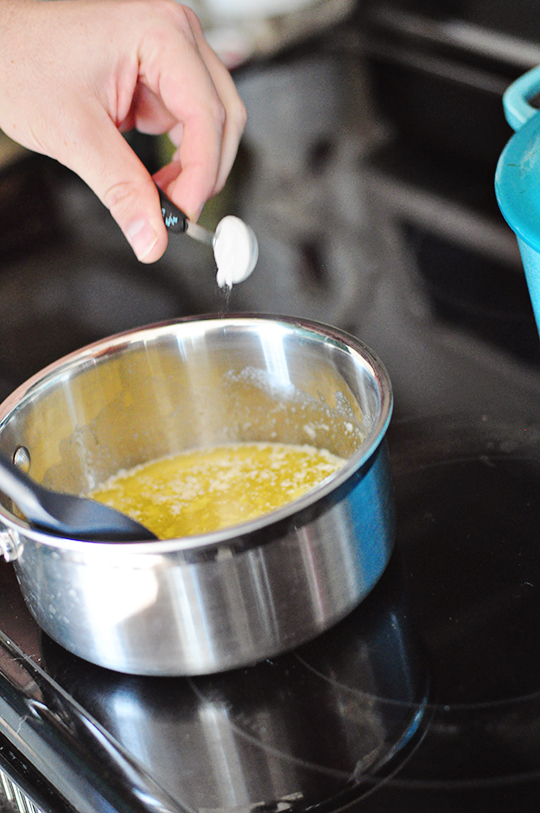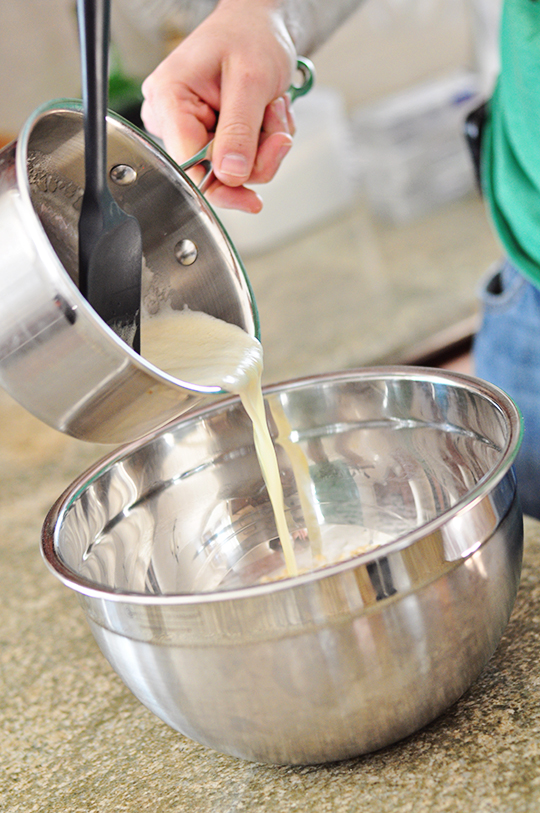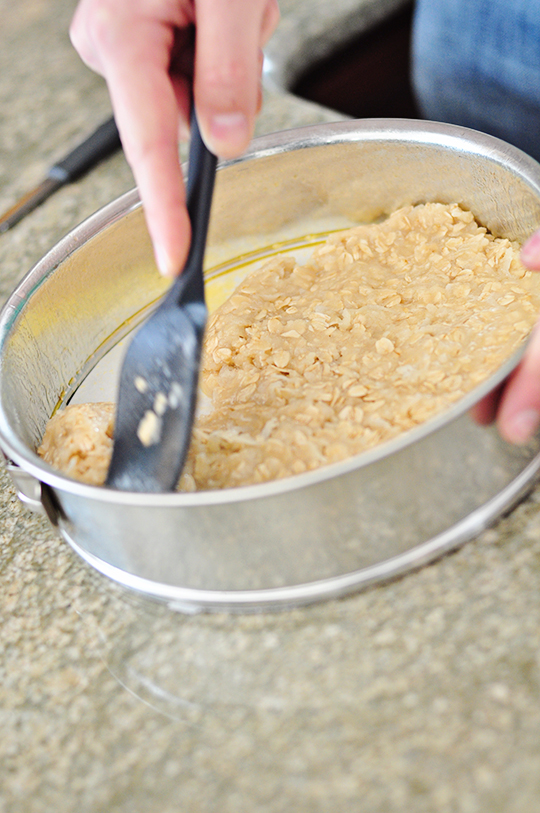 EASY!
3. Bake your crust at 350-degrees F for 15 minutes until lightly browned and then set aside to cool.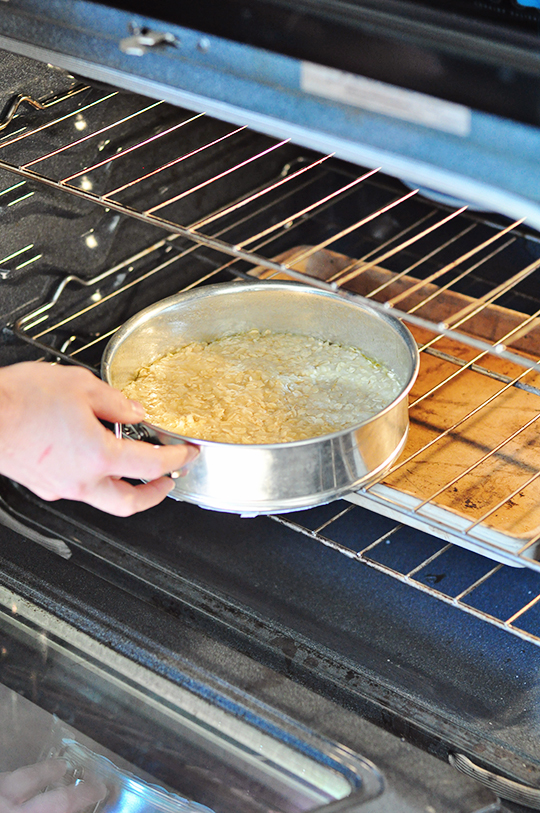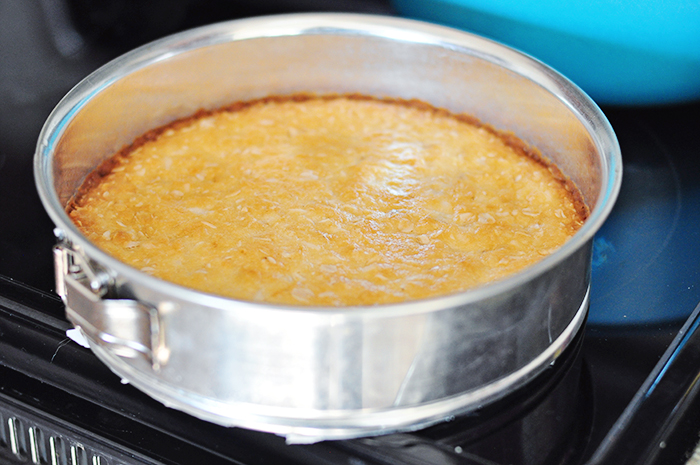 Try not to eat it. It's difficult. It's like a giant fantastic cookie.
Coconut Cream Filling
To make your creamy, understated and orgasmic coconut filling, you will need:
1 tablespoon shredded coconut
1/2 cup granulated sugar, divided
3 (8-ounce) packages room temperature cream cheese
1/2 cup packed brown sugar
4 large room temperature eggs
1 1/2 tsp. vanilla extract
1/2 teaspoon salt
1/2 cup cream of coconut (found in the alcoholic drink mixers section of your grocery store. Yeah, baby.)
1. In a food processor, blend together 1/4 cup granulated sugar with 1 Tablespoon of shredded coconut. We're gettin' fancy with the coconut-flavored sugar.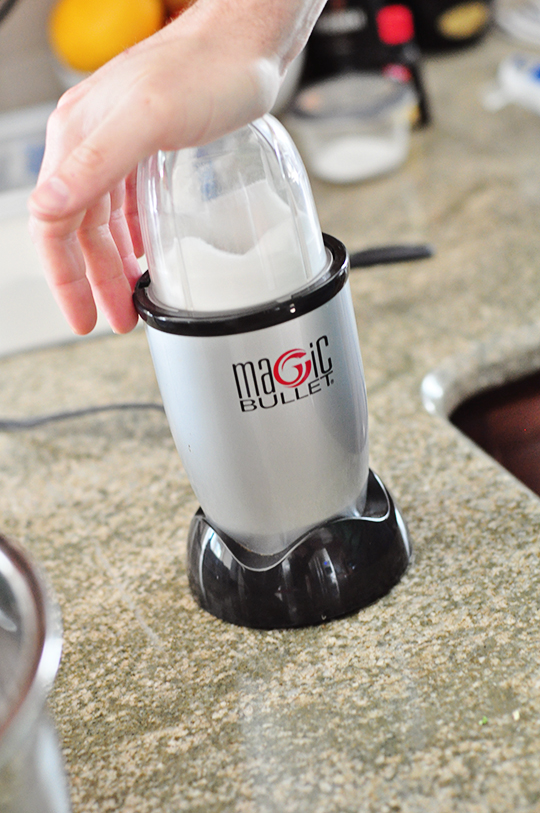 2. Stir the cream cheese bricks together until combined and creamy. Then add the coconut sugar, remaining 1/4 cup granulated sugar, and brown sugar.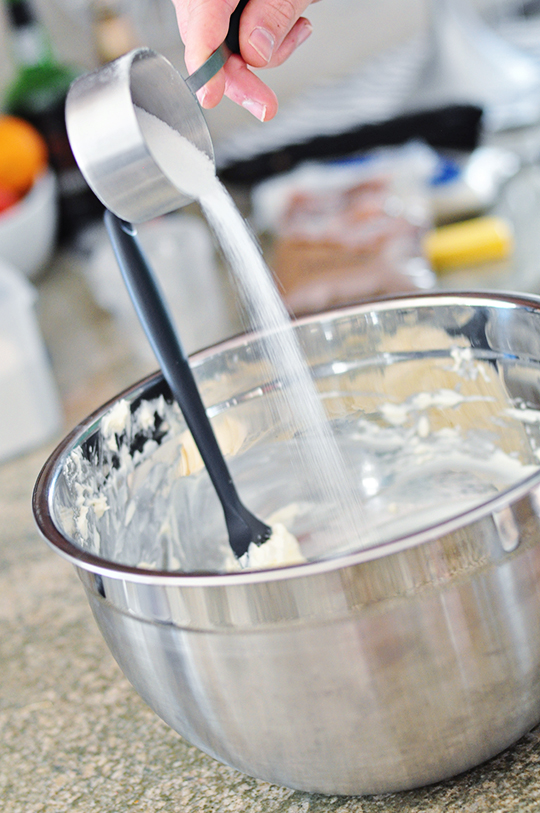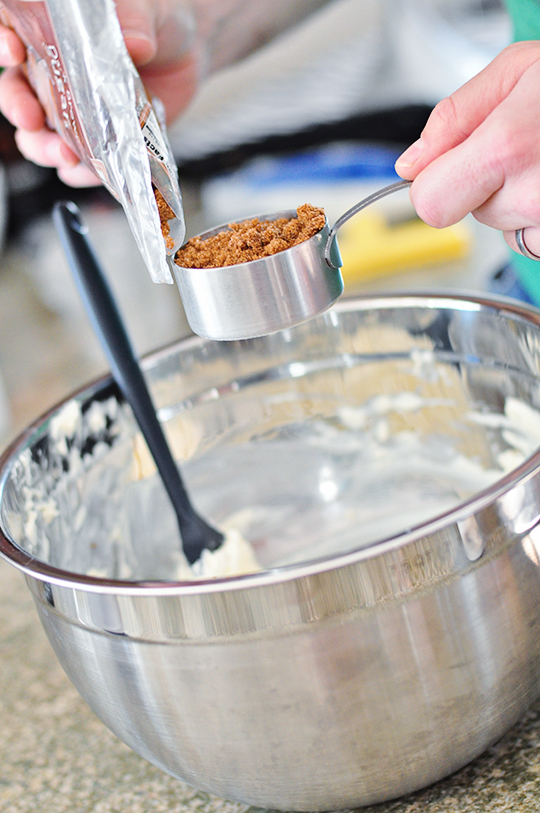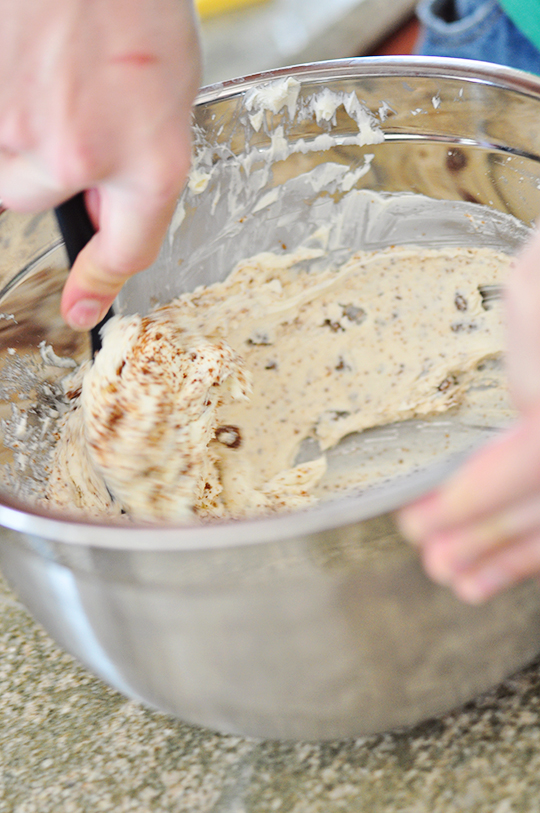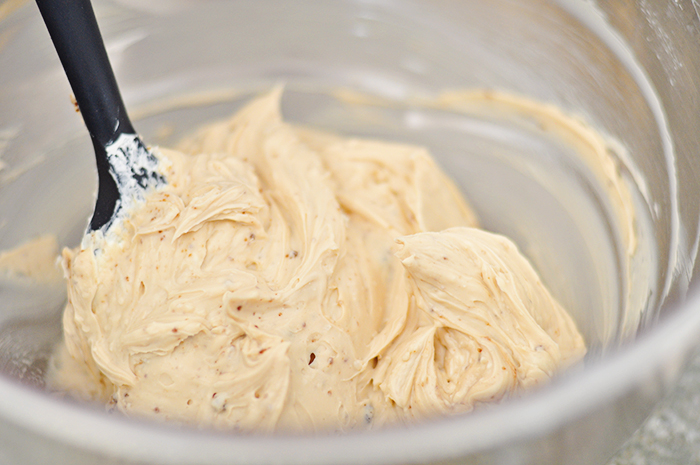 3. Add eggs, one at a time. Stir each one just enough to incorporate.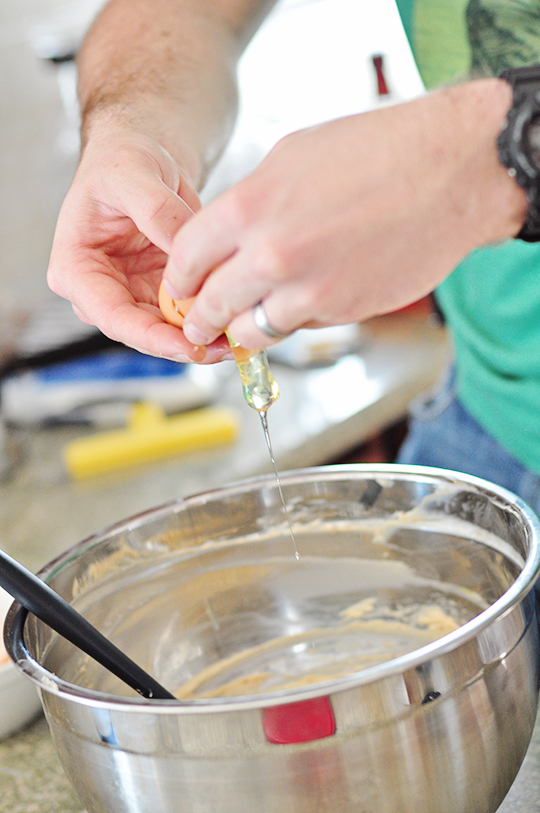 4. Add salt and cream of coconut. Stir just until smooth. (Over-stirring adds bubbles, and the Justin Cakes guru says bubbles are bad.)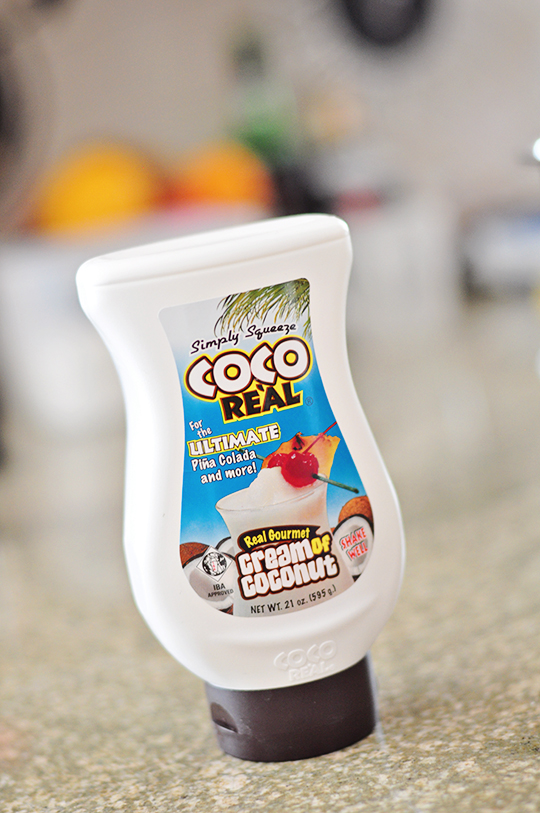 This is cream of coconut. It's not coconut milk. Find it in the drink mixers section of your grocery store. Don't question. Just use.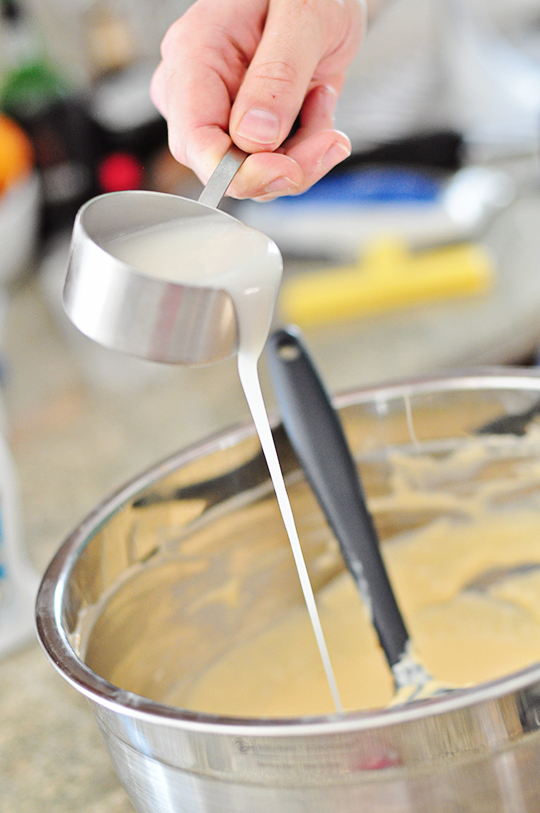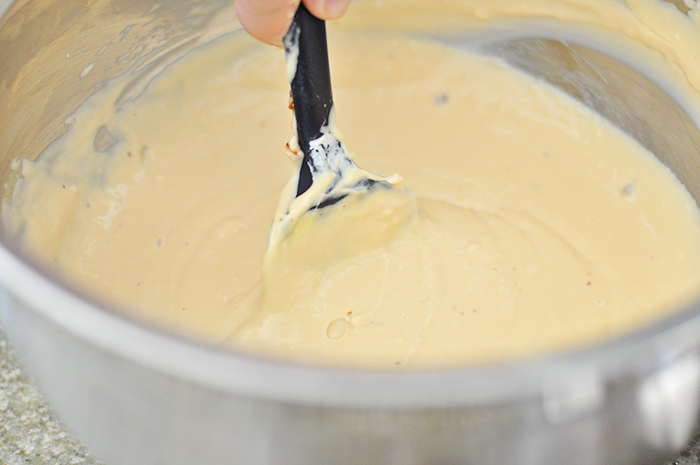 5. Pour the filling mixture into the springform pan over the baked crust. Gently tap the sides to bring bubbles to the surface. Remember — bubbles are bad and cause crackage.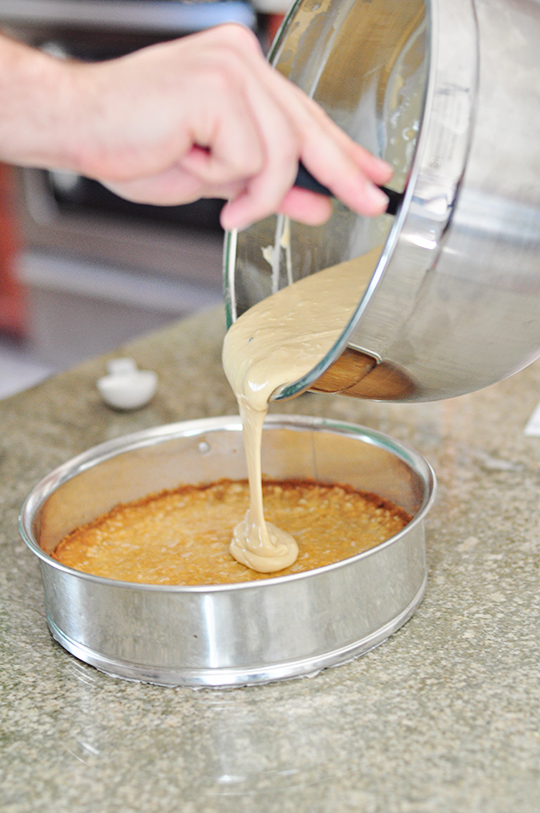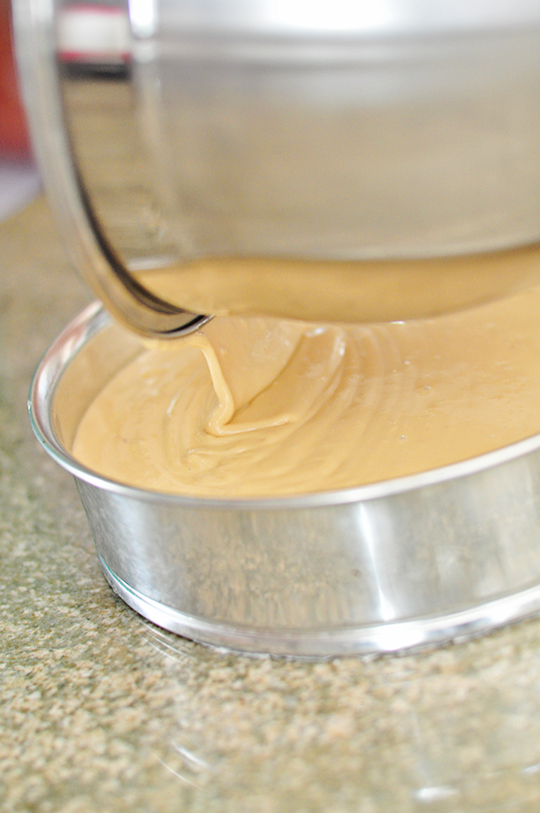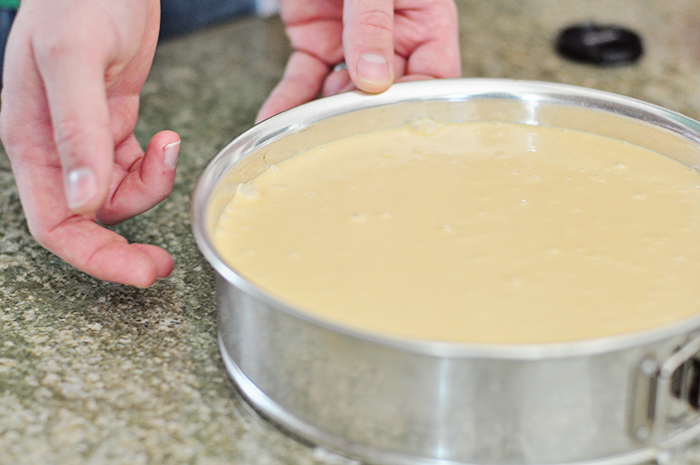 Give her a little tapperoo. (Name that movie.)
6. If you really want to get fancy, add some water to a pan on the bottom rack of your oven. This keeps your cake moist and helps prevent cracks. Then bake at 350-degrees F for around 55-minutes until the sides are set and the center still jiggles slightly.
*Justin Cakes Tip: Once finished, crack open the oven door, turn off the heat, run a knife along the side so the cake doesn't pull apart as it shrinks, and let cool inside the oven for a couple of hours. Again, this helps prevent surface cracks.
All of this talk about cracks… you know, I don't think cheesecake cracks are so bad. Just for the record. Especially if you're adding a delicious topping — the cracks just provide large crevasses into which the topping will sink, and the lucky recipient of the cracked piece just gets more topping. Not a bad deal, if you ask me.
Once cool, run a knife along the edge again, remove the springform pan side, and gently lift.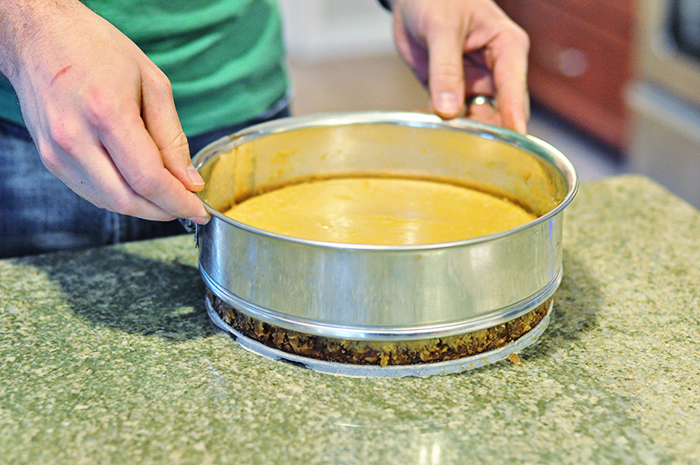 Viola!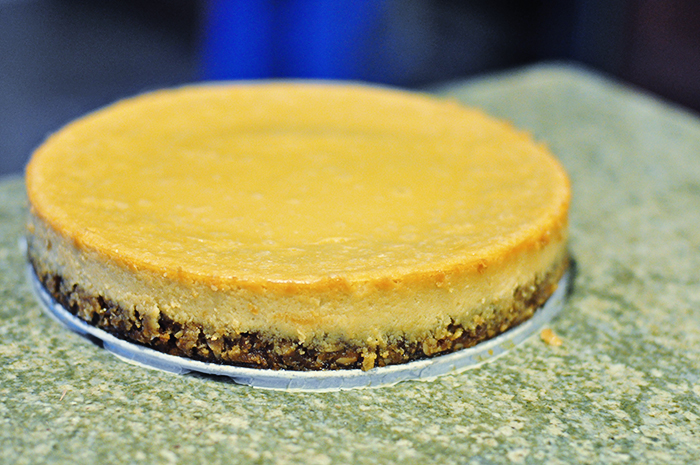 Holy cow, are we done yet?
Chocolate Rum Topping:
4 ounces semi-sweet chocolate, coarsely chopped
1 ounce unsweetened baking chocolate, coarsely chopped
2/3 cup cream of coconut
2 tablespoons light rum (or a little less for less of a rum flavor)
1/8 teaspoon coconut extract
1/2 cup toasted shredded coconut (optional)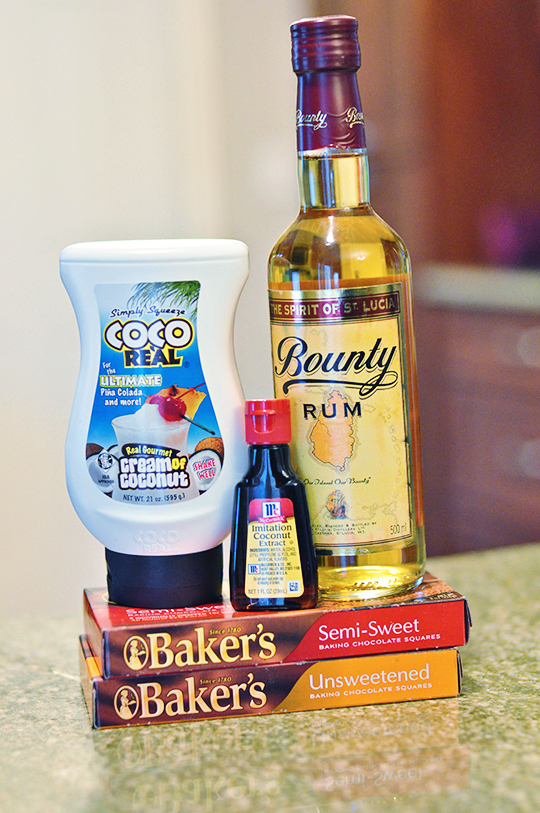 1. Chop the chocolate and place in a bowl.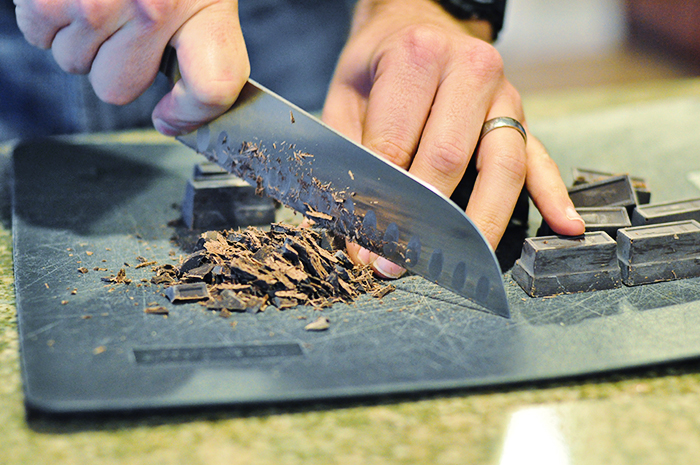 2. Heat cream of coconut on the stove until steaming, then pour over the chocolate and stir until melted.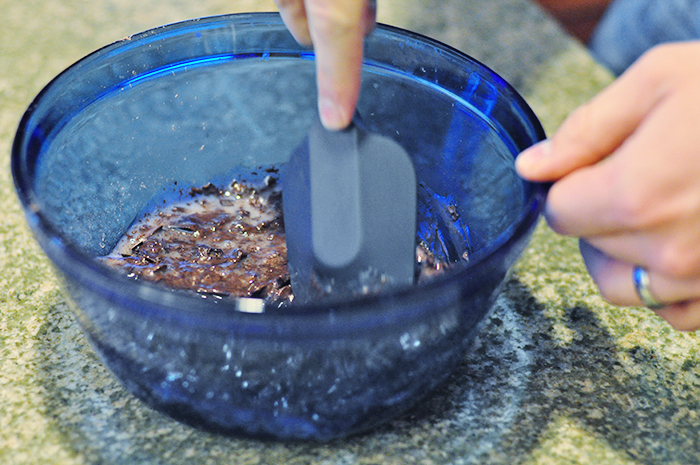 3. Once smooth and melty, add rum and coconut extract. Stir to incorporate.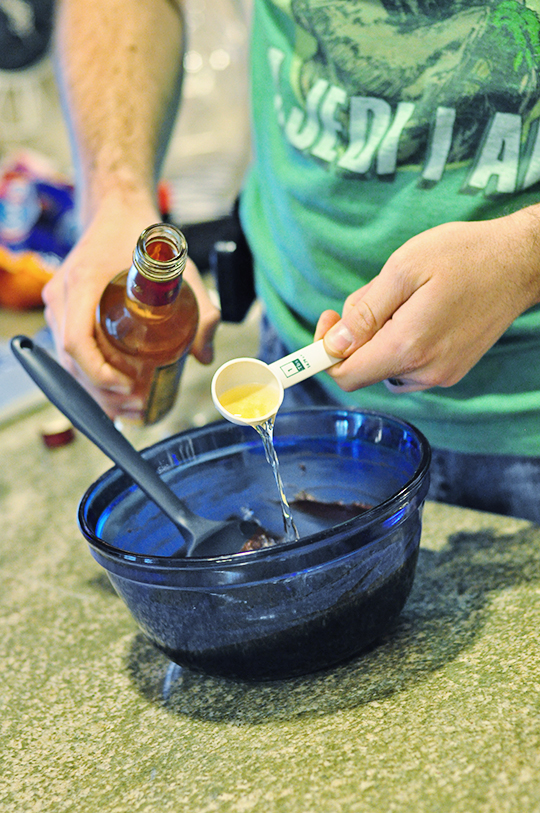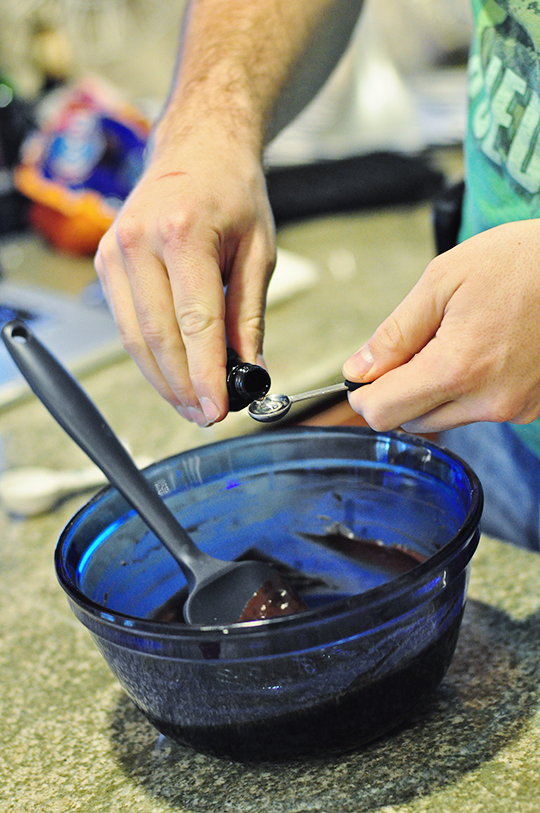 4. Pour over top of cheesecake. Make pretty. Let cool.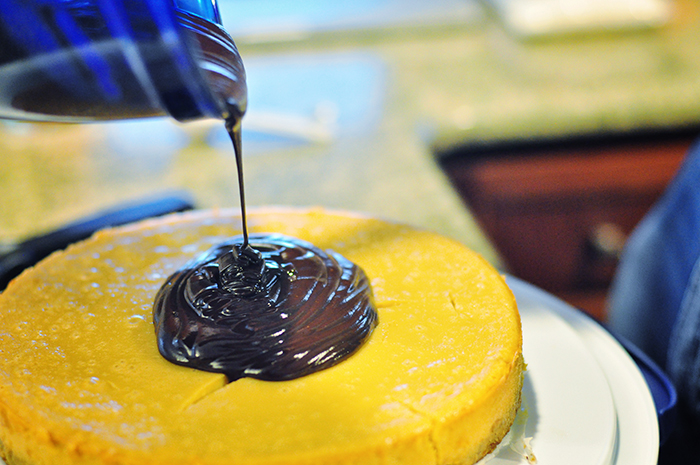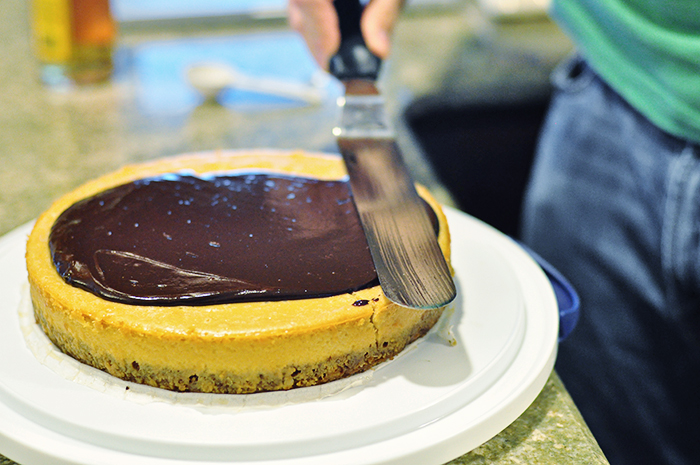 5. Toast flaked coconut over medium heat until lightly browned and sprinkle over the top of the cake.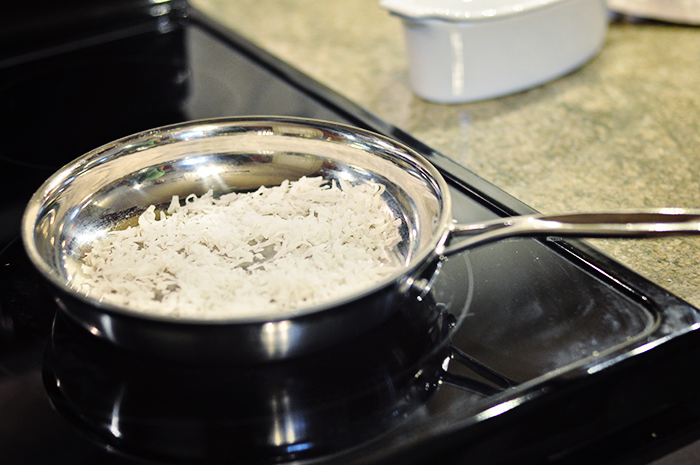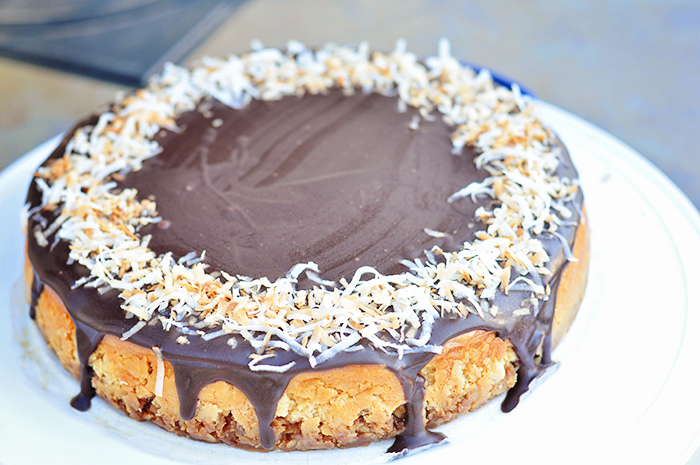 Now, look. Justin is a Star Wars fanatic.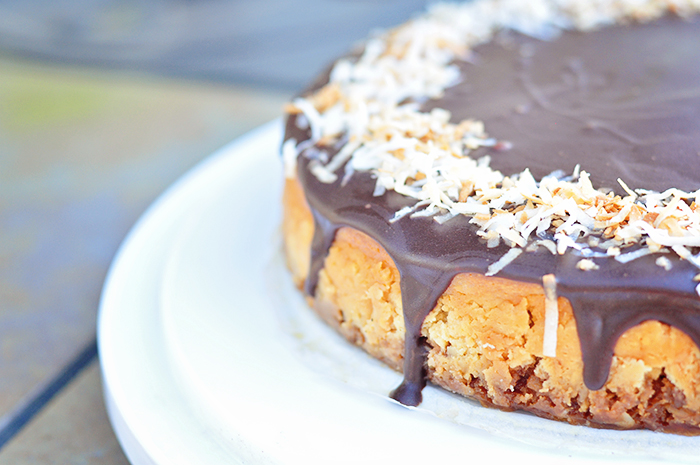 He has like… all of the books.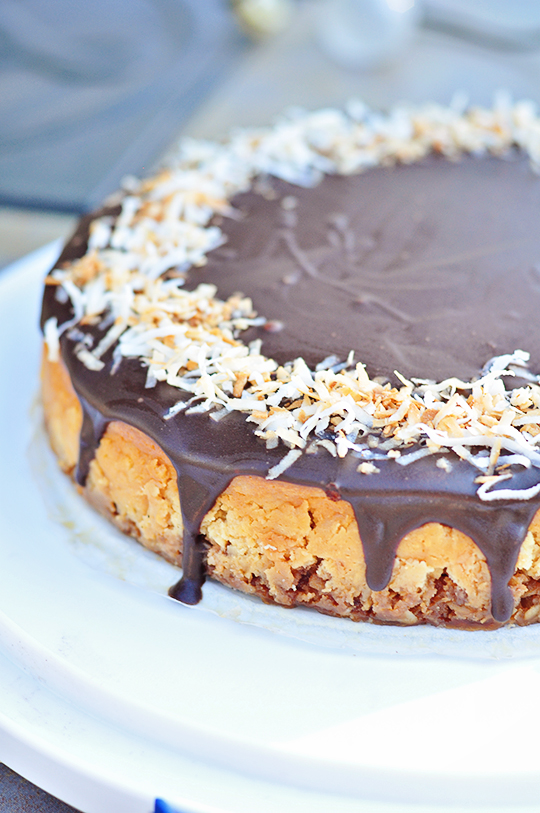 Yes, there are books.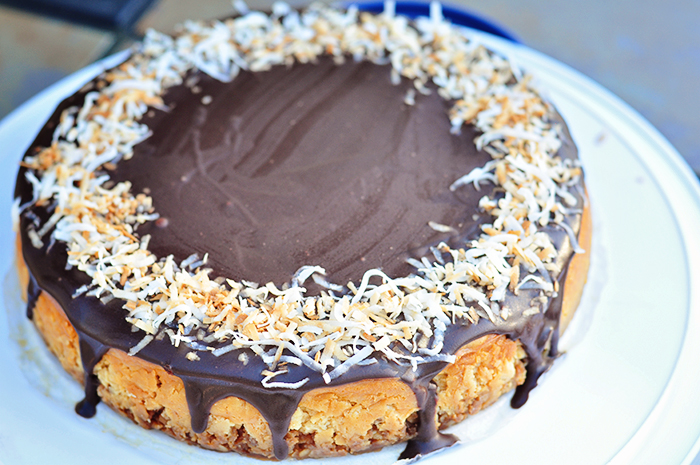 And since I was so shocked at the intricacies of this cake — the buttery cookie crust, the creamy smooth center, and the indulgent, drippy chocolate — I could only think of one name for it that might do that feeling justice.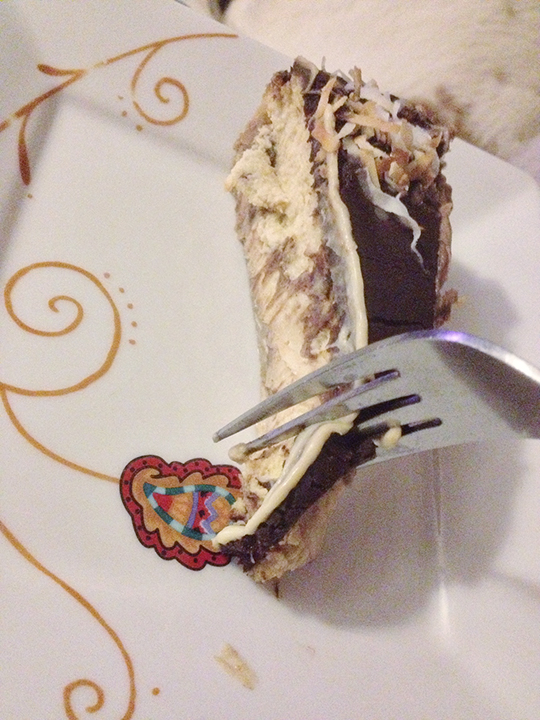 I wanted to call it the "You Kissed Your Sister?" JustinCake in honor of the shock — and smug pleasure — Han must have derived from learning Princess Leia was actually Luke's sister and that Luke and Leia did, in fact, make out.
But then Justin had to go and ruin it — like that time he got all squeamish about nude sunbathing — by saying that no one wants to think about kissing his sister.
Especially when eating something as delicious as this cheesecake.
Touché, Justin. Touché.
Chocolate Rum Covered Coconut JustinCake, it is.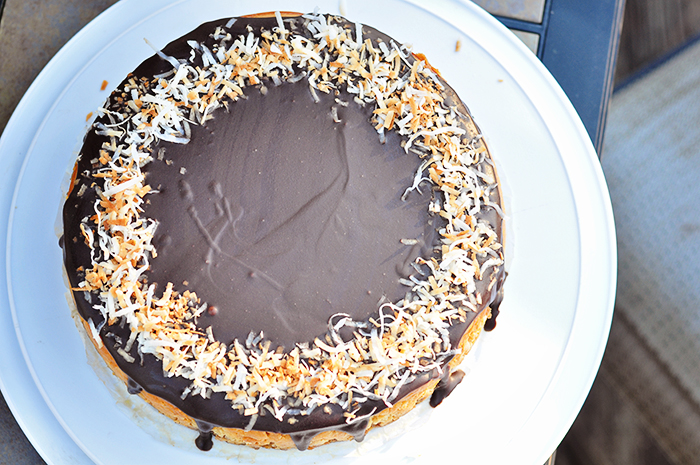 It's as exciting as kissing your sister before you realize she's your sister.
And not nearly as gross.