I'm Not Saying I've Completely Figured Out The Universe, But I'm Pretty Sure I'm Getting Close.
I have a confession.
I did more in Austin than just eat.
And take pictures.
And eat.
See, my friend Maria —
(Maria is on the left, Bec is on the right)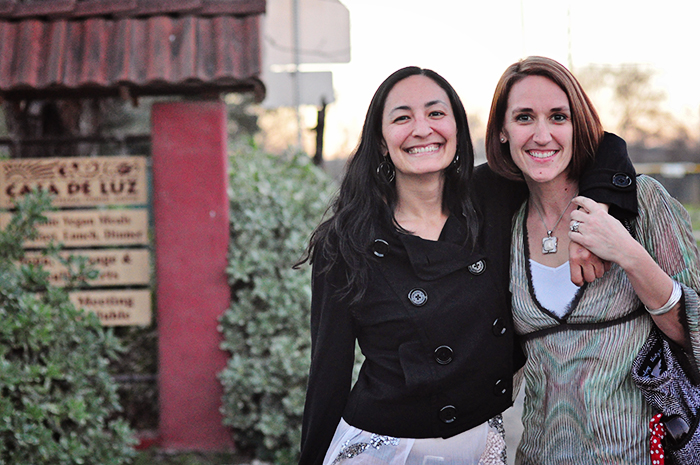 — is very much into studying physical, emotional, and spiritual wellness.
I mentioned before that she was in Austin to study something called myofascial release which, to the best of my (very limited) understanding, is a type of physical therapy used to treat the body's soft tissues that stiffen with time and/or trauma. It can be why we get hunched shoulders. Back pain. Stiff necks. Crooked bodies.
But what about our crooked souls?
What about the me in me?
While practicing some myofascial release to straighten my hips and shoulders, Maria did a chakra reading for me.
Now, look. I'm not sure how much I buy into the idea of various energy centers inside my body, but the way I see it is this: why not buy into the idea of various energy centers inside my body?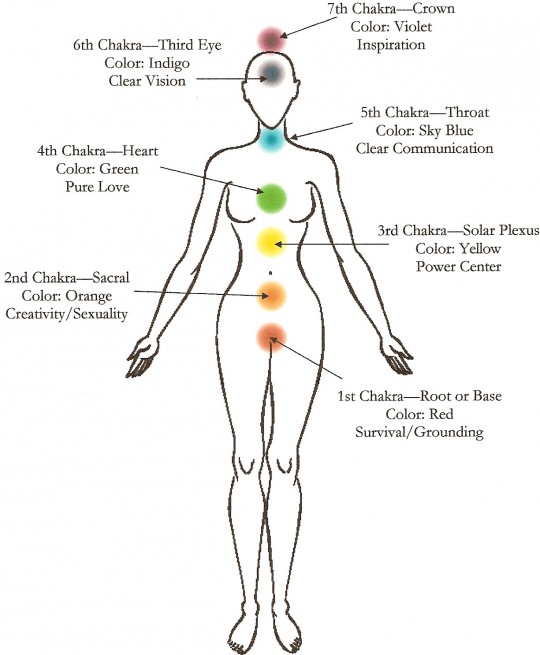 (source)
I dabbled in the '90s. I bought books on auras and spirituality and reflexology and learned about meditation and massage and tried to focus on using the power of positive thinking to align both my body and my life.
But, like so many interests I had as a teen (and, incidentally, as an adult), it fell by the wayside when I didn't see immediate results, got bored, and moved on to something else.
And these books still sit on my shelves today. Taunting me, in a way.
Telling me I've given up on figuring myself out.
Which is kind of sad.
It's no secret that for quite some time now, I've felt a little… well… out of whack.
I've blamed it on my job. My diet. My vitamins. My birth control pills. You name a potential catalyst, and it's probably been suspect to my out-of-whack source sleuthing at one point or another.
So why not my chakras?
From what I remember about the reading, I'm fairly well-balanced from about my boobs to my forehead.
Nice.
My heart chakra allows me to feel love. My third eye up there on my forehead means I have great vision. Not physical vision, obviously, since I can't see five feet in front of my nose without glasses, but supposedly my intuition is top-notch. Oh, and my throat? Nice and healthy. I can communicate effectively.
Anyone surprised?
So we're good there, but apparently I have problems with my crotch.
(Who doesn't?)
Not in an itchy, burning, maybe-I-should-get-a-wax-or-see-a-doctor kind of way.
But I'm not very grounded.
Maria said that isn't surprising since I'm living with the looming idea that I have no clue where we might live by this time next year. Also, my crown is blocked. I've tried banging my head against the wall to get 'er open, but I think I might need a locksmith.
Or a bulldozer.
Seriously. I have a lot of crap floating around in there.
Incidentally, I have the opposite problem with that orange floater that's hovering around my bellybutton. It's wide open. To the point where It's stretched thin. Maria said I need to reign it in because I'm trying to spread my creativity across a million different channels, thereby losing my ability to focus — and excel — at any one thing.
Huh.
It's not like I've felt that issue before.
I'm not exactly sure how to shrink a chakra, though. It's not like it was a college course requirement. Okay, Katie, in order to earn your Bachelor of Science in Environmental Geoscience, you'll need to complete Geomorphology, Statistical Methods, Mineralogy, and Chakra Balancing: 101.
Do they sell bellybutton plugs for this kind of thing? Maybe I can just stick something in there — a wine cork, perhaps? — and it will shrink on its own.
Anyway.
Maybe Maria is on to something with this whole chakra thing.
Maybe I can fix my out-of-whackness from the inside out.
Maybe these new-age hippies are have figured out this whole mind-body connectedness thing and I should just get on board.
Or maybe I should focus my creativity on selling bellybutton plugs.
I hear there's a market.