You Know It's A Good Day When There's A Spaceship Involved.
If there is one thing I tend to strongly dislike when I travel, it's the super gimmicky, come-stand-in-this-line-because-everyone-else-is-doing-it-and-at-the-end-you'll-be-rewarded-with-an-exorbitant-bill-to-do/see/taste/hear/smell-something-you-probably-won't-really-even-enjoy-that-much-anyway-but-hey-at-least-it-was-entertaining type of activities.
I'm not talking about places like Hopdoddy, where people stand in line because the food is phenomenal.
I'm not talking about activities like skydiving, where you pay an exorbitant fee to do something awesome.
I'm talking about the kind of place that sells one thing but advertises another.
The kind of place that has one really great hyped up attraction, but the rest is just meh.
The kind of place that typically has a gift shop full of everyday items like mugs and t-shirts and shot glasses plastered with pictures of itself.
Know what I mean?
Examples include those tiny roadside amusement parks with silly, tourist-attracting themes but crappy rides, or restaurants with over-the-top atmosphere filled with cascading waterfalls and daring fire jugglers but don't, when it comes down to it, actually serve good food.
Because they don't have to.
Why should they worry about how the food tastes when they have rainforest sounds or giant guitars or twenty-seven different varieties of ethnic cuisine?
So apparently I'm like the weirdest American in the history of ever because I can't stand this. Squawking parrots and Jimmy Buffett music are fine and dandy, but if you can't serve delicious food, don't call yourself a restaurant.
And it was that kind of place that came to mind when Bec, Maria and I pulled up to The Oasis in Austin, Texas.
It seemed they had everything I'd come to associate with the kind of dining experience I typically dread:
Vast parking lot and oversized building that looks more the size of an industrial factory than a restaurant?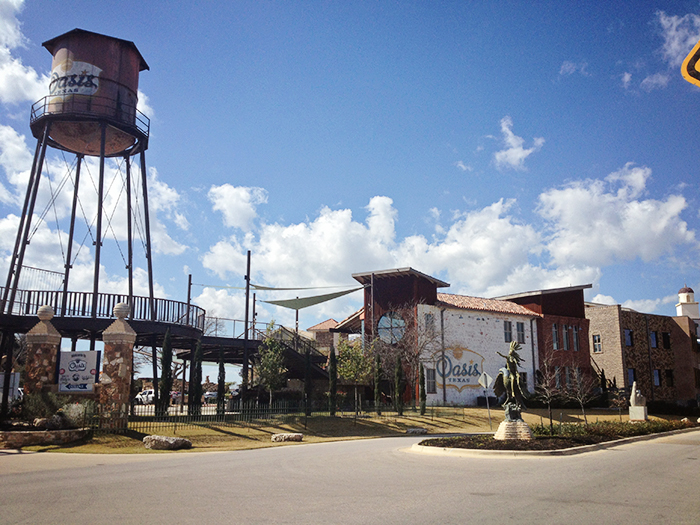 Check.
Sprawling, perfectly manicured grounds sprinkled with tourist attractions like interactive sculptures and fancy statues?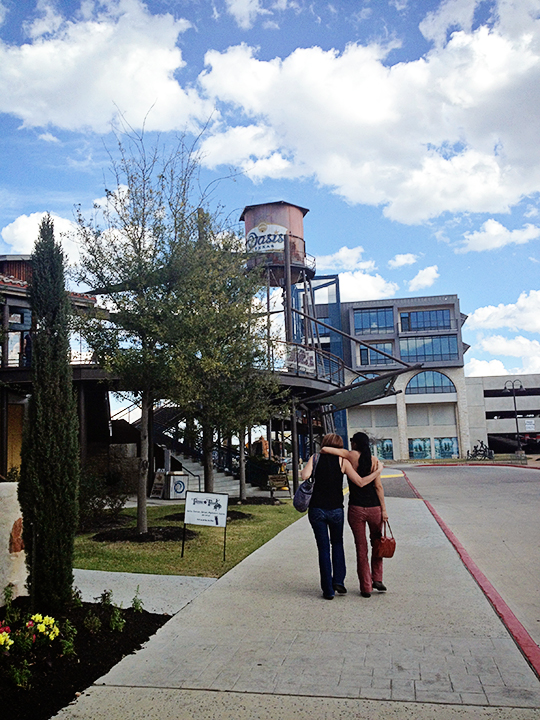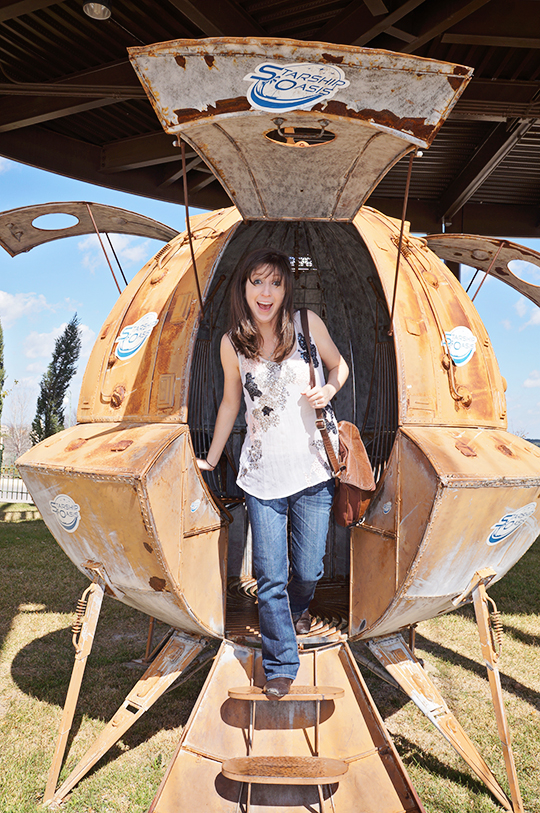 "Hey, look! I found a way home!"
Check.
Neon signs and cartoony maps depicting their larger-than-life presence while (humorously) demeaning everywhere else?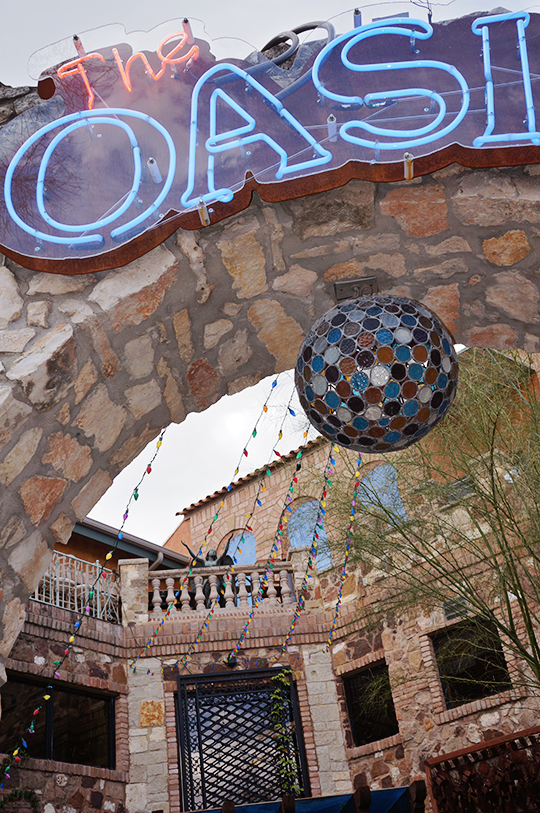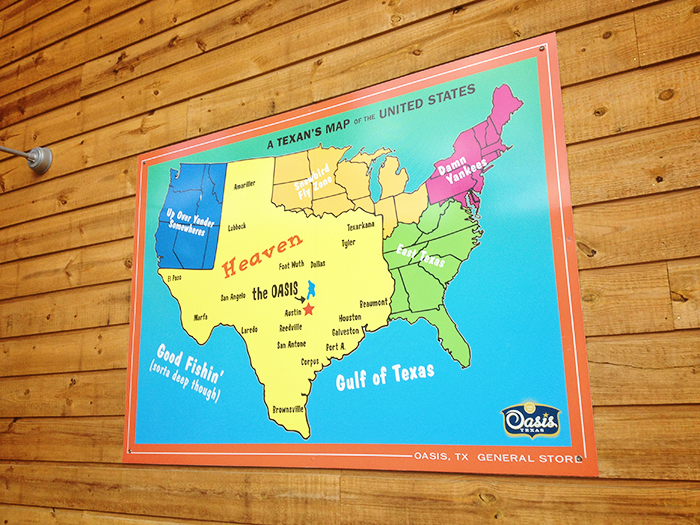 This is why Texans scare me.
Check.
Impressive lobby with uber expensive decor and yes, of course, a gift shop.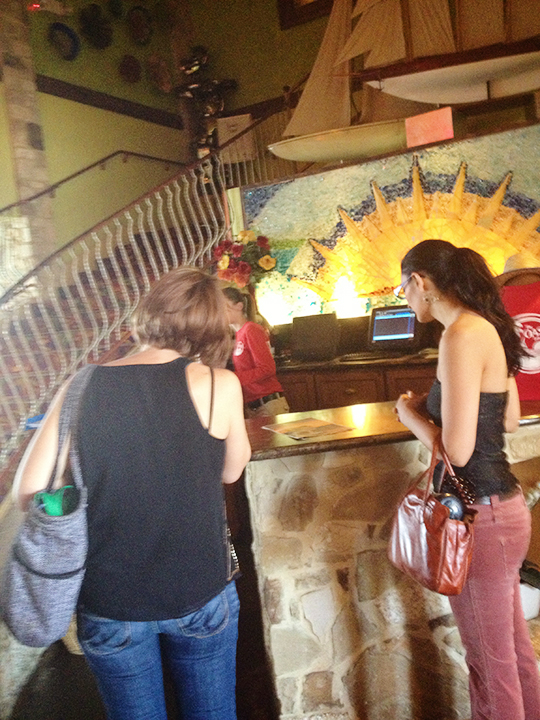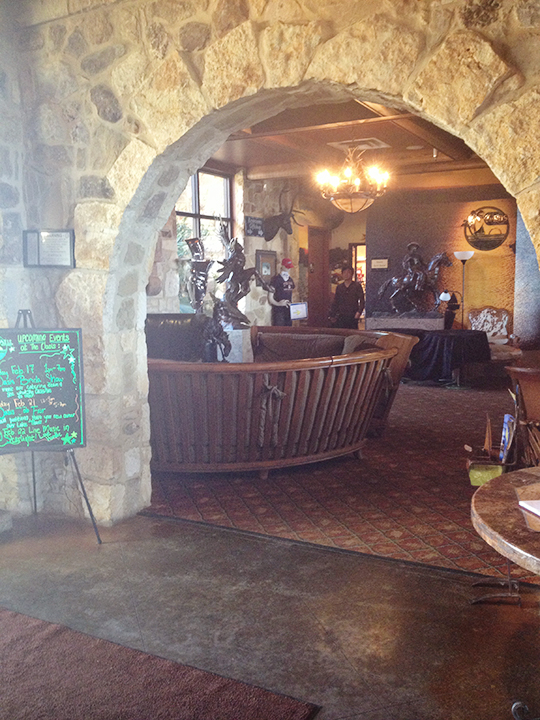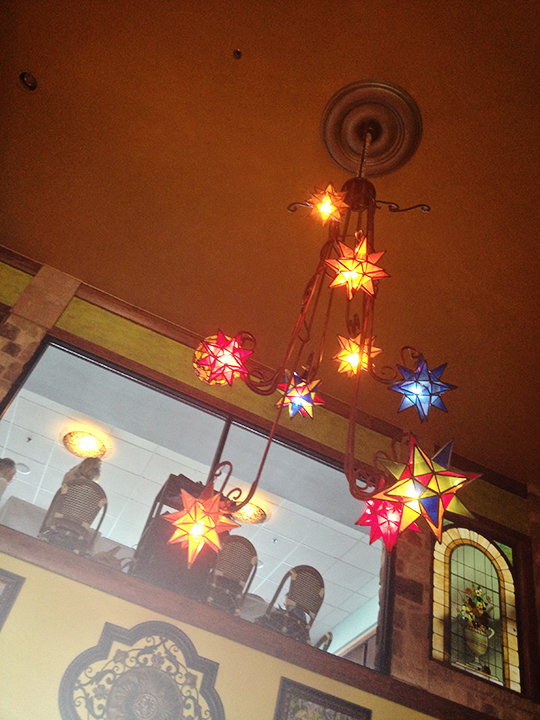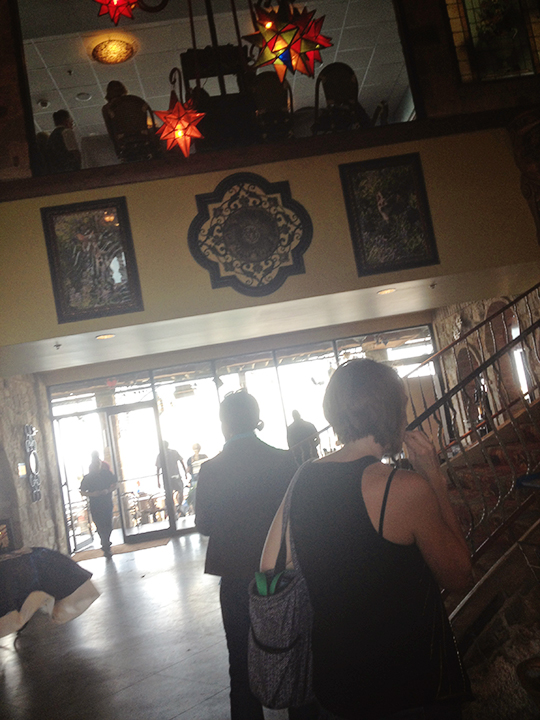 Check.
And a single, hyped-up, "must-see" feature that has nothing to do with the food?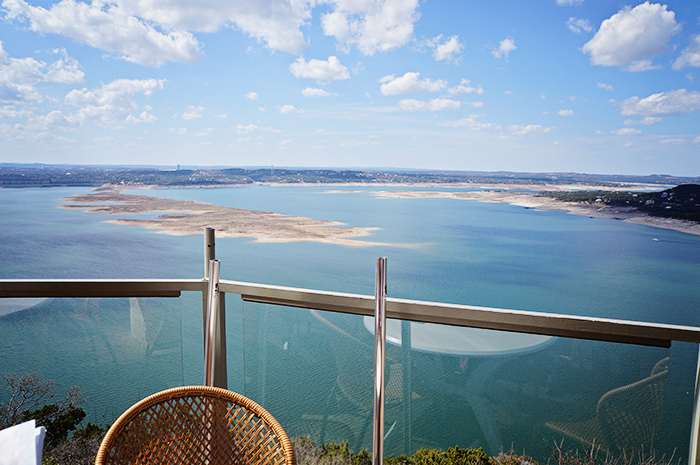 Um… woah.
This isn't a giant guitar, my friends. And this isn't a fake jungle rainstorm or indoor waterfall or dancing servers wearing crab hats.
This view is real.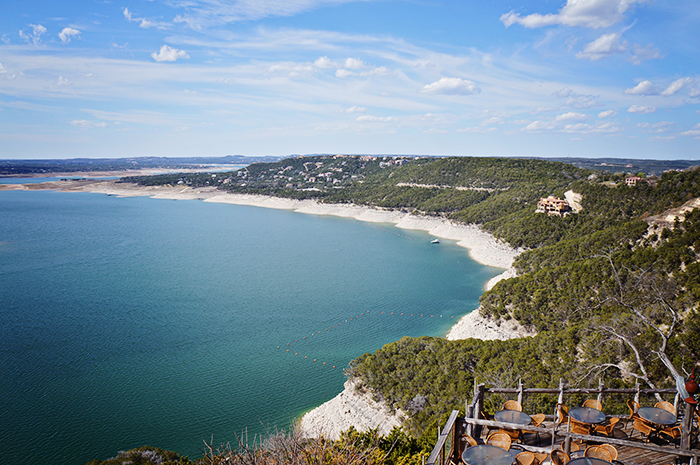 And spectacular.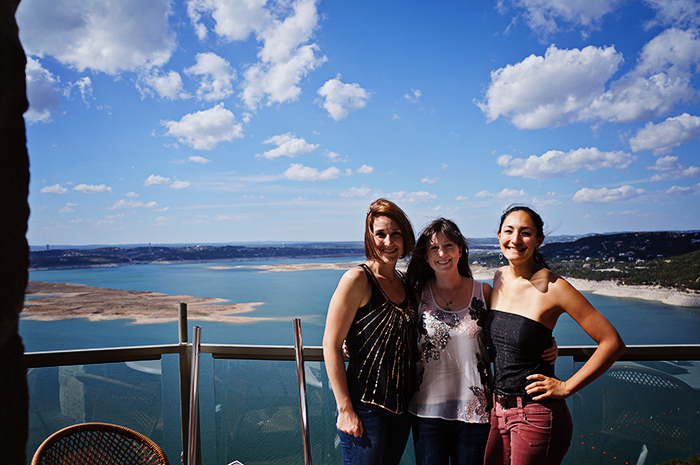 And enough, for once, to actually make me not care how the food tasted.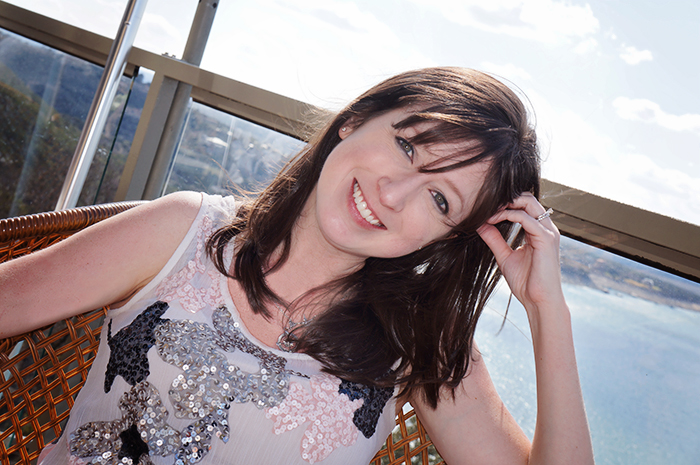 I was a happy camper.
The sun was out, the drinks were cold, our sever was attentive, and honestly — we couldn't have asked for better atmosphere.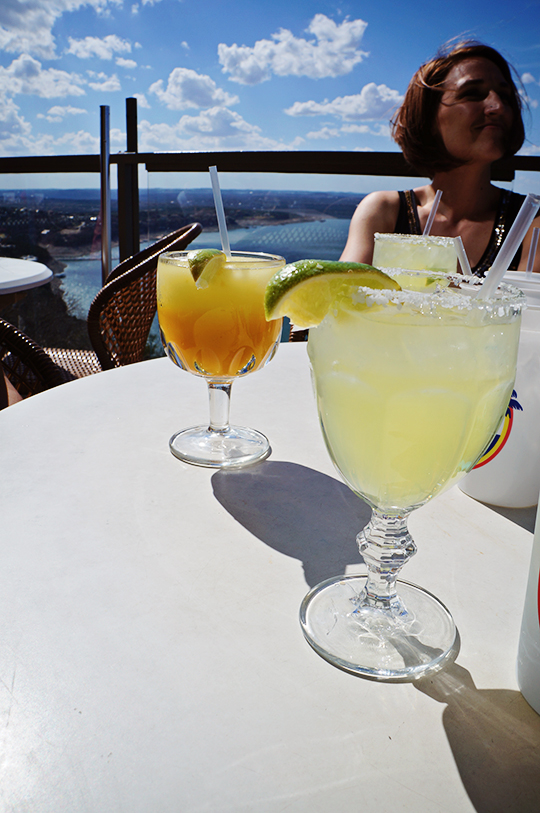 Lucky for us, the food was also quite tasty.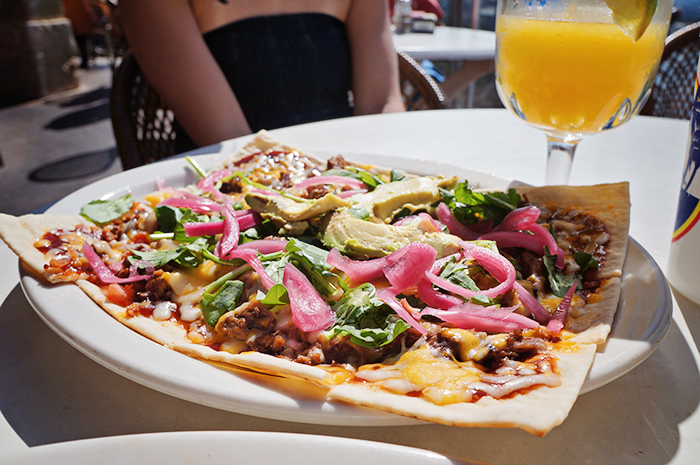 Brisket bites with melty cheese, barbecue sauce, arugula, pickled onions and avocado.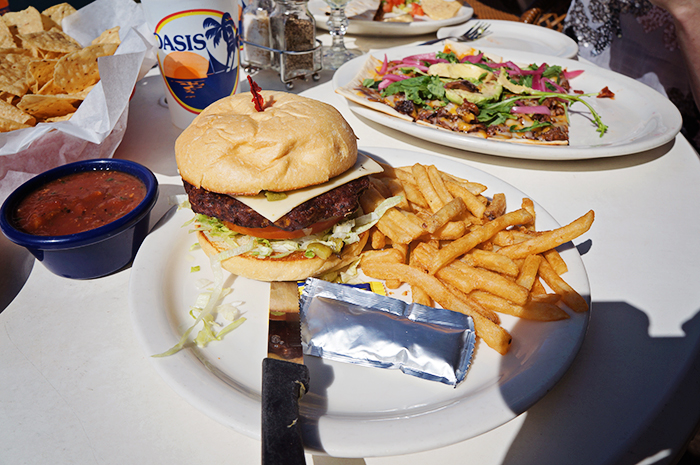 Maria's veggie burger with crispy-on-the-outside-yet-soft-on-the-inside fries.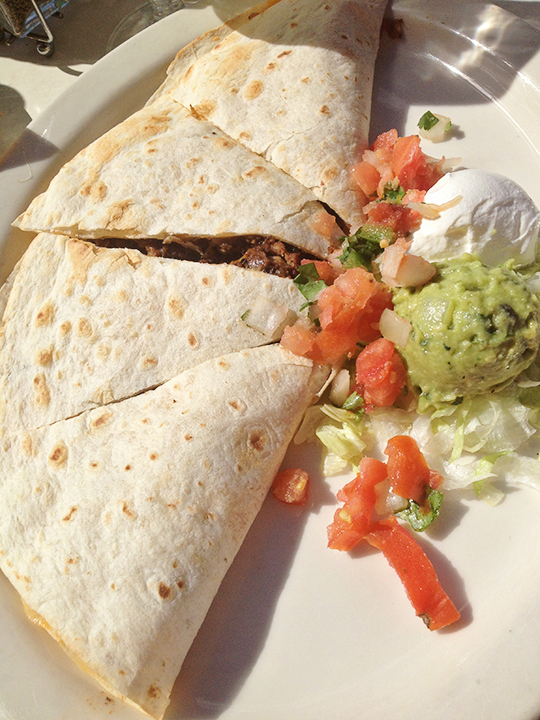 Taco meat quesadillas. These things were THICK.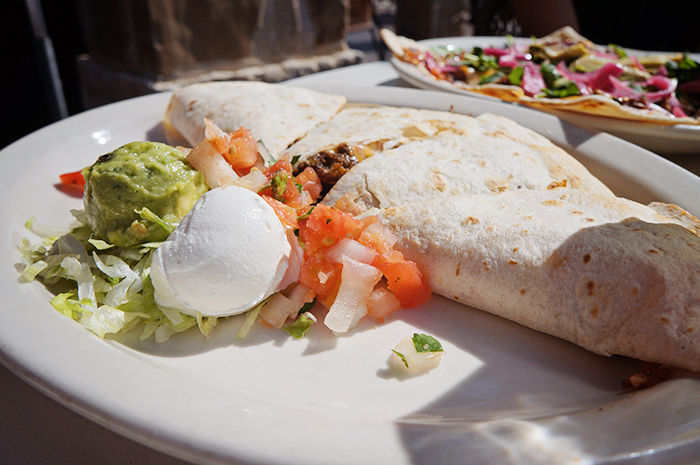 It may have been a bit pricy for what we actually received, but I'm pretty sure we were paying for the view.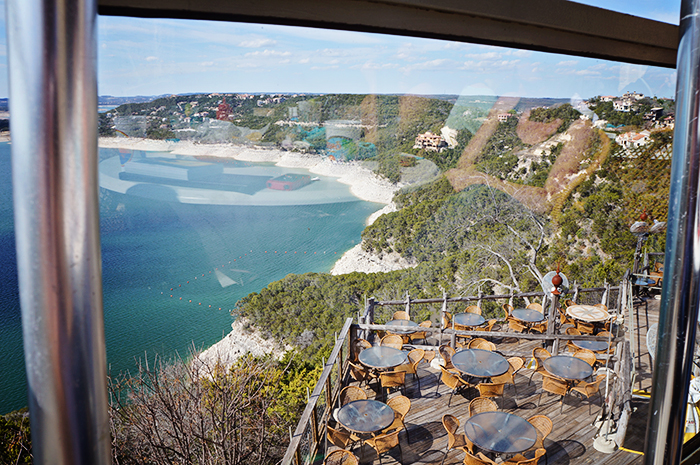 Which, incidentally, was worth an extra buck or ten.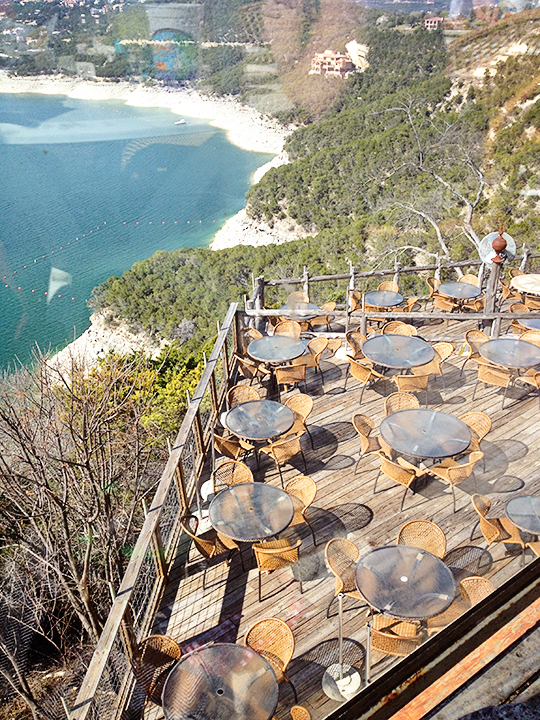 Don't be nervous. It's just a really long way down.
In the end, it's still the kind of place that charges $1.00 for extra sour cream and won't split your bill (except our server was nice and did it anyway). But on a day that's 78-degrees with cooling winds and warm, warm sun, who really cares?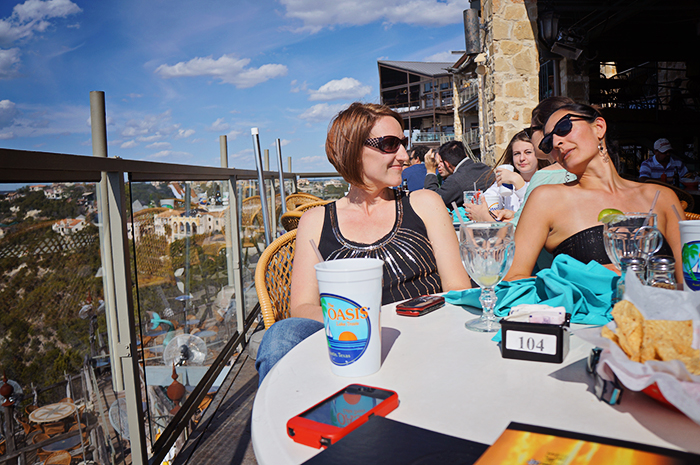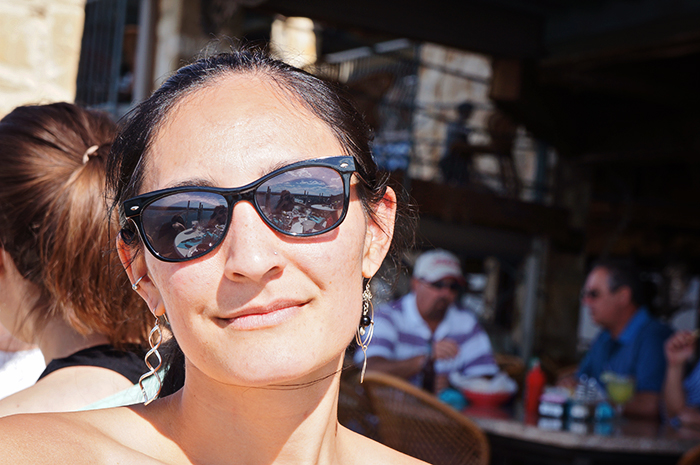 Definitely not us.
We explored a bit after our feast, climbing hidden stairs and wandering vacant decks.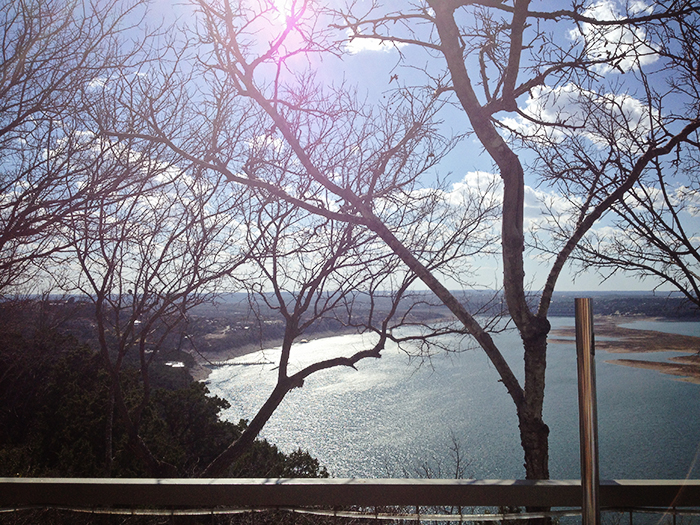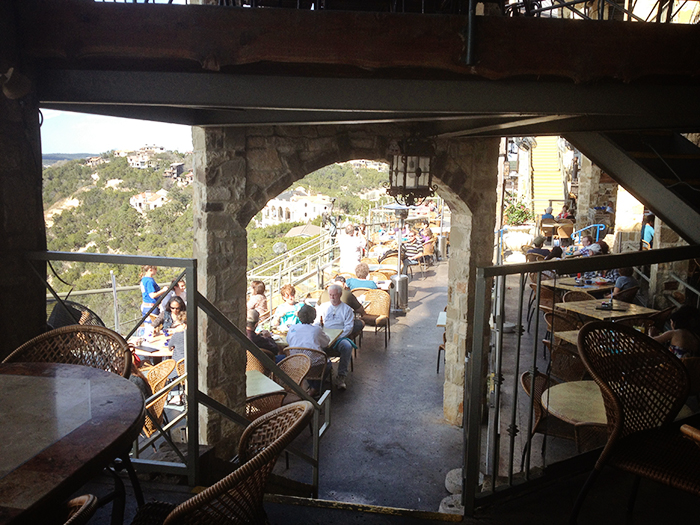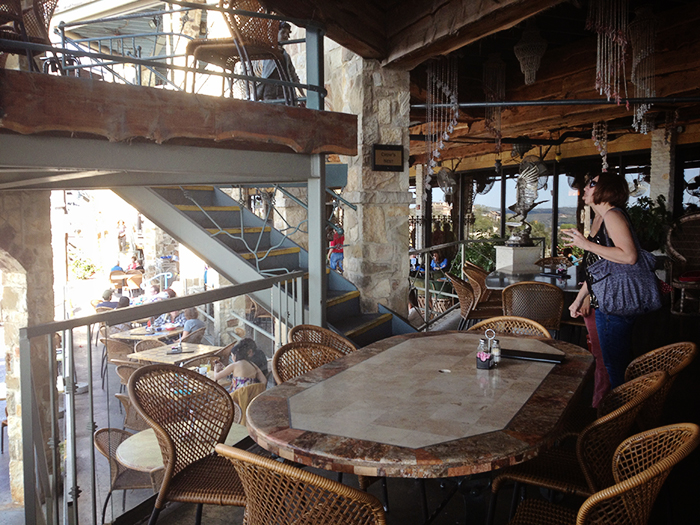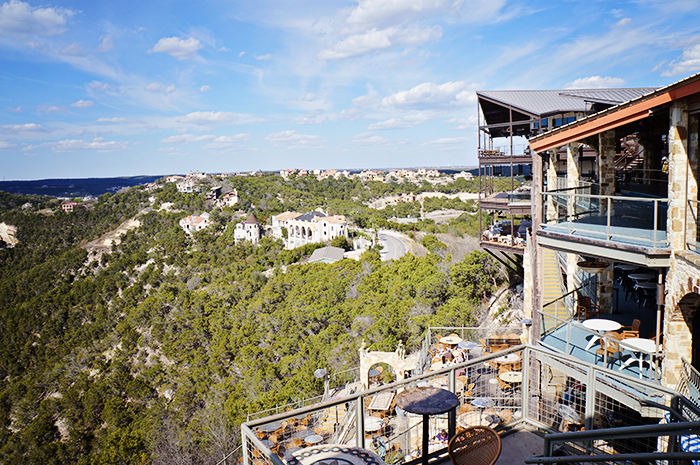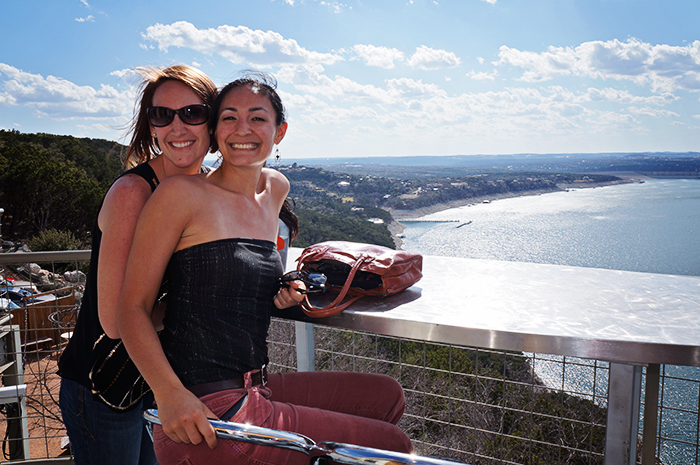 Bec and Maria on top of the world.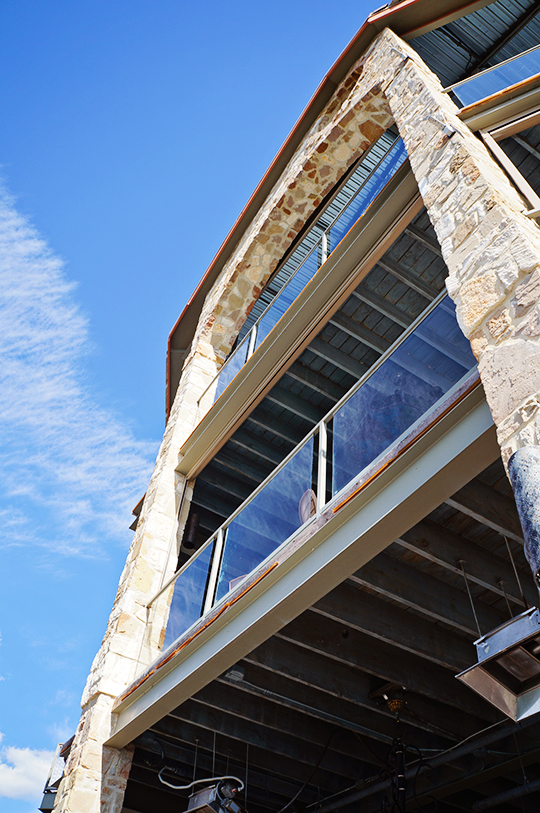 They host weddings and boast spectacular sunset views over Lake Travis, and the building itself is gorgeous.
Back downstairs, we explored more of the courtyard.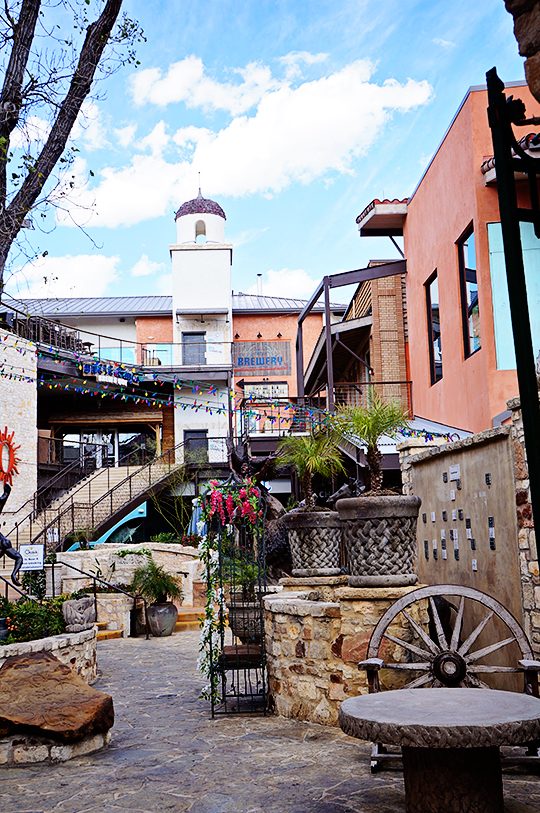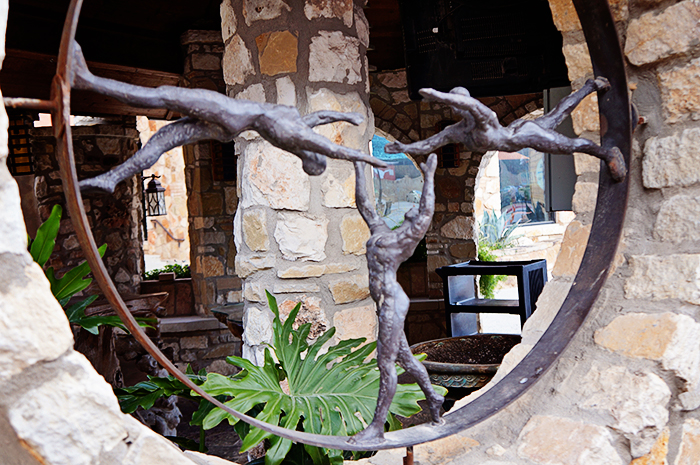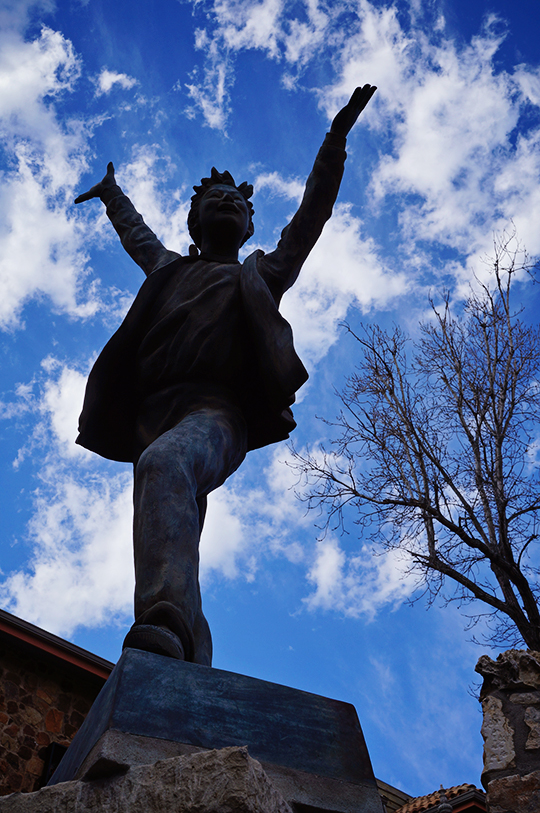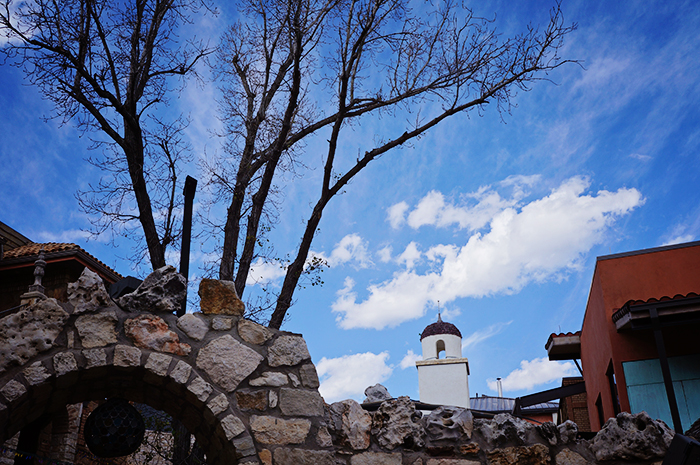 Maria and Bec did some acrobatics out front.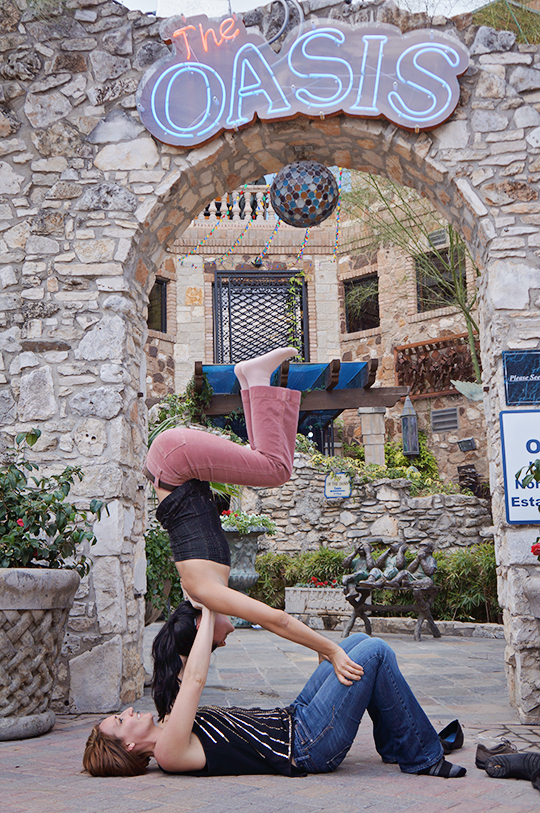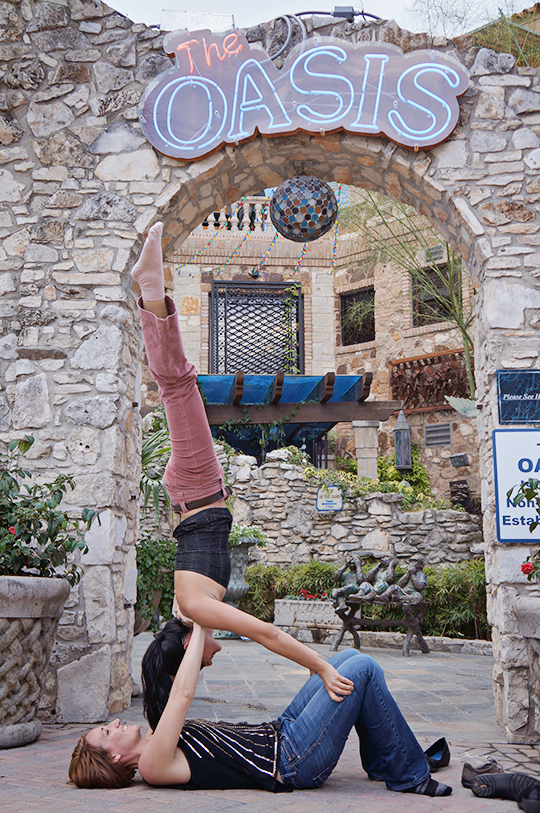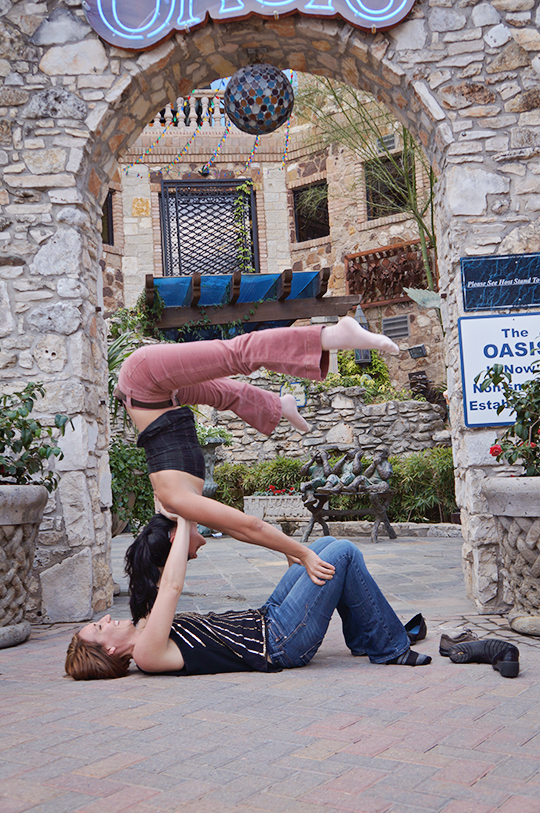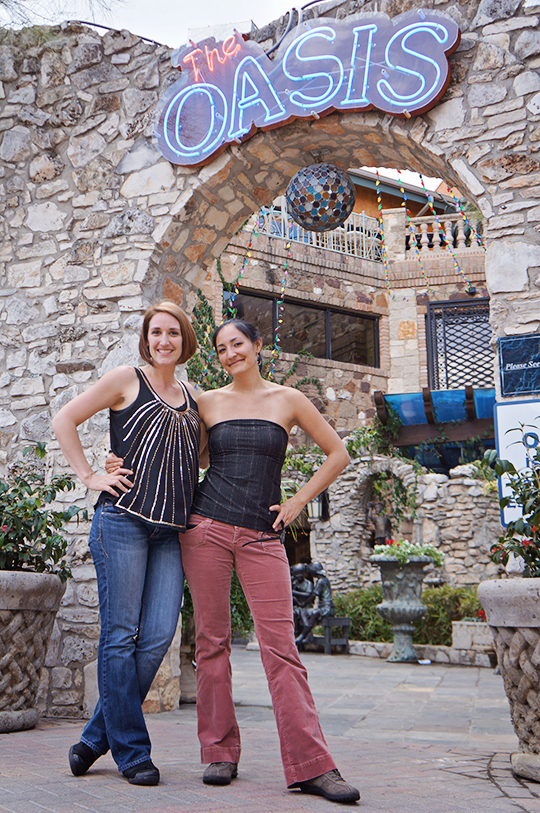 You know. Just for fun.
Bec and I were still amped when we left, so we climbed a small construction mountain and took in the views.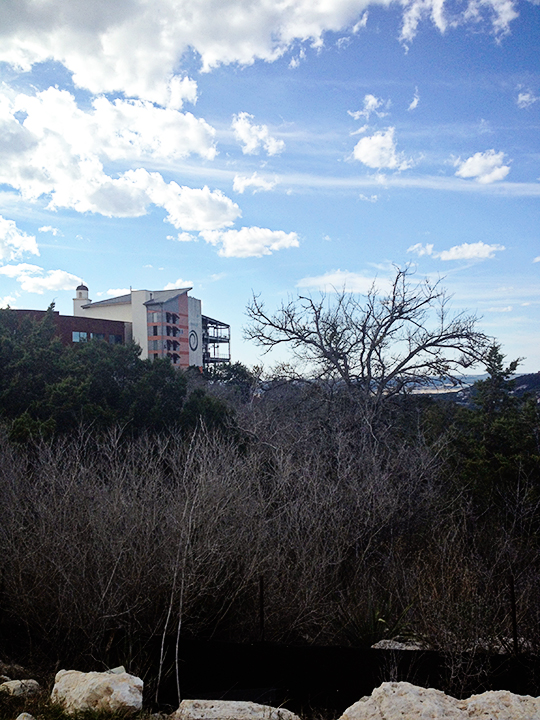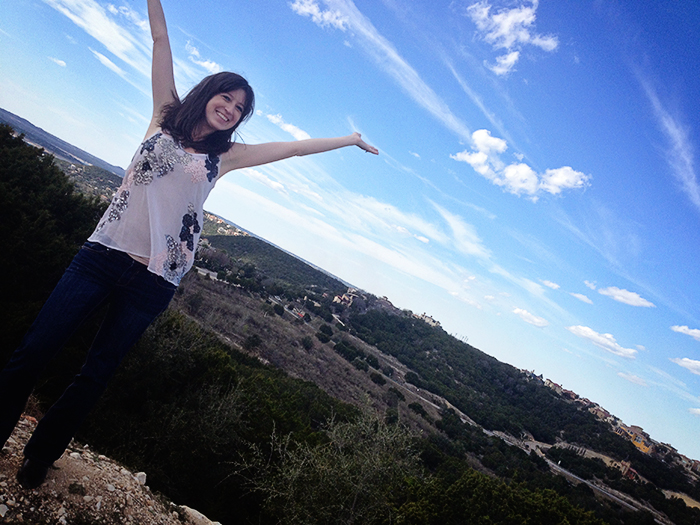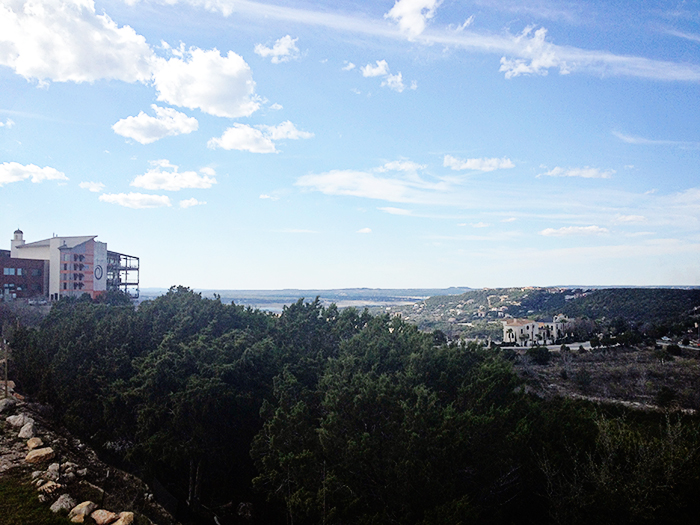 From there was a great view of the restaurant perched on its cliff.
Have you ever had one of those days that just feels perfect? Everything — the weather, the people, the food, the air — comes together in a magical amalgamation of what it feels like to be truly content.
We grasped this feeling with reckless abandon and spent the rest of the afternoon lounging in a park near Bec's house.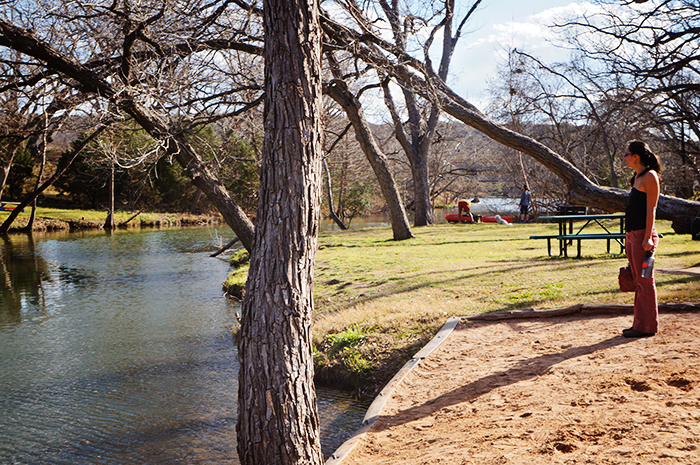 "This looks like a good place to digest."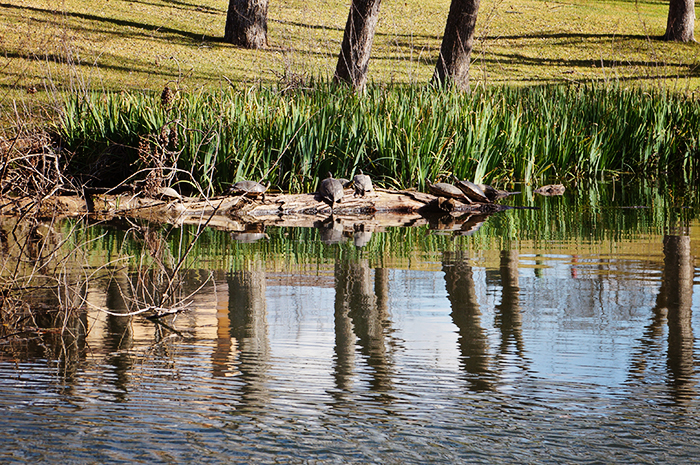 Oh, hey turtles.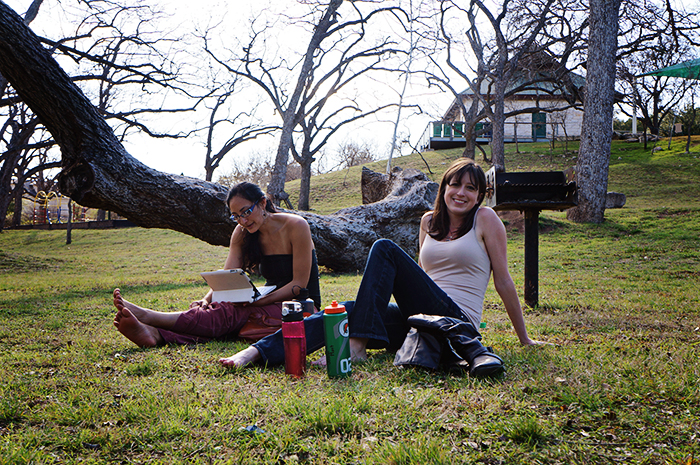 Maria working and me sunburning.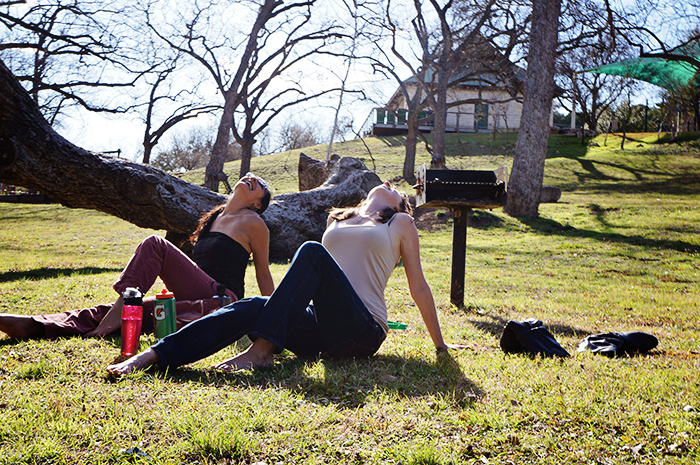 Gettin' silly.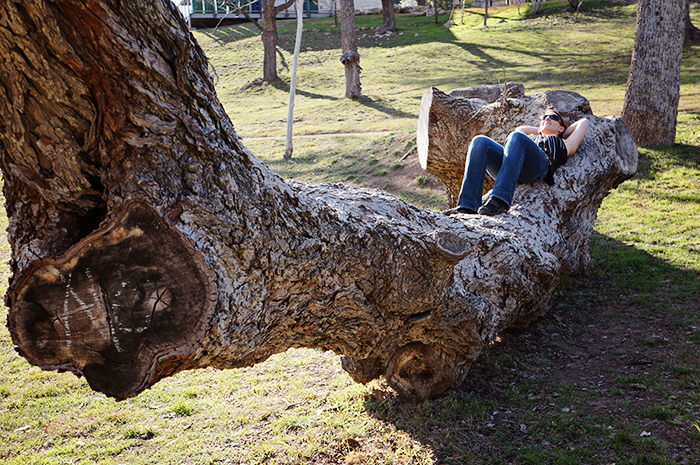 Best. Tree. Ever.
The thing about this kind of day is that it needs nothing more than to be enjoyed.
No itinerary.
No hurry.
Just follow the signs.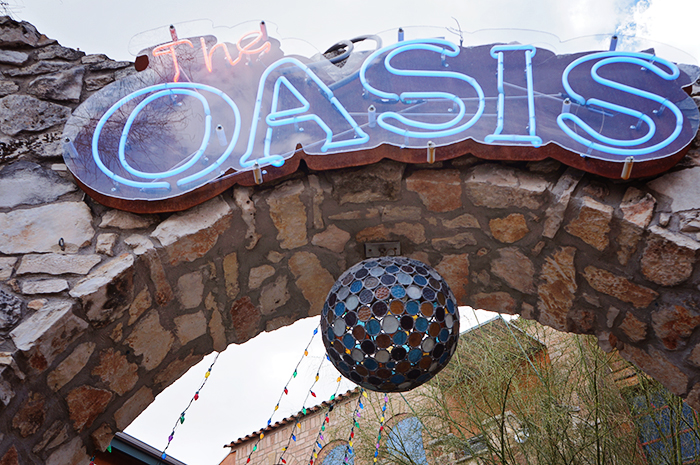 Even when they're neon.