This Might Even Be Enough To Intentionally Fly Through Atlanta. Well. Let's Not Get Crazy.
This is almost embarrassing to admit, but one of the best meals I had during my trip to Austin was actually during my layover at the Atlanta airport on my way to Austin.
This pretty much never happens.
The eating of good meals at an airport, that is.
And also the fact that I had enough time to eat in Atlanta at all.
See, I usually try to avoid layovers in Atlanta. It's difficult to do, because it often seems like no matter where I'm flying — Florida, Colorado, Minnesota, Spain — the airline Powers That Be want me to take a little detour through this transient, chaotic, hell.
Don't get me wrong — for such a large airport, the facilities are decent. The underground tram, "The Plane Train", is a super efficient way to get from one terminal to the next.

And trust me, you'll need it.
Probably several times.
Because in Atlanta the airlines apparently think it's hilarious to continuously switch your gate. Sometimes from one concourse at one end of the terminal to another concourse at the other end of the terminal. And then sometimes back again. Then maybe to the middle. Then maybe you'll wait an hour or two before you're sent back to the gate where you originally started.
And if you're actually switching airlines?
Count yourself lucky if you make it to your destination on the day you were originally scheduled.
But your baggage, most likely, will not.
And look.
I can't imagine it would be exactly easy to run a bustling, international airport like Hartsfield-Jackson smoothly, but wow.
The Travel Mojo almost never follows me there.
I rarely get to enjoy any of the impressive amenities the airport offers. Usually they're a blur as we whiz past — Justin running and practically dragging me from one concourse to the next to make our connection and me wondering why, once again, we decided to fly through the ATL.
So I booked my flights for Austin knowing I was probably in for an ordeal, but $211 round trip was too good to pass up.
And it was actually the airport in Fayetteville that held me up this time around.
If you were following along on Facebook, you already know that I sat at my own airport for over three hours, presumably because of a mechanical issue with the plane, but we all know Delta didn't care to send off of half-full flight to Atlanta when they had another leaving in a few hours.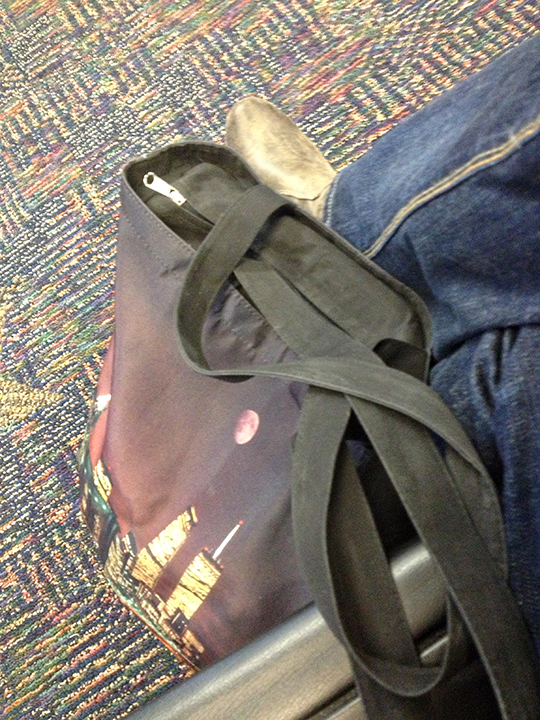 If you follow on Facebook, you also know that I stole my mom's favorite carry-on bag the last time we were in Colorado. Well, okay. I didn't steal it. She gave it to me to carry something home on the strict condition that I would return it. It's not exactly stylish, but it's roomy and durable and has a great zippered top, and after she called me in a panic a few weeks ago because she was about to fly to Wisconsin and couldn't find her bag, completely forgetting that she'd sent it home with me, I figured I had to see what all of the fuss was about. And she was right. It's pretty great. So she might get it back. Eventually.
Anyway.
I missed my connection to Austin which would've put me there right around dinnertime. Of course I was bummed that I was going to be missing an entire meal in a city I was excited to visit again.
You know me.
My life revolves around food.
So when I finally did make it to Atlanta, I decided to be grateful that they were at least able to get me on another flight later that evening and make the most of my extended layover by finding something decent to eat.
The friendly airport employee working at the directory in Concourse B sent me to a bar at one end of the massive hallway. It was packed. There was a line. I was hungry. Then the friendly airport employee working at the directory in Concourse B sent me to a bar at the other end of the massive hallway. I arrived, actually sat down at a table, gazed around at the harried wait staff and frazzled clientele, and then left.
Greasy fries and draft beer weren't exactly what I had in mind.
(Not that there's anything wrong with greasy fries and draft beer. And you know I like me a good burger. That's just not my food of choice when I'm sitting on planes all day.)
Eventually I wandered into a bookstore I'd already passed several times. I wasn't sure if they had food, but it appeared they had tables. And wine.
Sold.
And this, my friends, is where my Mojo changed.
The restaurant is called Café Intermezzo, and apparently it's a chain modeled after a European coffee house.
The wine and drink selection was huge, and my server was fantastic. He was very busy, but he always took the time to make sure I had everything I needed. He helped me with the wines and cheered for my dinner selection.
I may have been dining alone, but he did his best to make sure I didn't feel neglected.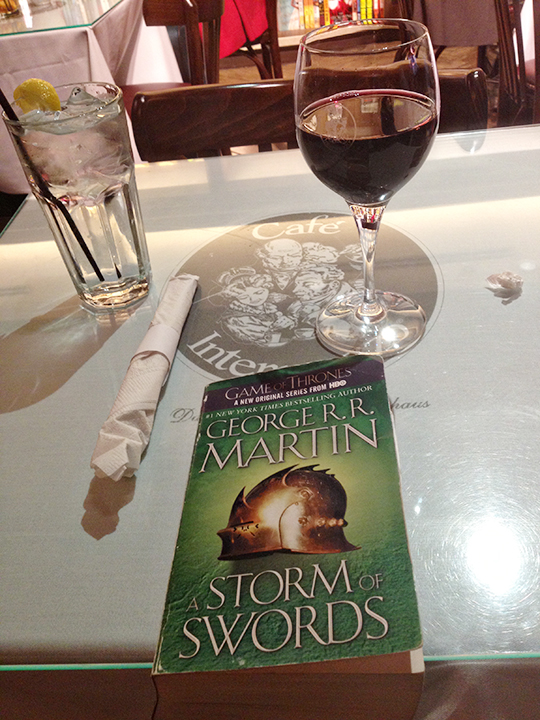 Yep. I'm working my way through this series. I'm not usually a fan of the fantasy genre, but my book club girls got me hooked on these. And, as you can see, I still can't bring myself to switch to a Kindle. Especially not after the vagina incident.
I ordered a salad so I wouldn't feel rushed, expecting to likely receive a hurried smattering of greens spackled with bottled dressing and dotted with fruit and cheese.
What I didn't expect was this: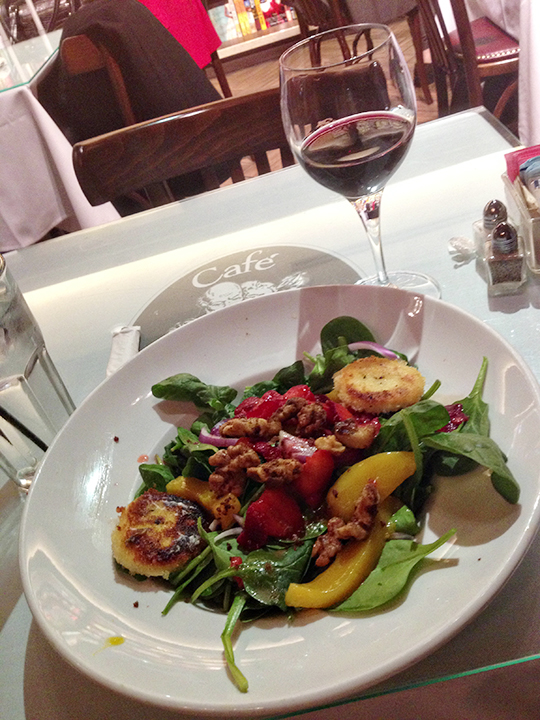 Rushed? Probably. It's airport food. But the mangoes were real. And deliciously ripe. The spinach was green and crisp. The strawberries were a bright, cherry red and the candied walnuts practically melted in my mouth.
And look, kids. I don't know if you know this, but I have a very special relationship with goat cheese.
It's my go-to cheese when I want to feel decadent and naughty. Like when I make this fig, prosciutto, and goat cheese pizza.
But this goat cheese was taken to a whole new level.
Mini medallions breaded and fried to a golden perfection.
And while two tiny medallions look a bit sparse, it was actually the perfect amount of savory richness added to a sweet, fruity salad.
The balsamic vinaigrette was house-made, too.
I tried to create this salad at home last week, but I have yet to perfect the art of making goat cheese medallions: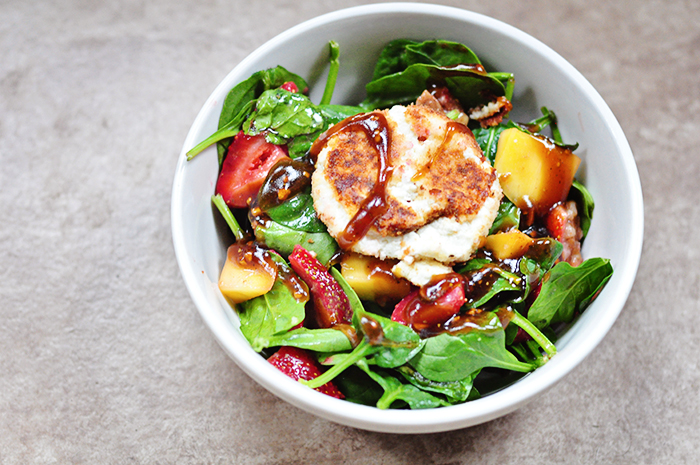 It was close, though.
A valiant effort.
By the end of my meal I was slightly wine buzzed and exceedingly content. I made my way to my gate which was, miraculously, still the same, and headed off to Austin. I arrived in the same concourse on my way back and entertained the idea of stopping back at Café Intermezzo for another bite of that incredible salad, but my gate had already switched to another concourse.
Touché, Atlanta. Touché.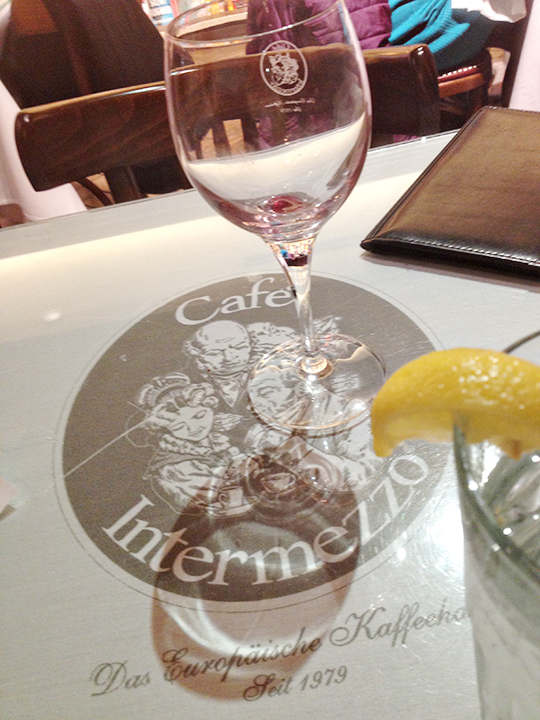 Next time I'm at ATL, I'll stop if I can.
Or, at the very least, I'll wave as I pass.
So I'm curious. What's the best airport food you've ever eaten?