Do They Have Twelve-Step Programs For This Kind Of Thing?
I have a confession.
And it's not pretty.
And it's really — really — embarrassing.
And I'd tell you when I share it that you have to promise not to judge me, but you're probably going to judge me anyway because that's like asking you to not pour that last half glass of wine that's left in the bottle and let's face it — that's not gonna happen.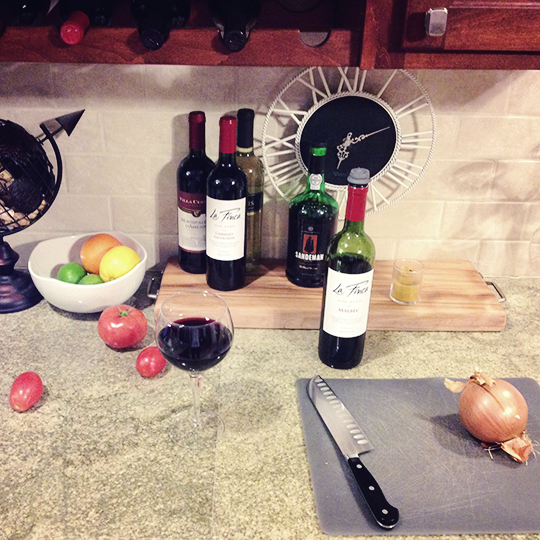 This is how I prep for cooking. Wine is pretty much necessary.
So last night I was cooking away — a cheesy, butternut squash and black bean enchilada skillet for a cold, rainy day — and I opened my spice drawer to retrieve some cumin and chili powder.
That's it, kids.
Cumin and chili powder.
But when I opened the drawer, I was faced with this: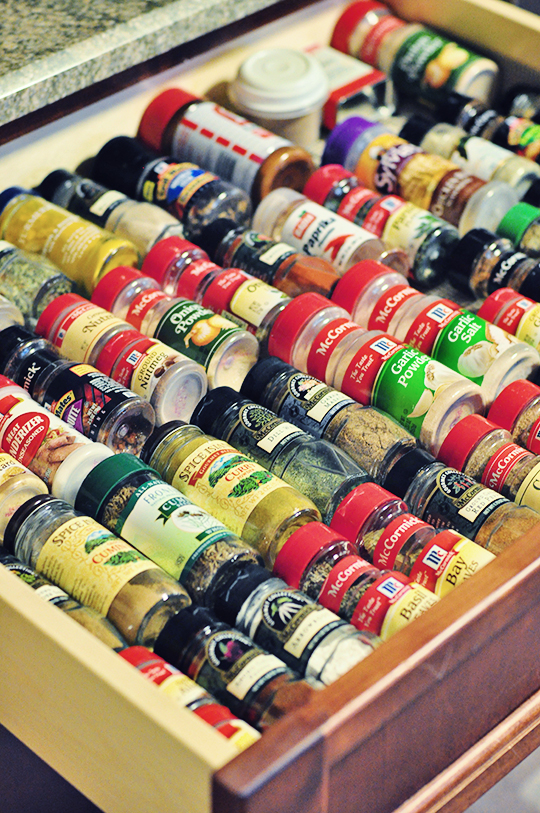 Yep.
An entire drawer of spices.
And not some pokey little pre-tween drawer, either, but a massive wide mama drawer who's probably given birth to seven sons — each one smelling like tarragon or smoked paprika or oregano or… I don't know… poultry seasoning.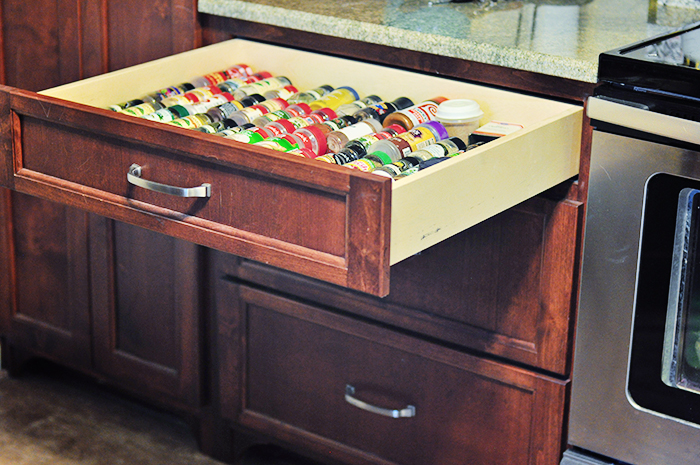 Poor bastard.
And like, I just don't know how this happened.
This isn't awesome like my underwear drawer.
This is my drawer of shame.
I used to be semi-normal with maybe a slightly above average accumulation of dried seasonings, back when we first remodeled the kitchen. There was still room in the drawer for measuring spoons, measuring cups, and a few other stove top and baking essentials.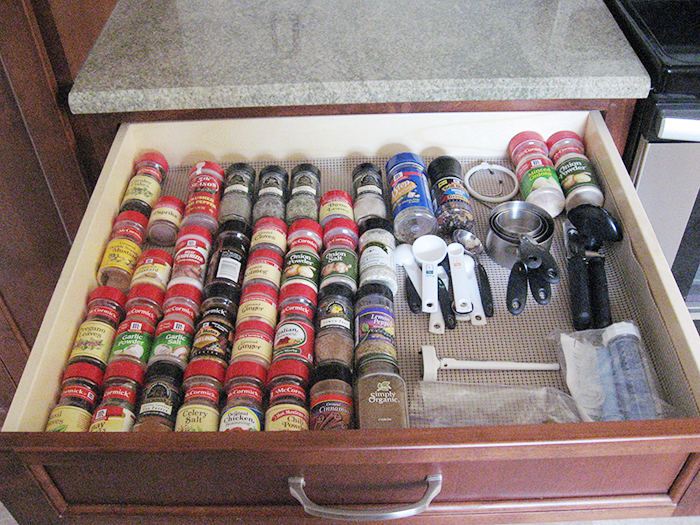 But then it just kept growing.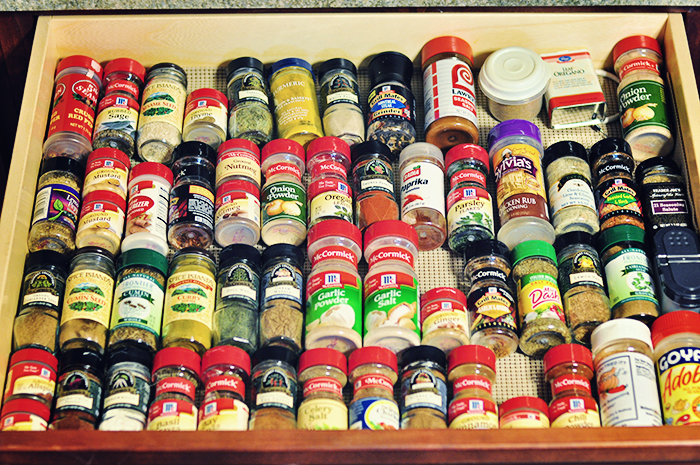 With each new recipe came a brand new seasoning, and sure — I could have searched for an alternative that I already had on hand.
I could have used ground cumin instead of buying whole cumin seeds.
I could have used black pepper instead of buying white.
Cayenne instead of ancho chile peppers.
And dried parsley? Seriously? That's like seasoning something with air.
Dry, crunchy air.
But I wanted to know how they tasted.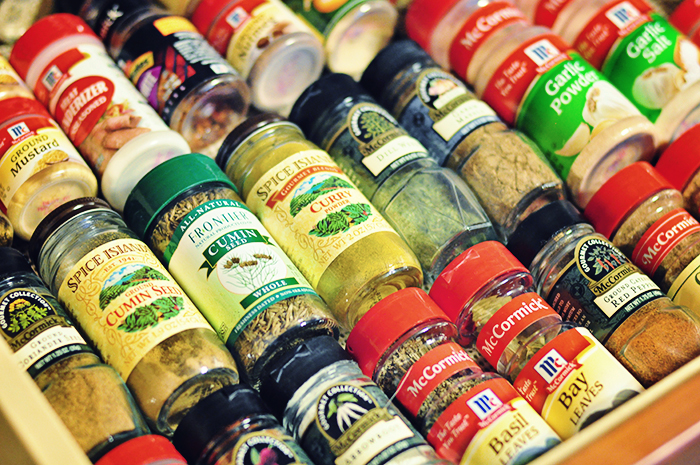 Each and every one.
I kind of want to cry when I stumble across blog projects or Pinterest pins that artfully display a few strips of those tiny magnetic containers of spices just above the stove.
I could fill a whole backsplash, my friends.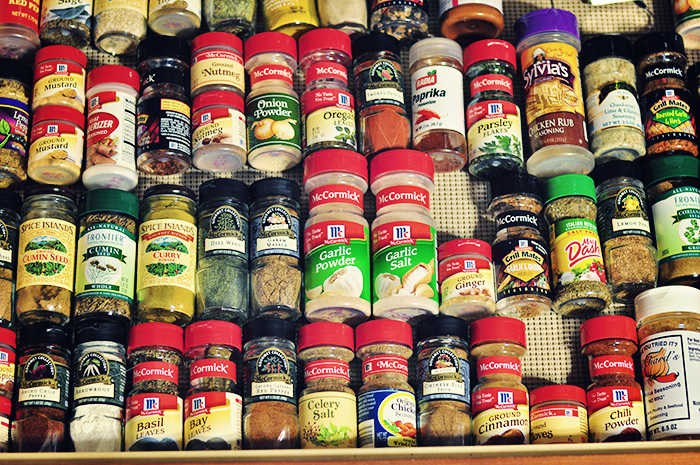 Which is why I hide my shame inside a drawer.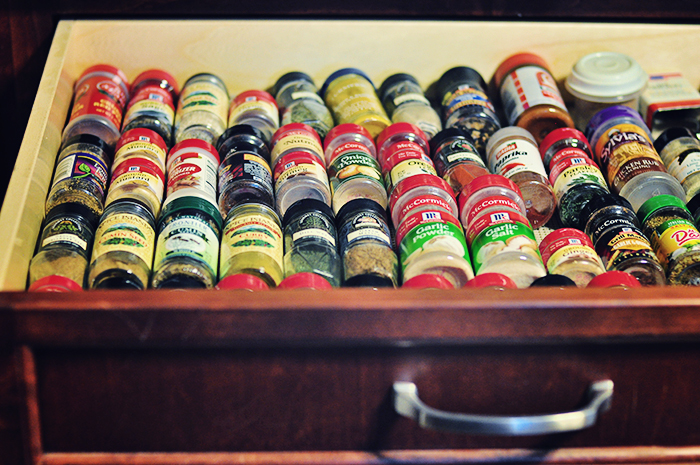 Of course, there are accidental duplicates: Allspice, nutmeg, oregano, and mustard. I would be at the grocery store, knowing I need a certain seasoning for a certain recipe, and I just couldn't remember whether my drawer full — full! — of spices contained that particular one. Of course, it only did if I bought that spice again at the store, and it miraculously didn't if I assumed it did.
Fortunately these are seasonings that tend to get used, but the two full-sized containers of coriander?
I don't want to talk about it.
I have blends, too.
Usually impulse buys when I fall prey to clever marketing — pretty labels and descriptive words that appeal to my love of flavor.
Mrs. Dash's Salt-free Italian Medley, Grill Mates Roasted Garlic and Herb, Cherchie's Chardonnay Lime and Cilantro, and Trader Joe's 21 Seasoning Salute all took advantage of my weakness. They knew I wanted my food to taste like I know what I'm doing (it usually doesn't), and they called to me from the shelves. Buy me! Your chicken will taste like you basted it in roasted garlic and herbs!
Why it never occurred to me that I could just baste my chicken in roasted garlic and herbs, I'll never know.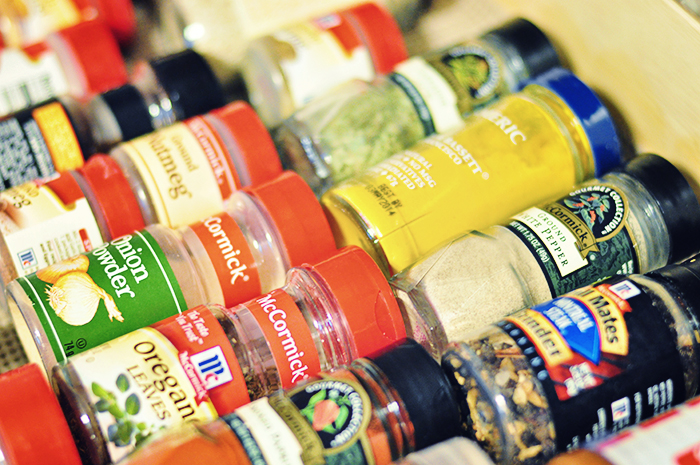 There are the home blends, too. Little containers filled with homemade Cajun spice made from the seasonings we already had and my neighbor's special seasoning for steak and kebabs, which is really just a certain ratio of salt, pepper, and garlic powder.
Sometimes I forget what's inside each container and end up with really spicy steak kebabs or really weird Creole pasta.
And this isn't even everything.
I have packets of Old El Paso taco seasoning and McCormick chili seasoning and special rubs and marinades from local festivals tucked inside another drawer.
The rest of the salts and peppers I keep hidden inside the cabinet above.
Yes, I said salts. Plural. Table salt and kosher salt and sea salt and flaky sea salt.
What?
That's not normal?
This, I think, is a sure sign of the chef I most definitely am not. Real cooks — naturally talented cooks — probably don't need this many accoutrements.
But I'm always so curious and I just can't stop.
I'm not going to lie, though. Some of them — especially the exotic ones — make me feel special.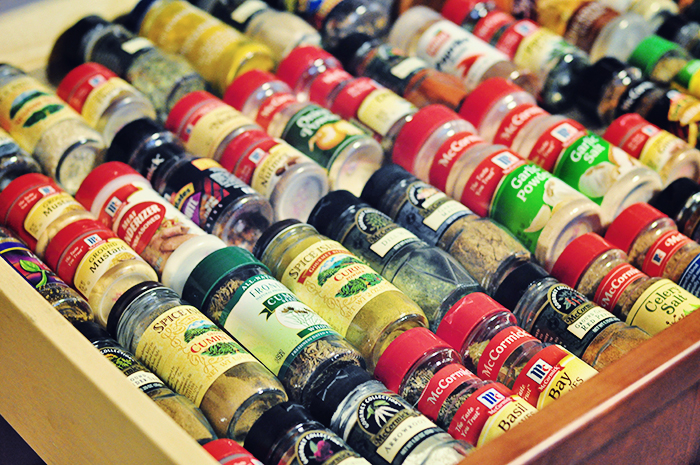 Like travel.
There's the smokey, mysterious mesquite that smells like the cookout I've never had in the Outback of Australia.
Or the sweet Chinese five spice reminiscent, perhaps, of Sichuan markets I've never been to see.
The garam masala and yellow turmeric and distinctive curry take me to the bustling streets of India where I have yet to step a foot.
And that's okay, for now, because the spices bring me there through taste and smell with just a small dash of vivid imagination.
And for that, I think I'll keep them.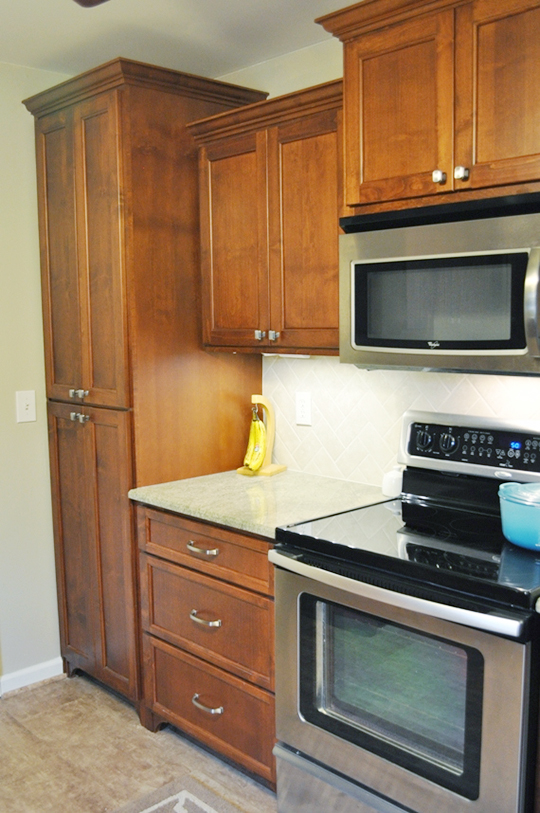 (Safely hidden inside a closed drawer, that is.)
Do YOU have a drawer of shame? What's in it? It's okay. This is a save zone. Please tell me I'm not alone.