This Is Exactly Why I Could Never Be A Vegetarian.
Okay.
So you know how I always tell you to find yourself a local when you travel to a new place — whether it's someone you knew already or someone you meet while there?
Well.
This is why: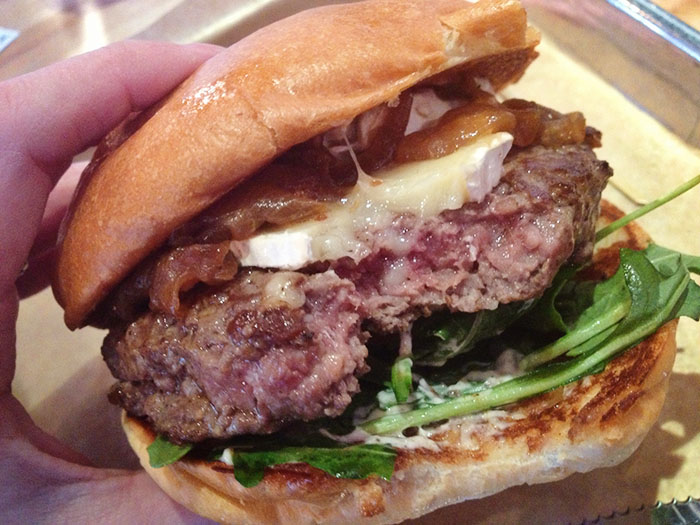 Akaushi beef, brie cheese, truffle aoli, arugula, caramelized onion, & steak sauce served up medium rare.
These things don't generally happen on their own, people.
I mean they sometimes do if you have some really great Travel Mojo, but generally speaking, it's best to find yourself a local who knows what's what.
And what's what in Austin, Texas is, apparently, Hopdoddy Burger Bar.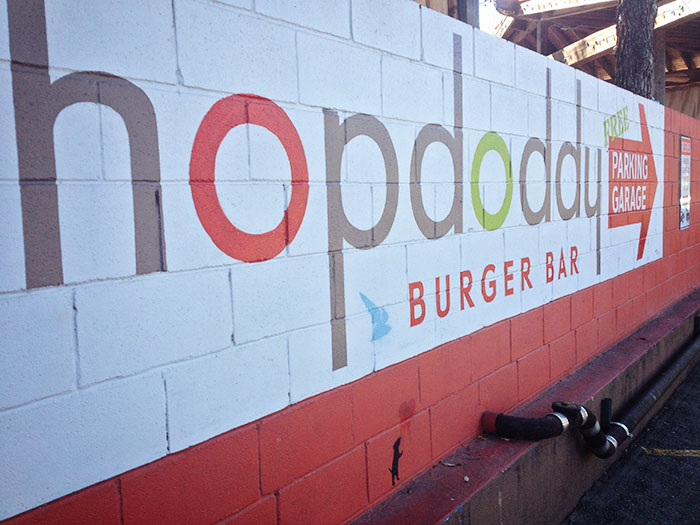 Look. I'll admit it. I'm generally a sucker for any place whose marketing campaign prominently displays words like "craft" and "artisanal" and "scratch" and "local" and paints their sign on a cinderblock wall.
So when Hopdoddy's marketing gurus designed their website, I'm pretty much the customer base they had in mind.
Minus the loafers and dreadlocks, that is.
And then I saw the line: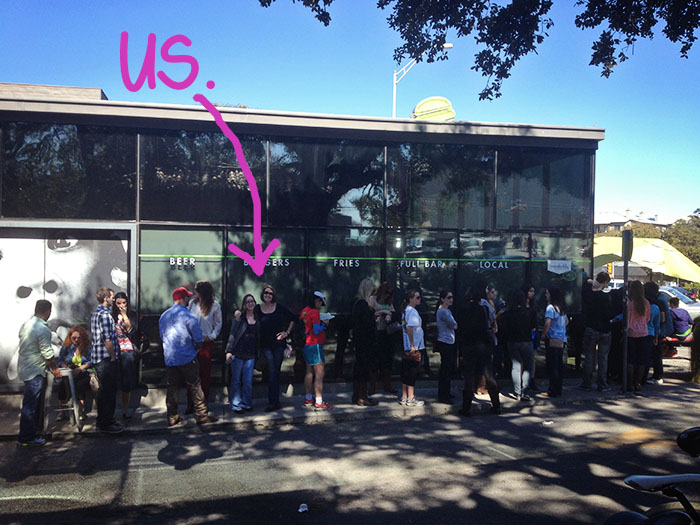 And it didn't really faze me. I pretty much said, Meh — a line like this at 2:00 in the afternoon just means it's worth the wait.
And before you completely freak out about the line, here's the thing: Hopdoddy's does things a little different from your average bear.
It's not like most restaurants, where you might wait an hour, then get your table, then order, then wait for your food. And it's not like other Austin restaurants, either.
I've noticed something about some Austin restaurants in the time I've been here, and it's that they generally do not like to hire wait staff. Basically, they have you walk up to the counter or the trailer or whatever to order your food, and then you panic and fight the crowd and stalk diners like a damn vulture until another party vacates (bussing their own table, of course, and disposing their dishes and waste into the assorted bins for trash, dishware, recycling, and compost) and you leap over tables and fly into a seat before anyone else to stake your claim while the rest of your party searches to find an extra chair or order drinks or grab napkins to wipe your nasty table and it's all so stressful that if you're lucky enough to have a table by the time your food arrives, you're much too exhausted to actually eat it.
But not at Hopdoddy.
At Hopdoddy, while you're waiting in line, you know you're working towards a goal. Other things are happening to ensure a smooth dining experience. Just trust them. So we mingled with the other line folk and enjoyed the eclectic neighborhood and thought happy thoughts until we reached the front door.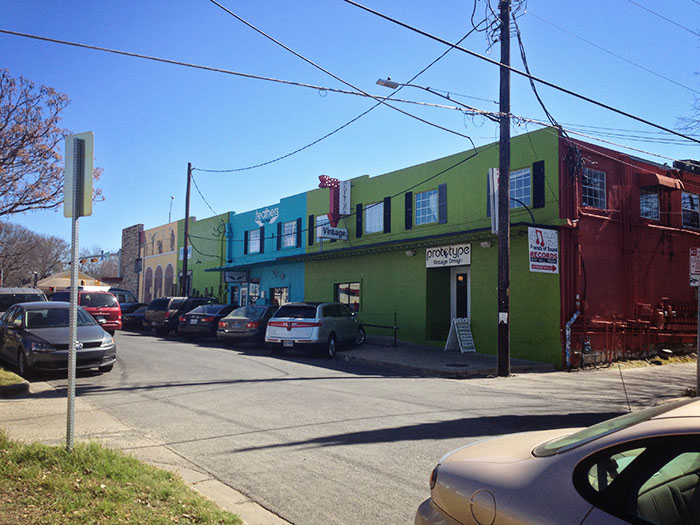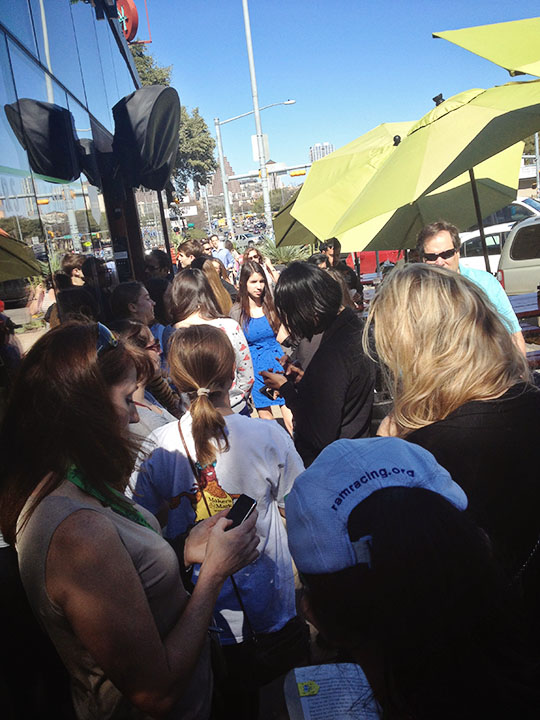 At the front door, we finally got our first glimpse of the menu, and a friendly hostess said, "YAY! You made it!" and then explained that we actually made it to the front of the back of the next line, which continued inside.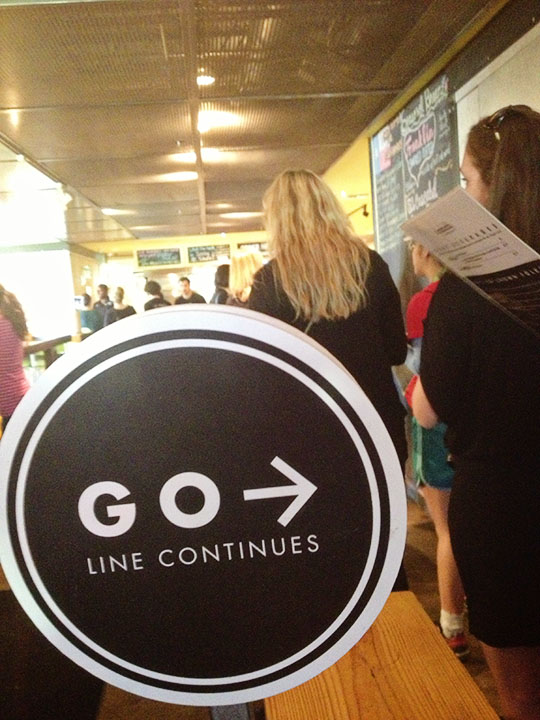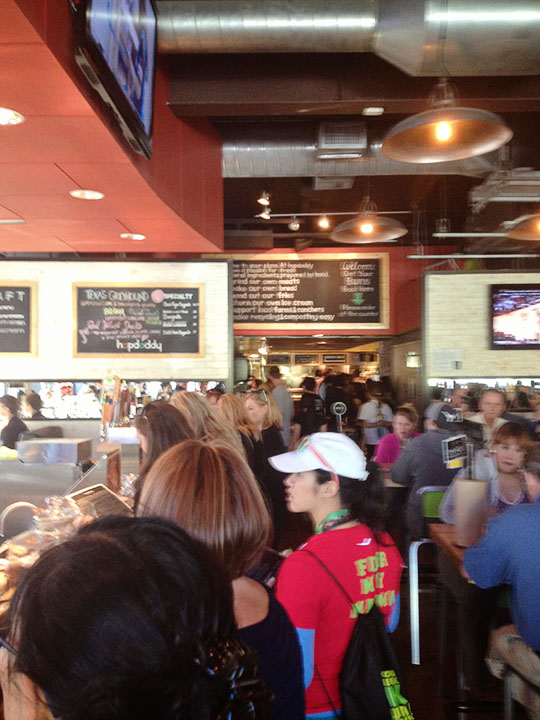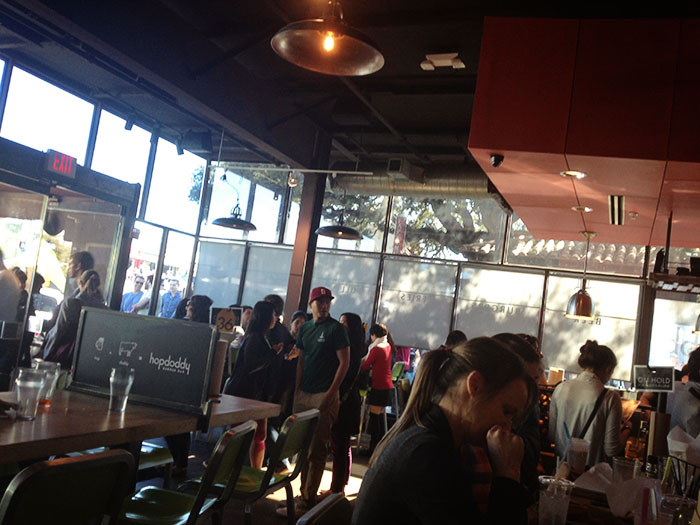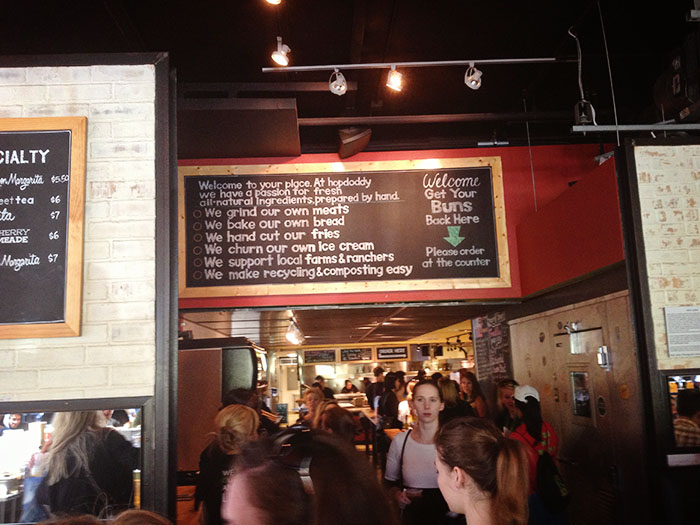 But I didn't worry.
The outside line didn't actually take too long (maybe thirty minutes?), and her friendly face and the view inside was just the morale boost we needed to sustain us through the next thirty minutes.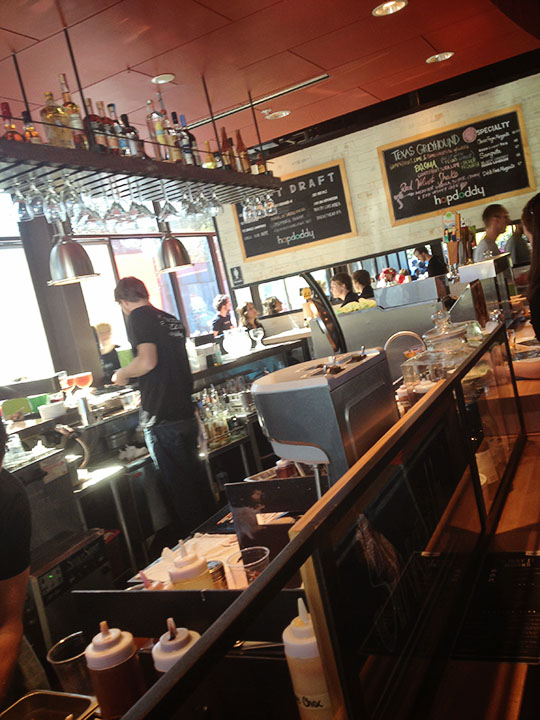 Hey, look — the bar!
Also, she explained that while we were in line, the accommodating wait staff would be clearing our table and reserving it especially for us so that once we ordered, we could immediately sit down at our bussed and shiny table.
Otherwise known as Mecca.
Also. Once we were in the restaurant, we could order drinks from the bar as we passed to tide us over while we waited.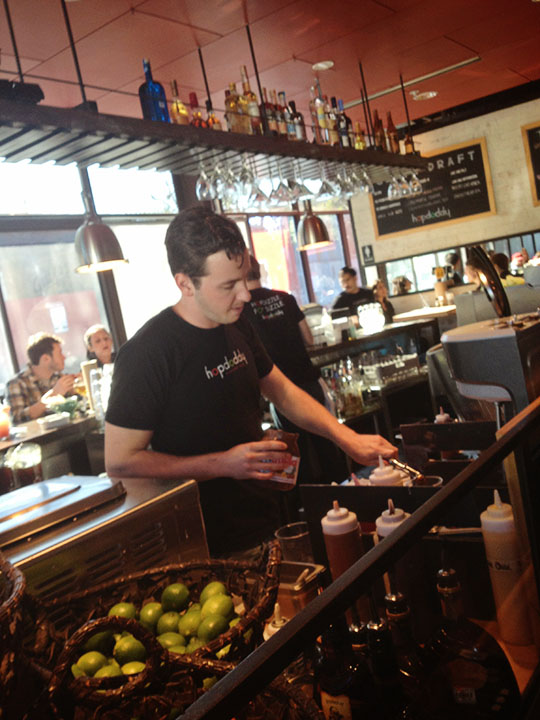 It's pretty ingenious.
The rest of our time in line, we perused the limited menu (which was really the perfect size for someone as indecisive as me — everything looked incredible), and bonded with our fellow line friends.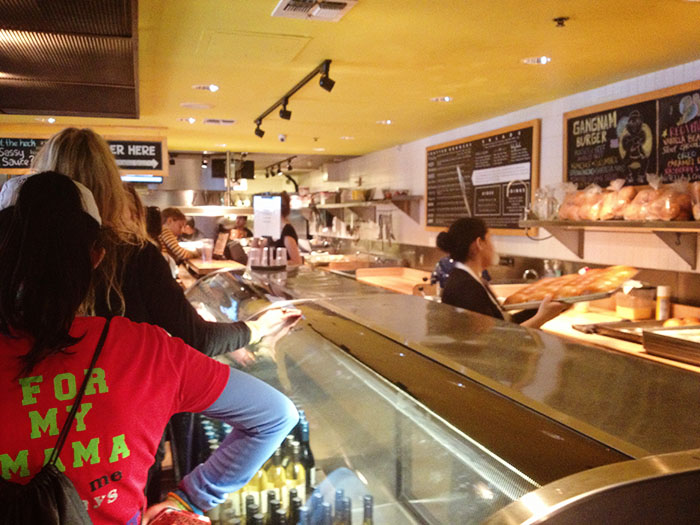 This girl is 28-weeks pregnant and had just finished running a marathon.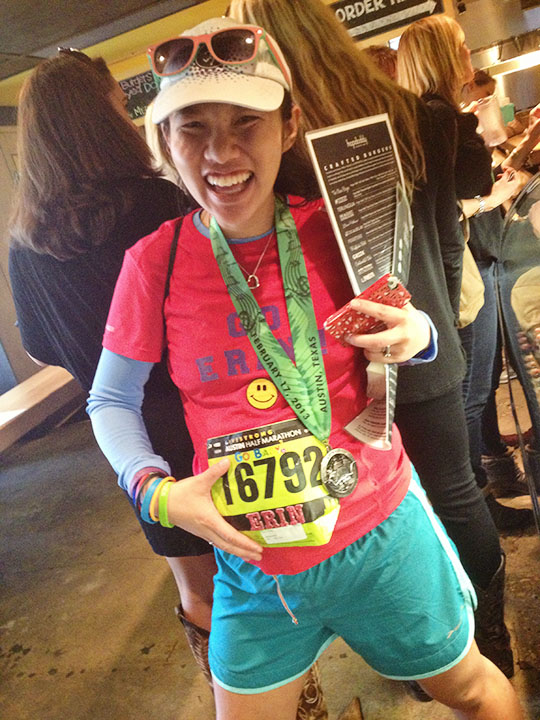 I sometimes lose my breath walking to the bathroom.
Everyone in Austin is so nice.
I'm pretty sure they put prozac in the water.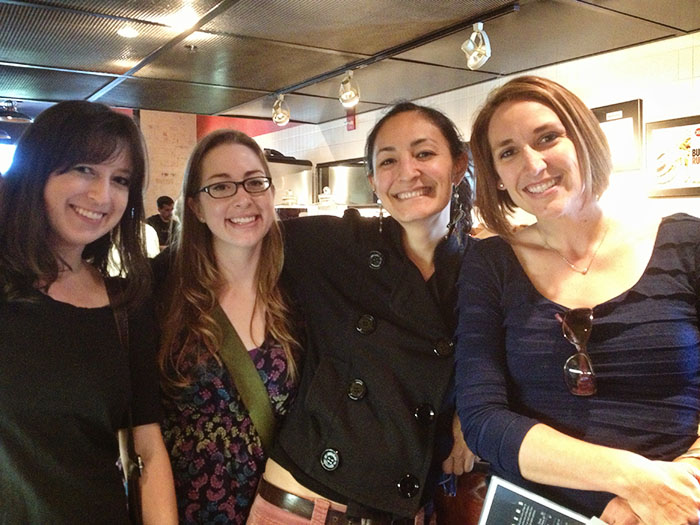 Do we blend with the happy Austin folk? I think I might be wearing too much black. (I'm on the far left.)
Here's where they prove they don't want to kill the earth: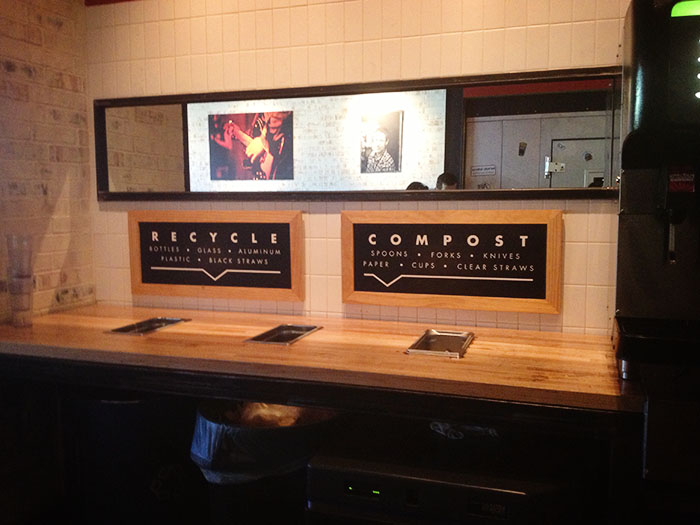 And here's another cooler of bevvies…
And here's the open kitchen where all of the good stuff happens: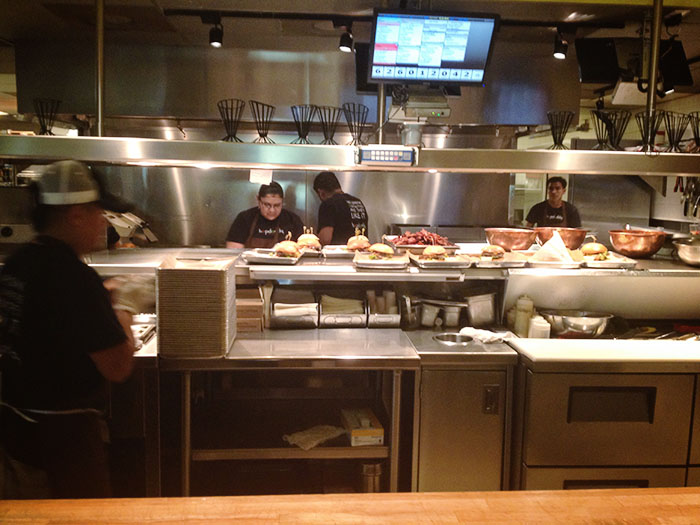 And then, before we knew it, we were there! We ordered, paid, found our reserved booth, and our milkshakes arrived in a matter of minutes.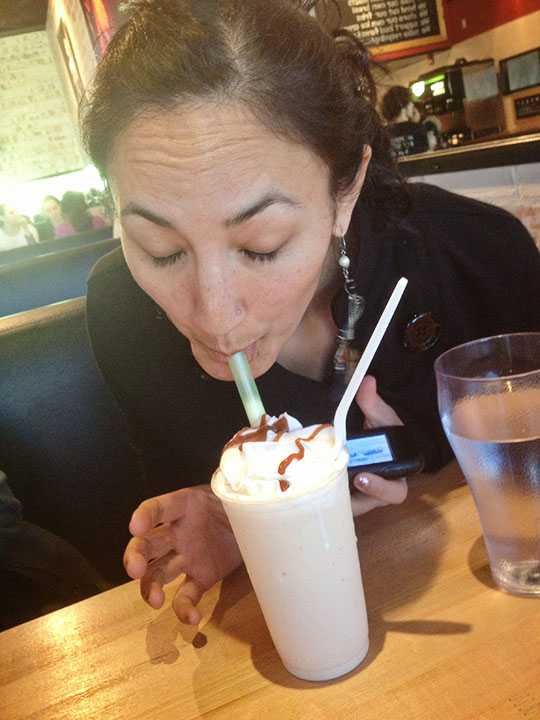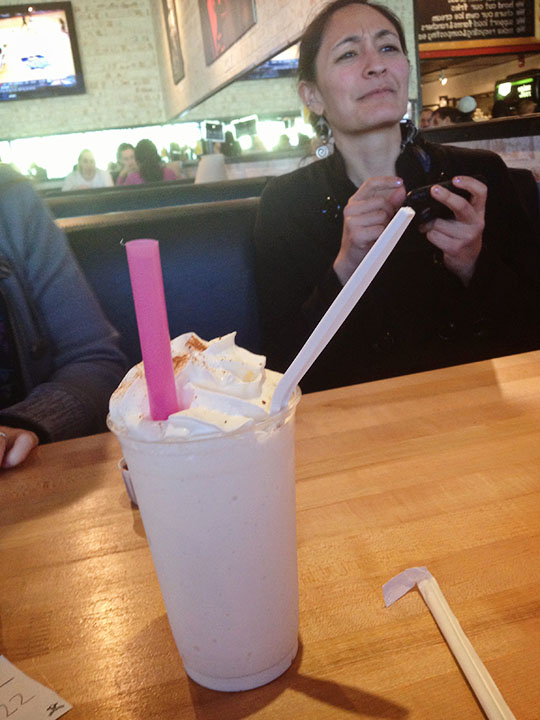 Not long after came the food.
The "Primetime" for me (Texas Akaushi Beef, Brie Cheese, Truffle Aioli, Arugula, Caramelized Onions, and Steak Sauce):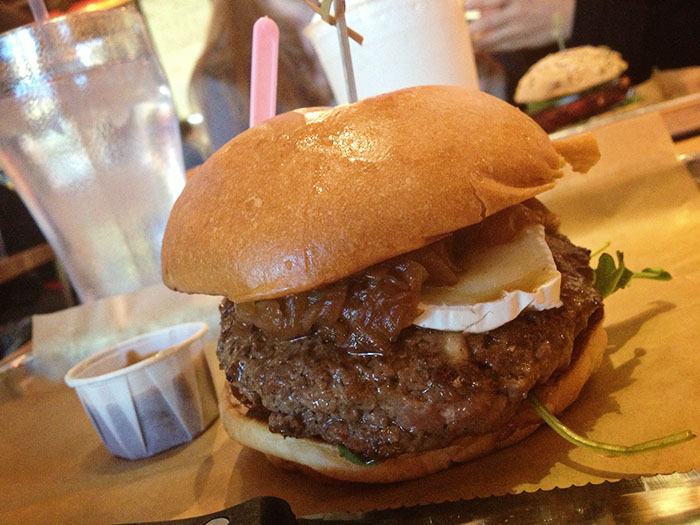 The "Buffalo Bill" for Bec (Bison, Blue Cheese, Frank's Hot Sauce, Apple-Smoked Bacon, and Sassy Sauce):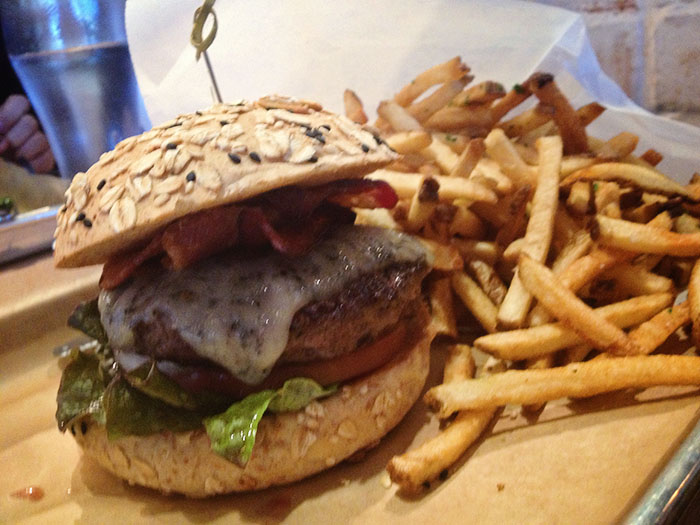 Let's get a closer look: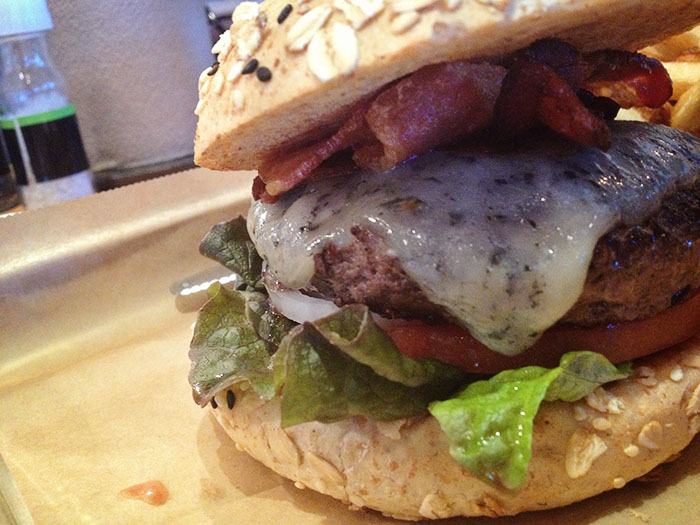 The "Terlingua" for Stacy (angus beef, chile con carne, corn Fritos, Tillamook cheddar, and Sassy Sauce):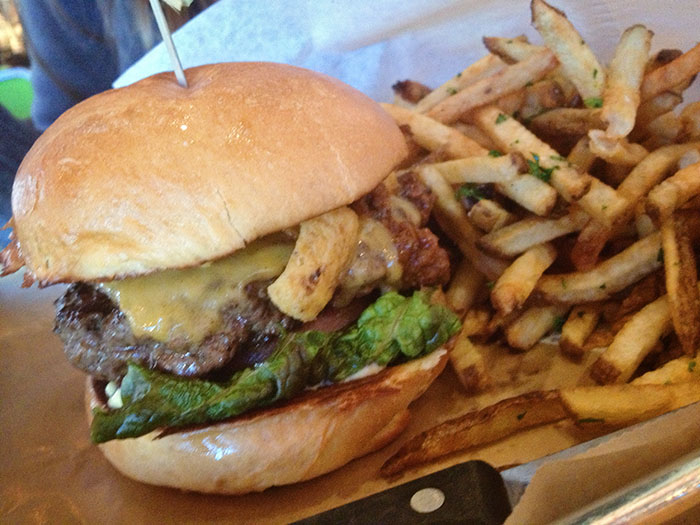 La Bandita for Maria (Black Bean-Corn Patty, Avocado, Goat Cheese, Arugula, Cilantro Pesto, and Chipotle Mayo on Whole Wheat):
And also a salad: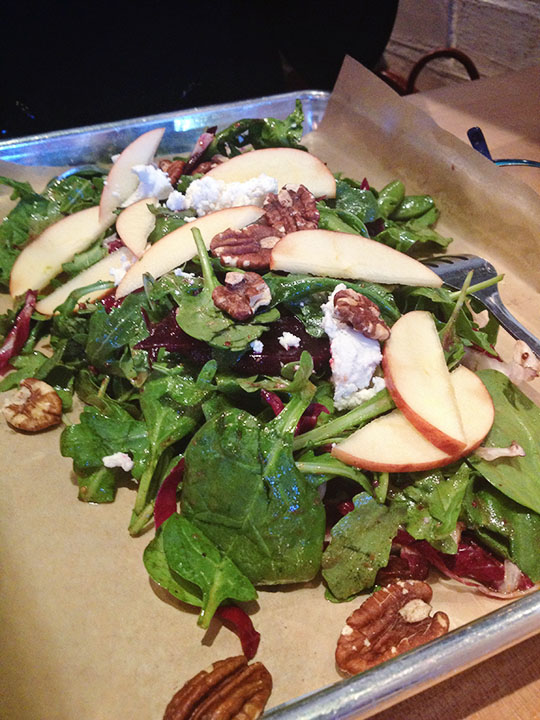 You know. For good measure.
All of the food was pretty much incredible. I can vouch because I tried a little bit of everything.
Stacy, Maria, and a chocolate salted caramel milkshake with chocolate-covered pretzel bites: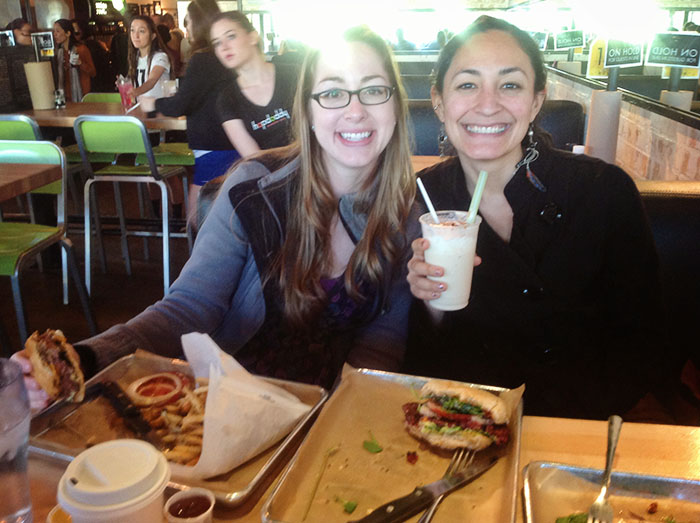 Bec, me, and my plain vanilla shake: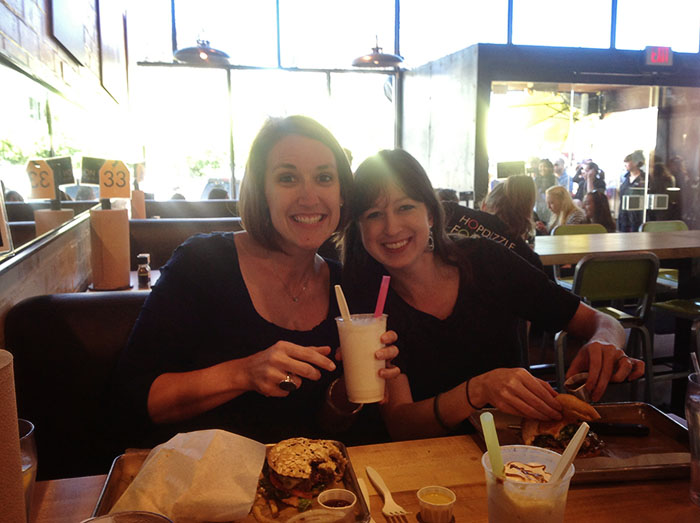 And all too soon, our trays looked like this: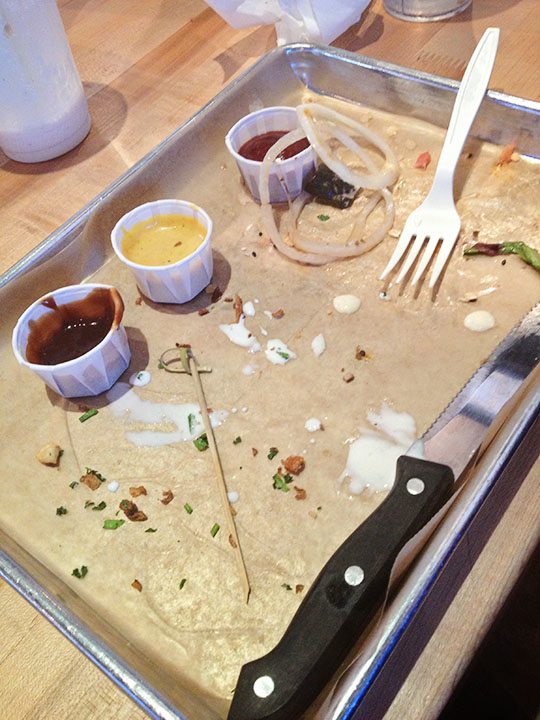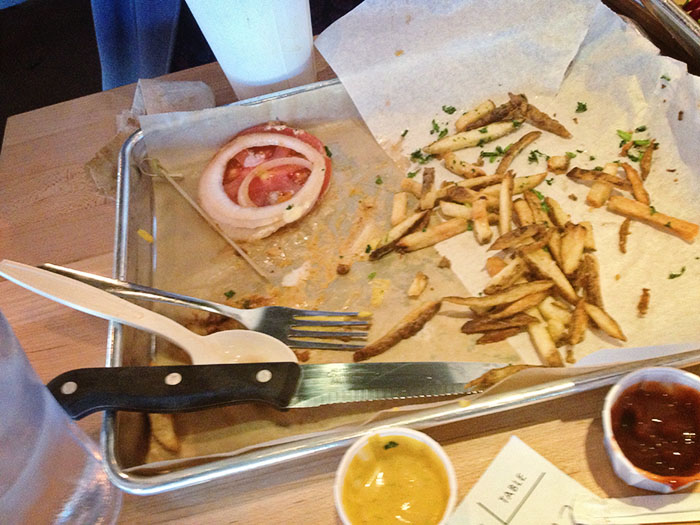 And I looked like this: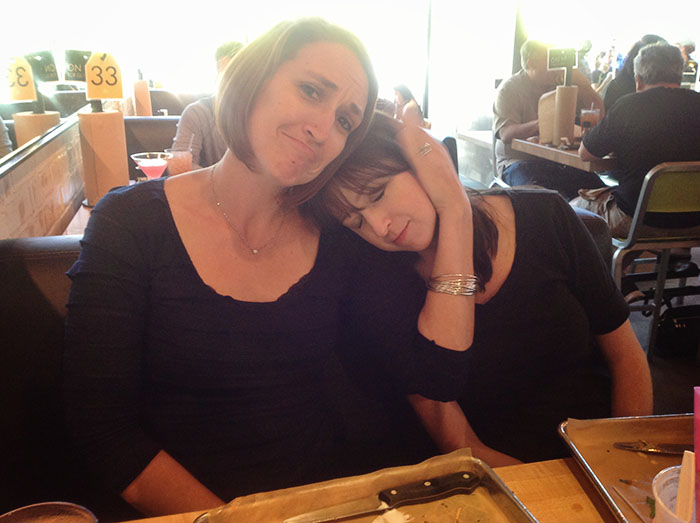 And my belly looked like —
Well. I'm not actually going to show you that.
Suffice to say, it wasn't pretty.
But it was perfect.
And we didn't even have to bus our own table.
*Burp.*